There's nothing like a warm cup of hot chocolate to let you know that Christmas is approaching. That is, if you're 8 years old… now, now we have a grown up version to let you know Christmas is approaching. Enjoy this rich and creamy Puerto Rican Inspired Chocolate Coquito recipe, that could be enjoyed hot or cold!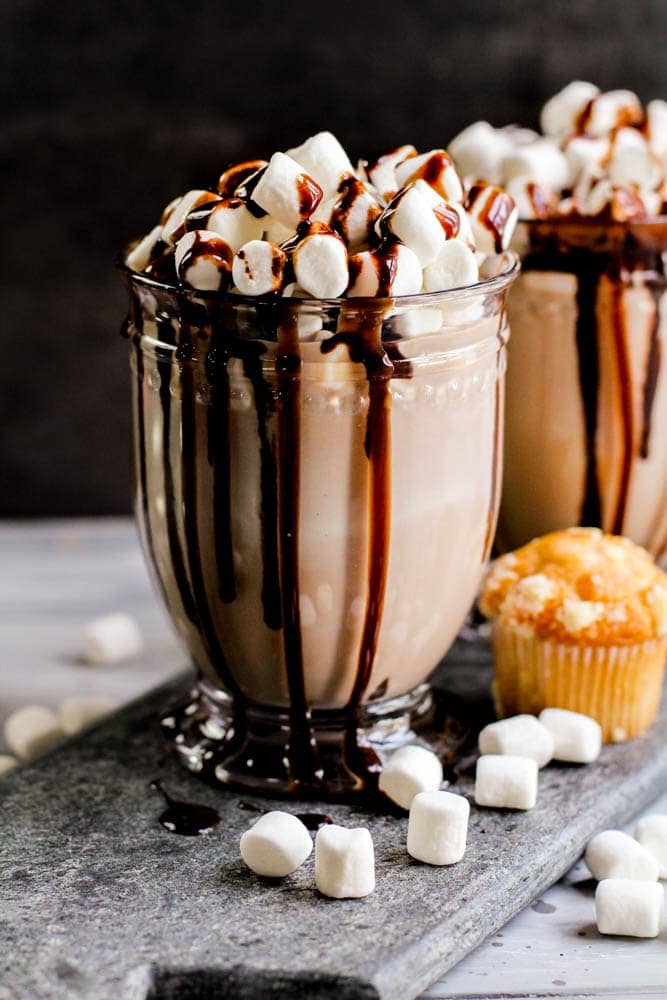 I recently had my blogging mentor do a site audit and she sent me a list of "must make" recipes that you, my fabulous readers, are searching for. I headed out to Walmart with the kids one night and a light bulb went off to make all of the most searched for coquitos in one day. I ended up making four unique coquito recipes in one day! (Caramel pumpkin coquito, Pumpkin Pie Spice Coquito, Cookies and Cream Coquito, and this Chocolate Coquito. I already have a Nutella coquito and classic Puerto Rican coquito recipe on my site – be sure to check them out!)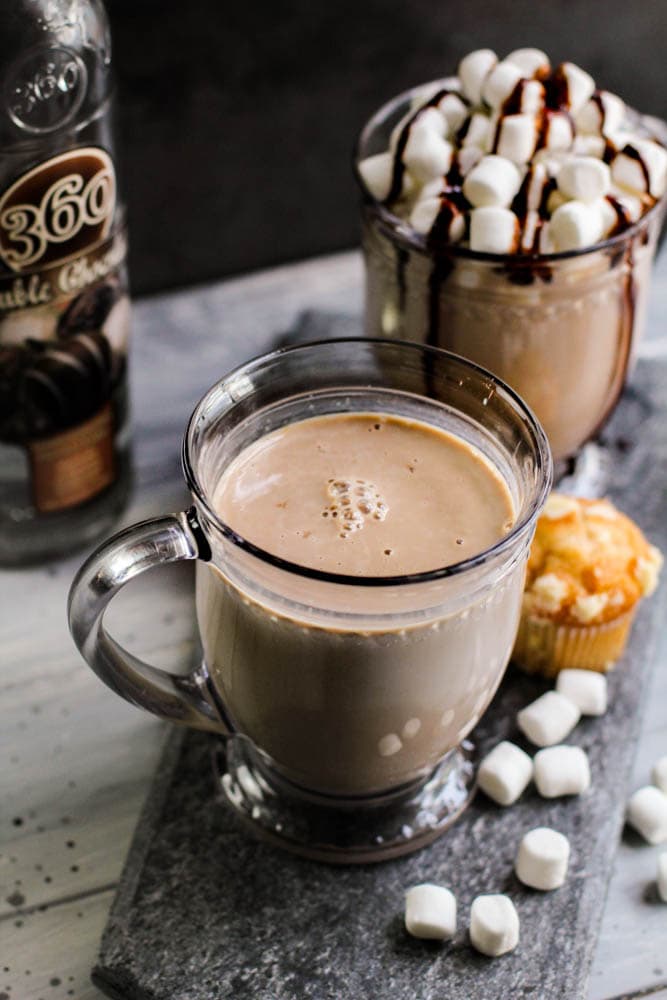 I had a lot of fun shooting this recipe, I mean a lot! Marshmallows are completely optional, and if you're like me, and drink your chocolate coquito cold, it's probably best to keep them off. But if you're serving the coquito warm or want to make a "wow" impression, go big and add them little sugar filled pillow looking heaven sent mini marshmallows on top.
How To Make Puerto Rican Chocolate Coquito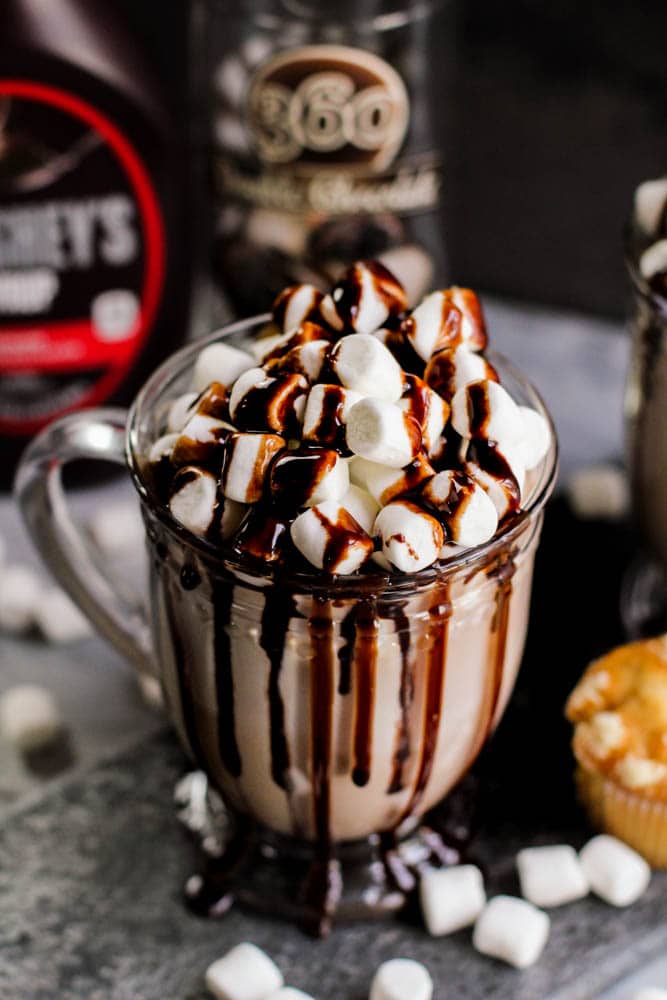 I've mentioned that this is the grown up chocolate milk of the holidays earlier, but for this chocolate coquito, I decided to bring a childhood aspect into this drink. I decided you can't go wrong with Hershey's chocolate syrup! Did I cheat? Maybe, but who doesn't love Hershey's for chocolate milk? Want a more authentic chocolate coquito? Check out my friend's chocolate coquito recipe at Smart Little Cookie!
This recipe will be the stripped down version of the classic Puerto Rican coquito. We keep our base pillar in place, coconut milk, coconut cream, condensed milk, evaporated milk, and a little bit of cinnamon and nutmeg.
Now we add our changes. Instead of the classic rum, I'm using a chocolate infused vodka that my brother Enuan brought over for Thanksgiving. Of course, you can use your favorite rum (or a chocolate rum), but I decided to go for the chocolate vodka. It's yummy! Ooh, you could also choose a marshmallow flavored liquor for the ultimate hot chocolate coquito! I think I hear a new coquito recipe being created in the very near future.
Add all of your ingredients to a blender, including your Hershey syrup. Mix it all until well combined. Then you're going to pour your coquito into glass bottle containers and refrigerate up to 3 days.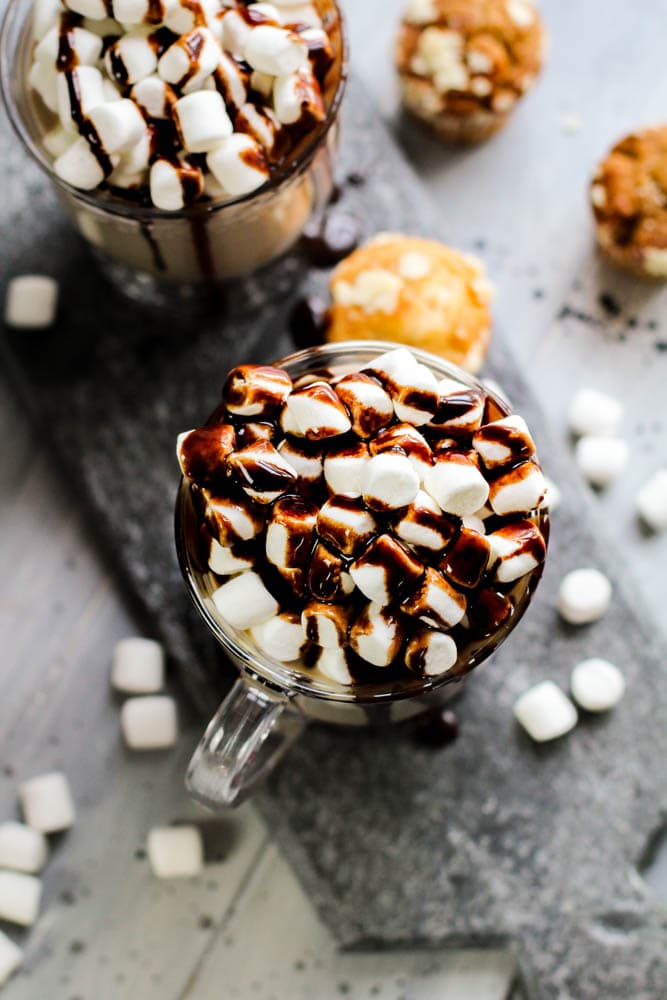 That's it mi gente. I'll have the recipe card below with the exact details. I hope you enjoy this Puerto Rican Chocolate Coquito drink recipe and check out the other coquito recipes. 🙂 Until next time, buen provecho!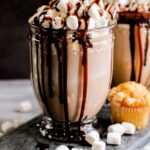 Puerto Rican Chocolate Coquito Recipe
Creamy and sweet this chocolate adult beverage known as coquito in the Latin community is an amazing coconut drink!
Instructions
Pinch of salt

1 15 oz of coconut cream

1 13.5 oz of coconut milk

1 12 oz of evaporated milk

1 14 oz of condensed milk

3/4-1 cup of Hershey's chocolate syrup

1 teaspoon of pure vanilla extract

1/2 teaspoon of ground cinnamon

1/4 teaspoon of ground nutmeg

1- 1 1/2 cups of chocolate flavored liquor (rum or vodka preferred)

Add all ingredients to a blender and mix.

If desired to transform into a hot chocolate, individually heat servings to desired warmness in microwave.

Refrigerate in a glass container for up to three days. Shake before serving.