Arroz con pollo, also known as Spanish rice with chicken is a Puerto Rican and in general Latin/Spanish classic dinner dish. Arroz con pollo is a one pot meal that is filling and flavorful.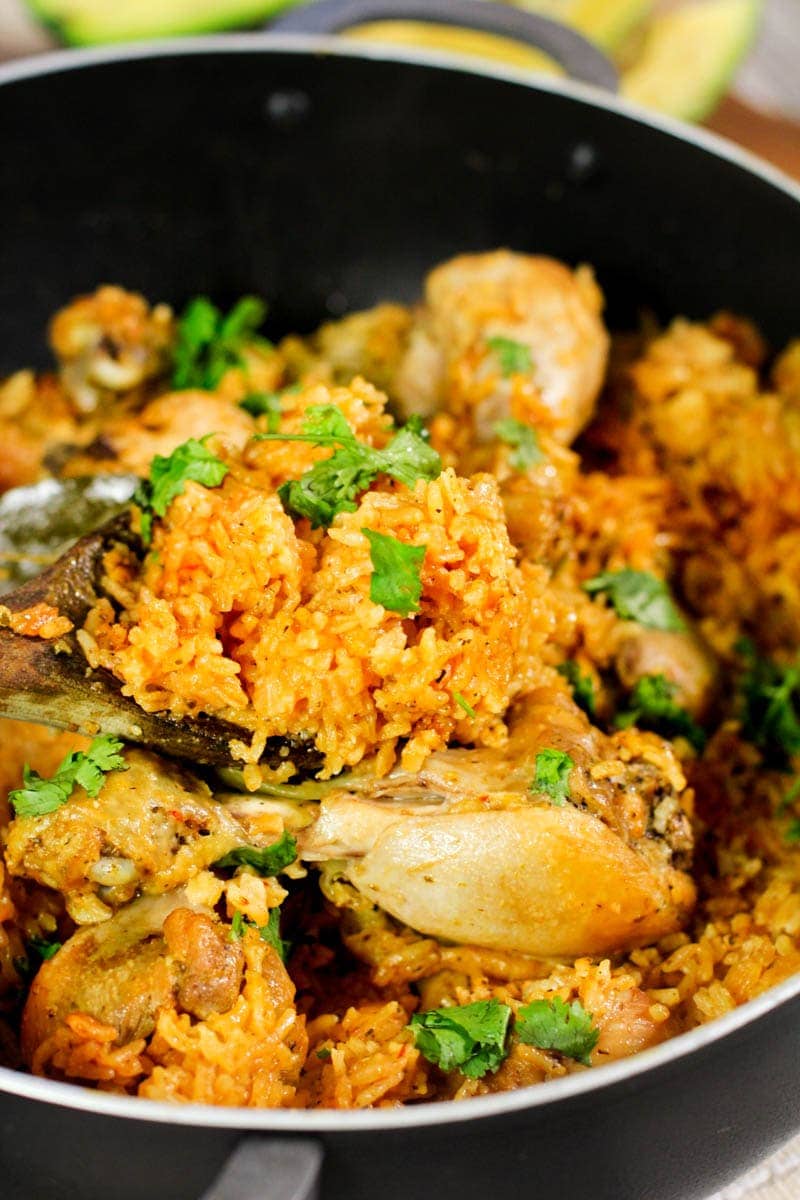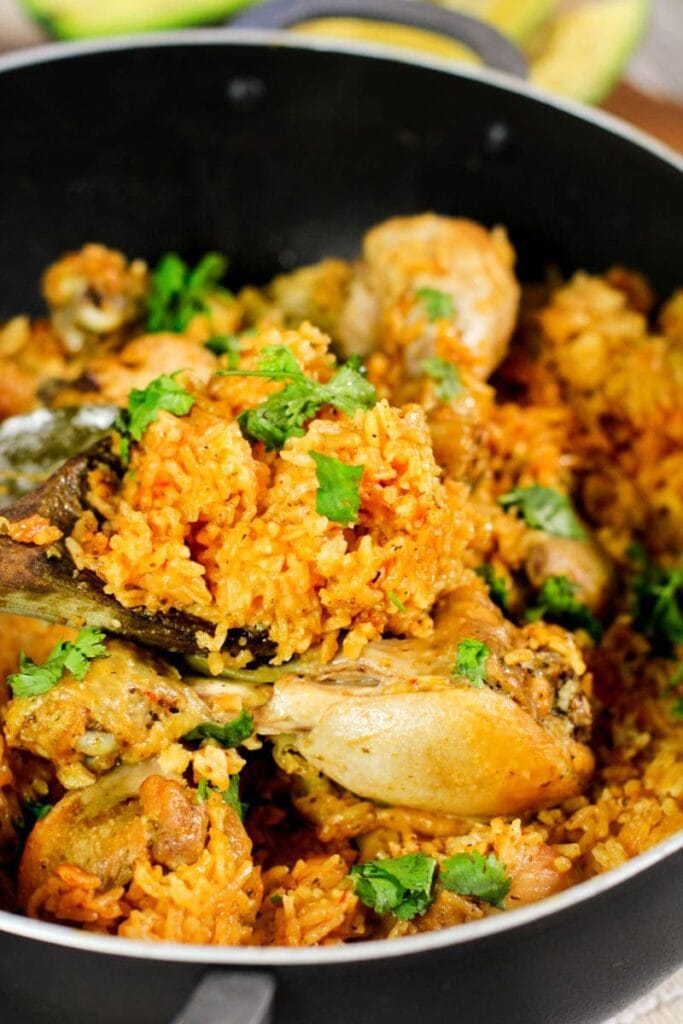 This easy arroz con pollo is a staple in my house. It's been a comfort dish I grew up with and one I will never get tired of eating. The rice is tender, the chicken is tender, and the flavor profile is out of this world! Best part is, that it's all done is less than an hour, but you're only prepping/at the stove for less than 20 minutes. Come on now. This authentic arroz con pollo recipe is legit a must make recipe and a must have recipe in your home.
What Ingredients Are In Arroz Con Pollo
Arroz con pollo can be made as easily or as complex as your imagination and pantry/fridge allow it to be. For this recipe, I am making an easy arroz con pollo that ingredients include-
Oil
Homemade Sofrito- (It has it's onions, cilantro, peppers, and garlic already in it -so for this recipe I won't be adding more.)
Goya Sazon
Seasonings- such as garlic powder, dried oregano, salt, black pepper. You can add Adobo for a boosted flavor too!
Tomato Sauce/Paste
Bay Leaves
Chicken Broth- (you can use "cubitos" or bullion powder)
Chicken (I am using bone IN drumsticks, but you can use thighs, wings, or boneless chicken in your arroz con pollo)
Rice- Medium or long grain are preferred. Use the rice you're familiar with, if desired.
These are what I call essential ingredients to use in arroz con pollo.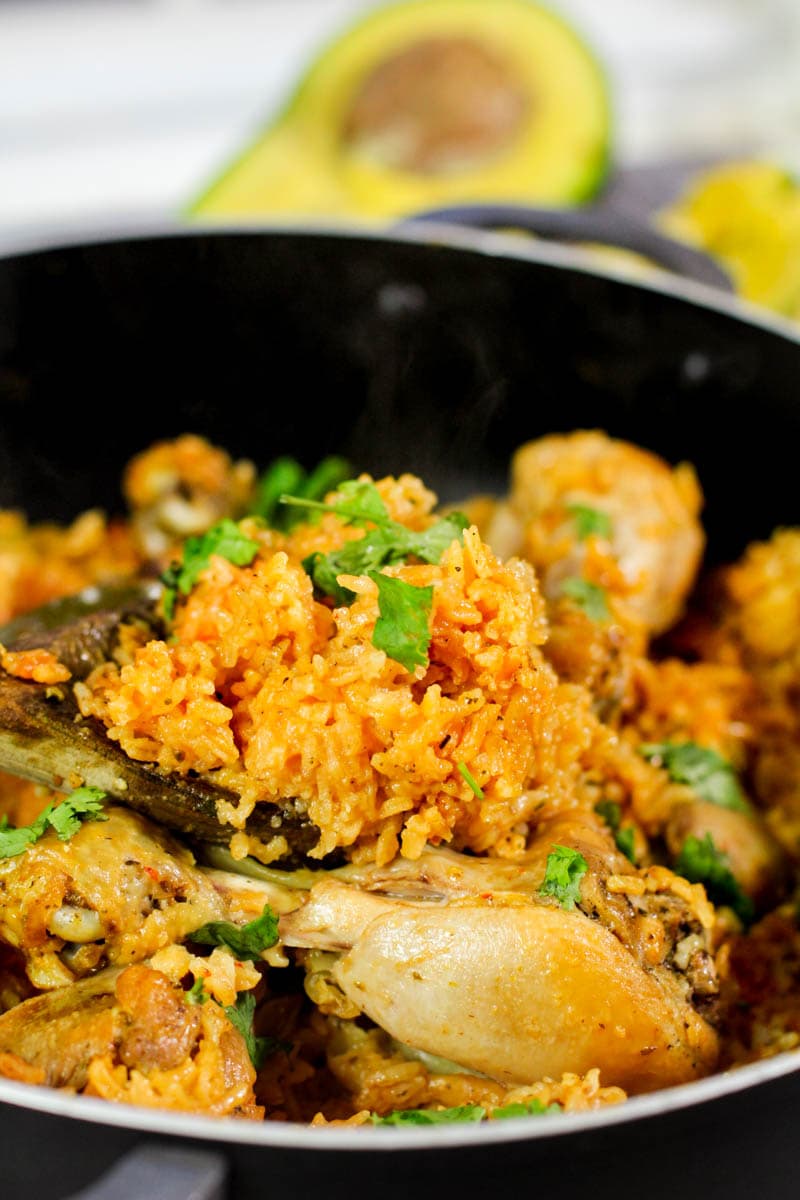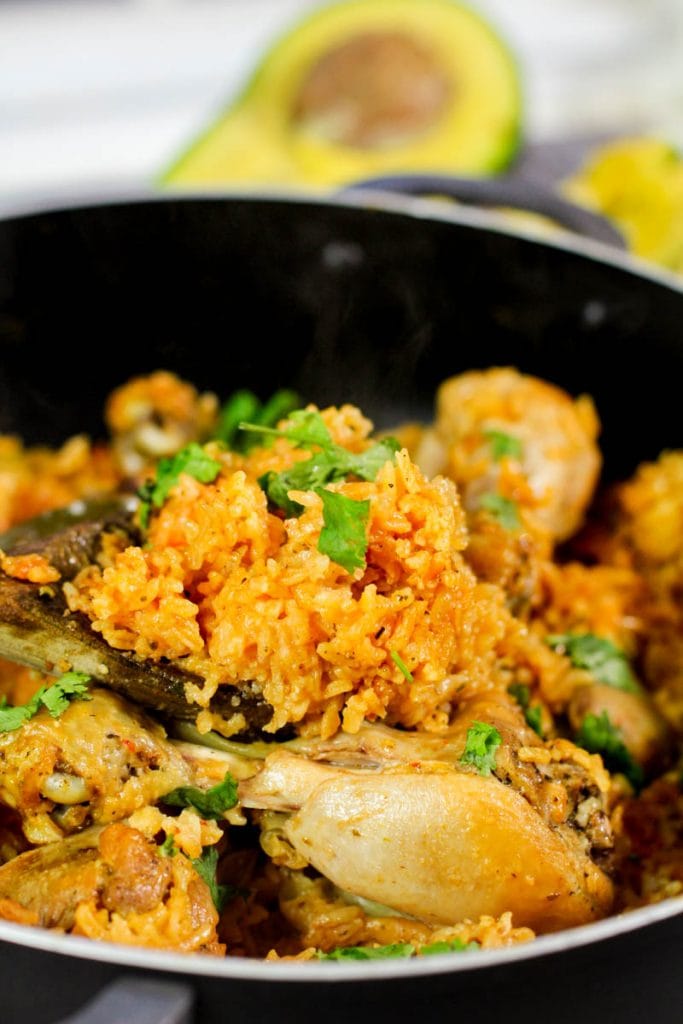 Here are some additional add in's to elevate your arroz con pollo
green olives
sweet corn kernels
peas
fresh cilantro
fresh chopped peppers/onions
saffron
Want to know how to make sofrito? Check out this video on how to make Puerto Rican Sofrito!
How Do You Make Arroz Con Pollo (Rice With Chicken)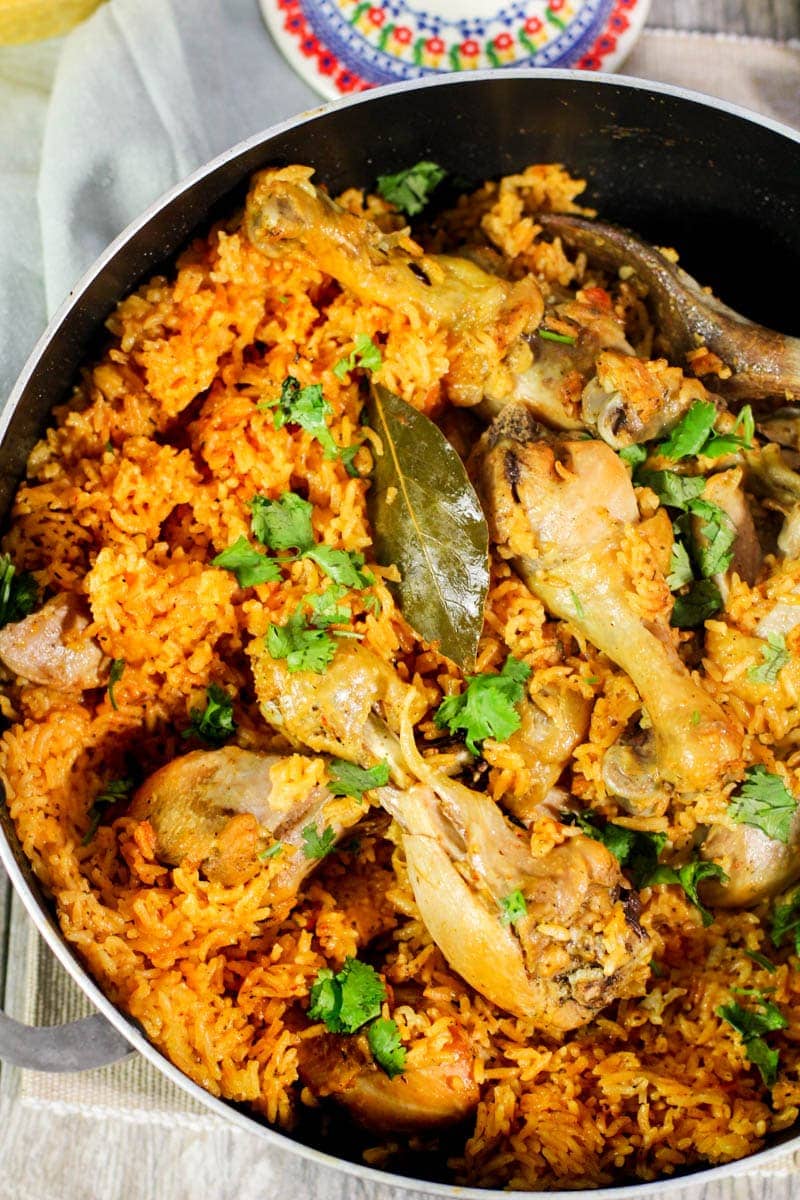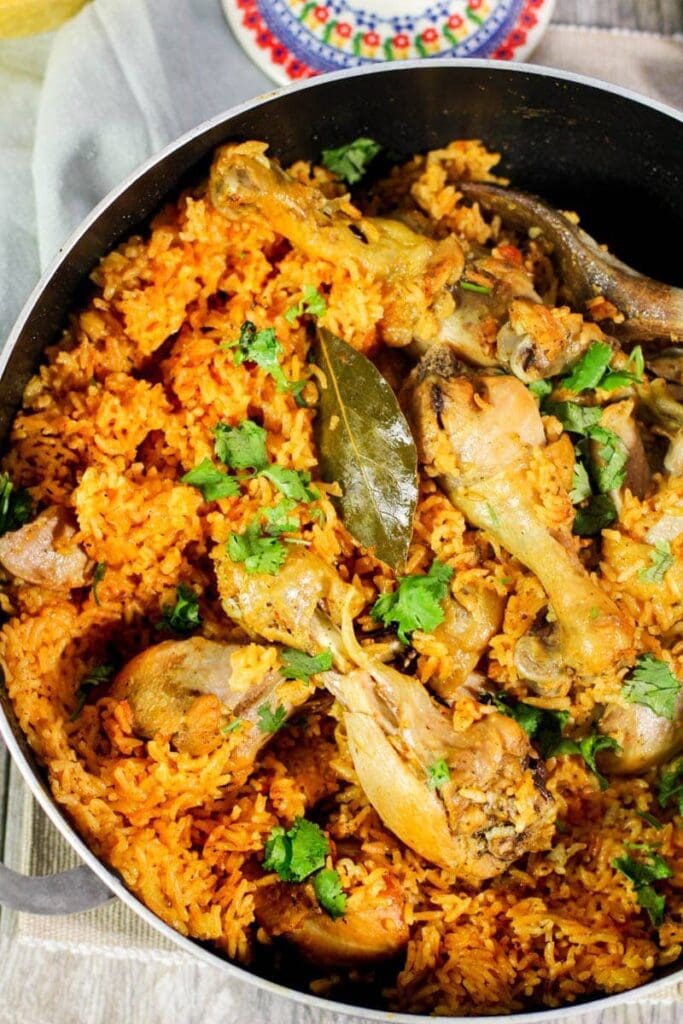 To make this Puerto Rican arroz con pollo you need to:
SEASON YOUR CHICKEN:
In my culture, we're known to not measure. Everything is by sight and taste, which allows each family recipe to be unique. For my arroz con pollo I like to season my chicken with salt, black pepper, garlic powder, and oregano (lots of oregano).
SAUTE YOUR CHICKEN:
Once your chicken has been seasoned, let it sit for like ten minutes. Then you're going to heat oil (I use olive, you can use vegetable) in your caldero or heavy bottom large pot. I have recently started using an Imusa rice pan, and have zero complaints! Add your chicken and brown both sides of the chicken. You want to just brown it, not deep fry it!
ADD YOUR SOFRITO AND SEASONINGS:
This is the part where this easy arroz con pollo recipe transforms into YOUR arroz con pollo. I like to add in my homemade sofrito (be generous), seasonings, bay leaves, tomato sauce, and depending on what's on hand, red/green bell peppers, some people add corn too!
STIR IN YOUR RICE:
Medium grain rice and long grain rice are the favorites for most people I know. Just do not use brown rice -it will take FOREVER! I like to make sure my rice gets completely coated before adding in the broth.
ADD IN YOUR CHICKEN BROTH:
Let's be honest, almost every Latin household uses water and makes their own broth by adding in Knorr chicken bullion cubes or powder. If you want to do this, add a teaspoon of bullion for every cup of water you add. Or if you have chicken broth leftover from making some chicken noodle soup, by all means, use that. Once you add in your broth (or water) you will bring the water to a gentle boil. Allow the rice to cook uncovered until most of the water has absorbed, and then lower your heat to medium low, cover and walk away for 25-30 minutes.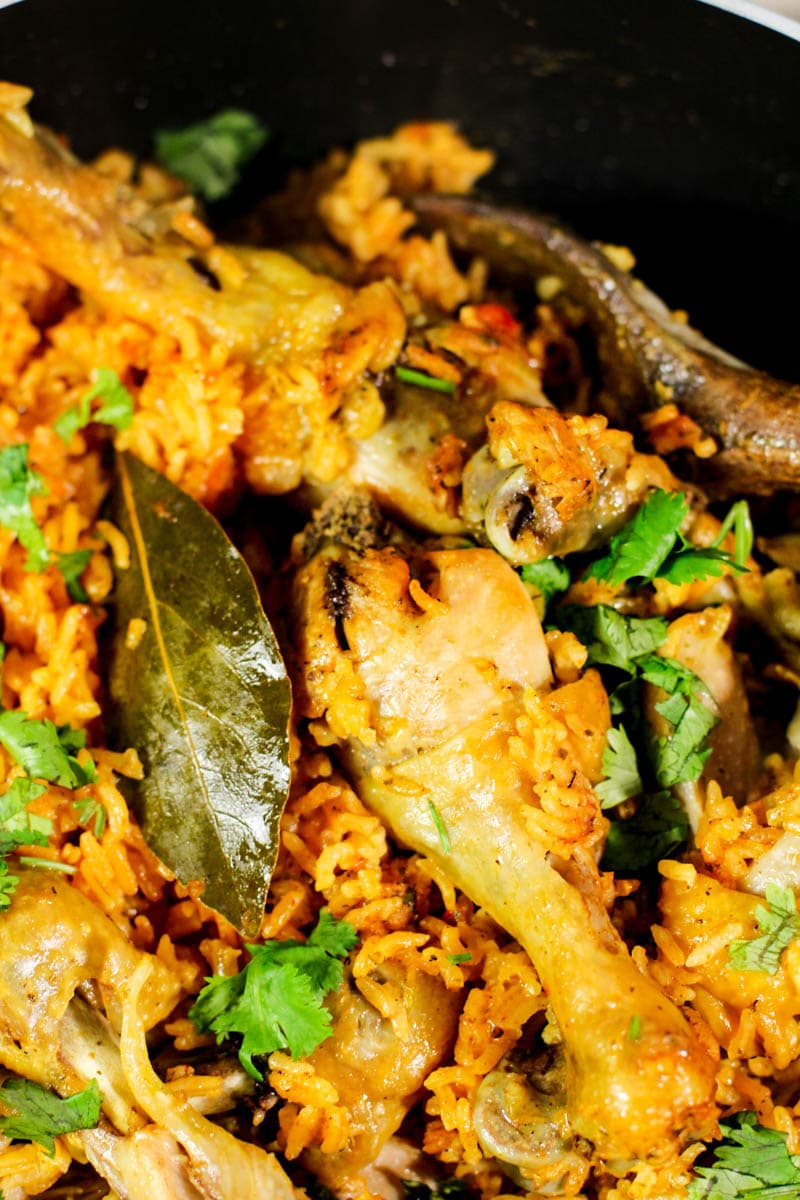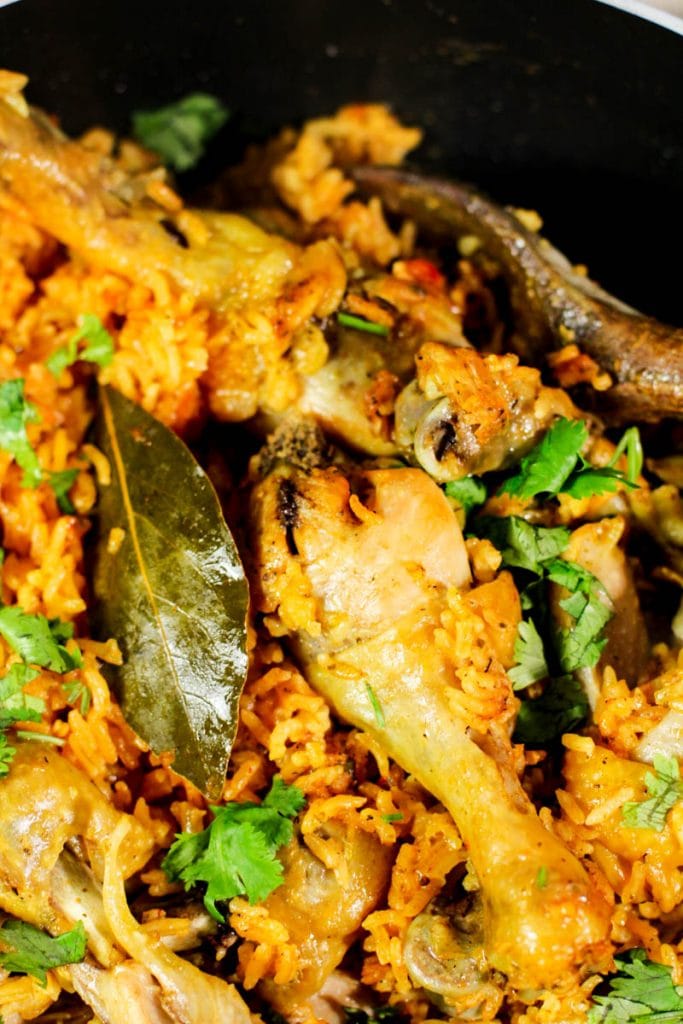 How Long Do You Cook Arroz Con Pollo
The total process from oil hitting the pan to rice being fluffy should take about 45 minutes to make arroz con pollo. But it's not like baking. Depending on your pot, grain of rice, and even the difference between using gas or not play a role. Don't be alarmed if it takes slightly longer.
As far as the actual "cook time" where you walk away from the arroz con pollo in the pan, that should take about 25-30 minutes.
How Do You Make Arroz Con Pollo Fast
2 ways.... use a rice cooker, or an Instant Pot. Now, we all know I love my Instant Pot to make some Puerto Rican Instant Pot Beans.... but I have not ventured into making arroz con pollo in the Instant Pot.
But if I were to say how, I'd suggest using the saute setting to follow this recipe, then add the same measurements for rice and liquid, cover and hit the rice button for 12 minutes.  Now I'm going to have to go make it and maybe a Cuban and a Mexican arroz con pollo recipe!
Check out my friend Joyce's Puerto Rican Arroz con Habichuelas Instant Pot recipe over at My Stay At Home Adventures! (Here's a photo of her yummy rice with beans.)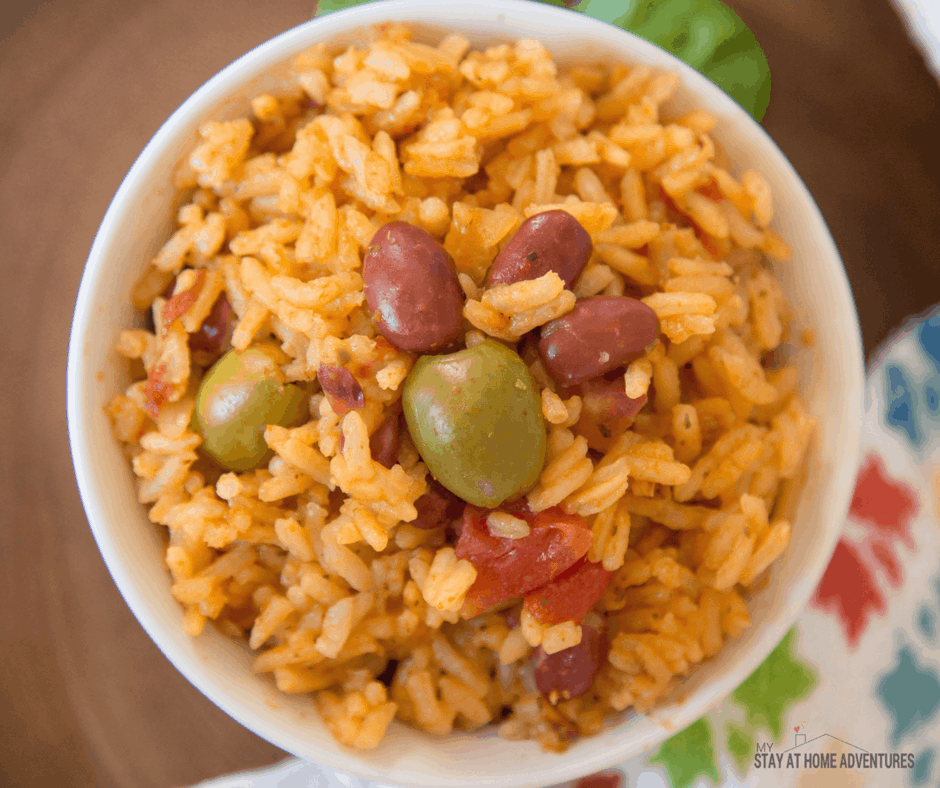 That's it mi gente, this is how you make Puerto Rican easy arroz con pollo. Give it a shot and let me know in the comments below how you make it, and any changes you make to yours. From my kitchen to yours, buen provecho!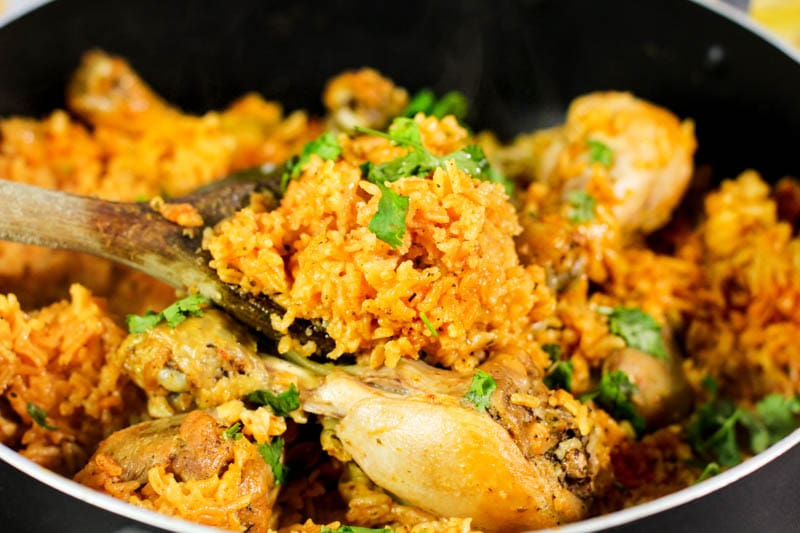 📖 Recipe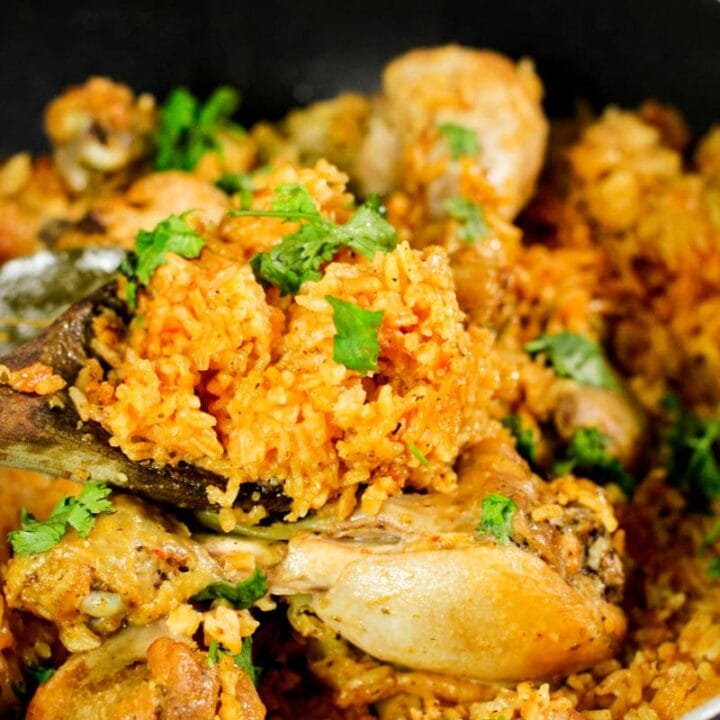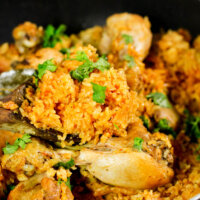 Arroz Con Pollo (Puerto Rican rice with chicken)
A flavorful one pot meal inspired by the Puerto Rican cuisine. This flavorful Spanish rice dish is protein packed with chicken.
Print
Pin
Rate
Ingredients
Chicken Ingredients
6

drumsticks

mix and match with thighs, wings if desired

1

teaspoon

of salt

1

teaspoon

of black pepper

1

teaspoon

of garlic powder

1

tablespoon

of dried oregano
Rice Ingredients
⅓

cup

of homemade sofrito

2

garlic cloves

minced (optional)

¼

cup

of cilantro

chopped (optional)

4

oz

of tomato sauce

1-2

packets of Goya Sazon packet

2

bay leaves

½

tablespoon

of dried oregano

1

teaspoon

of adobo

optional

salt and pepper to taste

2

cups

of long grain rice

2 ½

cups

of chicken broth

or water with 2 teaspoons of chicken bullion
Instructions
In a large bowl, season your chicken with salt, pepper, garlic powder and oregano. Let sit for ten minutes.

Into a large heavy bottom caldero or dutch oven pan, heat your oil over medium high heat. Then add in your chicken. Brown both sides of chicken, about 3-4 minutes per side. Next, add in everything except for the rice and broth. Mix it all together, and allow to cook for about three minutes.

After three minutes, stir in the rice, allow the rice to absorb all of the sauce for about 1-2 minutes before adding in the broth. Stir rice and broth together, allow it to come to a light boil, for about 5-7 minutes.

Once you're able to see the grains of rice just at the surface, you will lower your heat to medium low, COVER your pot, and let it cook for 20-30 minutes.

After 20 minutes, check on your rice, if there is still any liquid or your rice isn't as soft as desired, let it cook an additional 5-10 minutes. Once liquid is absorbed and rice is soft, remove from heat, let it sit for 5 minutes before giving it a GENTLE fluff with a fork, then serve immediately.
Nutrition
Serving:
0
g
|
Carbohydrates:
0
g
|
Protein:
0
g
|
Fat:
0
g
|
Saturated Fat:
0
g
|
Polyunsaturated Fat:
0
g
|
Monounsaturated Fat:
0
g
|
Trans Fat:
0
g
|
Cholesterol:
0
mg
|
Sodium:
0
mg
|
Potassium:
0
mg
|
Fiber:
0
g
|
Sugar:
0
g
|
Vitamin A:
0
IU
|
Vitamin C:
0
mg
|
Calcium:
0
mg
|
Iron:
0
mg
TIPS FOR SUCCESS
Rice can be stored in the fridge for up to 3 days -great for meal prepping!
When reheating rice, add a little bit of oil to the pan and enjoy nice fried arroz con pollo!
Rinse your rice for a fluffier and non-sticky arroz con pollo.
Be creative and make this arroz con pollo your own by incorporating your favorite veggies!
RELATED RECIPES TO ARROZ CON POLLO