A classic Puerto Rican dish, this hearty and flavorful salami soup is enjoyed year round.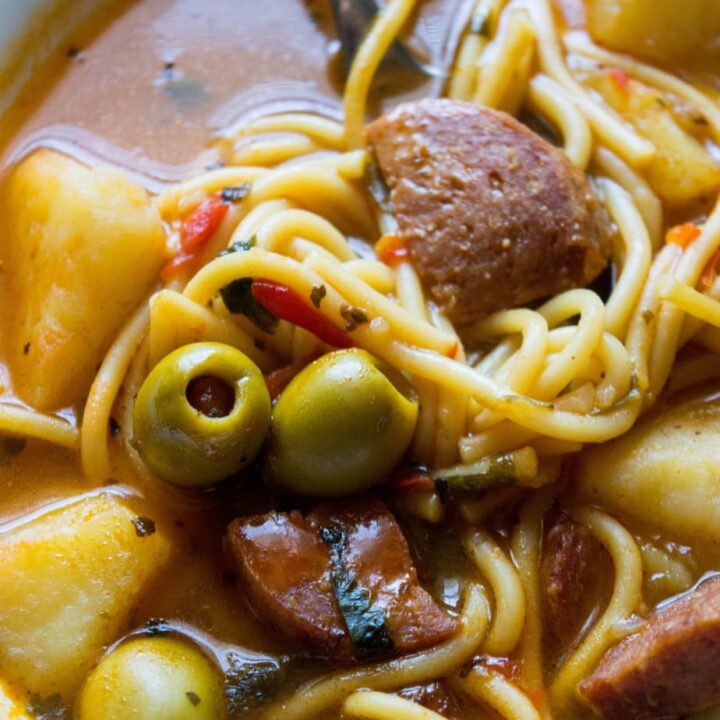 It's the day after Christmas here and all I want to do is sit back with warm fuzzy socks, a book, a cold Malta and some homemade Puerto Rican sopa de salchichon (salami soup). This soup is so easy to make and full of flavor and hearty ingredients. It's a no fail soup the whole family will love. Filled with potatoes, salchichon, noodles, green olives, and beautiful herbs creates this magical dish.
How To Make homemade Puerto Rican sopa de salchichon (Puerto Rican Salami Soup)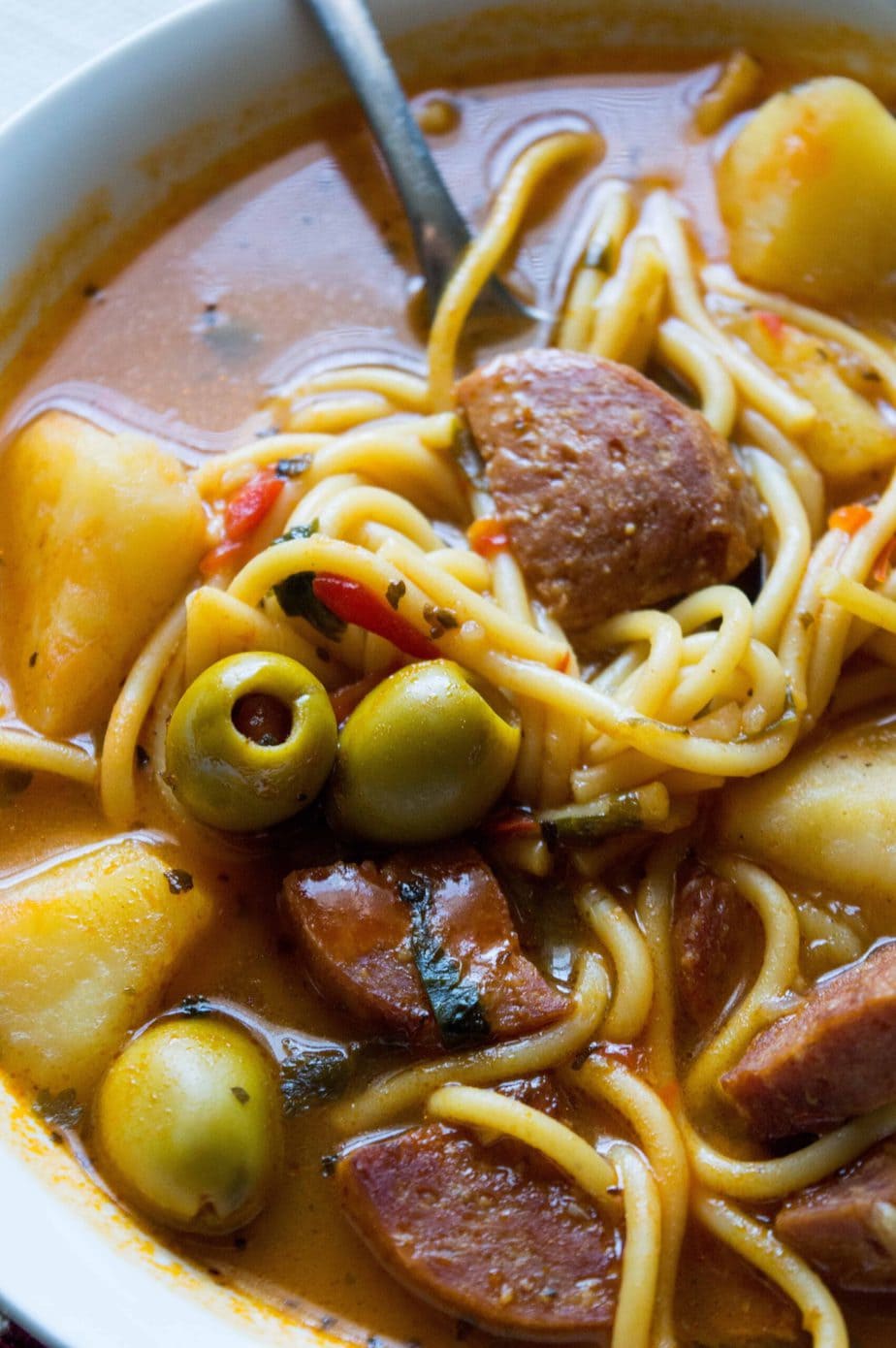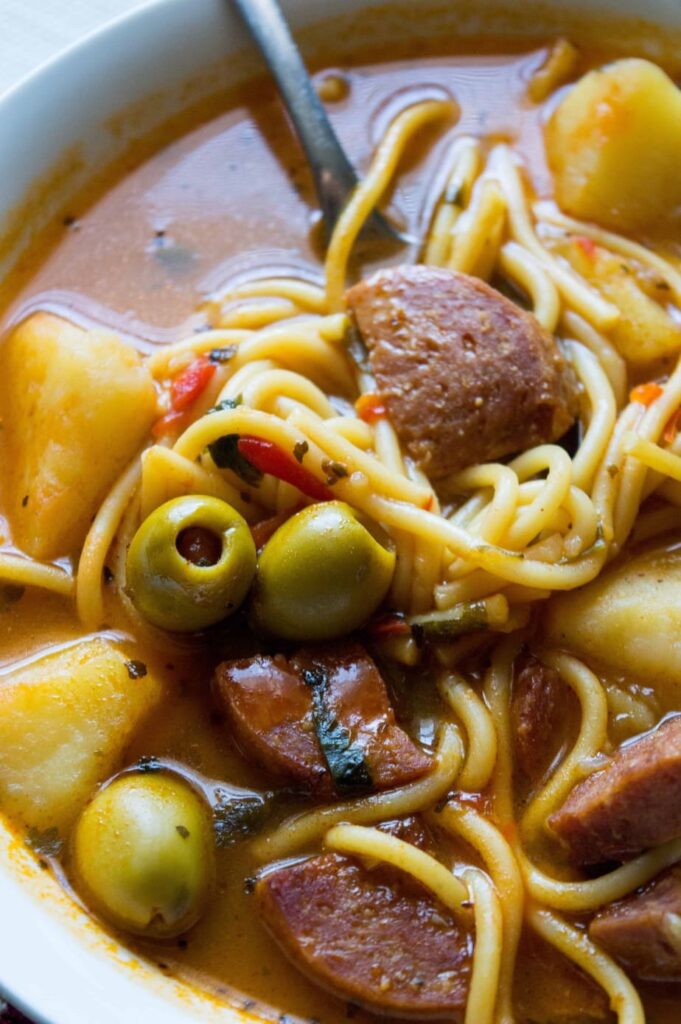 We start off with the salchichon (salami), if it has a casing, remove it and you want to chop it into bite size quarters. Depending on how you like it, you can add more or less salchichon (salami) to your soup, and of course on your family size. We're a family of 7 so I use the whole thing, and it always leaves room for leftovers.
I never realized how hard it was to find salchichon in a local supermarket near me until I moved to my current town. Wowzers, three stores later and nothing! Thankfully, whole hard salami and genoa salami is easy to come by. (Honestly, you can use either, just be mindful of cooking it in the beginning to not over harden it.)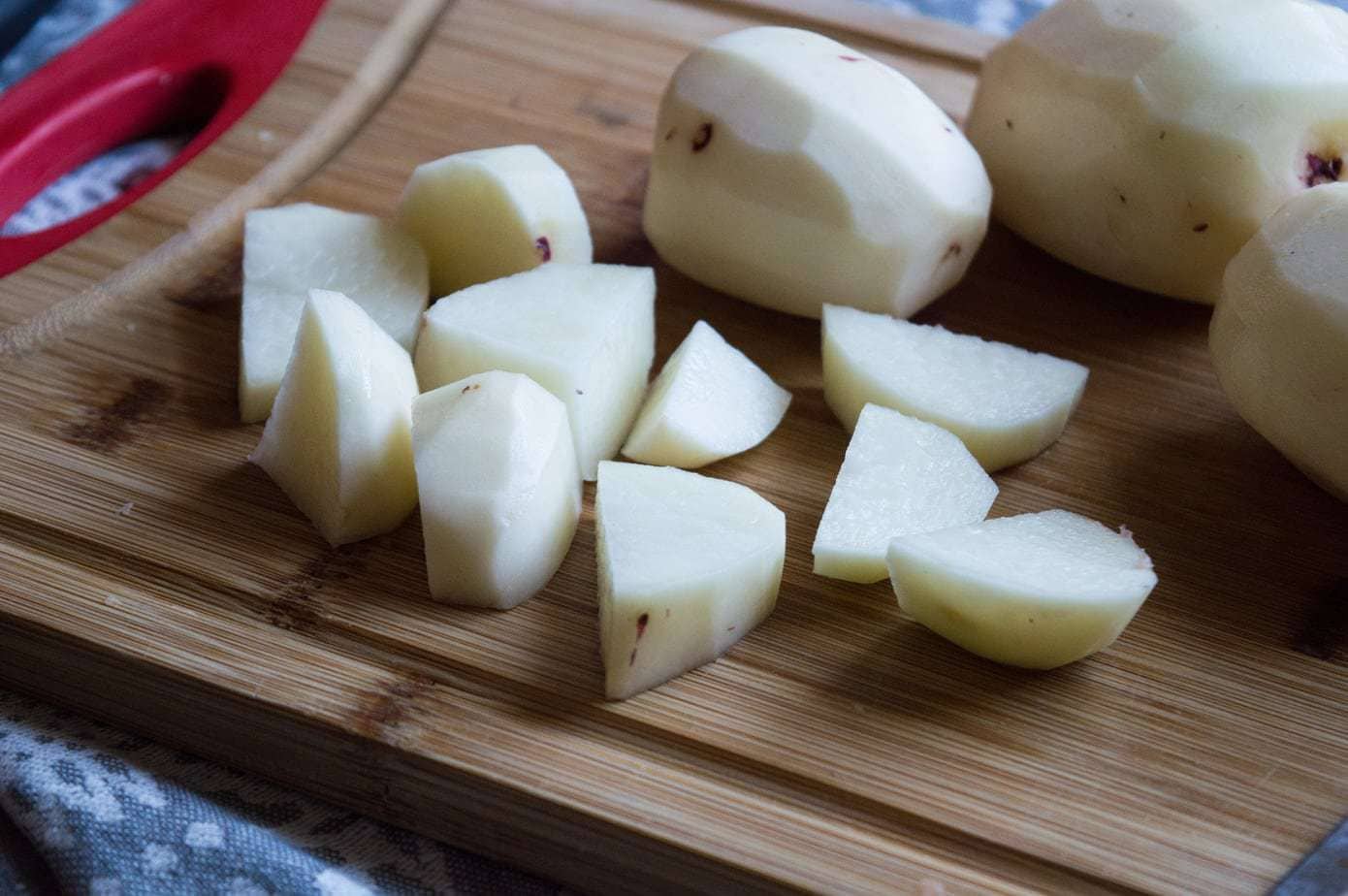 Next, we cut up the potatoes. I used 4 medium red potatoes, peeled and chopped. There's actually health benefits to keeping the skin on, but I really wanted my picky kids to eat it, so I opted to peel them. You can use any kind of potato, well... try sweet potatoes at your own risk. Even cassava would taste great in this!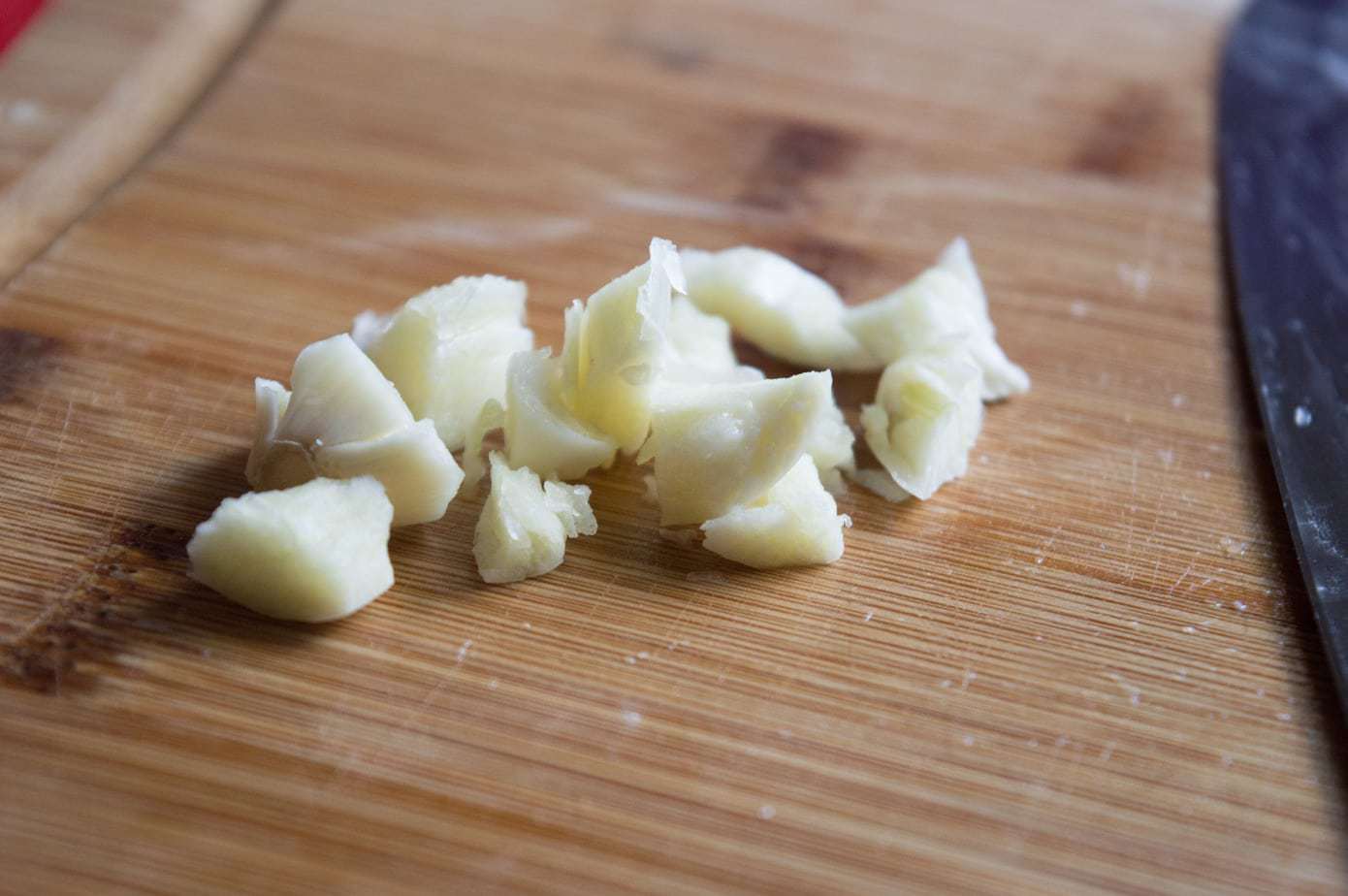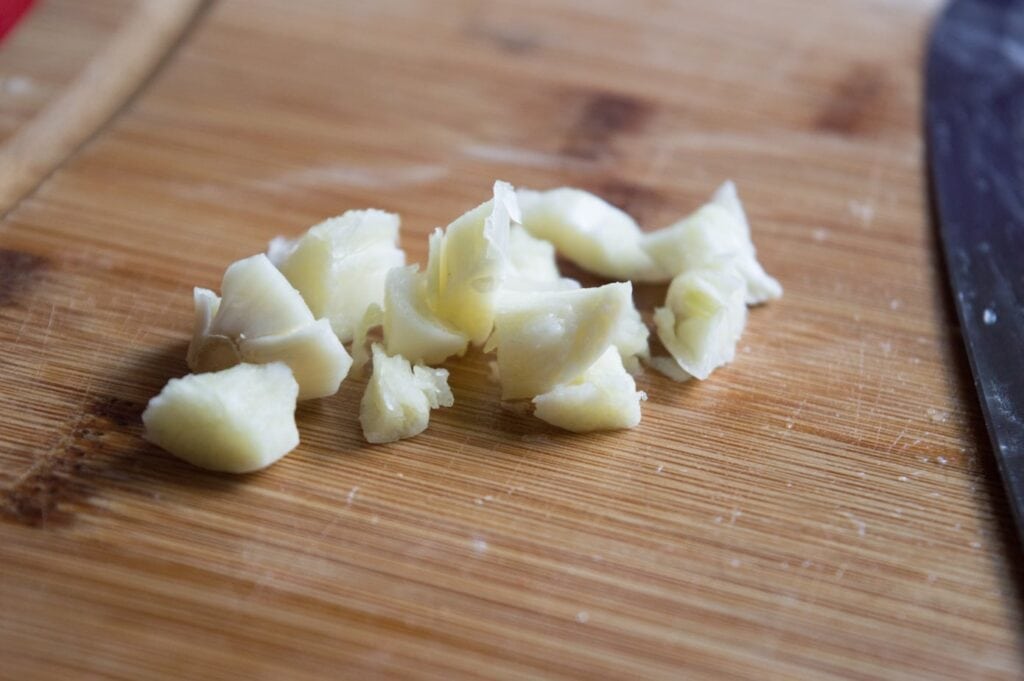 For the star of any Puerto Rican soup. Drum roll please, GARLIC!!! I love me some garlic in soup. As you can see, I do not mince them, and do not use minced jar garlic stuff, save that for your spaghetti sauce. Here you want to add 3-6 fat cloves that are slightly smashed to allow the juices to flow freely and roughly chop it, or don't chop it at all if you really want a surprise "hello mam" from a chunk of garlic. Have I mentioned I love garlic in soup?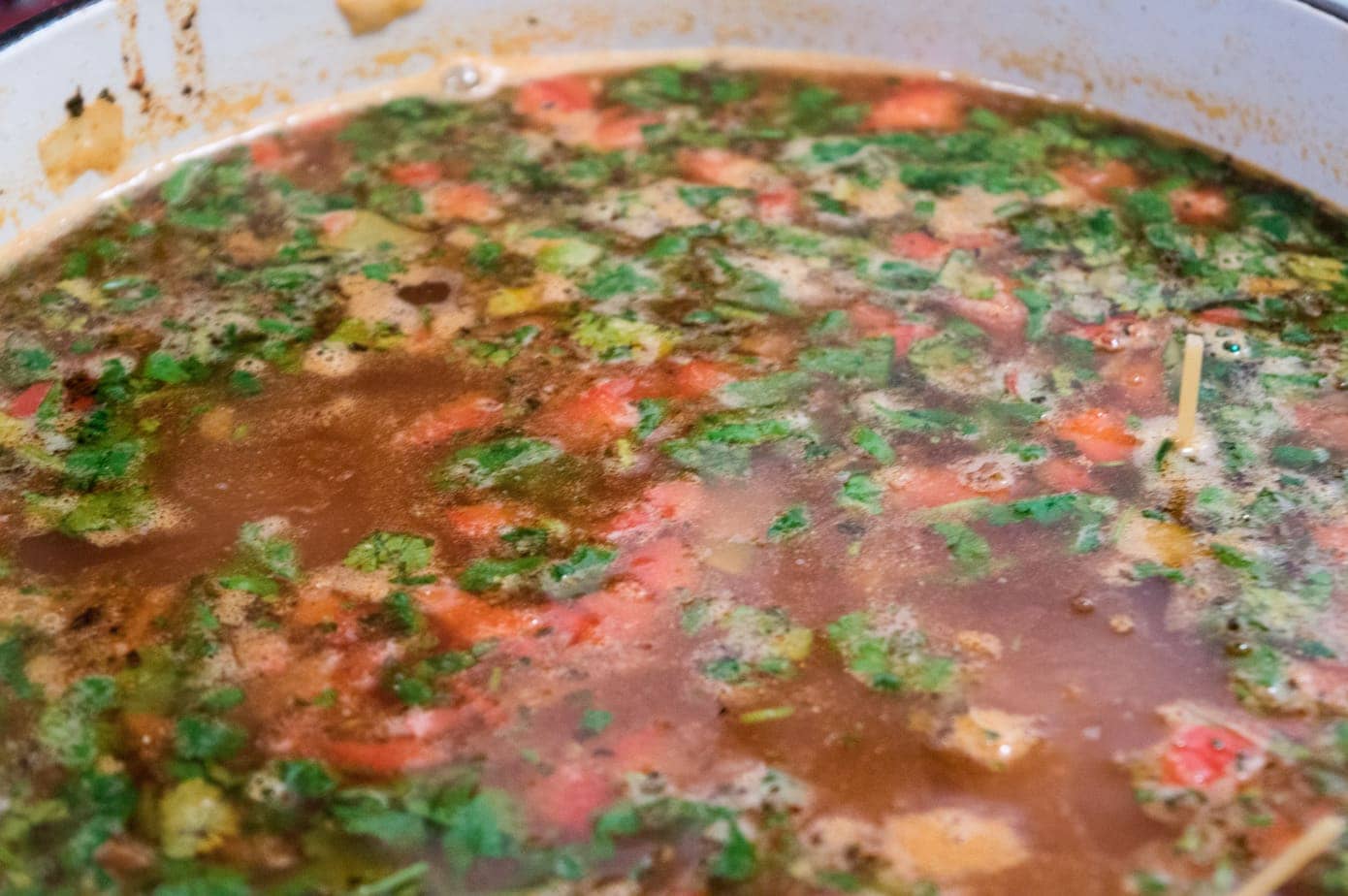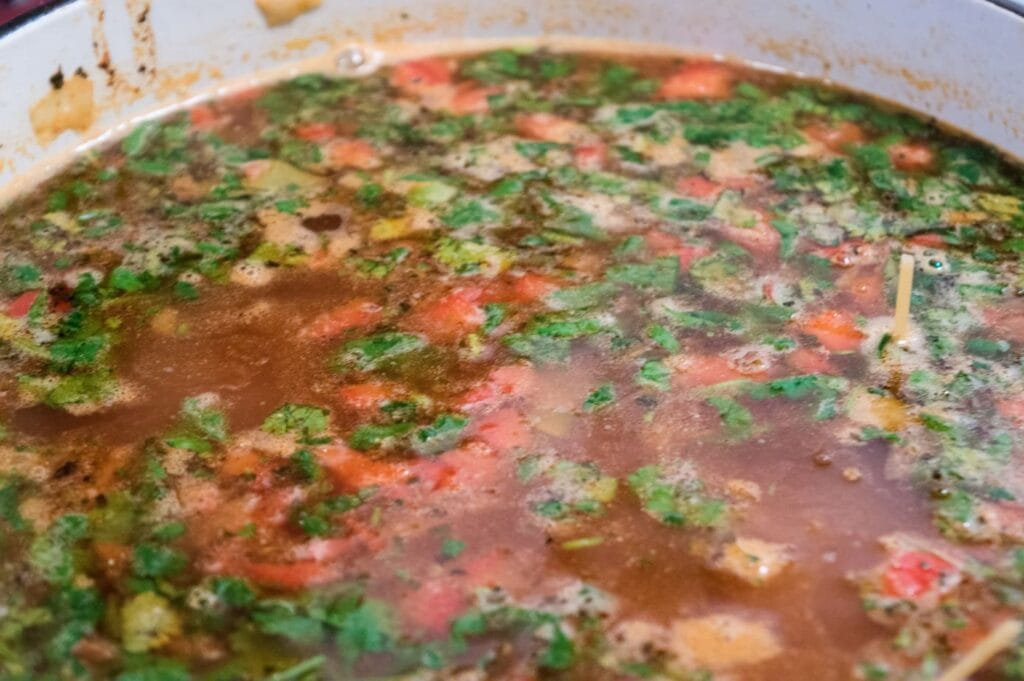 This here is magical. Nothing screams soup in the making like this right here. This is the middle, the climax, where all the essential flavors dance together. Can I get an amen?! Look at the color of the broth, the pimentos and the cilantro floating around! Perfection. Even the odd noodle sticking up is screaming "I'm still in, I made it". I love the rich golden red hue it has, that's from a mixture of the sazon, sofrito, and tomato sauce. This homemade sopa de salchichon (salami soup) is not something you'll find at your local supermarket and I haven't gone to a Latin restaurant yet that serves this. No mi gente, this is all home, like in your barrio, tu casa, tu cocina only made soup.
And for the final result?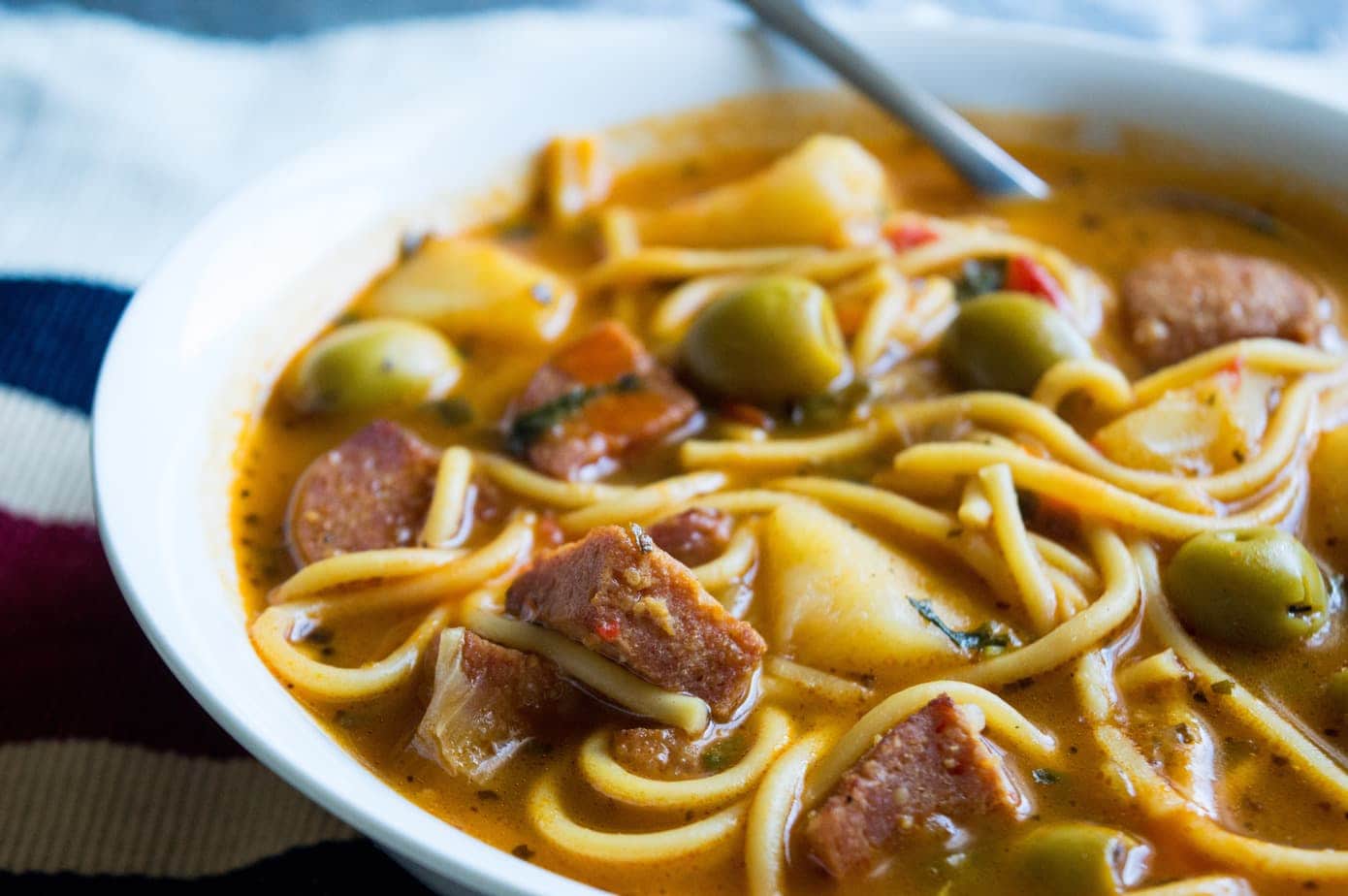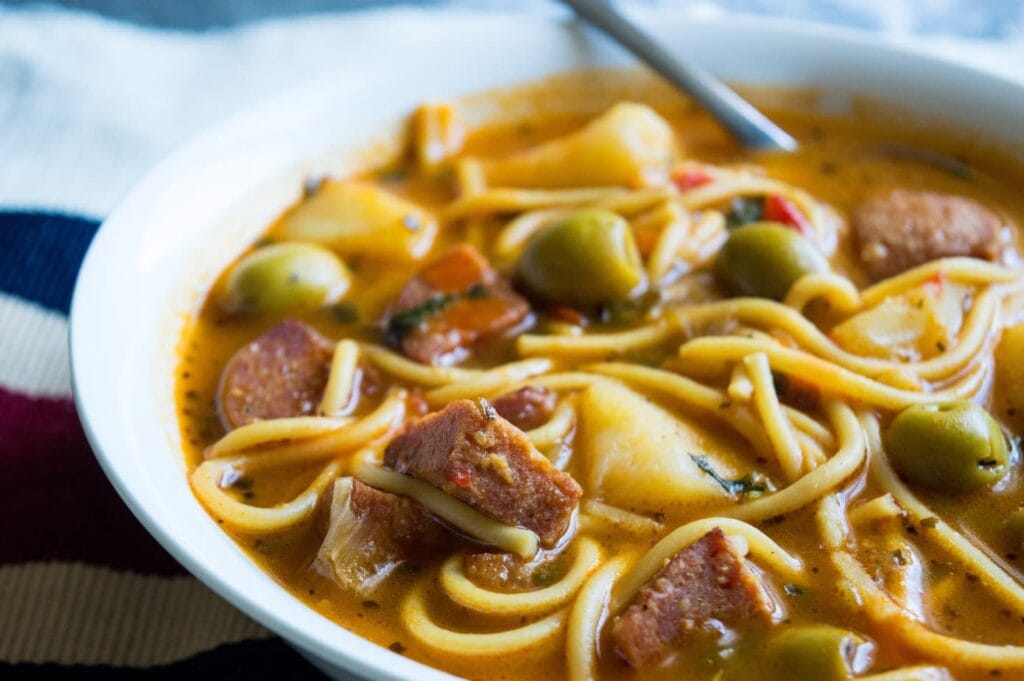 Perfection! Now, I do realize some Boricua's like to use fideo, but a, I didn't have any, and my local stores don't sell it. And b, I prefer the thickness regular spaghetti offers. This is also amazing with a few splashes of salsa picante (hot sauce) and a quarter of diced avocado (or half if you're like me).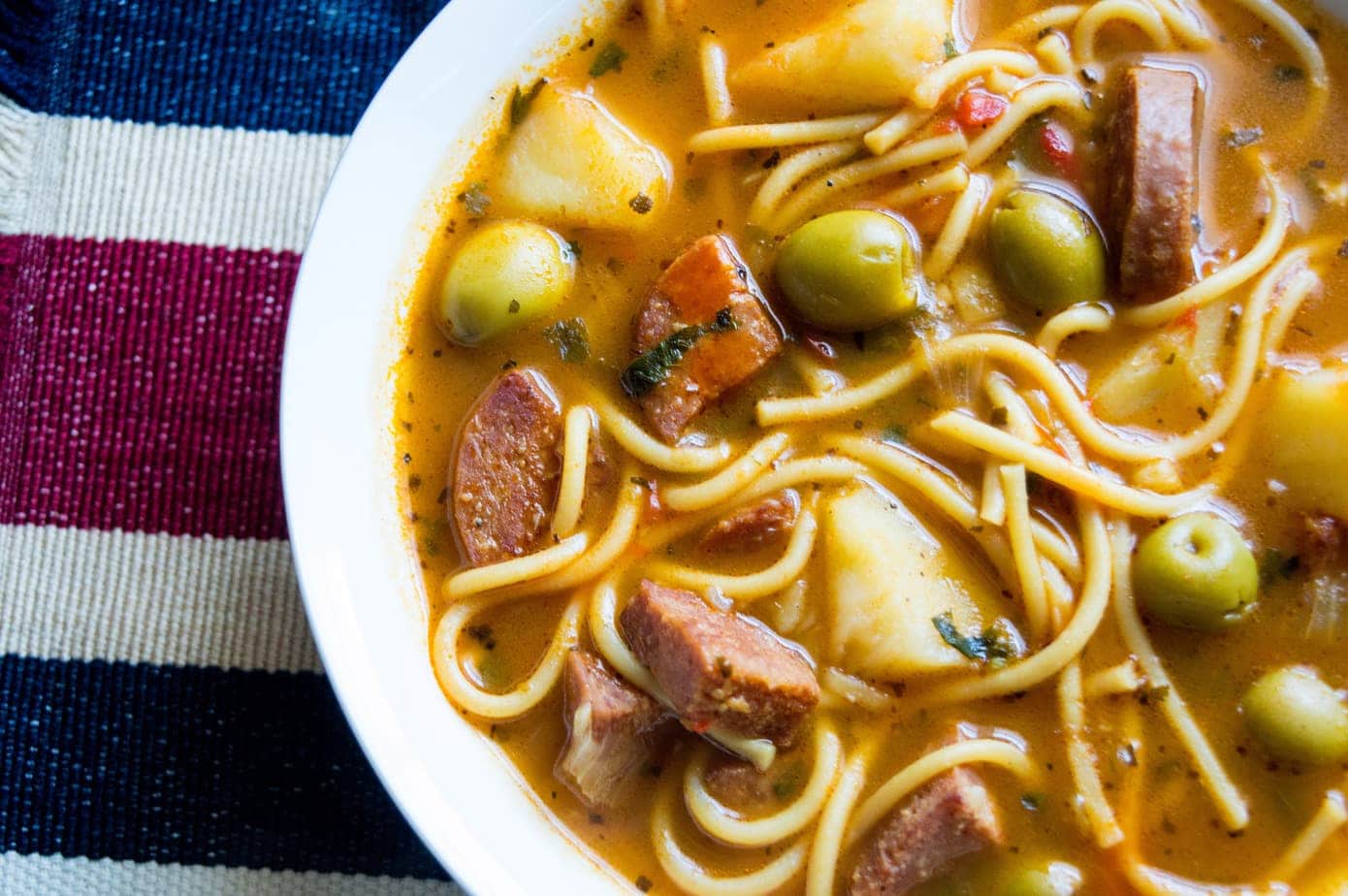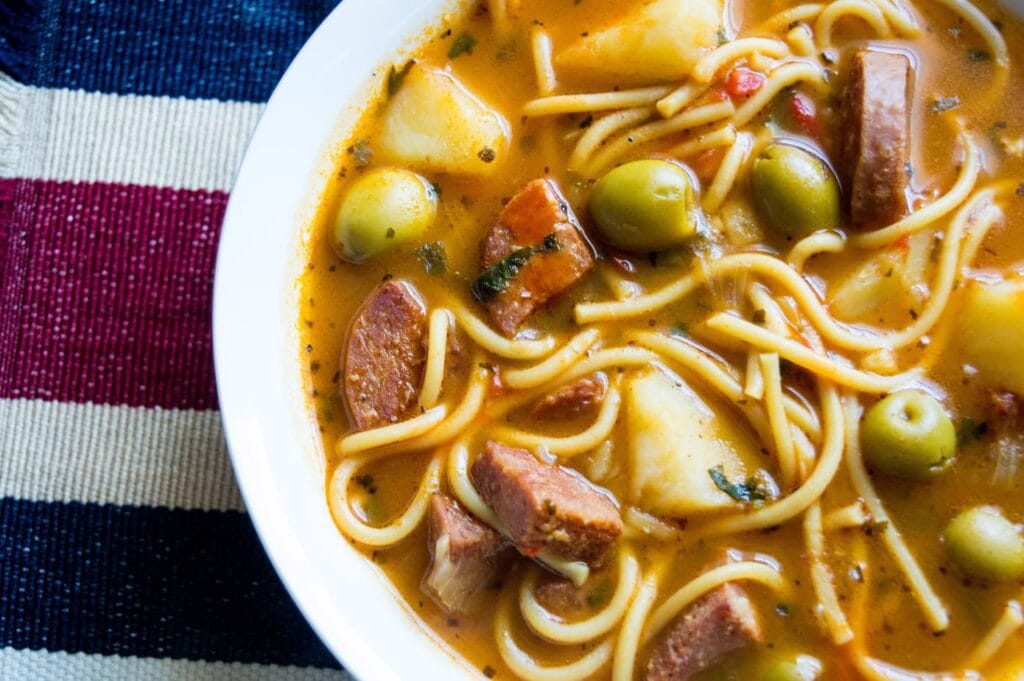 That's it mi gente, I'm off to read some more of my book before the kiddos wake up. I hope your family enjoys this Puerto Rican homemade sopa de salchichon recipe as much as mine does. Until next time, buen provecho and comment below of what future recipes you'd like to see made by me.
Related Soup Recipes: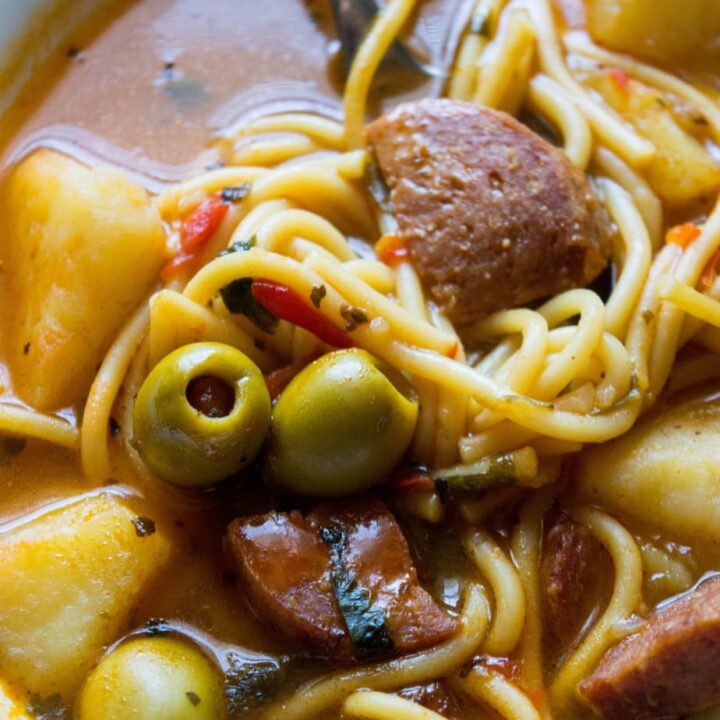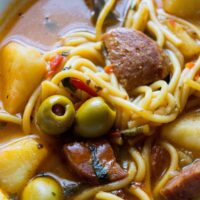 Salami Soup | Sopa de Salchichon
A classic Puerto Rican dish, this hearty and flavorful salami soup is enjoyed year round.
Print
Pin
Rate
Ingredients
1/2

package of Goya salchichon or about 1 1/2 cups of hard salami

bite size chunks

1/2

onion diced

1/3

cup

of sofrito

1/4

cup

of cilantro

chopped

3

garlic cloves

chopped

1/2

can of tomato sauce

1

envelope of ham bullion

optional, you can also use 1 cube or envelope of chicken bullion or to taste

1/2

cup

of pitted green olives

1

small jar of pimentos

2

potatoes

peeled and diced into thick chunks

6

oz

of spaghetti

uncooked and broken in half

1

bay leaf

1

packet of sazon

1/4

teaspoon

of oregano

1/2

teaspoon

of black pepper

salt to taste

8

cups

of water
Instructions
Note: If using hard salami, add 1 teaspoon of oil to a preheated dutch oven or large pot.

In a large pot over medium high heat, cook salami for 5-6 minutes, stirring often.

Add in onions and sofrito, cook an additional minute or two. Then add in garlic, tomato sauce and seasonings. Stir and allow to cook an additional minute before adding in water and potatoes. Bring to a boil, reduce heat to a simmer and allow to cook for 30 minutes before adding in the pasta. If you see that you need more water for the noodles, go ahead and add another cup or two. Cook until pasta is tender.
Nutrition
Serving:
0
g
|
Carbohydrates:
0
g
|
Protein:
0
g
|
Fat:
0
g
|
Saturated Fat:
0
g
|
Polyunsaturated Fat:
0
g
|
Monounsaturated Fat:
0
g
|
Trans Fat:
0
g
|
Cholesterol:
0
mg
|
Sodium:
0
mg
|
Potassium:
0
mg
|
Fiber:
0
g
|
Sugar:
0
g
|
Vitamin A:
0
IU
|
Vitamin C:
0
mg
|
Calcium:
0
mg
|
Iron:
0
mg