Fragrant and flavorful, chunks of tender pork kabobs grilled to perfection on a stick in no time!
Puerto Rican pinchos are a favorite around here during the summer months.
There's nothing like grilled chicken or pork, seasoned with fragrant herbs and flavorful seasonings, with a nice charred taste that screams summer!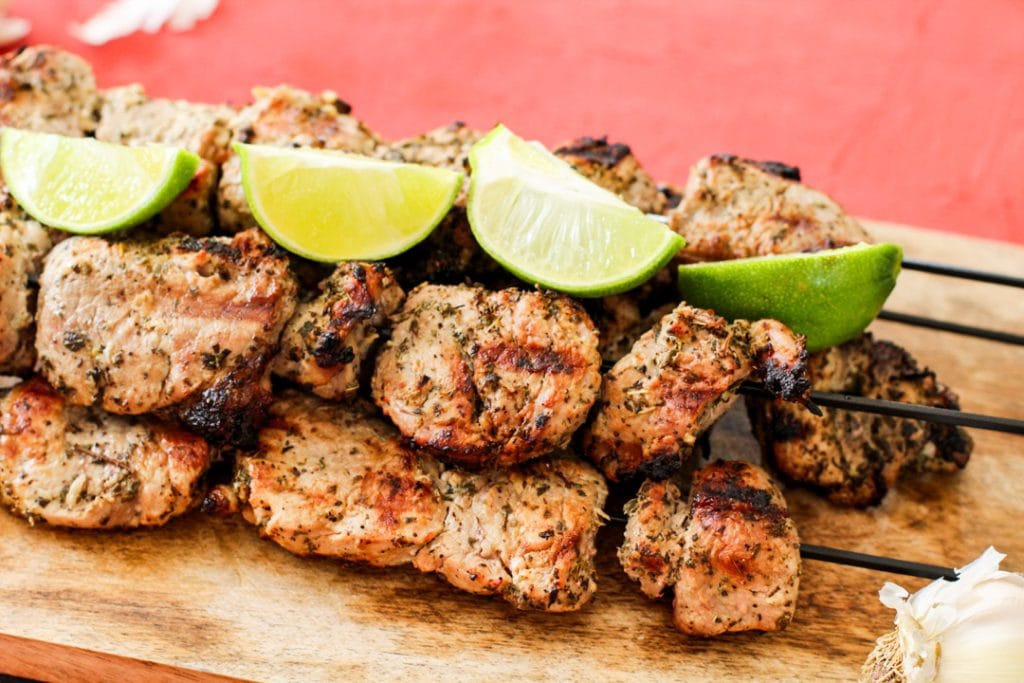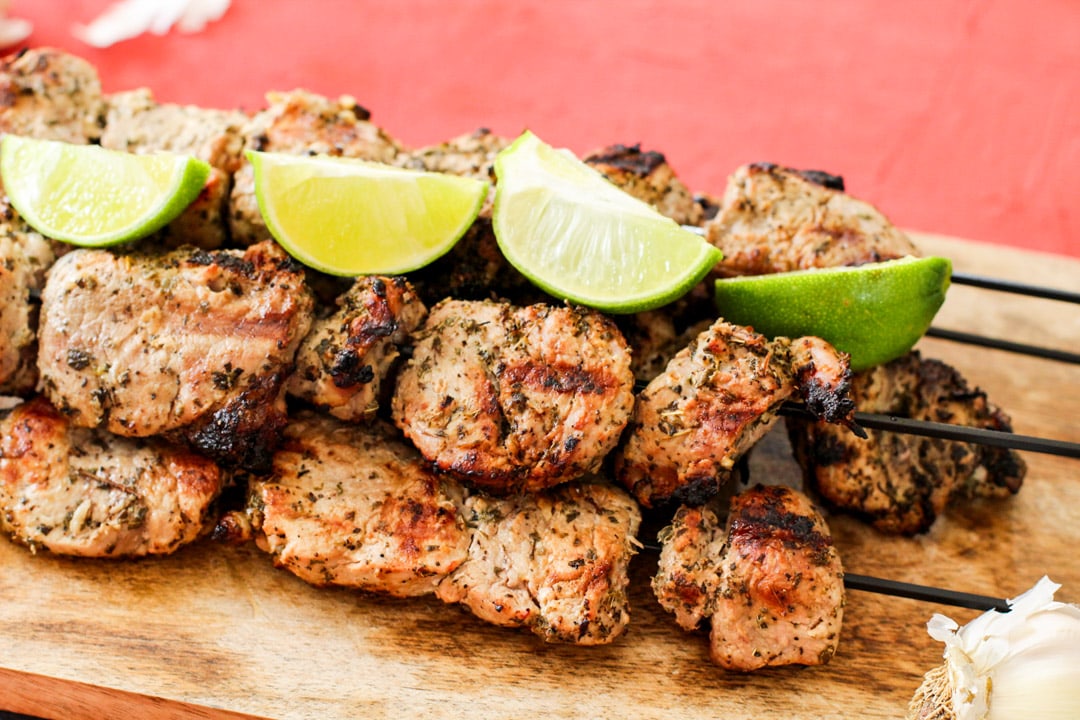 Growing up, eating pinchos during family BBQ's was a highlight of those days.

The grill would burn with lines of chicken or pork pinchos with red onions and bell peppers across the grill.

My parents would dance to bachata and salsa music and us kids would ask the aunts and uncles for quarters to get limbers.

We were care free and creating memories while honoring our cultures love for grilled kabobs and music.
What are pinchos?
Pinchos are shish kabobs. A grilled dish that is made up with bite sized chunks of meat, seafood, or vegetables that are threaded onto a wooden or metal stick and cooked on the grill or baked in the oven.
Pro Tip: Soak wooden skewers in a bath of water for at least four hours to keep them from burning while grilling.
Ingredients Used In Pinchos
Here are ingredients used to make pinchos:
Protein- Boneless pork, chicken, beef, or seafood, such as shrimp or even salmon are the most common.
Vegetables- Chunks of red onion, red or green bell peppers, thin chunks of corn on the cob, or baby potatoes.
Fruit- Pineapple chunks, cucumbers, grape tomatoes.
Marinade- Depending on your ingredients, you can go for sweet or savory! BBQ will always be my favorite, but for pork kabobs, I love a good mojo marinade. You can always make your own, like an apricot Italian dressing marinade.
For this specific recipe, we're making a Cuban style mojo for the pork.
Ingredients for mojo pork kabobs:
fresh garlic
salt
black pepper
dried oregano
onion powder
olive oil
boneless pork

For pork kabobs, the best pork to use is pork tenderloins. Cut the pork chunks into 2 inch chunks. (Butcher can also do this for you, for free!)

orange juice
lime juice
Pork Kabob Marinade
I love to use a pilon (mortar and pestle) to smash the garlic and seasonings to create a garlic paste.
If you don't have one, you can add the garlic and seasonings into a food processor to create the garlic paste.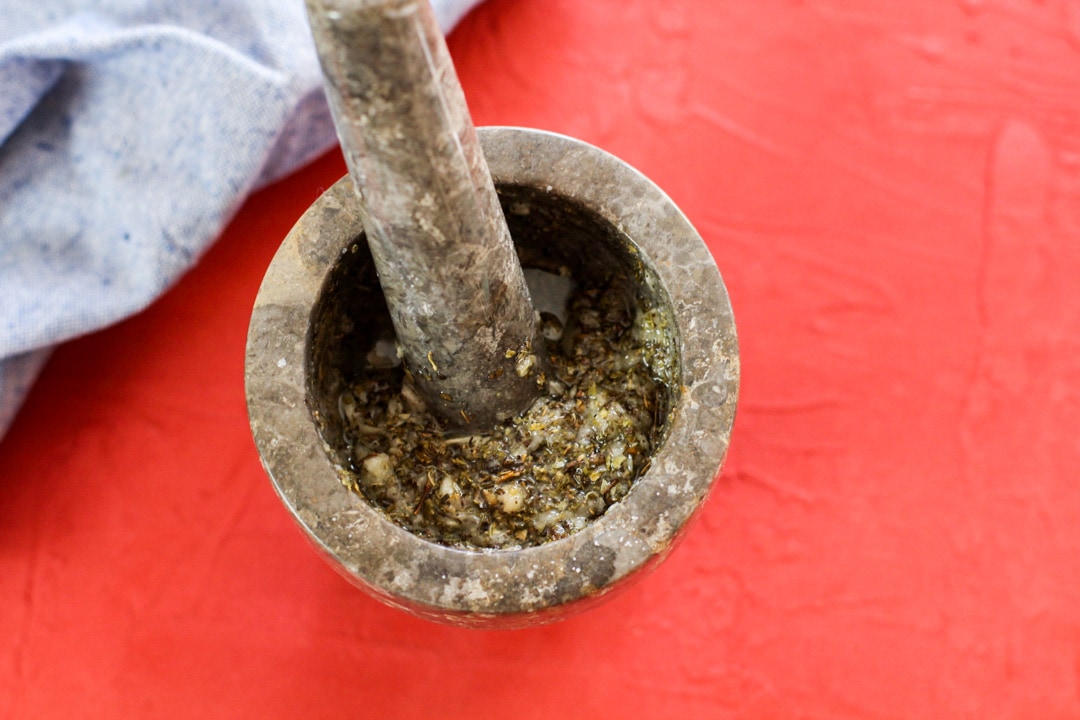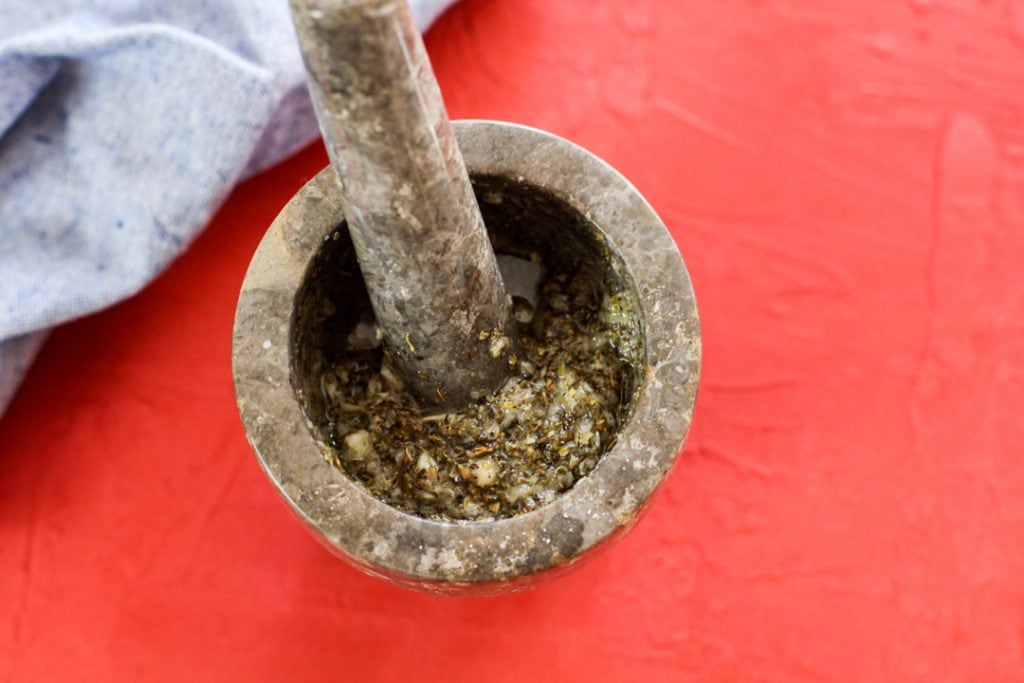 To make this simple Cuban mojo in a pilon, you're going to add a big pinch of salt and fresh garlic cloves to the center.
Salt is like a binder that helps create a paste and keeps the garlic from flying everywhere.
Mash the garlic and salt together until a paste forms. Once the paste forms, you're going to stir in the remaining seasonings and the olive oil.
This garlic paste blend plus the juice of fresh limes and oranges makes the best Cuban mojo marinade!
Assemble Pork Kabobs
Now that the mojo marinade is made, massage the marinade all over the pork kabobs and refrigerate for at least an hour.
I prefer to allow pork kabobs to marinate overnight for a better depth of flavor.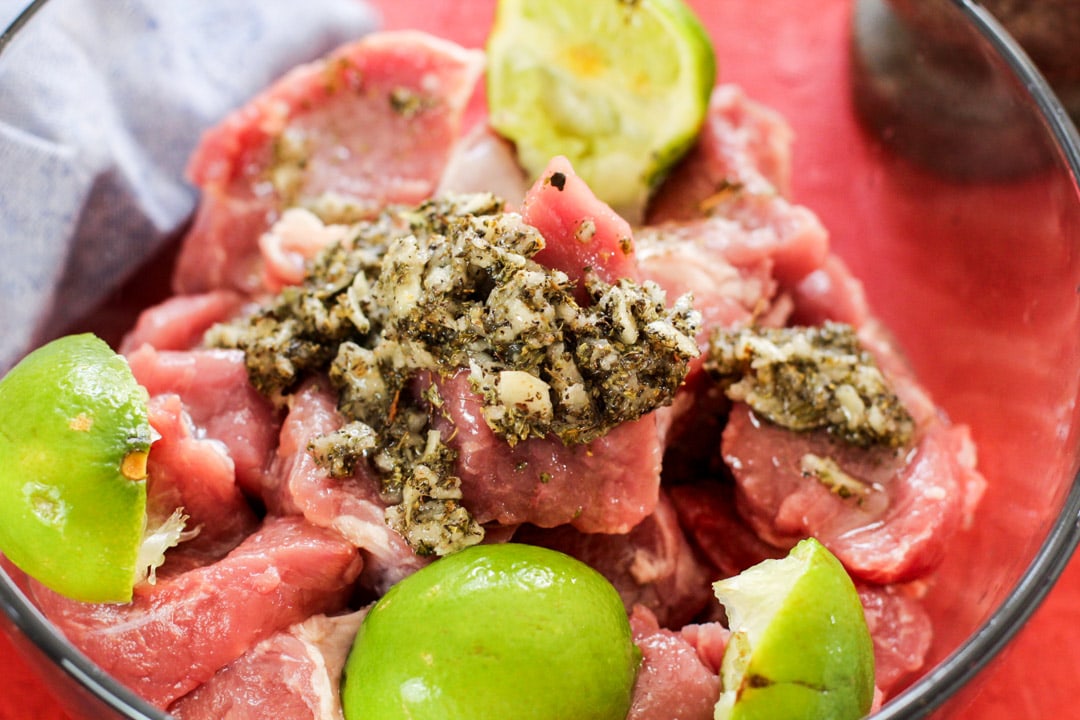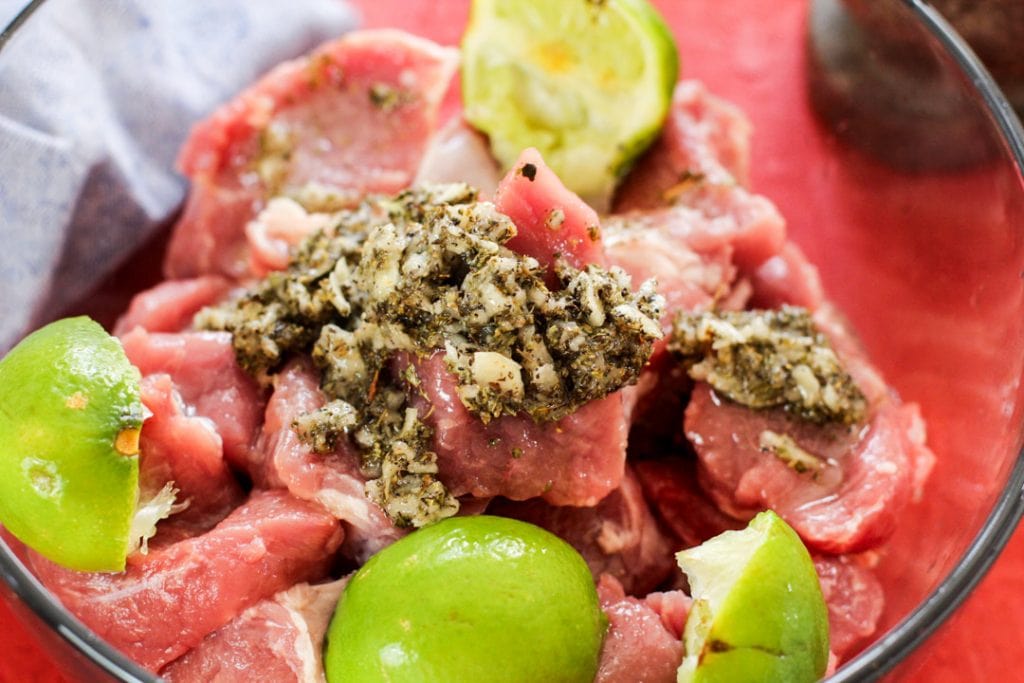 Once your pork has marinated, take about 4-8 chunks of pork and thread them over the skewers.
When piercing the pork into the skewers, you want to make sure the pork touches each other, but that it is not completely compacted!
In order for the pork to cook evenly, it needs to have space to breathe.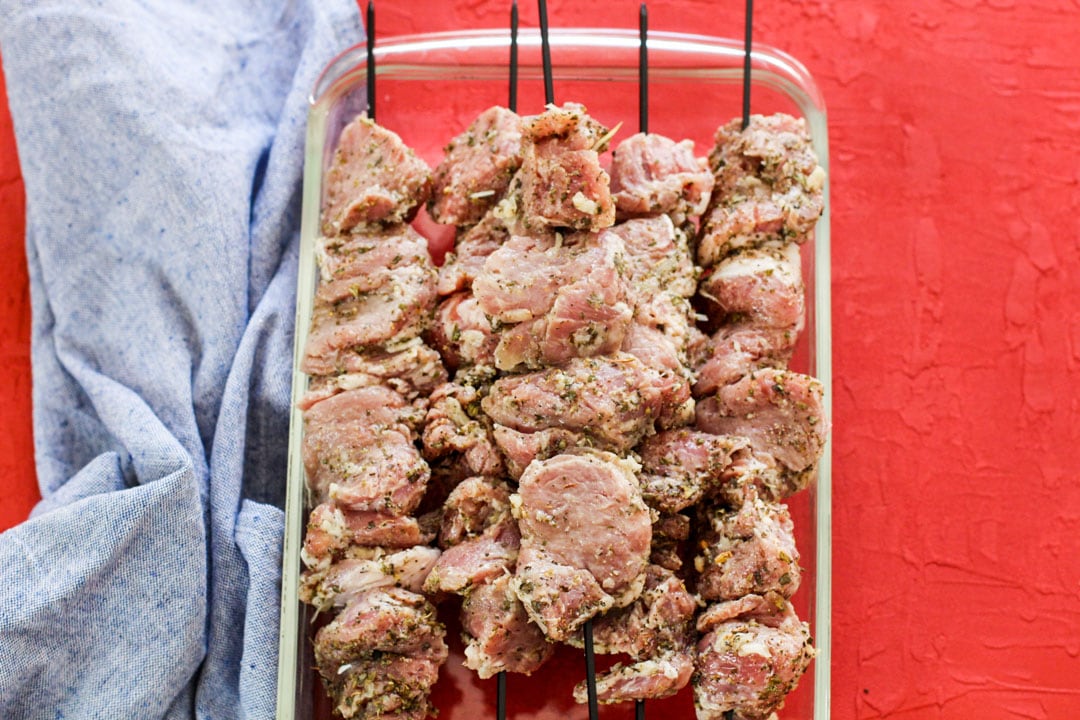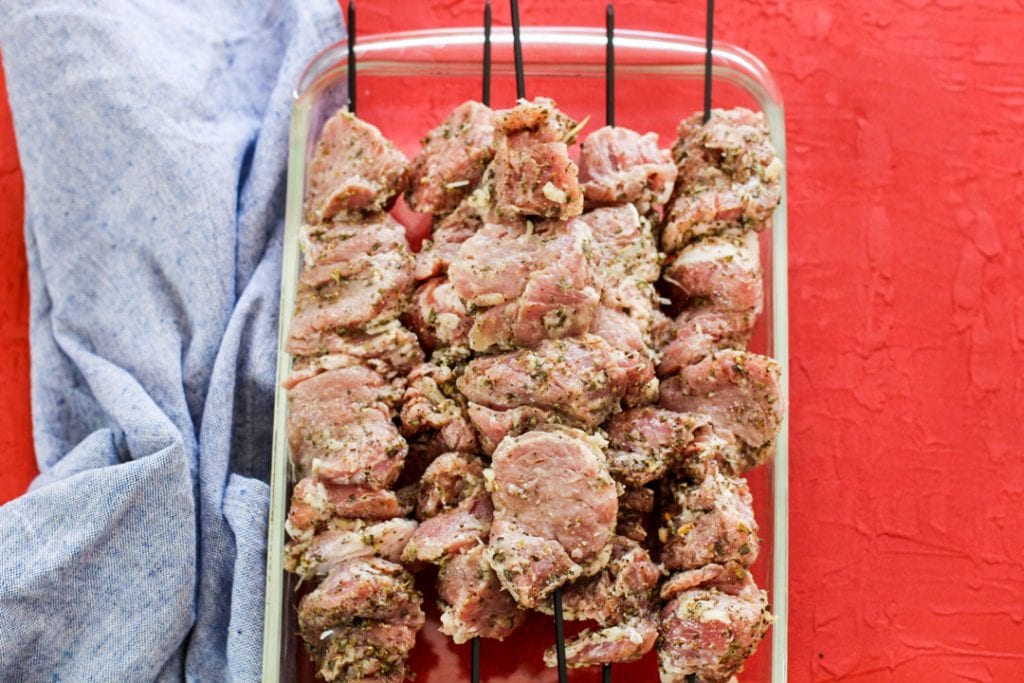 How to grill pinchos
Oil grill grates with corn, canola, or vegetable oil.
Preheat to medium high for a few minutes.
Line pork kabobs over grill, giving some space between each.
Close lid and flip pork kabobs every 3-4 minutes.
Cook until pork reaches an internal temperature of atleast 145 degrees Fahrenheit. (This takes about 12-14 minutes.) I personally enjoy charred pinchos, and allow it to cook until it gets to like 165 degrees!
Remove shish kabobs from grill and allow pork to settle for 3 minutes before serving.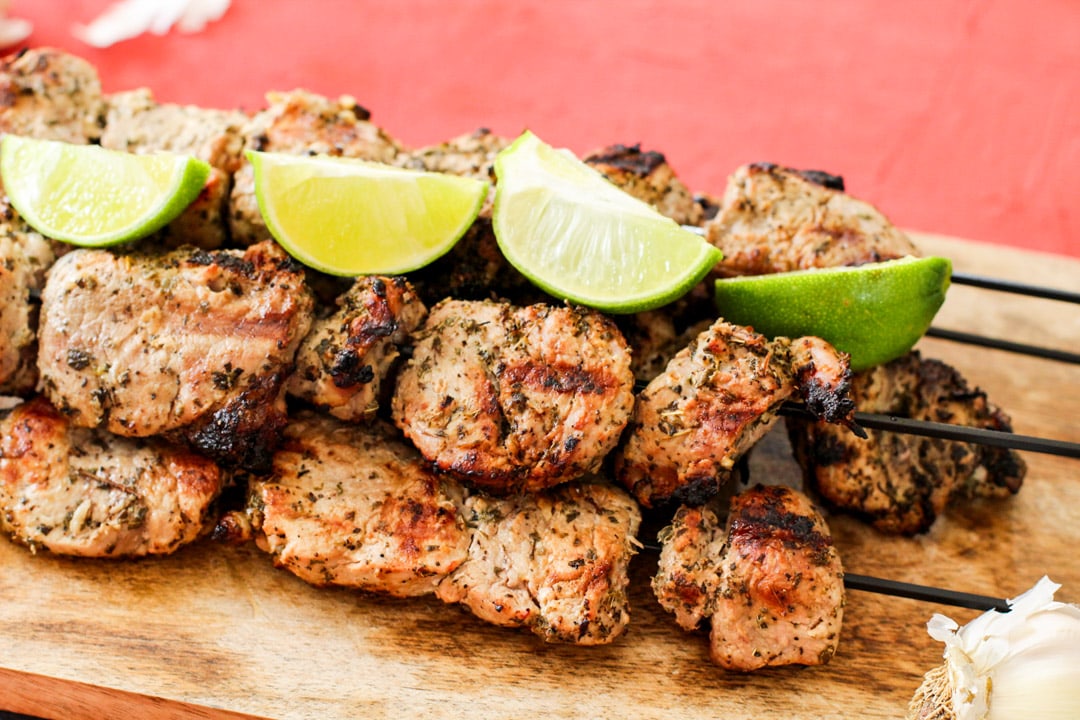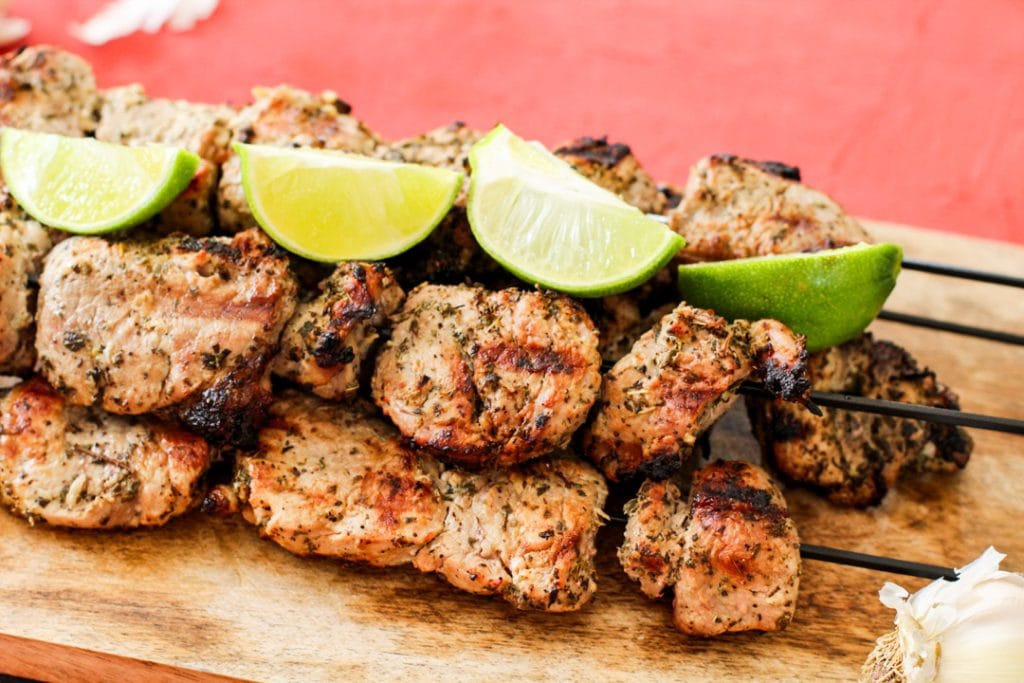 More Summer Recipes
These grilled pork kabobs are perfect top dip into a rich garlic aioli or even some guava BBQ sauce!
Here are some more summer Puerto Rican recipes we're sure you'll love:
📖 Recipe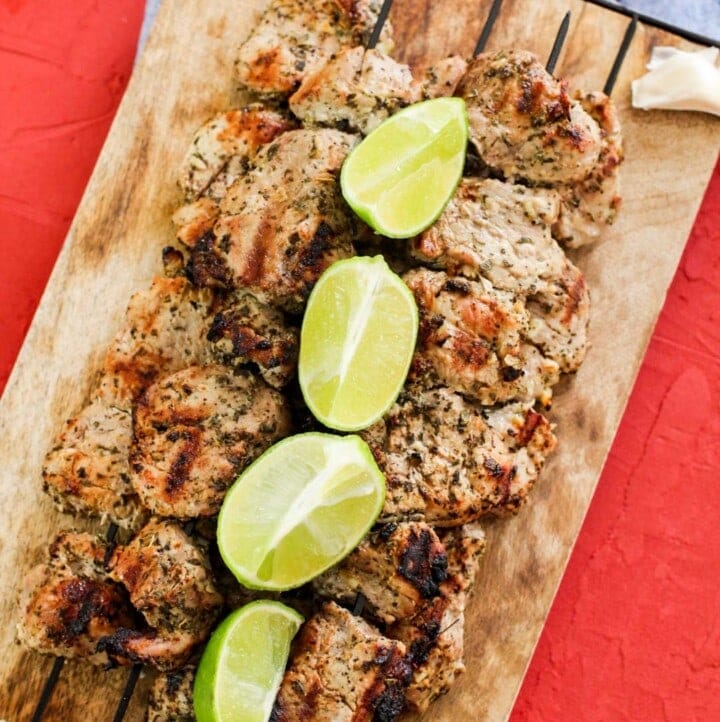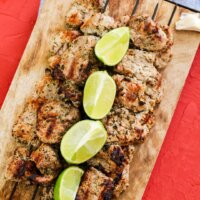 Garlic Lime Pork Kabobs
This robust garlic lime pork kabobs recipe is grilled to perfection for an amazing quick lunch!
Print
Pin
Rate
Ingredients
2

teaspoons

salt

1

teaspoon

black pepper

1

teaspoon

onion powder

1 ½

tablespoons

dried oregano

6

garlic cloves

2

tablespoons

olive oil

2

pounds

boneless pork

cut into 2 inch chunks

⅓

cup

orange juice

3

tablespoons

lime juice

wood or metal skewers
Instructions
Crush garlic in a mortar and pestle with salt, pepper, onion powder and oregano until garlic turns into a paste.

Pour in olive oil to create a thicker paste.

In a large bowl, season pork with the garlic paste.

Pour in the orange and lime juice. Toss together to cover the pork completely.

Cover and refrigerate 30 minutes to overnight.

When ready to grill, pierce pork chunks through a skewer. About 5-8 chunks per skewer.

Grease grill with a small amount of oil and preheat over medium high heat.

Grill pork kabobs with space between each, and rotate every 3 minutes for a total of 12-15 minutes or until pork reaches 145 degrees Fahrenheit.

Remove pork from grill and let sit 2-3 minutes before serving.