This shop has been compensated by Collective Bias, Inc. and its advertiser. All opinions are mine alone. #ToraniSauceObsession #CollectiveBias
Creamy Coffee Flavored Flan With Dark and White Chocolate Sauce Topping Recipe | Receta de Flan Con Cafe y Chocolate Blanco y Chocolate Negro
Creamy flan has always been my favorite dessert since I could crawl. My mom would make all kinds of flan, such as cream cheese and pumpkin flan. But this recipe? This is the grown up coffee lovers dream version of the best creamy and tasty coffee flan with chocolate and white chocolate sauce recipe ever!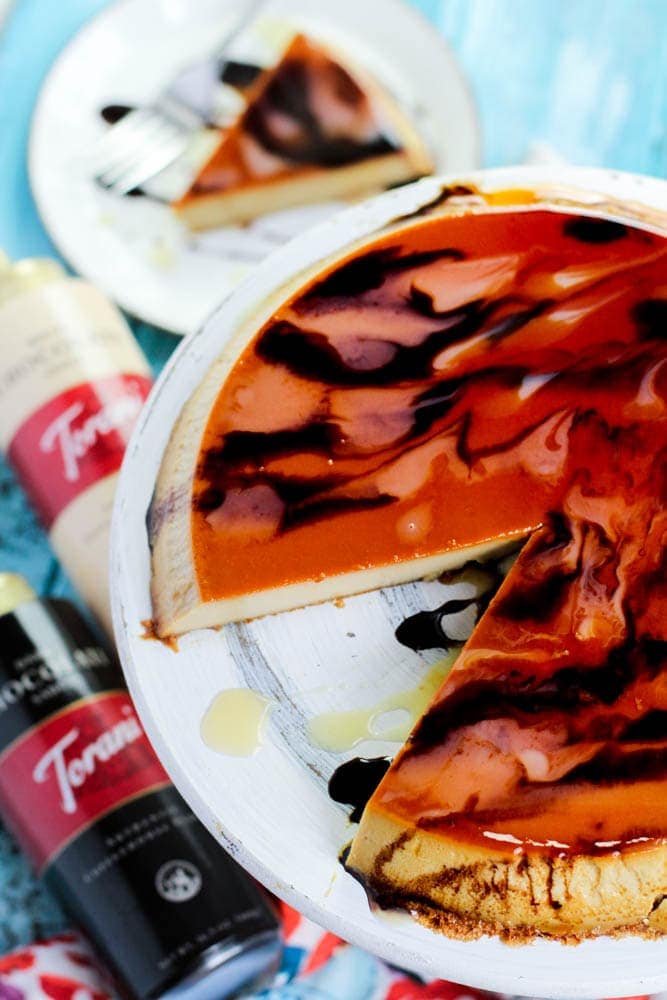 We all know that with flan, the caramel sauce needs to be sweet and perfect to make the flan stand out from any other kind of custard. Did you know you could add toppings to your flan to really give it an extra lift?
I chose Torani's Dark Chocolate Sauce as well as Torani's White Chocolate Sauce to swirl over my homemade caramel flan sauce. Given that it's a well known secret that Torani flavors top cafés across America with their extensive line of flavored syrup; I knew I needed their sauce line for my coffee flan recipe. And mi gente, they did not disappoint!
Torani is a flavor expert, with products that create delicious beverages and desserts. A 3rd generation family owned business that has been crafting amazing drinks in the café industry for over 90 years. I'm also working on a 3rd generation legacy by passing these precious recipes down to my five children!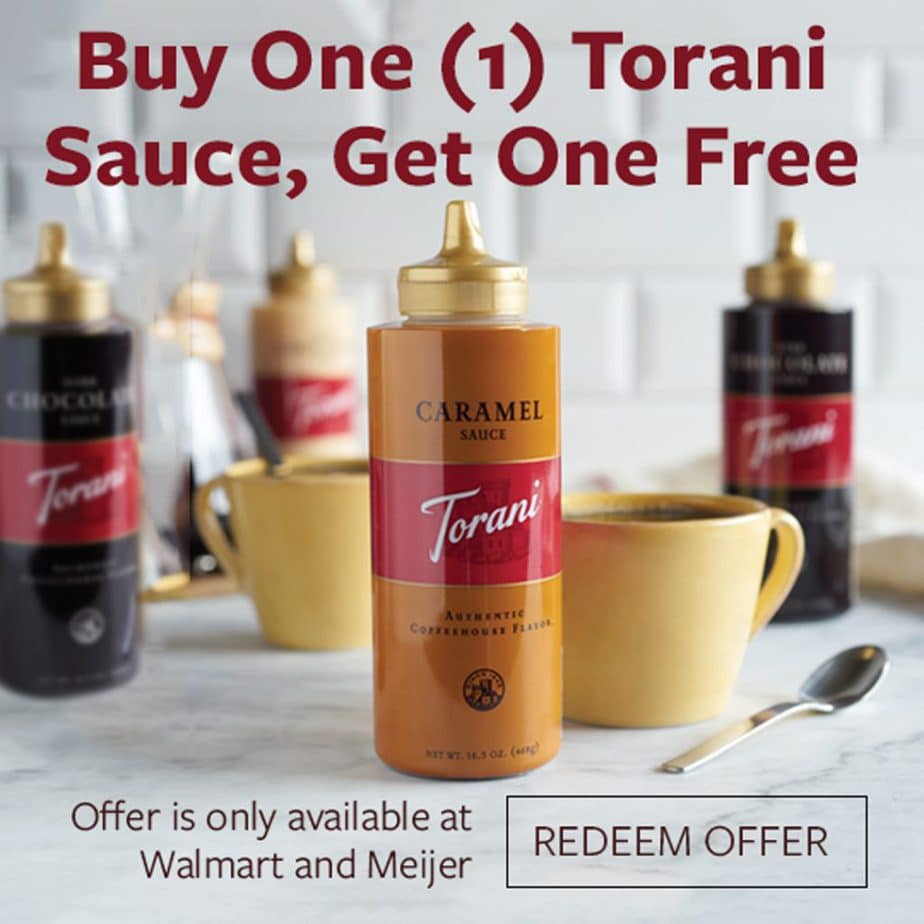 Want to shop for all of the ingredients? Here's an easy way.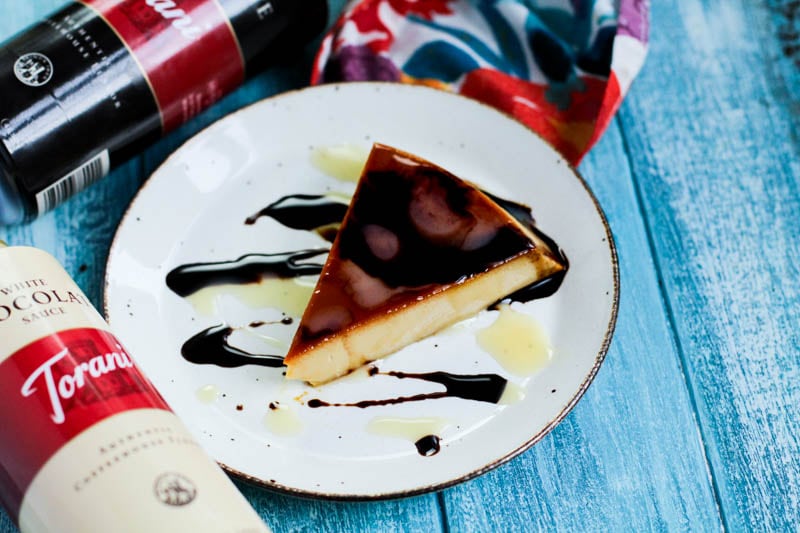 How To Make Coffee Flan (Flan de Cafe Receta)
Making this coffee flan is very simple! It starts with a base, you use simple ingredients like eggs, condensed milk, evaporated milk, vanilla, instant coffee and Torani's versatile white chocolate and chocolate sauces.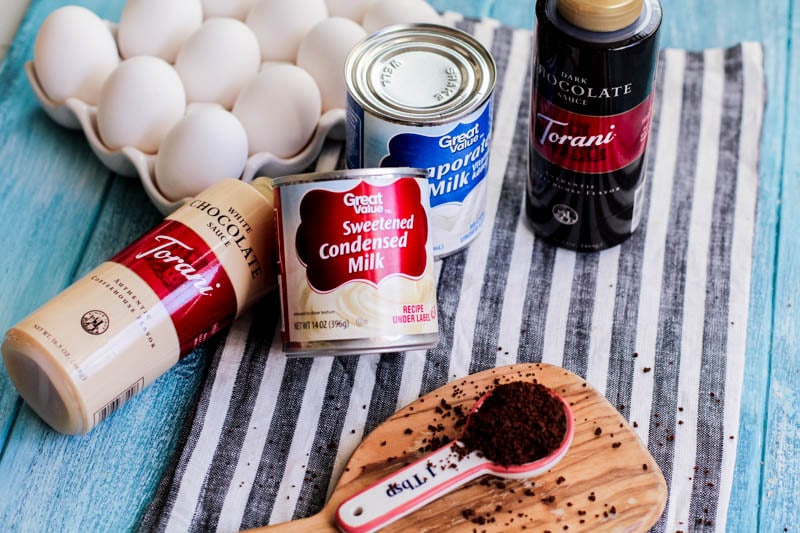 You put all of the ingredients, except for the Torani sauce into the blender!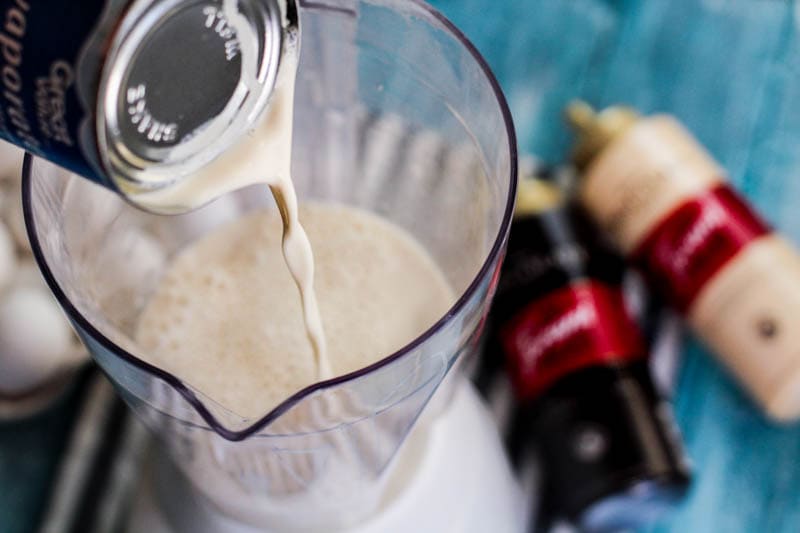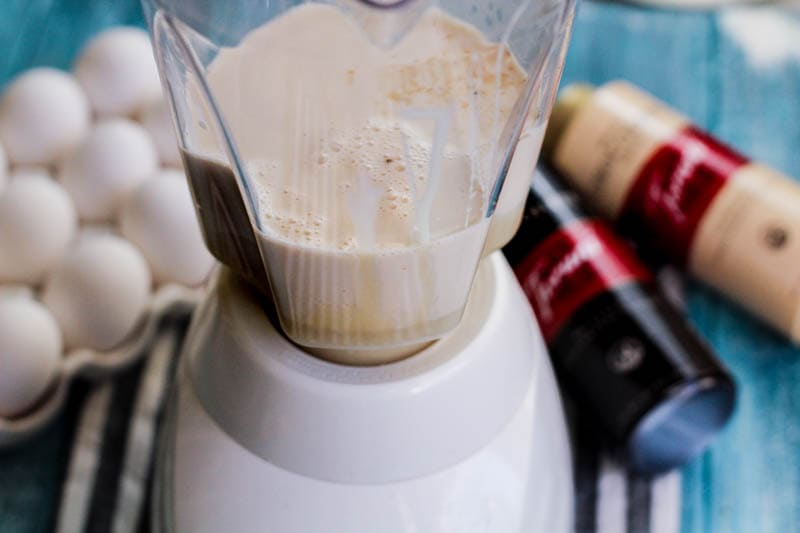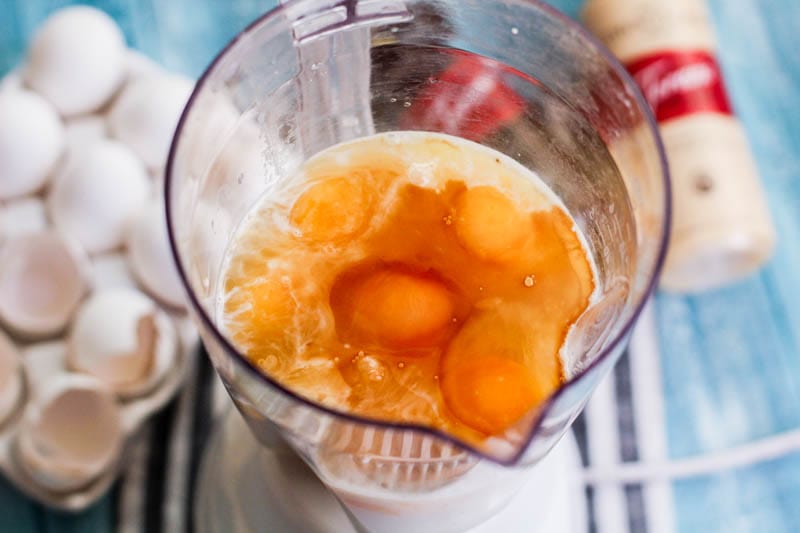 Blend it together for a minute or two and set it to the side while you make your caramel sauce.
How To Make The Caramel Sauce For A Flan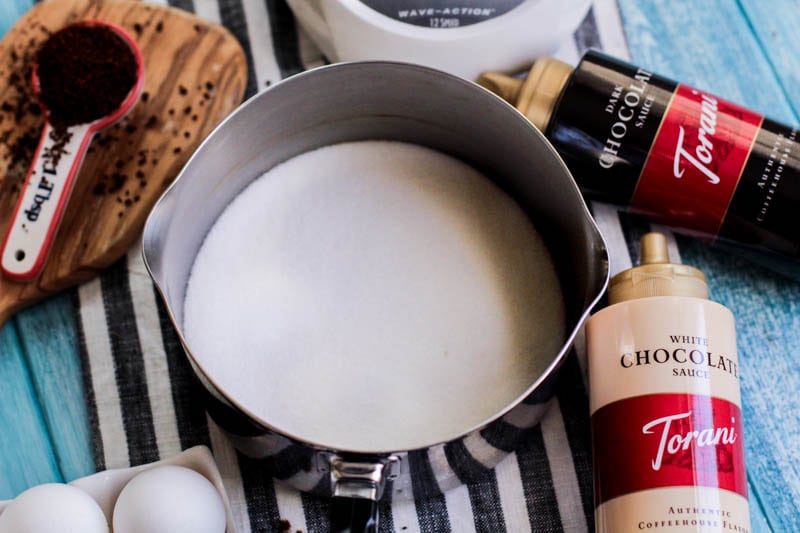 It starts with the sugar. For this coffee flan recipe, I'm keeping it simple with the white sugar. Put it in a small pan and heat it over medium low heat, stirring occasionally until it's a golden brown color. It takes a few minutes to reach a melting point, but once it finally does... keep an eye on it to keep it from burning!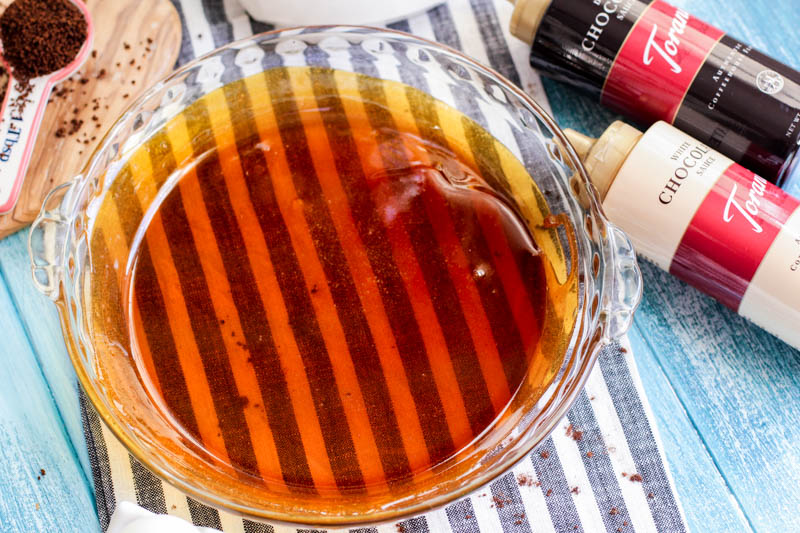 As soon as it's a beautiful golden brown, you're going to QUICKLY pour it into your 9 inch baking pan and QUICKLY swirl it around as fast and carefully as you can to ensure that the sides are coated too.
Then you're going to allow it to cool down completely (about 1-2 minutes) before adding in the flan mixture.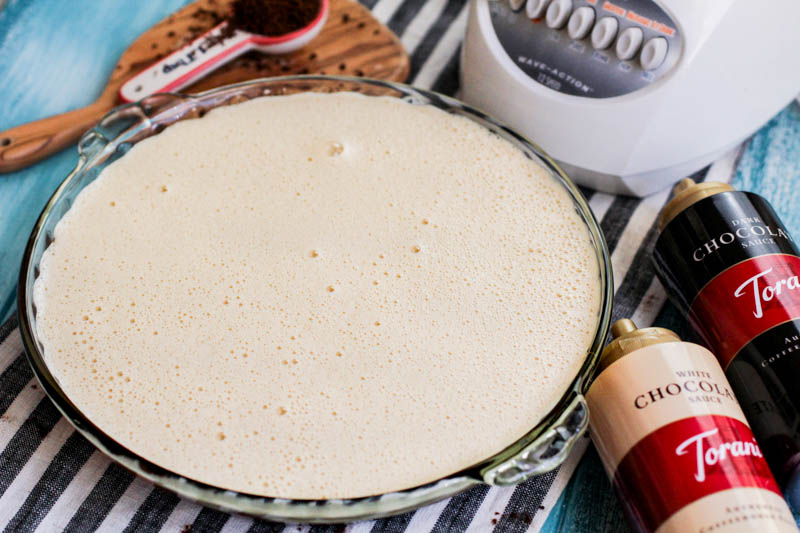 Once you get the flan mix into the pan, this next step is crucial! You need to get a large roasting pan, and place your flan into the center. I highly suggest you do this when the oven is open, carefully, not to get burned. Then GENTLY pour in water in the corner of the roasting pan, until it's about halfway up the flan pan. This is called Agua De Maria (water bath). Please be sure not to allow water to enter the flan. If needed, go ahead and cover the flan with aluminum foil to be triple sure!
Then you bake the flan for 50-60 minutes, or until the flan is baked through.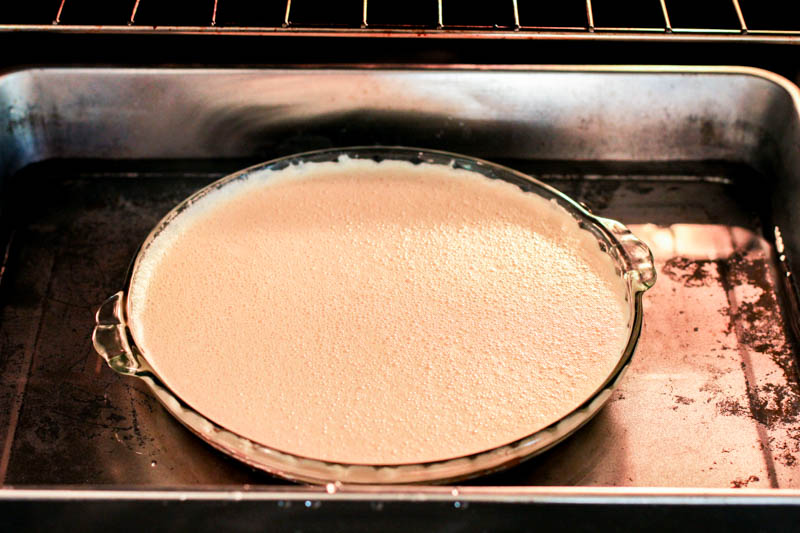 Next, I want to talk about where to find the ingredients to make this amazing and easy coffee flan. I chose to go to Walmart, because Walmart is a quick one stop shop with amazing prices and a great selection of products. Especially with finding the Torani sauces! I decided to use the Dark Chocolate and White Chocolate sauces in my flan, but my family loves to use it with coffee, hot chocolate, topping for ice cream, and even with fresh fruit! Want to find Torani products near you? Here's a link to find Torani products near you.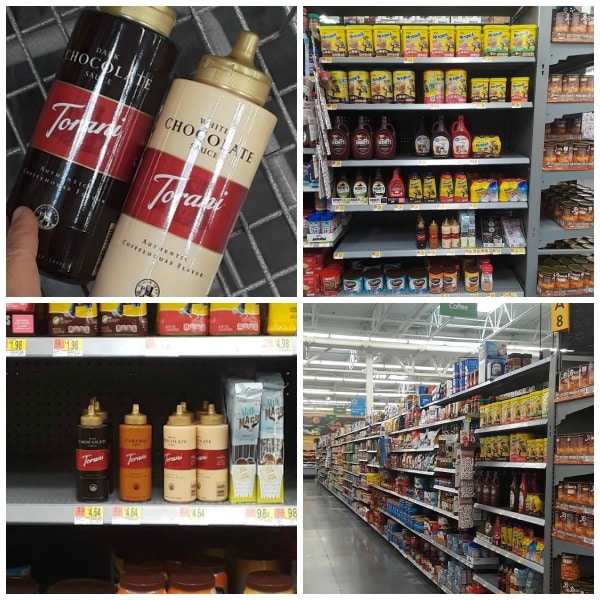 Once the flan has baked, you're going to remove it from the oven and allow it to come to room temperature before refrigerating for 2 hours. After it's cooled, you're going to flip it over on a plate or cake stand with a tray  to catch the excess caramel (unless your plate has rim edges to hold in the caramel sauce). Feel free to clean it with paper towels, it can get messy!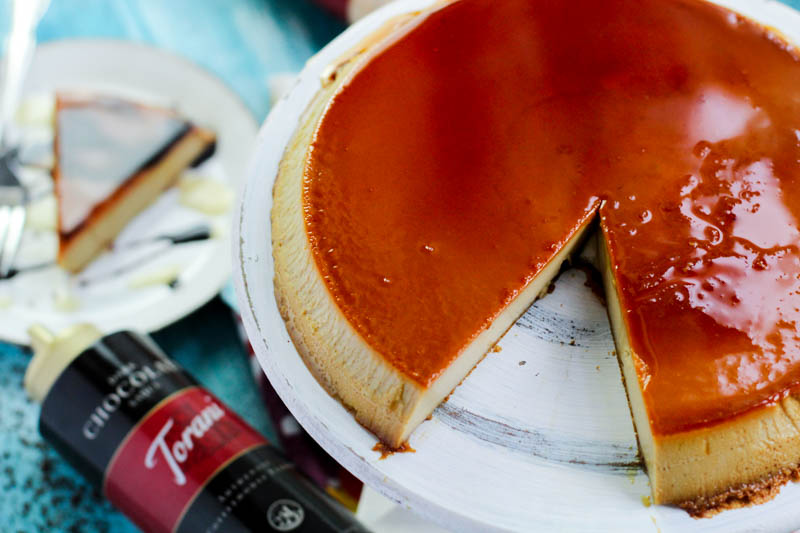 Now you know how to make the coffee flan, where to buy the ingredients to make the coffee flan, and the history of Torani. Let's talk about the figurative icing on the cake. What makes this coffee flan different than your abuela's -is the Torani Dark Chocolate Sauce and the Torani White Chocolate Sauce that goes over the caramel. I admit, the top of of your flan is going to look like an amazing zebra. Feel free to get creative with a toothpick to make some neat designs.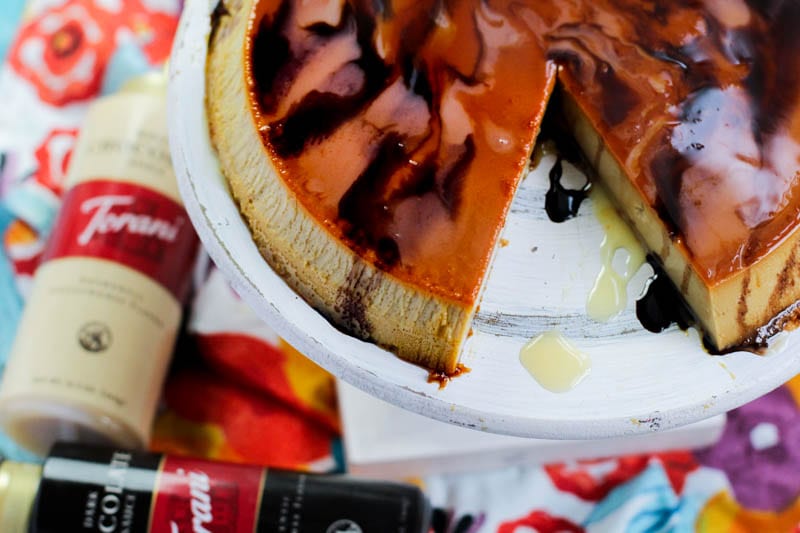 That's it mi gente! Make this recipe to add to your Fall festivities and be sure to pick up Torani Sauces on your next trip to Walmart. Buen provecho!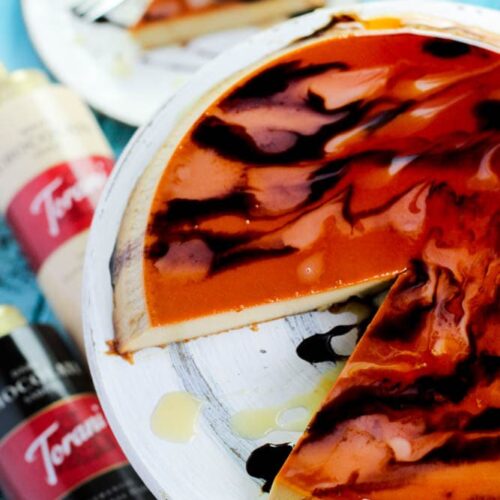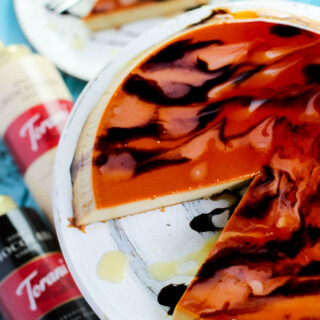 Coffee Flan | Flan de Cafe
Creamy coffee flavored flan is a traditional Cuban dessert!
Ingredients
6

eggs

1

can of condensed milk

1

can of evaporated milk

2

teaspoons

of vanilla extract

1-2

tablespoons

of ground Instant coffee beans

1

cup

of white granulated sugar

1

tablespoon

of Torani White Chocolate Sauce

1

tablespoon

of Torani Dark Chocolate Sauce
Instructions
Preheat oven to 350 degrees Fahrenheit.

In a blender add eggs, condensed milk, evaporated milk, vanilla, and instant coffee.

Over medium low heat add in sugar to a small pan. Stirring occasionally allow sugar to melt into a golden brown color, remove from heat and immediately pour into a 9 inch baking pan. Allow caramel to cover the edges as well.

Once caramel has cooled, pour flan mixture over the pan.

Place pan into a large roasting dish and add water to the roasting dish, being careful to not allow water to fall into the flan custard. Fill roasting pan until it's 1/2 of the length of the flan dish.

Cook for 50-60 minutes, or until a toothpick comes out clean from the center of the flan.

Remove flan, allow it to cool completely before placing in the fridge for 2 hours.

After 2 hours, flip flan over a large plate (with a larger plate or pan underneath to catch excess caramel sauce). Allow to sit a minute before lifting the pan.

Swirl Torani White Chocolate and Torani Dark Chocolate sauce over the caramel sauce and serve!