This creamy coffee flan recipe is the perfect fall dessert for coffee lovers!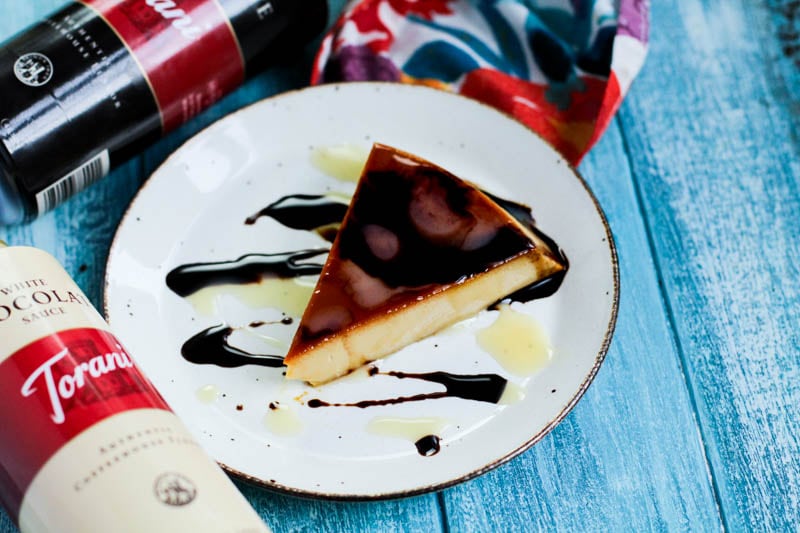 If you ask me what my favorite Puerto Rican dessert recipe is, I will have to say flan.
My favorite thing about flan is that it is interchangeable. The flavor profile of flan can easily be switched and turned into a cream cheese flan or a yummy pumpkin pie flan.
Ingredients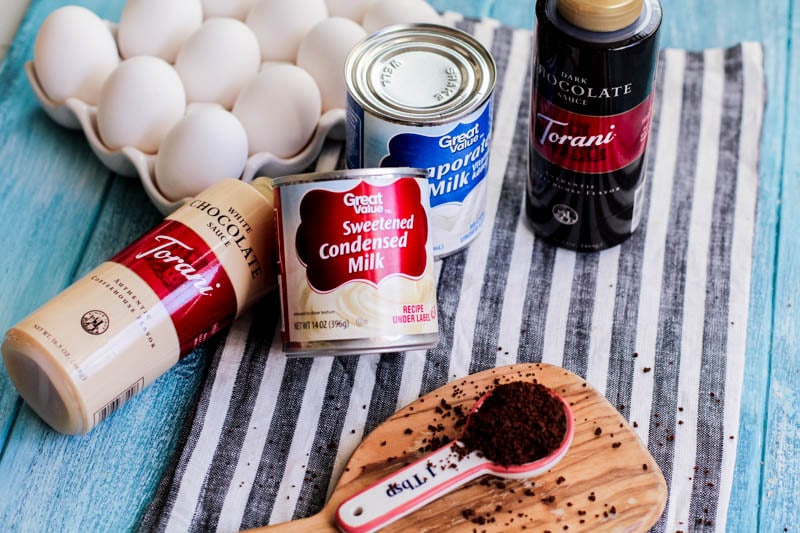 Flan Custard Ingredients
Blender
Eggs
Condensed Milk
Evaporated Milk
Vanilla Extract
Instant Coffee Powder
Vanilla and Chocolate Sauces (for after, and optional)
Flan Caramel Ingredients
Flan Caramel Sauce
Making a caramel sauce for flan seems to be the hardest part. Sugar easily burns, if you're not mindful.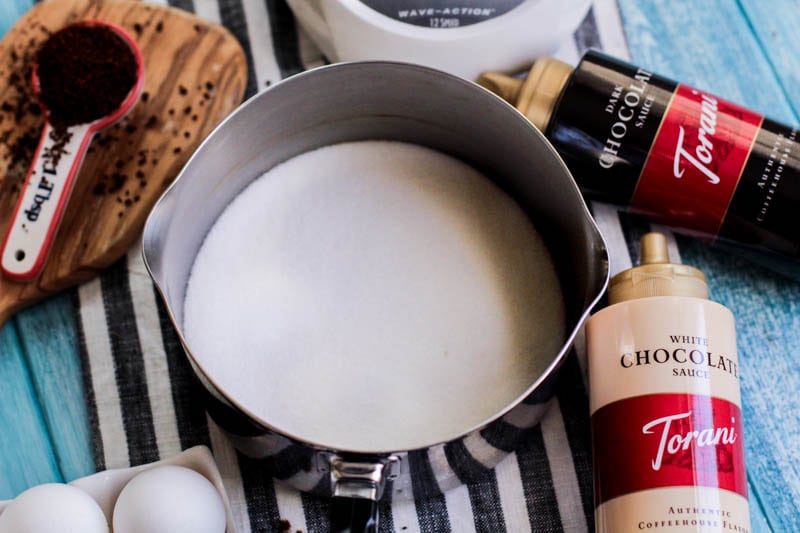 Think of making caramel sauce like a dance. You'll find a rhythm.
Add sugar to a cold pan.
Turn heat to medium high.
Don't touch sugar, allow the sugar to start melting, slightly. Once it begins to melt, lower your heat to medium low, and start mixing.
Give sugar 3-5 seconds of melting, before mixing gently a few times.
Once your sugar is mostly dissolved, you can turn lower your heat to low or turn off the stove, lift the pan occasionally and continue stirring until your desired color.

The darker the caramel, the stronger the taste (think 10+ minutes).
For a lighter tasting caramel, leave it on for less time. (About 4 minutes.)
I prefer medium, and choose about 6-8 minutes, total.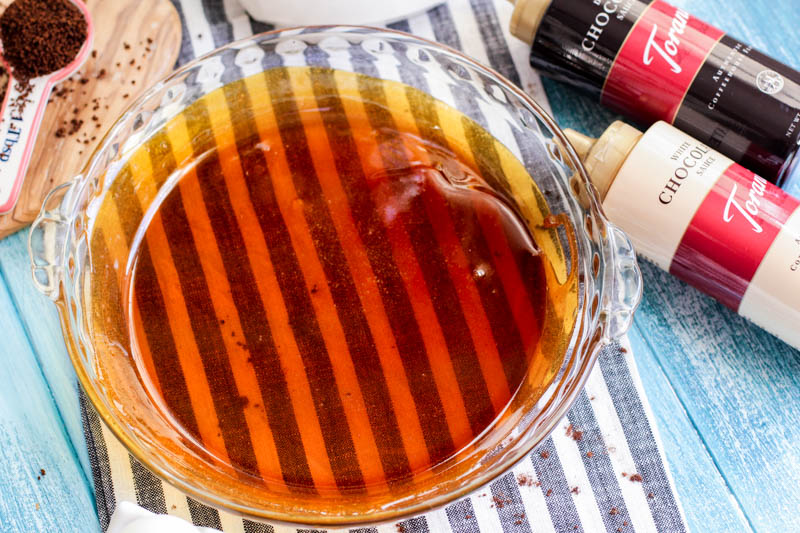 As soon as the caramel reaches your desired color, quickly pour it on a baking dish, and using pot holders to hold the dish, gently swirl the sugar to cover the whole bottom and some of the sides.
Put pan to the side and allow to cool about 10 minutes.
Coffee Flan Custard
Quick Tip: Use your favorite brand of Instant Coffee. Cafe Bustelo Instant Coffee is a favorite of mine.
Add ingredients into a blender and blend for about 2 minutes, or until smooth and creamy.

If you want to taste for sweetness and adjust to your own liking, you can leave adding in the eggs for last.

Pour custard through a fine mesh strainer over the caramel sauce in the baking dish.

Gently tap the pan a few time to remove any air bubbles. Pop any surface bubbles too.
Bano de Maria | Water Bath
Baking flan requires it bake in a deep baking dish such as a roasting pan or larger casserole pan.
(I prefer roasting pans, and have one specifically for flans.)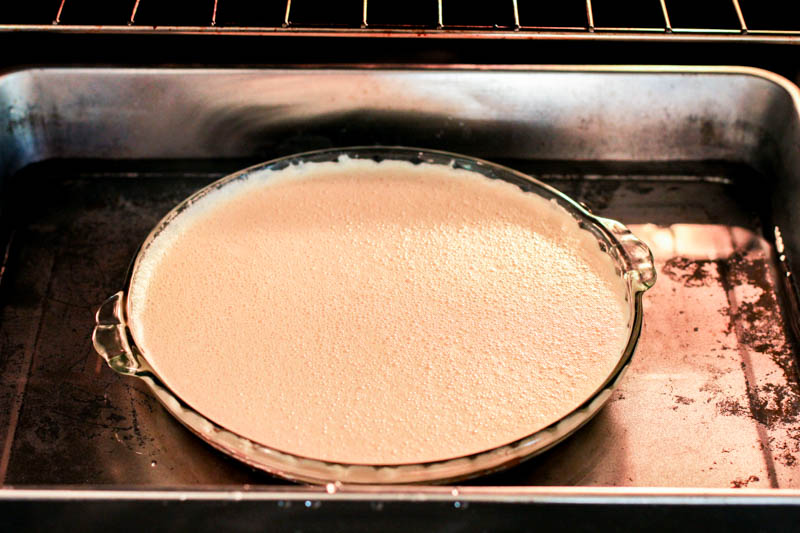 What is bano de Maria?
Bano de Maria is a hot water bath. A process of baking delicate custards such as flan or cheesecakes.
Unlike regular cake, flan is a custard, like cheesecake. Custards tend to crack on top if there is not enough moisture during the baking process.
A crucial reminder... don't allow water to splash into the flan pan. This will make the flan break.
You can do this next step with a few aides such as:
Covering the flan dish with aluminum foil.
Placing the roasting pan and the flan into the oven dry, then adding the water to the roasting pan in the oven. (Be cautious and pull out the oven grate slightly to keep from burning.) This is my personal method.
How To Bake Flan
Preheat oven to 350 degrees Fahrenheit.
Warm water to a gentle simmer. (Heat about 3 cups, even if you don't use it all.)

To keep from shocking the flan, I advise again a true boil. Just warmed through.

Line top of the larger baking dish with a clean damp towelette to keep flan dish from moving. (Optional.)
Place flan dish into larger pan.
Gently pour warm water at the edge of the pan, until about ½- ¾ inch of the side of the flan dish is covered. (I shoot for half of the size of the flan dish.)
Carefully place pan into a preheated oven.
Bake for 1 hour.
Gently remove from oven and water bath, and allow to cool on the counter completely (about 1 hour or so to room temperature).
Flipping Flan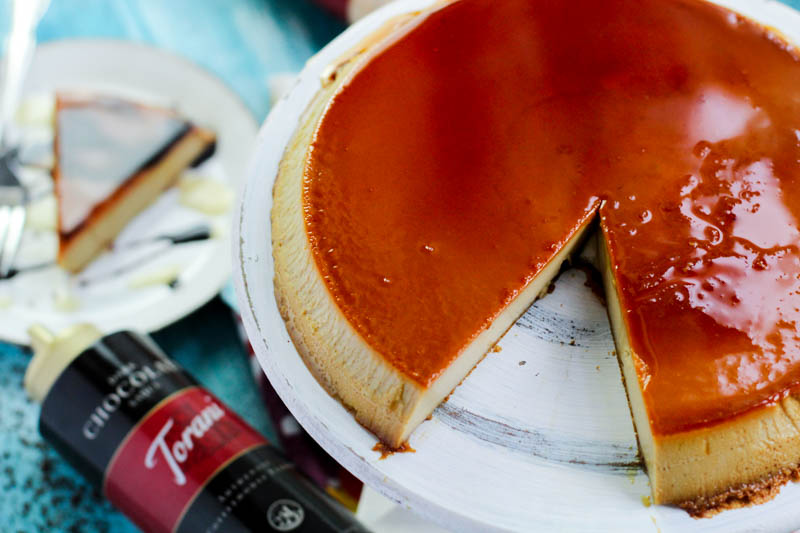 Once your flan comes to room temperature, it's time to flip!
Flipping flan can be scary! A simple tip is to wake up your flan. Gently tap the sides of the flan to get it to wiggle.
If you have a sharp very thin knife, you can try to loosen the edges of the flan. Be careful to not break the flan.
Take a larger than the pan plate, flip the plate over the flan to center it, and with a strong grip to ensure nothing slips, grab the bottom of the flan pan lift it up and flip the pan and plate together so the flan is over the plate.
Lower the plate and tap the top of the flan so the caramel sauce comes down (as well as any stubborn flan), before gently lifting the baking dish.
This process may be messy, be sure to have paper towels around.
Fun time, decorate your flan with the chocolate and vanilla sauces!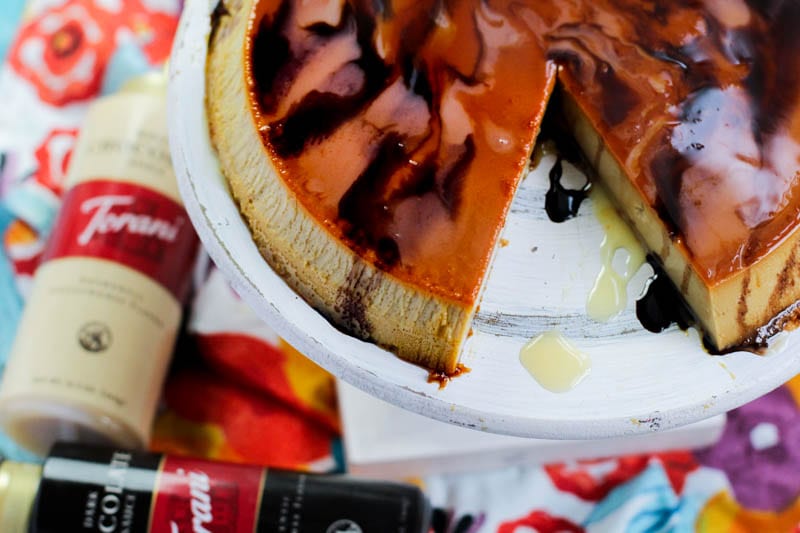 📖 Recipe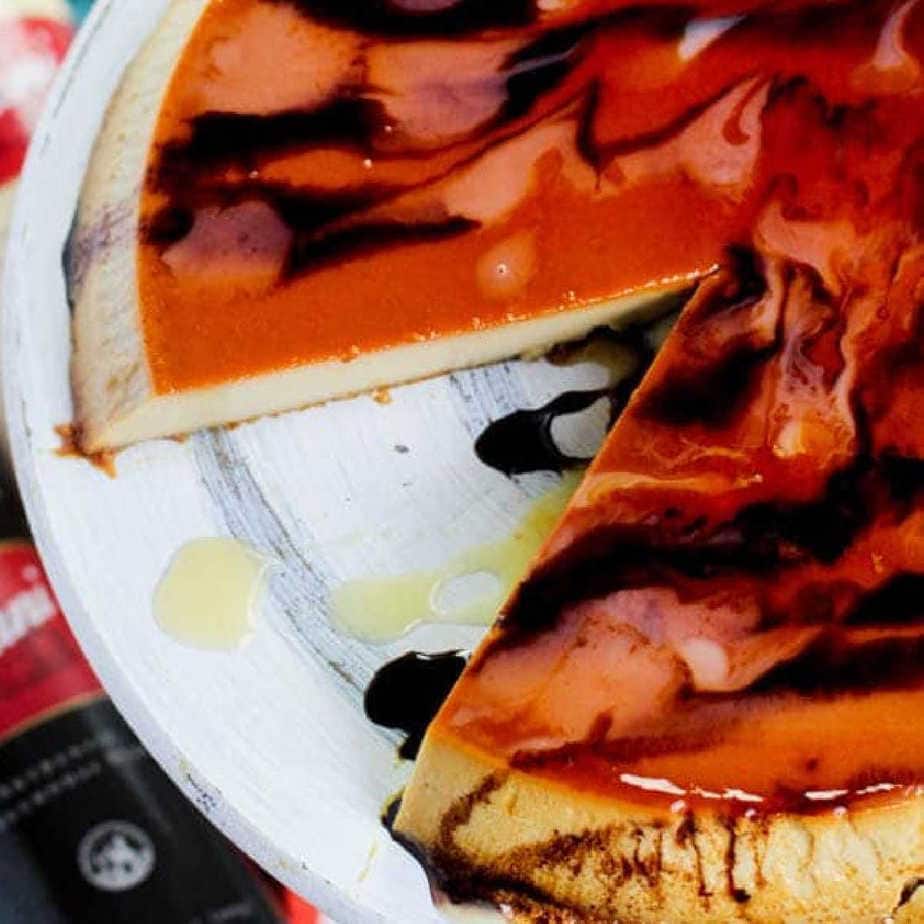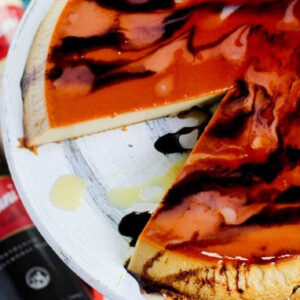 Coffee Flan | Flan de Cafe
Creamy coffee flavored flan is a traditional Cuban dessert!
Print
Pin
Rate
Ingredients
6

eggs

1

can

condensed milk

1

can

evaporated milk

2

teaspoons

vanilla extract

1-2

tablespoons

Instant coffee

1

cup

white granulated sugar

1

tablespoon

Torani White Chocolate Sauce

1

tablespoon

Torani Dark Chocolate Sauce
Instructions
Preheat oven to 350 degrees Fahrenheit.

In a blender add eggs, condensed milk, evaporated milk, vanilla, and instant coffee.

Over medium low heat add in sugar to a small pan. Stirring occasionally allow sugar to melt into a golden brown color, remove from heat and immediately pour into a 9 inch baking pan. Allow caramel to cover the edges as well.

Once caramel has cooled, pour flan mixture over the pan.

Place pan into a large roasting dish and add water to the roasting dish, being careful to not allow water to fall into the flan custard. Fill roasting pan until it's ½ of the length of the flan dish.

Cook for 50-60 minutes, or until a toothpick comes out clean from the center of the flan.

Remove flan, allow it to cool completely before placing in the fridge for 2 hours.

After 2 hours, flip flan over a large plate (with a larger plate or pan underneath to catch excess caramel sauce). Allow to sit a minute before lifting the pan.

Swirl Torani White Chocolate and Torani Dark Chocolate sauce over the caramel sauce and serve!
Notes
Please see post for detailed tips to make the best coffee flan!
Nutrition
Calories:
368
kcal
|
Carbohydrates:
57
g
|
Protein:
11
g
|
Fat:
11
g
|
Saturated Fat:
6
g
|
Cholesterol:
152
mg
|
Sodium:
157
mg
|
Potassium:
385
mg
|
Sugar:
57
g
|
Vitamin A:
416
IU
|
Vitamin C:
2
mg
|
Calcium:
275
mg
|
Iron:
1
mg