Pumpkin flan is an easy flan recipe that is creamy, silky, and with just enough pumpkin to remind you it's Autumn.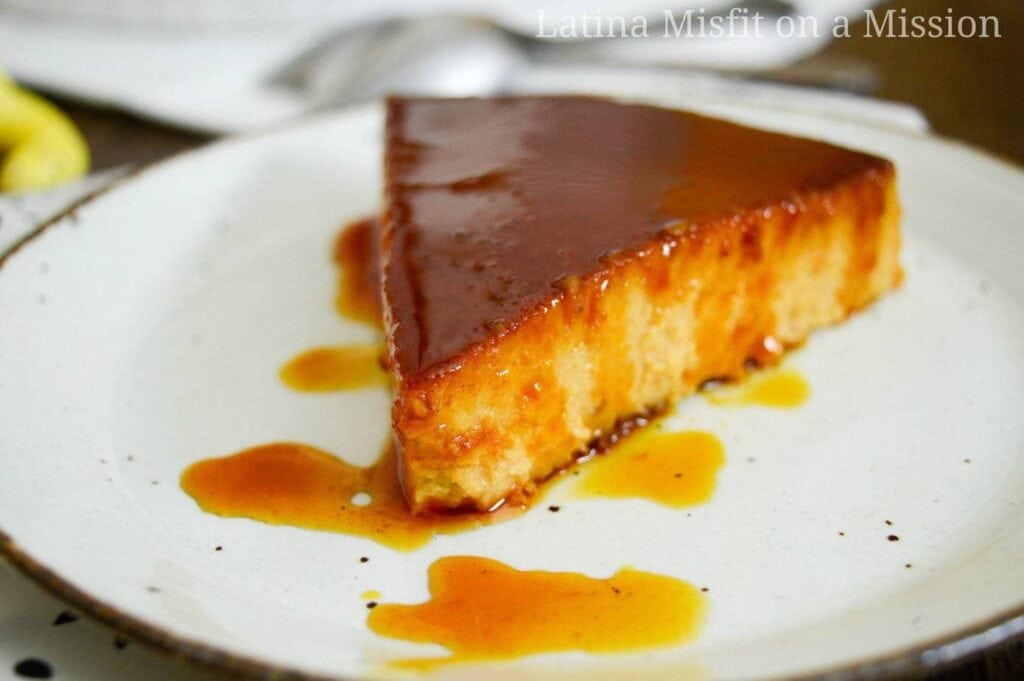 How To Make Flan
This pumpkin flan recipe is an easy flan to make. All of the ingredients, outside of the caramel, goes into a blender. Que facil! There's no exact science to which order of ingredients goes in first. Typically, I like to add in the seasonings last, but the rest is up to you.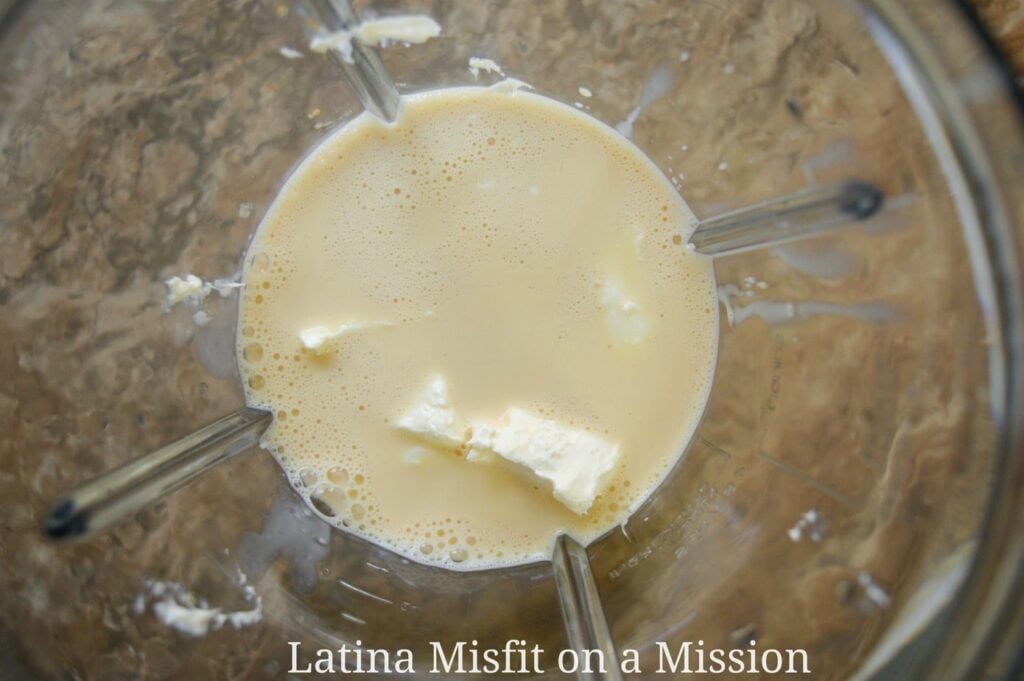 The cream cheese gets cut into chunks, it just makes everything easier. Honestly, you don't need much. I use half a block, and even then, I can probably just use a third of a block. If you want to make a cream cheese flan, you will use the whole block. For this pumpkin flan, we're only going with half to make it even creamier!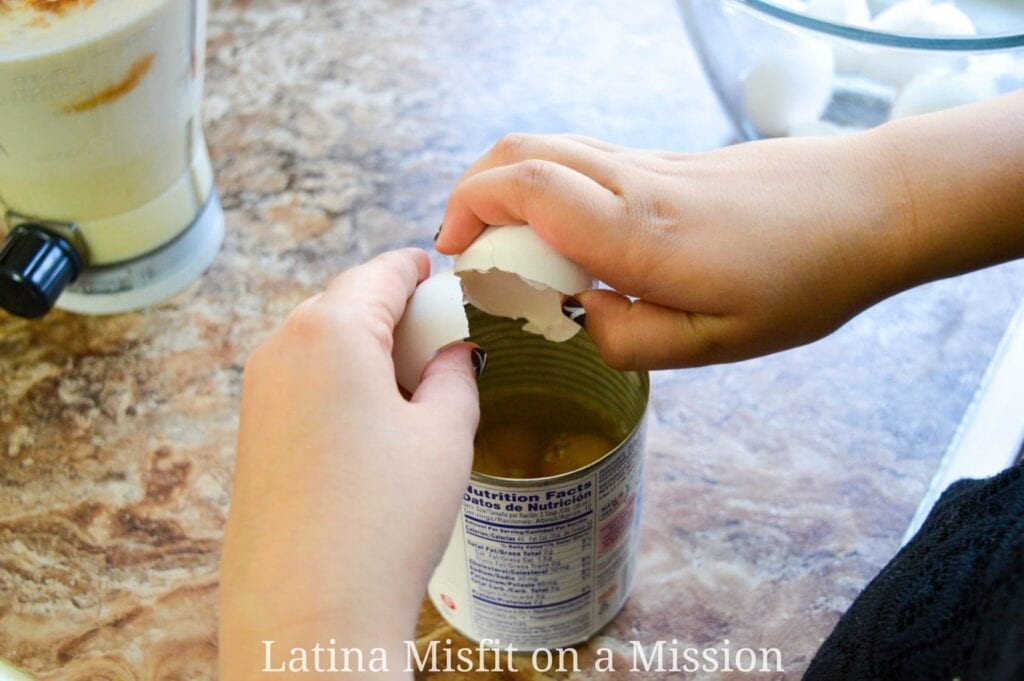 Here's a tip. In order to make sure you don't have shells in your custard, crack them (or have your kids practice) into a can you just used. Less dishes anyone?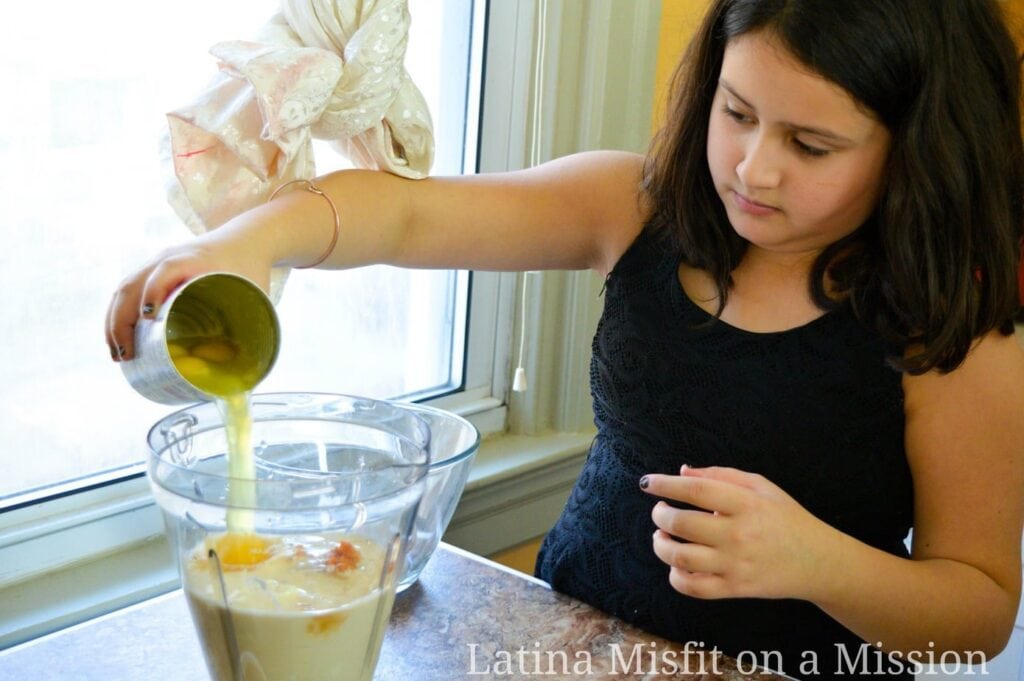 Fall time is not only the time for pumpkin everything. It's a time to really get into that kitchen with your kids and make memories. I absolutely love that my kids want to get involved. I take full advantage, although, with five kids… it can be a scene from Hell's Kitchen. But this pumpkin flan recipe is perfect for one on one time, and the child can easily make the custard on her own (with supervision).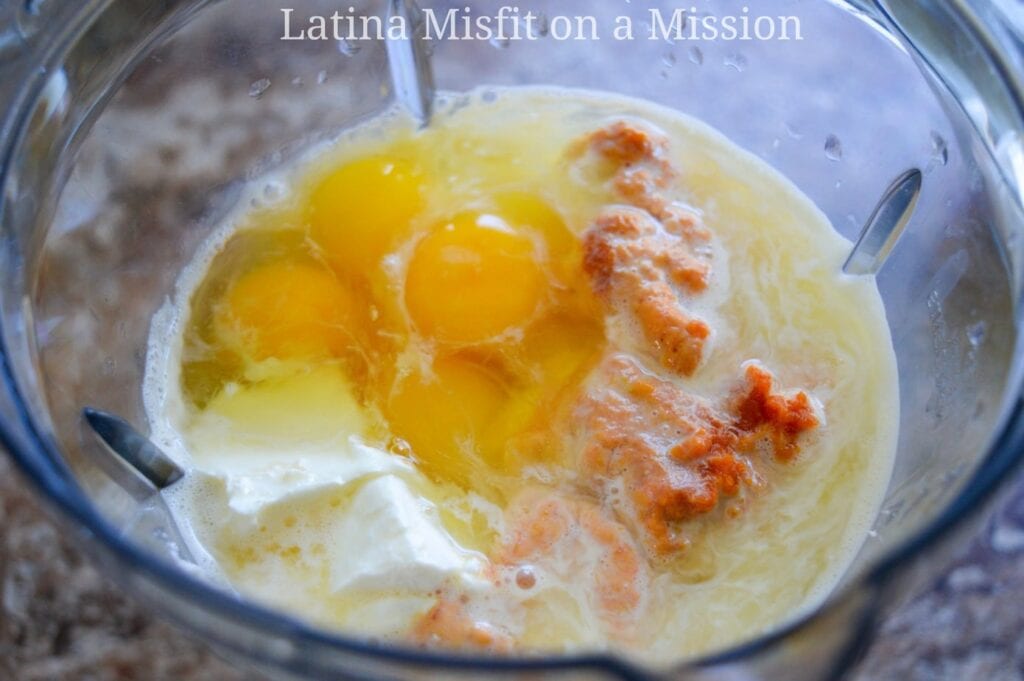 It doesn't look like much now, but these awesome ingredients are about to create a party in your mouth!
The creaminess of the cream cheese and pumpkin puree are a match made in heaven for this pumpkin flan. If you love, like really love pumpkin, I'd suggest you use a cup of pumpkin puree instead of 3/4 of a cup.
To be honest, I like pumpkin, but not enough to have it overpower everything else. This recipe is well balanced. But go ahead and add in a few more spoons if you dare. Time to blend it all together and add in your seasonings.
I like to take a little taste to see if I need more sugar or seasonings.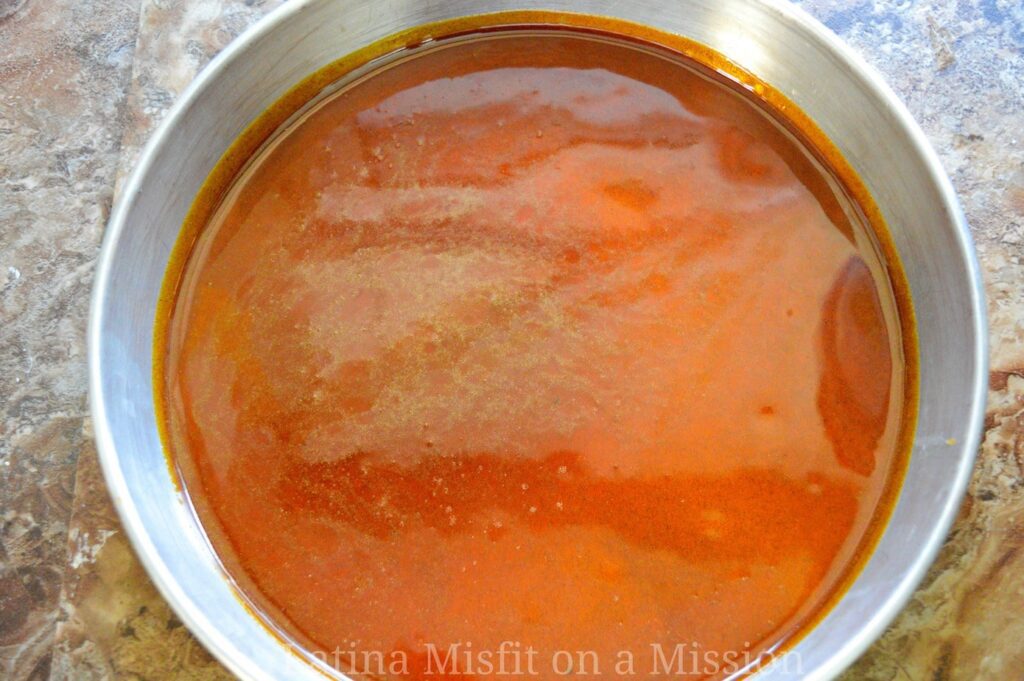 How To Make caramel for flan
Next, it's time to make the caramel for the flan. I have to be honest. It seems like every time I make caramel, I have to make it twice. This is something, you must keep your eye on. If it burns even a little, you will need a new batch. Thankfully, it only takes about four and a half minutes to make.
Over medium heat, put the sugar in a pan, let it go, after about a minute or two, you'll notice the sugar begin to dissolve, once it does, make sure you lower the heat to low. Stir here and there. Make sure you use a metal spoon (don't ask me what happens if you don't -hence making it twice). Once it's all melted and it starts turning a rich amber color, turn off the heat. I then add a little pinch of cinnamon and stir it together. Quickly pour it into your pan and swirl it around to cover the bottom and lower sides completely. THE KEY IS TO BE QUICK!
The caramel for the flan is going to be very hot. I'd suggest using an oven mitt while holding the pan the caramel will go into (especially if it's metal). Remember, quickly is the key here. The caramel will harden right away. Once you empty the pot content and swirl your pan, make sure you add water to your pot. You'll thank me later. Washing out glued on caramel is not fun.
Before adding the pumpkin flan custard to the caramel, I like to let the caramel sit for about ten minutes. Great time to preheat the oven and get your bigger pan ready for the bano de Maria bath.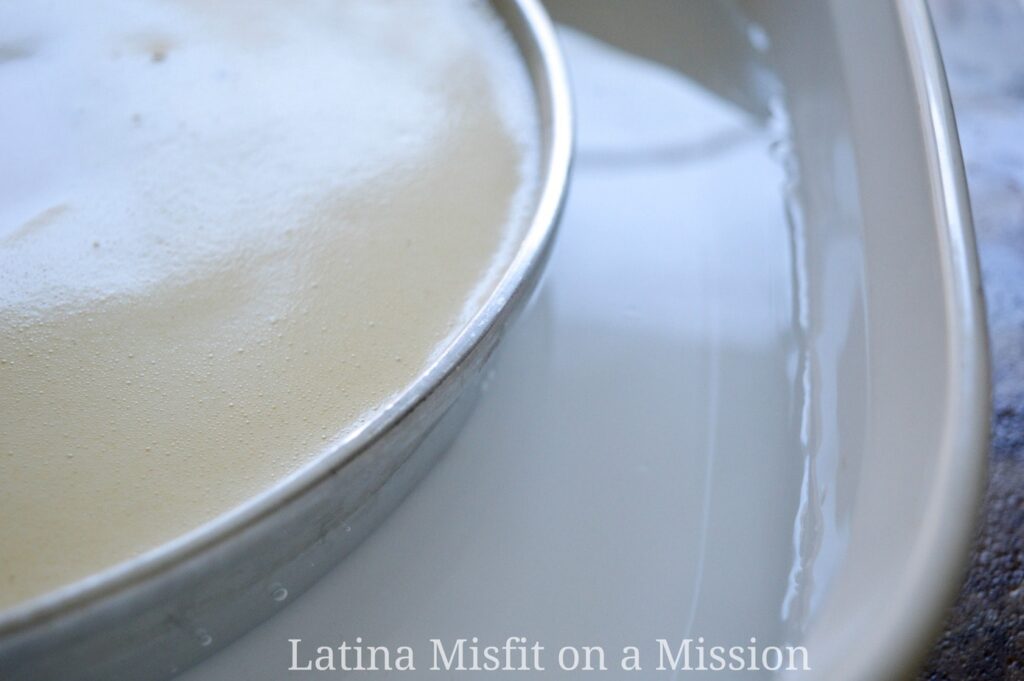 This is an bano de Maria bath. You put your pan into a bigger pan, and fill the bigger pan with water. Be careful here, you don't want the water to fall into the flan mixture. If you've ever watched America's Worst Cooks, the season finale cost one of the contestants because of this fail. (By the way, if you know where I can find the recipe for that pistachio creme brulee, let me know!)
Then you bake it for about 50-60 minutes. With the pumpkin flan, I noticed that it's better towards the 60 minute mark. The next part is the killer. Let it sit for a good 3-4 hours. Then, to flip it, you need to get a bigger plate or pie pan to cover it. But before you do that, I suggest getting a knife and gently loosen the flan from the edges of the pan. To flip it, put the bigger plate or pie pan over the flan and quickly, once flip it over. Give it a few seconds before lifting it. Make sure you pour any remaining caramel over it.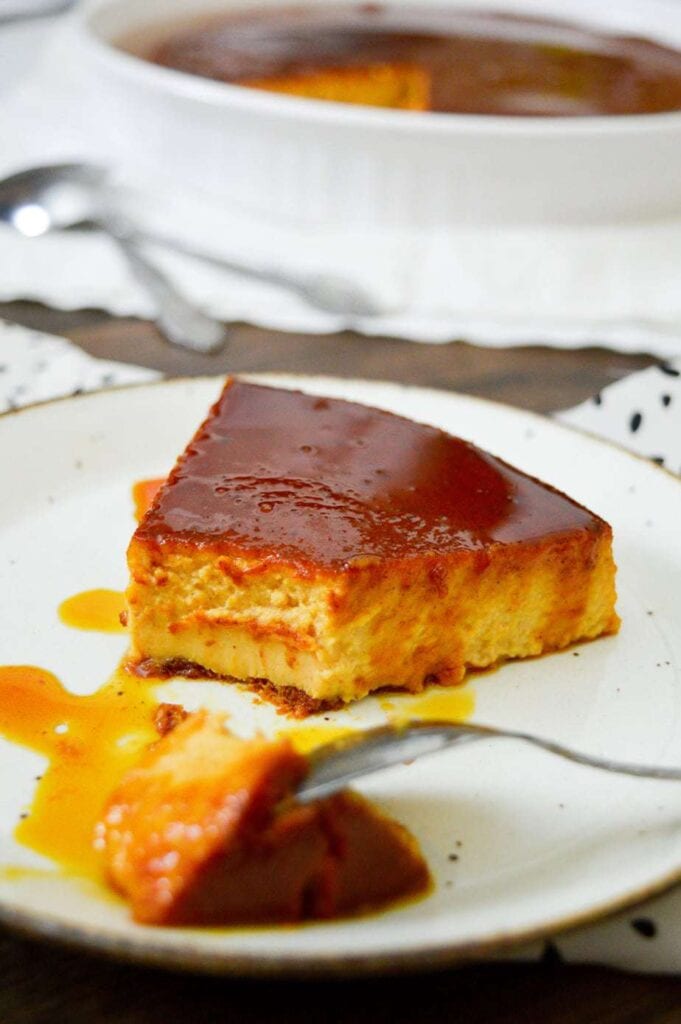 This Thanksgiving, make it one to remember. Go Latin and infuse flavors of the Islands into your dishes with pernil, yucca, and Spanish rice. This pumpkin flan recipe brings many memories from my childhood, and I hope it can become a tradition in your home as well. If there's something in particular you'd like to see, feel free to leave a comment below. As always, buen provecho!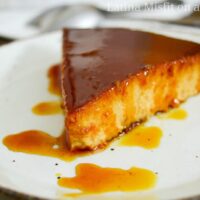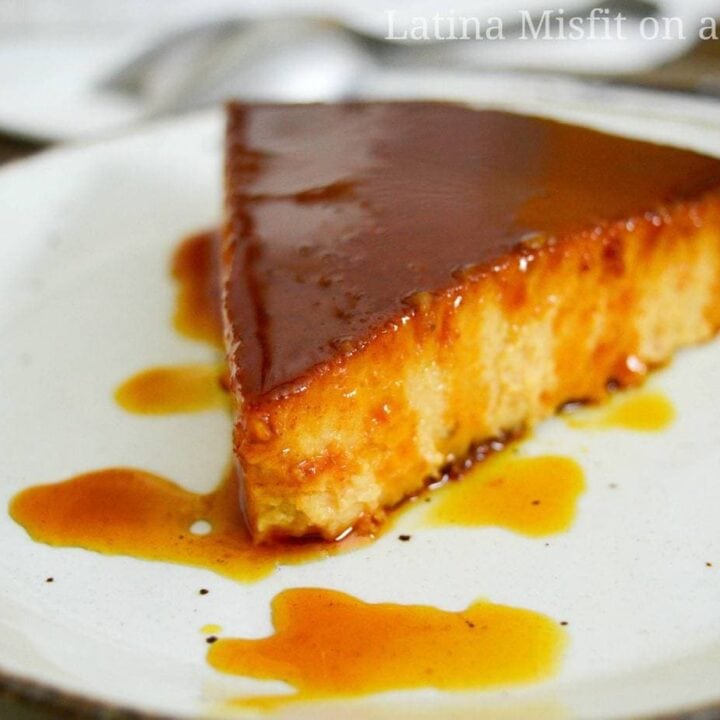 Pumpkin Cream Cheese Flan Recipe
Creamy and full of flavor, this smooth pumpkin cream cheese flan recipe is the perfect treat to end your fall day.
Print
Pin
Rate
Ingredients
1

cup

and 2 tablespoons of sugar

divided

1/2

teaspoon

of cinnamon

1

can of evaporated milk

1

can of condensed milk

5

eggs

4

oz

of cream cheese

softened and cubed

3/4

or 1 cup of pumpkin puree

1/8

teaspoon

of salt

1

teaspoon

of pumpkin spice

1/2

teaspoon

of vanilla
Instructions
Preheat oven to 350 degrees Fahrenheit.

In a medium pan, over medium heat, add one cup of sugar. Cook for a minute or until sugar begins to dissolve. Lower heat to low. Continue cooking for three minutes, stirring occasionally, until sugar is dissolved and turns into a rich amber color. Quickly add in cinnamon, stir and remove from heat.

Quickly, pour caramel into round 9-inch pan, being sure to swirl around to coat bottom and bottom sides completely. Allow to cool for ten minutes before adding in flan custard.

In a blender, add in remaining ingredients. Blend well together.

Gently add custard to caramel pan. Place pan in another pan for a water bath. Gently place in oven.

Cook for 50-60 minutes, or until fork comes out clean. Remove pan from water bath, and allow to cool for 3-4 hours.
Nutrition
Serving:
0
g
|
Carbohydrates:
0
g
|
Protein:
0
g
|
Fat:
0
g
|
Saturated Fat:
0
g
|
Polyunsaturated Fat:
0
g
|
Monounsaturated Fat:
0
g
|
Trans Fat:
0
g
|
Cholesterol:
0
mg
|
Sodium:
0
mg
|
Potassium:
0
mg
|
Fiber:
0
g
|
Sugar:
0
g
|
Vitamin A:
0
IU
|
Vitamin C:
0
mg
|
Calcium:
0
mg
|
Iron:
0
mg
Last Updated on