Pumpkin flan is an easy flan recipe that is creamy, silky, and smooth with a light caramel topping.
Flan is a popular dessert recipe that Hispanic households love to serve to family and friends! We've shared a few flan recipes, such as my mom's lemon flan recipe, and a coffee flan recipe that have been big hits through the years.
I have to admit, this easy pumpkin flan recipe is the best Thanksgiving dessert to serve.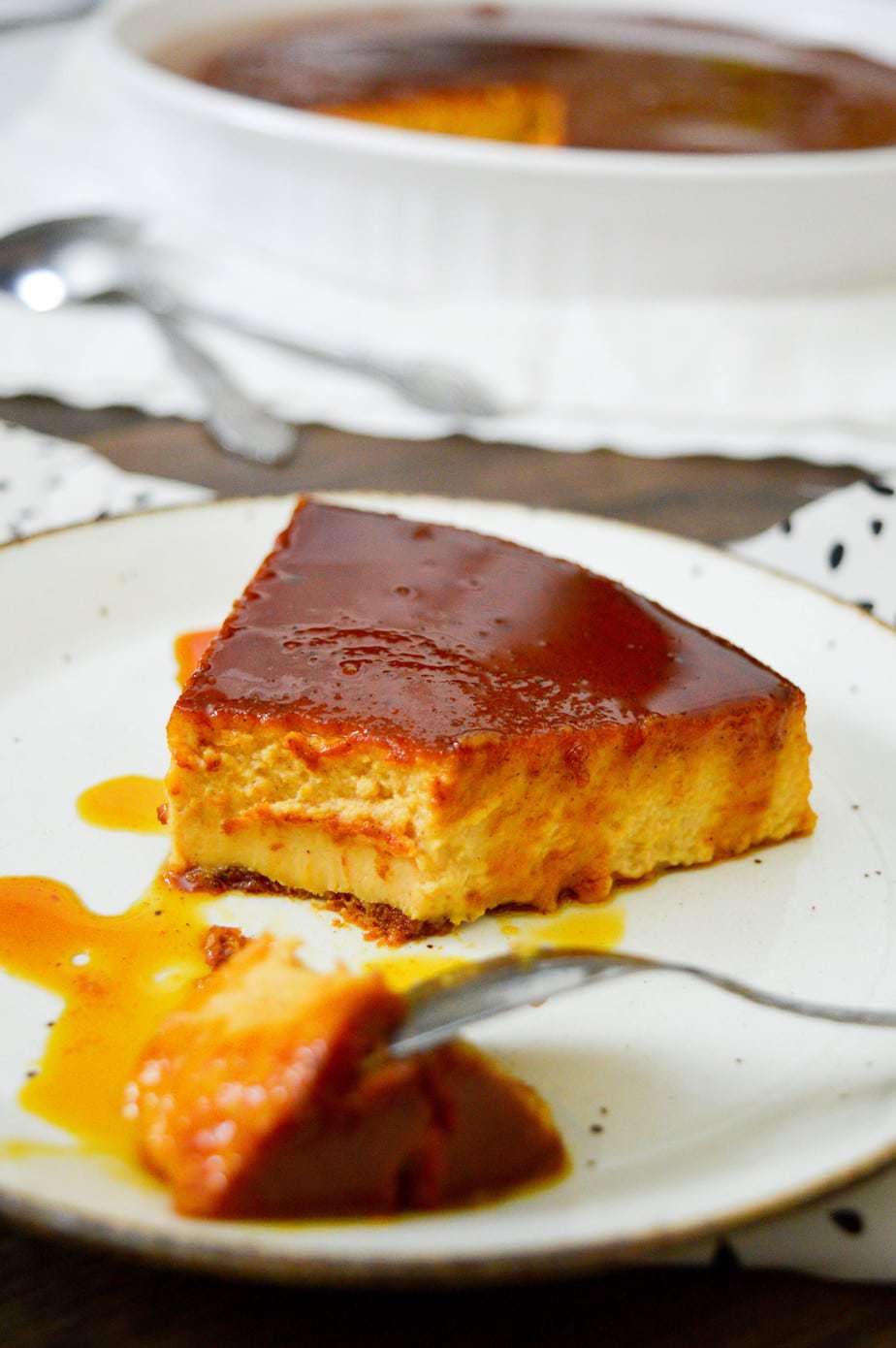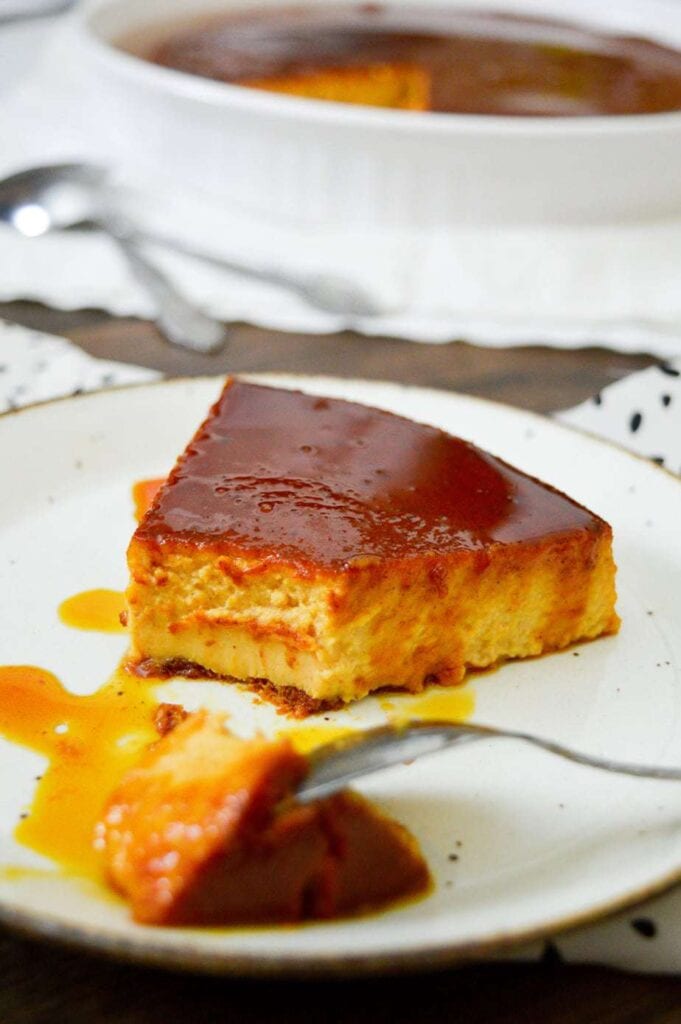 What is flan?
Flan is a crème caramel. A soft, yet firm creamy custard that has a thin caramel sauce.
How would you describe flan?
I would describe flan as a creamy jello with a light caramel sauce.
What does flan taste like?
The taste of flan depends on the ingredients. Traditional flan consists of only eggs, milk, sugar, and vanilla. When it's traditional, it tastes almost like pudding, but with a firmer consistency. The caramel is thin, so it's a not so sweet dessert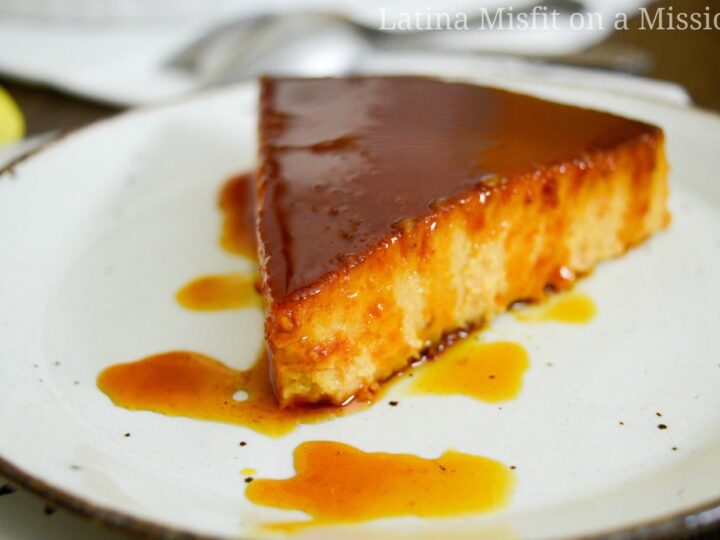 Is flan hard to make?
Flan is easy to make. To make the flan custard, you're just blending ingredients in a blender until smooth. Making caramel can be made a few ways.
You can make caramel for flan by putting the sugar into the microwave, or on the stove over low heat until it's a beautiful golden hue, or some times adding a touch of water is favored.
Once you have those two done, the tricky part is the agua de Maria, which means water bath. A water bath is the process of cooking that ensures even gentle temperature.
Quick tip! Make sure no water splatters over the flan. Bake for about an hour or until the flan sets, and you're good to go!
How To Make Pumpkin Flan
This pumpkin flan recipe uses cream cheese and it is OPTIONAL! I personally love cream cheese in flan.
For this recipe, use only ⅓-1/2 a block of cream cheese, a little goes a long way.
Add flan ingredients, to a blender and blend until smooth.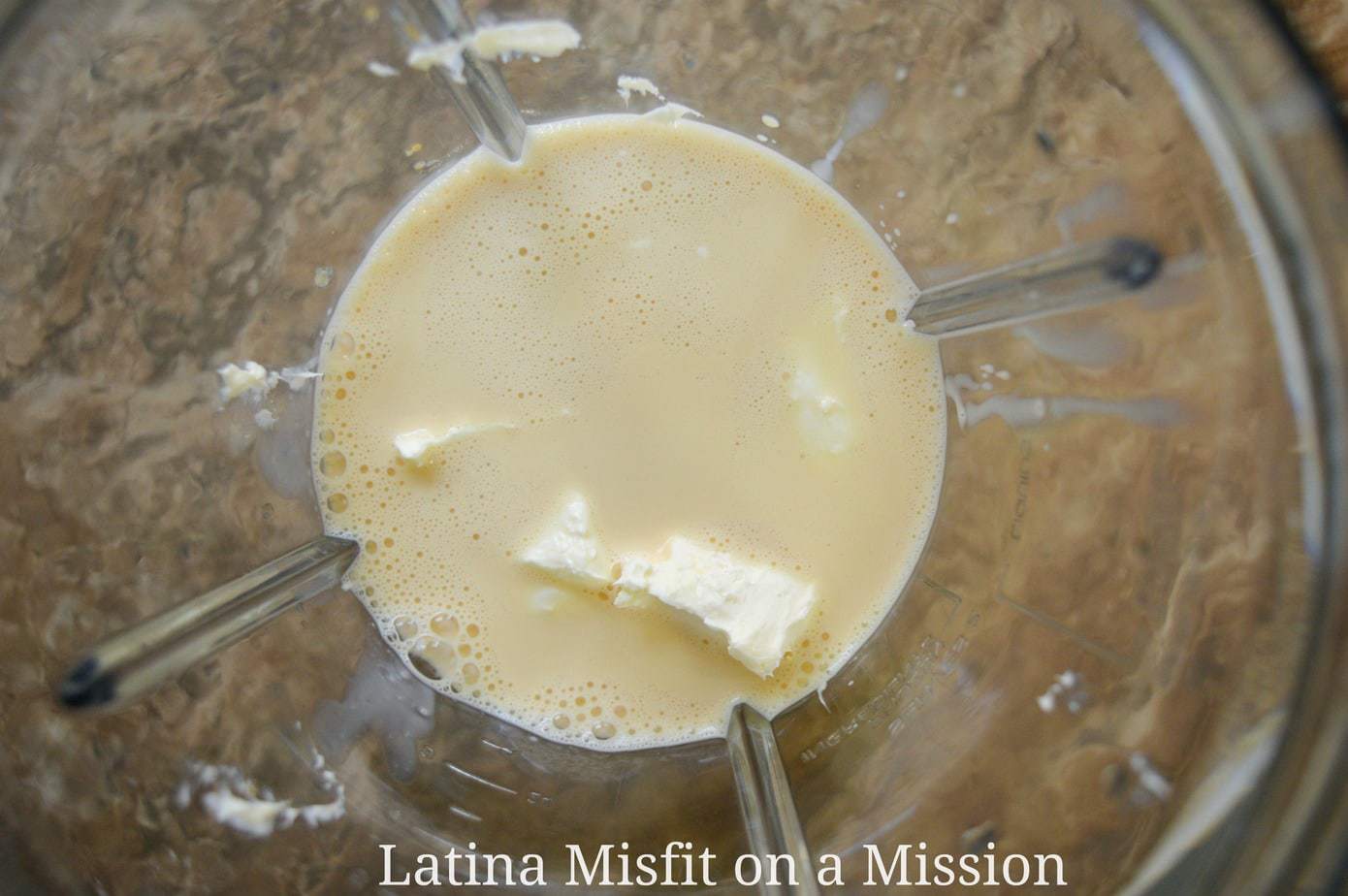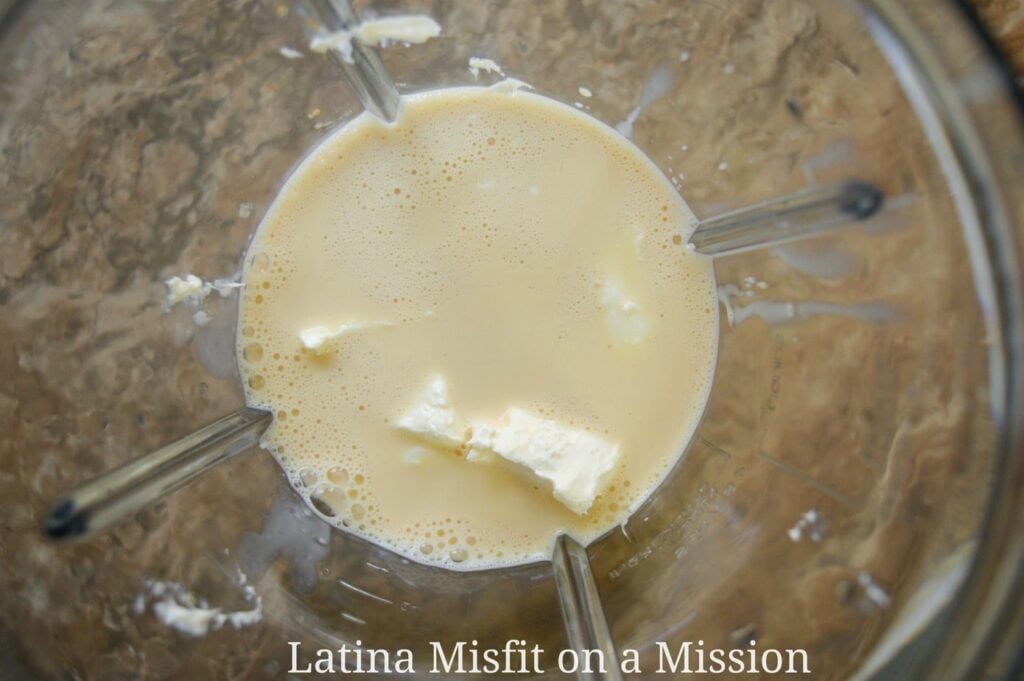 This recipe is a perfect recipe for kids to bake!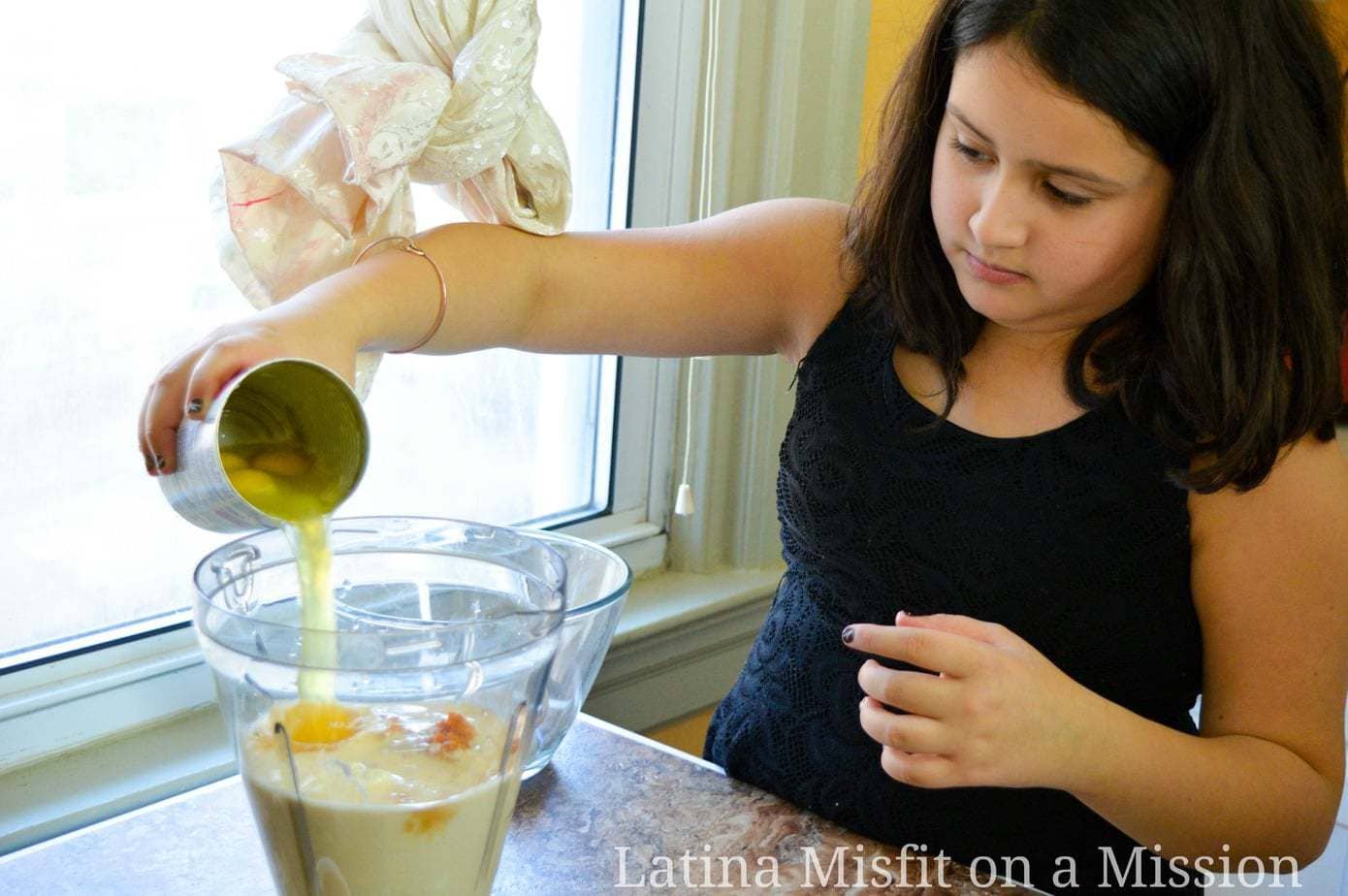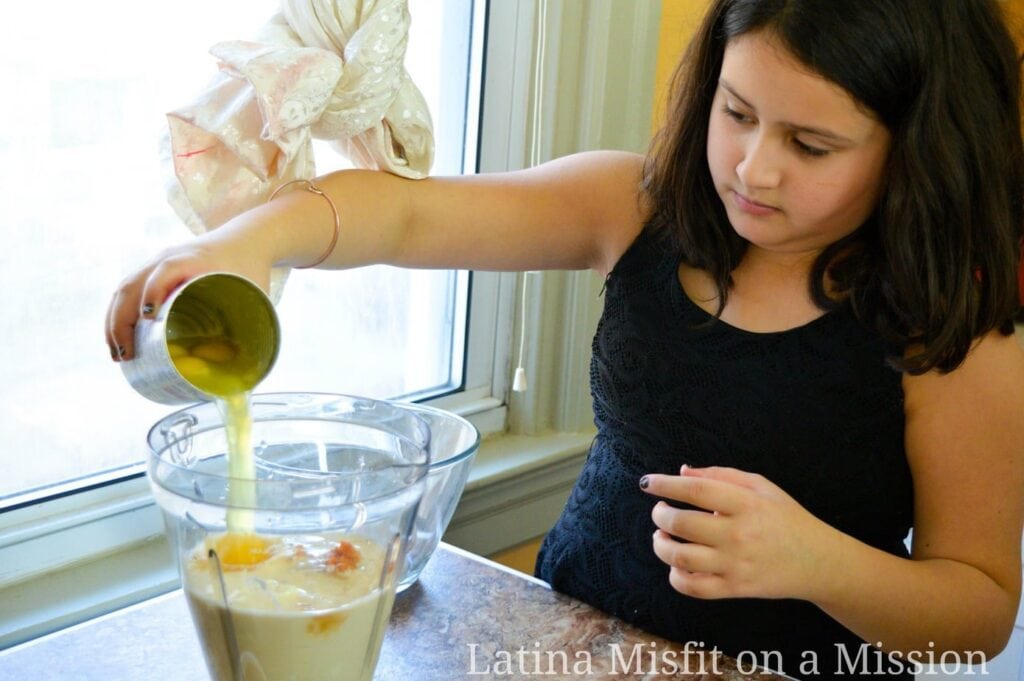 If you love a strong pumpkin flavor, up the pumpkin puree to a cup. I like a delicate pumpkin flavor, that's not too bold.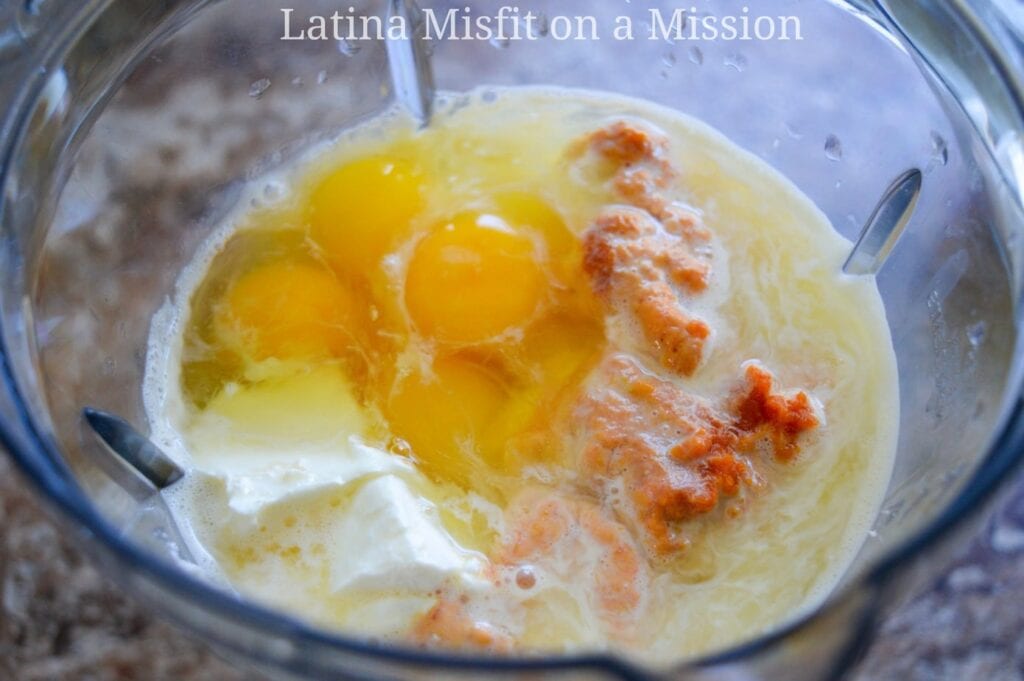 How To Make caramel for flan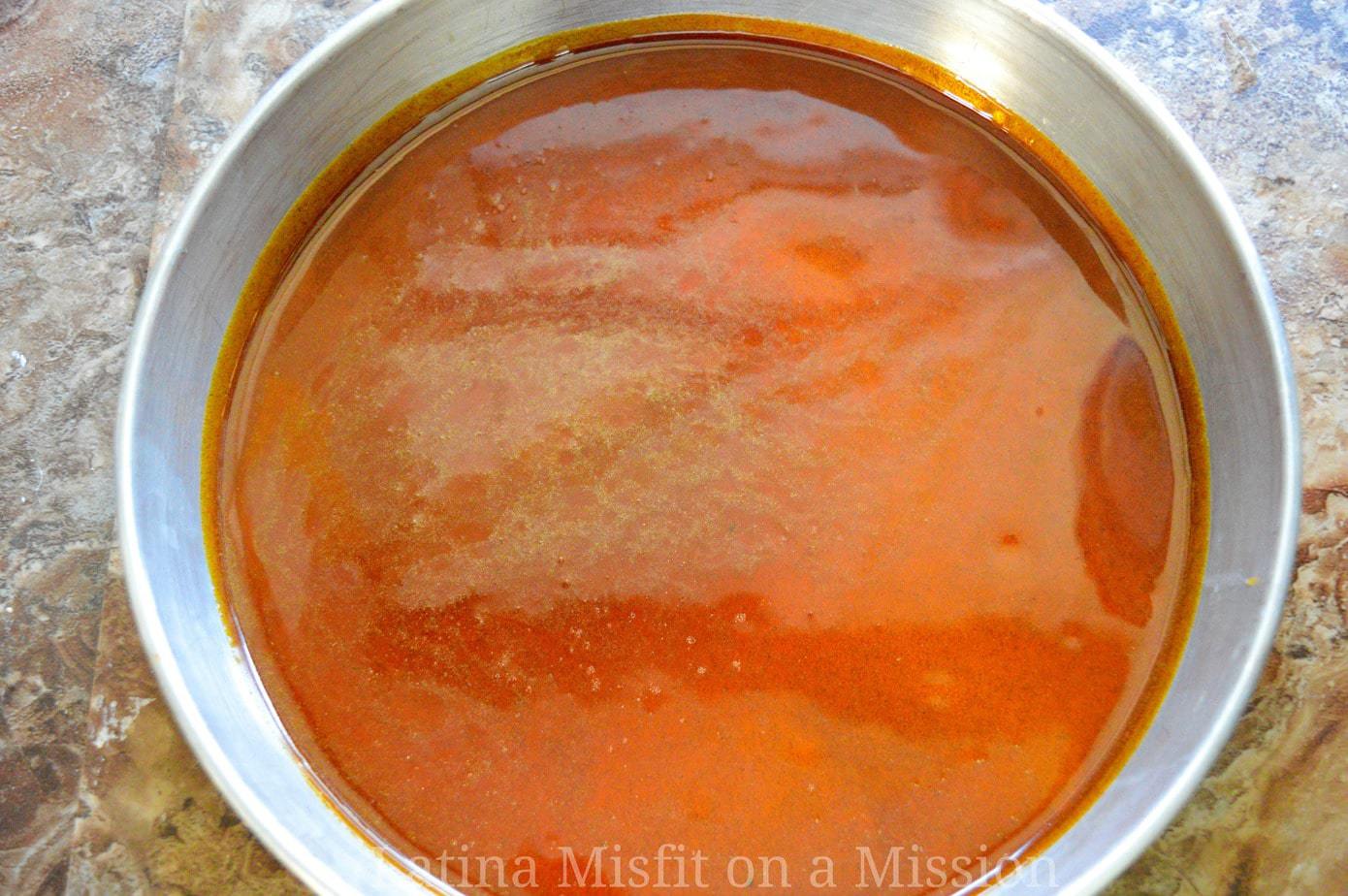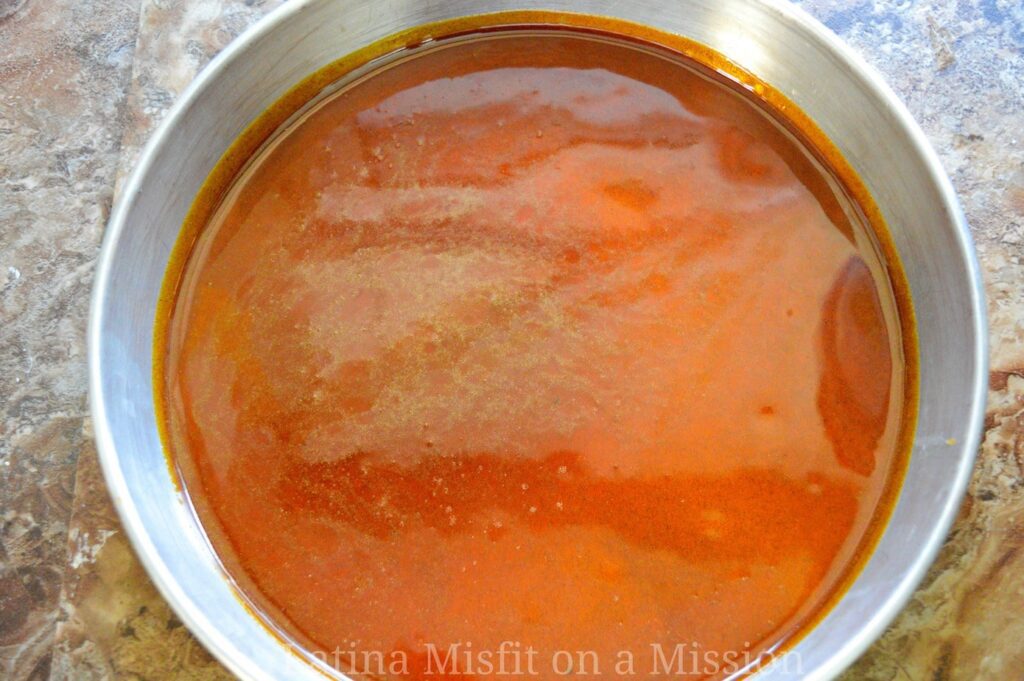 There are two methods to making caramel for flan:
There is a dry method, which is just adding sugar; and the wet method, which includes adding a little bit of water.
Dry method for making flan-
Warm sugar over medium low, and swirl the pot (no spoons here) every so often as the sugar melts. Continue to cook until the caramel sauce is a beautiful amber hue.
DO NOT LET SUGAR BURN! If it burns, it will be bitter. Start over in a new pot if it burns.
Wet method for making flan-
Warm sugar and water (mix it well) over medium heat, and swirl it occasionally until it reaches a beautiful amber color.
I like to add a pinch of ground cinnamon and swirl well to combine.
Pour caramel over a dry baking dish or dry ramekins. Let caramel cool and set for about ten minutes before pouring in the pumpkin flan mixture.
Place the unbaked flan over a larger and deep pan for a water bath.
Quick tip: I personally pull the baking rack out, place the large pan on the rack, add the flan to the center of the large pan and CAREFULLY pour hot water into the large pan.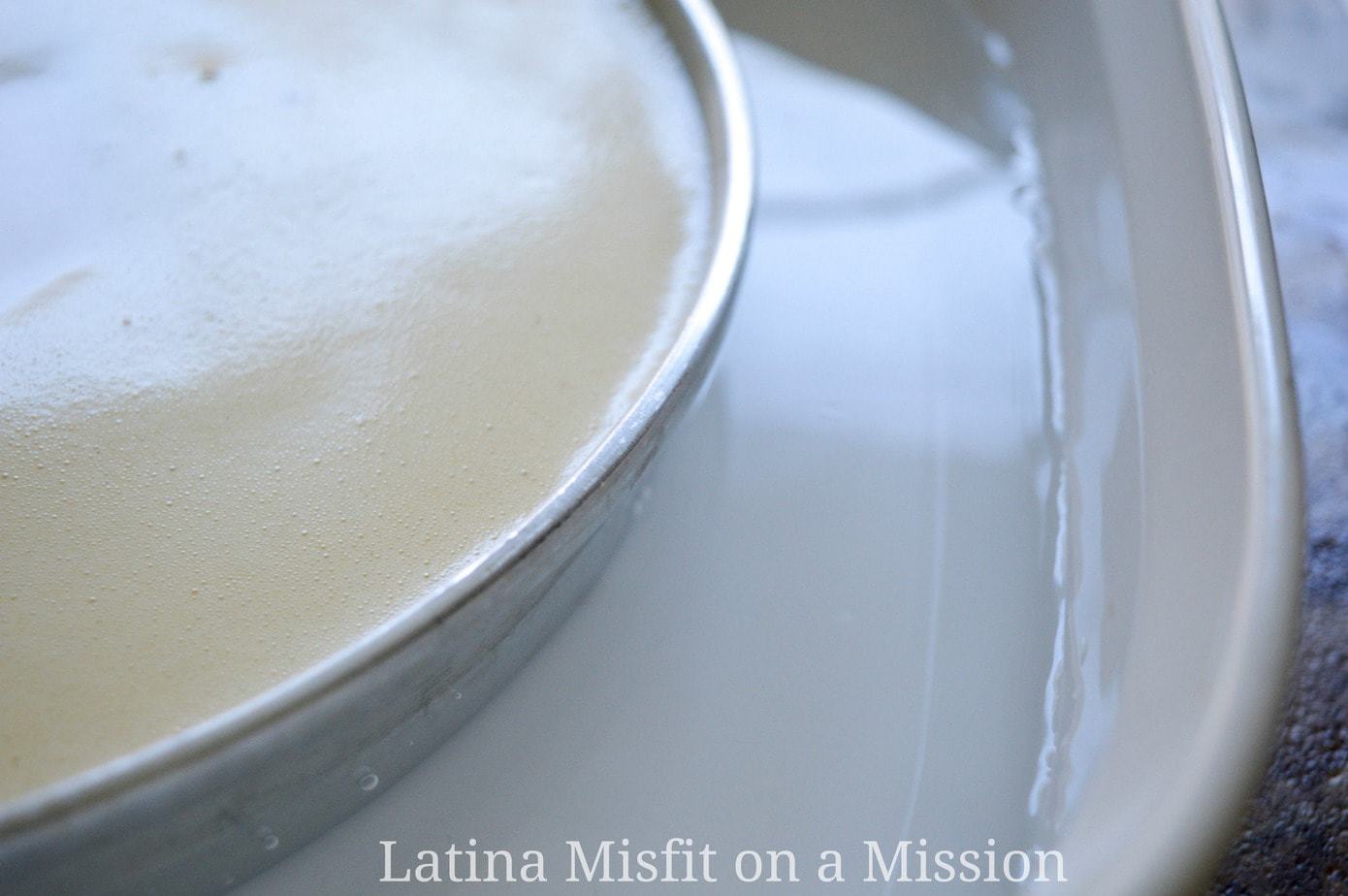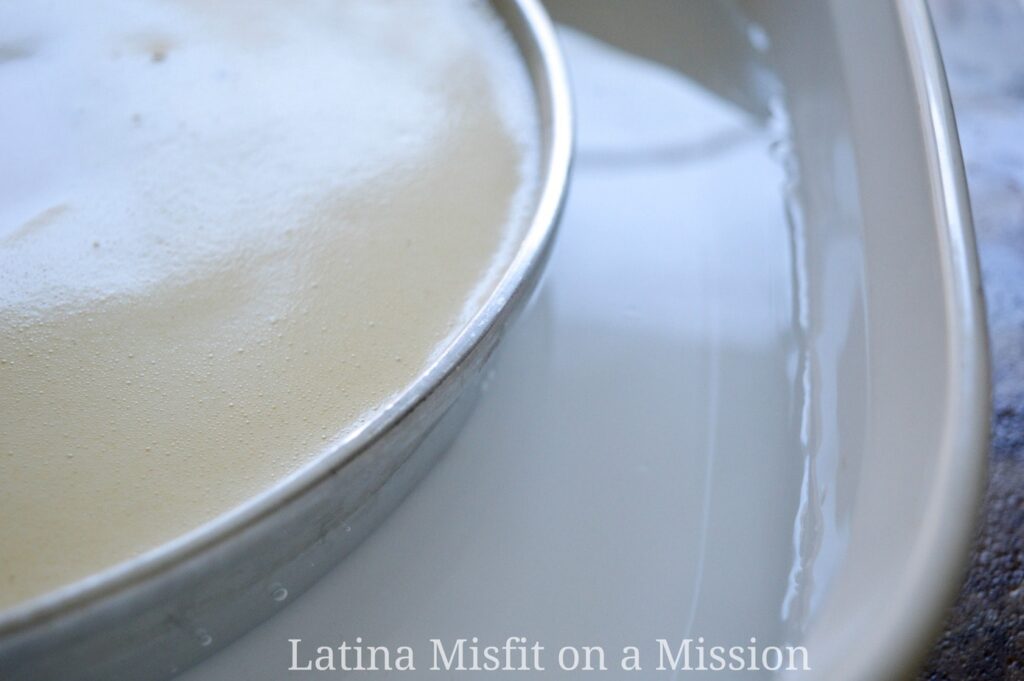 This is what's called an agua de maria (water of Maria) aka water bath.
Bake whole flan for 55-60 minutes or ramekins for 45-50 minutes, or until the center of the flan is set and the flan is firm, yet jiggly.
Once the flan has baked through, place flan on a cooling rack until room temperature. Transfer flan into a refrigerator for 4 hours.
After four hours, loosen the flan by running a knife around the edge of the flan.
Take a plate that is larger than the flan, place it over the flan, and flip it over. Do this quick so there's not a huge mess.
Drizzle any remaining caramel over the flan. Quickly pour water over the pan for easier cleaning.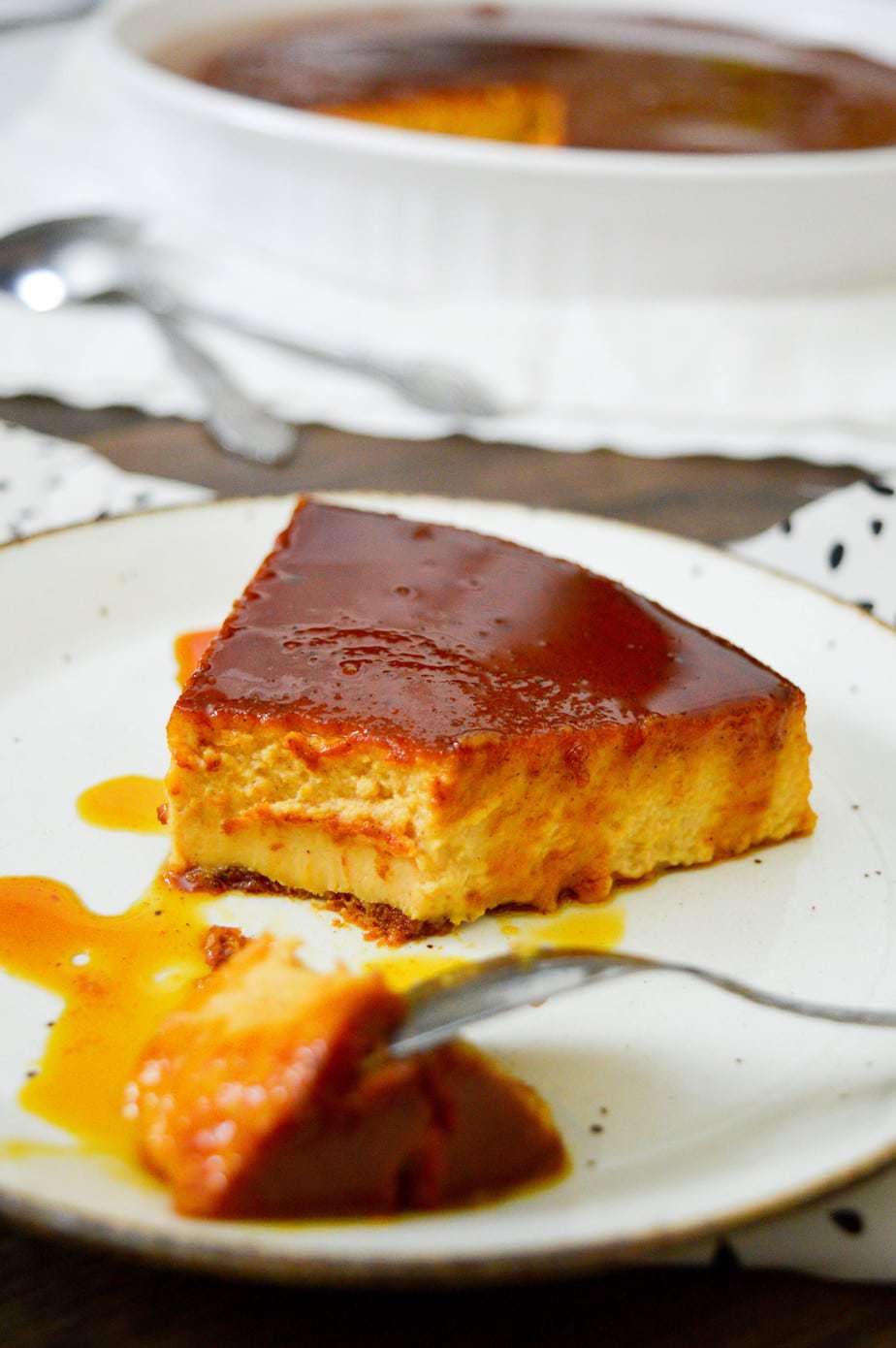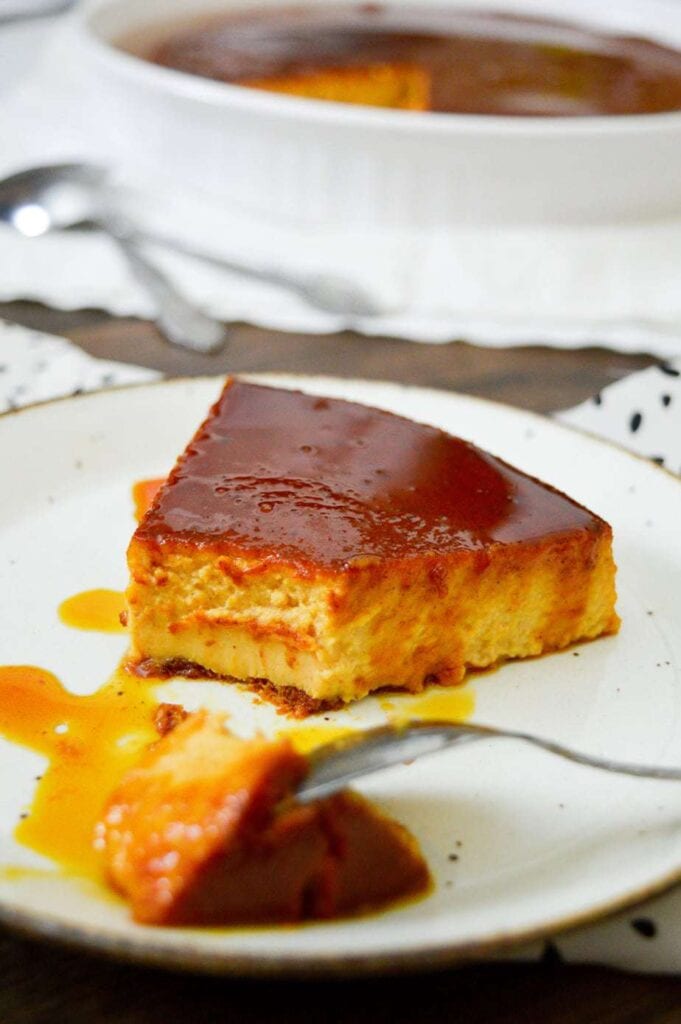 More Thanksgiving Recipes
Be sure to join our subscribers list to stay up to date with the newest recipes and news! Buen provecho!
📖 Recipe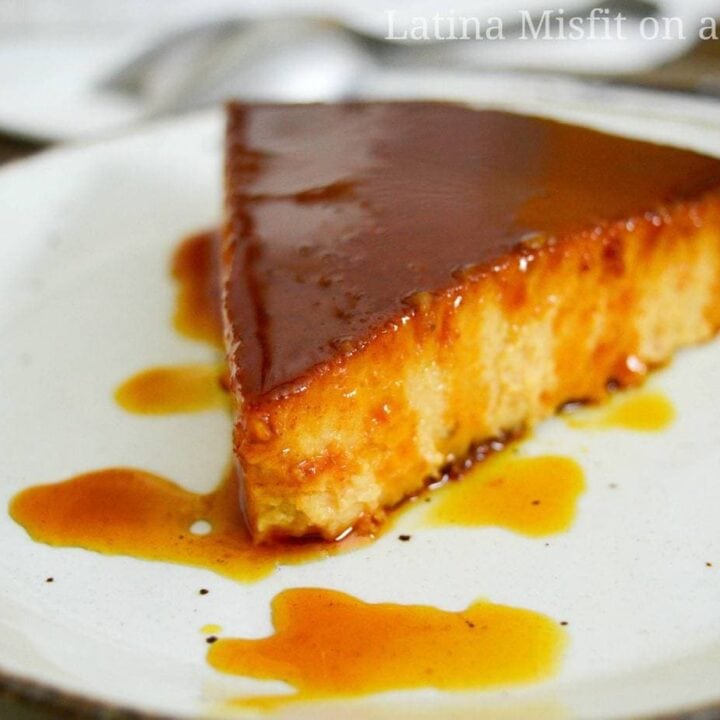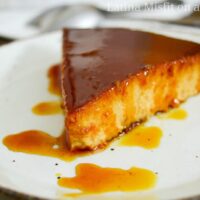 Pumpkin Cream Cheese Flan Recipe
Creamy and full of flavor, this smooth pumpkin cream cheese flan recipe is the perfect treat to end your fall day.
Print
Pin
Rate
Ingredients
1

cup

and 2 tablespoons of sugar

divided

2

tablespoon

water

½

teaspoon

of cinnamon

1

can of evaporated milk

1

can of condensed milk

5

eggs

4

oz

of cream cheese

softened and cubed

¾

or 1 cup of pumpkin puree

⅛

teaspoon

of salt

1

teaspoon

of pumpkin spice

½

teaspoon

of vanilla
Instructions
Preheat oven to 350 degrees Fahrenheit.

In a medium pan, over medium heat, add one cup of sugar and water.

Stir to dissolve sugar. Cook sugar mixture, swirling pot occasionally, until the caramel turns an amber color.

Quickly, pour caramel into round 9-inch pan, being sure to swirl around to coat bottom and bottom sides completely. Allow to cool for ten minutes before adding in flan custard.

In a blender, add in remaining ingredients. Blend well together.

Gently add custard to caramel pan. Place pan in a larger pan for a water bath. Add water to the larger pan until the water reaches half of the level of the flan pan. Gently place in oven.

Cook for 50-60 minutes, or until fork comes out clean. Remove pan from water bath, and allow to cool before refrigerating for 3-4 hours.
Nutrition
Serving:
0
g
|
Carbohydrates:
0
g
|
Protein:
0
g
|
Fat:
0
g
|
Saturated Fat:
0
g
|
Polyunsaturated Fat:
0
g
|
Monounsaturated Fat:
0
g
|
Trans Fat:
0
g
|
Cholesterol:
0
mg
|
Sodium:
0
mg
|
Potassium:
0
mg
|
Fiber:
0
g
|
Sugar:
0
g
|
Vitamin A:
0
IU
|
Vitamin C:
0
mg
|
Calcium:
0
mg
|
Iron:
0
mg