Pumpkin apple cake is an understated old fashioned apple cake recipe that is an easy must-make cake for the holidays!
Holiday recipes are usually always associated with turkey, ham, mashed potatoes... or in my family pernil, arroz con gandules, and coquito. A good apple pie or cherry pie is highly anticipated, as well as our pumpkin flan recipe, but what about cake? This year, surprise your guests with this cinnamon sugar pumpkin apple cake recipe!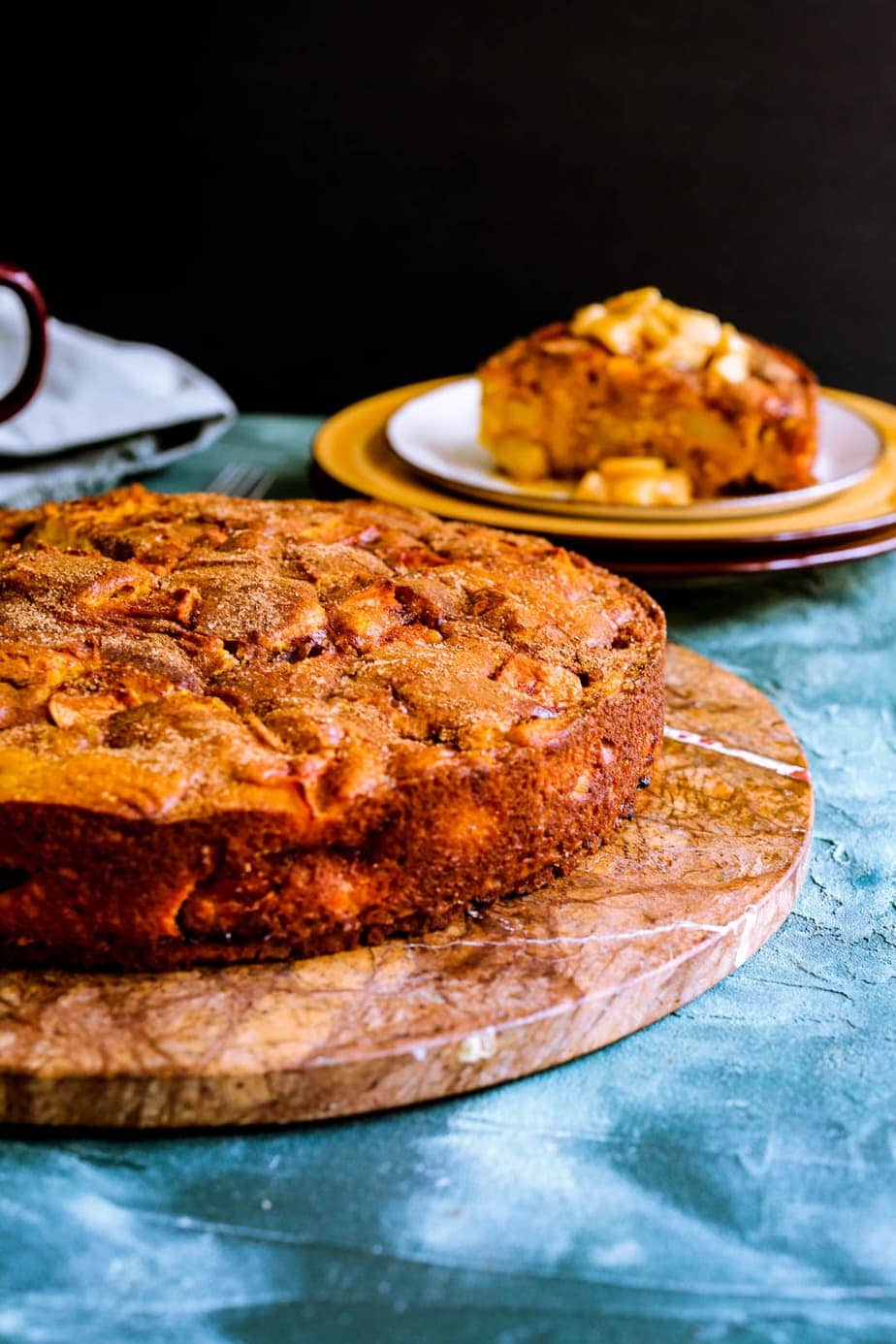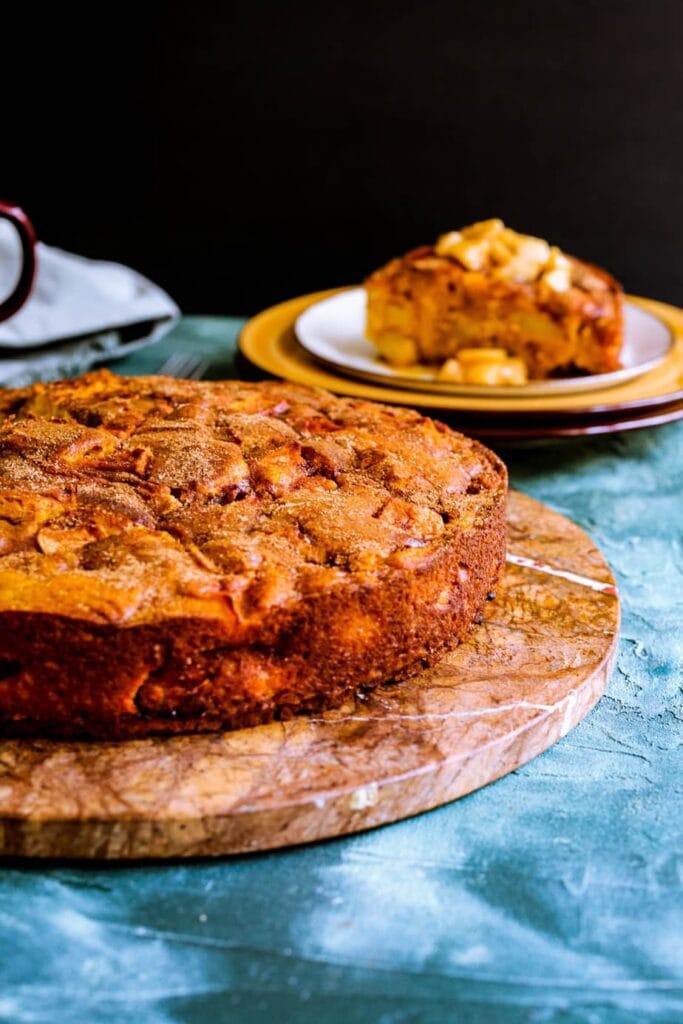 Confession time... I do not love or even like frosting. I absolutely love chocolate, especially warm ooey chocolate lava cakes with vanilla bean ice cream. As far as desserts, that's as far as I typically get with super indulgent cakes.
Until recently! I'm now a lover of fruit inspired cakes and desserts...as long as it's frosting free! I recently made a prune cake, also known as a Grandmother cake, and I was hesitant. C'mon, prunes in a cake?! Yes, guys, yes. It was to die for!
Which leads me here. A timeless apple pumpkin cake recipe that's tried and true!
pumpkin apple cake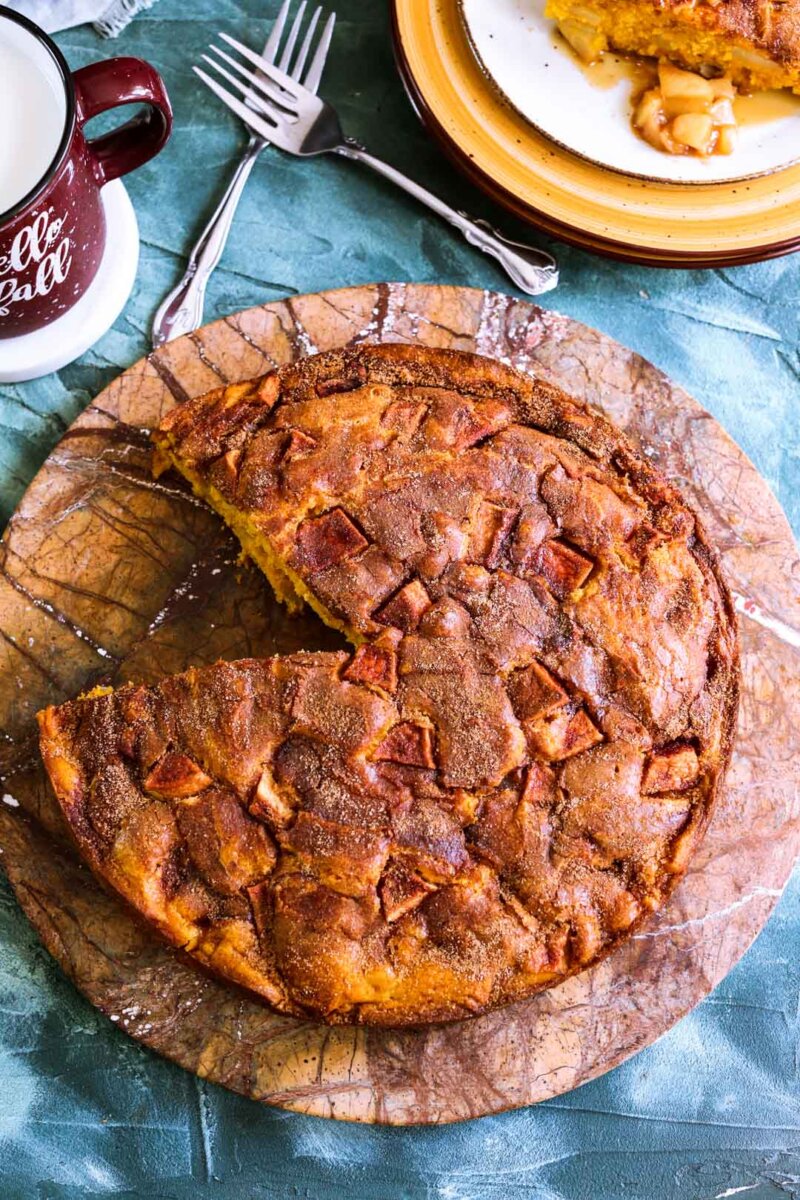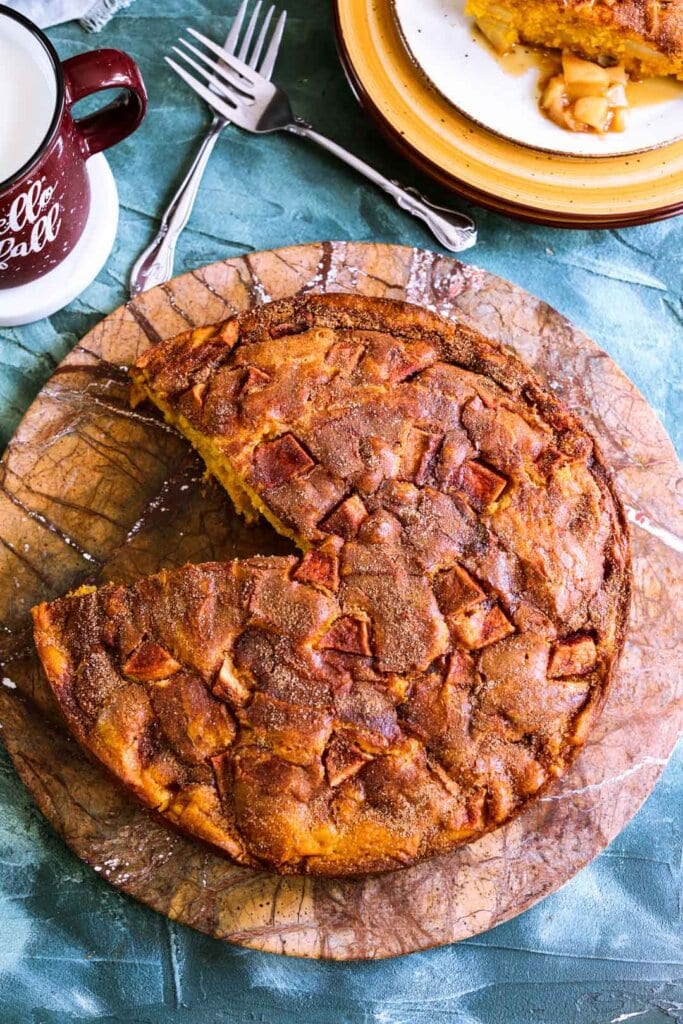 What is cinnamon sugar apple cake?
This old fashioned apple cake recipe with pumpkin is made with basic pantry ingredients, a can of pumpkin puree, raw chopped apples, and a cinnamon sugar topping. Baked to perfection in a spring form pan, this pumpkin apple cake is best served with a drizzle of caramel and ice cream!
apple pumpkin cake or apple muffins?
If you're wondering whether you should bake this old fashioned apple cake as a whole cake or if you could possibly make apple muffins, the answer is either or!
Ask yourself, am I making apple muffins for a quick grab and go for the family over a course of a few days? Then yes, apple muffins are the way to go!
If you want to make apple pumpkin cake for a crowd, definitely make this cinnamon sugar apple cake recipe. Depending on the size of the crowd, make 2-3 apple pumpkin cakes! This apple cake recipe for Thanksgiving will be a hit at the dessert table!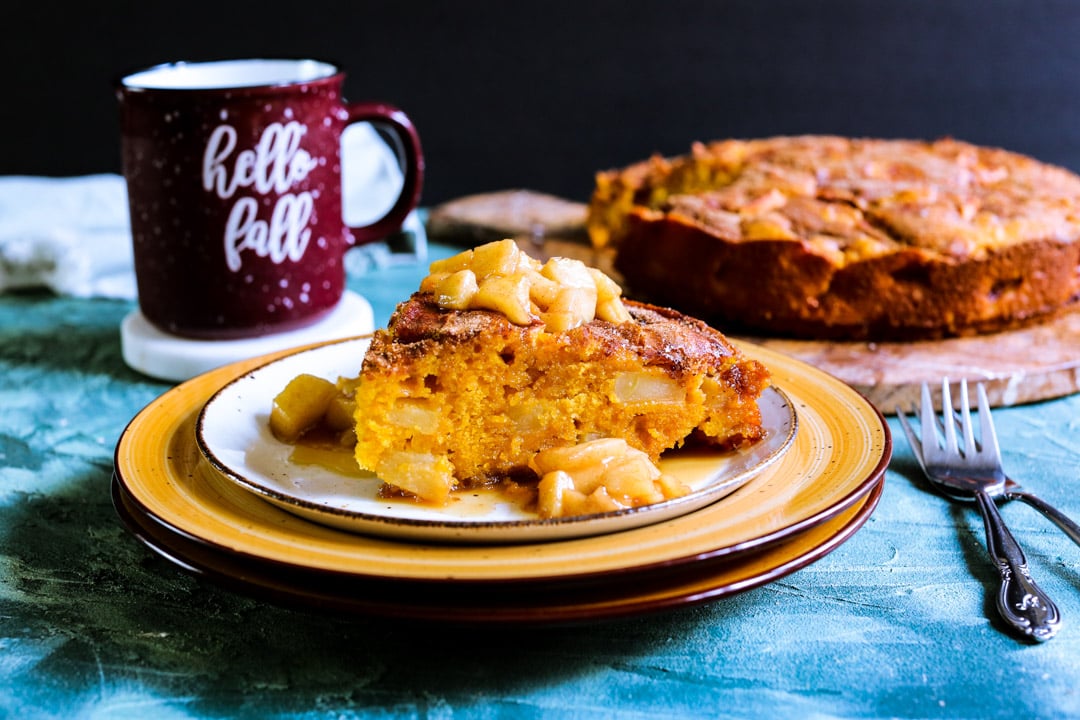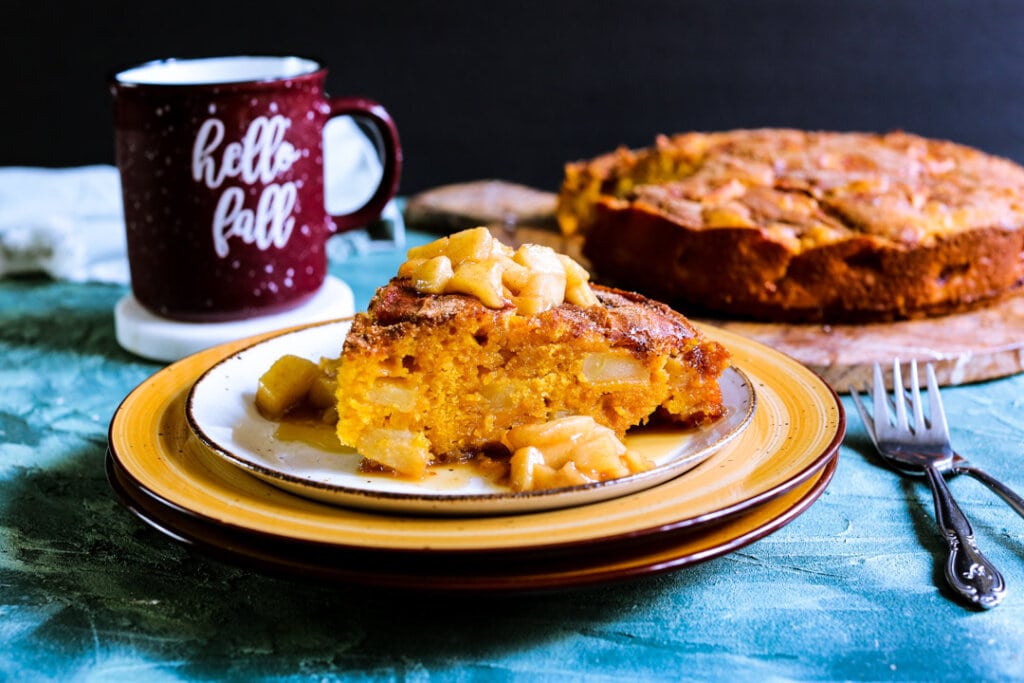 What does pumpkin apple cake taste like?
This apple pumpkin cake recipe is soft and moist, with soft chewy bites of warm apples, a soft taste of pumpkin, hints of cinnamon, and a nice crunchy -but not overly crunchy topping that is not overbearing in sugar and cinnamon since the topping starts to somewhat caramelize in the baking process.
All of your guests will enjoy this apple cake recipe. You can sweeten it with a drizzle of caramel, since everyone knows that apple desserts with caramel sauce is a must have fall dessert.
Ingredients to make pumpkin apple cake
sugar
butter, room temperature
pumpkin puree
eggs
vanilla
raw apples, chopped
cinnamon
all purpose flour
baking powder
salt
What kind of apples do I use for apple cake?
The best apple to use to make apple cake would be one that stays firm, despite the heat from baking. Three favorites of mine are Honeycrisp, Gala, and Granny Smith which are all readily available at your local market.
If you have access to an apple picking field or farmers market, you may want to be spontaneous and try some of these apple varieties that are suggested by Bon Appetite.
How should I cut my apples for apple cake?
Rinse and peel your apples. Cut your apple into bite size chunks. The bigger the piece, the better they keep in shape while baking, just remember, you don't want it too big. An inch sized chunk is great! Think of a pineapple tidbit!
Now that you have your apples chopped, toss it in a bowl with 2 tablespoons of sugar and about 1 ½-2 teaspoons of cinnamon. Set to the side until it is needed.
Apples easily brown when their skin is peeled as it oxidizes. The sugar should help it retain it's natural color, if not, it's fine, it's getting baked and between the pumpkin and cinnamon, you won't be able to tell the difference!
How To Make pumpkin Apple Cake
To make apple pumpkin cake with cinnamon and only 1 ¾ cup of sugar you will start with your wet ingredients. In a large bowl, cream together the butter and sugar. Do this until it's creamy and lightened, about 4 MINUTES, no just until it is mixed.
Mix in the pumpkin puree and vanilla and then add in one egg at a time and beat until combined.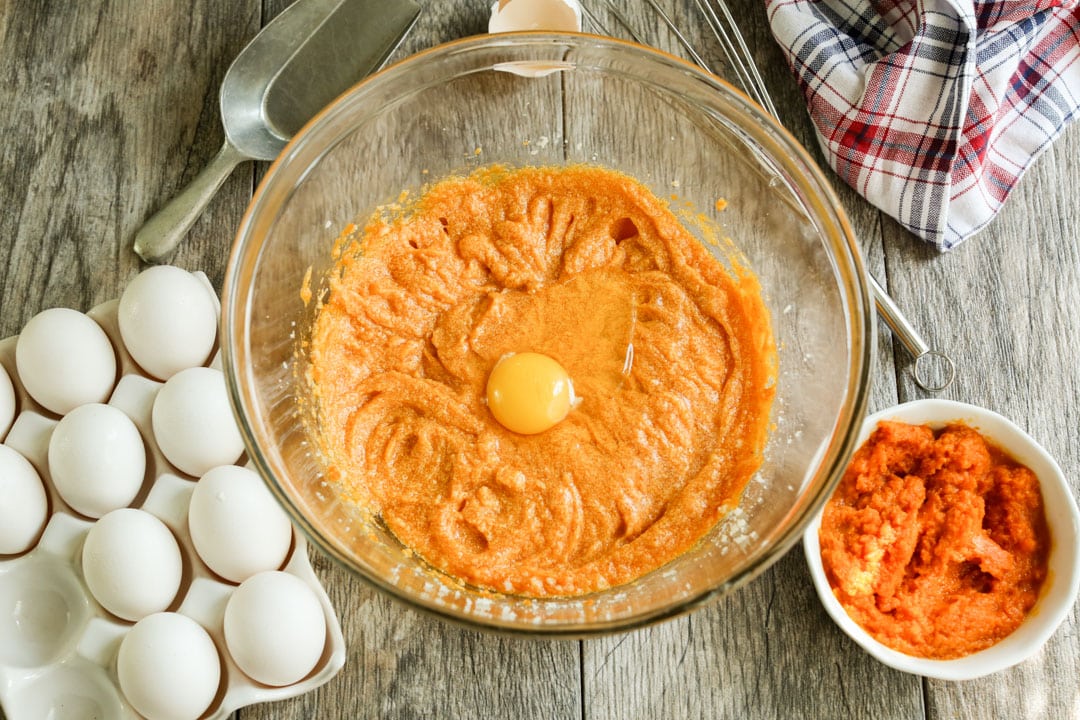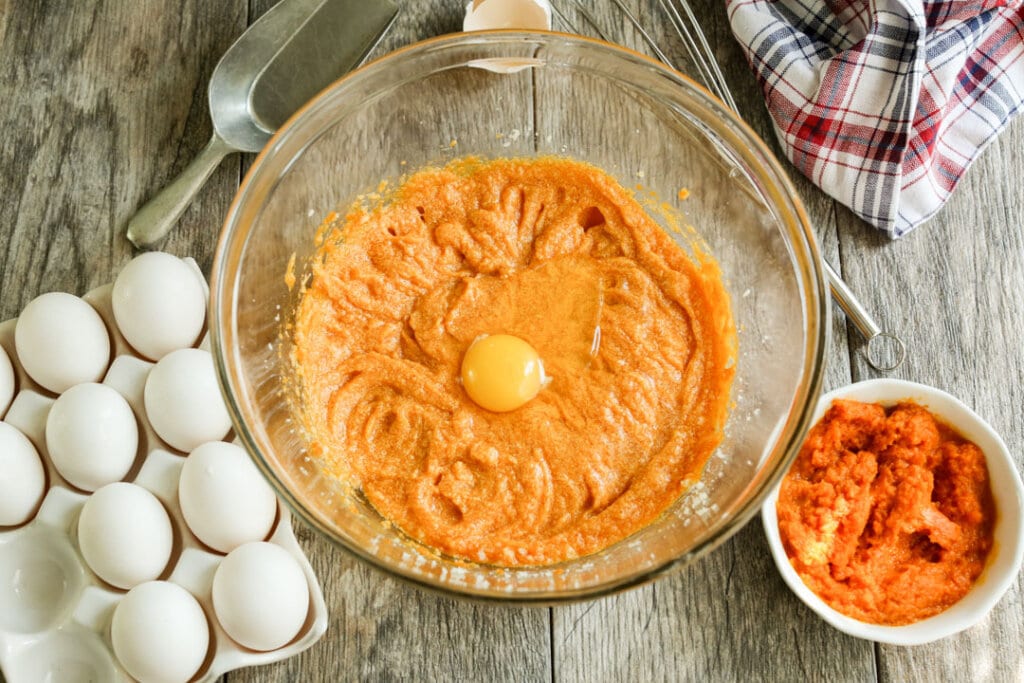 3. In a separate bowl, whisk together the flour, baking powder, salt, and cinnamon.
4. Slowly mix the dry ingredients in with the wet ingredients.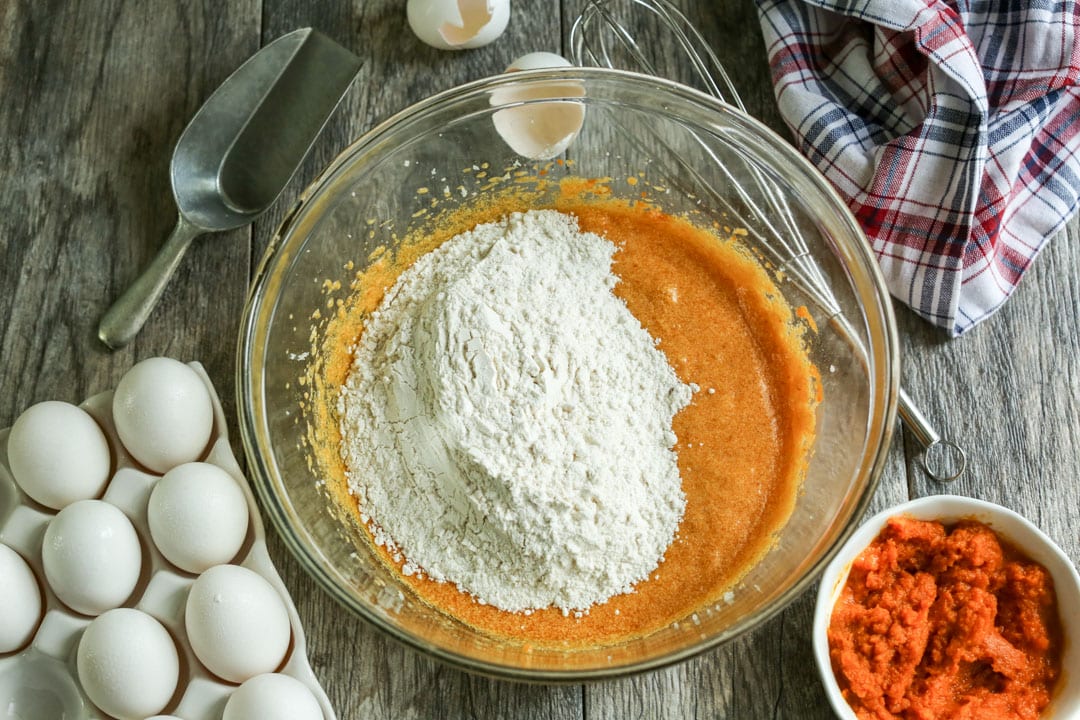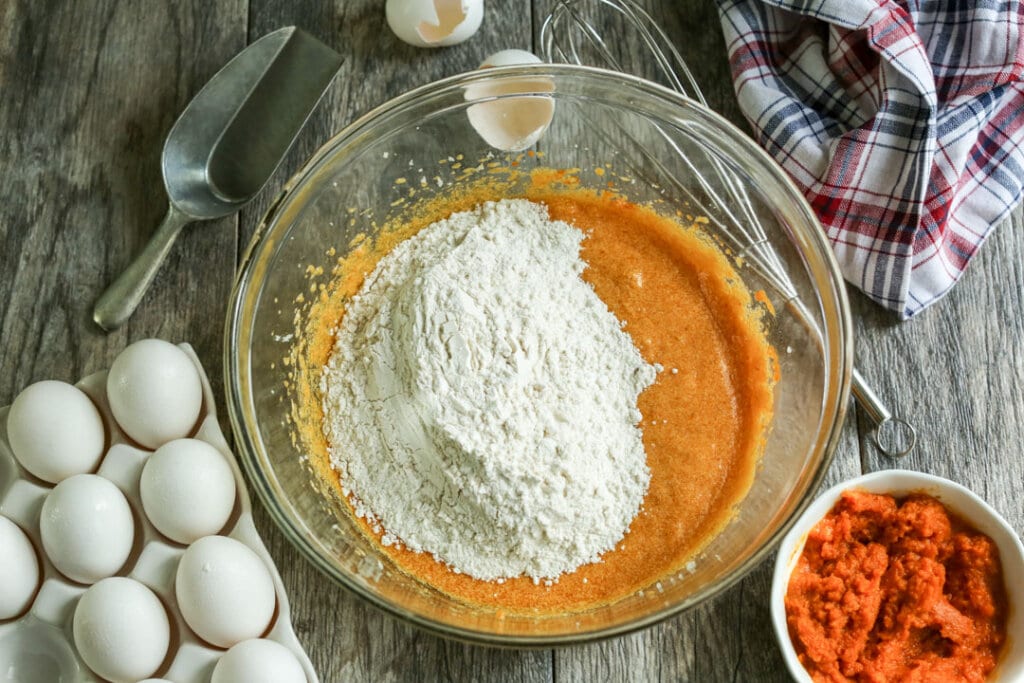 5.Fold in the sugar and cinnamon coated apples. Reserve some to add on top before baking.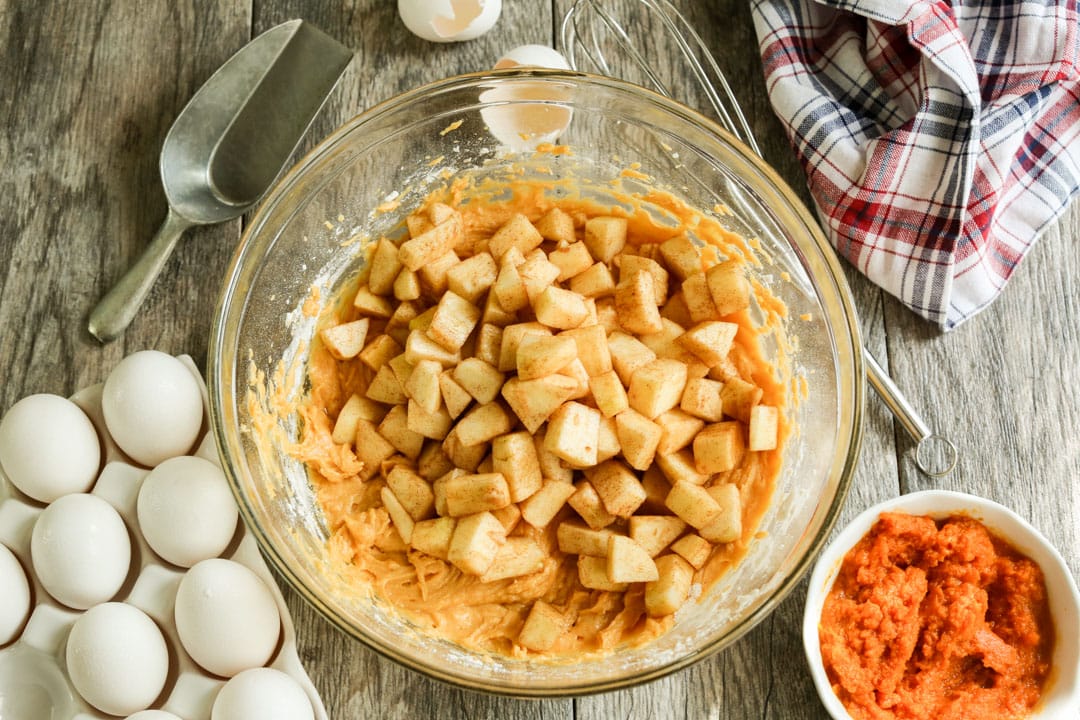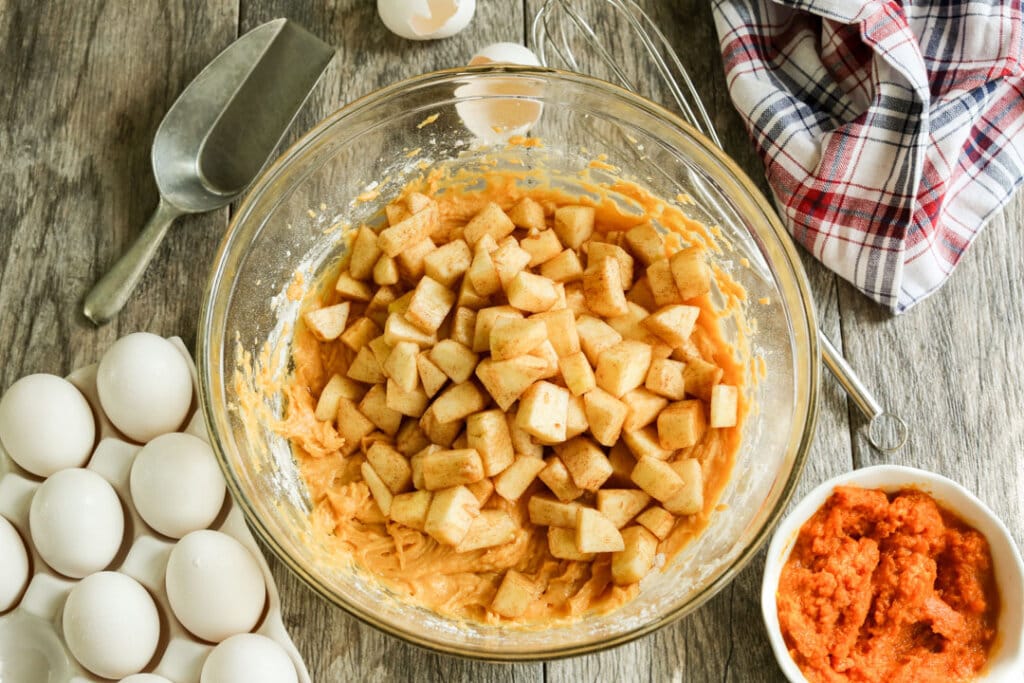 6. Pour apple pumpkin cake mixture into a well-greased spring form pan. Top with remaining chopped apples and evenly sprinkle the sugar and cinnamon mixture on top.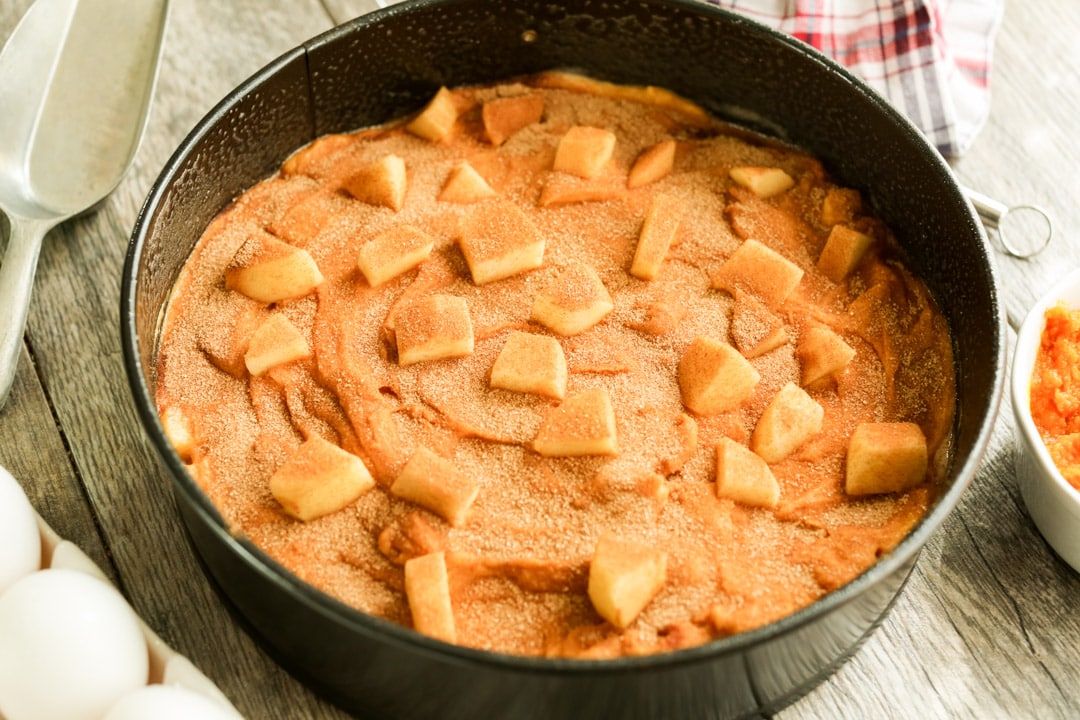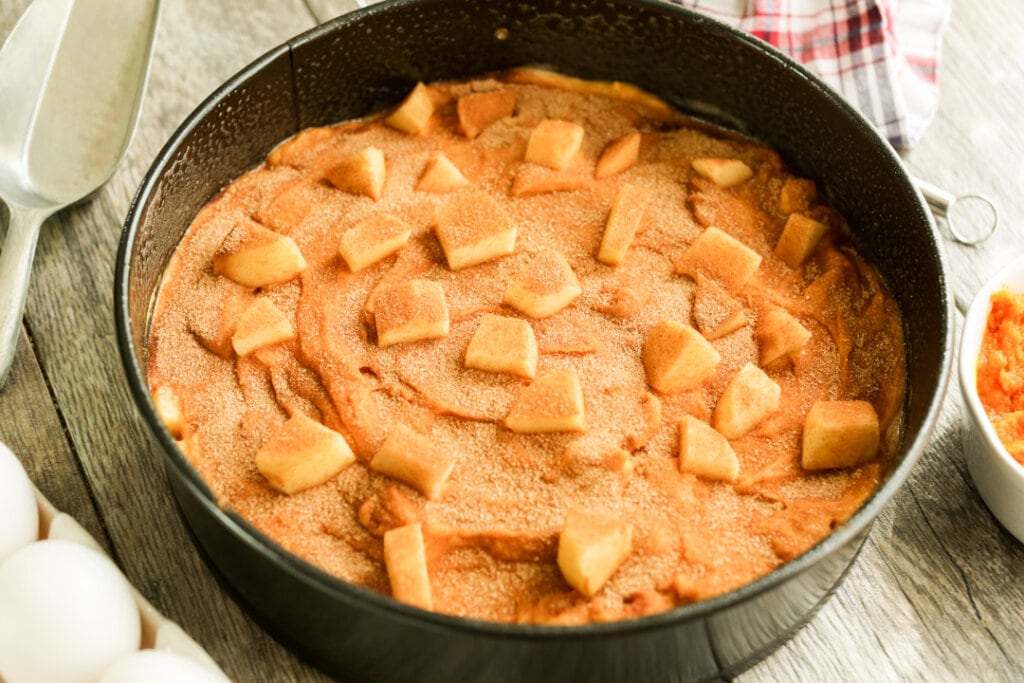 7. Bake the pumpkin cake at 350 for about 55-65 minutes. Or until a toothpick comes out dry and the sugar coating on top has slightly browned.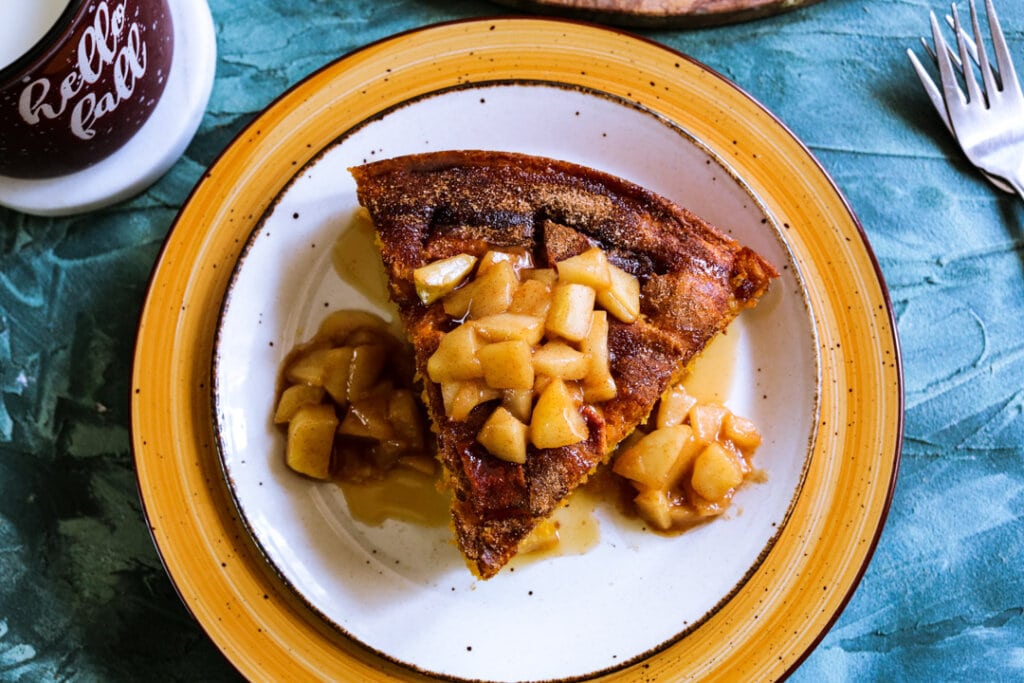 Now that your apple pumpkin cake is baked, you may be wondering what goes well with.
Here are some topping ideas for you apple pumpkin cake recipe:
Cooked apples in a syrup sauce.
Caramel sauce warmed through.
Vanilla bean ice cream.
Whipped cream or cool whip.
Dulce de leche.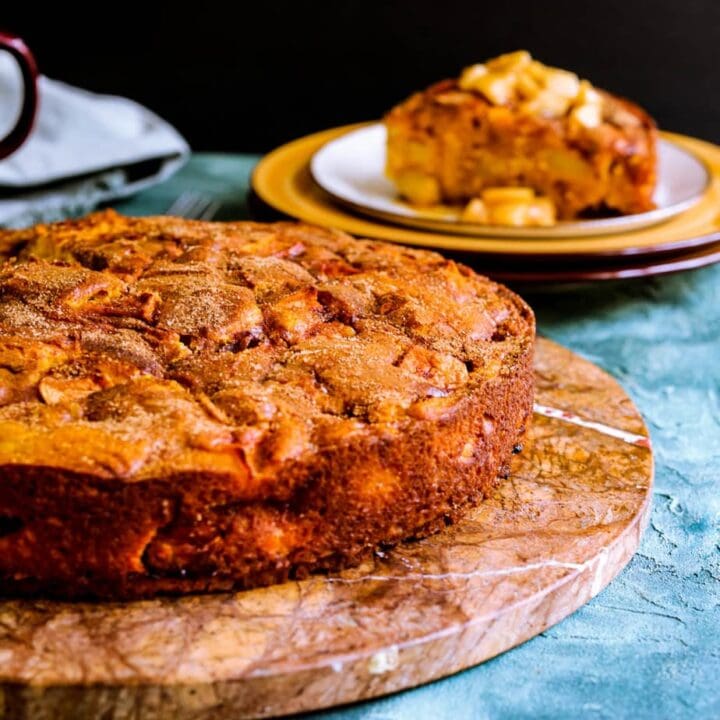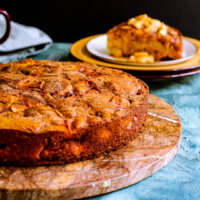 Pumpkin Apple Cake Recipe
Pumpkin apple cake is a fall favorite apple cake recipe that has a welcoming taste of pumpkin, bite sized soft and warm chunks of applesauce, and hints of cinnamon throughout. Perfect for the holidays and in the evenings near a fire.
Print
Pin
Rate
Ingredients
4

Cups

Apples

peeled and chopped into chunks

2

Cups

Sugar

divided

¾

Cup

Canned Pumpkin Puree

½

Cup

Butter

softened

1

tablespoon

Vanilla Extract

2

Large Eggs

1 ½

Cups

of Flour

1 ½

teaspoon

of Baking Powder

¼

teaspoon

of Salt

3

teaspoons

of Cinnamon
Instructions
Preheat oven to 350 degrees

Beat 1 ¾ cups of sugar, butter and vanilla in mixer at medium speed until creamed, about 4 minutes.

Add pumpkin puree and eggs (one at a timand beat until combined.

In small bowl, whisk together flour, baking powder, 1 teaspoon of cinnamon, and salt.

Add flour mixture to sugar mixture and beat at low speed until well blended.

Combine remaining ¼ cup sugar and cinnamon in small bowl.

Toss the chopped and peeled apples with 2 tablespoons of the cinnamon sugar.

Fold apples into cake batter and gently combine.

Pour batter into an 8 inch spring form pan that is well-coated with cooking spray or butter.

Lightly sprinkle the rest of the cinnamon sugar on top of the batter.

Bake at 350 degrees for 55-65 minutes or until cake slightly browns on top.

Cool on wire rack, then carefully remove spring form pan and serve.
Notes
Use honeycrisp, gala, or Granny Smith apples to stay structured and not break while baking.
Check on cake at 55 minutes with a toothpick.
Need some more Thanksgiving dessert ideas? Here are some of the best desserts for Thanksgiving we have on our site:
Desserts for the holidays
5 of our favorite desserts for the holidays!