This shop has been compensated by Inmar Intelligence and its advertiser. All opinions are mine alone. #SauceLikeYouMeanIt #TexasPete #FeastOfFlavor
Learn how to make malanga frituras -crispy on the outside, creamy on the inside savory spicy malanga fritters that are made in in minutes!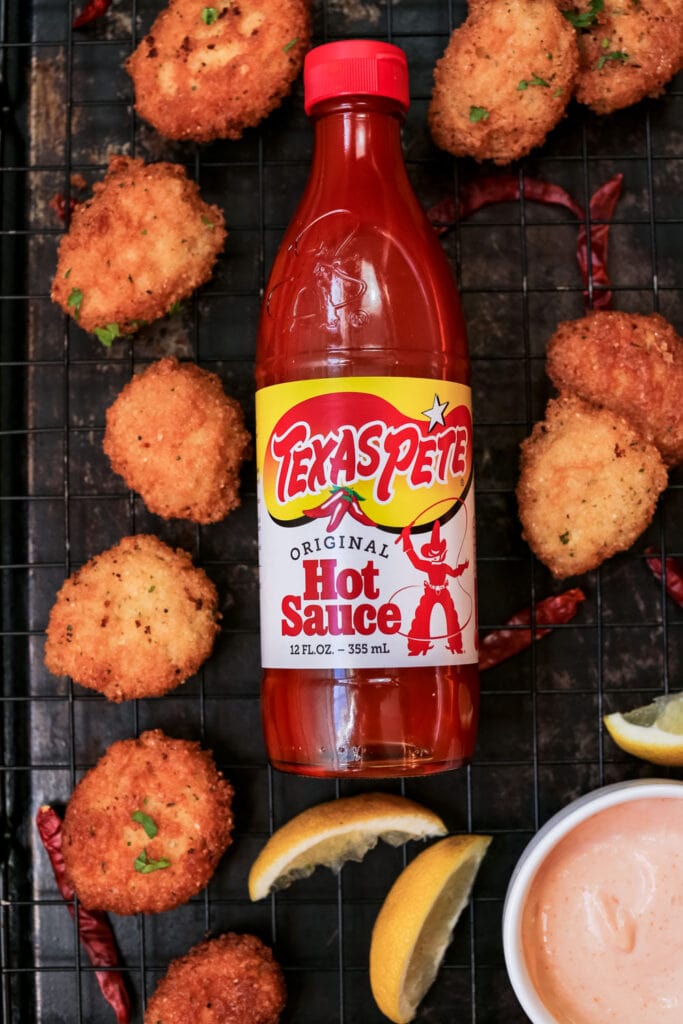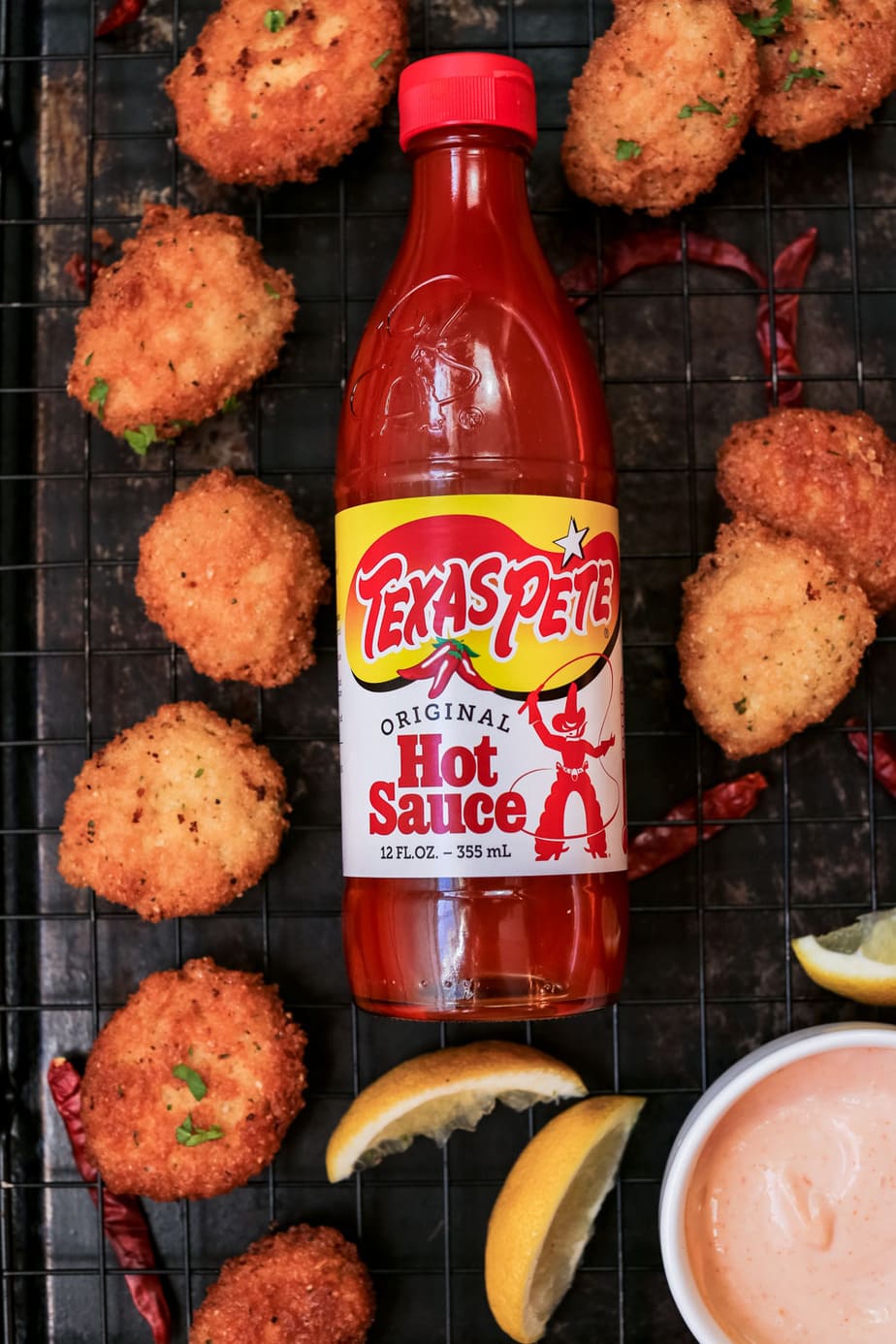 Today we're teaming up with Texas Pete® brand to bring you this spicy spin on the classic malanga fritura.
We've added a few generous splashes of their Texas Pete® Original Hot Sauce into our malanga fritter mixture to stay true to our "think outside the box" nature that we share with Texas Pete® brand.
With the temperatures dropping, I enjoy adding a little bit of heat to my food, be it with soups or fritters -hot sauce makes me cozy and transports me to the island (at least while I enjoy each bite of food).
If you're apart of my Facebook group, you'll know I'm on the hunt to recreate an alcapurria sauce that is made with hot sauce. When you're passionate, you keep going, you keep testing and trying new things until you've developed the perfect recipe!
The slogan Texas Pete® uses "Sauce Like You Mean It™" really resonates with this journey I've been on to recreate a sweet and savory Puerto Rican alcapurria sauce I've once tried. I am excited to continue testing recipes using more of their sauce options!
To learn more about Texas Pete® and the vast variety of products they have to offer, be sure to check out their website where you can order products, find new recipes, or get ideas about what sauces they have that can make your next order of take out or delivery out of this world!
Want to know if your store carries a specific flavor? Use their store locator so you can add a bottle to your next store pick up order!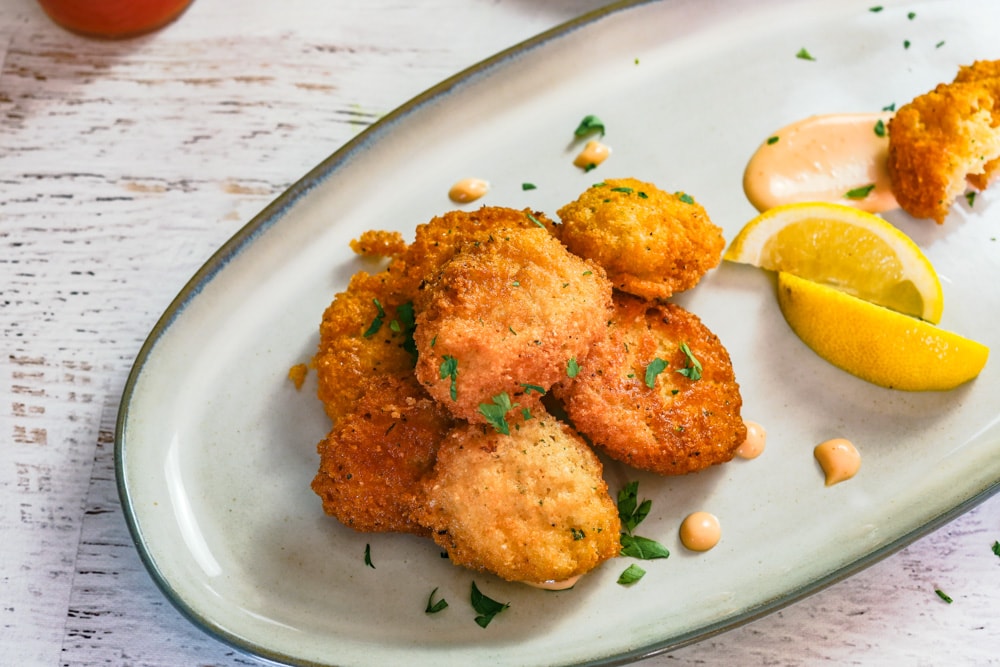 FAQ
What is malanga?
Malanga is a root vegetable. In places like Puerto Rico, or on labels, it may also be called yautia.
What does malanga look like?
The outside, also known as "flesh" of malanga is a dark brown with coarse thick fibers. Malanga can resemble a cassava, but it is usually short and thick with a "hairier" outside.

Inside a malanga is white, like a potato. There are no specks of purple -that's batata. If you go to some markets, you'll see that the edges are already cut, this helps identify the root vegetable easier, as well as it allows you to see if it's fresh.

Where do I find malanga?
Call ahead to specialty supermarkets or produce stores. Your best bet is to find a local market that specializes in Latin cuisine.
I've also had luck with finding frozen malanga, pre-peeled and chopped in the frozen section where they store Latin products.
Can I use frozen malanga?
Yes! In fact, I used frozen malanga. Tips when using frozen malanga, defrost the malanga before frying to keep the fritters from breaking apart.
Malanga Frituras Instructions
Follow these step by step directions to make frituras de malanga.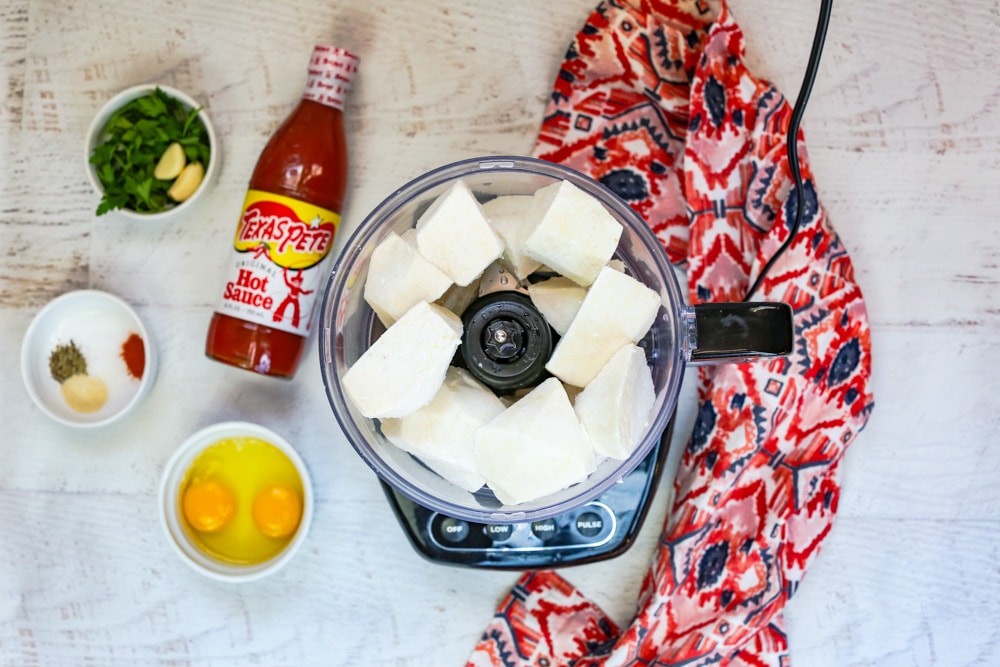 How to make malanga fritters-
Peel and chop malanga.

To peel the malanga, cut the ends to stand the malanga tall. Peel with a large vegetable peeler for the easiest method, or gently peel with a small sharp peeling knife. The flesh is very thin, like a plantain.
Chop malanga into 2-3 inch chunks.

Grate the malanga.

Traditionally, a hand grater is used to grate the malanga, but a food processor makes the process easier (and safer).
Pulse the malanga in a food processor until the malanga is shredded.

Add in remaining ingredients.

I added two eggs for 1.5 pounds of malanga, but I highly suggest only using one, since the additional hot sauce is almost like a binder, and too much liquid will make the malanga frituras break when frying.
Fold the ingredients to blend together and set aside.
Start with less Texas Pete® Original Hot Sauce for the first fritter, test it out for spiciness and add in more until your preferred spiciness level is achieved.
Tips for frying malanga frituras.
When frying malanga fritters, here's some tips!
Keep a consistent temperature.

Medium high heat is key. Remove pan from the heat between batches so the temperature stays even. If you find your malanga is getting too dark, remove the pan or lower the temperature. Watch the video clip below to see it frying in action.

Don't overcrowd the pan.

Add in a spoonful of malanga batter to the oil at a time. Don't make bigger ones, this is the perfect size!
Work in batches, make sure there is enough space for the malanga fritters to fry without touching each other. It will float around, that's fine.

Flip once!

Flip the malanga frituras almost as if it were a pancake, wait until the center seems to dry up more and the edges are a beautiful light amber color.
Once you flip it, stop flipping until done.
If the first one breaks when you flip, don't flip the rest of the same batch for about 30-60 seconds. This let's you know it was too soon, or the heat was too low.

Use a frying utensil to scoop the fritura out. Forks break the fritters, so be careful with the utensil you use.
Drain on a paper towel lined plate.
Refrigerate any extras.

This batch should make about 20-25 malanga fritters.
Now that your malanga frituras are done, be sure to take a photo and tag me and Texas Pete®  on social media using the hashtags #Latinamommeals and #SauceLikeYouMeanIt #TexasPete #FeastOfFlavor.
Remember to use the store locator to find out where you can purchase your own bottle of Texas Pete® near you!
📖 Recipe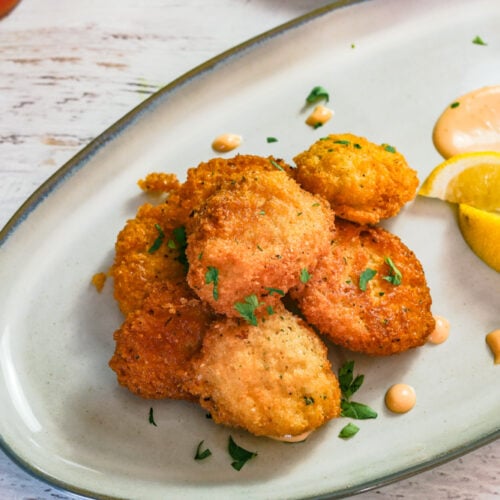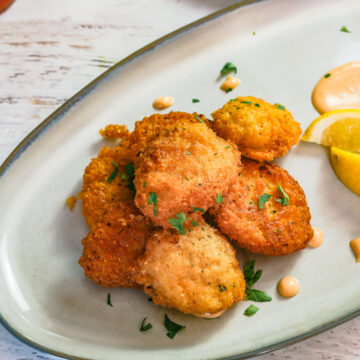 Malanga Frituras | Malanga Fritters
Crispy malanga fritters with a creamy center.
Print
Pin
Rate
Ingredients
1.5

pounds

malanga

shredded

3

cloves

garlic

1

teaspoon

onion powder

1

teaspoon

salt

1

teaspoon

black pepper

2

tablespoon

parsley

finely chopped

2

tablespoon

Texas Pete® Original Hot Sauce

or to taste

1

egg

vegetable oil

for frying
Instructions
Pulse malanga until shredded in a food processor, or use a hand grater to shred malanga.

Add in remaining ingredients (except for oil) into the food processor or bowl and pulse a few more times to combine (or mix if hand grated malanga).

Warm oil in a medium pan over medium high heat. Add in a few spoonfuls of malanga mixture and fry until bottom is lightly golden, about 2-3 minutes, then flip and continue cooking about a minute or until color is lightly golden amber.

Remove malanga and allow it to drain on a paper towel lined plate. Continue frying remaining malanga in batches.
Nutrition
Serving:
3
g
|
Calories:
142
kcal
|
Carbohydrates:
31
g
|
Protein:
3
g
|
Fat:
1
g
|
Saturated Fat:
1
g
|
Cholesterol:
27
mg
|
Sodium:
412
mg
|
Potassium:
694
mg
|
Fiber:
5
g
|
Sugar:
1
g
|
Vitamin A:
238
IU
|
Vitamin C:
7
mg
|
Calcium:
57
mg
|
Iron:
1
mg