Crispy garlic tostones have always been a favorite side to add to almost every dish! These twice fried plantains are perfect to accompany your Latin breakfast, lunch, or dinner.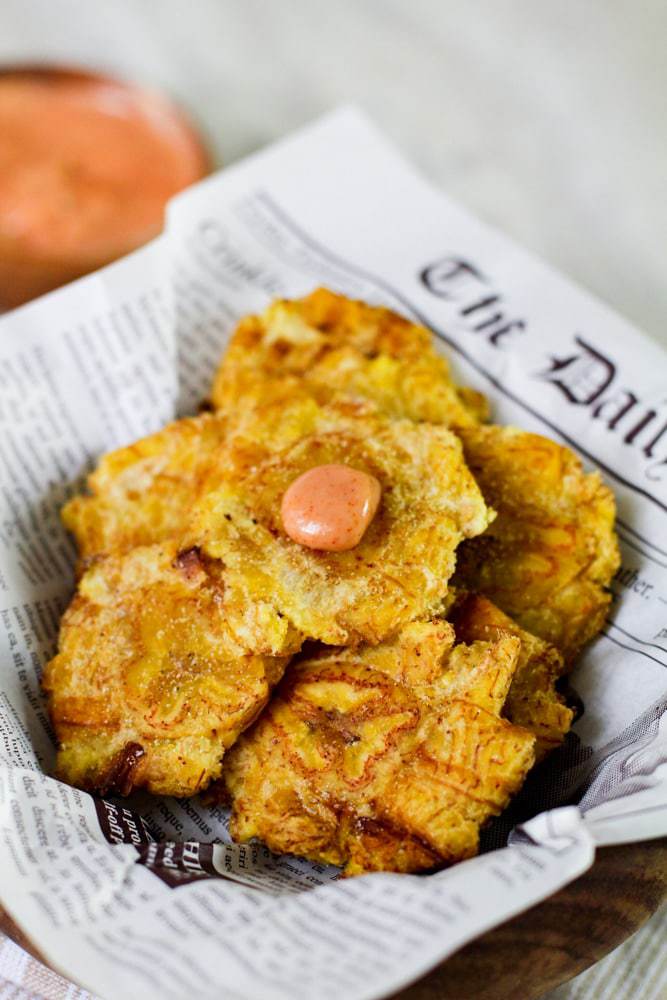 What are tostones?
Fried plantains are quick and easy. There are two different kinds of fried plantains, one is tostones, which is a green plantain that is twice fried and crispy. The other kind of fried plantains is called maduros, which is a ripe yellow/brown plantain that is a fried sweet plantain and soft.
Tostones are a favorite Caribbean appetizer that is dipped into a ketchup mayo sauce or a mojo sauce. It's a simple side dish that is made in minutes!
How To Make Tostones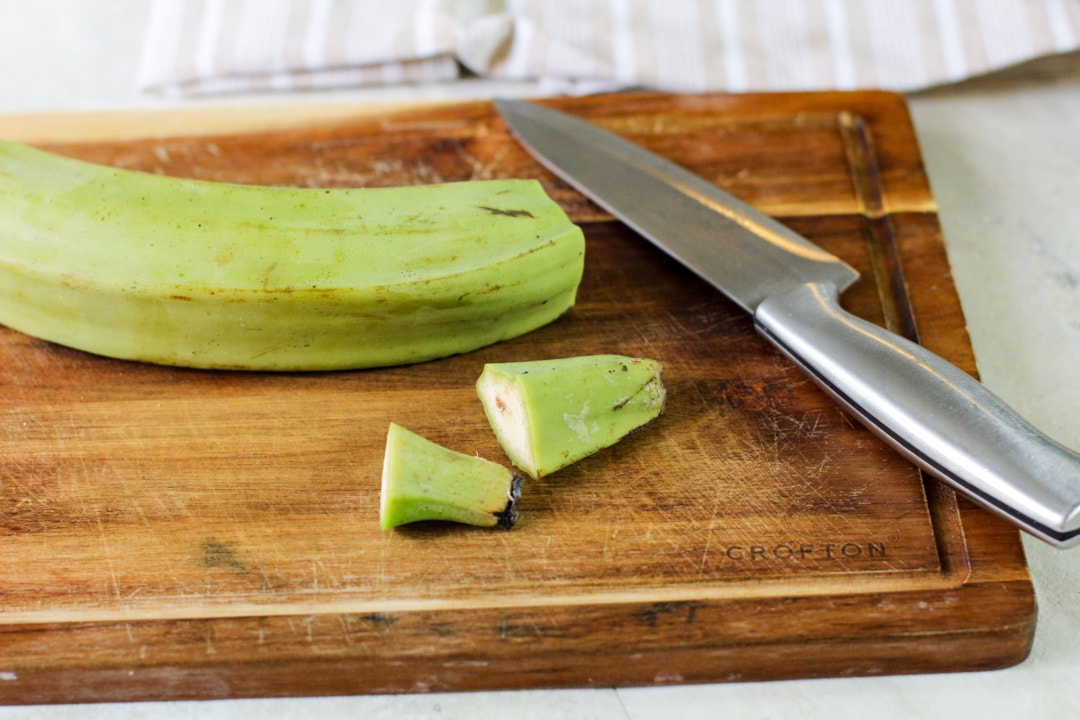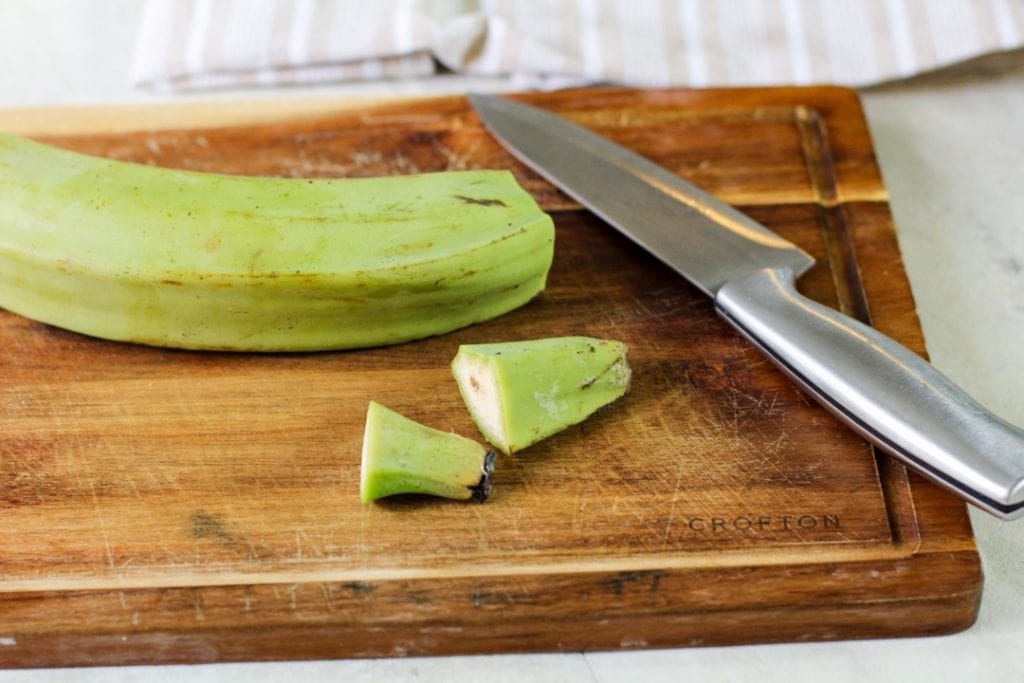 First, for tostones (twice fried plantains) you want to get green plantains, cut off the ends, and gently slice the flesh to peel. The flesh of plantains are NOT like a banana in the sense that it will peel away easily. You can use the back of a spoon to safely help you lift the thicker skin.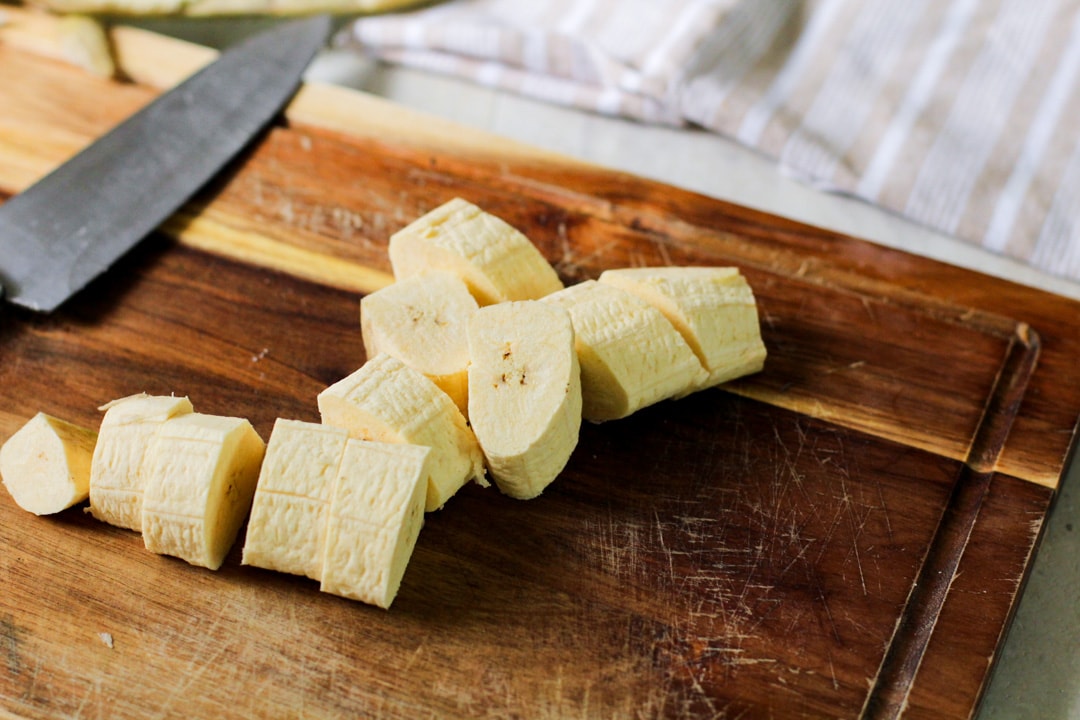 Once the skin is removed cut the plantain into 6-10 chunks, depending on the size of your plantain. Oh, quick tip, look for the BIGGEST plantains you can find. 🙂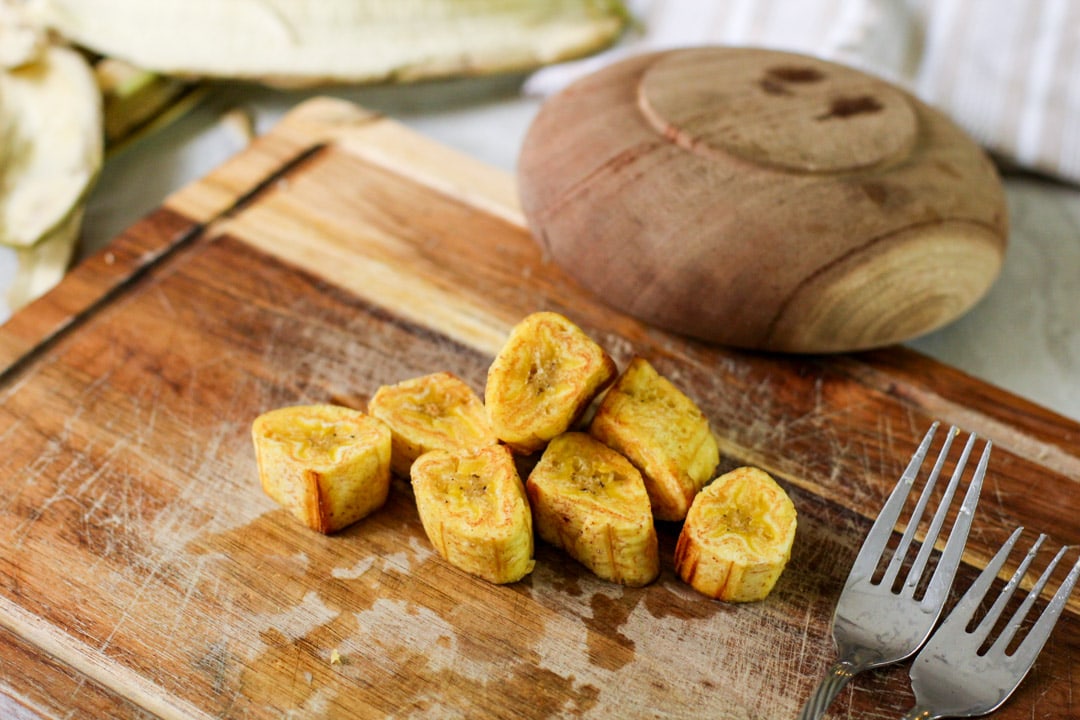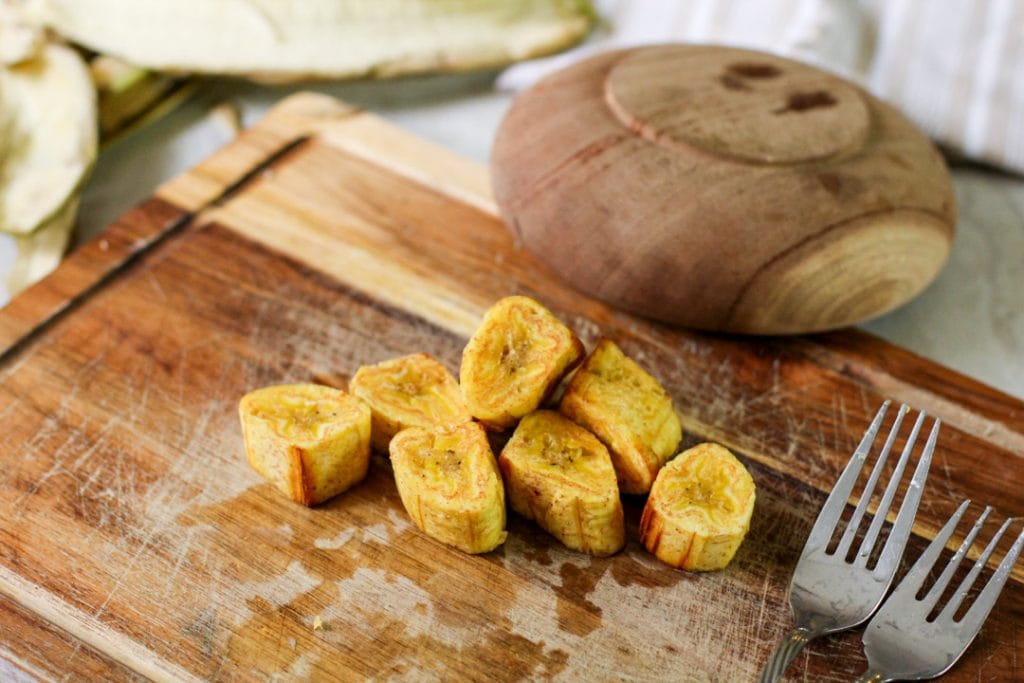 In batches, fry plantains for about 2 minutes until a light golden color.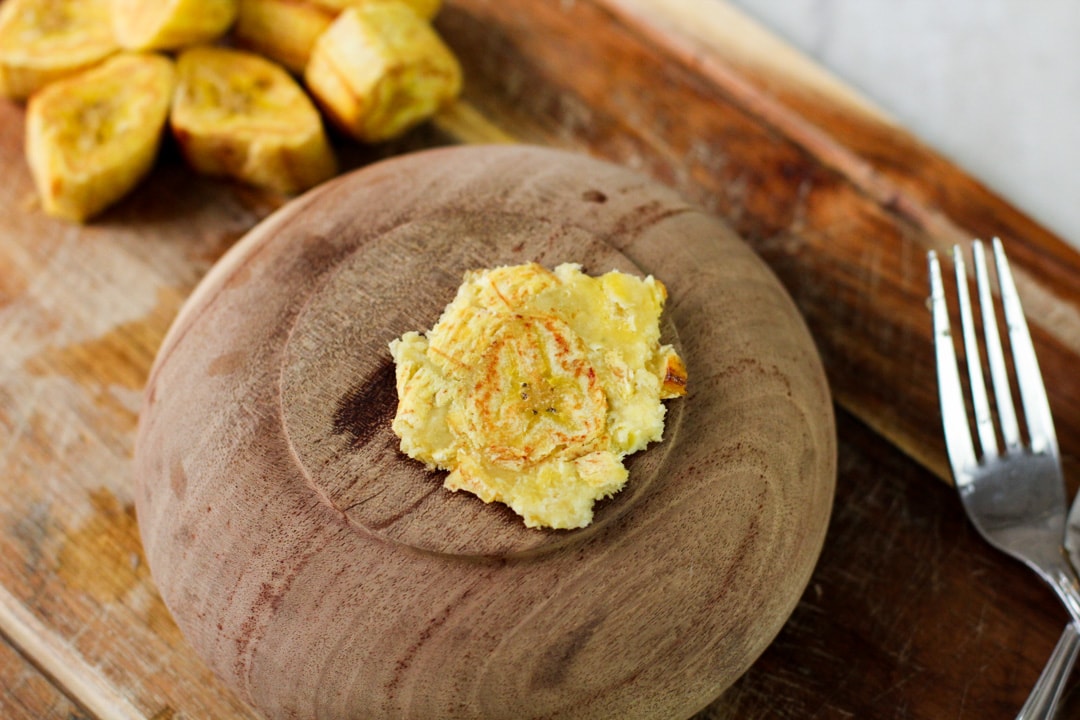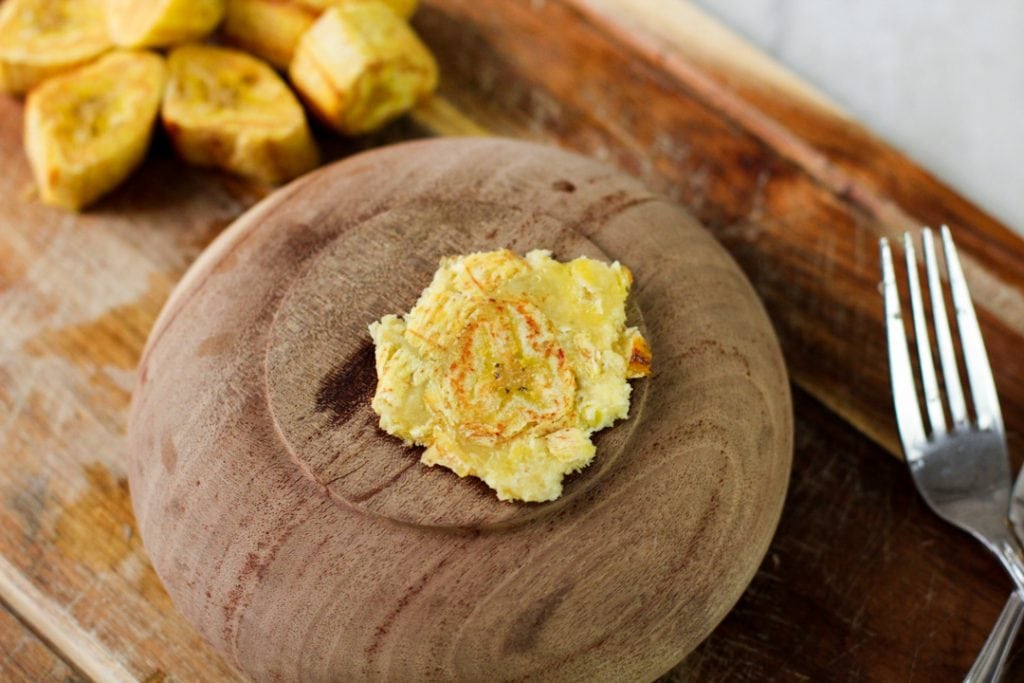 Remove from heat, and using a flat surface like the back of a cup or plate (or large wooden spoon), squish the plantains before returning to the oil to fry again for an additional minute or until tostones turn a beautiful golden with hints of brown.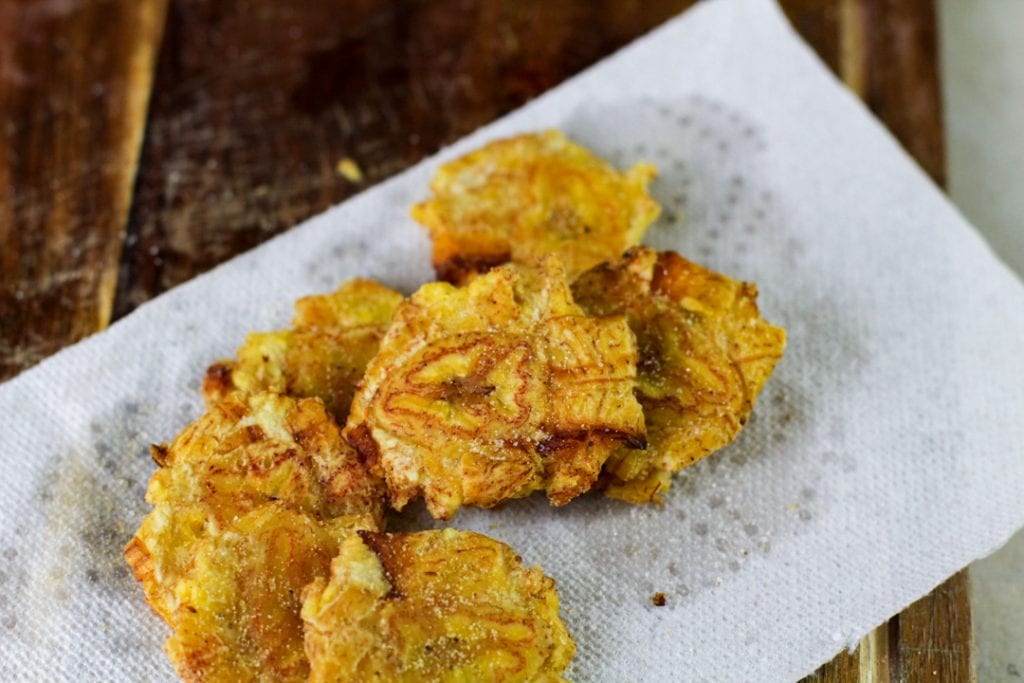 As soon as the crispy tostones are done, remove from oil, place on paper towel sheet and sprinkle garlic powder and a pinch of salt over it. These twice fried plantains are amazing with even minced garlic for a bold crispy garlic tostones recipe!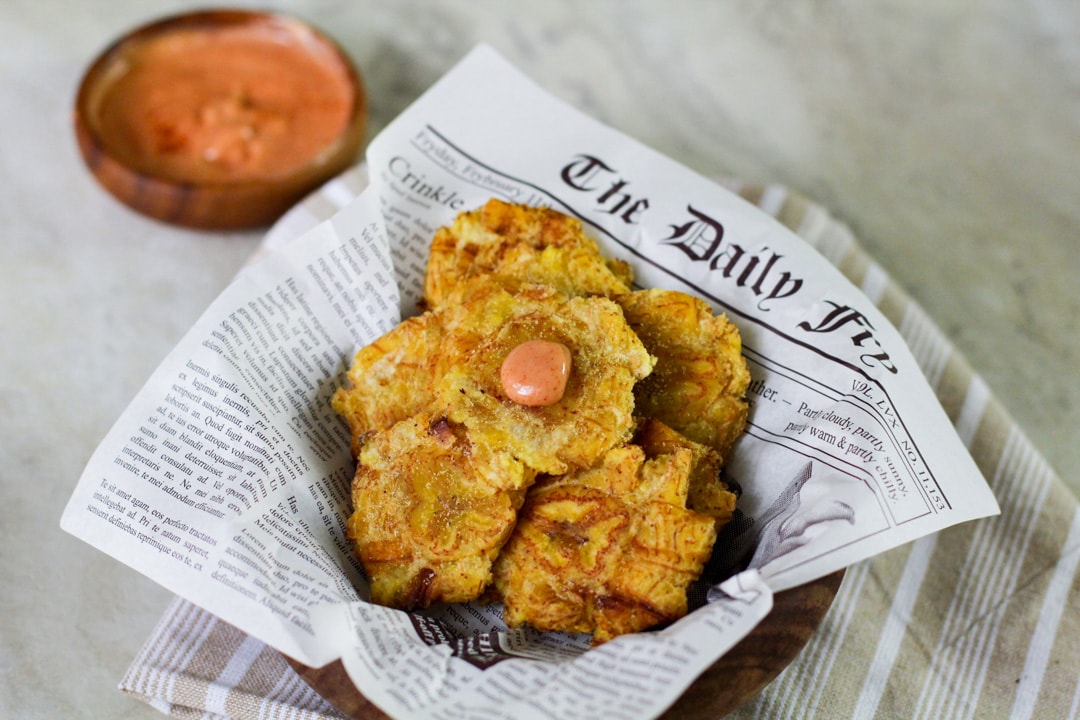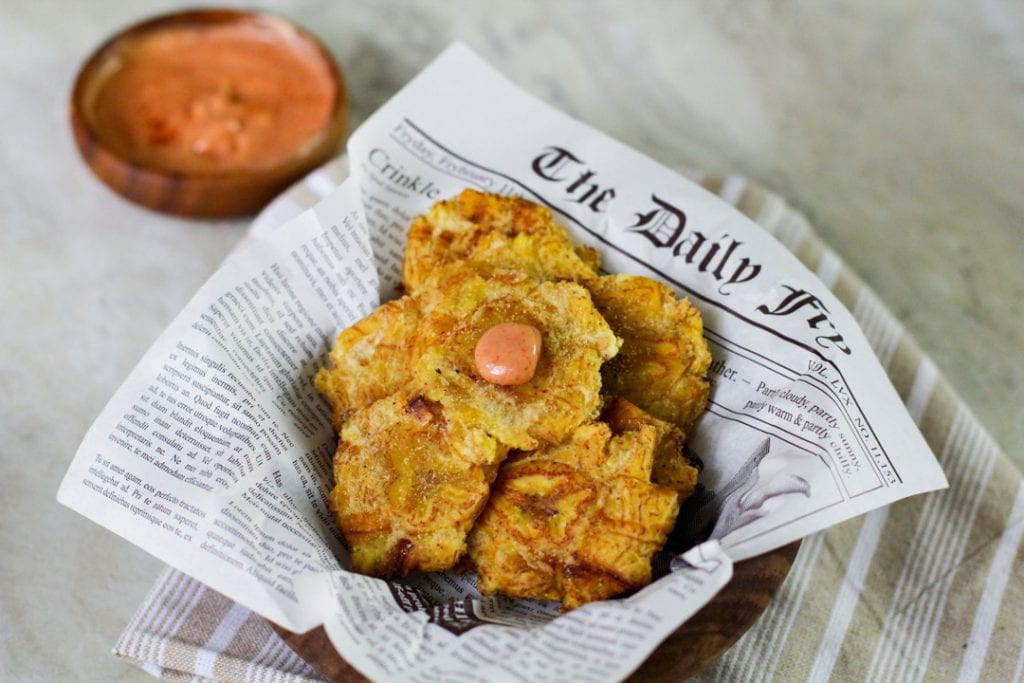 Tostones are best eaten immediately. If you let them sit, they will harden. It's best to cook green plantains last when making a meal, this way you serve them right away.
Thank you for visiting and I hope this crispy garlic tostones recipe will be a favorite in your family, like it is in mine! Buen provecho mi gente!
📖 Recipe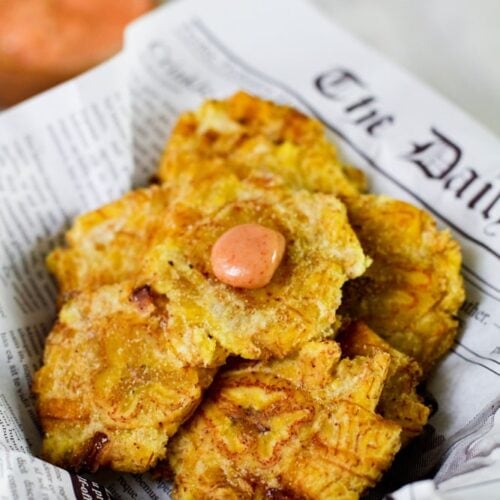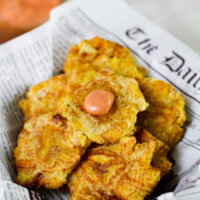 Crispy Garlic Tostones (Fried Green Plantains)
These crispy garlic tostones are the ultimate fried green plantains that are the perfect Latin appetizer to make with dinner!
Print
Pin
Rate
Ingredients
3

green plantains

2

cups

of vegetable oil

salt

garlic powder or minced garlic
Instructions
Cut of the ends of the green plantains, and gently slice a vertical cut down the arch of the plantain.

Remove the skin with your hands or the back of a spoon.

Cut the plantains into 6-10 even chunks, depending on the size of the plantain. (1 inch chunks)

Fry plantains in batches for 3-5 minutes, or until plantains are a nice golden color.

Remove plantains from heat and immediate smash plantains with the back of a flat bowl or wooden spoon.

Return smashed plantains to the frying pan. Fry an additional 2-3 minutes, or until plantains are golden with a slight browning on edges.

Remove plantains from heat and sprinkle salt and garlic powder or fresh minced garlic over the plantains.

Serve immediately.