Croquetas de jamon (ham croquettes) are flavorful bite size bechamel fritters that has a light crispy outside and a delicious creamy inside with notes of ham, sofrito, and spices!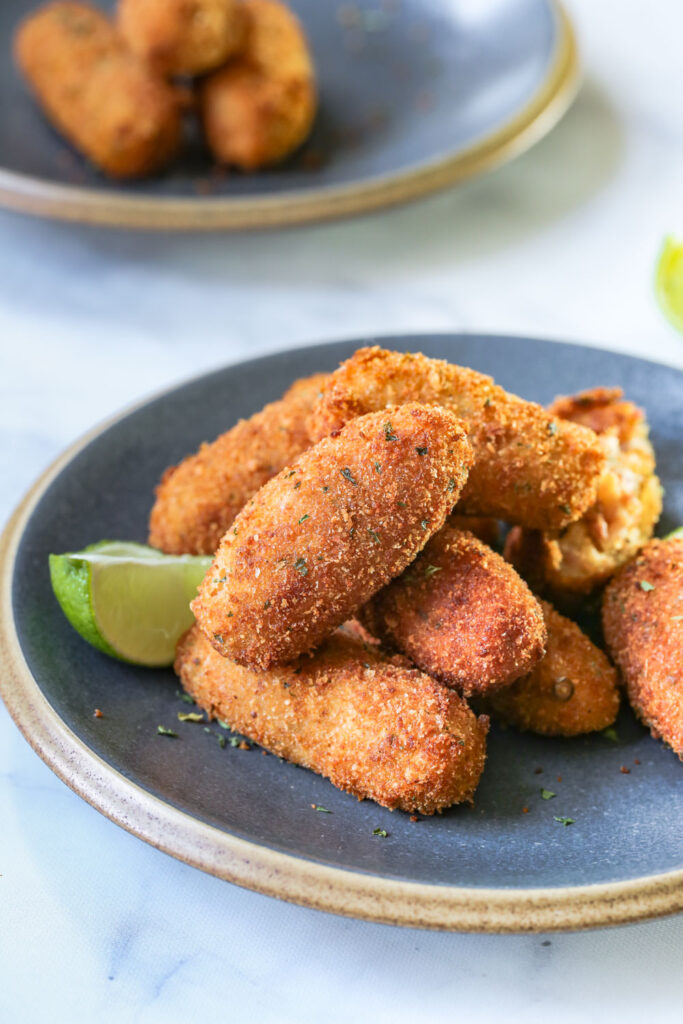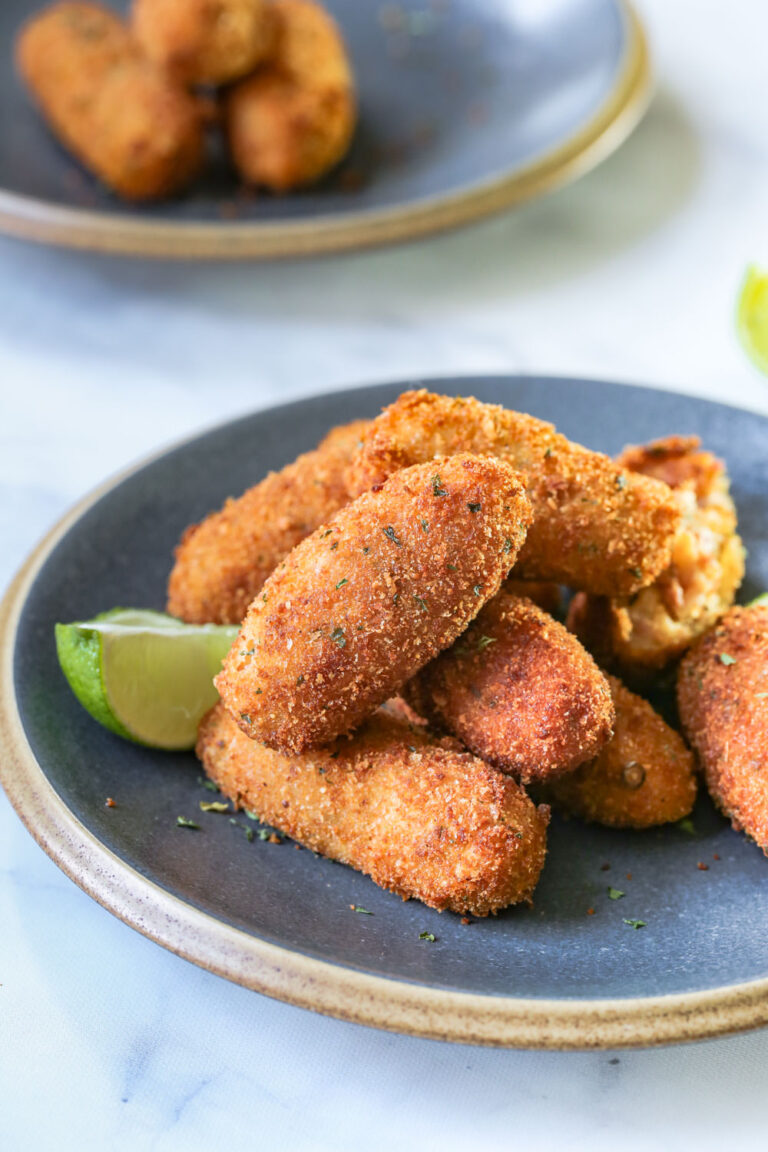 This recipe was originally posted two years ago and a reader left a comment that the previous recipe was a little crumbly. It was time for an update!
Jump to:
Funny story, I was editing the images and my mom called. I told her what I was doing and she asked me to walk her through every single step.
Apparently, I passed the test, ha! Although she stated that Cubans do not add tomato sauce to their croquetas. (It is what it is, take it or leave it.)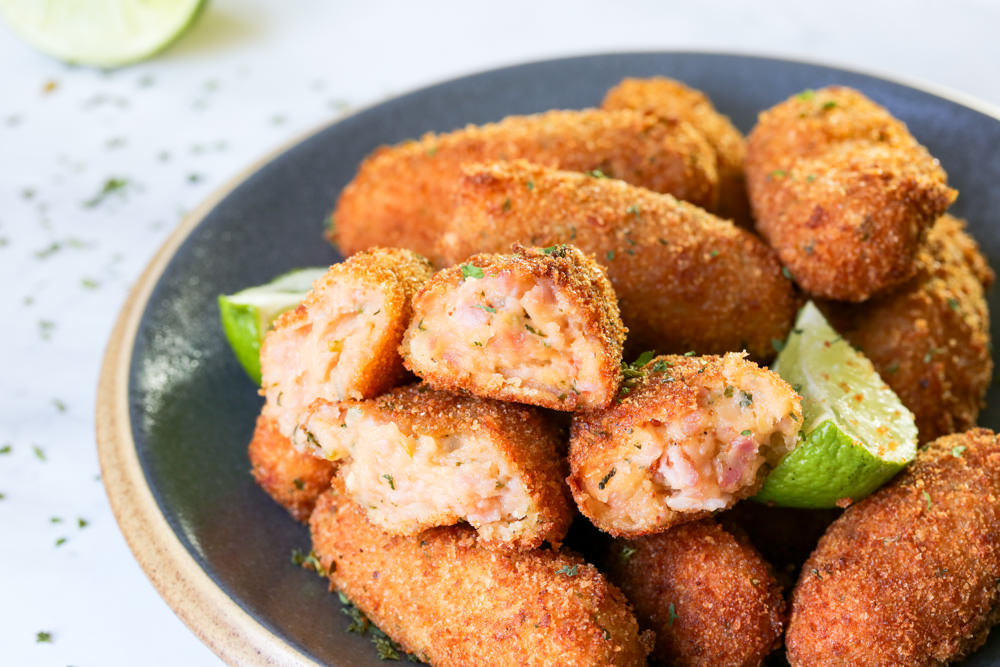 🥘 Ingredients
Croquettes are perfect for pantry staple challenges. The ingredients used for croquettes are often on hand. We're making ham croquetas today!
There may seem like a bunch of ingredients, but croquettes are easy to make!
butter
onions
sofrito + seasonings
tomato sauce (completely optional, but I added for color)
all purpose flour
milk (I ran out and used dry milk with water.... trying to flatten the curve here.)
ham
eggs
breadcrumbs
🔪 Instructions
Ham croquettes are made in ten easy steps!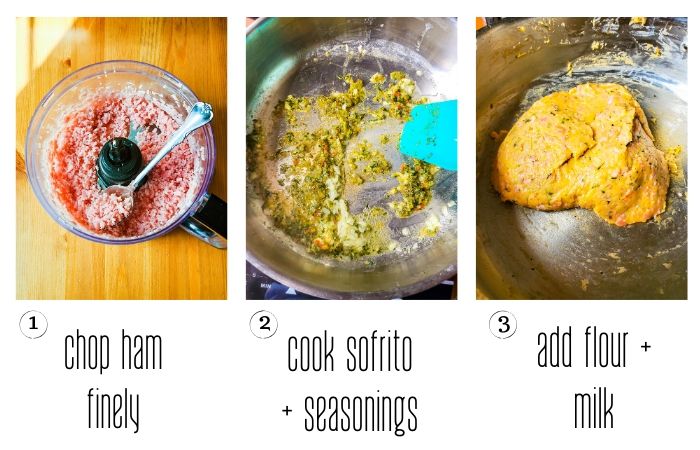 How to make croquetas de jamon (Cuban ham croquettes)
Use high quality thin sliced ham and either pulse it 4-6 times in the food processor or finely chop it.
Melt butter in pan, cook onions until softened, add in sofrito, seasonings, and tomato sauce and cook an additional minute.
Pour in flour and little by little pour in milk while whisking until flour has absorbed all of the milk and it is a creamy roux. Taste for seasonings!
Fold in ham.
Continue cooking for about 7-10 minutes, stirring often to keep the flour from burning.
Once your flour has cooked through and is no longer sticking to your pan (it will almost form into a ball, think of play-doh), remove from pan.
Place the croquette dough onto a large plate and either flatten it (cools quicker) or roll it into a large log.
Allow dough to come to room temperature, cover with plastic wrap, and then refrigerate for 2-4 hours.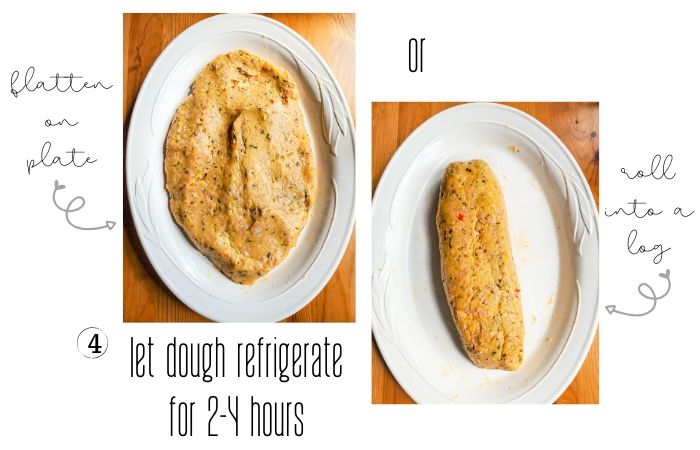 What's the difference?
Not much! It's just a preference. Some people like to spread it flat so it cools quicker, and they just use a spoon to scoop up the dough to roll.
Or you can roll the croquette dough into a large log and then just neatly cut off the desired amount when ready to roll.
🥖 How To Roll
Wondering how to roll croquetas? To roll croquettes you just need to:
Scoop desired amount and place on your hand. (A tablespoon works great.)
Roll it into a ball. (I feel this helps warm the dough with your body heat and that it revives the dry top layer of the dough.)
Gently roll/flatten croquette into a log shape. (Or a mini cigar.)
🍳 How To Fry
Frying croquetas de jamon (ham croquettes) is the traditional way of making Cuban croquettes.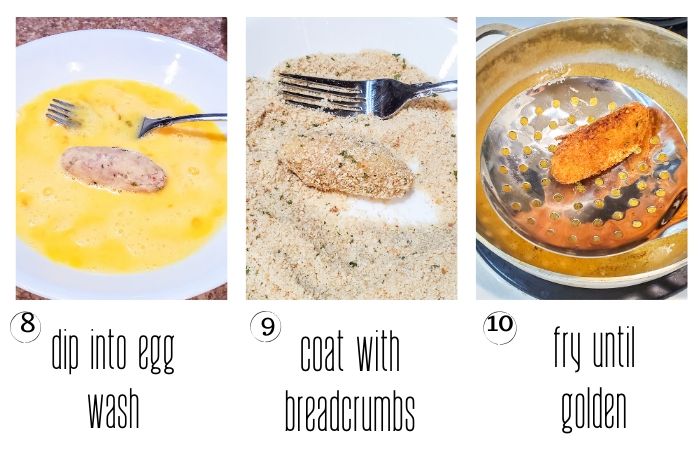 Crack eggs into a bowl and whisk with a fork.
Dip croquette into the egg wash and allow excess yolk to come off before coating the croquette with breadcrumbs.
Gently drop croquette into hot oil and fry for 2-4 minutes or until a beautiful golden color.
Drain over a plate lined with paper towels before serving.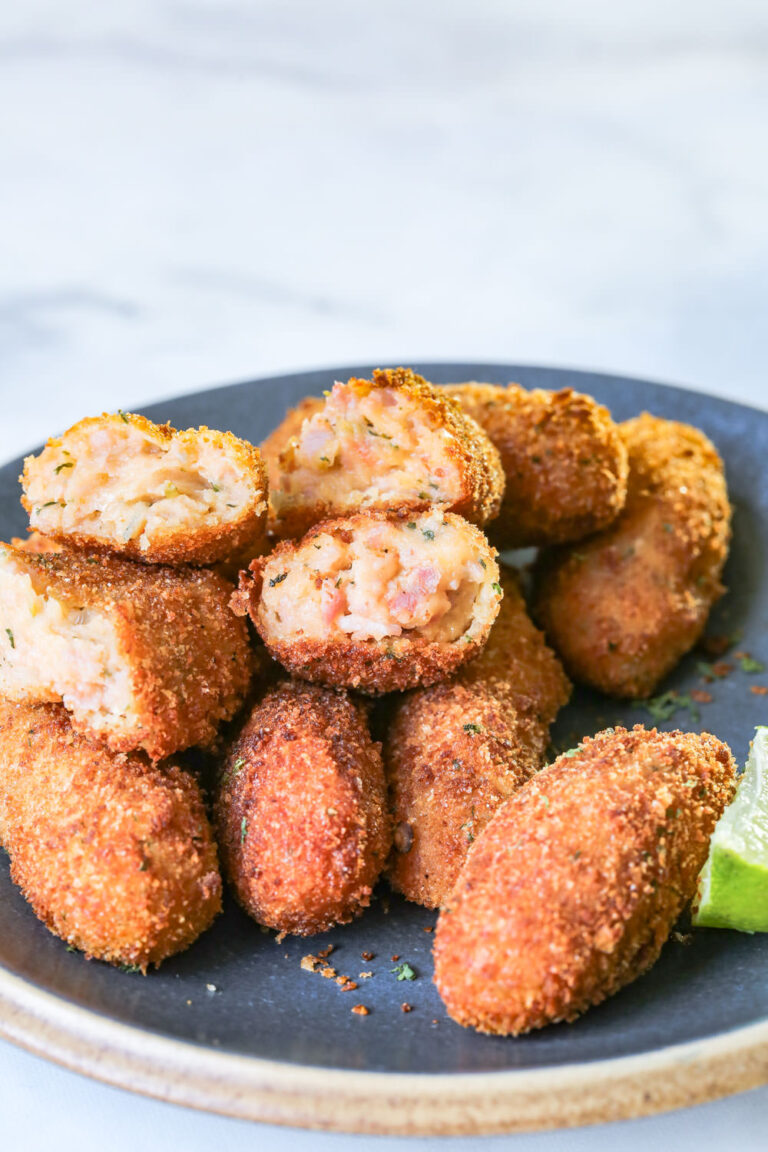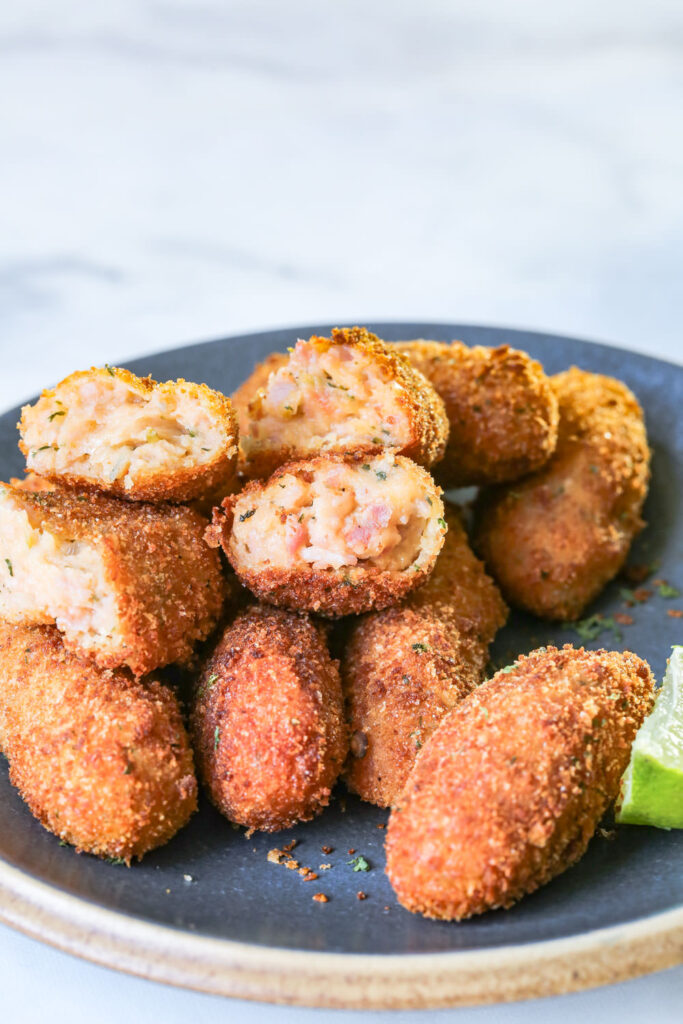 💭 FAQ
What is a roux?
Roux is flour + fat = creamy goodness.
In all seriousness, all a roux is is a blend of flour and milk that is cooked with a fat base like butter, oil, or lard.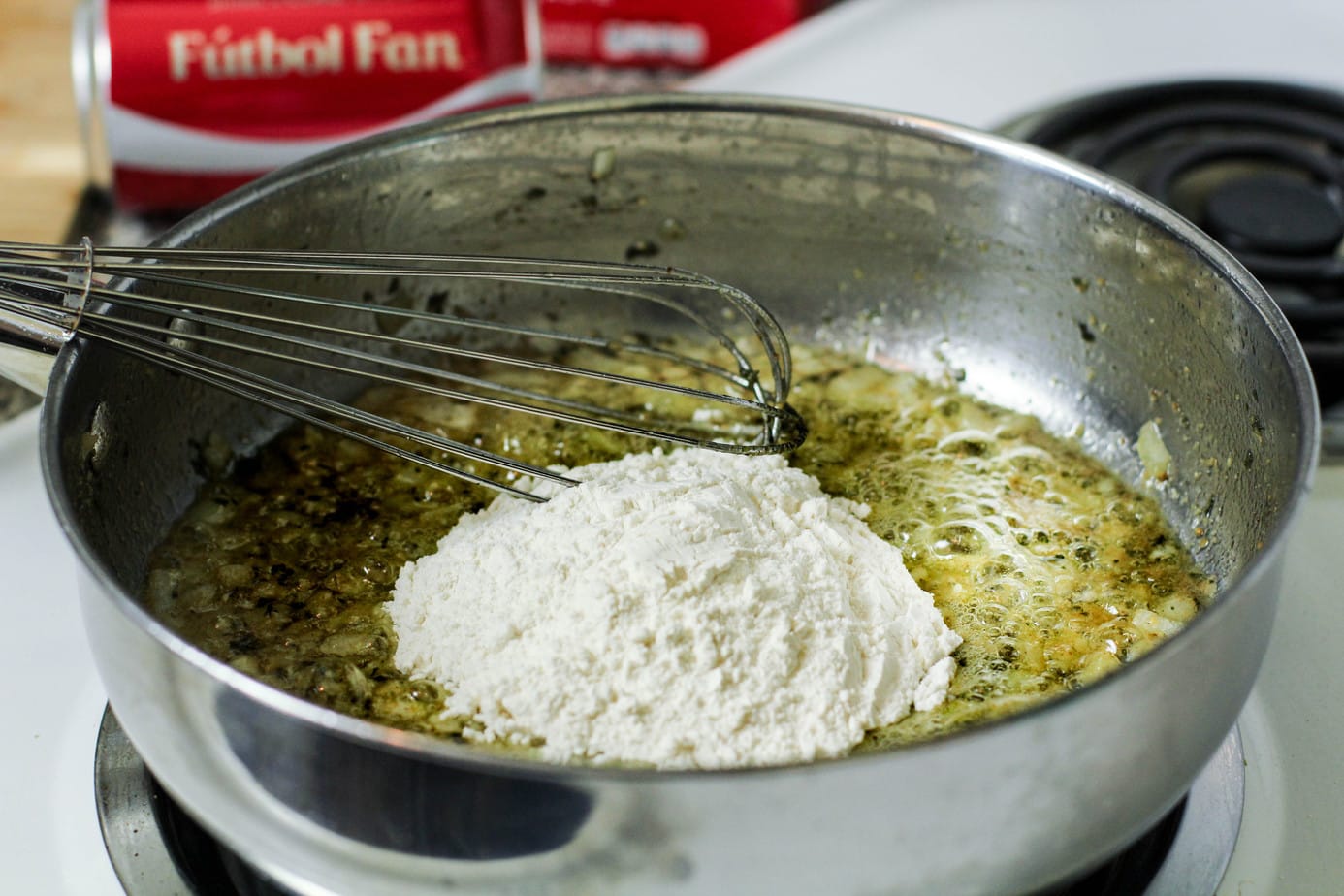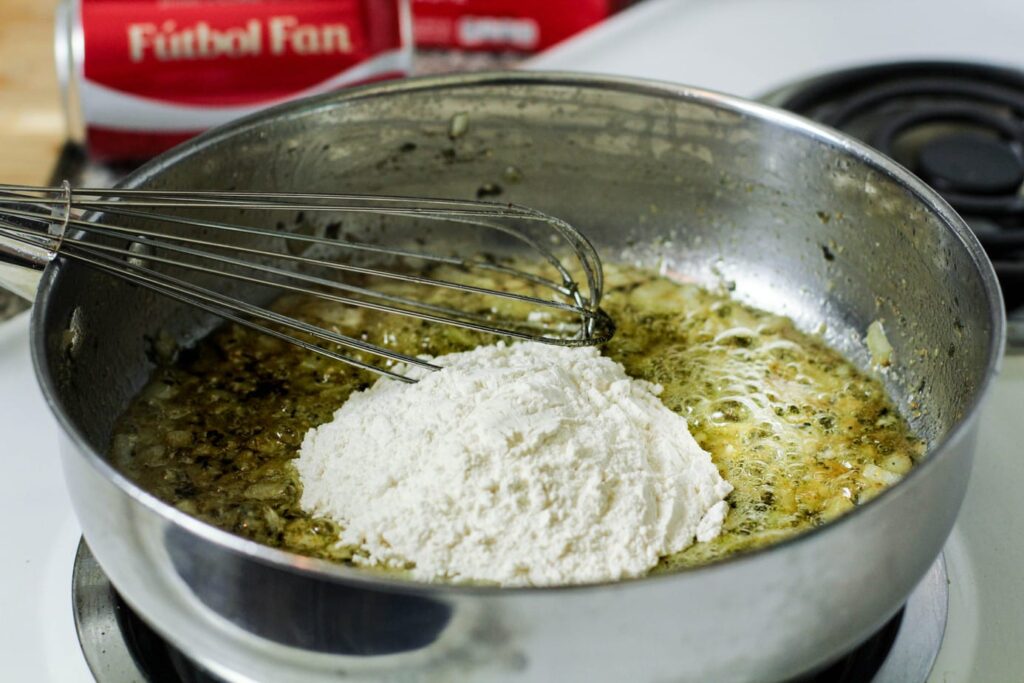 How to make a croquette roux:
Heat fat (butter, oil, or lard).
Add in seasonings, onions, etc for flavor.
Add in flour and cook through until translucent (about 30 seconds).
Pour in milk SLOWLY and whisk milk and flour together until creamy.
Keep cooking until the mixture has thickened.
Do I have to use ham?
This croquette recipe with ham can be made with turkey or chicken, or even omit to make a vegetarian croquette recipe.
If you choose to use turkey or ham, I still highly suggest using deli meat for ease!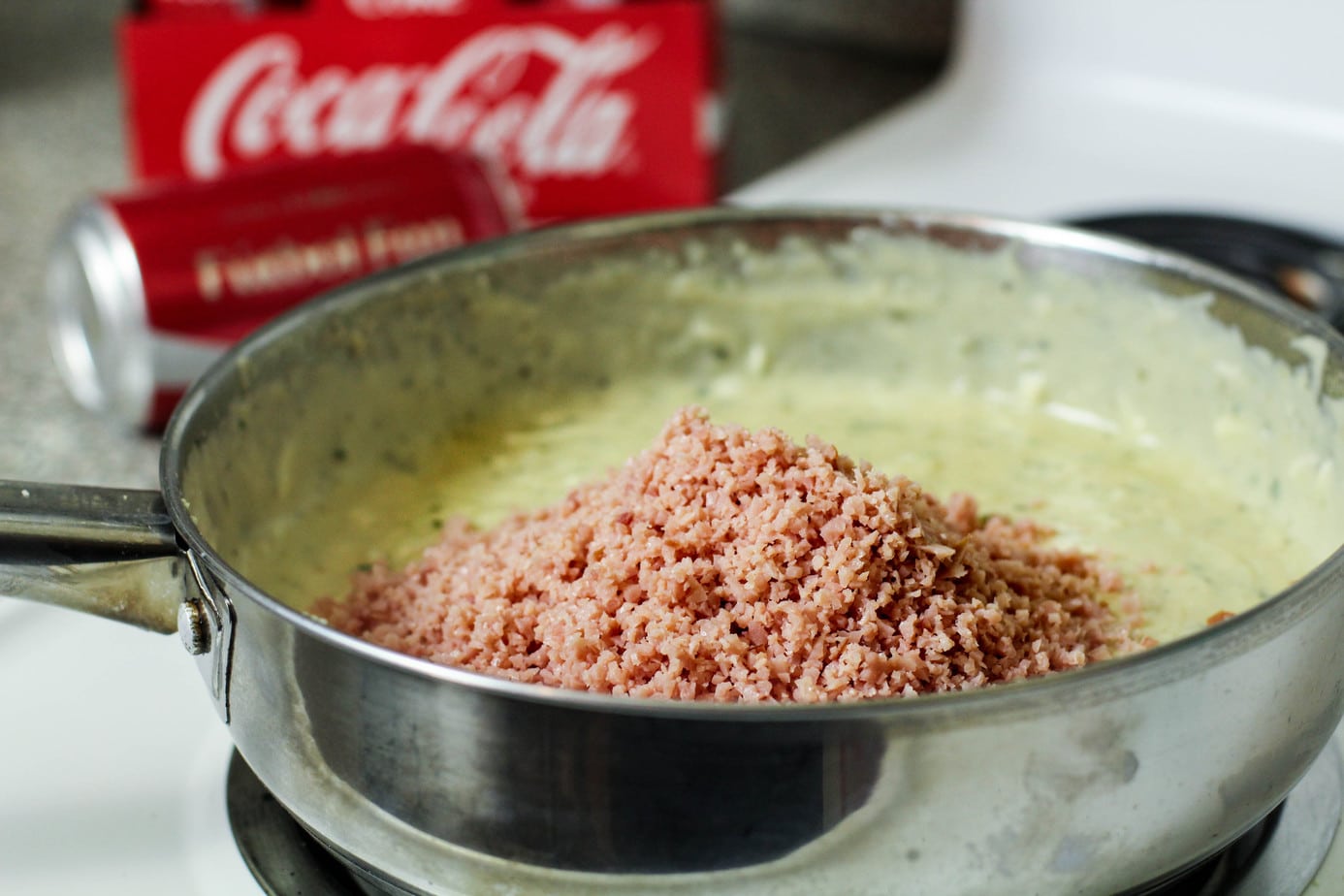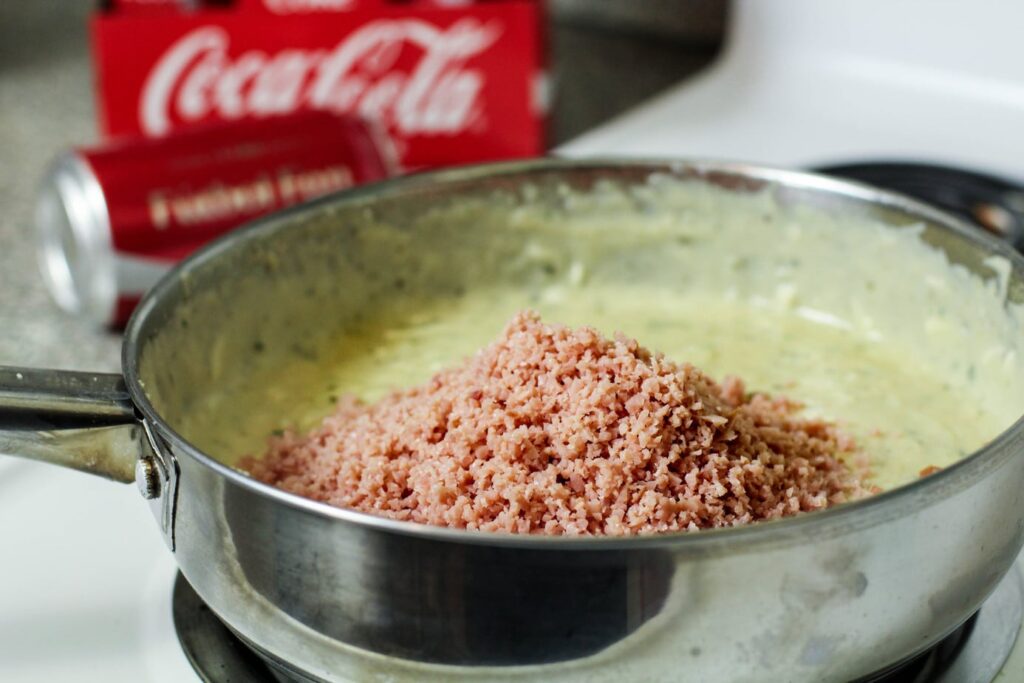 How do you reheat ham croquettes?
Croquettes are best eaten fresh. I highly suggest you only fry what you're going to eat, and freeze the rest until ready.
How to reheat ham croquettes:
Bake at 375 for 7-10 minutes, or until warmed through.
Airfry at 375 for 3-5 minutes, or until warmed through. (Spray with cooking spray before reheating for a fresh crispy coating.)
Fry for 1-3 minutes or until heated through.
Microwave in 30 second increments until heated through. (Leave this option for last! Microwaving croquettes will leave croquettes limp and not crisp!)
Help, my dough is crumbly!
Recipes are made to be adjusted. If you find your croquetas are dry and crumbly, add more milk (just a little at a time) until the dough is moist.
On the opposite end, if your dough is too wet (sticks to your hands), dust a little flour over the dough until dough is firmer.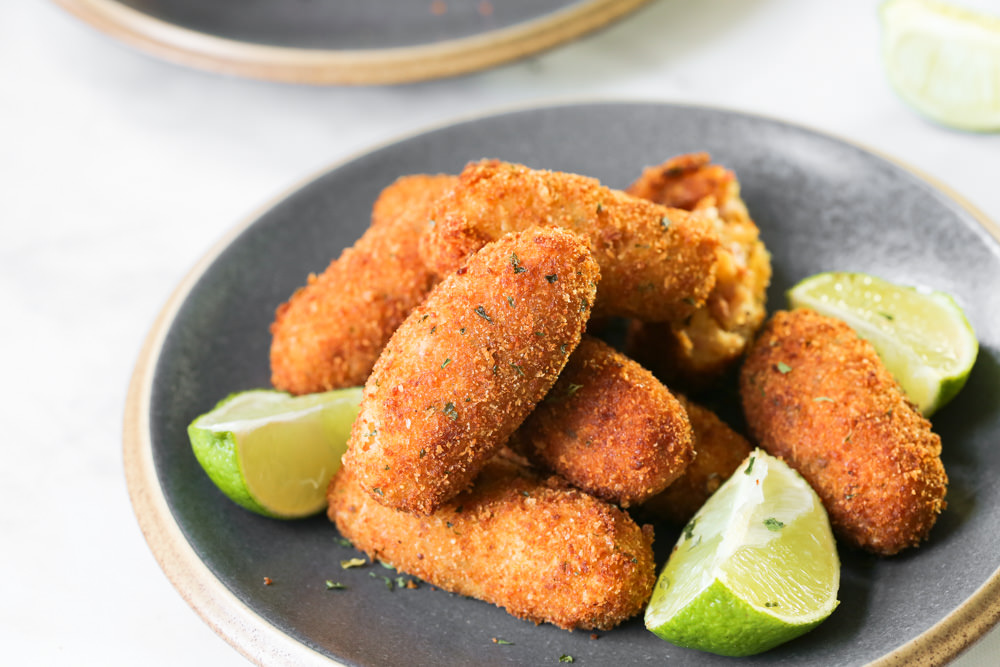 📖 Recipe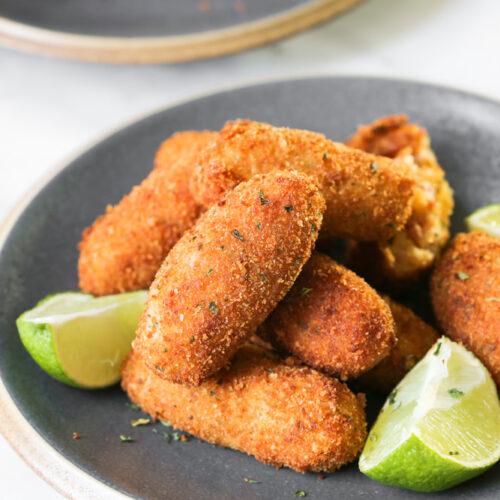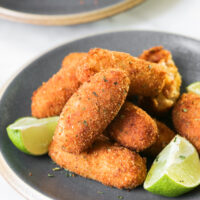 Cuban Ham Croquettes | Croquetas de jamon
Lightly breaded and crispy on the outside with a warm and creamy ham and herb bechamel sauce in the center.
Print
Pin
Rate
Ingredients
¼

cup

butter

3

tablespoon

onions

finely chopped

2

tablespoon

sofrito

2

teaspoon

parsley flakes

2

teaspoon

chicken bouillon powder

½

teaspoon

salt

½

teaspoon

black pepper

2

teaspoon

tomato sauce

¾

cup

all purpose flour

1

cup

milk

1

cup

deli ham

finely chopped

2

eggs

whisked

1

cup

Italian breadcrumbs

oil for frying
Instructions
Croquette Dough

Melt butter over medium high and add in onions.

Cook onions for 2 minutes, or until softened.

Add in sofrito, seasonins, and tomato sauce. Stir often and cook for 1-2 minutes.

Add in flour and slowly whisk in milk. Lower heat if necessary to keep from burning.

Continue whisking until sauce thickens, about 5 minutes. Fold in ham.

Once sauce thickens, using a rubber spatula to stir, continue cooking bechamel sauce until it no longer sticks to the pan and becomes dough with play-doh like texture.

Remove dough from pan and either spread dough against large plate or roll into a large log.

Let dough get to room temperature, then cover with plastic wrap and refrigerate for 2-4 hours.

Preparation

Scoop a tablespoon of cold and hardened croquette dough and roll into a ball, then shape into a small log.

Dip into egg wash (eggs whisked in a bowl), remove excess yolk and then roll over breadcrumbs.

Frying

Warm 3-4 inches of oil in a medium deep pan or pot over high heat. (Lower as needed.)

Gently add a few croquettes and fry for 2-4 minutes or until a light golden color.

Drain croquettes on a paper towel lined plate.
Notes
1. Use a food processor to pulse ham until finely chopped. (About 3-4 pulses.)
2. Freeze any uncooked croquettes for future use.
Nutrition
Calories:
116
kcal
|
Carbohydrates:
9
g
|
Protein:
5
g
|
Fat:
6
g
|
Saturated Fat:
3
g
|
Cholesterol:
35
mg
|
Sodium:
401
mg
|
Potassium:
86
mg
|
Fiber:
1
g
|
Sugar:
1
g
|
Vitamin A:
140
IU
|
Vitamin C:
1
mg
|
Calcium:
33
mg
|
Iron:
1
mg
🥗 Side dishes
Croquettes are appetizers that pair well with simple light sides like: