With herbs and spices, Adobo seasoning mix is an all in one savory spice blend made with garlic, onions, black pepper, salt, and more that will add flavor to any dish!
Adobo seasoning mix made at home is a great spice blend to always have on hand and the perfect house blend to season your chicken or even french fries with!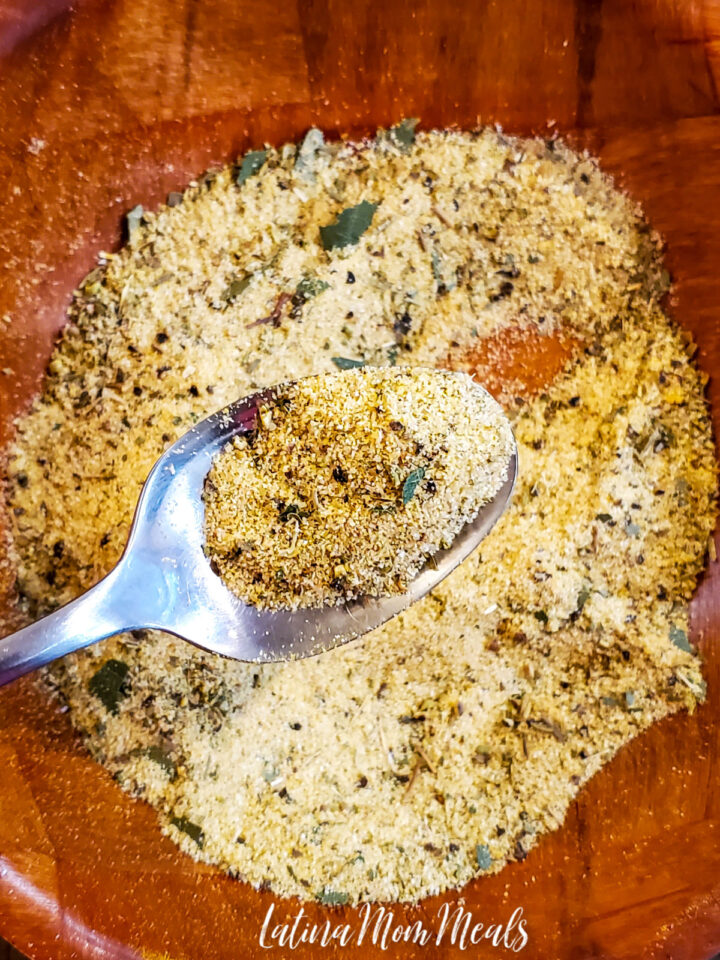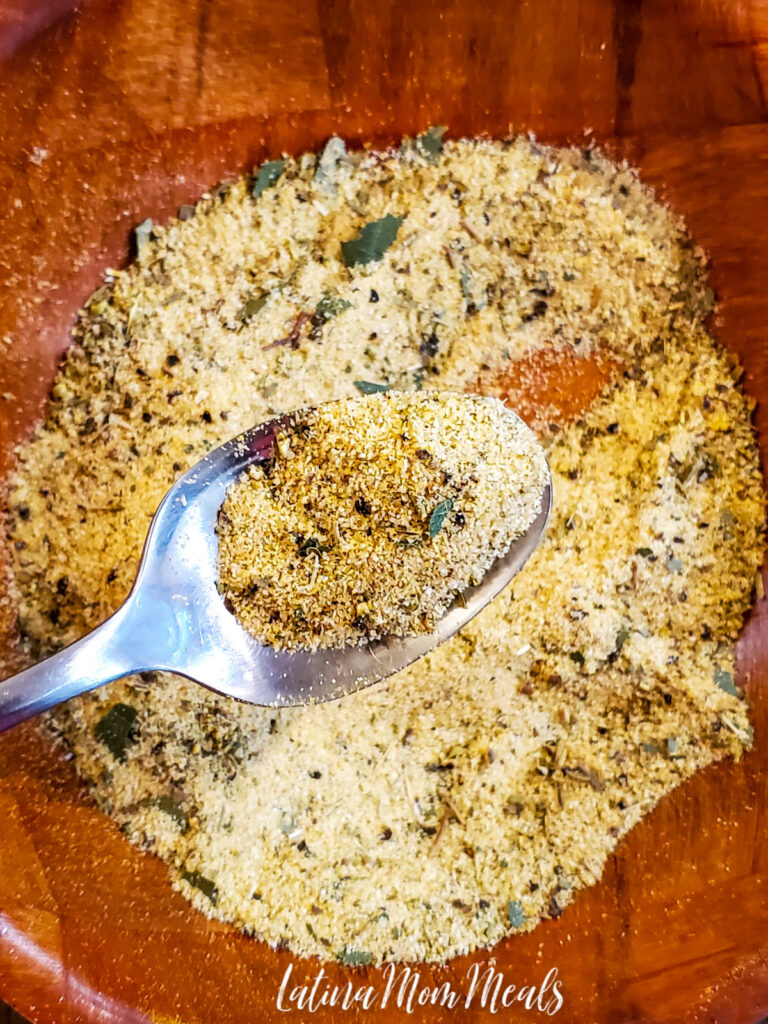 Why you'll love it!
Goya adobo seasoning has always been a staple in any house I've visited growing up. But to be honest, I rarely have used it.
My mom taught me from a young age to make my own Puerto Rican spice blend with a few ingredients.
Homemade adobo is healthier and you can customize it to your liking. (There's also less sodium with homemade adobo.)
Remember, adobo seasoning is a dry spice blend, meant to be added to foods that will be cooked, like Puerto Rican rice or Puerto Rican chicken recipes.
I would not suggest you add adobo to foods already cooked. (There are a few times this rule can be broken, like if you're adding a small amount to a sauce -such as a mayonnaise sauce for macaroni salad; but please taste and adjust to your liking.)
Uses For Adobo
Adding flavor to burgers, french fries, and drumsticks has always been my favorite way to use adobo seasoning.
This all-purpose seasoning is so versatile, here are more ways to use adobo:
Spice up your breakfast scrambled eggs.
As a taco seasoning, instead of enveloped taco seasoning.
Add to your base sauce for spaghetti, rice, or beans.
Dry rub for grilled or baked meats.
Simple spice blend for casseroles etc.
Add to your cheese sauce for a Latin macaroni and cheese!
Ingredients
You can adjust the ingredients for adobo to your preference, and what you have on hand.
I've been taught that the basics for a Puerto Rican adobo seasoning blend is always:
salt
black pepper
garlic powder
onion powder
oregano
That's a simple house blend recipe.
Ingredients for a Goya adobo seasoning recipe are as follows:
salt
black pepper
garlic powder
onion powder
dried oregano
turmeric
dried thyme
cumin
bay leaf, optional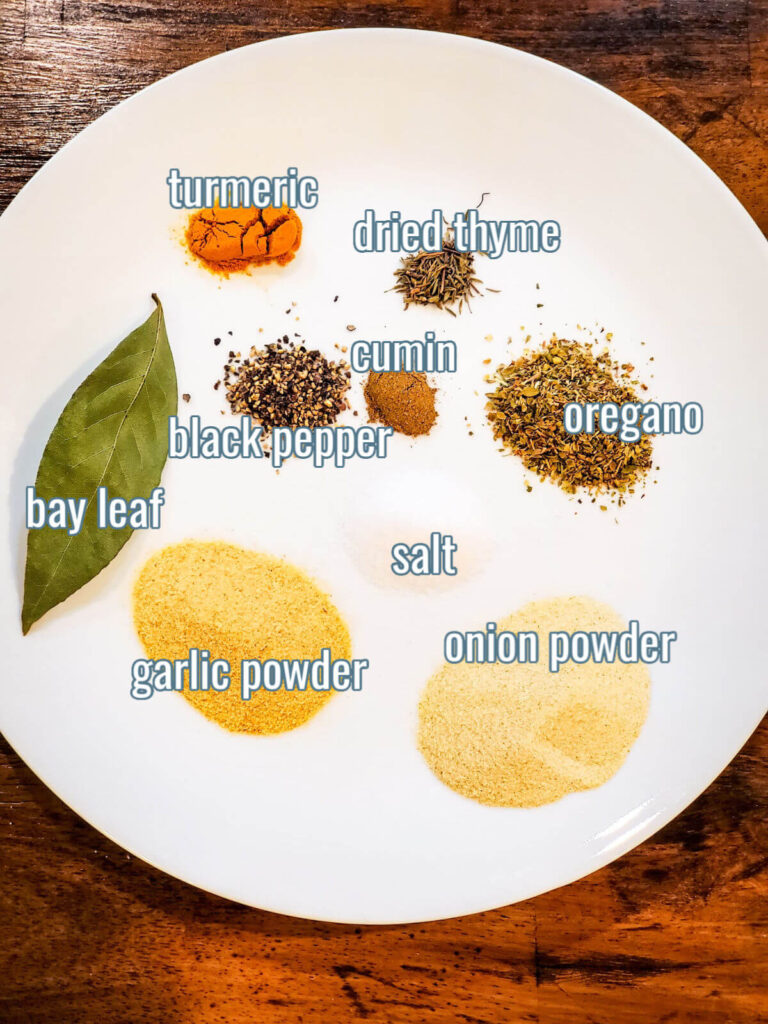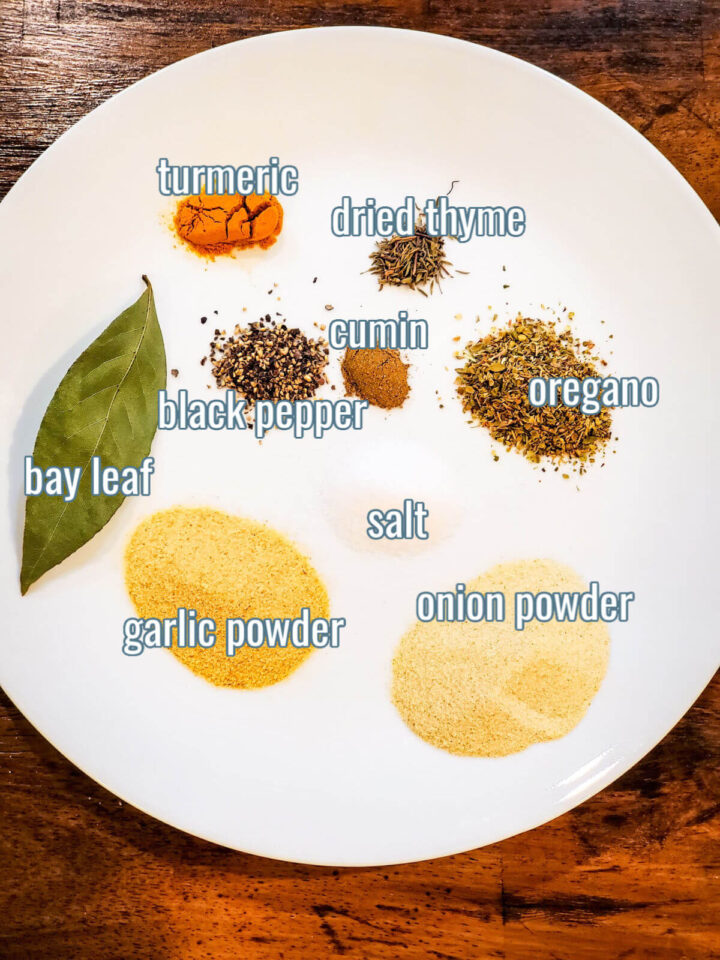 If you have access to dehydrated vinegar, it would be a game changer to add a little to your adobo seasoning blend!
I have to say, I truly believe there may be a tiny bit of sugar in their seasoning blend, but I can't say for sure.
I do know that Badia adobo mix does include sugar in theirs. Sugar will help balance out the salt.
Instructions
To make adobo seasoning, you'll take all of your dried herbs and spices and place them into a food processor and pulse a few times until your bay leaf is ground.
(Use a dried bay leaf to keep moisture out and keep the blend dry.)
To store your all purpose seasoning, put your adobo into a preferably glass container with a tight fitting lid.
Your seasoning blend can last 3-4 months if stored in a cool dark place.
This recipe makes a small amount, but you can multiply it for a larger batch to store.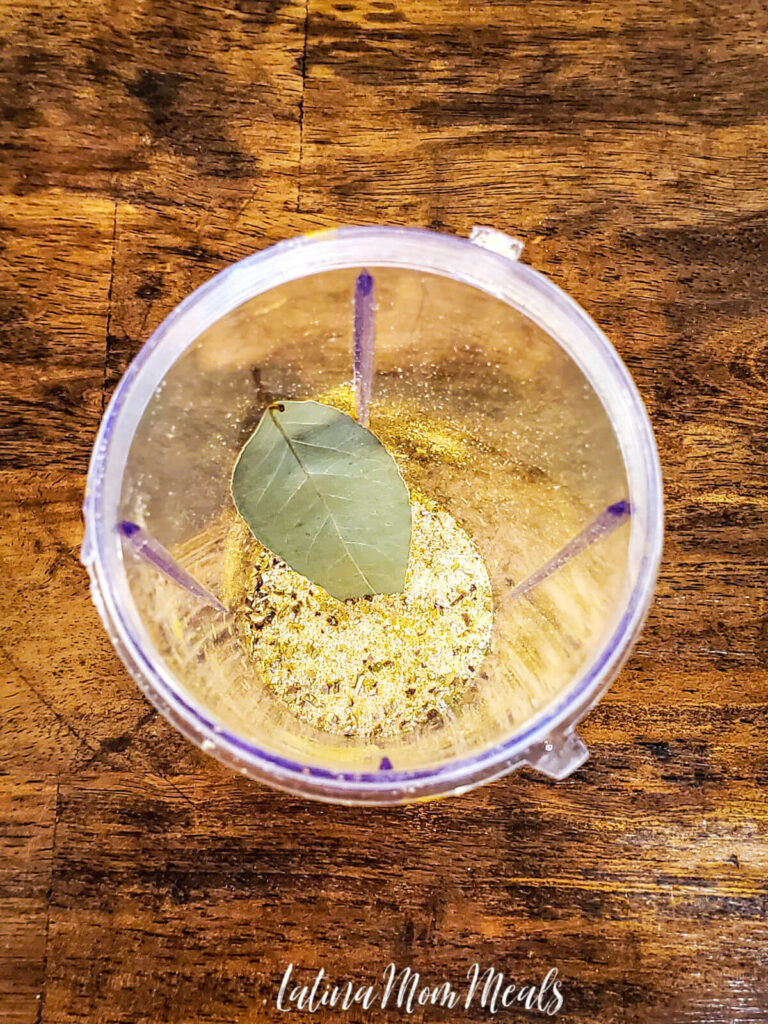 FAQ
What does adobo seasoning taste like?
Earthy and robust, the taste of garlic, onions, and oregano are very present.
Adobo has a strong flavor profile, but it is not overpowering.
Which adobo seasoning is the best?
Depends on your preference. I recently have preferred Badia's adobo seasoning blend over Goya's adobo seasoning.
Is adobo spicy?
Dry adobo seasoning is savory, not spicy. The only pepper is ground black pepper. There is no chili powder, cayenne pepper, or spicy ingredient in adobo seasoning.
Why is my adobo clumpy?
If any seasoning blend is clumpy, that means moisture has gotten into your container.
Add a few grains of rice, cover the container, shake it a few times to break up the clumps.
Be sure to use dry measuring spoons only to keep your adobo seasoning from getting wet.
Does adobo have MSG?
Homemade adobo does not have MSG. Most store bought adobo does not have MSG. Double check the container to see if that specific recipe contains MSG.
What can I add to my adobo?
Want more variety? Create a few different adobo seasonings, such as a bitter one with dried citrus, a spicy one with cayenne pepper and chili powder, or a seafood blend with an emphasis on dried lemon and more black pepper.
More Recipes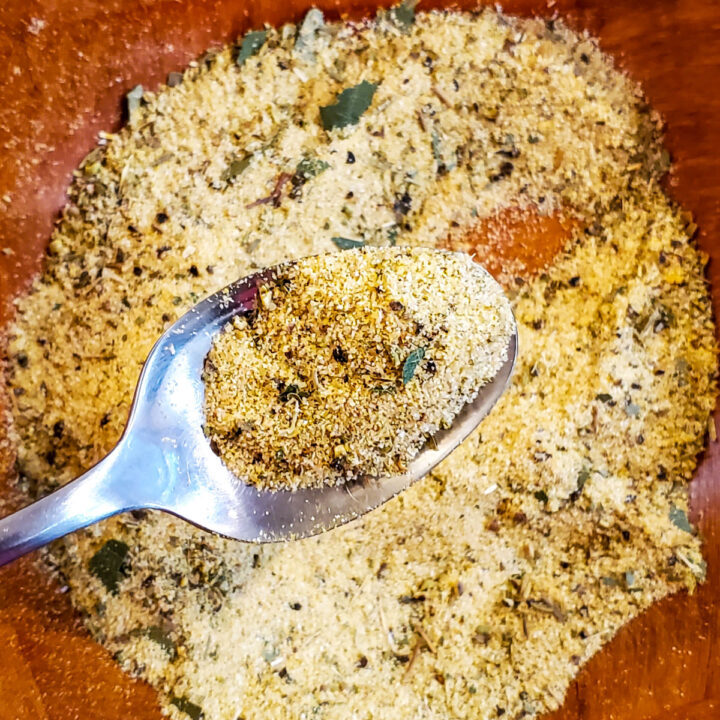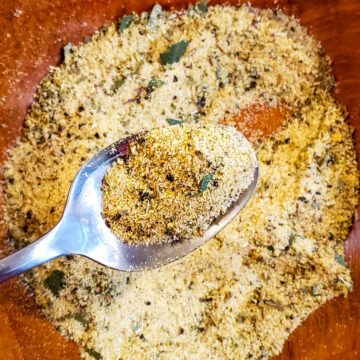 Adobo Seasoning Mix
Homemade adobo seasoning is a savory spice blend made with garlic, onions, oregano, and more!
Print
Pin
Rate
Servings:
1
small container
Ingredients
1.5

tablespoons

garlic powder

1

tablespoon

onion powder

2

teaspoons

salt

or to taste

1.5

teaspoons

oregano

1

teaspoon

black pepper

1

teaspoon

cumin

½

teaspoon

thyme leaves

½

teaspoon

turmeric

1

bay leaf
Instructions
Add all ingredients into a small food processor and pulse until combined.
Notes
Store in an air tight container up to three months.
Ingredients can be adjusted to your preference!