Adobo seasoning is the heart and soul of the Latin cuisine with a spice blend that holds a special place in every Latino kitchen.
Picture this: the intoxicating aroma of garlic, the earthy warmth of cumin, the slightly fiery, yet sweet embrace of oregano, all coming together in perfect harmony.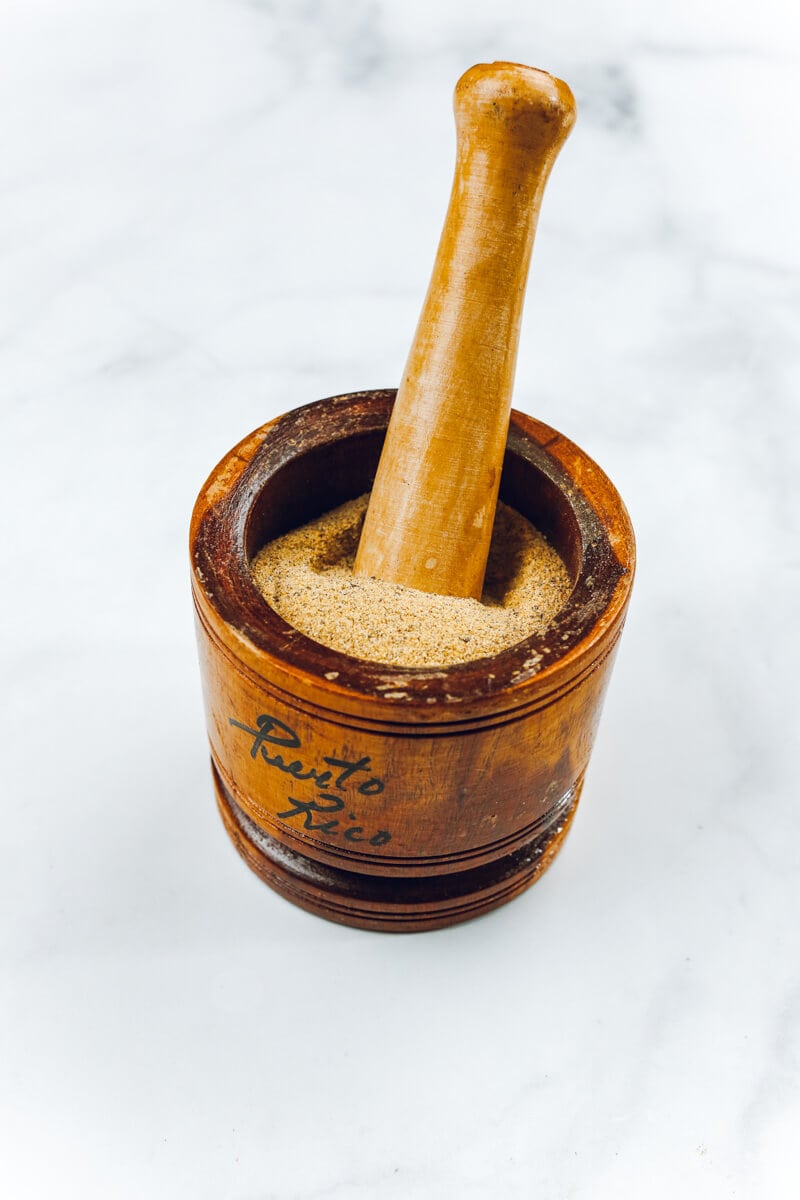 If you've ever been to a Puerto Rican cookout, you can rest assured that the pinchos (shish kabobs), burgers, and the pernil have probably all been seasoned with adobo.
What is adobo seasoning?
Adobo seasoning is a dry spice blend, meant to be added to foods that will be cooked, like Puerto Rican rice or Puerto Rican chicken recipes.
It is widely used to season meats and vegetables for roasting or grilling. You can also add adobo seasoning as a flavor enhancer to your rice, beans, and stews for a robust flavor addition.
I would not suggest you add adobo to foods already cooked. (There are a few times this rule can be broken, like if you're adding a small amount to a sauce -such as a mayonnaise sauce for macaroni salad; but please taste as you add small amounts and adjust to your liking.)
Why you'll love homemade adobo seasoning
Adds Complex Flavors- Adding a little bit of adobo seasoning transforms your habichuelas (beans) from good to great, and your pinchos (shish kabobs) from tasty to wow, wow, wow, I need more!
Customizable- Making adobo seasoning at home allows you to customize it to your liking. You can adjust the salt levels, add more ingredients to make it more herbaceous, aromatic, zesty, sweet, or even spicy!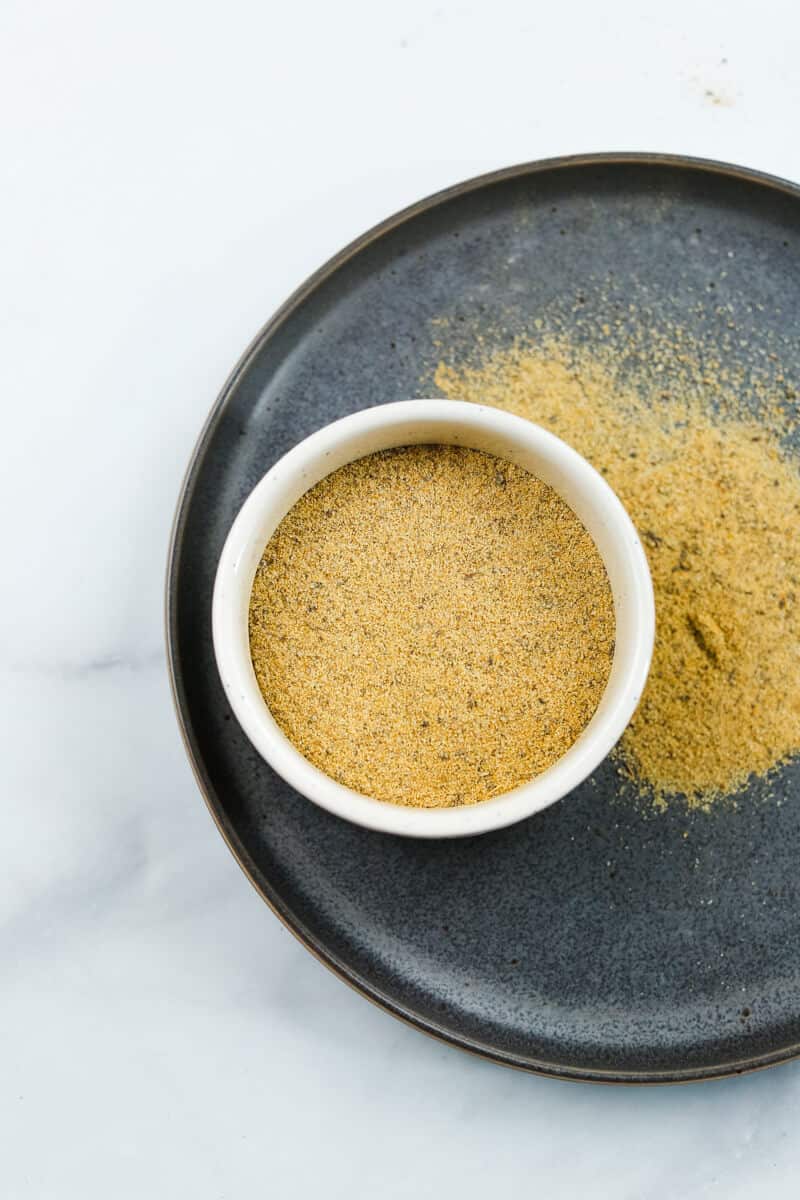 Benefits of making your own adobo mix
When you make your own seasoning blend at home, you get to not only know exactly what's in it, but you can control what goes into it, and how much is in it.
Did you know that Goya Adobo Seasoning has 520mg of sodium in only a ¼ teaspoon? Badia adobo has 270mg of sodium in ¼ teaspoon.
I don't know about you, but a ¼ teaspoon is not enough seasoning for me. So imagine the true amount of sodium you can consume when you use store bought seasonings?
The Essential Ingredients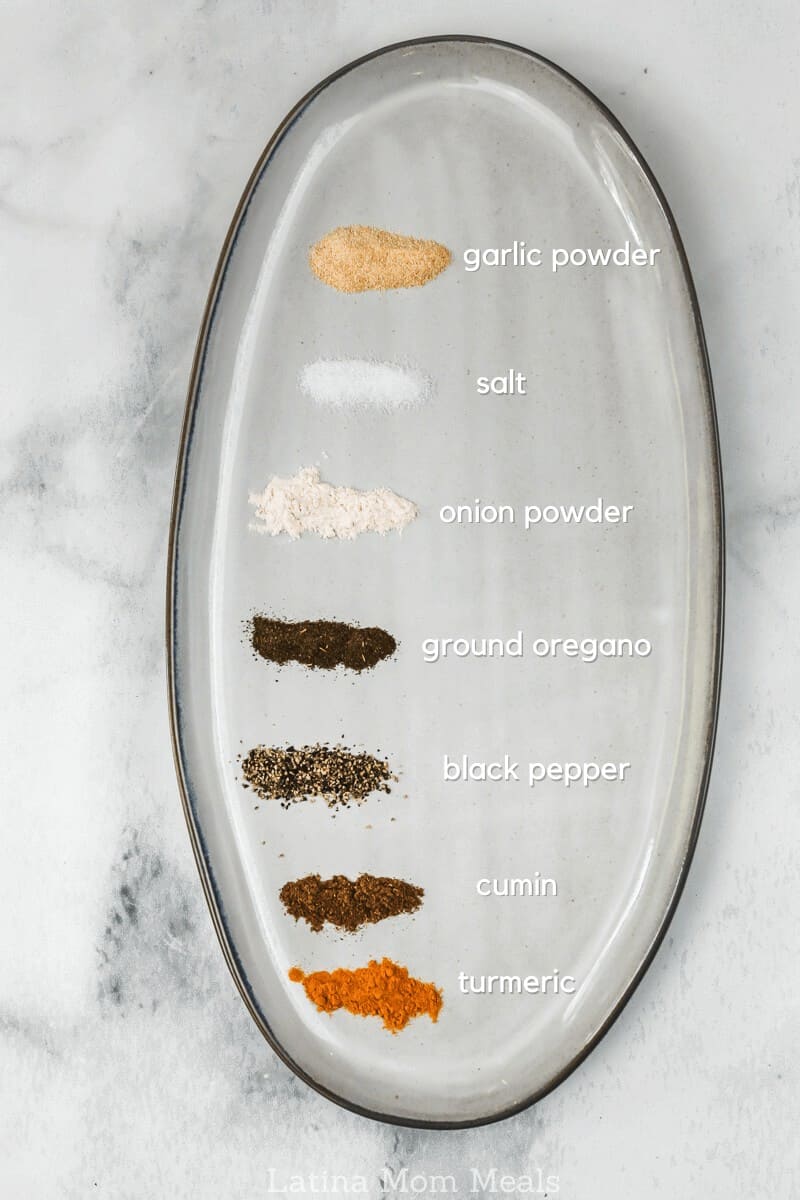 Salt: Balancing Flavors
Salt: You can choose what kind of salt to use. We're using table salt because I like the texture (no grinding necessary). But you can use Himalayan, Kosher, or even a low sodium salt. (Using less salt is a great reason to stay away from store bought bottled adobo seasoning blends.)
The Aromatics: Building Depth of Flavor
Garlic Powder: Brings the robust and aromatic essence of fresh garlic to your dishes with convenient ease.
Onion Powder: Onion powder, a pantry staple, imparts the sweet and savory essence of fresh onions, enhancing your recipes with depth and flavor.
Oregano: Oregano, an aromatic herb that transports you to abuela's kitchen with it's fragrant leaves.
Cumin: Cumin, the warm abrazo of Latin flavor, brings a smoky, earthy enchantment to your cocina, a spice as vital as the heartbeats of our traditions
Black Pepper: The king of spices, lends a bold and pungent kick to your food, elevating both savory and sweet recipes with its versatile and timeless appeal.
Turmeric: Turmeric, known for its vibrant golden hue and earthy taste, introduces a warm and slightly peppery flavor to your cooking, along with a dose of potential health benefits.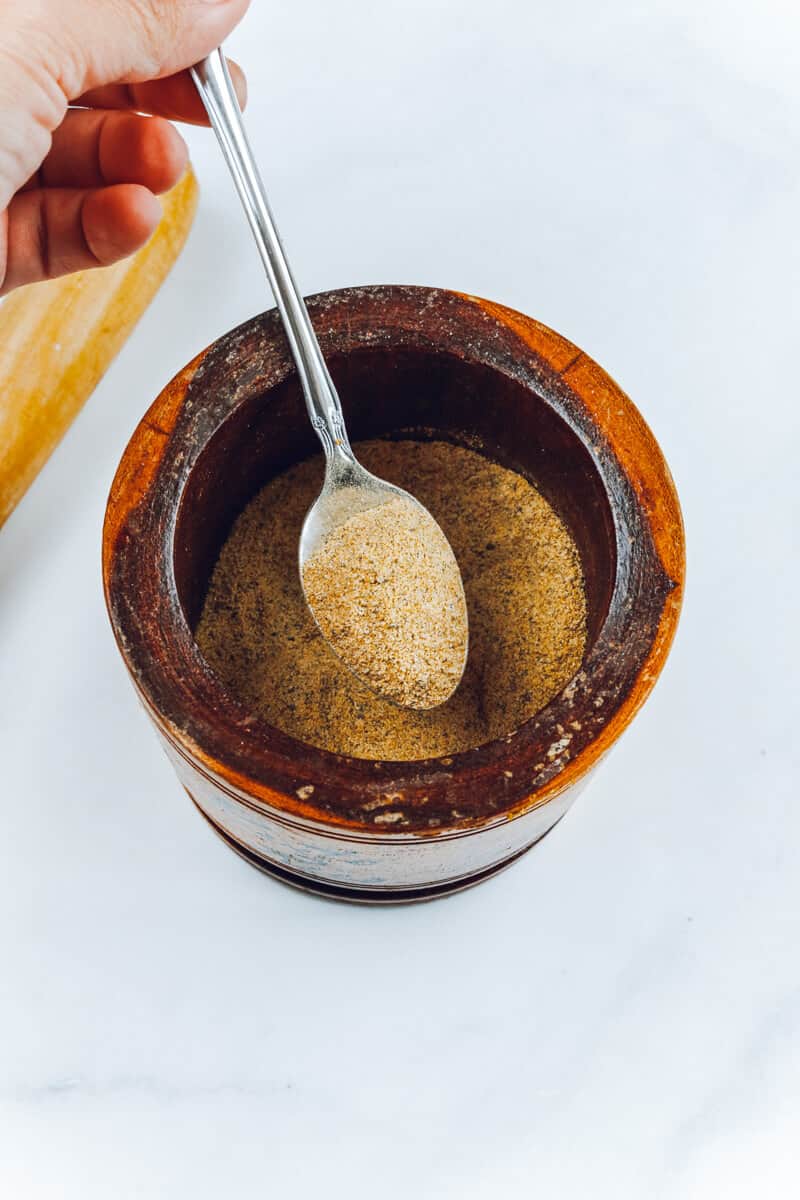 Optional: Additions for Customization
A good base for the best adobo seasoning is above. Additionally, if you want to make a specific batch of adobo, for a rub, these are some more optional additions to help you customize your seasoning blend.
Citrus: Grind a small amount of dehydrated lemon, lime, or orange peel (like half an inch) to add to your adobo spice blend.
Spicy: You can add in a pinch of cayenne pepper, for spice.
Sweet: Badia Adobo Seasoning has sugar in it. You can add a small amount, if you prefer your food on the sweeter side.
Color: Add a tiny amount of saffron, paprika, or achiote for a deeper red color.
Instructions
Making homemade adobo seasoning is super easy, there's just one simple prep.
If you're using coarse ingredients, like Kosher salt or freshly dried oregano, it's best to first grind your spices in a mortar and pestle, coffee grinder, or small food processor.
I just go ahead and pour all of my ingredients into a pilon (mortar and pestle) and enjoy the gentle grinding I give it to ensure the coarser ingredients are finely grinded.
Once your ingredients are finer, you can funnel the ingredients into an airtight container. Store your adobo seasoning in a cool and dry cupboard, and it should last for 3-6 months.
I do want to mention, for a dry adobo rub, you can absolutely leave your ingredients a bit coarser if, you'd like! (Imagine a big juicy pernil or steak generously coated with adobo seasoning with coarse salt, pepper, and oregano.... que rico!)
To keep your adobo seasoning fresh, it's best to consume it within 3 months. (The fresher your ingredients, the stronger the taste.) You can always do a smell test to make sure you still smell the aromatics.
Cultural Significance
Adobo isn't just a seasoning mix; it's a cultural cornerstone. It's a recipe handed down through generations, a taste of home, and a link to our roots. From arroz con gandules, to pernil -this spice mix is sprinkled throughout our Latin Cuisine.
My mom begins each dish with a foundation of her own homemade adobo seasoning.
For her, she keeps her adobo blend simple with salt, pepper, garlic powder, and oregano. From there, she adds more flavor, depending on the dish, and her mood.
In Puerto Rico, it's the sister of the beloved "sofrito." In Mexico, it's the fiery foundation of many iconic dishes, and in the Dominican Republic, it's the soul of "sazón."
Adobo connects us to our past, uniting us with the flavors our abuelitas and madres lovingly infused into their recipes.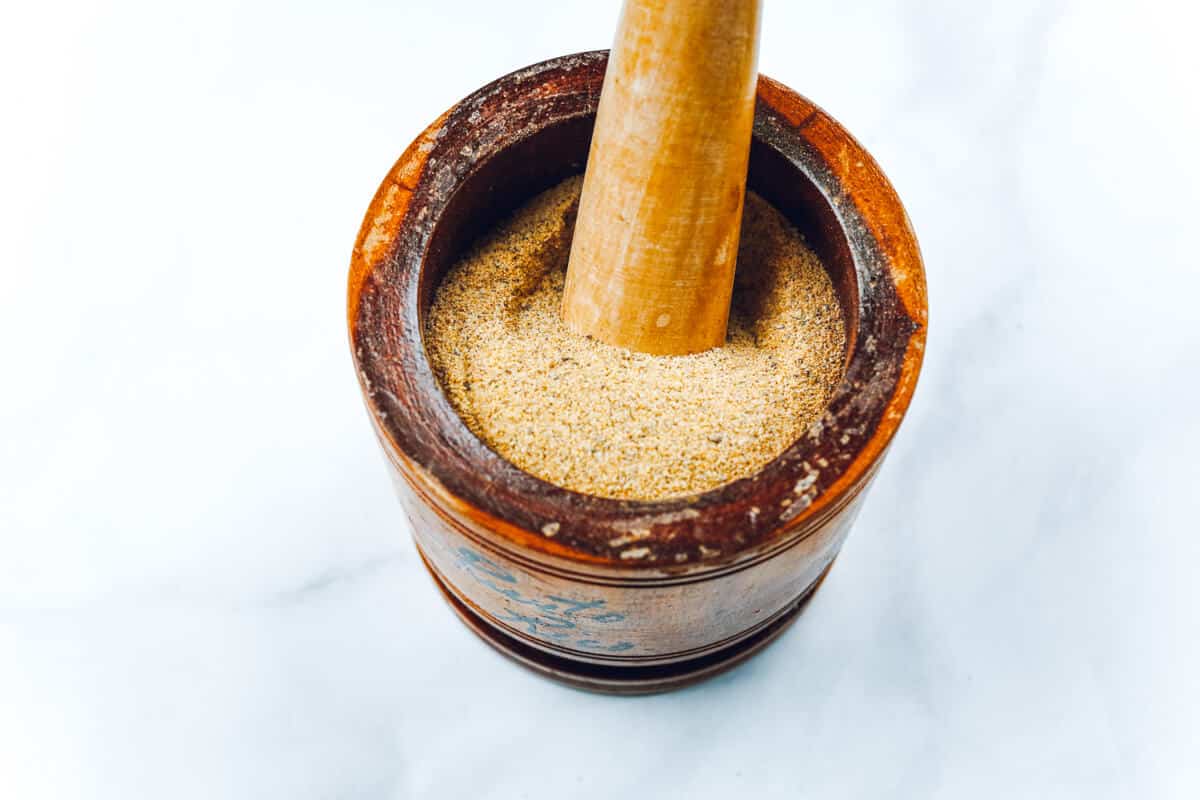 FAQ
What does adobo seasoning taste like?
Earthy and robust, the taste of garlic, onions, and oregano are very present.
Adobo has a strong flavor profile, but it is not overpowering.
Which adobo seasoning is the best?
Depends on your preference. I recently have preferred Badia's adobo seasoning blend over Goya's adobo seasoning.
Is adobo spicy?
Dry adobo seasoning is savory, not spicy. The only pepper is ground black pepper. There is no chili powder, cayenne pepper, or spicy ingredient in adobo seasoning.
Why is my adobo clumpy?
If any seasoning blend is clumpy, that means moisture has gotten into your container.
Add a few grains of rice, cover the container, shake it a few times to break up the clumps.
Be sure to use dry measuring spoons only to keep your adobo seasoning from getting wet.
Does adobo have MSG?
Homemade adobo does not have MSG. Most store bought adobo does not have MSG. Double check the container to see if that specific recipe contains MSG.
What can I add to my adobo?
Want more variety? Create a few different adobo seasonings, such as a bitter one with dried citrus, a spicy one with cayenne pepper and chili powder, or a seafood blend with an emphasis on dried lemon and more black pepper.
More Recipes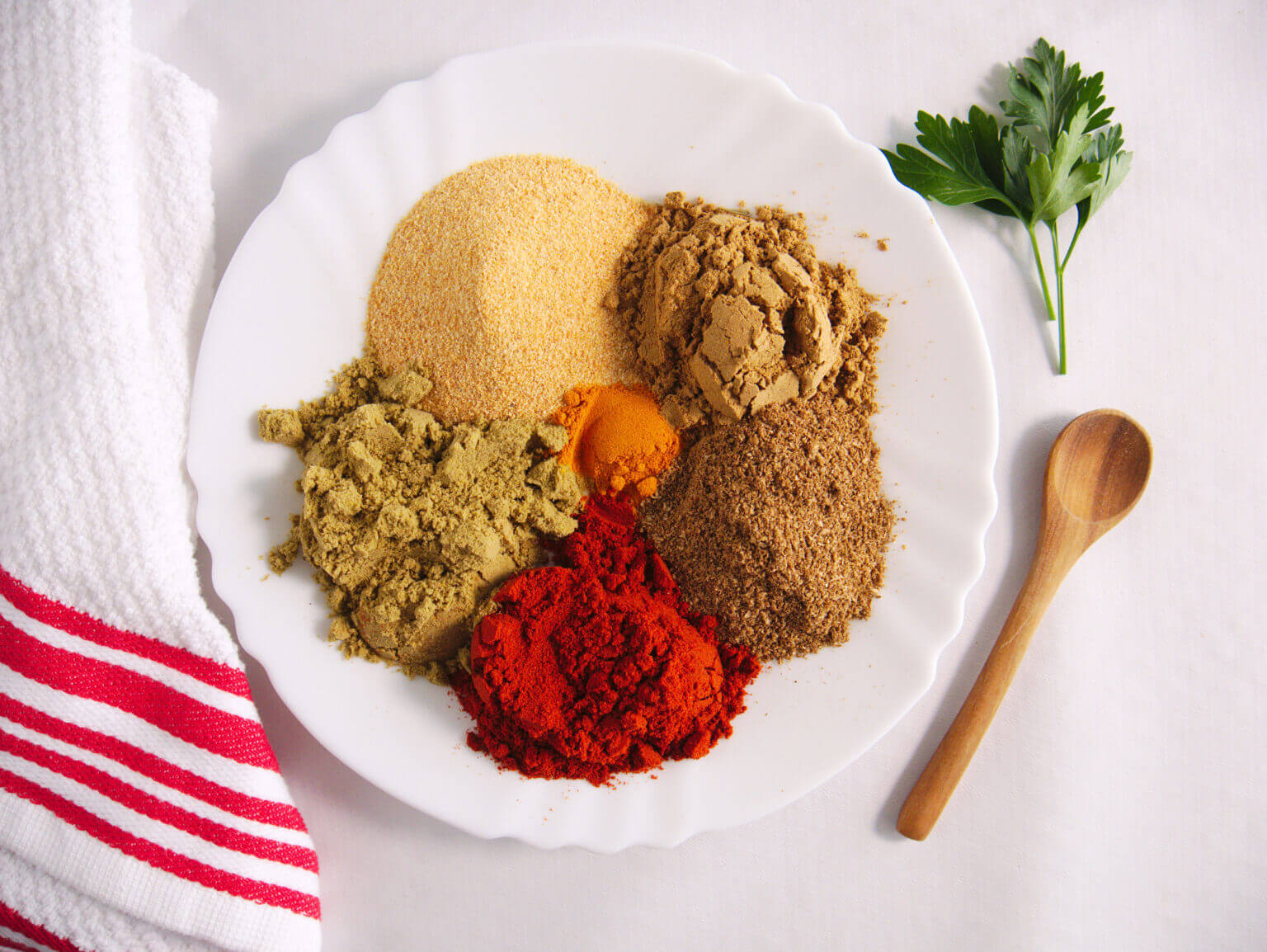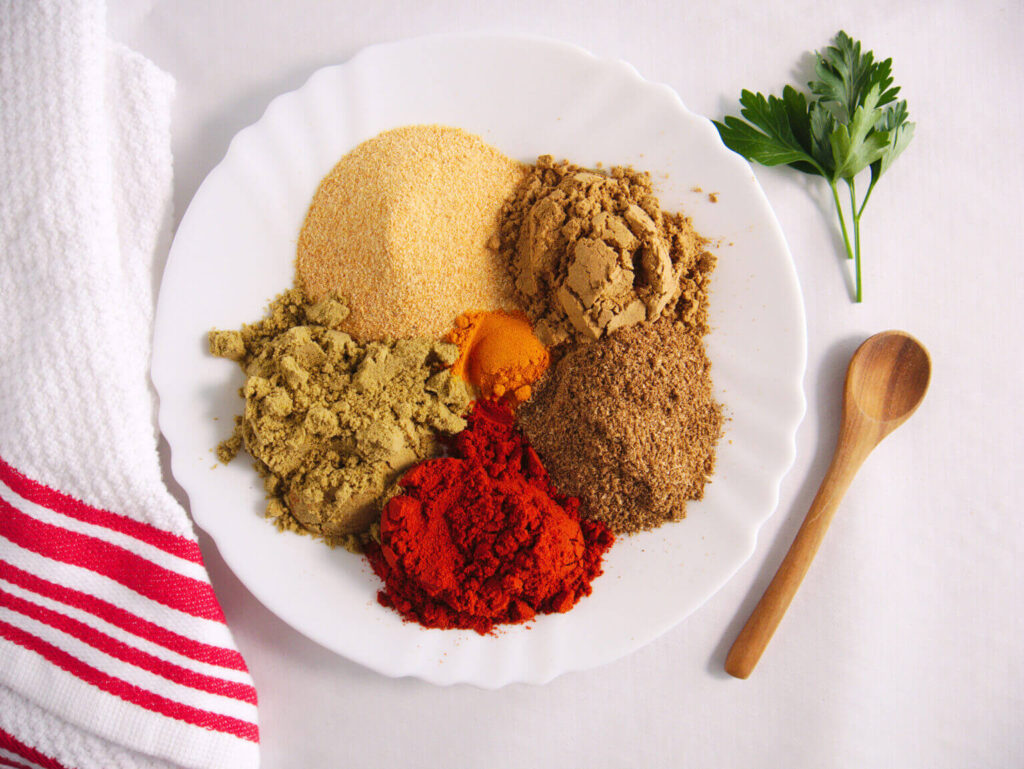 📖 Recipe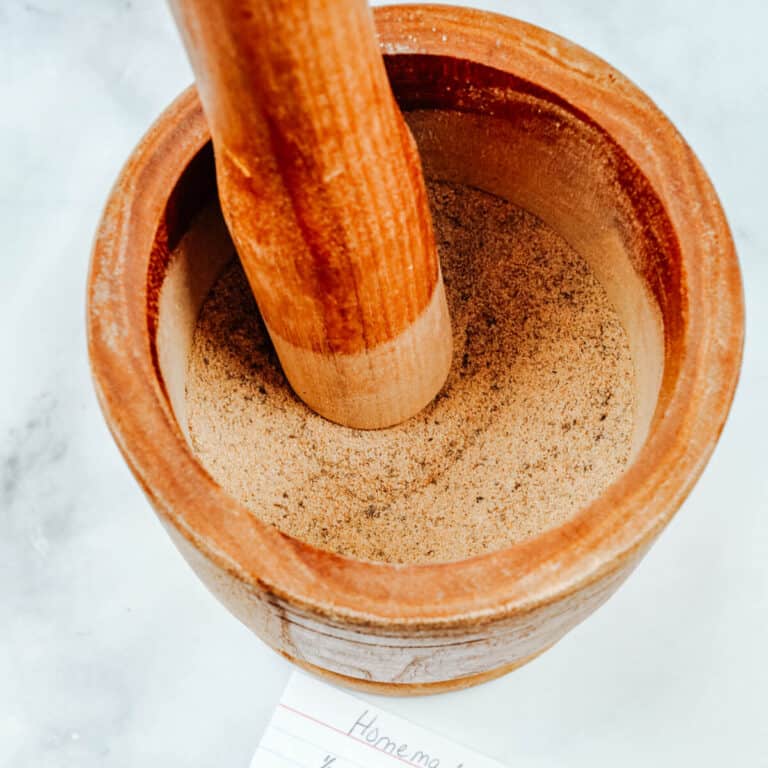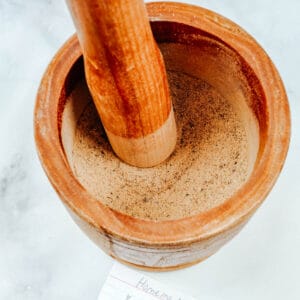 Adobo Seasoning Mix
Adobo seasoning, our kitchen's corazón, is an all-purpose Latin seasoned blend made up of garlic, pepper, oregano, and more to create a smoky, bold, and aromatic dish, honoring our Latin culinary heritage.
Print
Pin
Rate
Servings:
1
small container
Equipment
mortar and pestle

optional

coffee bean grinder

optional
Ingredients
¼

cup

garlic powder

2

tablespoon

salt

1

tnsp

onion powder

ground

½

tablespoon

dried oregano

ground

2

teaspoon

black pepper

ground

2

teaspoon

cumin

1

teaspoon

turmeric powder
Instructions
Add all ingredients into a small bowl and combine to mix.

Funnel adobo seasoning mix into an airtight container, and store until ready to use.
Notes
Store in an air tight container up to three months.
Ingredients can be adjusted to your preference!
Nutrition
Serving:
1
teaspoon
|
Calories:
238
kcal
|
Carbohydrates:
51
g
|
Protein:
11
g
|
Fat:
2
g
|
Saturated Fat:
0.4
g
|
Polyunsaturated Fat:
0.4
g
|
Monounsaturated Fat:
1
g
|
Sodium:
13998
mg
|
Potassium:
925
mg
|
Fiber:
8
g
|
Sugar:
2
g
|
Vitamin A:
115
IU
|
Vitamin C:
2
mg
|
Calcium:
158
mg
|
Iron:
8
mg