Juicy, bold, and flavorful Puerto Rican chicken also known as "pollo al horno" is the perfect chicken recipe to start off with if you're new to cooking Puerto Rican food!
The first recipe I learned to make at age 10 is this Puerto Rican chicken recipe. It's simple, uses a lot of spices, and the flavor is out of this world. Enjoy it for dinner with a side of Spanish rice, kidney beans, sweet plantains, and avocado for the ultimate Puerto Rican dinner!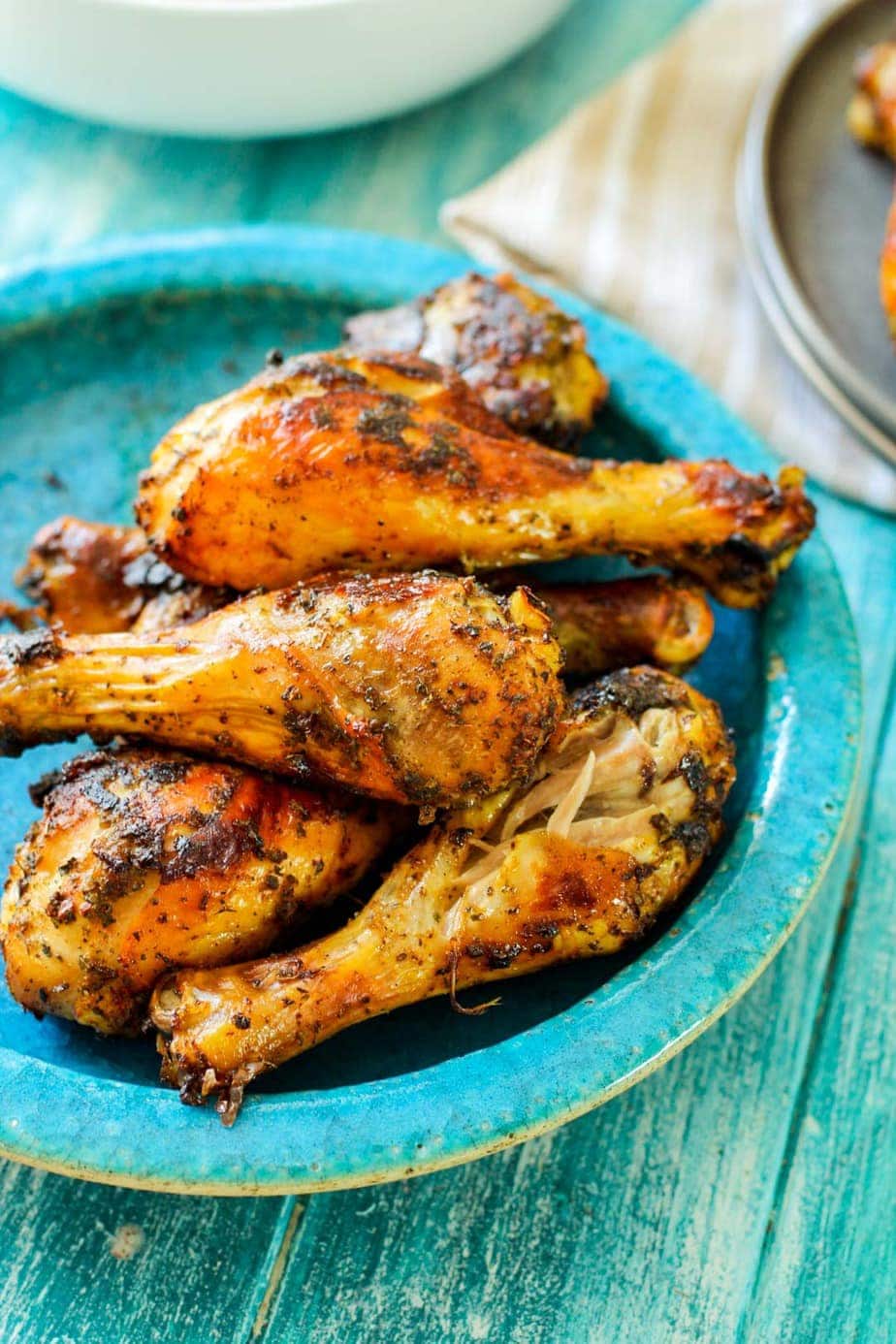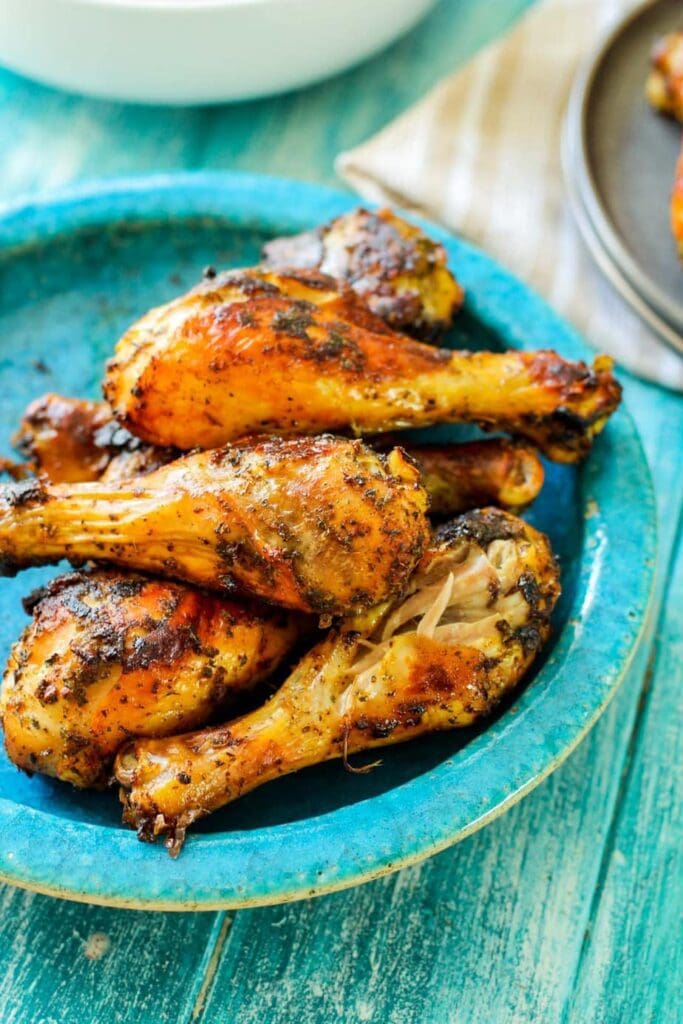 What spices are used for puerto rican chicken?
What makes Puerto Rican chicken stand out is the amount of spices and herbs used. Latin recipes in general is known for it's spices and bold flavors. We do not shy away from flavor, and welcome it with every meal. I say that if you have garlic powder, dried oregano, salt and pepper, you're set- but that's just the beginning!
Ingredients used for Puerto Rican Chicken:
salt
pepper
oregano
garlic powder
sazon seasoning (you can replace it with turmeric if desired or ground annatto for color)
Homemade sofrito, completely optional -your Puerto Rican chicken will still taste great without it.
Some people like to add Adobo seasoning, but I think there's enough sodium here!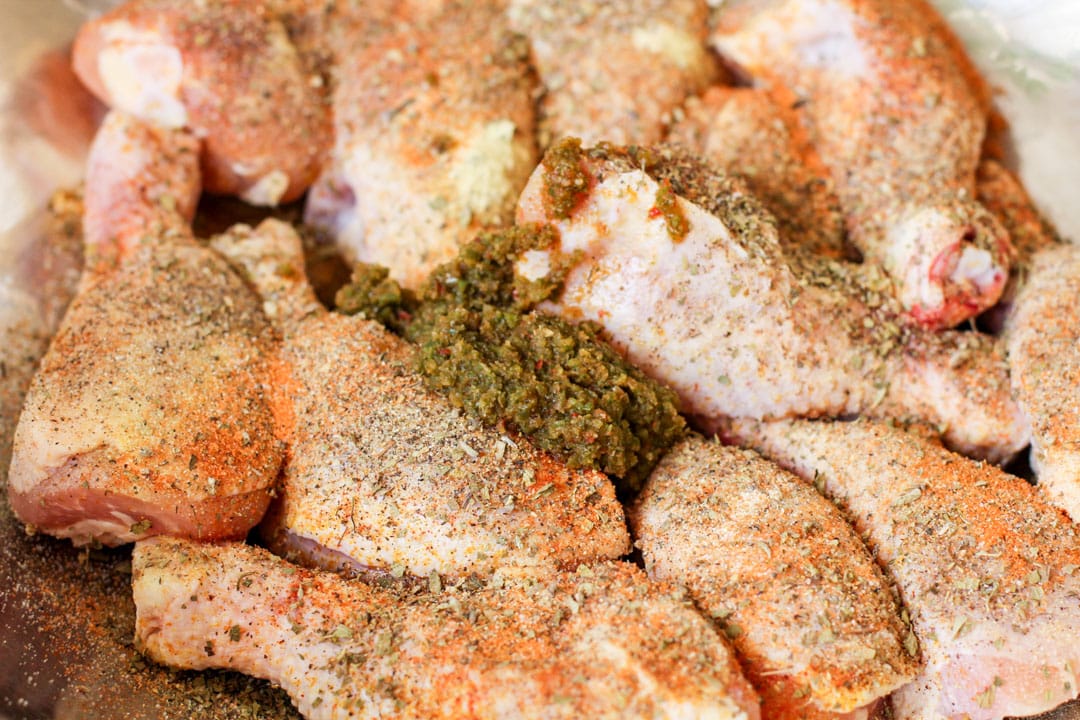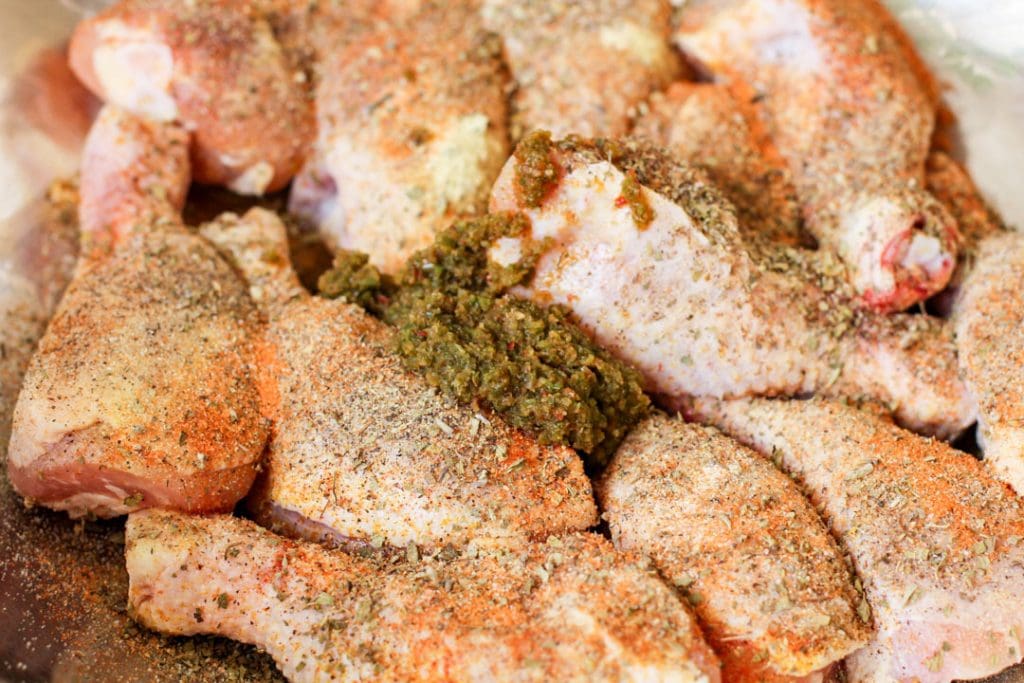 How To Make Puerto Rican Chicken In The Oven
Once you've added your seasonings to your Puerto Rican chicken, it's time to mix it all up! Be warned, sazon seasoning colors your hands. Be sure to either wear gloves or wash your hands as soon as you're done seasoning your chicken. Growing up my mother would always score the chicken, but it's not necessary.
For the ultimate flavor, you should let your seasoned Puerto Rican chicken sit in the refrigerator overnight -or at least two hours, before baking your chicken.
Do you cover chicken when baking in the oven?
Covering chicken when baking in the oven is done to keep the chicken as moist as possible. For this Puerto Rican chicken recipe with drumsticks, you don't have to, but you absolutely can! Remove the foil during the last 10 minutes so the skin can crisp up a bit.
If you want completely crispy skin, skip the cover on the chicken while baking!
How long to bake chicken in the oven?
Once your chicken has marinated, you'll add it to a pan and bake it at 350 for an hour. Flip it halfway through, and if desired, you can brush BBQ sauce over it for the ultimate oven baked BBQ chicken recipe. I tend to do this to half of the chicken, this way the kids that want the naked baked chicken can enjoy it without BBQ sauce.
For extra crisp, you can set your oven to like 425 for the last 5-10 minutes. I especially do this when I make BBQ chicken.
For wings, reduce total baking time to about 40 minutes.
For boneless chicken, depending on the size of the breasts, bake for 30-35 minutes.
The best way to see if your chicken is done, is by looking for clear juices and checking that the internal temperature of the chicken reaches 165 degrees Fahrenheit.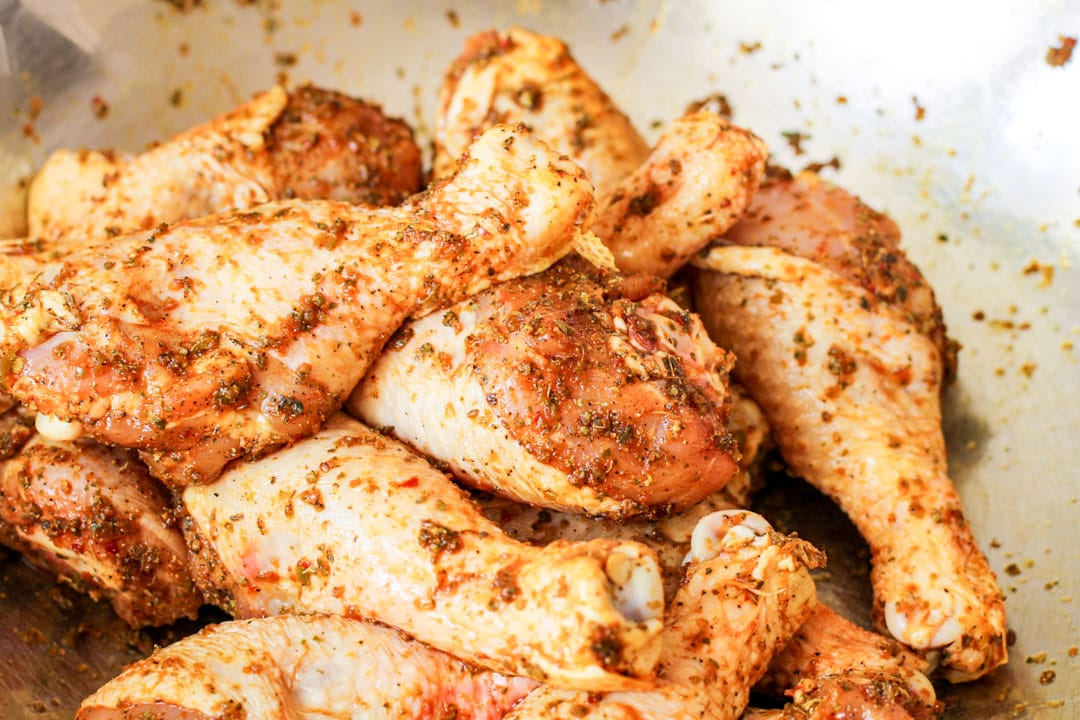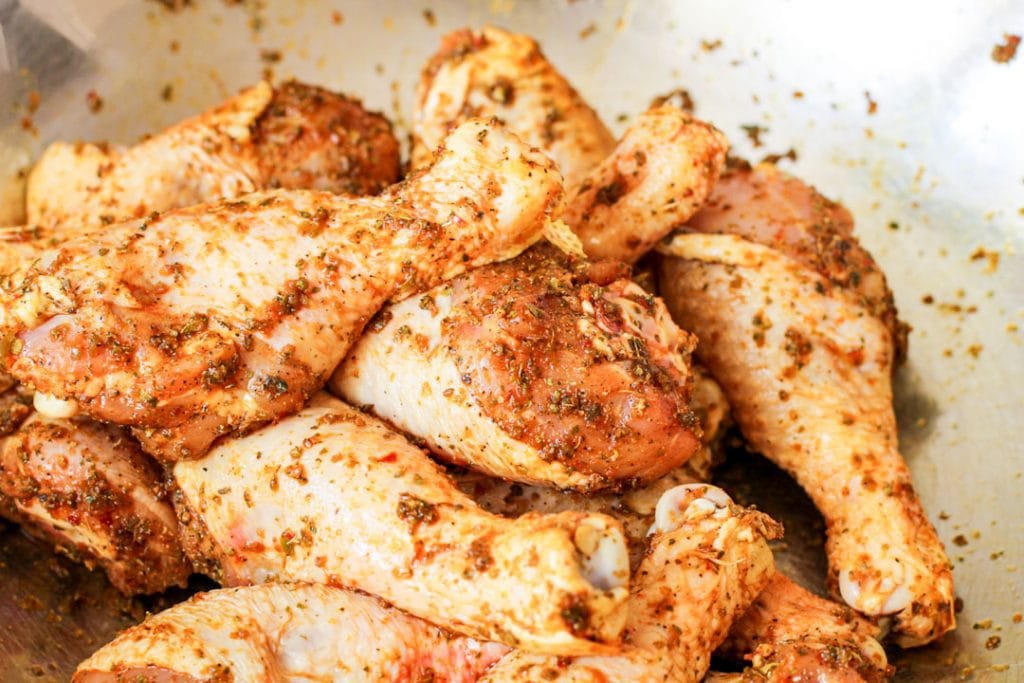 What kind of chicken should I use for baked Puerto Rican Chicken
The beauty of Puerto Rican chicken is that the seasonings can stay the same for the best flavor profile, regardless on the kind of chicken you're using and the method of cooking your chicken. Remember, bone in chicken will yield the juiciest results. We're huge on drumsticks here, but baked chicken thighs are amazing!
Types of chicken for Puerto Rican chicken:
drumsticks (skin on or off -it's up to you)
thighs
wings
breasts
whole chicken (perfect for making a stuffed chicken recipe)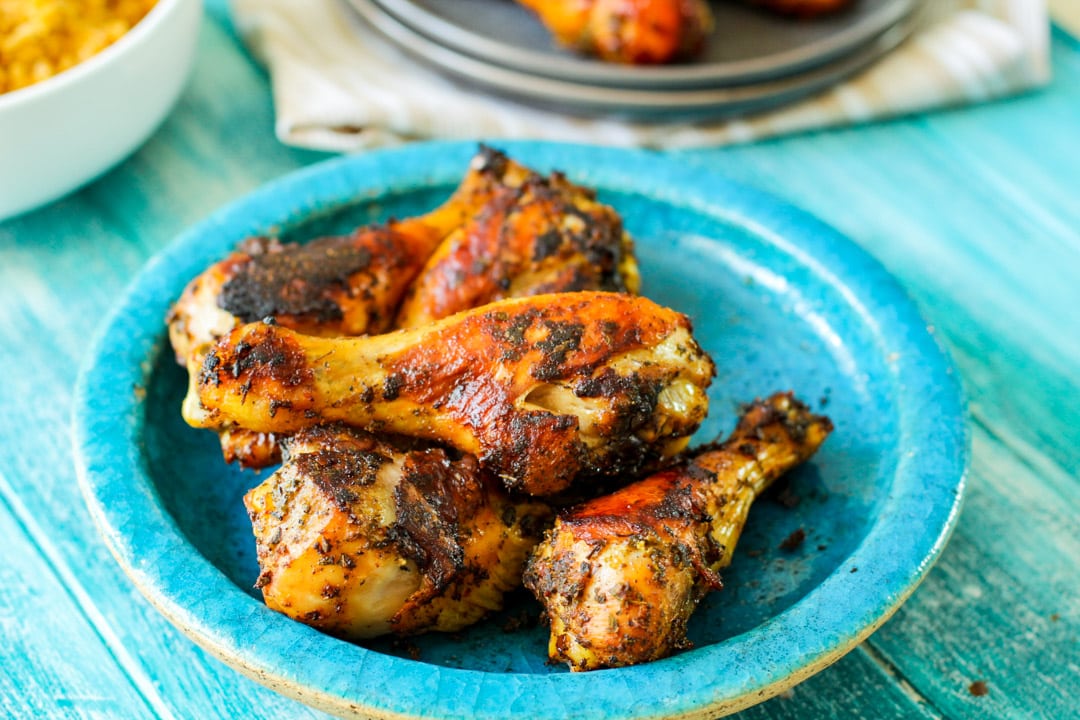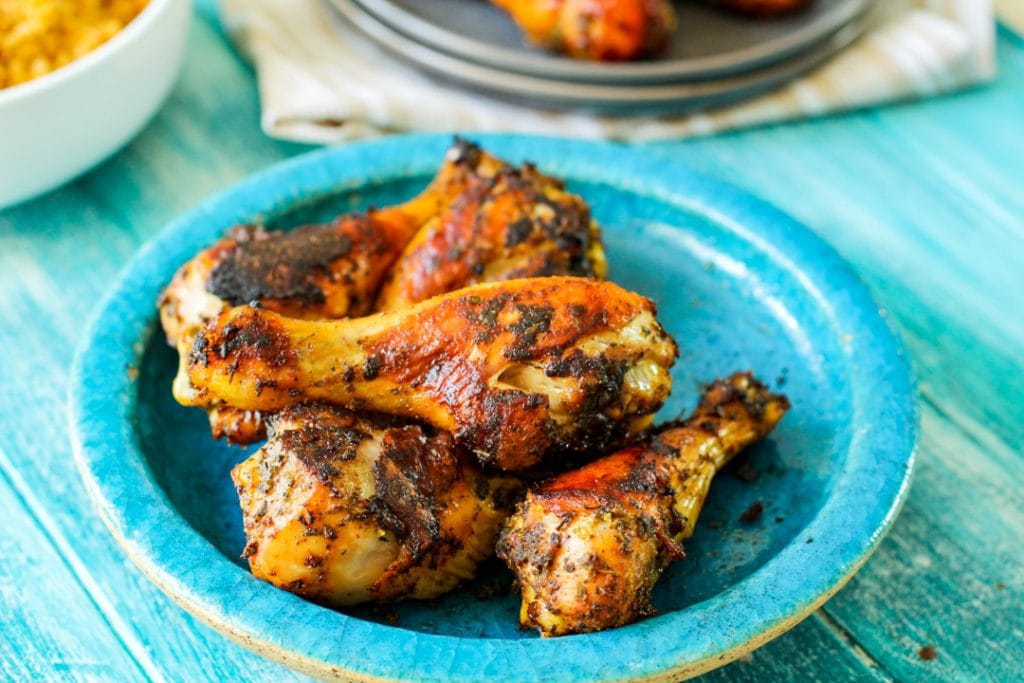 What should I serve with Puerto Rican Chicken?
Traditionally, all Puerto Rican dinners consist of a protein, rice, beans, a side, and salad... typically! Here are some amazing Puerto Rican recipes to serve with your oven baked chicken:
Puerto Rican Potato Salad with Apples
Easy Puerto Rican Kidney Beans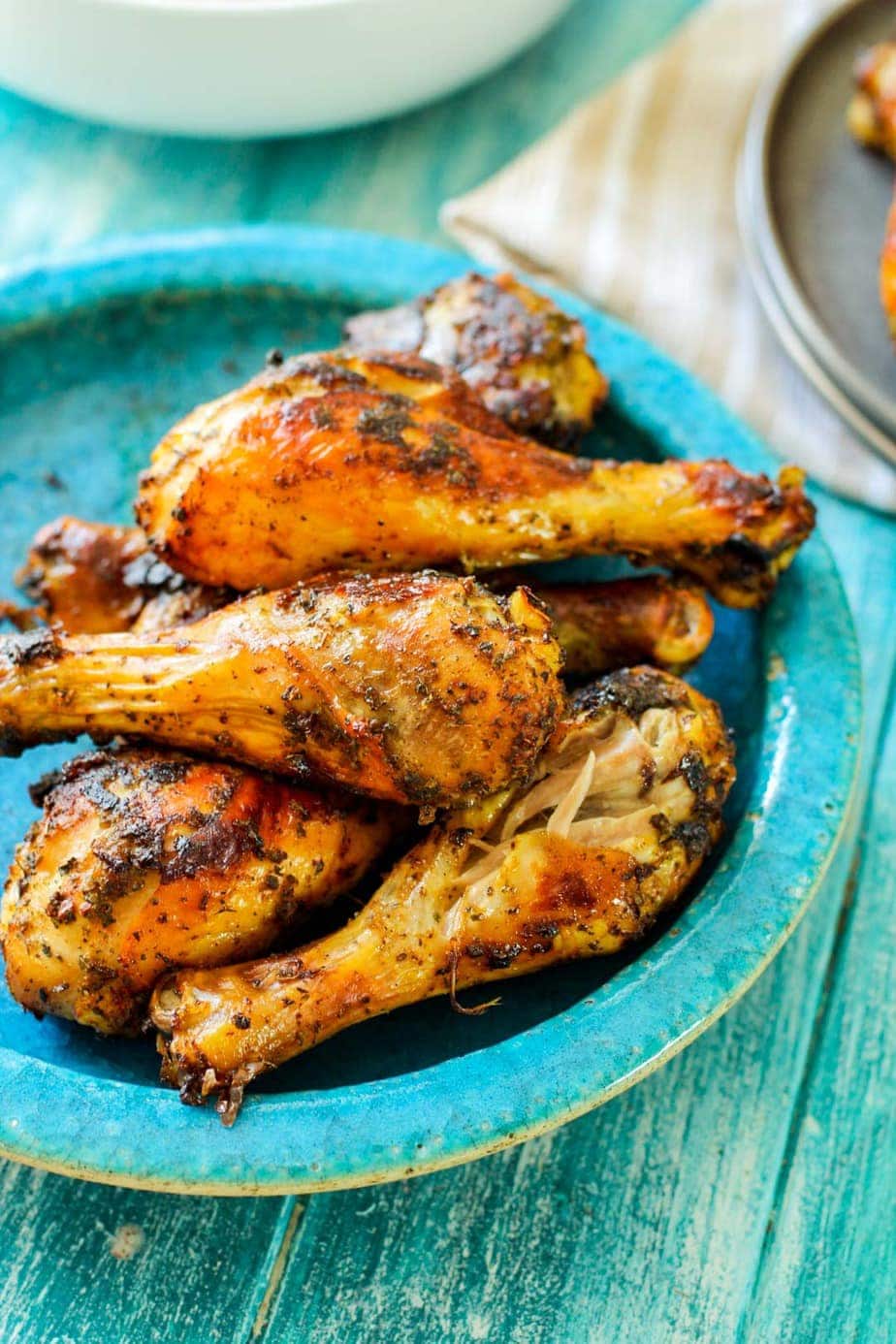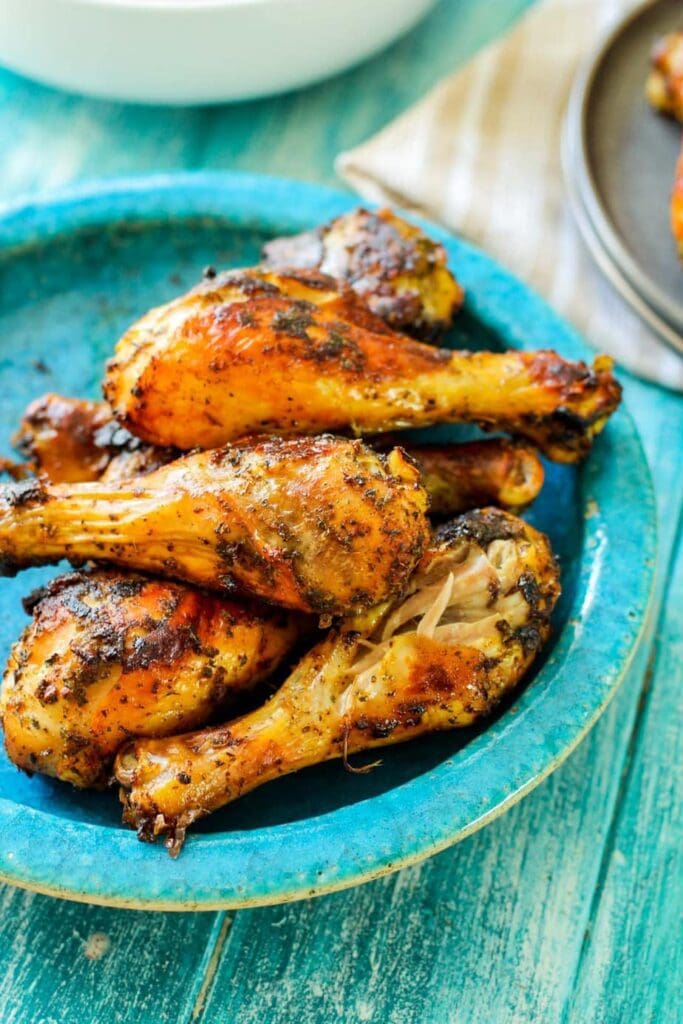 📖 Recipe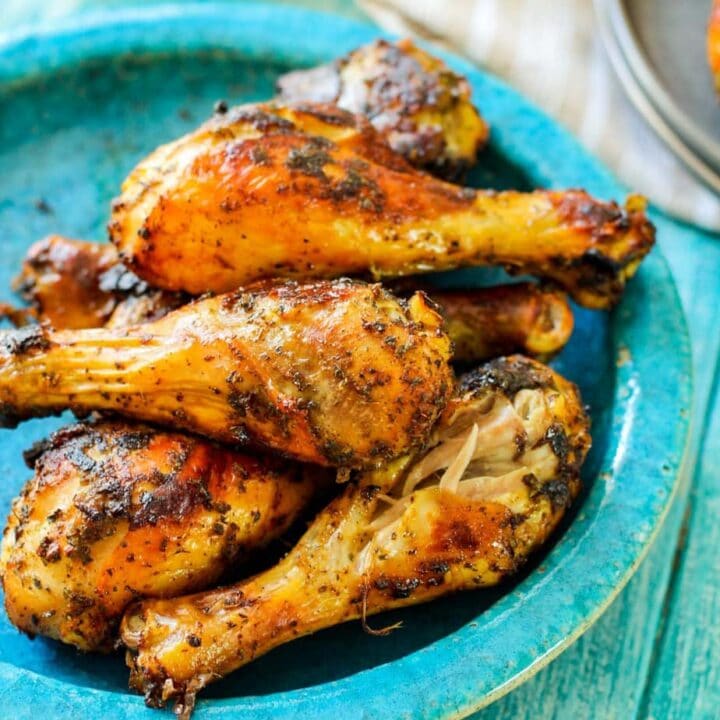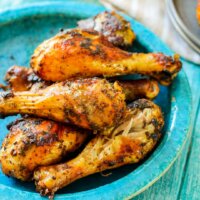 Puerto Rican Chicken
Fully flavored, this Puerto Rican chicken recipe is the perfect oven baked recipe to have on hand!
Print
Pin
Rate
Ingredients
3

pounds

of drumsticks

1

teaspoon

of garlic powder

1

teaspoon

of dried oregano

½

teaspoon

of salt

½

teaspoon

of ground black pepper

1

packet of Sazon seasoning

2

tablespoons

of sofrito

optional
Instructions
Toss chicken and remaining ingredients together into a large bowl, gently mix to coat chicken with seasonings.

Allow chicken to marinate 2-24 hours.

Preheat oven to 350 degrees Fahrenheit.

Arrange chicken on a baking tray and bake for 30 minutes, flip chicken over, bake another 20 minutes before raising heat to 400 degrees for the final 5-10 minutes.

Serve.
Notes
For a bolder flavor profile, feel free to double the garlic powder and oregano!