Tender moist chicken that is perfectly seasoned and rolled in a secret coating for the most perfect crispy chicken recipe.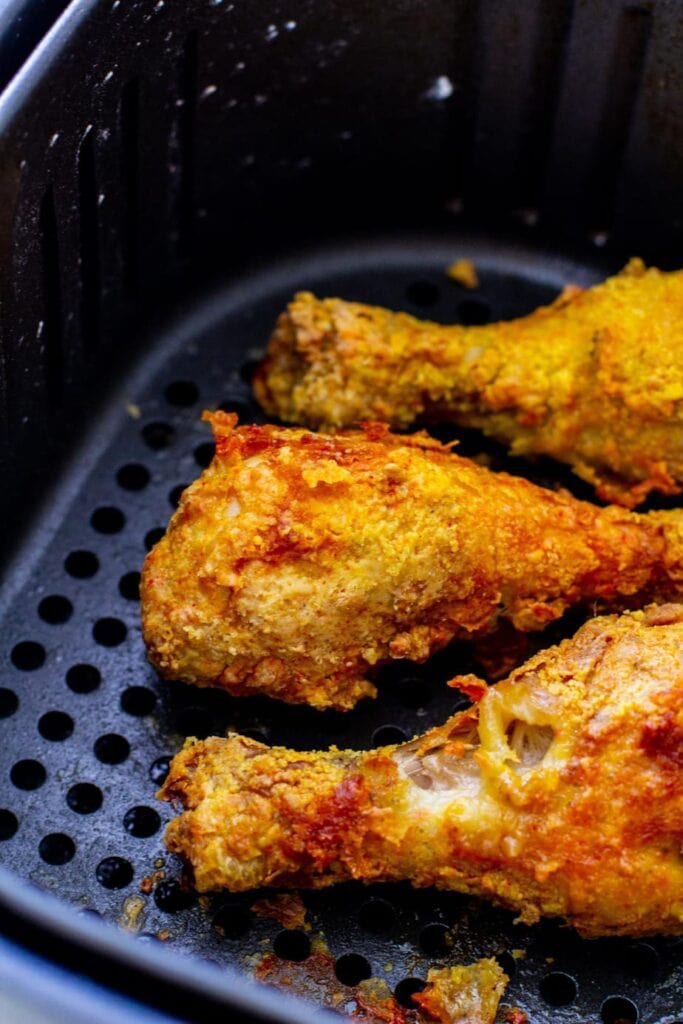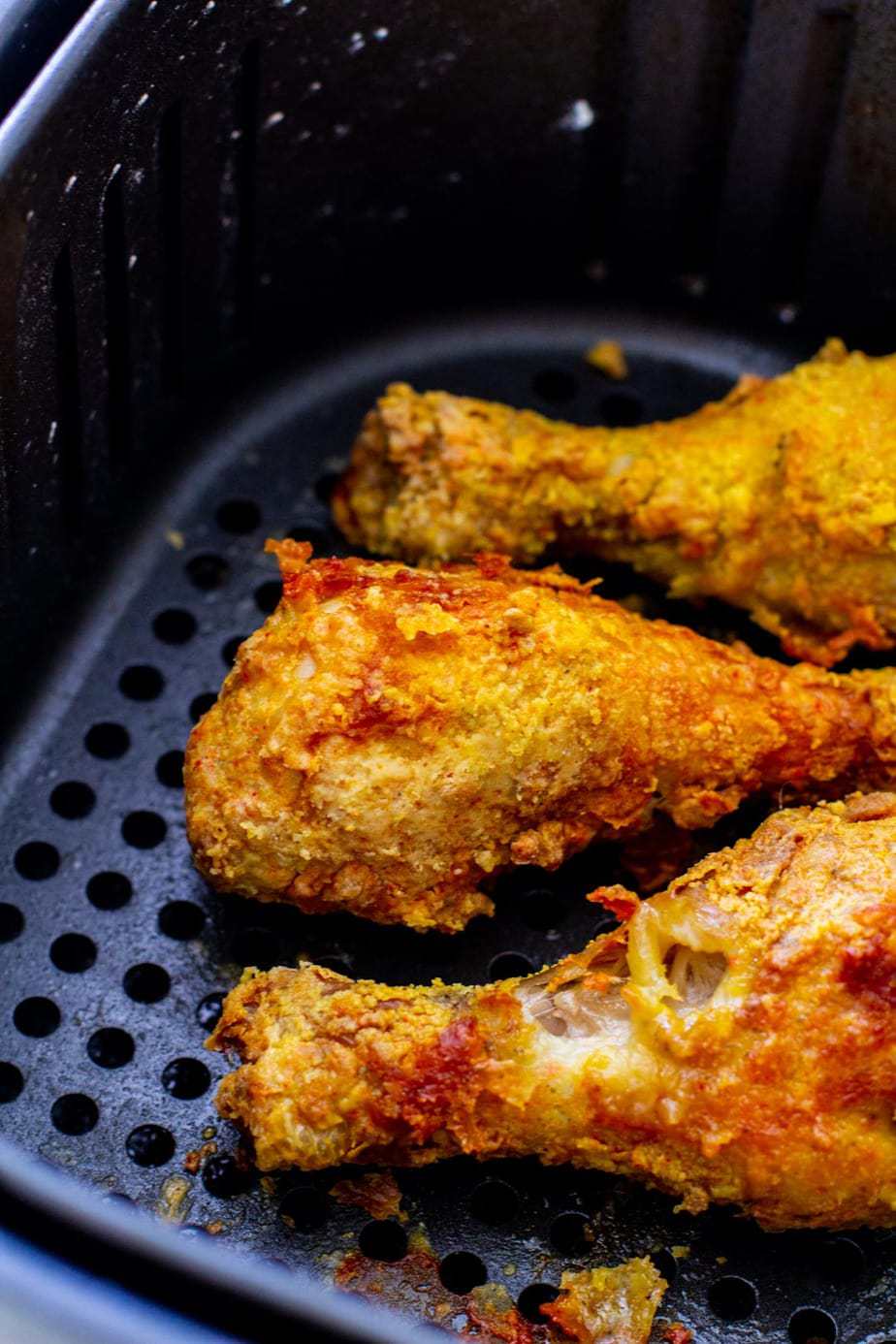 What's the secret to crispy chicken?
Crispy chicken is all about the outside layer! Have you ever gone to a famous fried chicken restaurant and wondered how they get that perfectly crisp coating?
Most people assume fried chicken only uses flour, but the truth is that most chefs add Corn Starch​ to their flour mixture!
How do you make gluten free fried crispy chicken?
This recipe calls for a flour and Corn Starch​ mixture. If you're looking for a gluten free recipe, omit the flour and just use a light layer of corn starch​ (with seasonings added).
How do you make Puerto Rican fried chicken?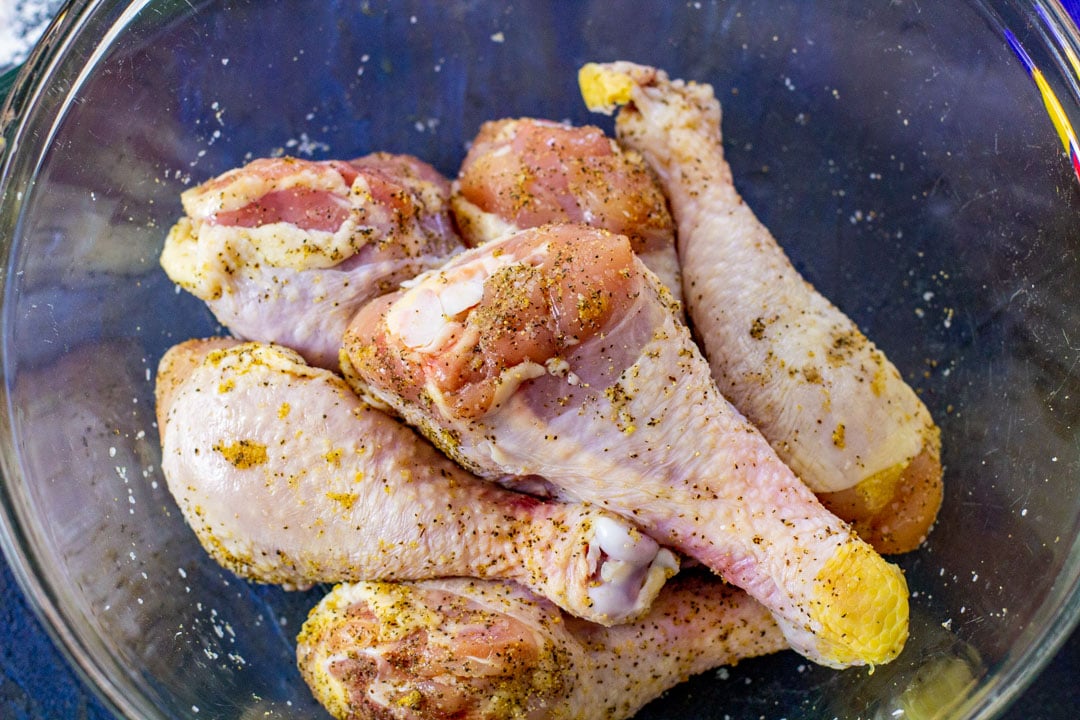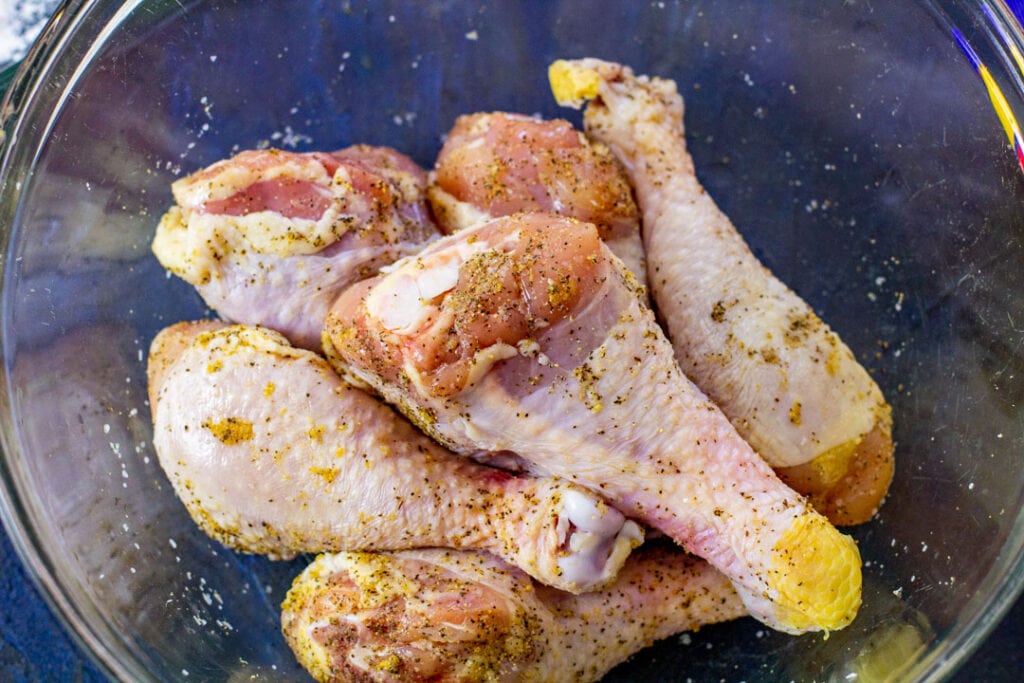 To make Puerto Rican fried chicken there are five steps:
Dry chicken with paper towels.
Season chicken with herbs and spices.
Dip chicken into an egg wash.
Dip chicken into the seasoned flour and cornstarch mixture.
Spray with cooking spray and cook in the air fryer!
How do you make the coating for crispy fried chicken?
For this Puerto Rican fried chicken recipe, we're going to make the coating with an even mixture of corn starch​ and all purpose flour.
Next, add in a generous amount of Sazon, adobo seasoning, and oregano. Mix and set to the side.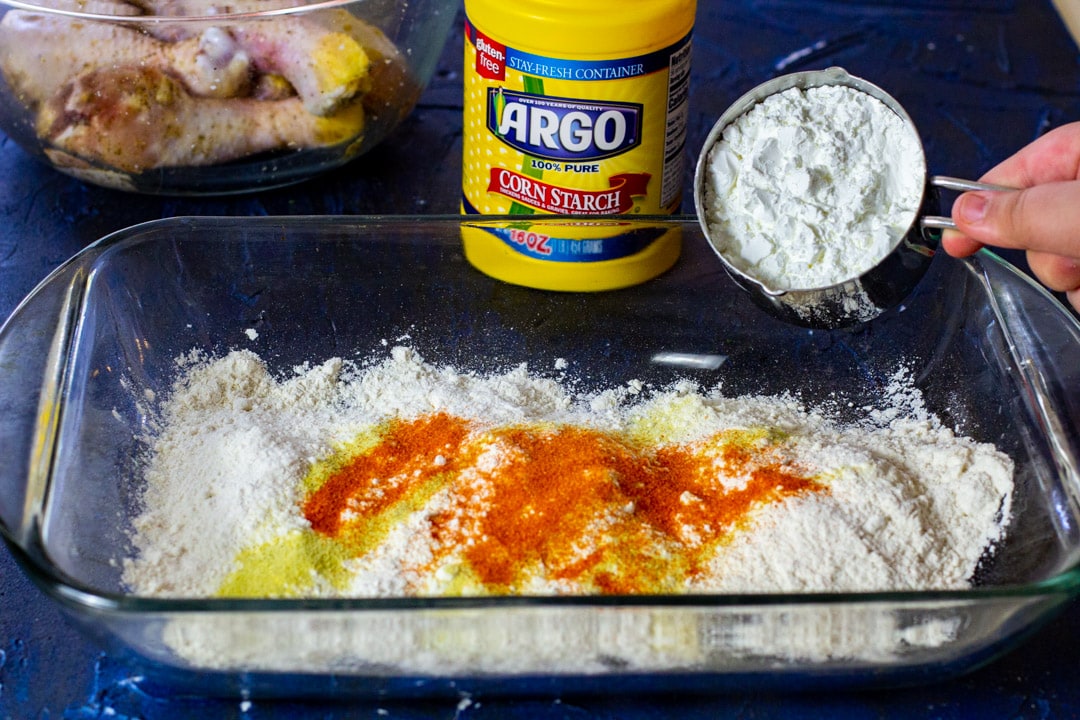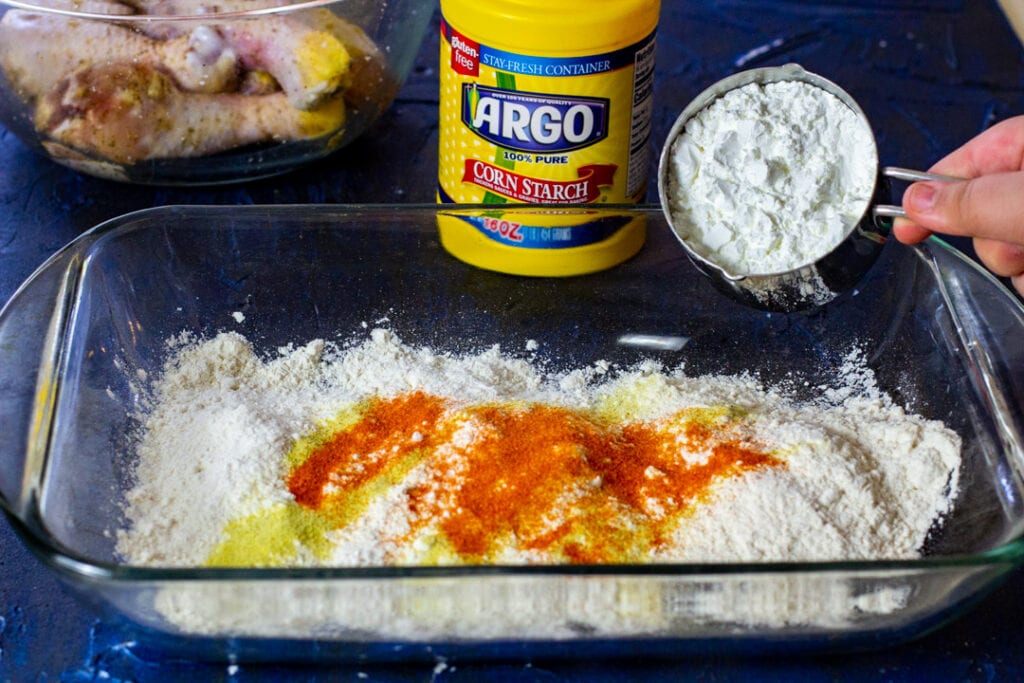 In another bowl whisk together about 4-5 eggs and a ¼ cup of milk or water to create an egg wash.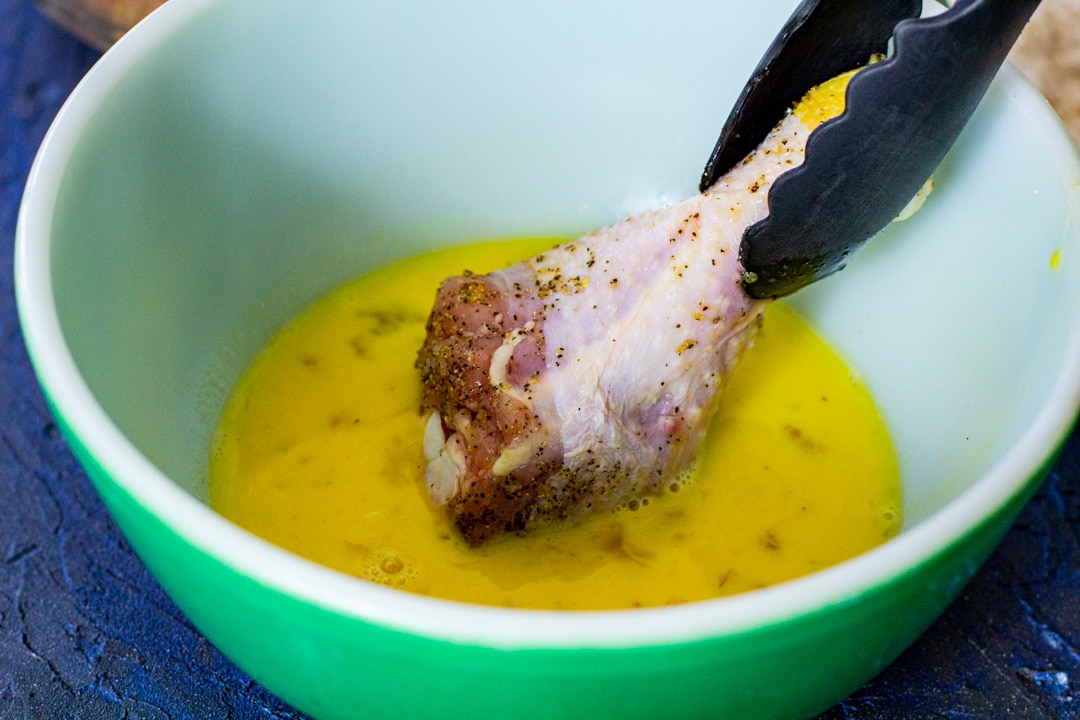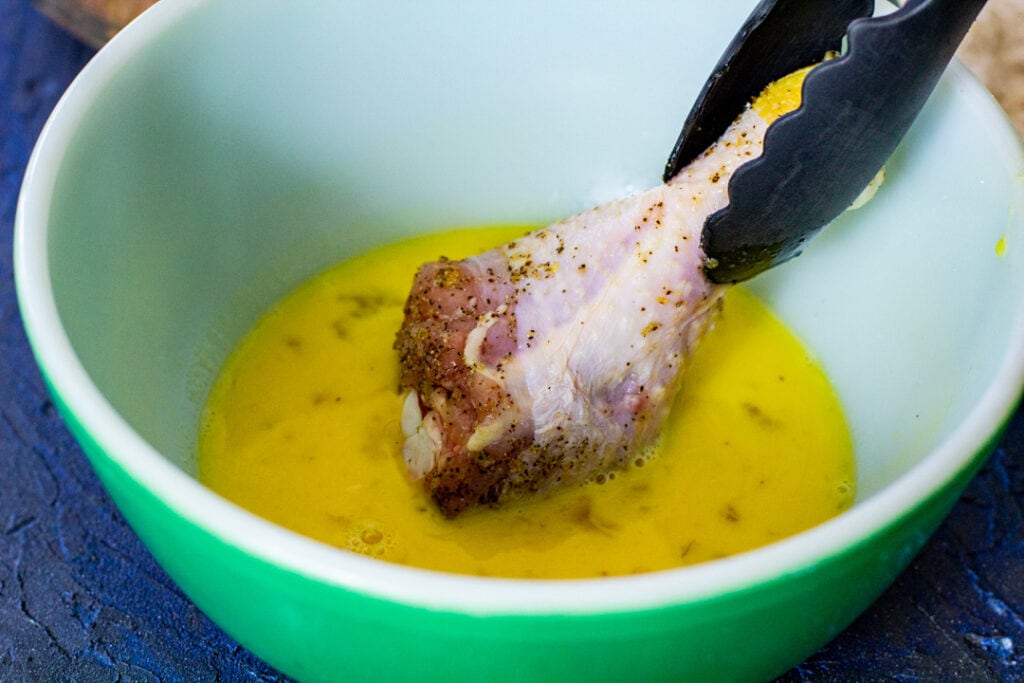 Quick Tips
Use two kitchen tongs. One for the wet mixture and one for the dry mixture.
Switch it up. Use a little less, more, or different seasonings!
Do not double dip. Air fryers are great, but remember that it's not the same as a pot full of hot oil. Double dipping will create an almost soggy coating. The thinner the better here!
Use olive oil cooking spray -not the butter flavored one!
Spray your chicken generously! Oil coated chicken will create a crispier coating (and helps the flour cook through easier).
Work in batches. Chicken needs space in the air fryer so the air circulates evenly to ensure your chicken is crispy on the outside and juicy on the inside!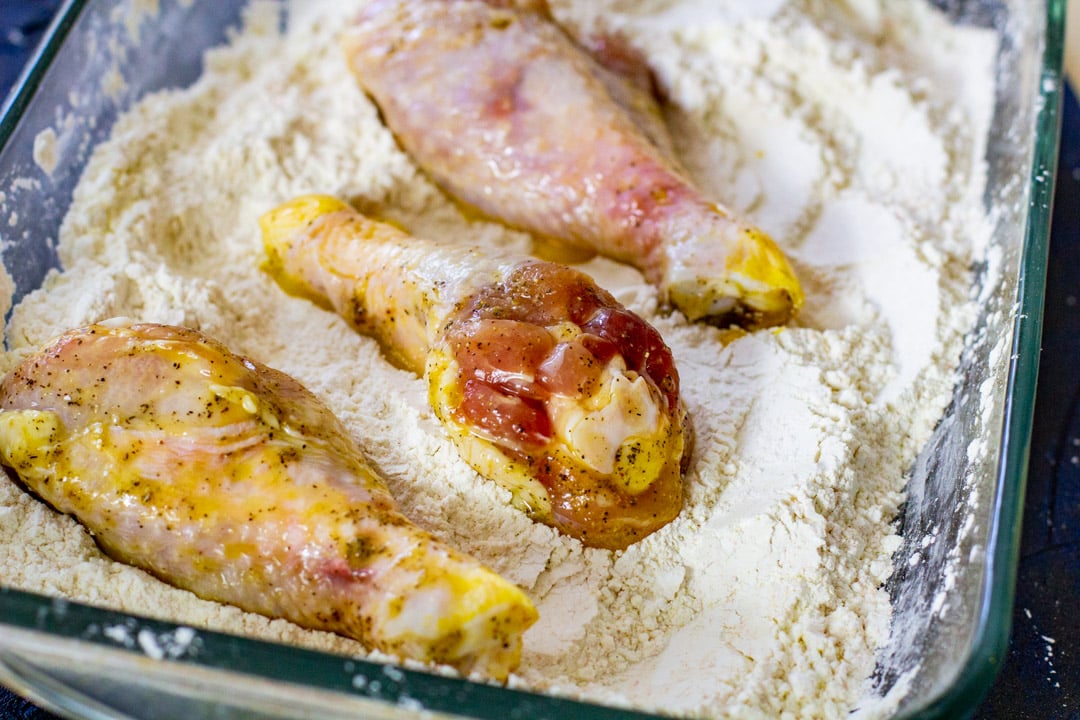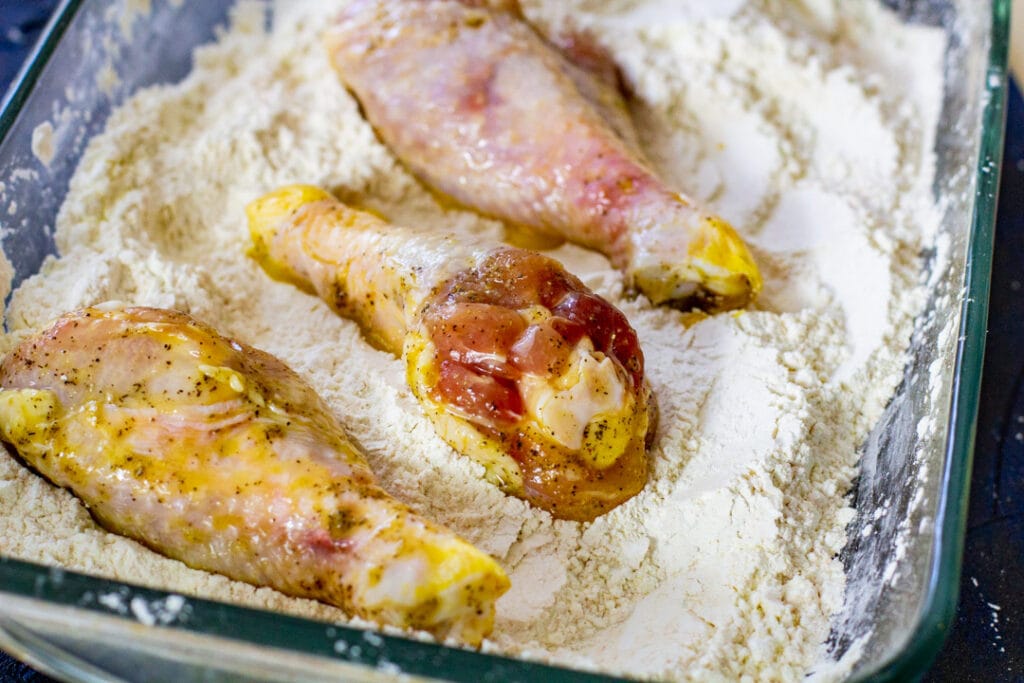 What is double dipping for fried chicken?
Double dipping for fried chicken just means that you will coat the chicken through the egg wash, then roll through the coating blend and repeat it one more time.
For this air fried chicken recipe, I do not suggest double dipping.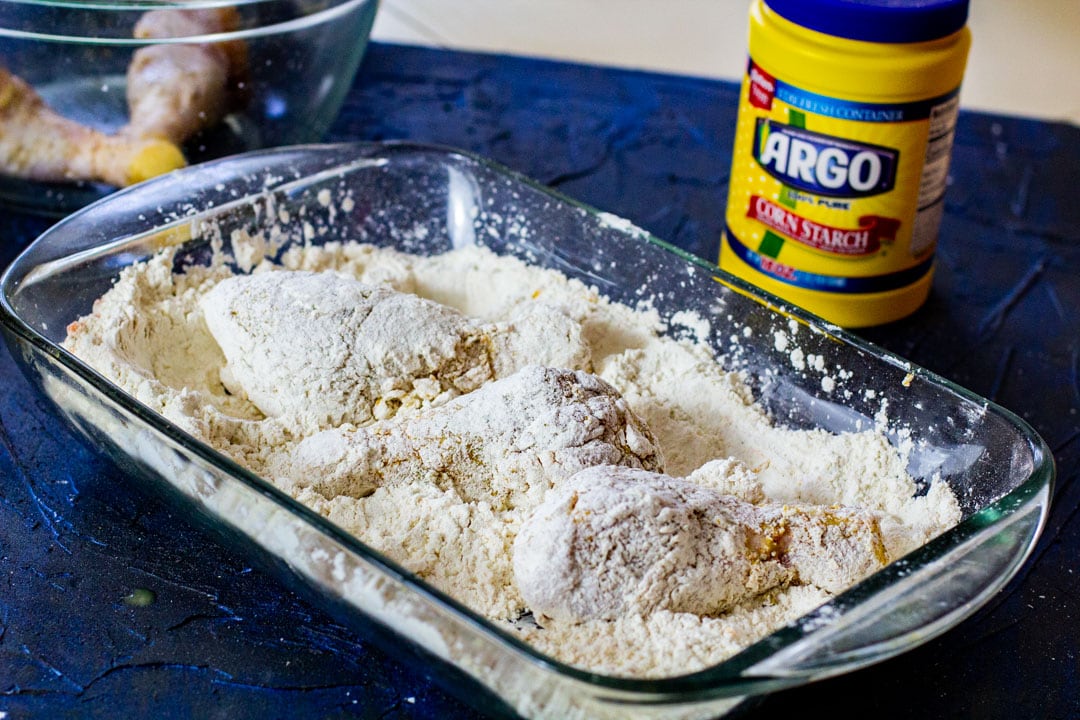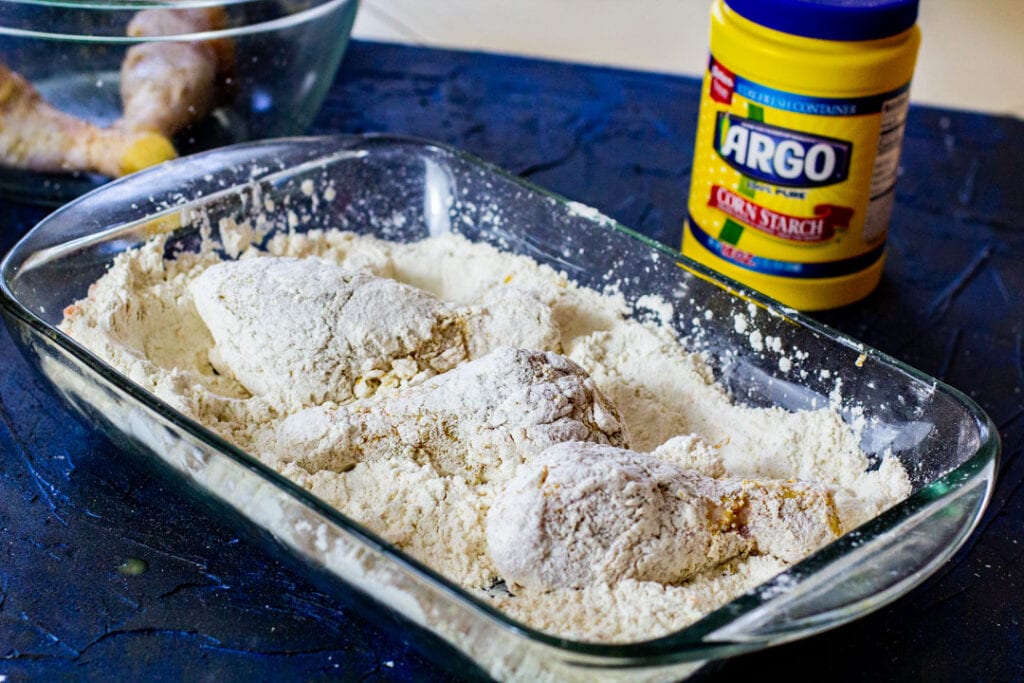 Does air fried chicken taste like fried chicken?
Air fried chicken tastes like a lighter version of fried chicken. You will not have the greasy skin that is sometimes coveted!
Air fried chicken is a way to enjoy a flour coated chicken that is crispy without the guilt or worry associated with deep frying it!
Here's an amazing southern fried chicken recipe!
How long does it take to air fry chicken?
The length of time it takes to air fry chicken will depend on if you're using bone-in or boneless chicken as well as the size.
Bone-in chicken takes about 18-25 minutes.
Boneless chicken can take about 8-10 minutes.
The most important thing to remember when cooking any chicken, is to make sure the internal temperature reaches 165 degrees Fahrenheit. (Or the juices run clear.)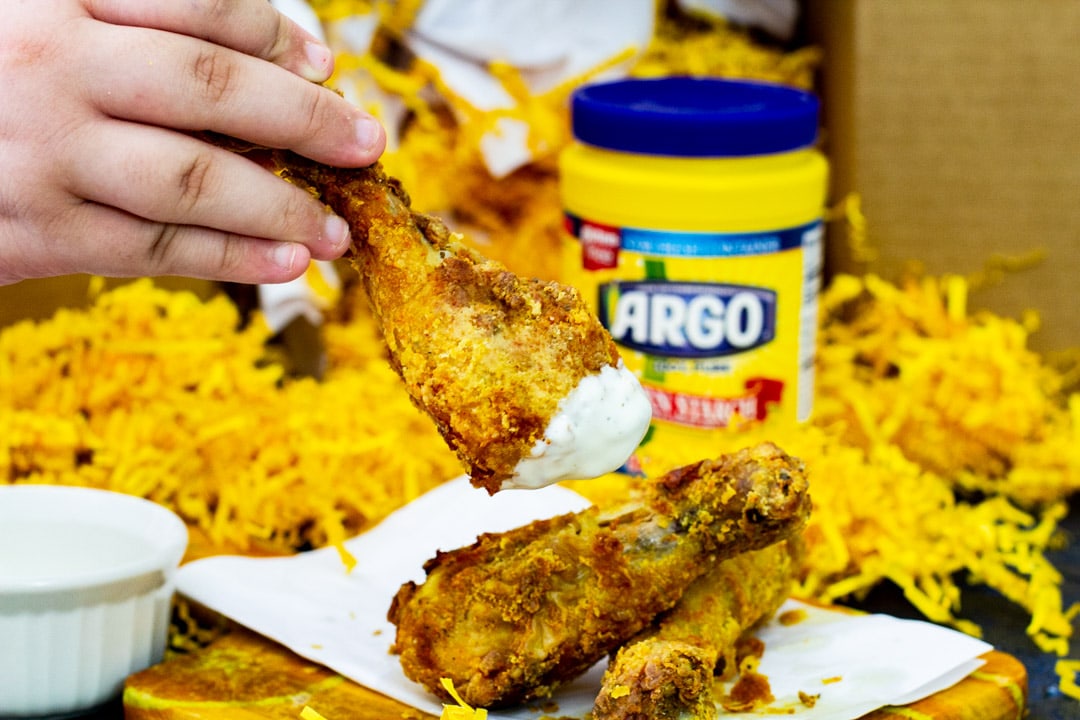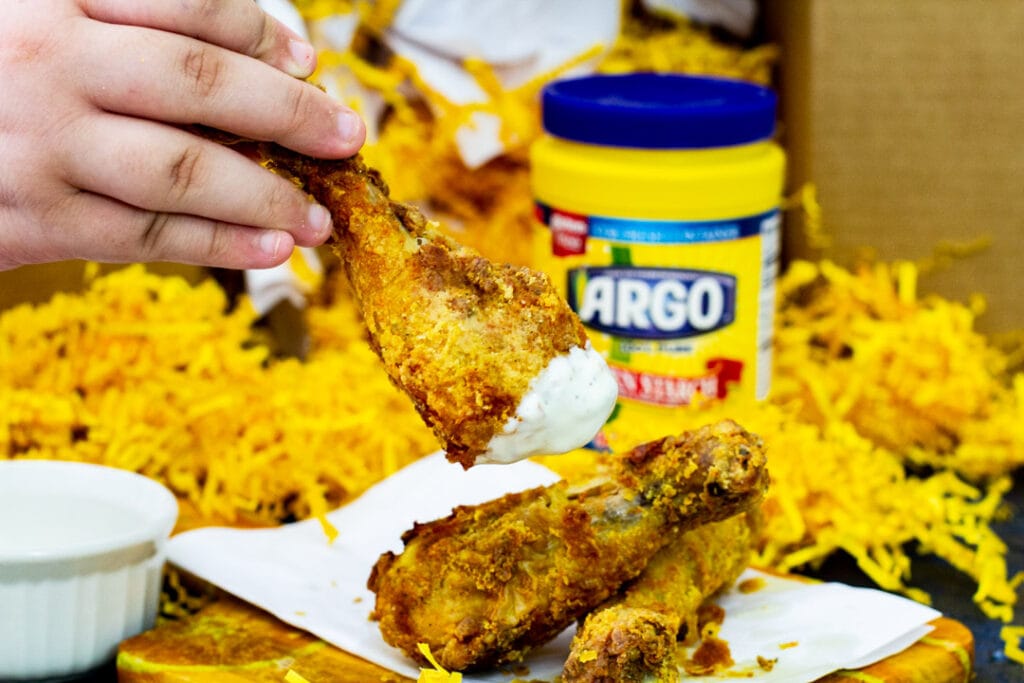 📖 Recipe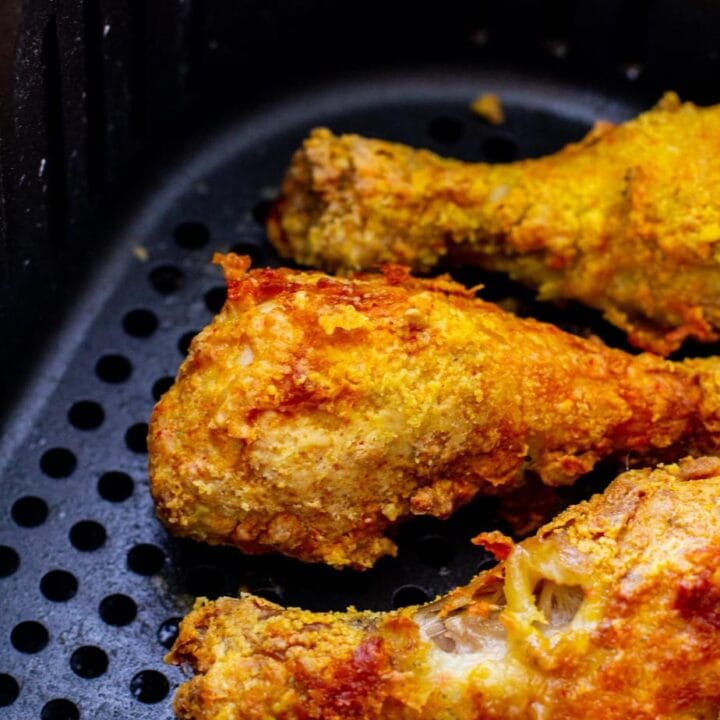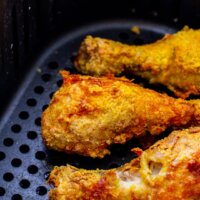 Extra Crispy Puerto Rican Chicken Drumsticks
Crispy Puerto Rican fried chicken is made with a blend of flour and cornstarch that is mixed with popular Latin spices and dipped in an egg wash to create the best fried chicken recipe!
Print
Pin
Rate
Ingredients
12

chicken drumsticks

1

teaspoon

garlic powder

1

tablespoon

oregano

1

teaspoon

salt

½

teaspoon

black pepper

5

eggs

¼

cup

milk

1 ½

cups

cornstarch

1 ½

cups

all purpose flour

2-3

Sazon seasoning

2

tablespoons

Adobo seasoning

1

tablespoon

oregano

optional

cooking spray
Instructions
Dry chicken drumsticks with paper towels and then place into a large bowl.

Season chicken with garlic powder, oregano, salt, and pepper. Massage chicken and let marinate for 30 minutes.

In another large bowl, whisk together eggs and milk, set to the side.

In a large bowl or pan, whisk together Argo cornstarch, flour, sazon, Adobo, and oregano, set to the side.

In steps, you will take the seasoned chicken, and one by one, dip into the egg wash, then roll into the Argo cornstarch and flour mixture.

Continue until all chicken is done.

Preheat air fryer to 390 degrees Fahrenheit.

Spray bottom of Air Fryer basket with cooking spray, add a single layer of chicken without chicken touching. Spray generously with more cooking spray.

Cook for 25 minutes, or until chicken reaches 180 degrees Fahrenheit.
Notes
Cooking spray helps act as the "oil" to help "fry" the chicken, as if you were deep frying it. Really spray your chicken so all the spots get a beautiful golden color and "crisps" as if it were fried.
If you have larger pieces of chicken you can cook another 5 minutes.
Want even crispier chicken? During the last 5-7 minutes, crank the heat to 400 degrees!
Nutrition
Calories:
550
kcal
|
Carbohydrates:
58
g
|
Protein:
36
g
|
Fat:
18
g
|
Saturated Fat:
5
g
|
Cholesterol:
277
mg
|
Sodium:
637
mg
|
Potassium:
494
mg
|
Fiber:
2
g
|
Sugar:
1
g
|
Vitamin A:
312
IU
|
Calcium:
81
mg
|
Iron:
4
mg
Side Ideas
What should I serve with Puerto Rican fried chicken?
Air fried chicken can be eaten with almost anything on the side! For this Puerto Rican chicken recipe, we're sticking to a similar flavor profile: