This shop has been compensated by Collective Bias, Inc. and its advertiser. All opinions are mine alone. #CrispyCreations #CollectiveBias #CrispiestChicken

Puerto Rican fried chicken is an absolute must make fried chicken recipe! Tender moist chicken that is perfectly seasoned and rolled in a secret coating for the most perfect crispy chicken recipe. Guess what?! I'm sharing what ingredient makes fried chicken have that special "crunch," making it the crispiest chicken!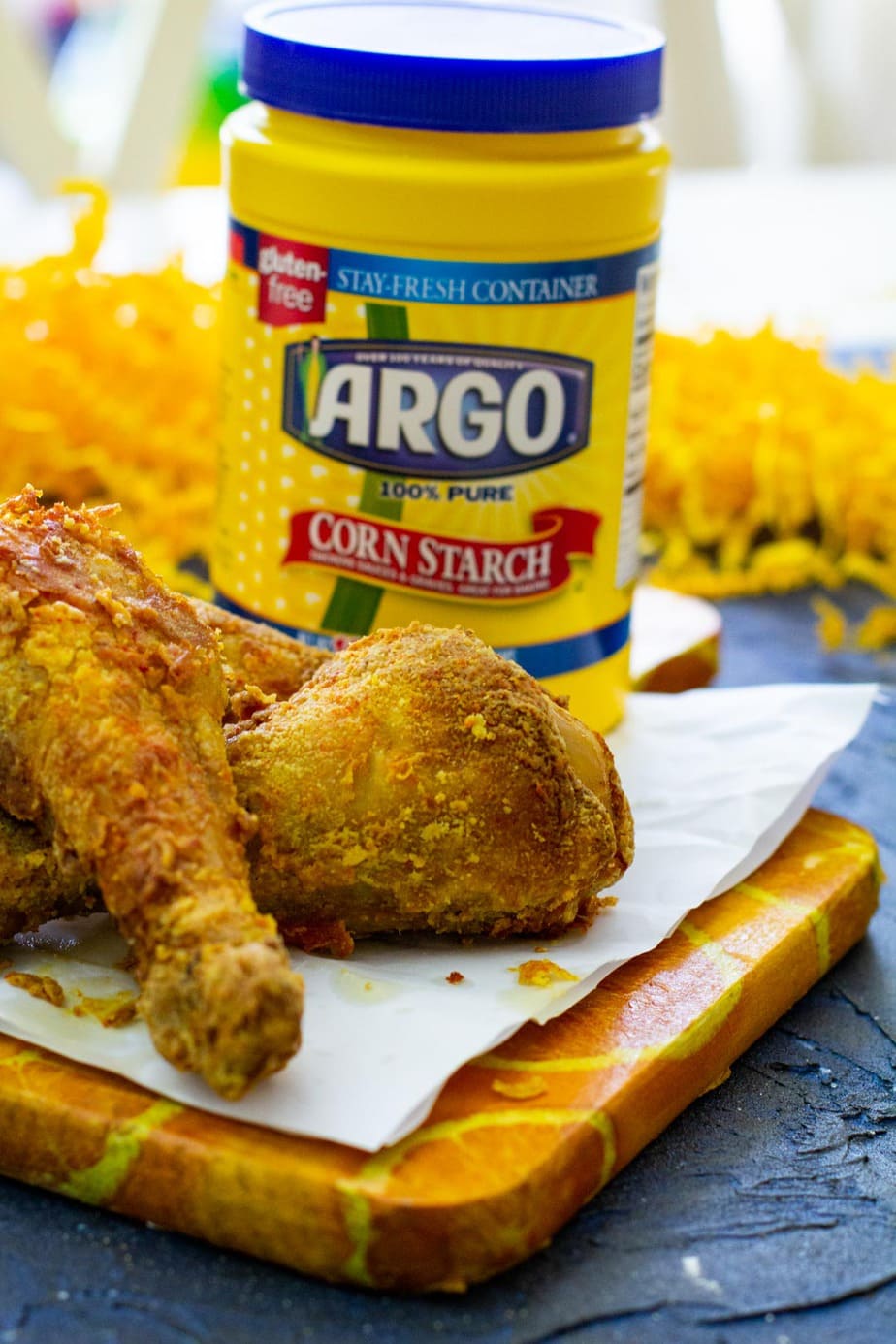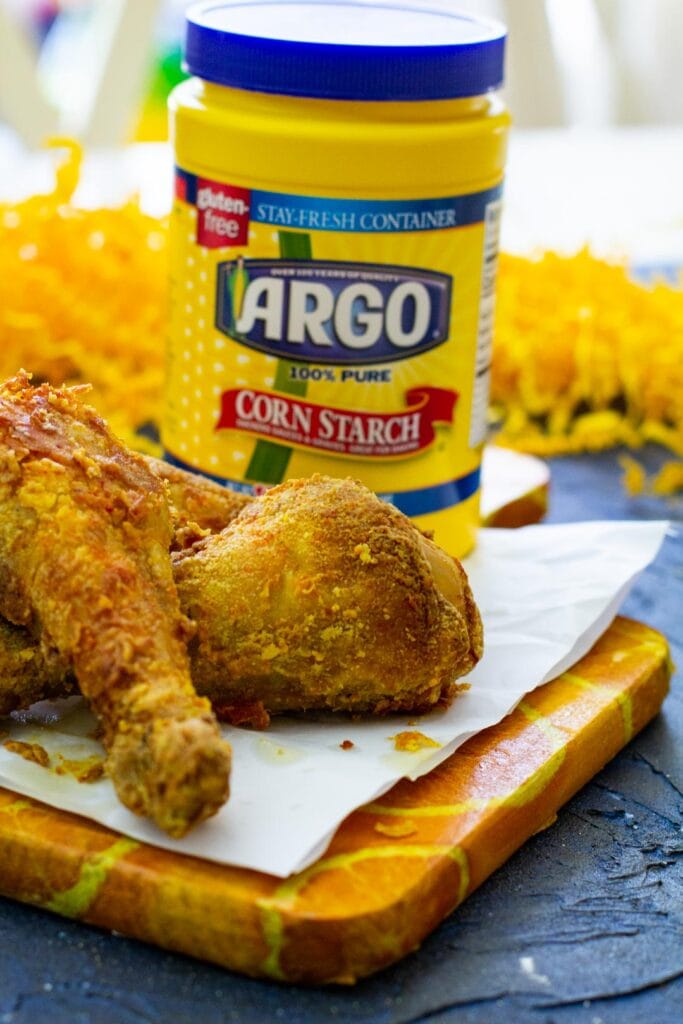 How do you make the crispiest chicken?
Crispy chicken is all about the outside layer! Have you ever gone to a famous fried chicken restaurant and wondered how they get that perfectly crisp coating? Most people assume fried chicken only uses flour, but the truth is that most chefs add Corn Starch​ to their flour mixture! Adding Argo® Corn Starch​ to your flour mixture batter is the secret to getting the perfect Puerto Rican fried crispy chicken with an airy texture! If you've ever had General Tso's Chicken, a classic and popular Chinese American dish, you'll know that the chicken is crispy on the outside and moist and tender on the inside. The secret is that it is made with Argo® Corn Starch​​.
How do you make gluten free fried crispy chicken?
This recipe calls for a flour and Argo® Corn Starch​ mixture. If you're looking for a gluten free recipe, omit the flour and just use a light, thin layer of the Argo® Corn Starch​ (with seasonings added) and mix an egg into the same bowl as the Argo® Corn Starch​, now dipping into the egg wash, then the Argo® Corn Starch ​for a gluten free version.
How do you make Puerto Rican fried chicken?
First, you have to season your chicken to make the best Puerto Rican fried chicken recipe. Typically, all meats begin with the same flavor profile. Salt, black pepper, oregano, and garlic powder. I love using dried oregano since I love seeing the pop of green, but I was out and used ground Dominican oregano. You can use whichever you have on hand. Dry your chicken with paper towels, place chicken into a large dry bowl and massage your chicken with the seasonings. I like to let the chicken sit for 15-20 minutes before continuing. What people notice about Puerto Rican chicken is the flavor profile. What is important is to season each step along the way, not just the coating.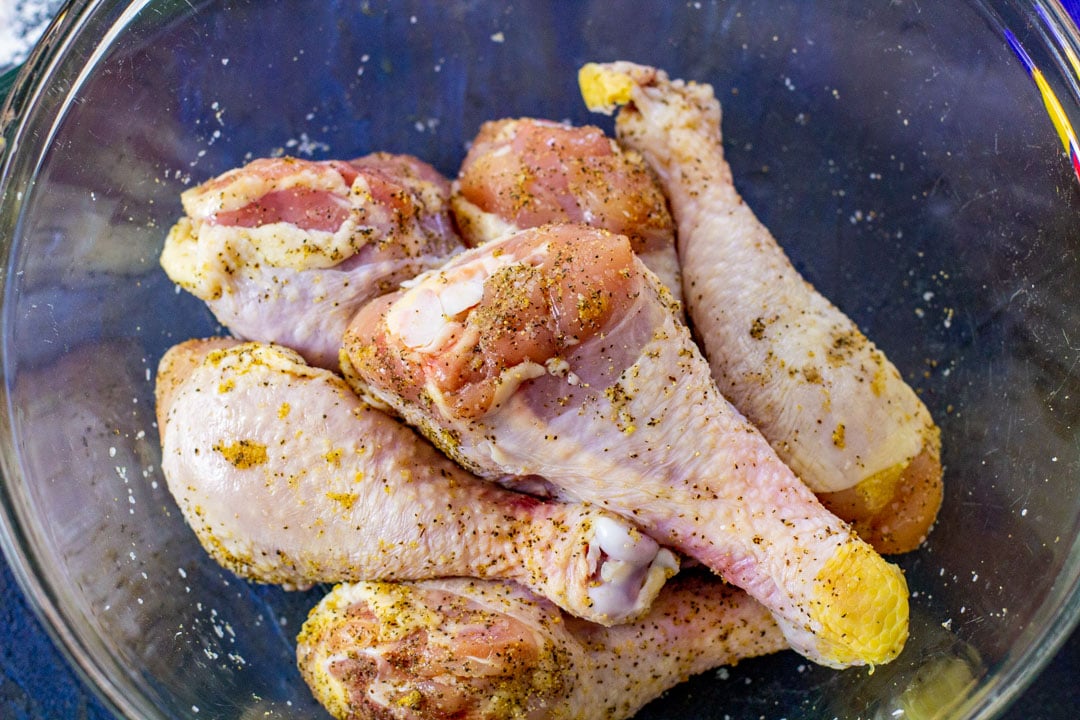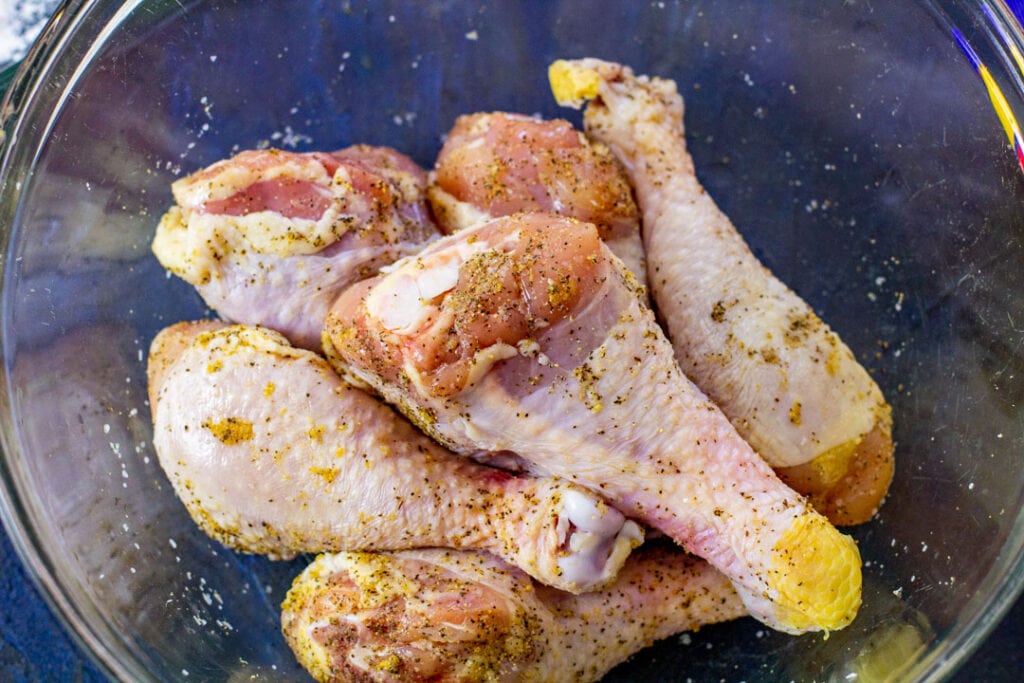 How do you make the coating for crispy fried chicken?
Now we get to the secret ingredient! For this Puerto Rican fried chicken recipe, we're going to make the coating with an even mixture of Argo® Corn Starch​ and all purpose flour. Adding Argo® Corn Starch​ is the secret ingredient that will provide that coveted crispiest texture everyone is looking for! Argo® Corn Starch​ does not have a flavor profile, so the integrity of your recipe will remain. What is also perfect about adding Argo® Corn Starch​ is that it's like a blank canvas ready to be seasoned to not only provide a crispy layer but to provide a crispy flavorful layer when you add in the spices! Add the Argo® Corn Starch​ and flour mixture to a long pan or plate/platter. Next, we're going to add in a generous amount of Sazon, Adobo seasoning, and oregano for this crispy Puerto Rican chicken recipe. Whisk the ingredients together with a fork and set to the side.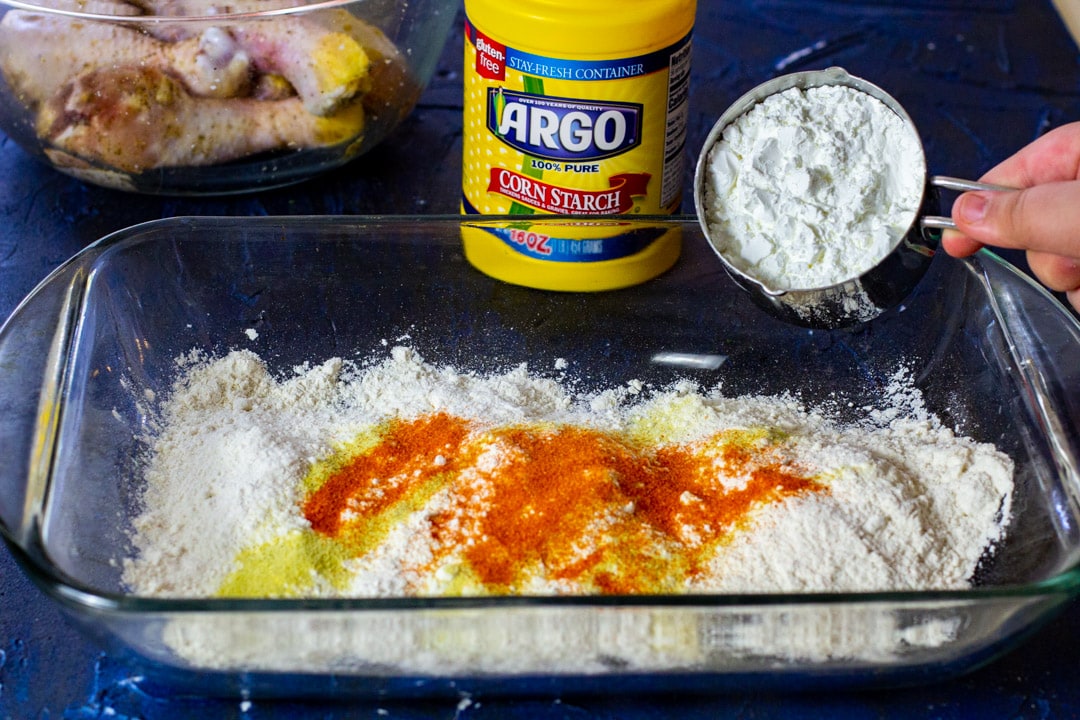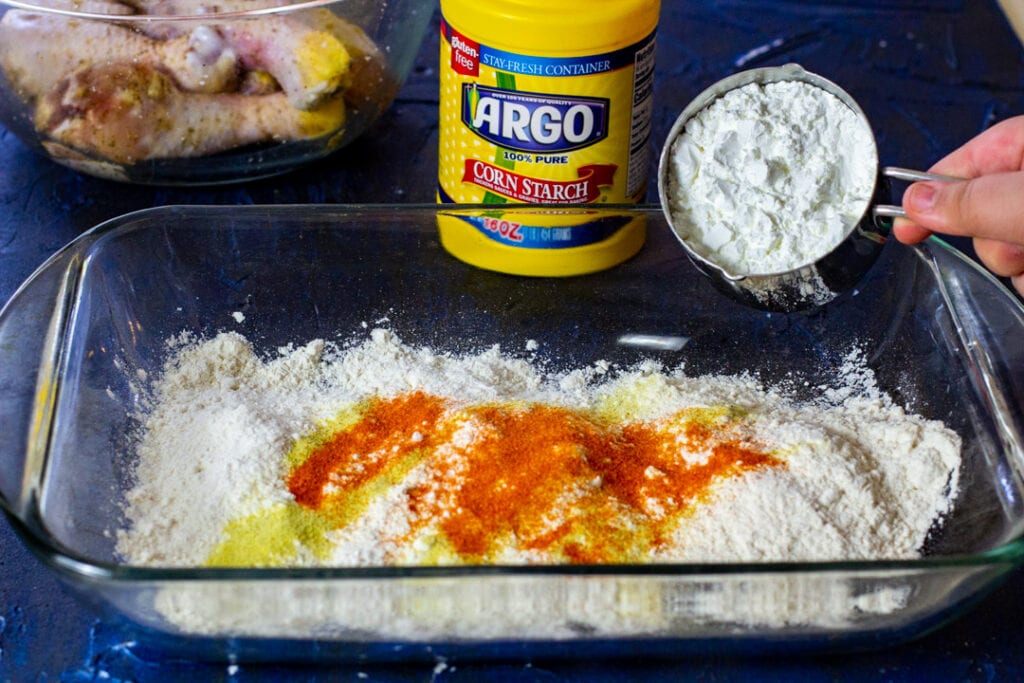 In another bowl, it's time to whisk together about 4-5 eggs and a 1/4 cup of milk or water to create an egg wash. Quick tip! Have two kitchen tongs with you. One for dipping the chicken into the egg wash and the other for rolling the chicken in the coating. This helps prevent a huge mess all over your hands and keeps the integrity of the coating on the chicken.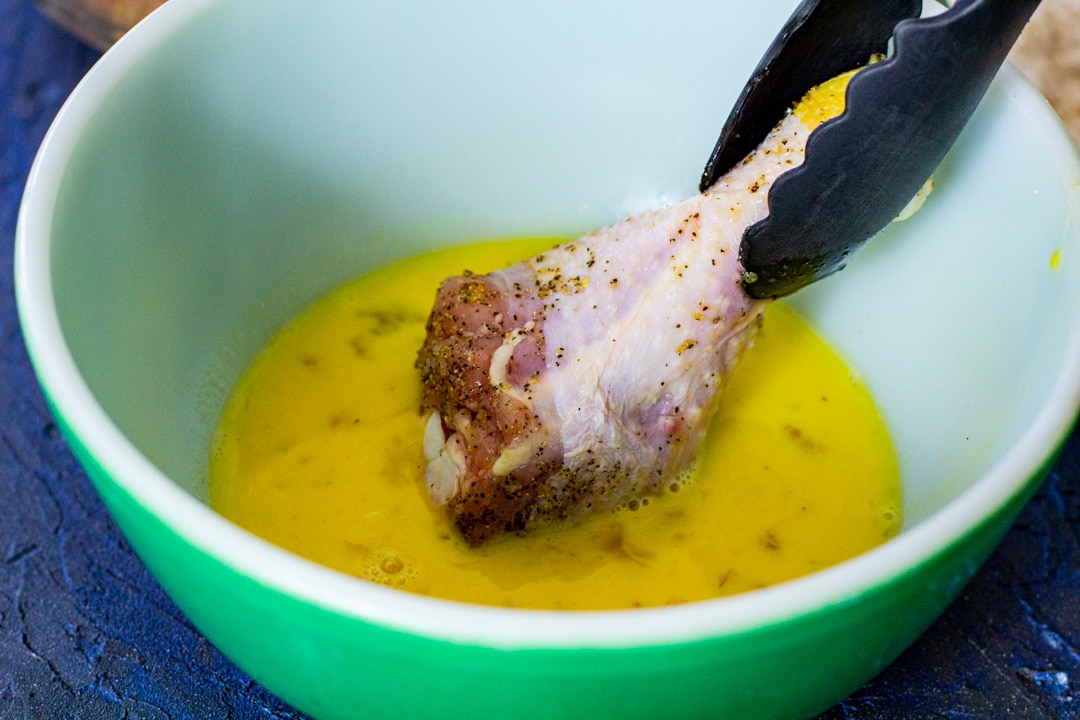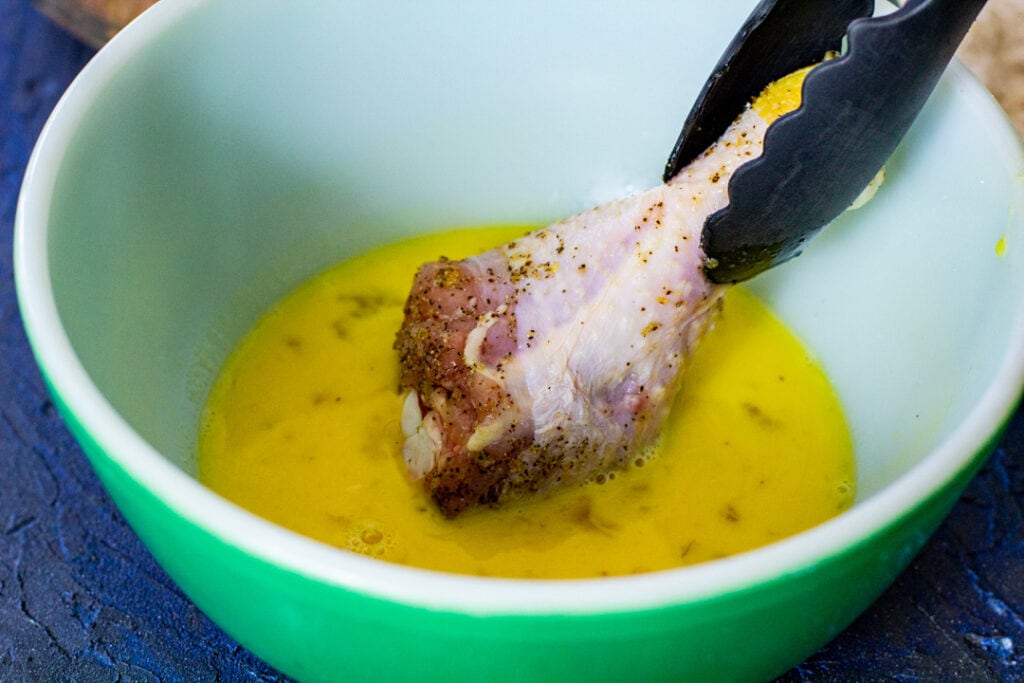 I like to do this in batches. I only coat as many as will fit into a frying pan or the air fryer. You don't want a soggy chicken coating. Take your egg dipped chicken and place it into our secret blend of Argo® Corn Starch​ and flour mixture, gently rolling it around. If you're making air fried crispy chicken, coat it gently. I find that too much coating in an air fryer does not give you a nice crisp. If you're making traditional crispy fried chicken with oil, go ahead and double dip the Puerto Rican chicken!
What is double dipping for fried chicken?
Double dipping for fried chicken just means that you will coat the chicken through the egg wash, then roll through the coating blend and repeat it one more time.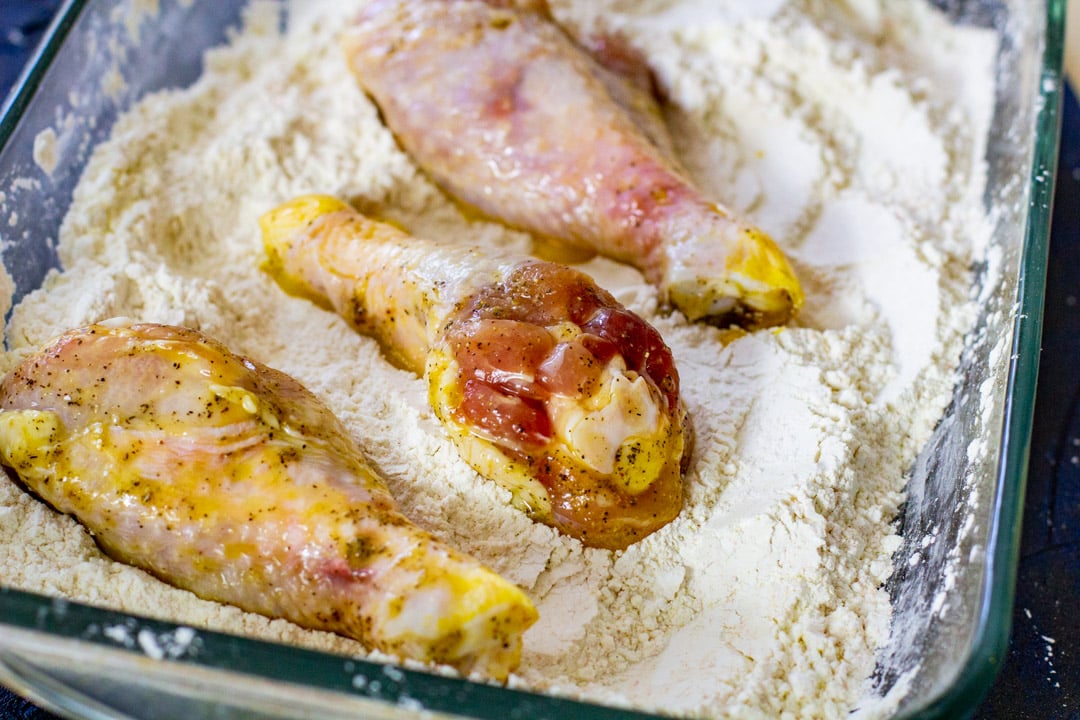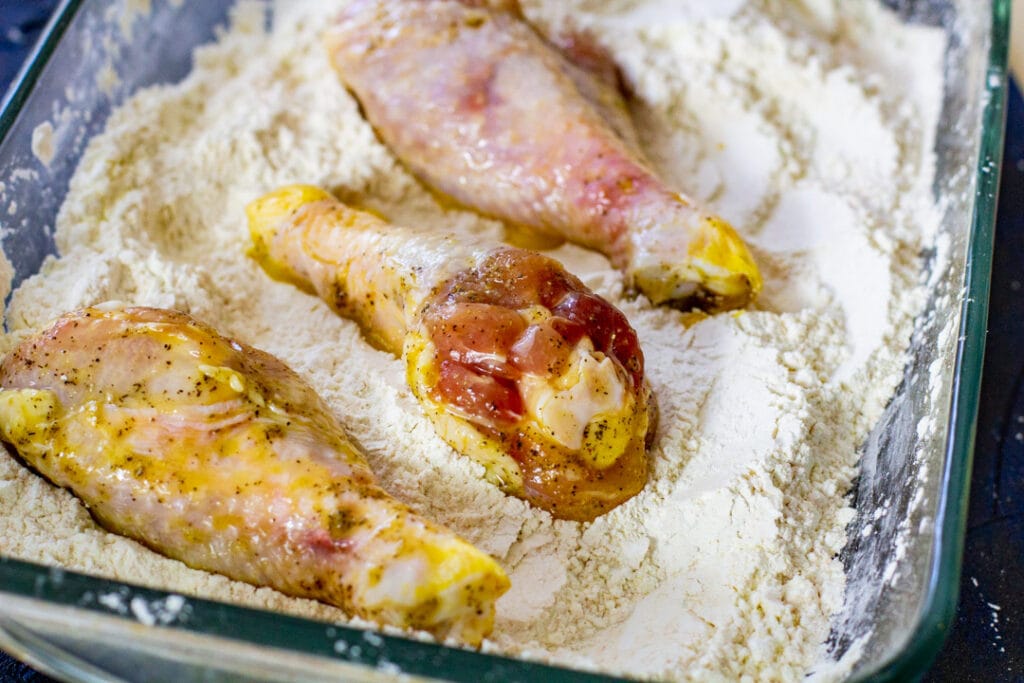 Now that your chicken is well coated, it's time to fry, air fry, or bake!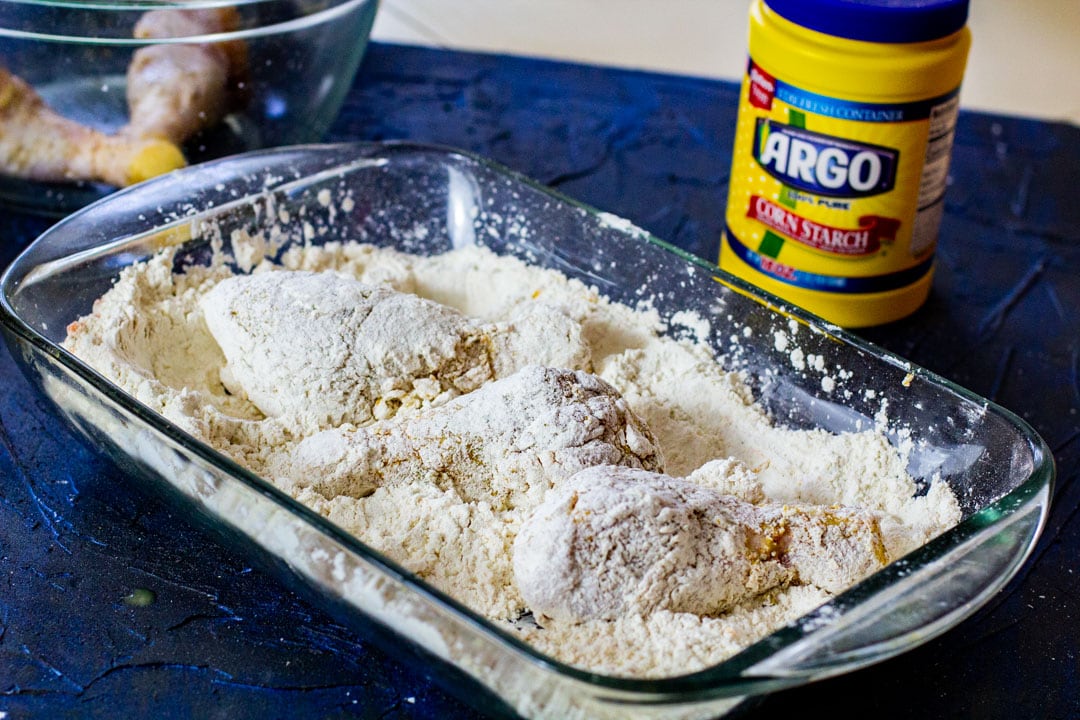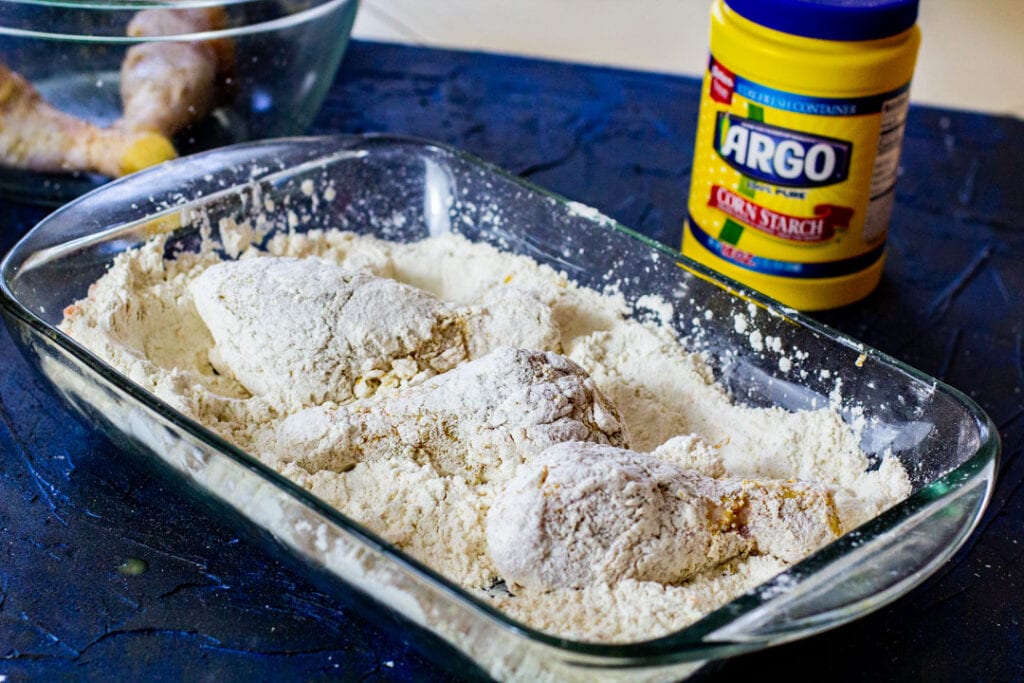 Fried chicken can be changed with its flavors. You can go Cajun, Southern, Jamaican, etc. We love our Puerto Rican fried chicken, but always remember that the secret ingredient for making a crispy airy fried chicken recipe is using Argo® Corn Starch​! Argo® Corn Starch is the leading corn starch brand with over 100 years of quality and trust over multiple generations. Be sure to check out the Argo® website for more recipe ideas and uses for their products!
Other uses for Argo® Corn Starch:
Thicken sauces or gravies
Make Chinese American stir fried chicken dishes (think General Tso's or Kung Pao Chicken)
You can make Natilla with Argo cornstarch. 🙂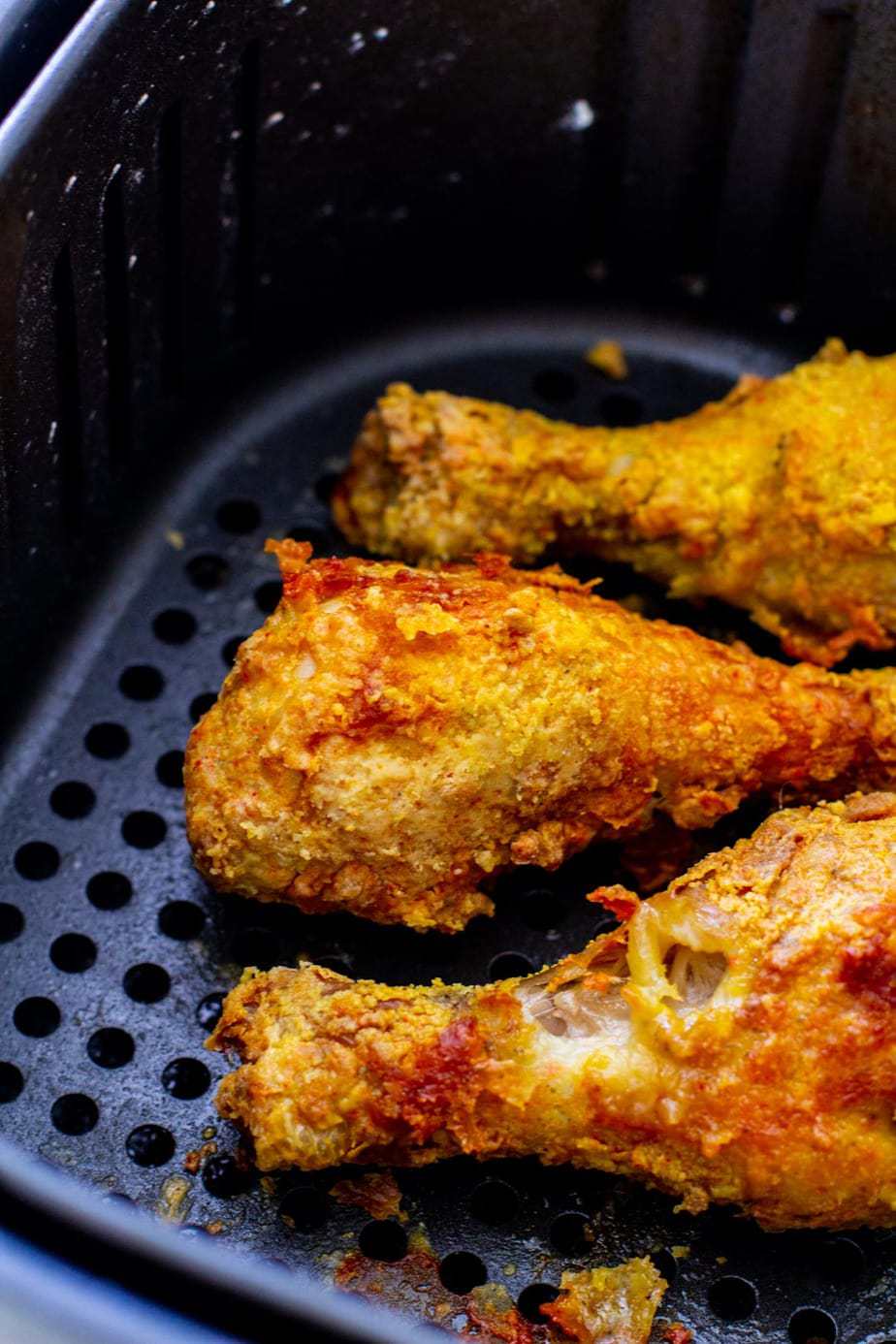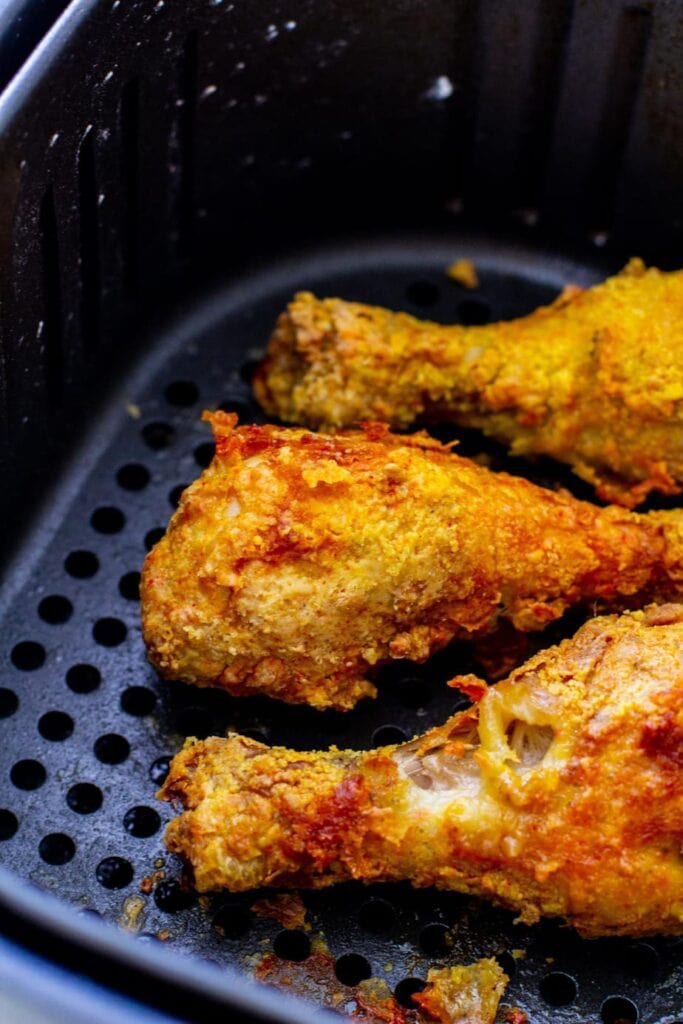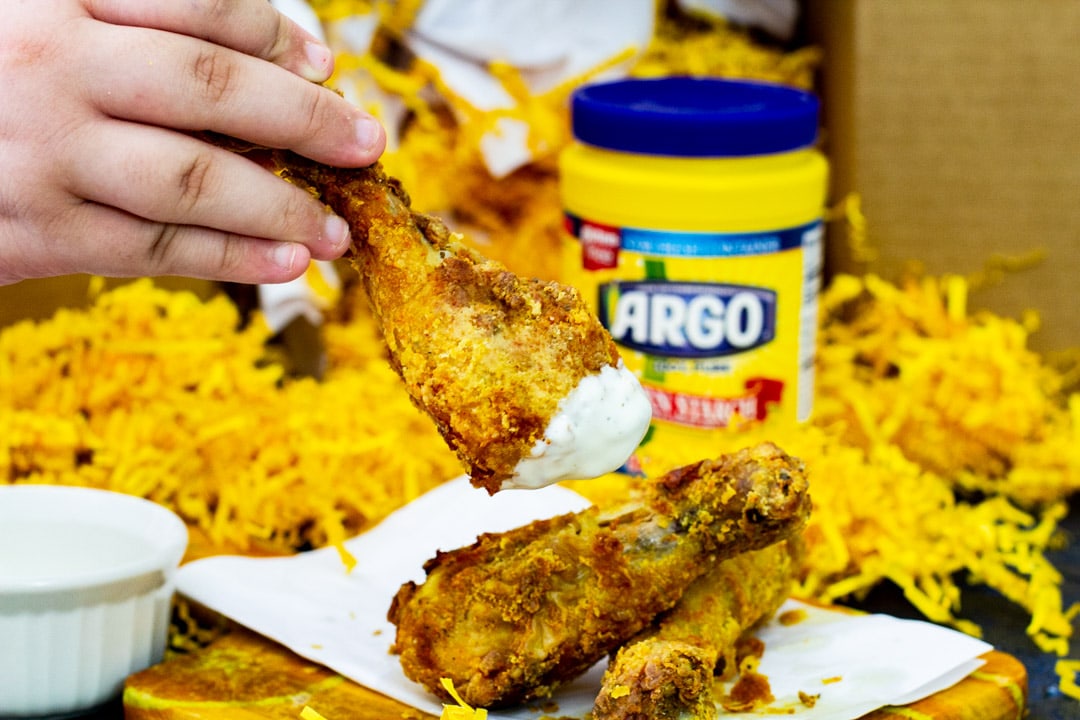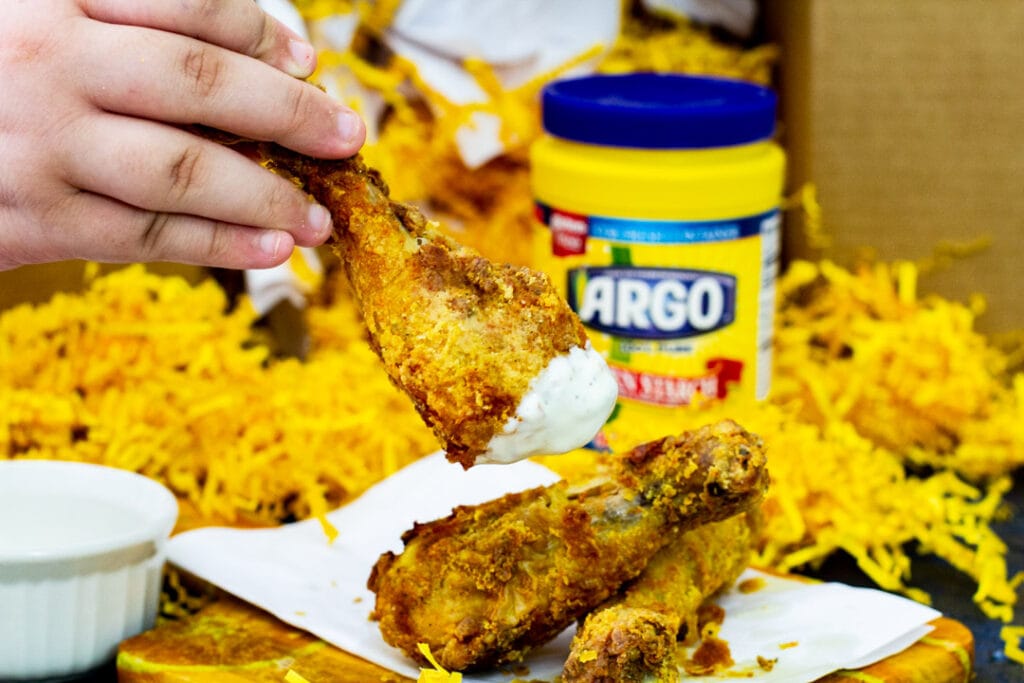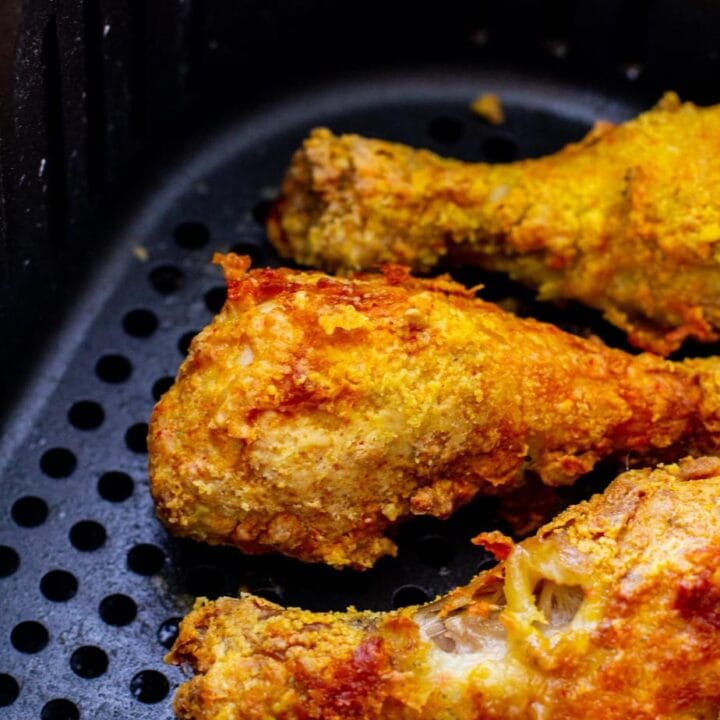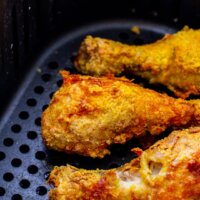 Extra Crispy Puerto Rican Chicken Drumsticks
Enjoy this flavorful Adobo spiced chicken drumstick recipe that is cooked in the air fryer, for a healthier version!
Print
Pin
Rate
Total Time:
1
hour
15
minutes
Ingredients
12

chicken drumsticks

1

teaspoon

of garlic powder

1

tablespoon

of oregano

1

teaspoon

of salt

1/2

teaspoon

of black pepper

5

eggs

1/4

cup

of milk

1 1/2

cups

of Argo cornstarch

1 1/2

cups

of all purpose flour

2-3

packets of Sazon seasoning

2

tablespoons

of Adobo seasoning

1

tablespoon

of oregano

optional

cooking spray
Instructions
Dry chicken drumsticks with paper towels and then place into a large bowl.

Season chicken with garlic powder, oregano, salt, and pepper. Massage chicken and let marinate for 30 minutes.

In another large bowl, whisk together eggs and milk, set to the side.

In a large bowl or pan, whisk together Argo cornstarch, flour, sazon, Adobo, and oregano, set to the side.

In steps, you will take the seasoned chicken, and one by one, dip into the egg wash, then roll into the Argo cornstarch and flour mixture.

Continue until all chicken is done.

Preheat air fryer to 390 degrees Fahrenheit.

Spray bottom of Air Fryer basket with cooking spray, add a single layer of chicken without chicken touching. Spray generously with more cooking spray.

Cook for 25 minutes, or until chicken reaches 180 degrees Fahrenheit.
Notes
Cooking spray helps act as the "oil" to help "fry" the chicken, as if you were deep frying it. Really spray your chicken so all the spots get a beautiful golden color and "crisps" as if it were fried.
If you have larger pieces of chicken you can cook another 5 minutes.
Want even crispier chicken? During the last 5-7 minutes, crank the heat to 400 degrees!