Puerto Rican pernil is made easily with this pork adobo recipe!
Pernil recipes are a given during the holidays in any Latino household. My father's Cuban pernil recipe is a must-make and our simple Instant Pot pernil is great for those in a rush or if you want to shred pernil pork for Cuban sandwiches or pork taquitos.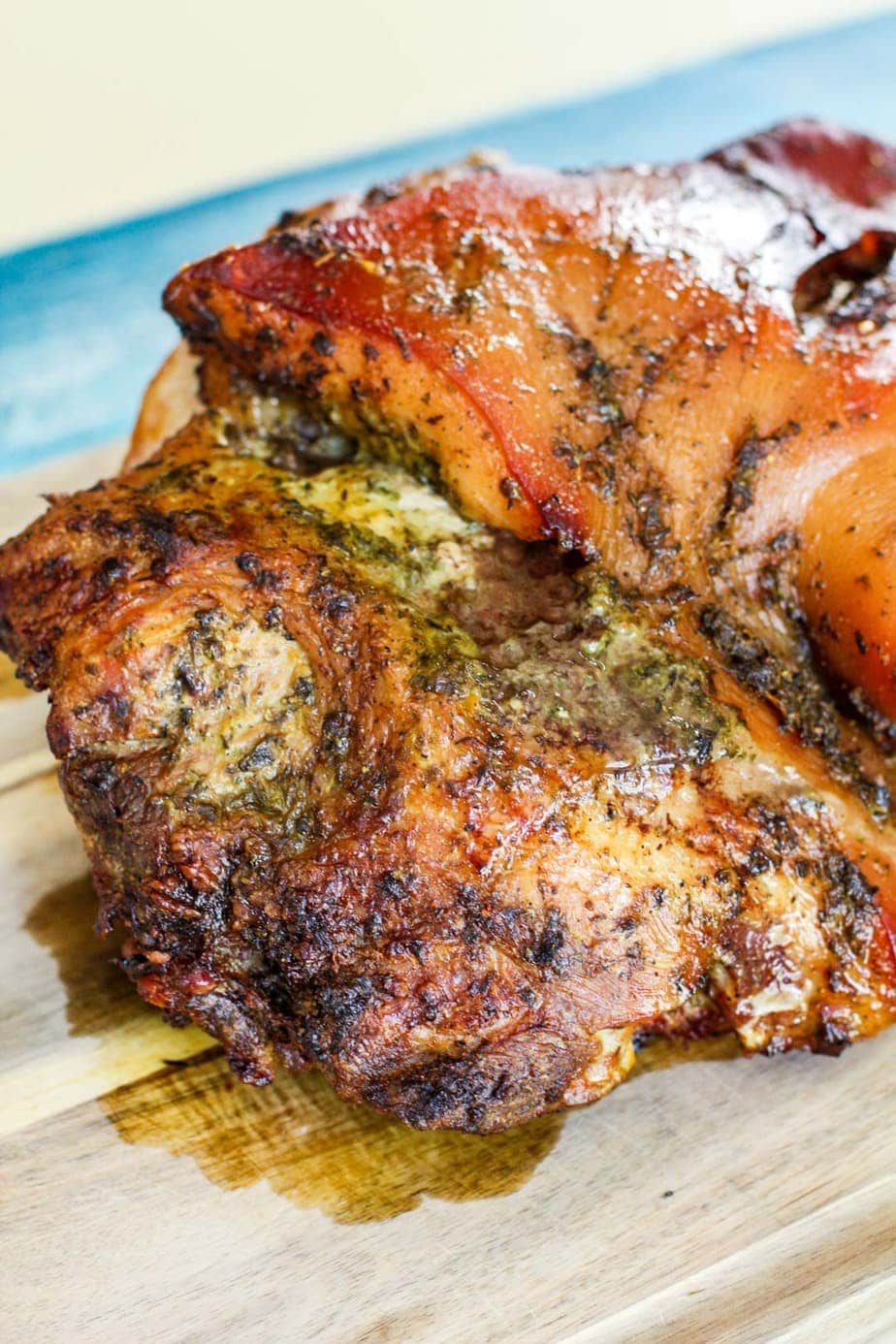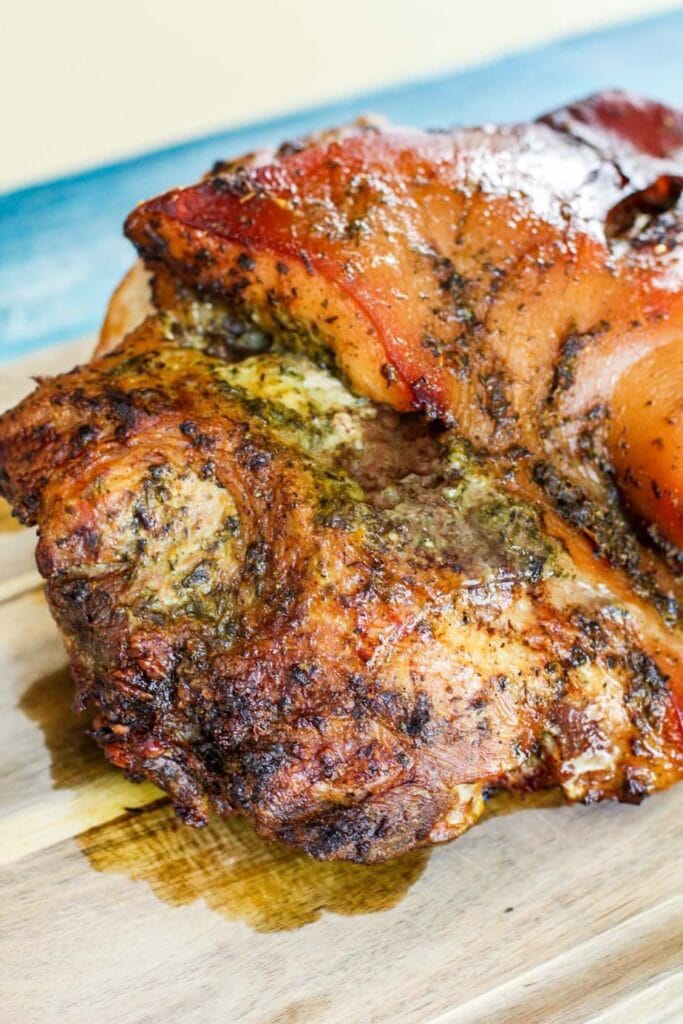 What is pernil?
Pernil is a roasted pork recipe. Traditionally, whole pork is roasted over an open fire for many hours until the pernil pork is tender and able to easily be pulled apart and shredded. If you're not having a family reunion where you will be feeding more than 50 people, the go to pork for pernil is a picnic pork shoulder. Picnic pork shoulder will have a large bone inside and skin attached to the top.
The skin is a coveted part of any pernil! Chicharron is made from pork skin, it is super flavorful and extra crispy!
Typically, Puerto Rican pernil is a pernil that is made with salt, pepper, lots of garlic, some people like to add homemade sofrito, and then each family has a different recipe for herbs and spices used.
For this Puerto Rican pernil recipe, we're going for an easier version by making adobo seasoning the main ingredient!
In the United States, pernil is almost always roasted in the oven, especially in the north!
Pernil in English means roasted pork
What is Adobo seasoning?
Goya adobo seasoning is a Latin inspired all purpose seasoning with seasonings such as garlic powder, onion powder, oregano, turmeric and a few more that is finely grounded to create a very fine powder.
Adobo seasoning is a favorite among Latinos for easy seasoning on burgers, meats, fries etc. My favorite way to add adobo seasoning to quickly transform a dish is to sprinkle it on burgers for grilling. Seriously, it is a game changer!
If you're watching your sodium levels, Goya offers a "light" low sodium Adobo seasoning option. Here is a list of all of Goya's Adobo seasoning options.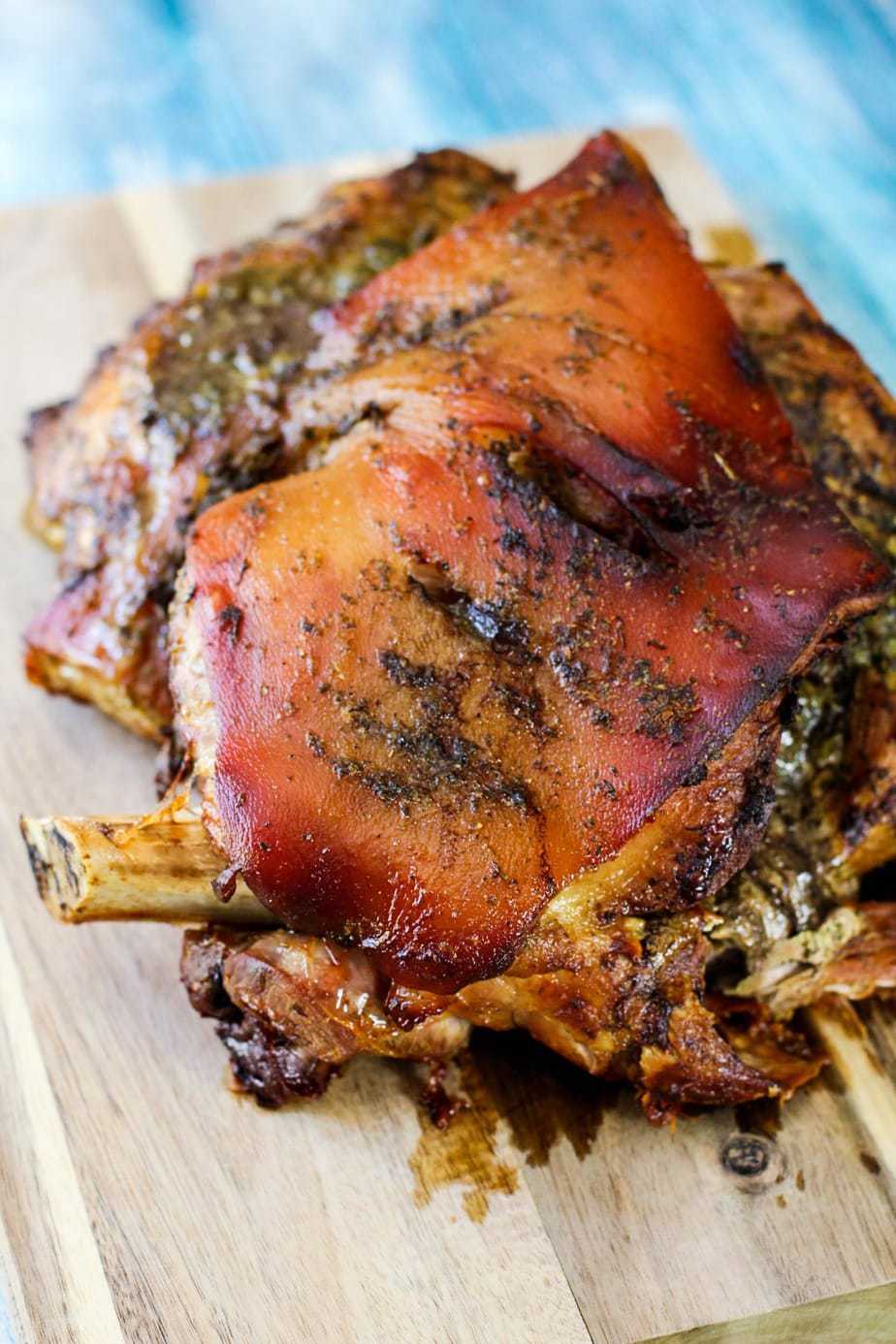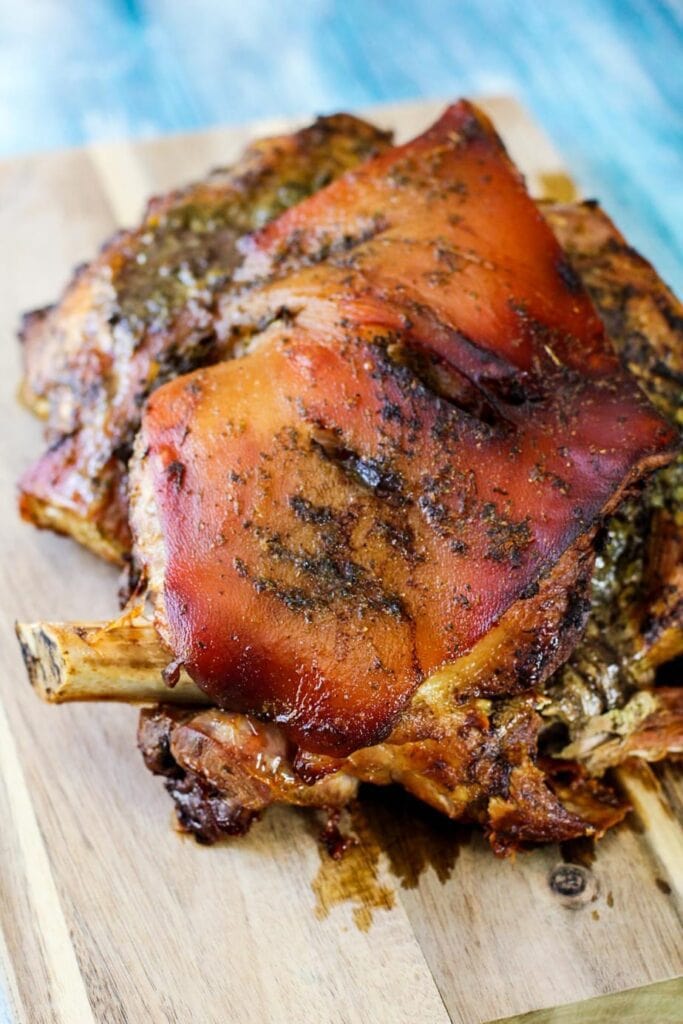 Ingredients For Pork Adobo Recipe| Adobo Pernil Ingredients
pork shoulder
white vinegar
garlic cloves
Adobo seasoning
oregano
ground thyme
salt
pepper
corriander
orange juice
lime juice
lemon juice
olive oil
How To Make Pernil
First, before bringing home the pernil, ask your butcher to peel back the skin and leave one side attached as a "flap". Lifting the skin allows you to season the inside which increases the flavor of the pork.
Rinse your pork with a generous amount of white vinegar. I like to let my pork sit in vinegar for about 10 minutes before draining the excess vinegar and seasoning the pork with an Adobo seasoning paste I create with the remaining ingredients.
To create the adobo seasoning paste, into a mortar and pestle, add in your garlic cloves with salt and grind down to create a paste. You can use a food processor and pulse a few times until it's smooth. Add the remaining seasonings, orange juice, lime juice, and lemon juice.
If your mortar and pestle is smaller, just grind the garlic and seasonings, place in a bowl and then whisk in the juices.
Poke holes into your pork all around about an inch deep. Take the Adobo seasoning paste and rub it all over the pork, poking the paste throughout the holes as well.
For the skin, I like to just season it with salt, pepper, and oregano.
Allow the pork to marinate in a fridge, loosely covered for a minimum of 12 hours or preferably overnight.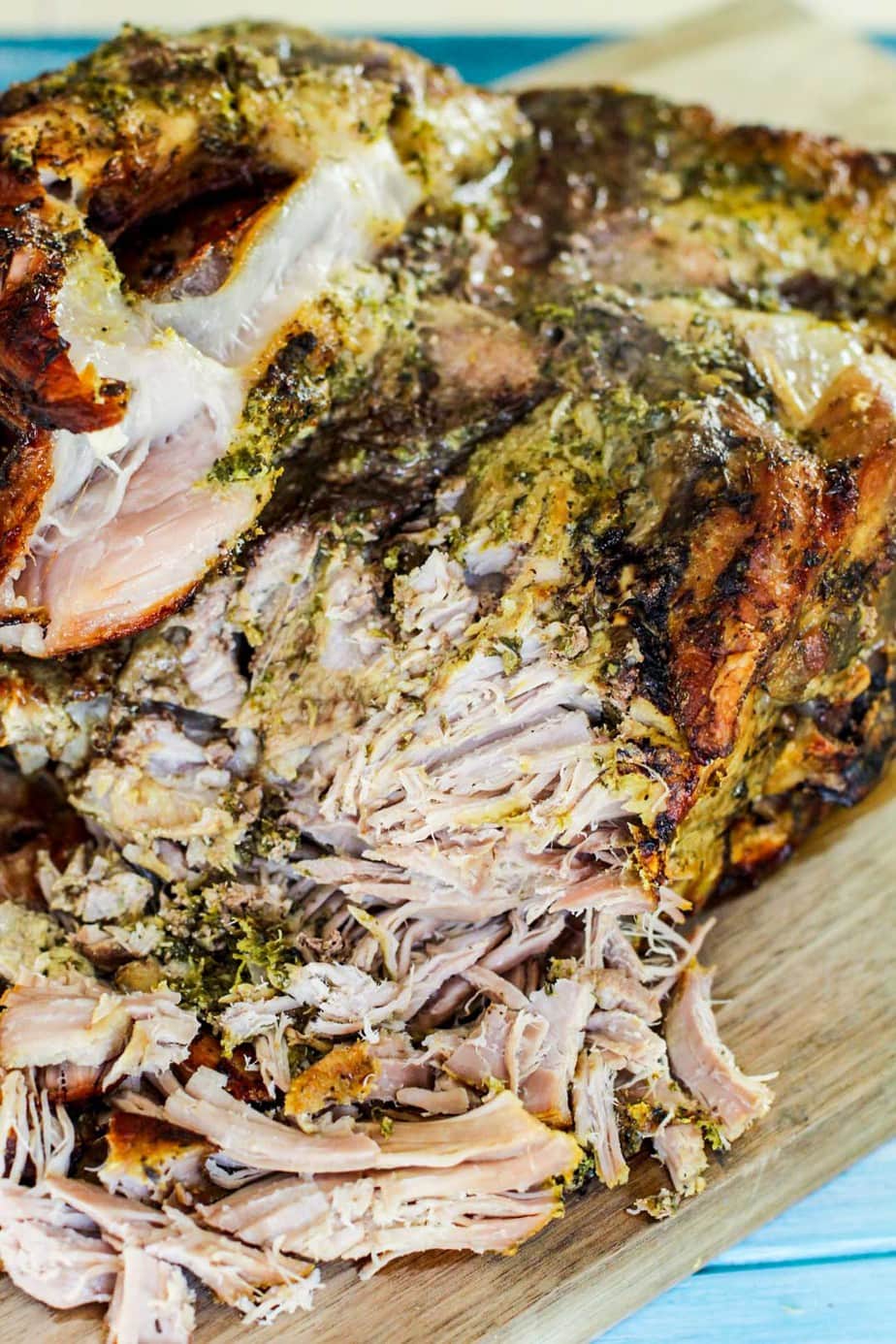 How To Cook Pernil
To cook the pernil, you're going to put the pork into a large roasting pan and bake the pernil slow and low! I personally like to put the pernil into the oven around midnight around 300 degrees Fahrenheit and let it cook overnight!
In the morning, around 6 (six hours later), I raise the heat to about 375 degrees where I let it cook for an hour to allow the skin to crisp.
TIPS FOR SUCCESS:
Roast pork skin side up.
Use a large roasting pan with a tight fitting lid, or aluminum foil -but LOOSELY cover pork so skin does not stick to aluminum foil (spray foil with cooking spray too).
Bake pernil with the lime, lemon, and orange wedges in the pan for a deeper flavor.
Once pernil is cooked, remove from heat and quickly shred pork. Place pork into a large slow cooker and sprinkle with lime juice! Cover and keep on warm until it's time to serve.
Remove skin and crisp under the broiler until it's super crispy!
How long to cook pernil per pound
The general rule of thumb for cooking pernil per pound is 30-45 minutes per pound at 350 degrees Fahrenheit.
For a slow and low pernil roast, cook one pound of pernil for an hour at 275 degrees Fahrenheit.
What should I serve with pernil?
Pernil goes great with Spanish rice, yuca (my favorite side dish to serve with pernil), congri (rice with black beans), or potato salad!
📖 Recipe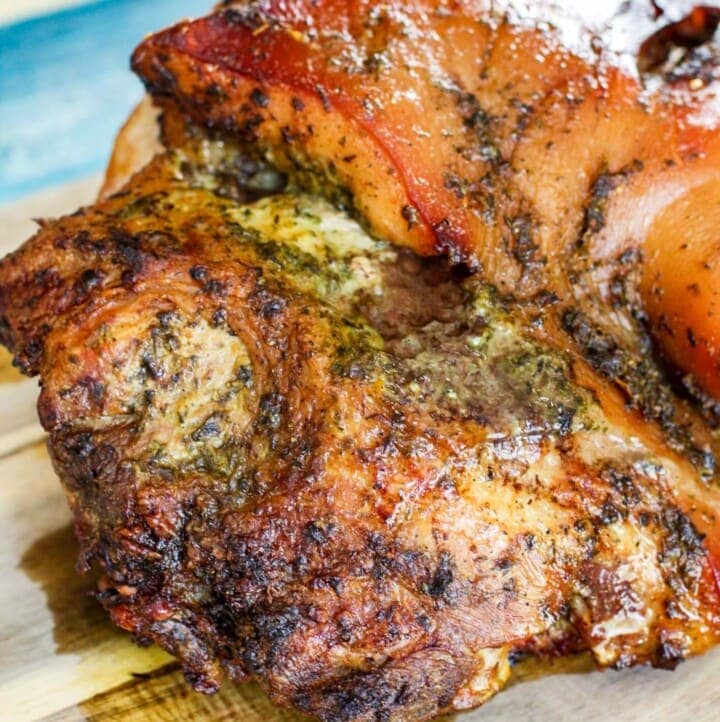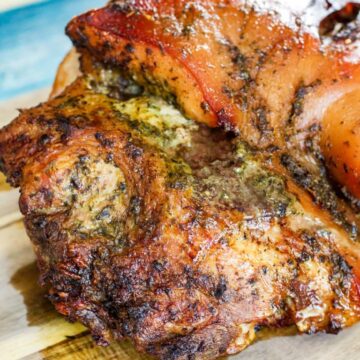 Adobo Seasoned Pork Pernil Recipe
Adobo seasoned pernil is an easy and flavorful roasted pork recipe the family will love!
Print
Pin
Rate
Ingredients
11

pounds

of pork shoulder

skin pulled back

½

cup

of white vinegar

4

cloves

of garlic

1

teaspoon

of salt

3

tablespoons

of adobo seasoning

1

teaspoon

of ground black pepper

½

teaspoon

of corriander

1 ½

teaspoons

of ground thyme

1

tablespoon

of dried oregano

1

whole orange

juiced

3

limes

juiced

2

lemons

juiced

¼

cup

of olive oil
Instructions
In a large mortar and pestle, add in salt and garlic. Crush until garlic becomes a paste. Place garlic into a small bowl and add remaining ingredients except for pork. Set aside.

Dry pork and score skin with a knife. With a sharp knife, lift up skin and poke holes one inch deep all around pork.

Wet pork with vinegar and let it sit for ten minutes.

Drain excess vinegar and season pork with garlic mixture.

Loosely cover pork in a large bowl and refrigerate 12-24 hours.

Preheat oven to 300 degrees Fahrenheit and cook pernil for six hours, loosely covered.

Raise heat to 375 degrees and cook for an hour, uncovered.

Shred pork and place into a slow cooker or pan and keep warm until it's time to serve.
Notes
Use a food processor to pulse the garlic a few times if you do not have a mortar and pestle.
Leftover pernil can be refrigerated up to 3 days and reheated in the microwave.