An Easy To Make Cuban Pernil Instant Pot Recipe a.k.a Cuban Pulled Pork Recipe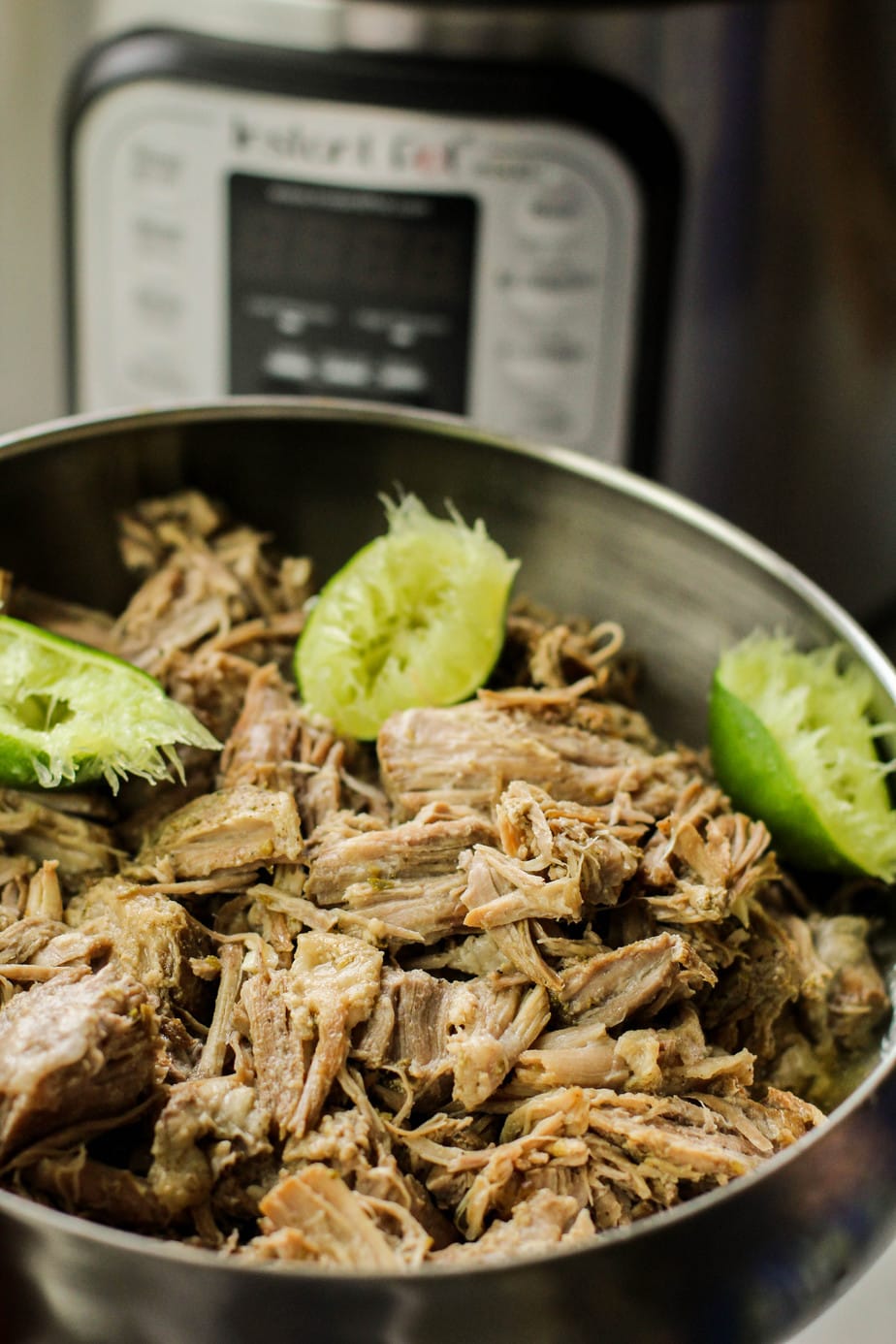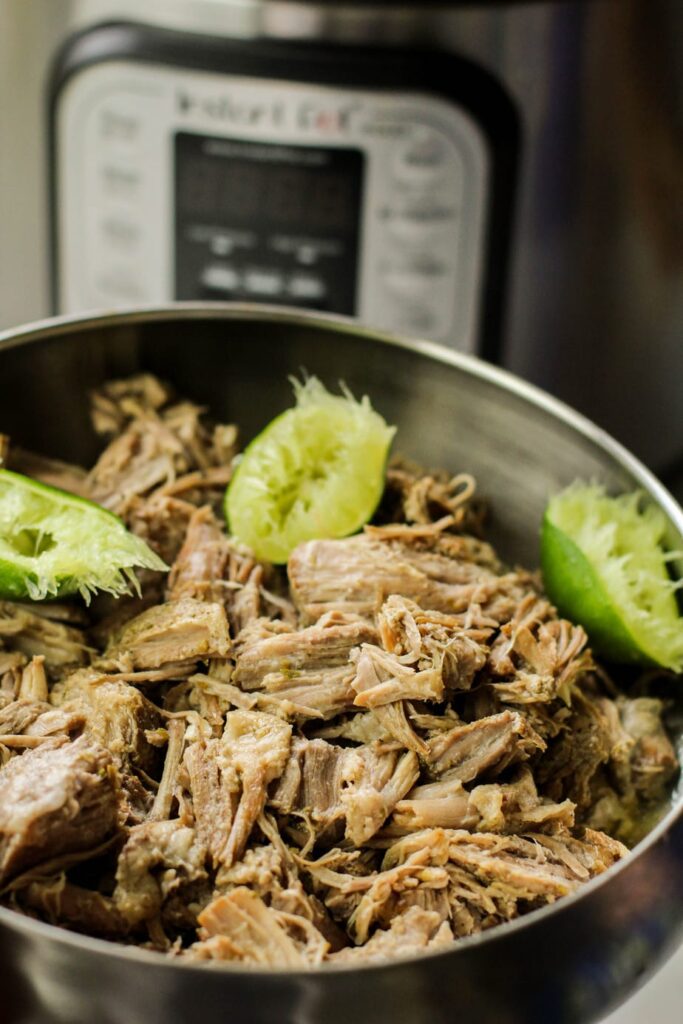 You guys! I'm sooooo happy, guess what I finally purchased? An Instant Pot! I feel so behind in the IP game, pero, it is what it is. I got the biggest one Instant Pot has to offer, and with my family of 7, it is perfect!
Now, of course, you know the first recipe I had to try out in my new Instant Pot is my Cuban pernil recipe! I admit, for this recipe, I went ahead and took an 8 pound pork shoulder and cut it into 3 huge chunks. I took the third biggest chunk, that also had the bone and made a separate recipe for it. So, what I used is about 4 pounds, and it was made in 90 minutes. Shut the front door man. 90 minutes?! Like what?! I'm hooked. Seriously, hooked.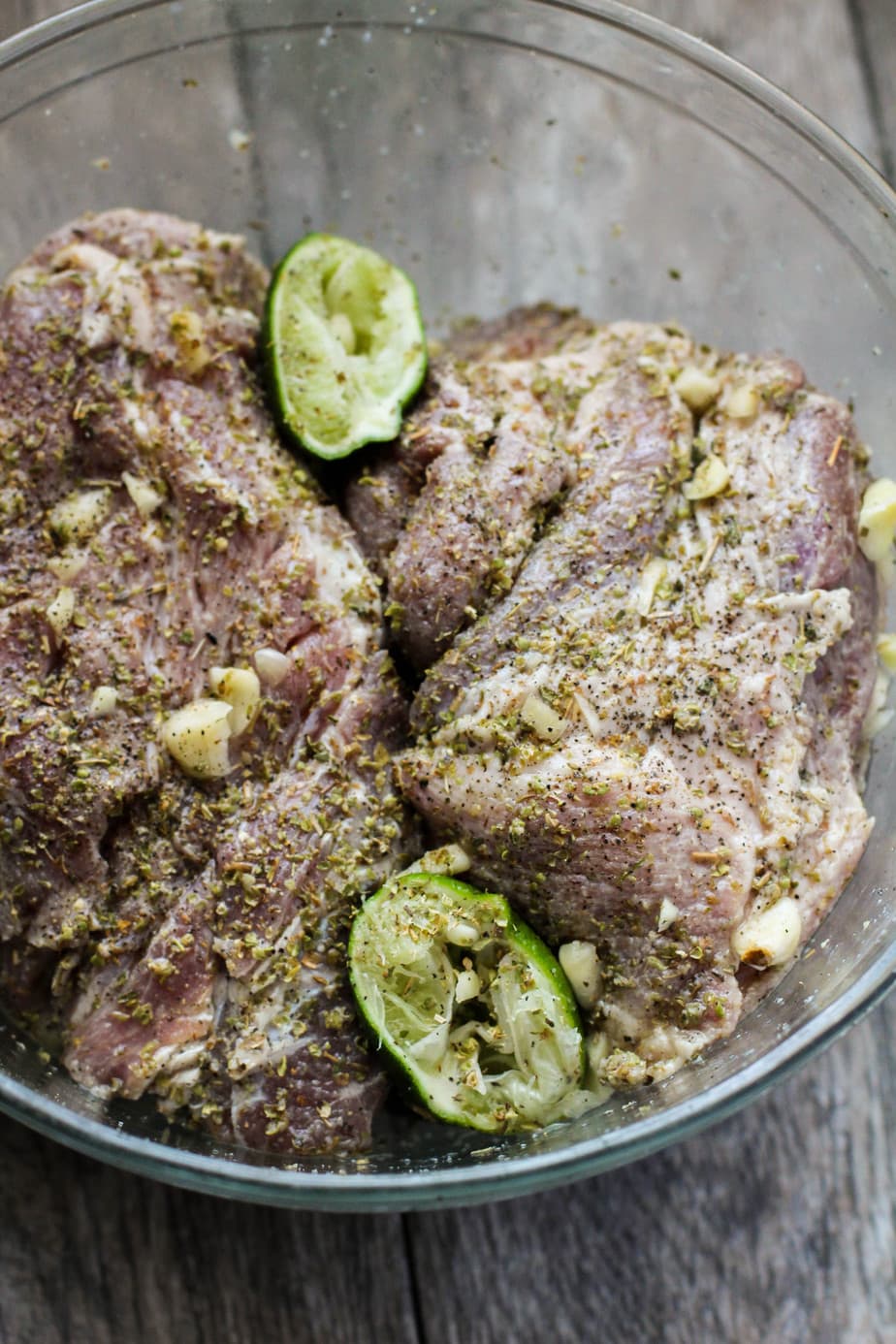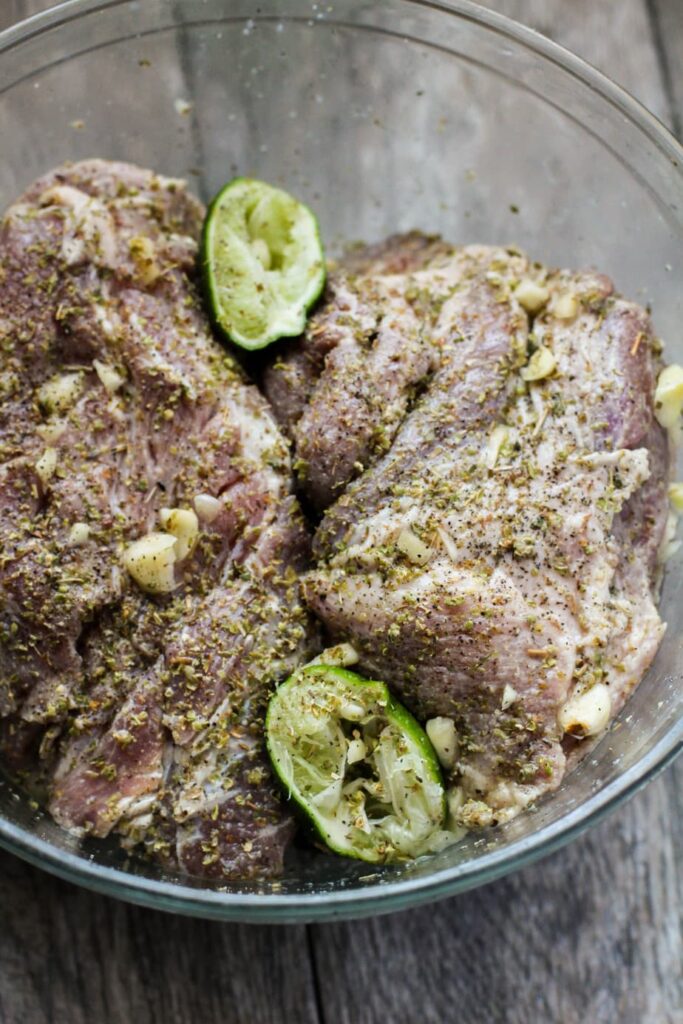 I went easy on this recipe, since I didn't know what to expect. I seasoned my pork with lots of dried oregano, lots of salt and pepper, about 6 cloves of garlic roughly chopped, a little bit of cumin, about a cup of white vinegar, and the juice of four ripe limes. I massaged it all into the pork as well as I could, covered it with aluminum foil and forgot left it in the fridge for 2 days, but 1-12 hours is more than enough.
What is an Instant Pot and How Do I Use It?
If you're wondering what an Instant Pot is, it's an electric pressure cooker. Depending on which model you buy, they have different settings which gives you the opportunity to make basically anything in it. Like. For. Real. You can saute things, make rice, yogurt, meat, soup, and even cheesecake in it. The neat thing is that on Amazon, they have tons of gadgets to put in it to make the most use out of it. I just bought a basket, and made mashed potatoes the other day (oh so freaking good). Guess how long that took? 10 minutes! (From what I recall... give or take a few minutes, give this mama a break!)
The thing is, this recipe takes 90 minutes to make, which will show as 1:30 on the Instant Pot using the meat setting. It takes anywhere between 5-15 minutes for the pressure to build within the Instant Pot before the timer officially begins. Then, when the 90 minutes of cook time is over, you must use the natural steam release (you don't move the top valve, but you MUST turn the Instant Pot off so the pressure stops building and it begins to release).
A lot of people are terrified of the Instant Pot because of the horror stories with the older stove top pressure cookers. The neat thing about the electric pressure cookers is that on top, they have this thing that when still up shows that there is pressure still in it, and you will NOT be able to open the lid, until it drops down. (I don't know the name for it, leave it in the comments if you know.) Talk about assurance! Hashtag #lovemyInstapot
(Here's a link for more Instant Pot tips! )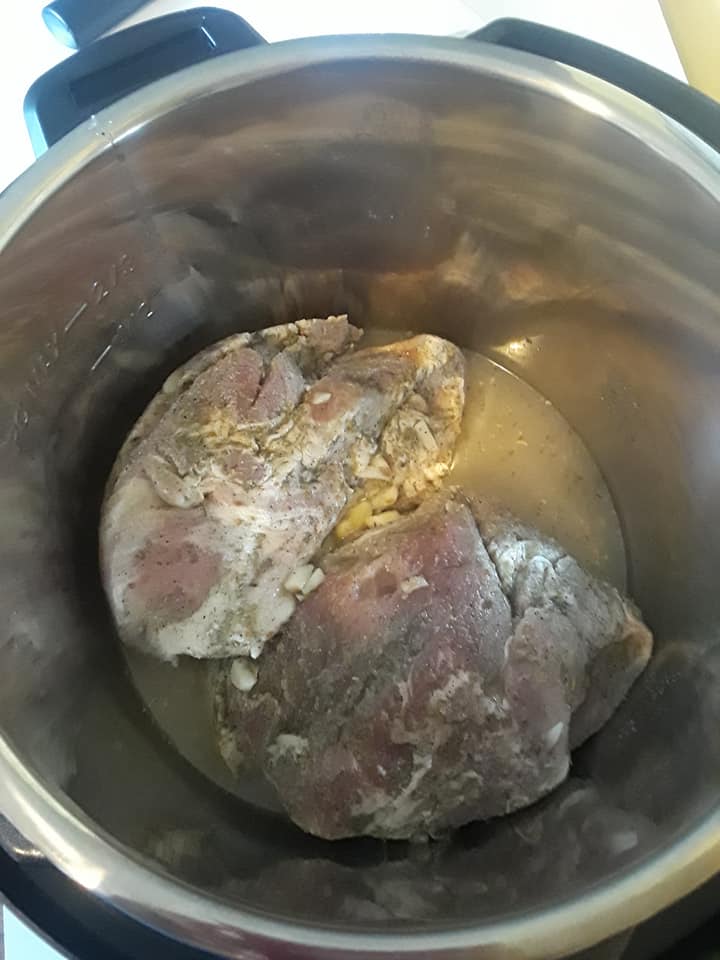 This is a phone shot. Geesh, stop judging me! HAHA just kidding. But remember, with the Instant Pot, you need to add liquid. Since I had the vinegar etc marinating with my pork, I added only a cup of water to the Instant Pot. This helps the cooking.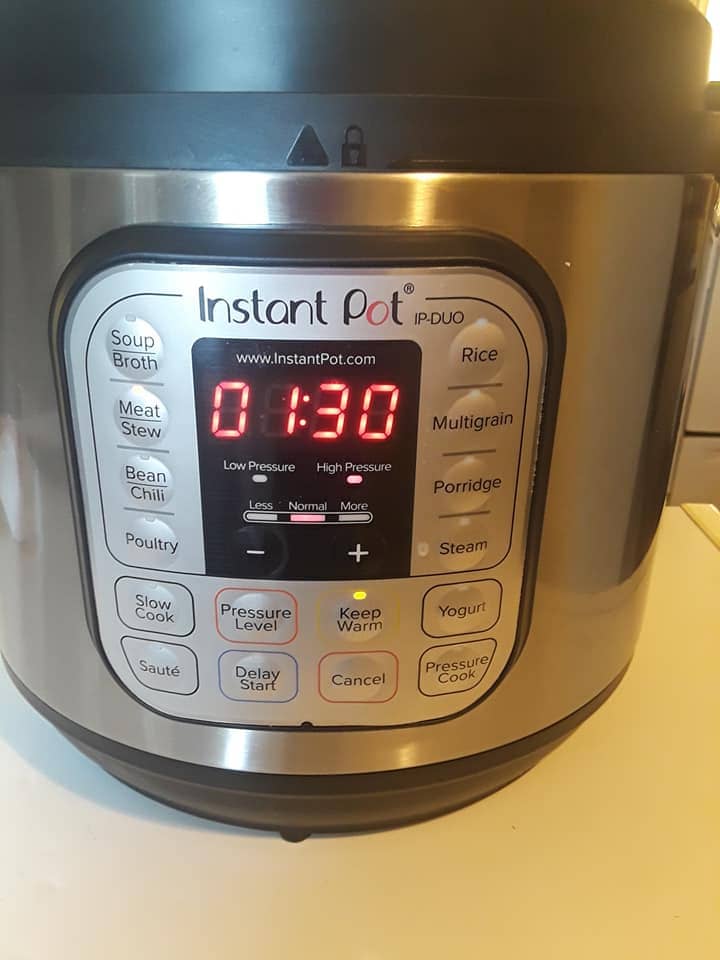 I put it for 90 minutes, which equates to 1:30. Give it a few seconds and then you'll see it turn into "on". Then you won't know it's done until it beeps and then a countdown starts on the other direction. Make sure once it's done, you press CANCEL so that the pressure stops building, and let it be for 20 minutes or until the pressure knob drops down.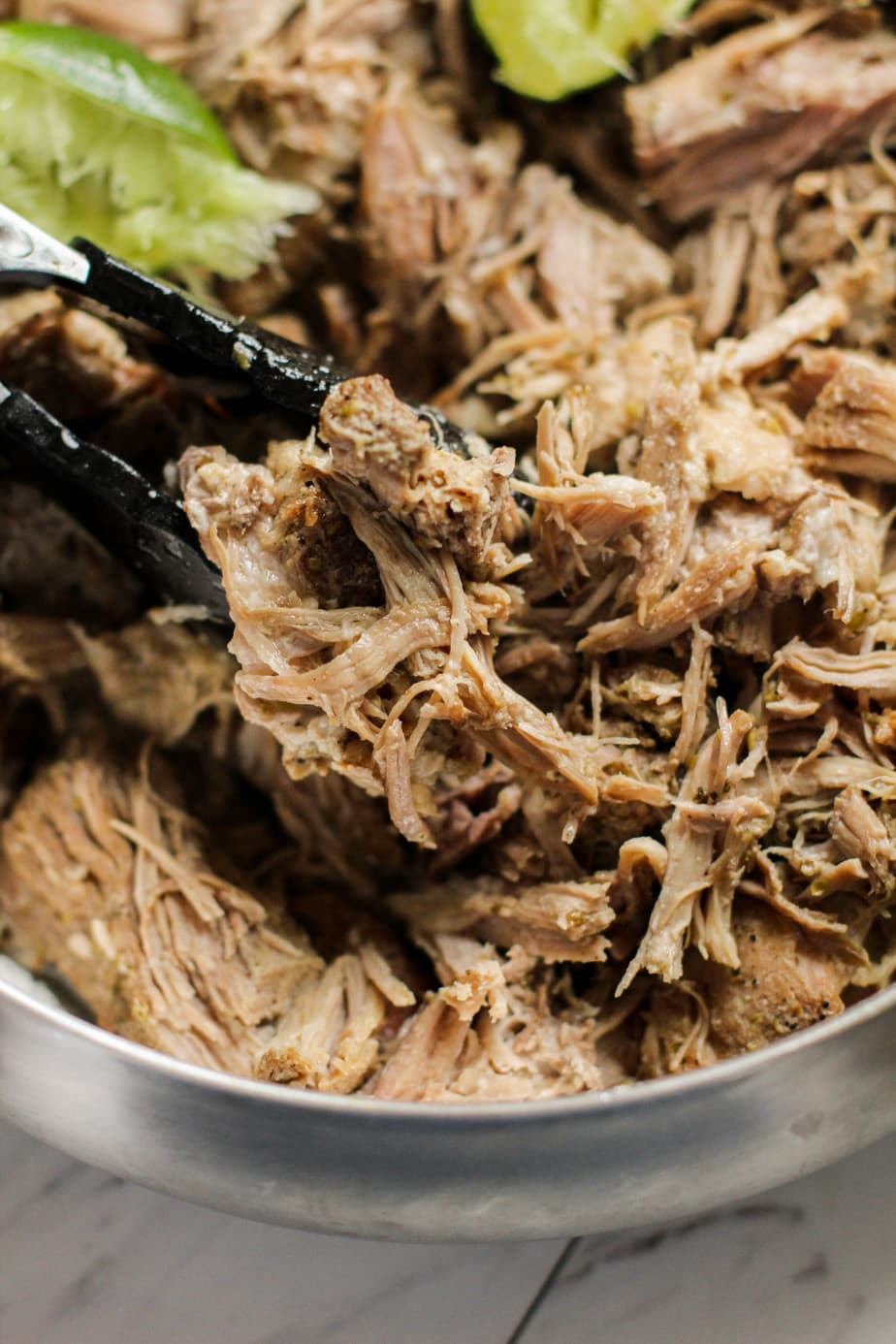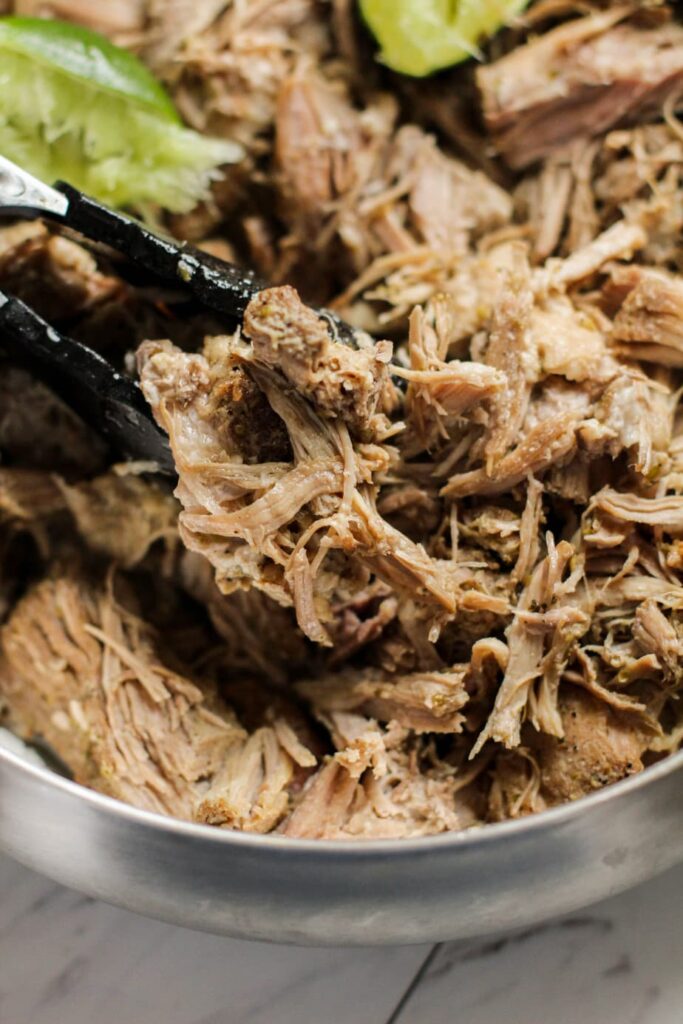 Once it's done, you can go ahead and pull out the pork and go to town shredding it. Top with some more juice that's in the Instant Pot. If you have some pernil left over, go ahead and make some Cuban Sandwich Sliders! That's it mi gente, be sure to subscribe and follow me on Facebook and Instagram at Latina Mom Meals!
📖 Recipe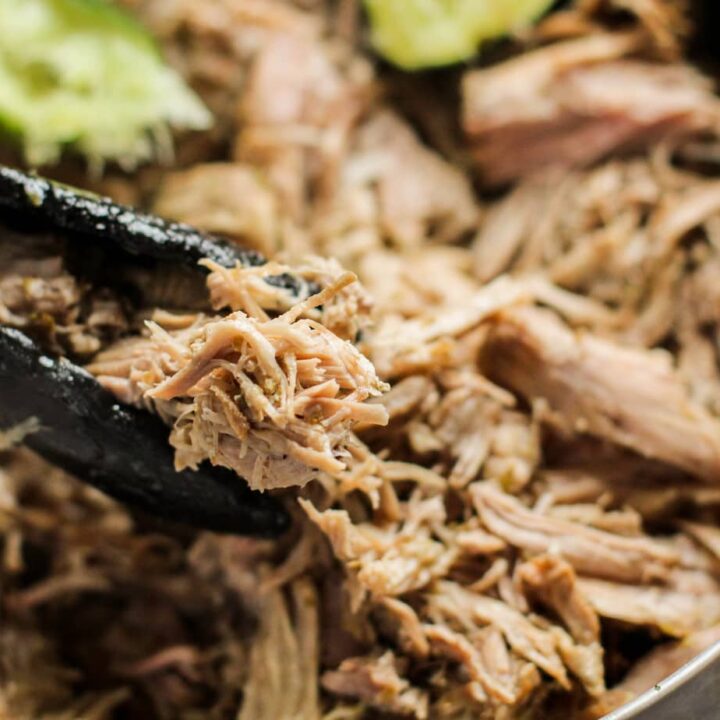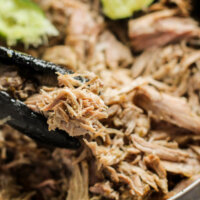 Cuban Pulled Pork Instant Pot Recipe
Juicy pernil made in the Instant Pot in only 90 minutes.
Print
Pin
Rate
Ingredients
5

pounds

of shoulder pork

6

cloves

of garlic

chopped

3

teaspoons

of salt

3

teaspoons

of black pepper

2

teaspoons

of cumin

2

tablespoons

of dried oregano

½

cup

of white vinegar

6

limes

juiced

1

cup

of water
Instructions
In a large bowl, marinate pork with all ingredients, except water. Cover bowl and refrigerate pork 2-24 hours.

Place water and pork in Instant Pot, (cut into 2-3 large chunks if necessary). Close lid and set valve to sealing. Press meat option and set time to 90 minutes. When timer goes off, press cancel and allow Instant Pot to naturally depressurize, about 20 minutes. When ready, remove pork and shred with two forks. Add some liquid from instant pot over the pork and serve.

(I added more lime juice once ready to serve for an extra pop of flavor.)
Nutrition
Serving:
0
g
|
Carbohydrates:
0
g
|
Protein:
0
g
|
Fat:
0
g
|
Saturated Fat:
0
g
|
Polyunsaturated Fat:
0
g
|
Monounsaturated Fat:
0
g
|
Trans Fat:
0
g
|
Cholesterol:
0
mg
|
Sodium:
0
mg
|
Potassium:
0
mg
|
Fiber:
0
g
|
Sugar:
0
g
|
Vitamin A:
0
IU
|
Vitamin C:
0
mg
|
Calcium:
0
mg
|
Iron:
0
mg