With tangy splashes of olive oil and vinegar that soak into the potatoes, this shrimp potato salad is a potato salad without mayo that the whole family will enjoy!
I remember eating a serving of this healthy potato salad almost a decade ago. Every year I've been working on recreating it, and I finally feel confident enough to share it with you! Instead of using mayonnaise like in our classic Puerto Rican potato salad, this shrimp potato salad uses a simple lime vinaigrette to dress the potatoes, similar to our chayote tuna salad!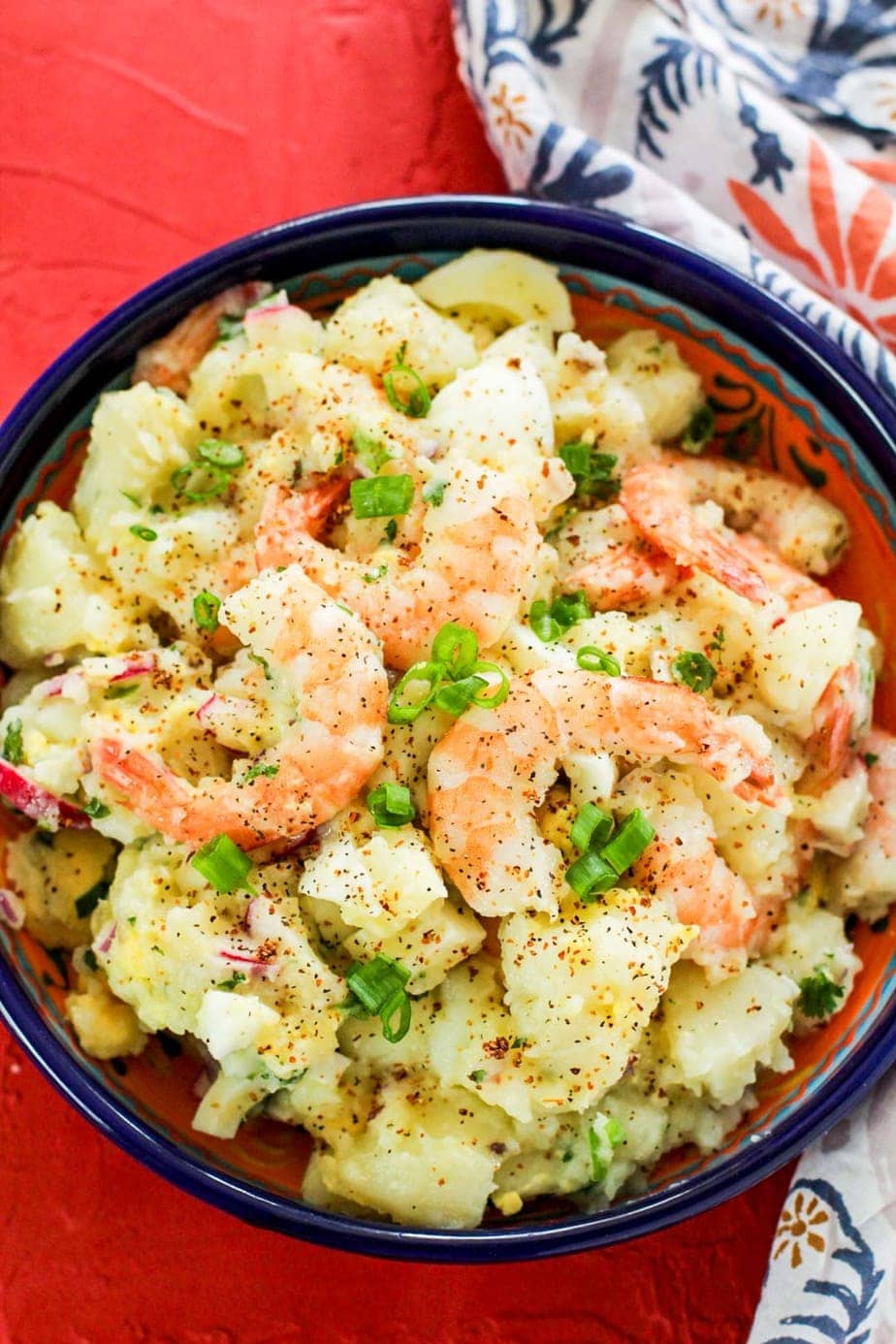 How do you make potato salad?
If this is your first time making potato salad, here's a secret -this olive oil potato salad is relatively easy to make! Just a little time consuming with the prep work, but completely worth it!
Steps to making a healthy potato salad:
Here's a simple breakdown, we'll get into depth below.
Peel, chop, and boil your potatoes.
Hard boil your eggs.
While potatoes and eggs are boiling, chop your remaining ingredients, set it to the side.
Make your vinaigrette for your olive oil potato salad.
Drain potatoes.
Peel your eggs.
In a large bowl, add all of your ingredients together -gently!
Refrigerate at least an hour.
Serve.
What kind of shrimp should I use for potato salad?
For shrimp potato salad, you can use any kind of shrimp, as long as it's peeled, deveined, and cooked. I must say, it's easier to buy precooked shrimp that you just have to rinse through cold water. Don't worry if it's still somewhat frozen. While it's marinating in the fridge, the shrimp turn out perfectly tender!
For this healthy potato salad recipe, we're using about 1 ½ cups worth of colossal sized shrimp. To be honest, we've kept it whole and with the tail on more for photography purposes. It sure is pretty, but if you don't want to deal with removing the tails at the dinner table, I highly suggest roughly chopping the shrimp before hand (tails removed, too). The easiest route would be to actually use about 1-2 cups of cocktail shrimp, it's tiny and no chopping involved. But I am a huge shrimp lover, and the bigger the better in my opinion.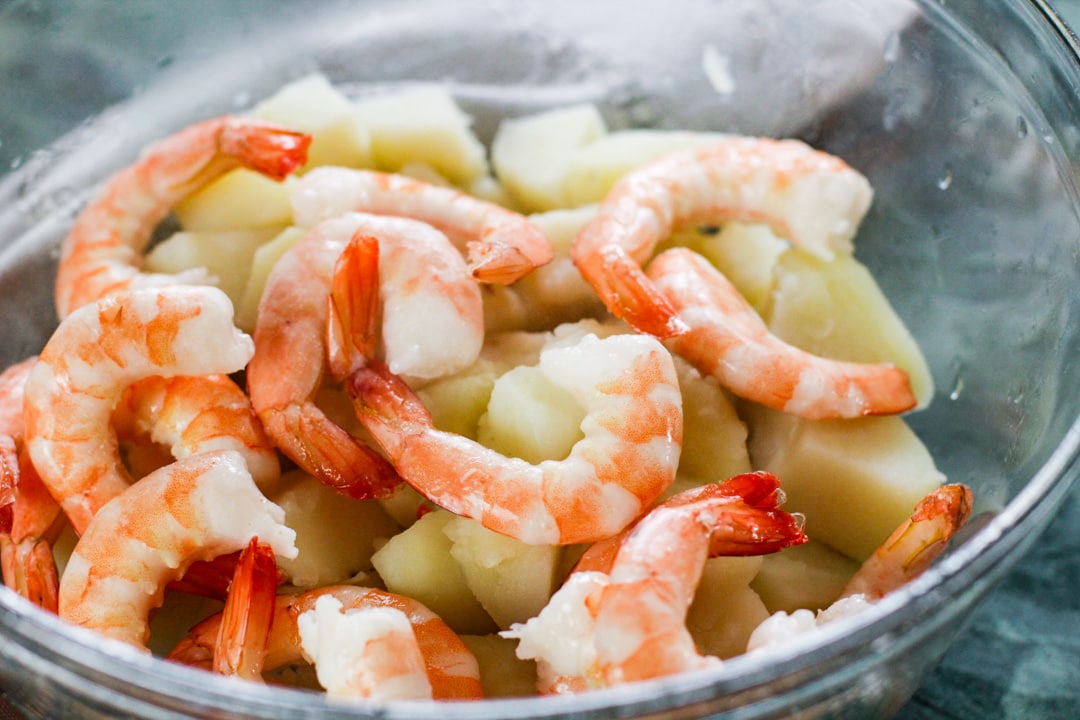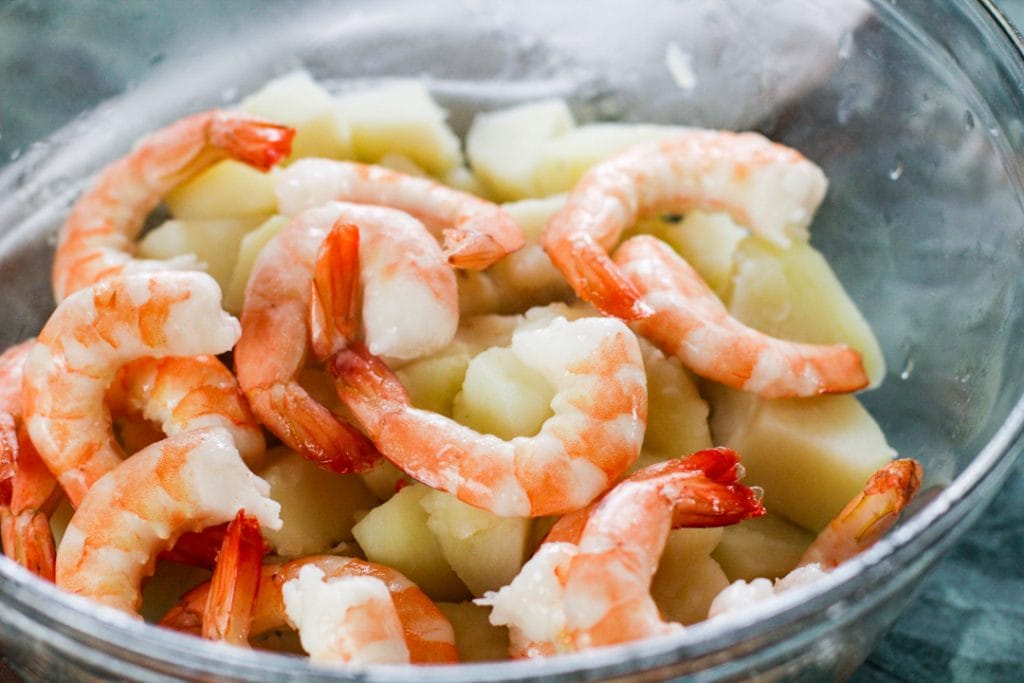 How long do you boil potatoes for potato salad?
First, choose the right potato. The smaller the better, usually. We've used red potatoes for our Puerto Rican potato salad. You can use small white or yellow potatoes too! Also, we'll be simmering the potatoes, not boiling it.
To peel or not to peel, that is the question. It's up to you! The skin on potatoes hold a lot of nutrients, but they also hold pesticides. Either way, wash the skin before peeling or keeping it on. Also, you can peel before simmering your potatoes or after the potatoes have cooked. Many people find potatoes are easier to peel after they have been cooked. I'm a creature of habit and peel potatoes before cooking.
Tips for boiling potatoes for potato salad:
Use small potatoes.
Add your potatoes to a cold pot of salted water. Be generous with the salt!
Cook your potatoes whole. They stay firmer in your salad when cooked whole.
Bring your water to a strong simmer, but not a boil.
Add a clove or two of whole garlic to your water for more flavor. (optional)
Cook potatoes until a fork easily reaches the center. BUT you want to stop cooking it before it reaches the center and crumbles the rest of the potatoes.
As soon as the potatoes are cooked through, put them into an ice bath for 2-3 minutes, to stop the cooking process.
Once your potatoes have cooled enough to handle, remove them from the bath water, let them sit on a clean and dry hand towel so the excess water can be absorbed. Next, you'll gently peel (if you haven't) your potatoes, and then chop the potatoes into larger bite sized chunks, before adding them into a large bowl.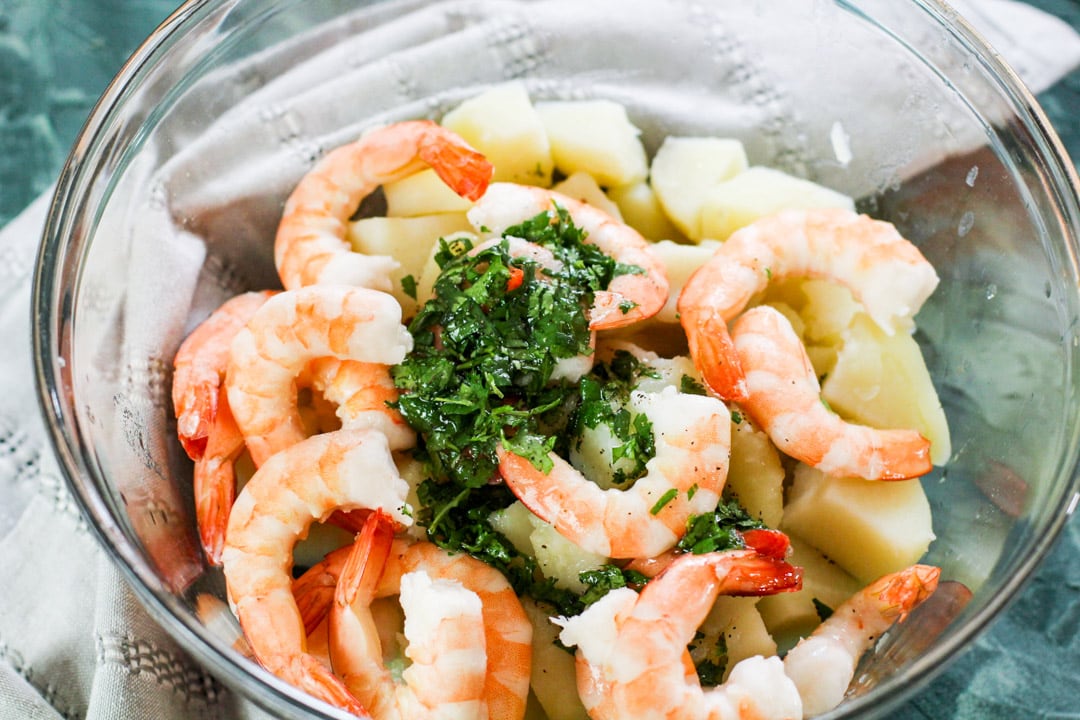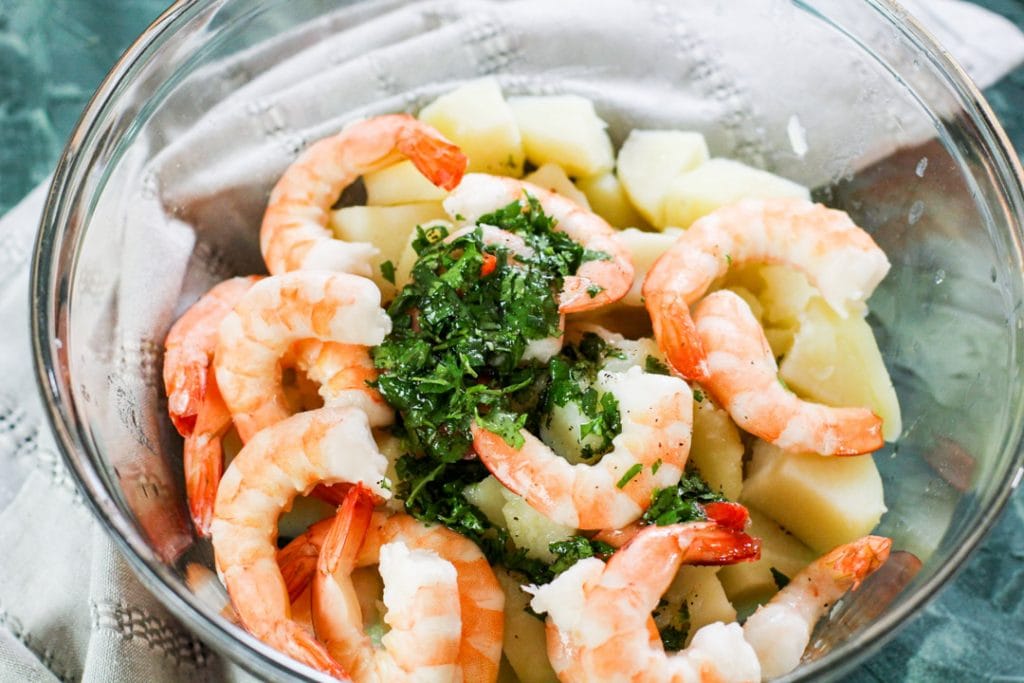 How to make the vinaigrette for the olive oil potato salad:
This potato salad without mayo recipe is made with a Latin style vinaigrette. The ingredients used for the sauce of our olive oil potato salad are:
olive oil
white vinegar
salt, to taste
black pepper, to taste
fresh lime juice, to taste
freshly chopped cilantro
Easy can't begin to describe this vinaigrette for our olive oil potato salad recipe. All you have to do is add the ingredients into a small bowl, mix it together and taste for seasonings. There's a meme floating around that says Latino's do not measure, they go by the spirit of their ancestors that speak from within. I am sure this goes for all nationalities, it's your intuition that awakens when you're passionate about cooking. Remember, taste as you go. Everyone has a differently preference, some may want an extra splash of lime juice, or more olive oil etc. You're the master of your dish!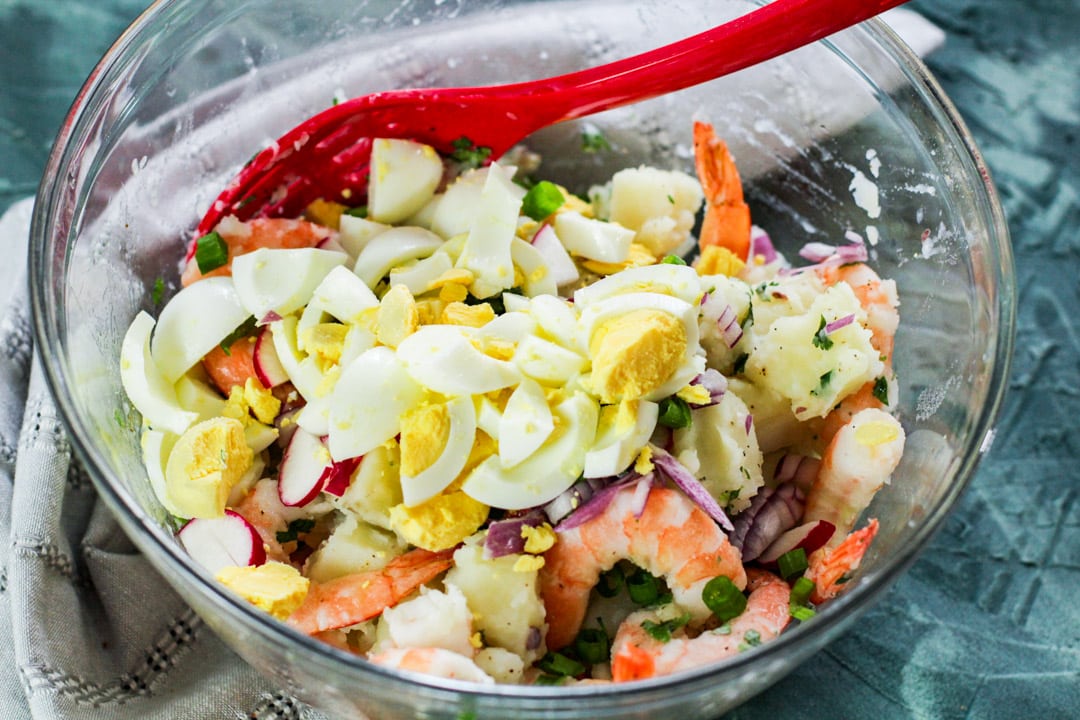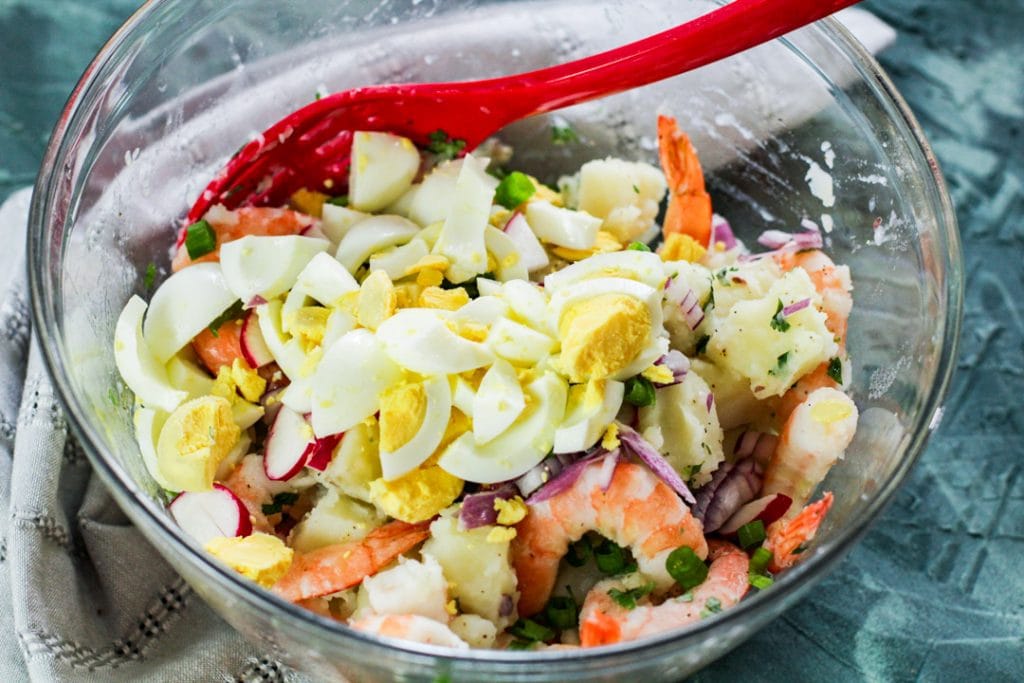 Next, add in your remaining ingredients, toss them together gently, and refrigerate for a minimum of an hour so the flavors can infuse together. This Puerto Rican potato salad reminds me of a hearty ceviche with it's light and tangy sauce. You won't miss the mayonnaise in this potato salad without mayo recipe!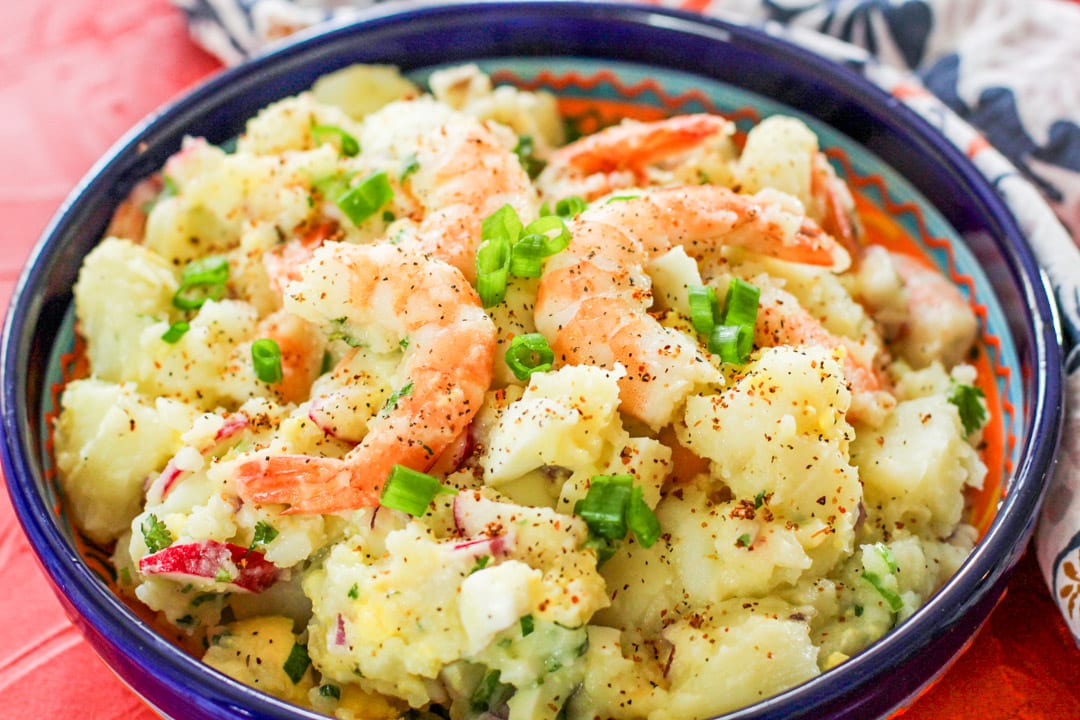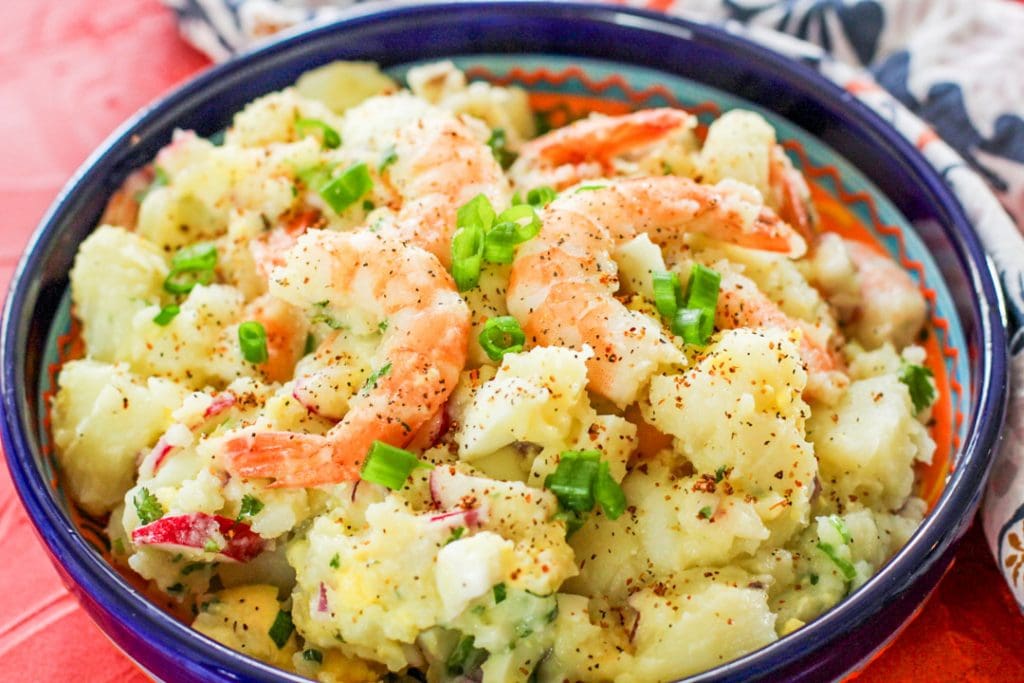 What pairs well with healthy potato salad?
Traditionally, a typical Puerto Rican dinner that has potato salad with it usually goes with some kind of Spanish rice, a side of protein, avocado, and a tossed salad or vegetable. Here are some awesome Puerto Rican side recipe ideas to pair with this potato salad without mayo:
Arroz con Salchichas (rice w/ sausages)
📖 Recipe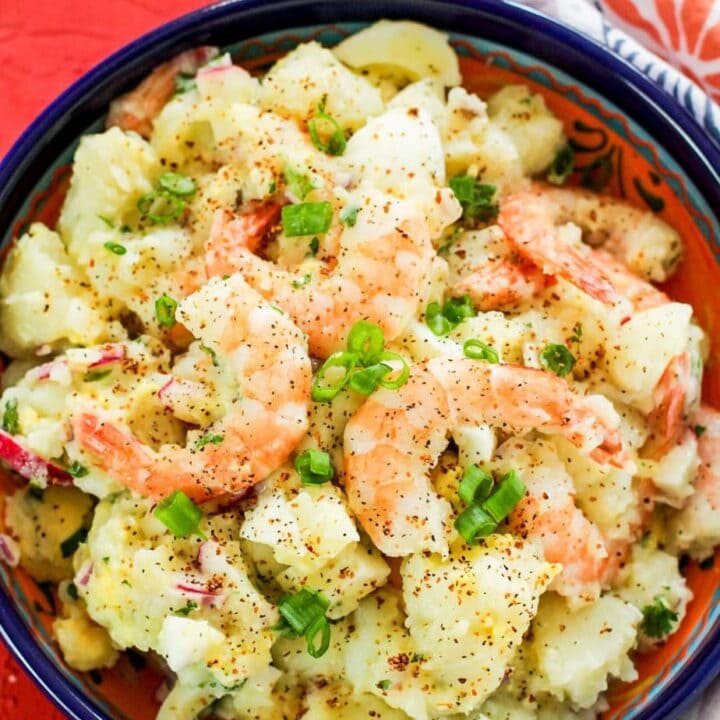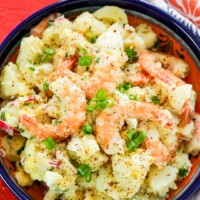 Shrimp Potato Salad
This healthy potato salad without mayo is the perfect side dish for your next cookout!
Print
Pin
Rate
Ingredients
10

oz

of shrimp

colossal and peeled and deveined

6

small red potatoes

peeled and whole

3

eggs

hard boiled and chopped

1

tablespoon

of chopped red onions

2

radishes

thinly sliced, and chopped

2

green onions

chopped
vinaigrette
5

tablespoons

of olive oil

4

tablespoons

of white vinegar

salt

to taste

black pepper

to taste

½ - 1

lime

juiced

2

tablespoons

of cilantro

finely chopped
Instructions
Place potatoes in a large pot, add water to cover by two inches and salt generously.

Bring water to a strong simmer, but not a boil.

Cook potatoes 9-15 minutes, until a fork goes through the center.

Remove potatoes from water, and place into an ice bath for 2-3 minutes, until cooled.

Drain potatoes on a dry hand towel.

Chop potatoes into large bite sized chunks.

Mix vinaigrette ingredients in a small bowl, taste for seasoning, adjust as you add in ingredients.

Toss shrimp and remaining ingredients gently over potatoes, and drizzle vinaigrette over it all. Gently toss to coat evenly.

Refrigerate for an hour before serving.
Notes
You can double the vinaigrette recipe if you love a really wet potato salad.
Add two cloves of garlic to the simmering potatoes, for a nice garlic infusion to the potatoes.