Puerto Rican coquito is a must make in my house during the holidays. Creamy, cool, and comforting this coquito drink is highly popular Puerto Rican drink.
We have a thing for coquito recipes on Latina Mom Meals. I also love to experiment with flavors! We have the traditional coquito recipe, a pumpkin pie spice coquito recipe, a creamy chocolate coquito recipe, and a Nutella coquito recipe. I also have a long mental list of different coquito recipes to make.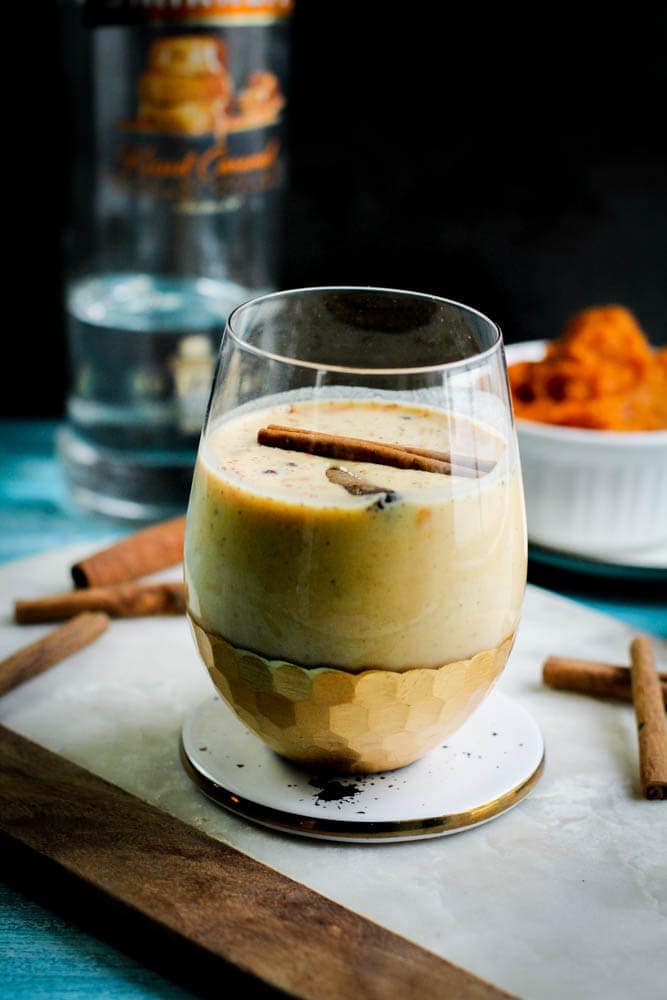 What is coquito?
Coquito is a creamy coconut and rum drink that is spiced with cinnamon and depending on who makes it, can be created to have different flavors, like today, we created a creamy caramel pumpkin coquito recipe that is the best fall Puerto Rican drink recipe!
What is in coquito?
The base of all Puerto Rican coquito recipes is coconut and rum. Today, we're switching things up a bit and instead of rum, we're using Caramel Vodka. If you know where to buy caramel rum for coquito, let me know in the comments below or join our Facebook Group Community!
Ingredients for making a caramel pumpkin coquito recipe:
coconut milk
coconut cream
evaporated milk
condensed milk
cinnamon
ground nutmeg
ground cloves
pumpkin puree
caramel flavored vodka
As you can see, coquito is a very rich and thick alcoholic drink. It's a sister to eggnog in consistency and the taste is similar, except we trade the eggs for coconut in our Puerto Rican coquito.
If you've ever had a Cinnamon Toast Crunch Shot or a Kahlua Mudslide or even a salted caramel martini, then you're going to love this pumpkin caramel coquito drink!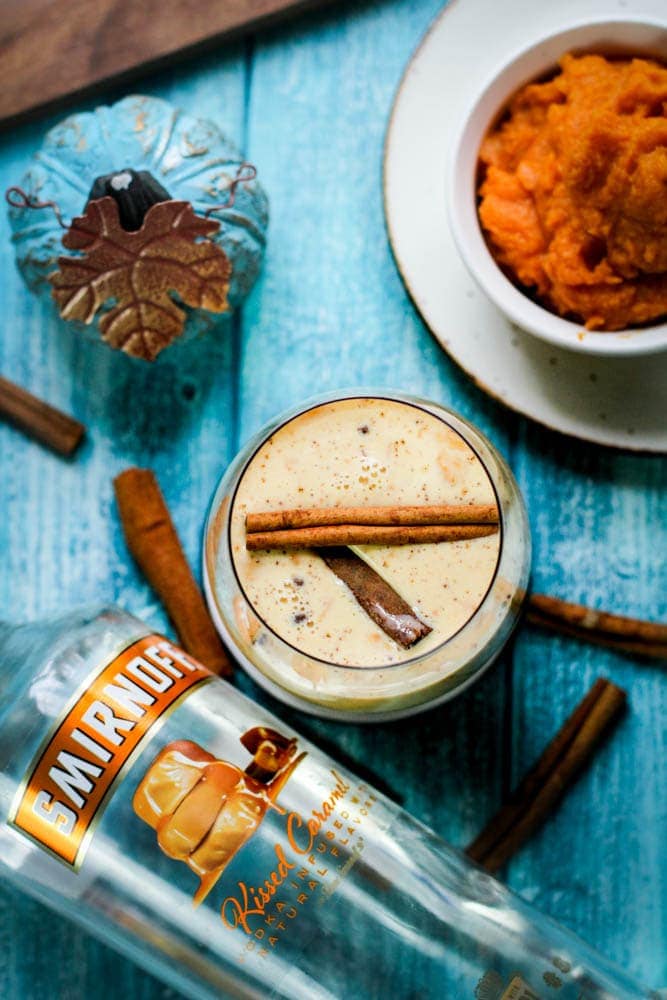 How To Make Puerto Rican Coquito
Making coquito at home is easy! Unlike with my tradtional Puerto Rican coquito recipe, we do not have to make a tea. To make coquito you add all of your ingredients except for your rum or vodka into a blender and mix! This may have to be done in batches.
Always taste your coquito and adjust to your liking. For this pumpkin coquito recipe, start on the lighter side with the pumpkin puree. I do not like pumpkin drinks that are too strong, but you may like a strong pumpkin drink that tastes well...like pumpkin.
Once the caramel pumpkin coquito tastes good to you, add in a cup of Smirnoff's Kissed Caramel vodka to the blender. Give it a quick blend, just to incorporate it and taste a small amount to see if you want it stronger. Adjust to your liking. I realize coquito with rum is the standard rule; but my brother Enuan and my aunt Trish brought over a ton of different flavored drinks for Thanksgiving and it turned into a make your own coquito for flavor testings night.
I highly suggest using this vodka for a smooth caramel taste! Trust me, it's good.
How do you store coquito?
Growing up, if I saw an empty 2 liter soda bottle without a wrapper and filled with a white liquid, I knew NOT TO TOUCH IT. Honestly, I think that suggested the start of the holiday season for our family before holiday decorations were put up around the house.
Coquito should be stored in an air tight container in the fridge. You can recycle 2 liter bottles from friends or save empty liquor bottles too. If you're a friend of a neighbor that has a third cousin who sells coquito, you'll know that Puerto Rican coquito is stored in tall glass bottles with a cork top. I've seen Dollar Tree sell empty glass bottles.
Is selling coquito illegal?
Quick answer. Yes. Selling coquito is illegal. You need a liquor license in order to sell coquito.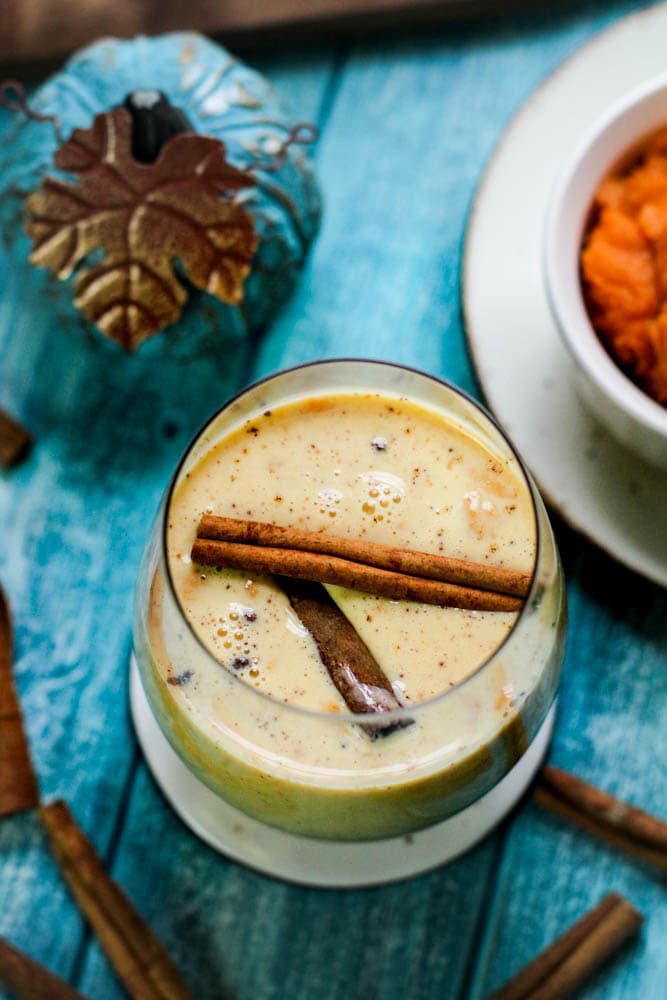 Does coquito go bad?
Since our caramel pumpkin coquito has dairy in it, coquito can go bad if left out of the refrigerator. Coquito with rum or vodka or even coquito with Hennesey can be stored in the fridge for up to 4-6 months since the alcohol keeps the coquito drink preserved.
Video On How To Make Coquito
📖 Recipe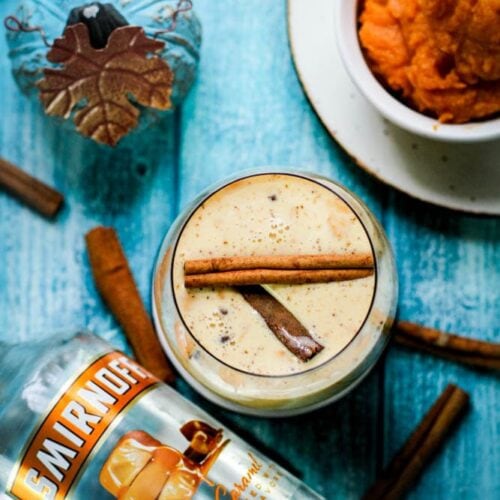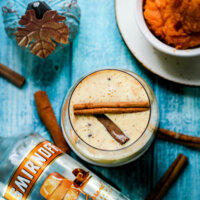 Puerto Rican Caramel Pumpkin Coquito
Pumpkin lovers rejoice! Enjoy this caramel pumpkin coquito recipe this fall and winter!
Print
Pin
Rate
Ingredients
1-2

cans of condensed milk

depending on sweetness level desired

1

can of cream of coconut

1

can of coconut milk

1

can of evaporated milk

½-1

can of pumpkin puree

1

teaspoon

of pure vanilla extract

1

teaspoon

of ground cinnamon

½

teaspoon

of ground nutmeg

½

teaspoon

of ground ginger

¼

teaspoon

of ground cloves

1

cup

of Smirnoff Caramel Kissed Vodka
Instructions
In a blender, add all ingredients and mix together until smooth.

Refrigerate up to 3 days. Shake before serving.