Coquito season is in full swing now that it's December. I want to share as many unique Puerto Rican Coquito Recipes as I can with you and here's my Puerto Rican Caramel Pumpkin Coquito recipe.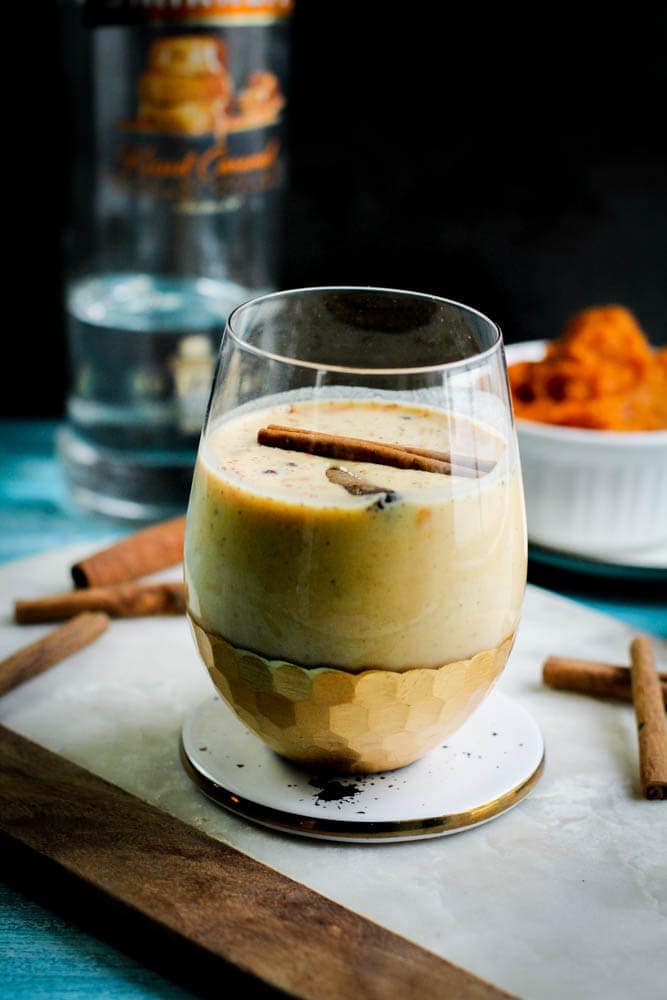 What is a caramel pumpkin coquito?
All coquito recipes share a basic base, coconut milk, coconut cream, evaporated milk, and condensed milk. Think of it like a coconut Tres Leches cake, in liquid form. After that, it's all preference and creativity. Also, eggs. You have people who swear coquito needs eggs, and people who swear you'll die from food poisoning if you put it in. Basically, the world is your oyster with coquito. Be free and merry with making any kind.
For this Puerto Rican Caramel Pumpkin Coquito recipe I had the hard core pumpkin on September 26th lovers in mind. This recipe is perfect on a fall evening in front of a fire pit with a cozy throw blanket on. Seriously, you'll get the heat from the fire, you can hold a cold caramel pumpkin coquito with gloves on! It's creamy, spiced right, has the full pumpkin flavor, and it's kissed with caramel vodka. (If you find a caramel rum, go for it!)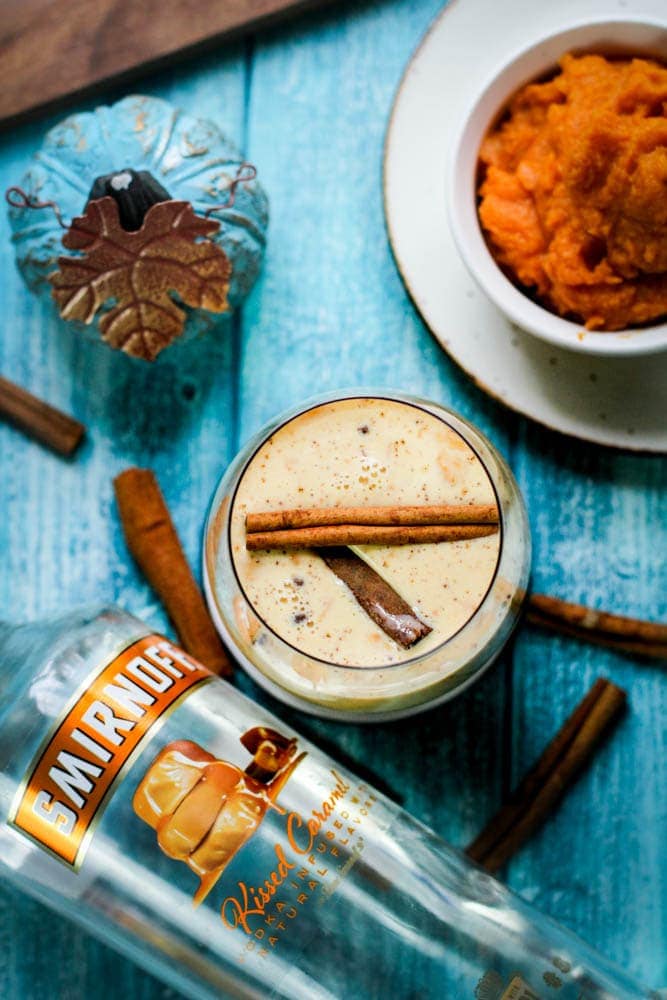 How To Make Puerto Rican Caramel Pumpkin Coquito
Like I mentioned above, you get all of your base ingredients into a blender (specific ingredients and measurements will be in the card below), add in your spices, and pumpkin puree. Personally, I do not like a pumpkin overload, so I highly suggest you start off at half a can, puree the coquito mixture in a blender and taste it. If you want a stronger pumpkin taste, add in the remaining pumpkin puree from your can.
For a sweeter coquito, you could either add in granulated sugar or more condensed milk (that's my choice for a sweeter coquito).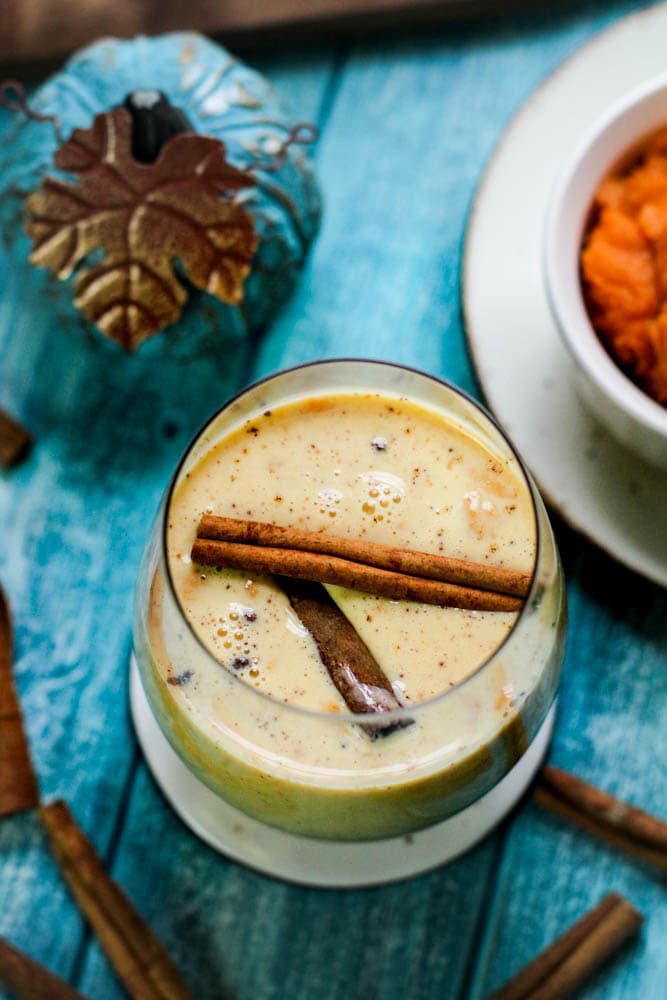 Once the caramel pumpkin coquito tastes good to you, add in a cup of Smirnoff's Kissed Caramel vodka to the blender. Give it a quick blend, just to incorporate it and taste a small amount to see if you want it stronger. Adjust to your liking. I realize rum is traditional with coquito, but my brother Enuan and my aunt Trish brought over a ton of different flavor drinks for Thanksgiving and it turned into a coquito bar that night with flavor testings; and I highly suggest using this vodka for a smooth caramel taste.
Now that the caramel pumpkin coquito has been made, it is time to store it. Growing up, my mom would store them in soda containers, but you could go to Dollar Tree and buy glass bottles. This should make about 2 1/2 liters of caramel pumpkin coquito. Important thing is that it is stored tightly, and safely. Let your kids know not to touch it.
That's it mi gente, this is how you make Puerto Rican Eggless Caramel Pumpkin Coquito, remember to be responsible and have a great holiday season. Buen provecho mi gente! Let me know in the comment section what else you'd like to see.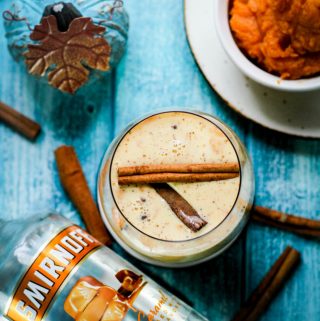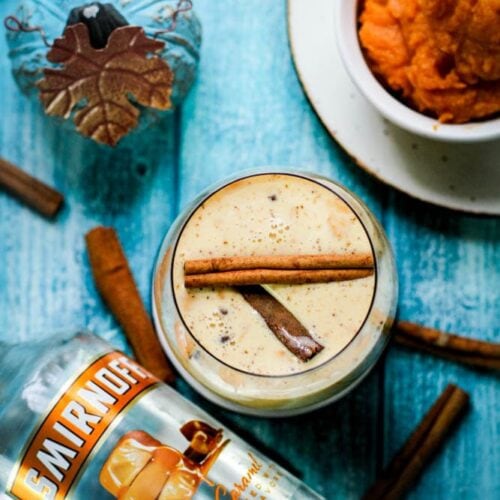 Puerto Rican Caramel Pumpkin Coquito
Pumpkin lovers rejoice! Enjoy this caramel pumpkin coquito recipe this fall and winter!
Print
Pin
Rate
Ingredients
1-2

cans of condensed milk

depending on sweetness level desired

1

can of cream of coconut

1

can of coconut milk

1

can of evaporated milk

1/2-1

can of pumpkin puree

1

teaspoon

of pure vanilla extract

1

teaspoon

of ground cinnamon

1/2

teaspoon

of ground nutmeg

1/2

teaspoon

of ground ginger

1/4

teaspoon

of ground cloves

1

cup

of Smirnoff Caramel Kissed Vodka
Instructions
In a blender, add all ingredients and mix together until smooth.

Refrigerate up to 3 days. Shake before serving.
Last Updated on