Pavochon is the star dish on any Puerto Rican Thanksgiving menu.
Zesty, vibrant, and slightly crispy, pavochon is a great alternative to traditional turkey if you're looking for juicy turkey recipes!
Thanksgiving recipes always include turkey, mashed potatoes, gravy, stuffing, with a million sides. For a traditional Puerto Rican Thanksgiving dinner, we always make pavochon, arroz con gandules (rice with pigeon peas), yuca, pasteles, coquito, and flan! Plus, a million other side dishes.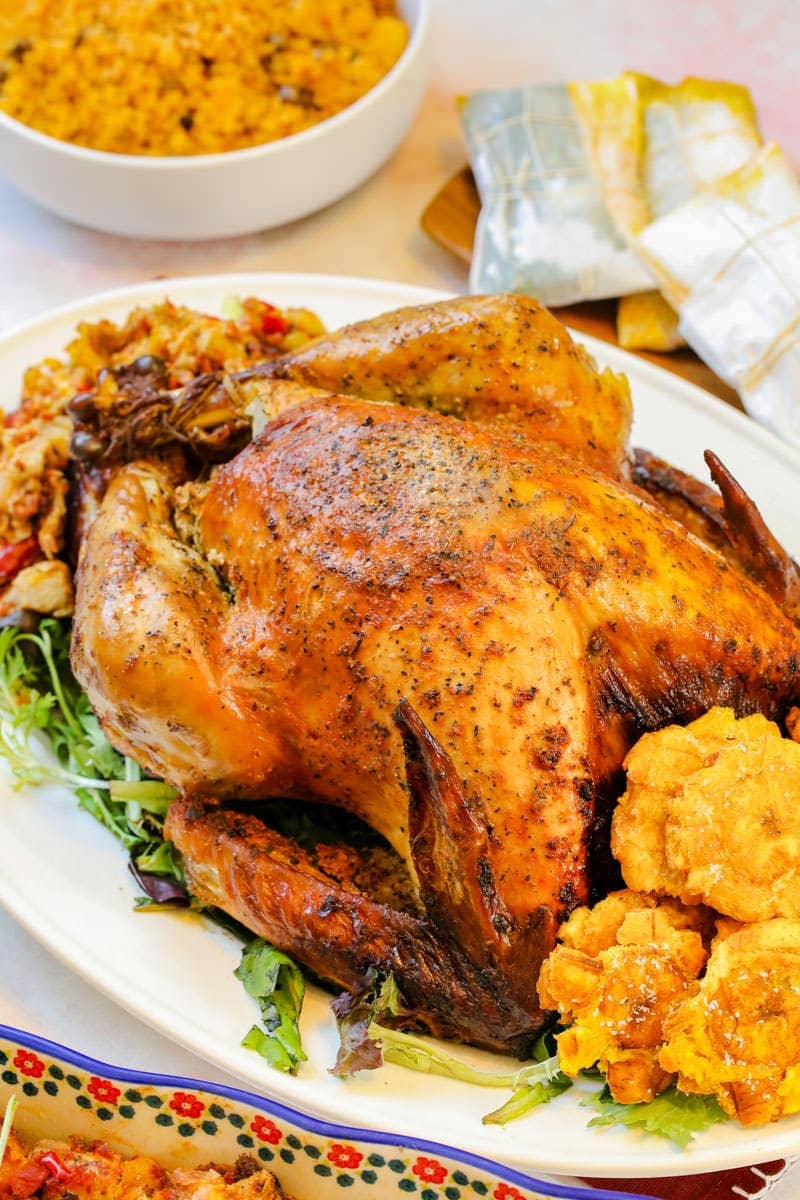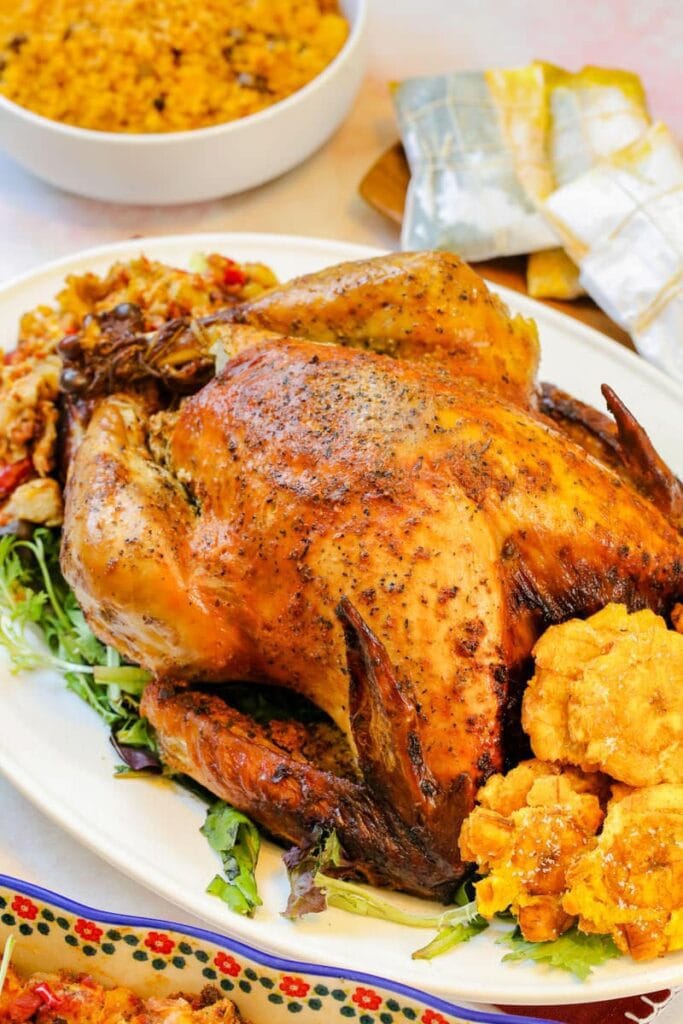 What is pavochon?
Pavochon is a turkey seasoned to taste like pork. Pavo means turkey in Spanish, and lechon means pork.
Why pork? Pernil, also known as oven roasted pork shoulder is a traditional Latin pork recipe that marinades pork in an unholy amount of garlic, seasonings, and mojo (juices of limes and sour oranges).
Pernil is marinated typically 1-2 days, and slowly roasted in the oven, unless you're roasting a whole pig (lechon) over an open fire outside.
The meat of the roasted pork is tender and flavorful, while the skin of the pork is super crispy, also known as chicharron.
Many people who choose not to eat pork, but miss pernil, love to eat pavochon!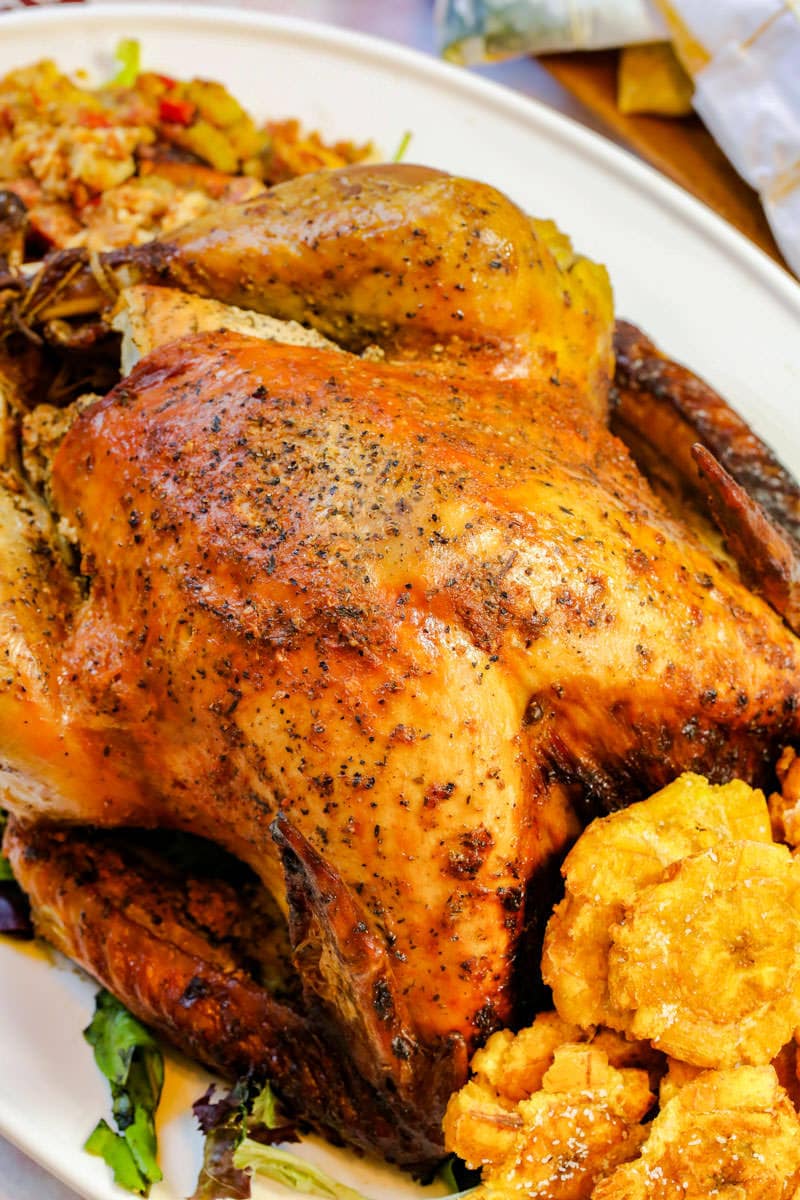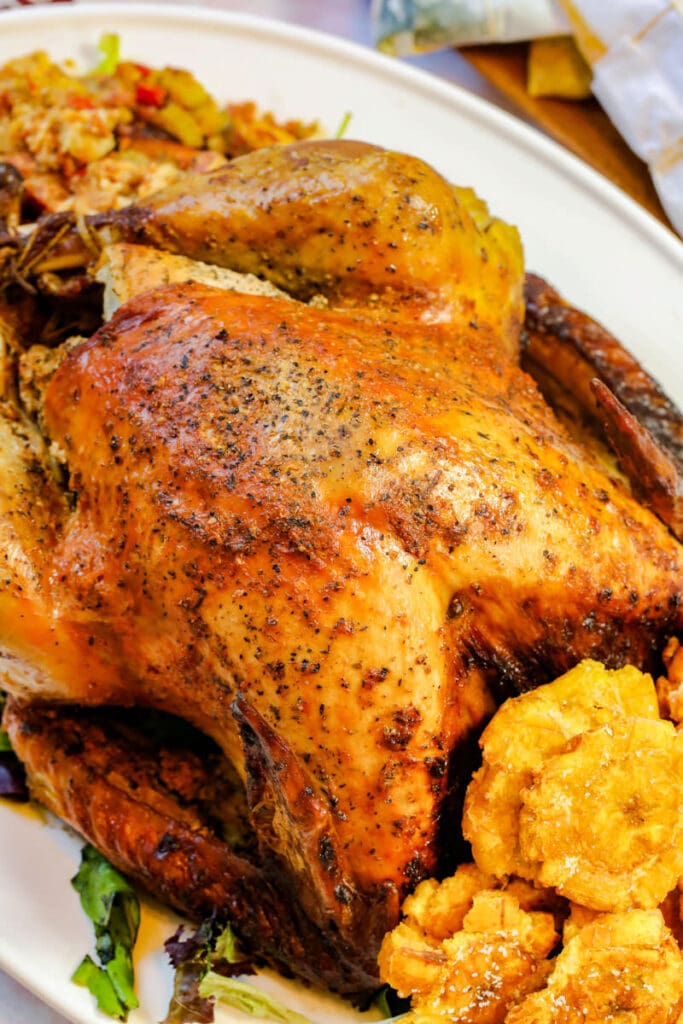 How To Make Pavochon
If you're wondering how to make a Puerto Rican turkey, this recipe is for you!
Remove giblets and turkey neck from turkey. (Keep the giblets to make stuffing and the neck to make Puerto Rican turkey gravy.)
Fully dry turkey (use paper towels).
Make the turkey marinade (recipe below).
Gently lift the skin from the turkey breast and separate gently.
Season turkey with the marinade. (Over and under skin.)
Cover turkey and refrigerate for 12-48 hours.
Stuff the cavity of the turkey.
Roast turkey in the oven until cooked through! (Slow and low wins the race!)
This recipe calls for a defrosted turkey. If your turkey is frozen, allow it to defrost in the fridge 2-3 days!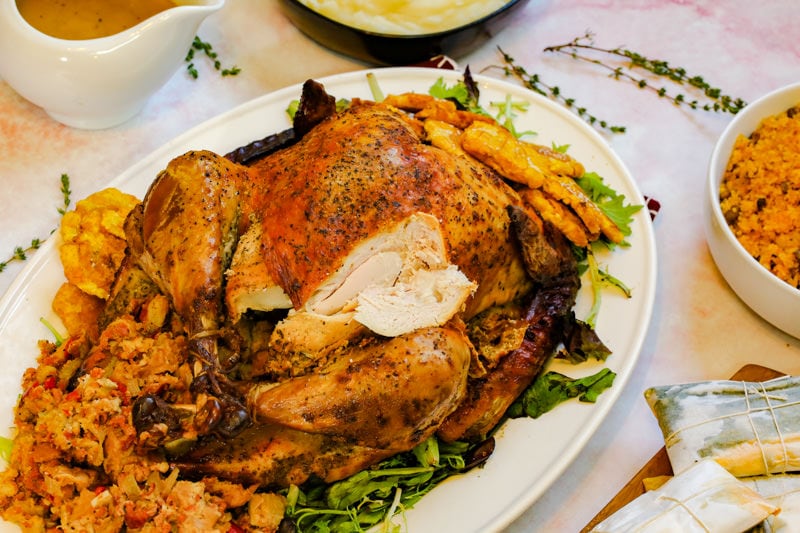 How To Season Pavochon | Pavochon Marinade
The secret for making the best Thanksgiving turkey is in the sauce! Making a flavorful marinade for the Puerto Rican turkey to sit in for 1-2 days is what will ensure that your turkey tastes just like pavochon! The pavochon marinade is just like a mojo you use to make pernil!
To season a pavochon, we're taking basic pernil ingredients and creating a marinade with it.
The ingredients for making the Puerto Rican turkey marinade are:
garlic
onion
olive oil
sour orange juice (or oranges and limes)
salt
pepper
oregano
cumin
thyme
Sazon (or paprika or turmeric for coloring)


How to Make Puerto Rican Pavochon Seasoning

To make this easy Thanksgiving marinade for pavochon, you'll simply add all of your ingredients into a food processor and blend until smooth. If you do not have sour orange, you can buy the bottled "naranja agria" from Badia or Goya -if available near you, or simply take the juice of 1 orange and the juice of 1-2 limes to replace the sour orange.

Tips for success: Make marinade fresh and use RIGHT AWAY!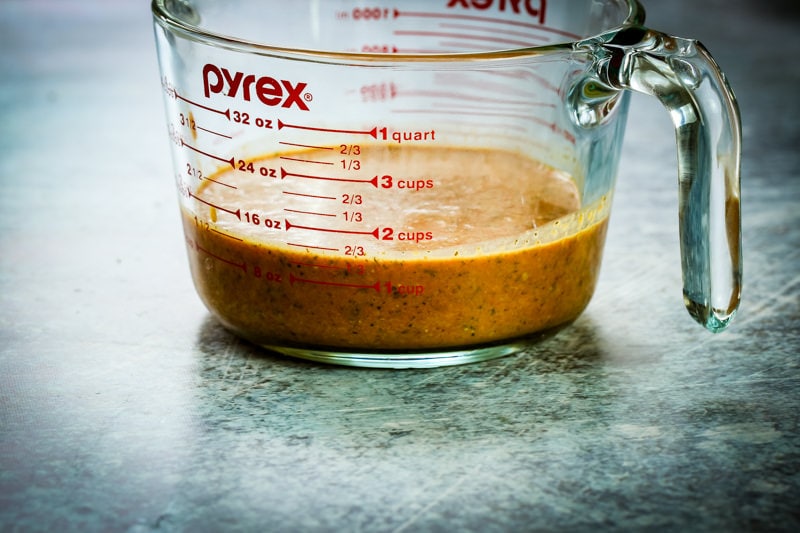 How To Make Puerto Rican Turkey For Thanksgiving
The beauty of this Puerto Rican turkey for Thanksgiving is the color. I love using Sazon since it gives a beautiful orange color to dishes.
To marinade your turkey with Puerto Rican spices and flavor, you'll take your dry (very important) turkey, lift the skin gently, and I like to take a handful of the pavochon marinade and push it under the skin as far as I can. I rub it around and then pour the remaining sauce mixture on top and massage the marinade all over the turkey.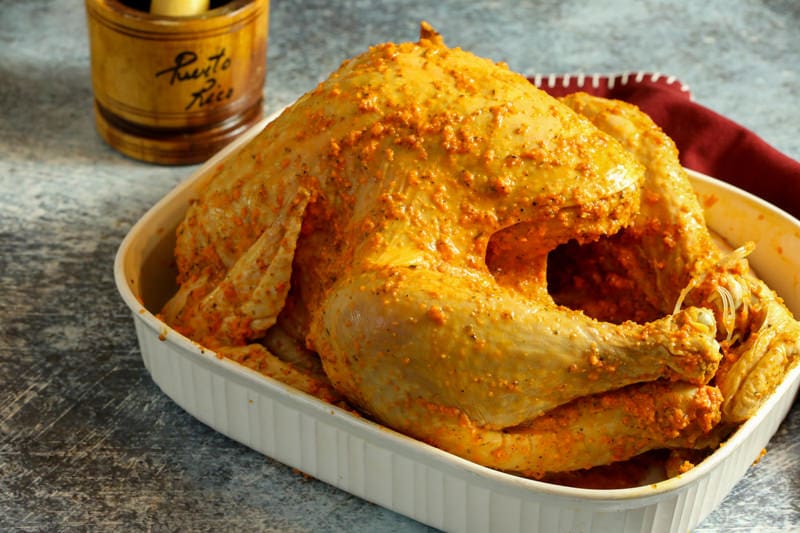 At this point, I cut off the plastic that holds together the turkey legs and tie the turkey legs together with kitchen twine. Cover the turkey loosely (I place it into a very large bowl.), and refrigerate it a MINIMUM of 12 hours.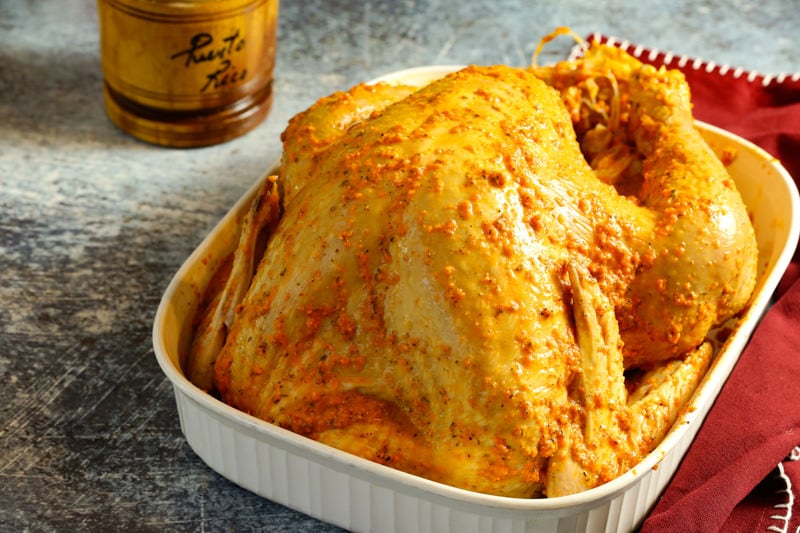 How To Roast a Turkey | How To Roast Pavochon
When it's time to roast the turkey, place the turkey into a very large roasting pan with a rack so that the turkey cooks evenly. Tuck in the wings under the sides (I forgot to do this, don't make my mistake.)
Stuff the cavity with quartered onions, half a lemon, a wedge or two or oranges, fresh thyme, and cilantro. You can even pour in some beer into the cavity. I personally do not like to stuff a raw turkey with stuffing, so I stuff the cavity of a turkey with herbs and fresh ingredients.
When it's time to serve, I'll put stuffing into the end of the cavity and onto the platter (just for presentation).
Allow your turkey to sit in room temperature for an hour before roasting! Allowing your turkey to come to room temperature ensures that your turkey cooks evenly and quickly.
Preheat your oven to 325 degrees Fahrenheit.
I used a 14 pound turkey, and roasted it for 3 ½ hours. (I may have lost track of time too... set Alexa to remind you to "check on turkey" so your turkey does not overcook and dry out.)
How Long To Roast Turkey Per Pound:
This is the temperature range for roasting turkey at 325 degrees Fahrenheit. Test for doneness with a meat thermometer! (Thigh needs to be 175 degrees F and breast needs to reach 165 degrees F).
10 to 12 pounds: 2 ½ to 3 hours
12 to 14 pounds: 2 ¾ to 3 ¼ hours
14 to 16 pounds: 3 to 3 ¾ hours
16 to 18 pounds: 3 ¼ to 4 hours
18 to 20 pounds: 3 ½ to 4 ¼ hours
20+ pounds: 3 ¾ to 4 ½ hours
REST YOUR TURKEY ONCE IT HAS ROASTED
For a juicy pavochon, allow your turkey to rest 20-30 minutes after it has roasted so the juices have time to settle and will ensure that you have a juicy bird that is also easy to carve! I like to squeeze fresh lime juice over the pavochon when I pull it out of the oven too!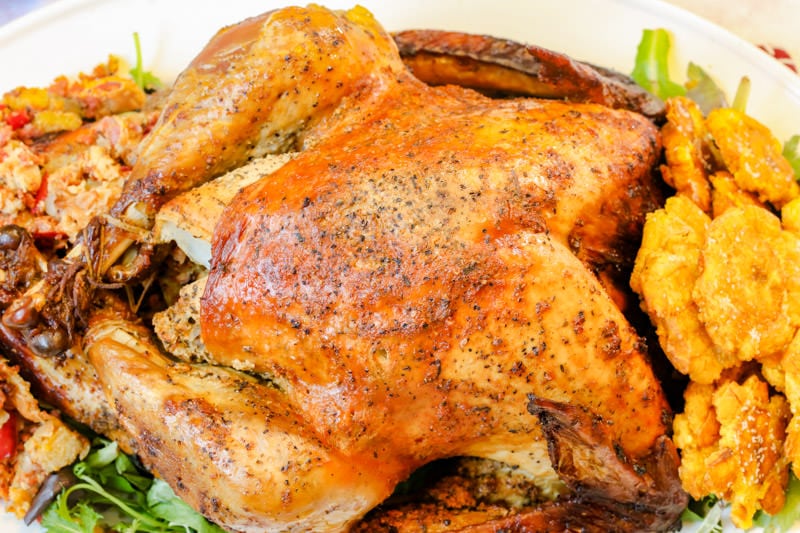 What To Serve With Pavochon
For a traditonal Puerto Rican Thanksgiving dinner, serve your pavochon with:
arroz con gandules (rice with pigeon peas)
ensalada ruso (Russian salad)
Yuca (cassava with onions)
mashed potatoes with gravy
plantains (both maduros and twice fried plantains)
pasteles.... THIS IS A MUST HAVE!
avocado salad
arroz con dulce (rice pudding)
tembleque
pumpkin flan (or classic flan)
coquito (we have multiple flavors to choose from)
and much more (can't forget veggies too)!
📖 Recipe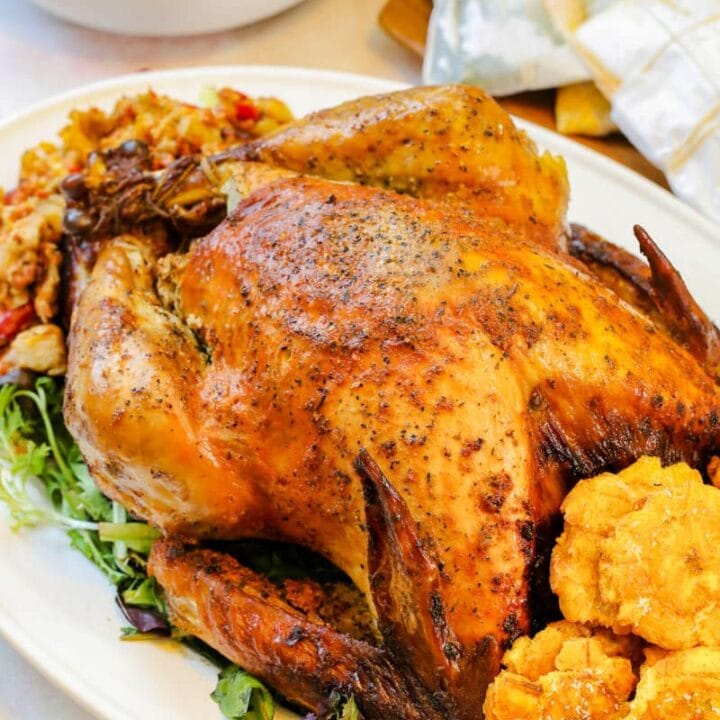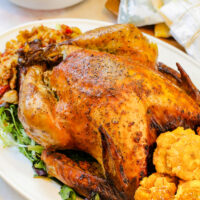 Pavochon | Puerto Rican Turkey
Juicy and bold, pavochon is a zesty turkey recipe seasoned with garlic, citrus juice, and Latin seasonings and herbs!
Print
Pin
Rate
Ingredients
14

pounds

of turkey

defrosted
Pavochon Seasoning Ingredients
20-26

cloves

of garlic

½

small yellow onion

⅓

cup

of olive oil

⅓

cup

of sour orange juice

1

tablespoon

of salt

2

teaspoons

of ground black pepper

3

teaspoons

of oregano

1

teaspoon

of cumin

1

teaspoon

of dried thyme

2

packets of Sazon with achiote

2

limes

juiced
Cavity Ingredients
½

small yellow onion

½

lemon

2

wedges of oranges

¼

cup

of fresh thyme

¼

cup

of fresh cilantro

1

can of dark beer

optional
Instructions
Pavochon Seasoning
Add ingredients into a food processor and pulse until smooth.
Turkey
Dry turkey and remove the giblets and turkey neck. (Discard or save for another recipe, gravy, or stuffing.)

Season turkey with pavochon seasoning, both over and under the skin.

Cover turkey and refrigerate 12-48 hours.

Remove turkey from fridge and let sit at room temperature for an hour.

Preheat oven to 325 degrees Fahrenheit.

Stuff cavity with cavity ingredients.

Tie legs together with kitchen twine.

Tuck wings under the side of turkey as you place turkey into a large roasting pan.

Roast turkey uncovered until juices are clear and turkey has cooked through.
Notes
Don't have sour orange? Replace with the juice of 1 orange and 1 lime.