Inspired by my favorite Puerto Rican coquito drink, these soft coconut cookies are infused with subtle hints of rum, vanilla, cinnamon, nutmeg, and cloves. The perfect combination of coquito in a Christmas cookie.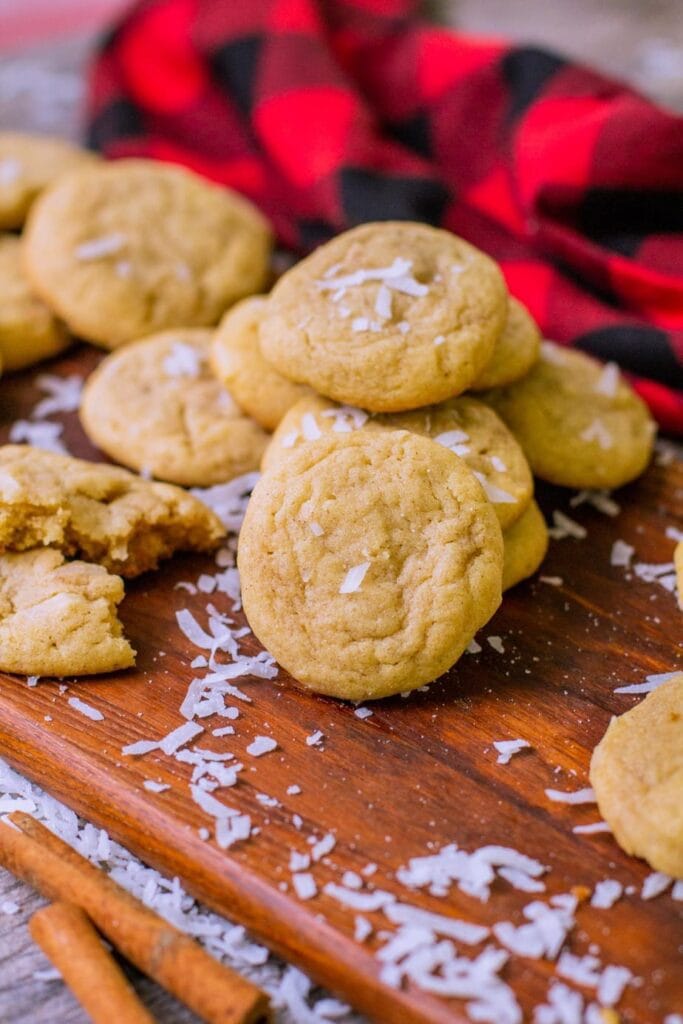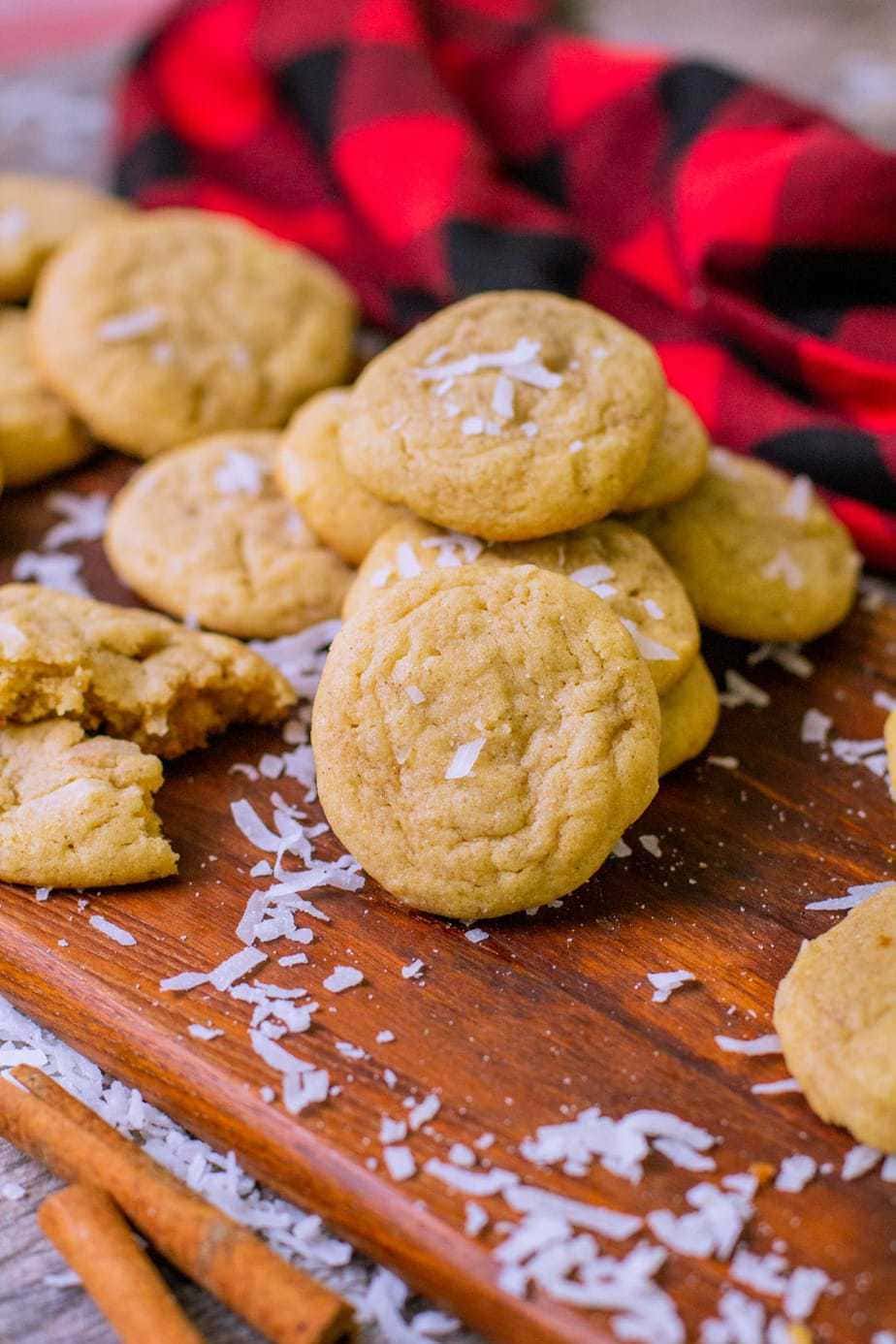 What does coconut rum cookies taste like?
Coconut takes the lead when you bite into this soft cookie and chew on delicate strands of shredded coconut. But then rum makes a surprise appearance, that is quickly balanced with the right amount of cinnamon accompanied by gentle hints of vanilla, clove, and nutmeg.
These coconut cookies are soft, chewy, and almost delicate in flavor. It's a dance for your palate and fun to see guests guess what's in it.
What ingredients are in coconut cookies?
There are 12 ingredients in this easy coconut cookie recipe.
Wet Ingredients
Butter: Make sure it is room temperature. If you use salted butter, you can omit adding salt.
Light Corn Syrup: The secret behind making cookies chewy! It is liquid sugar with gentle hints of vanilla in it.
Light Brown Sugar: Milder than dark sugar, perfect for helping this coconut cookie get sweet, but not in an harsh super sweet way.
Egg: Make sure it's room temperature!
Rum Extract: Safe for kids! You can omit it completely, if desired.
Coconut Extract: Helps give it a stronger coconut taste, without having to add more shredded coconut.
Vanilla Extract: We use a small amount, so the vanilla is very subtle, yet helps give warmth to the cookie, and makes it feel even more like Christmas.
Dry Ingredients
All Purpose Flour: When measuring, make sure you pack the measuring cup. I also like to tap it to make sure there's no air bubbles. I also sift the flour, after measuring.
Salt: You can omit it if using salted butter.
Baking Soda: Helps the cookie rise.
Ground Cinnamon: Sweet and woody, don't omit!
Ground Nutmeg: A small amount goes a long way!
Ground Cloves: Just like nutmeg, very small amounts go a long way.
Coconut Flakes: You can use sweetened for a sweeter taste, or unsweetened to lower the carbs and make it somewhat healthier. I only used ½ cup, but you can add up to 1 cup, if desired.
Do you know what vanilla, cinnamon, clove, and nutmeg have in common? They're all woody spices. Not only are they perfect for coconut cookies, but they're great warming additions to add to cool coconut dishes.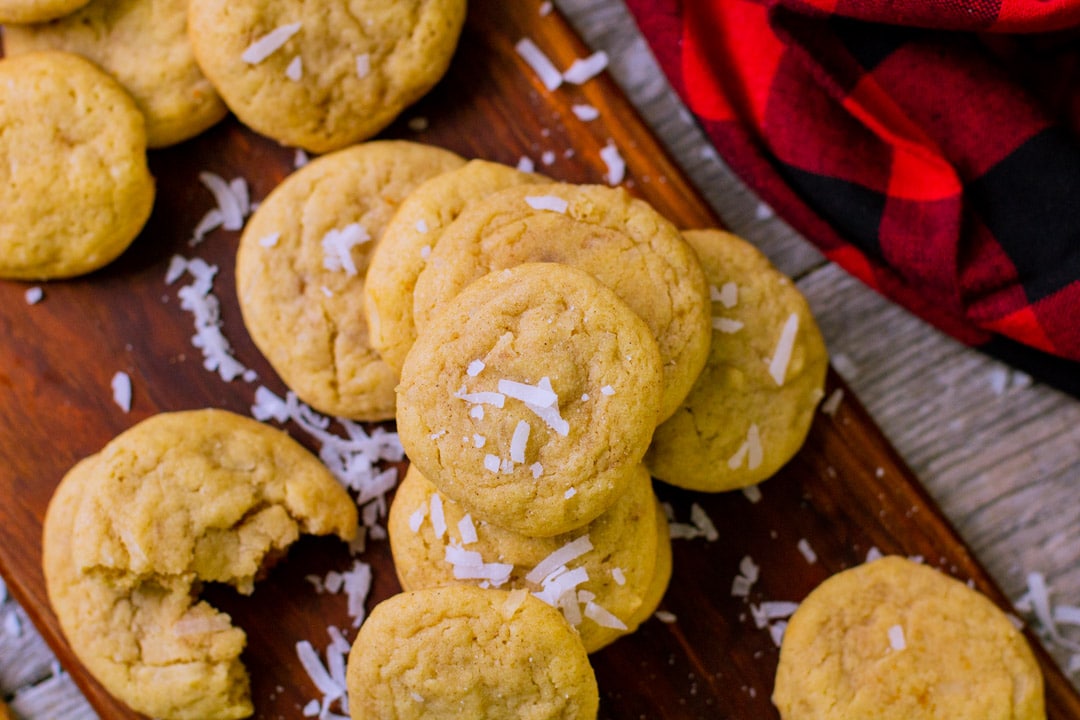 Easy Coconut Cookie Instructions
Using a stand mixer or a hand mixer is highly suggested to make easy coconut cookies.
To ensure your cookies are chewy and not flat, chilling is part of the process. Just like in my tasty white chocolate and guava thumbprint cookie recipe.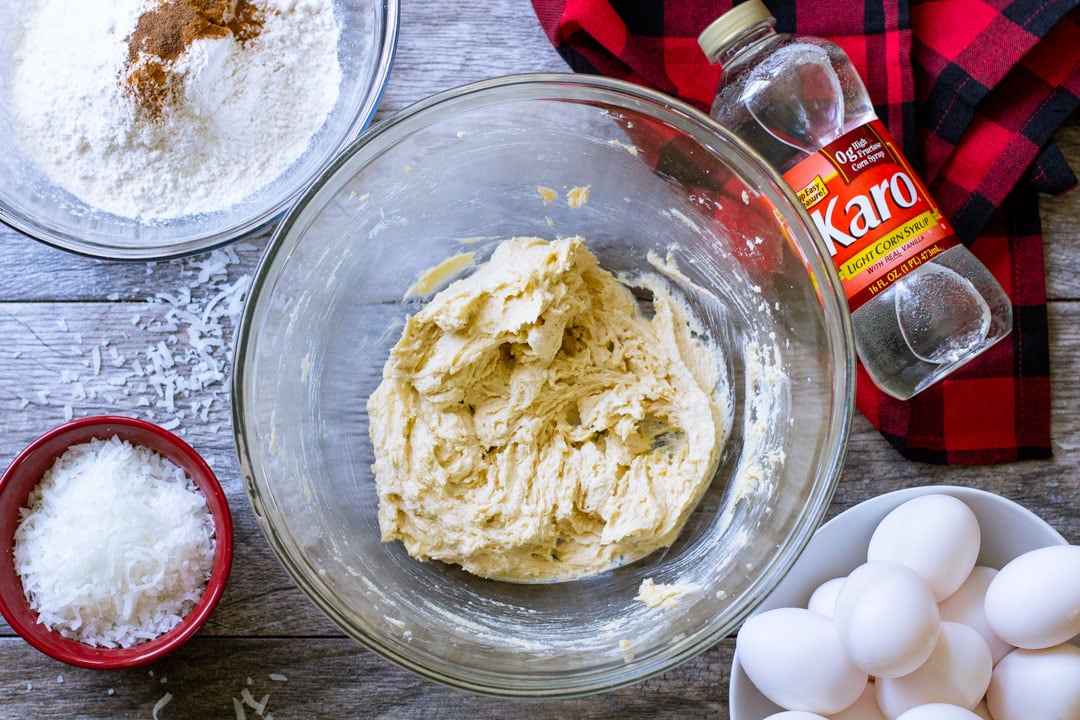 Step 1: In a large bowl, cream the butter over low speed for about 1 minute.
Step 2: Mix in the corn syrup and sugar, over medium speed until combined and no longer grainy. (About 2-3 minutes.)
Step 3: Add in the egg and extracts, beat for a minute.
Step 4: Take a small bowl and whisk together the dry ingredients, except for the coconut flakes.
Step 5: Slowly pour in the flour mixture into the large bowl, and mix over low speed for a minute. Do not overmix!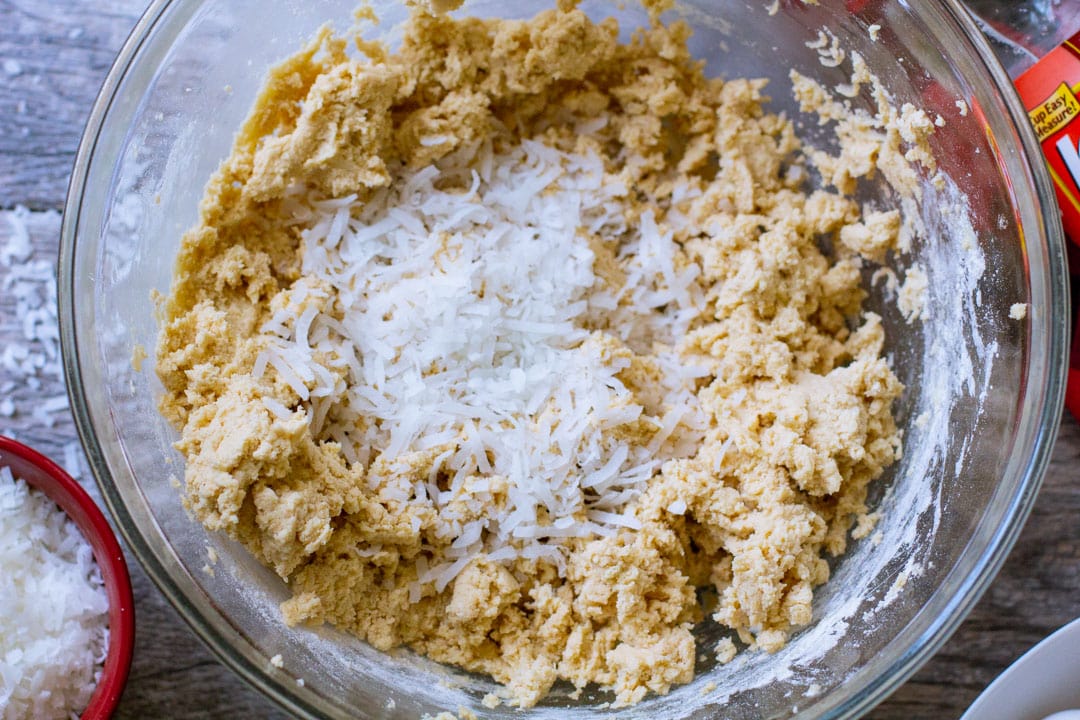 Step 6: Fold in coconut flakes, just until it combines.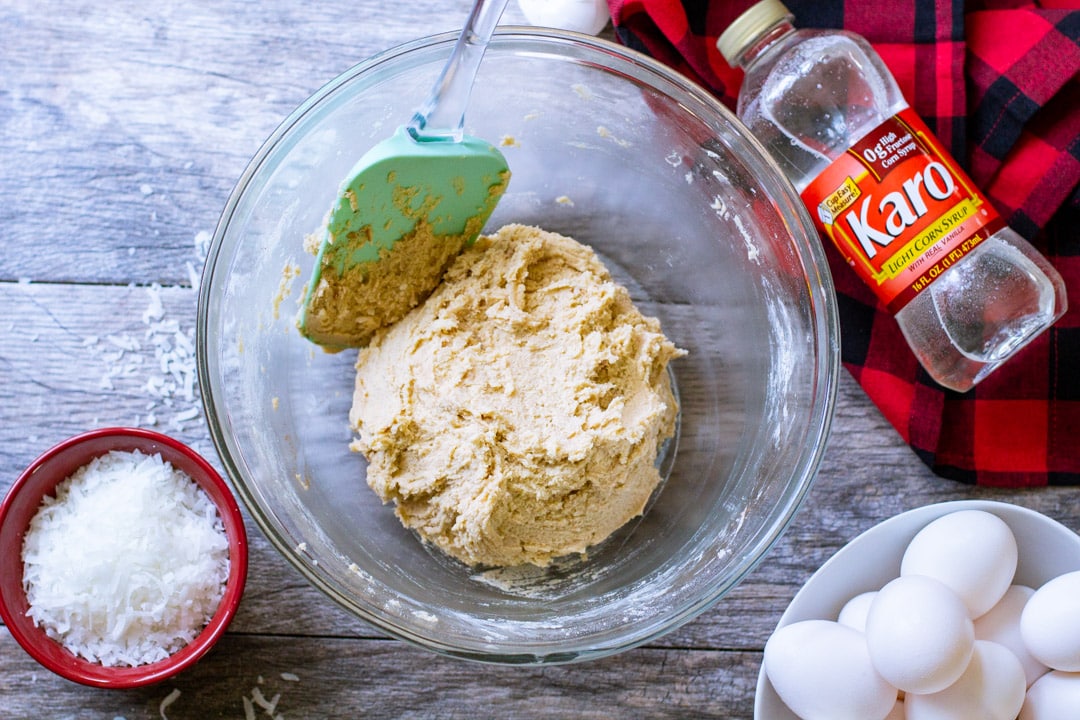 Step 7: Scoop out 20-24 cookies (I used a tablespoon spoon for guidance), and place them on a parchment paper or baking mat lined baking pan. (At this point, it doesn't matter if cookies are closer together.)
Step 8: Cover pan with plastic wrap, and chill in the refrigerator for a few hours, or if you're pressed on time, freeze it for 30 minutes to an hour.
Step 9: Preheat oven to 350 degrees Fahrenheit and remove cookies from pan and line them onto a parchment paper or baking mat lined baking sheet, about 2-3 inches apart. (Bake in batches.)
Due to science, it's important to have the pan be room temperature, but you still want your cookies to be chilled.
Step 10: Bake for about 11-13 minutes each. (11 minutes for more of a gooey center, and 13 minutes for an airy, yet still soft coconut cookie.)
Step 11: Once cookies have a nice golden edge and the center is not shiny, remove pan from the oven, and let cookies sit for about minutes on pan, before transferring it to a cooling rack.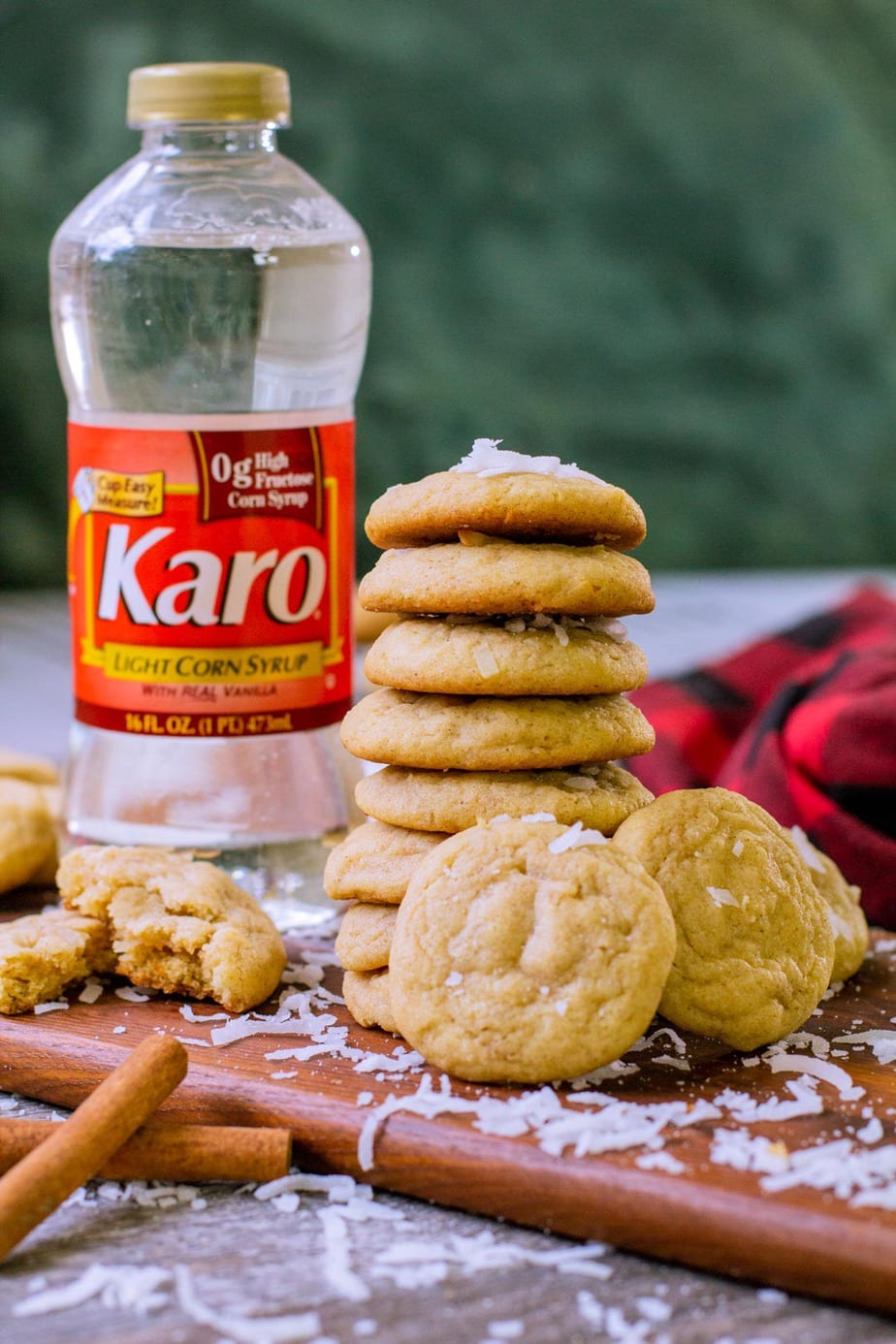 Frequently Asked Questions
How do you chill coconut cookies?
You can chill cookies in the fridge for a few hours or overnight. But if you're in a rush, you can freeze it for 30-60 minutes.

This article from Martha Stewart gives more thorough information on the science behind chilling cookie dough.
How do you store coconut cookies?
Storing cookies in an airtight container is always best practice. It ensures your cookies will remain fresh and soft.
What is coquito?
Coquito is a creamy coconut and rum beverage that is highly popular within the Latino community. It is served traditionally at Christmas parties. (You can omit the rum to make a virgin coquito recipe.)
You can find our various Puerto Rican coquito recipes here! 
Will the rum extract make me drunk?
No, the rum extract is not strong enough to make you drunk, all extracts are made with alcohol, including vanilla extract. This coconut cookie recipe using rum extract is safe for kids to eat!
How long can I store these cookies?
In an air tight container, at room temperature, about 3 days. In the refrigerator about 2-3 months. But they may be long gone before then.
More Coquito Recipes You May Enjoy
If you enjoyed this coquito cookie recipe, you'll love these unique coquito drink recipes!
Not sure what to do with the extra shredded coconut flakes? Make some gluten free coconut macaroons!
📖 Recipe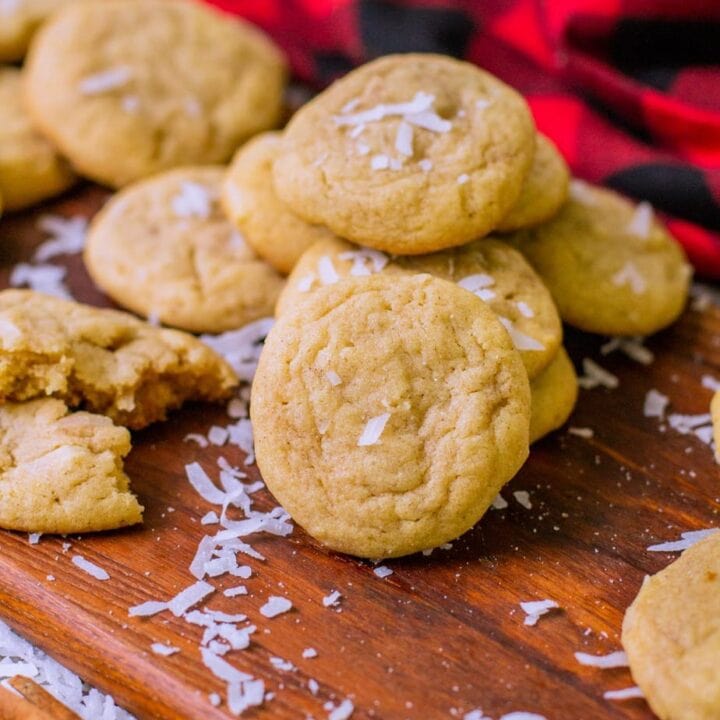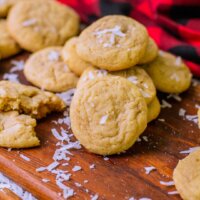 Chewy Coquito Cookies (Soft Coconut Cookies)
Soft, chewy, and packed with coconut, this coquito inspired coconut cookie recipe has a touch of rum, and hints of your favorite winter spices.
Print
Pin
Rate
Equipment
oven

hand mixer

stand mixer
Ingredients
Wet Ingredients
½

cup

unsalted butter

softened

¼

cup

Karo Corn Syrup

light

½

cup

light brown sugar

packed

1

teaspoon

rum extract

½

teaspoon

coconut extract

½

teaspoon

vanilla

extract
Dry Ingredients
½

teaspoon

salt

2

teaspoon

ground cinnamon

⅛

teaspoon

ground cloves

⅛

teaspoon

ground nutmeg

1

teaspoon

baking soda

1 ¾

cup

all-purpose flour

½

cup

shredded coconut flakes

unsweetened
Instructions
Wet Ingredients
Place softened butter into a large bowl and with either a hand mixer or a stand mixer, mix on low until smooth.

Add in corn syrup and brown sugar, mix on medium for about 2 minutes until well combined and creamy.

Next, add in your egg and extracts, and mix until combined.
Dry Ingredients
In a small bowl, whisk together your dry ingredients, except for the coconut flakes.

Slowly, pour your flour mixture into the wet ingredients bowl, and mix together on low. Mix until just combined. (Do not overmix your batter. and gently scrape your sides of your bowl so all of the ingredients are incorporated.)

Fold in your shredded coconut flakes. (Start with just 1 cup and add more in, if desired.)
Assembling and Chilling
Line a cookie tray with either parchment paper or a baking mat.

Scoop 2 tablespoons worth of cookie dough and gently roll it into a ball (or use a cookie scooper or a 2 tablespoon measuring spoon). Place cookie dough balls unto mat.

Once cookies are all lined (spacing does not matter too much here), cover with plastic wrap and chill for 1 hour in the freezer.
Baking
Once your cookies have chilled, preheat your oven to 350 degrees Fahrenheit.

Transfer your cookie dough balls onto another cookie sheet that has been lined with parchment paper or a baking mat, spacing cookies about 2 inches apart.

Bake for 11-13 minutes or until your cookies are just golden on the edges and the center of the cookies are no longer shiny looking.

Remove cookie sheet from the oven and allow cookies to cool on the sheets for 10 minutes before removing them.
Notes
Store cookies in an air tight container for up to 3 days.
Nutrition
Calories:
156
kcal
|
Carbohydrates:
19
g
|
Protein:
2
g
|
Fat:
9
g
|
Saturated Fat:
7
g
|
Polyunsaturated Fat:
0.3
g
|
Monounsaturated Fat:
1
g
|
Trans Fat:
0.2
g
|
Cholesterol:
12
mg
|
Sodium:
120
mg
|
Potassium:
56
mg
|
Fiber:
1
g
|
Sugar:
9
g
|
Vitamin A:
142
IU
|
Vitamin C:
0.1
mg
|
Calcium:
11
mg
|
Iron:
1
mg