Garbanzos guisados is a hearty Puerto Rican beans recipe that my family loves to serve over fluffy white rice!
Known for being the main ingredient in hummus, chickpeas are larger than beans most Puerto Rican recipes call for such as kidney beans, small red beans, or navy beans.
Using chickpeas (also known as garbanzos), to make a garbanzo stew recipe is great for bold flavors and to add vegetables and meats to!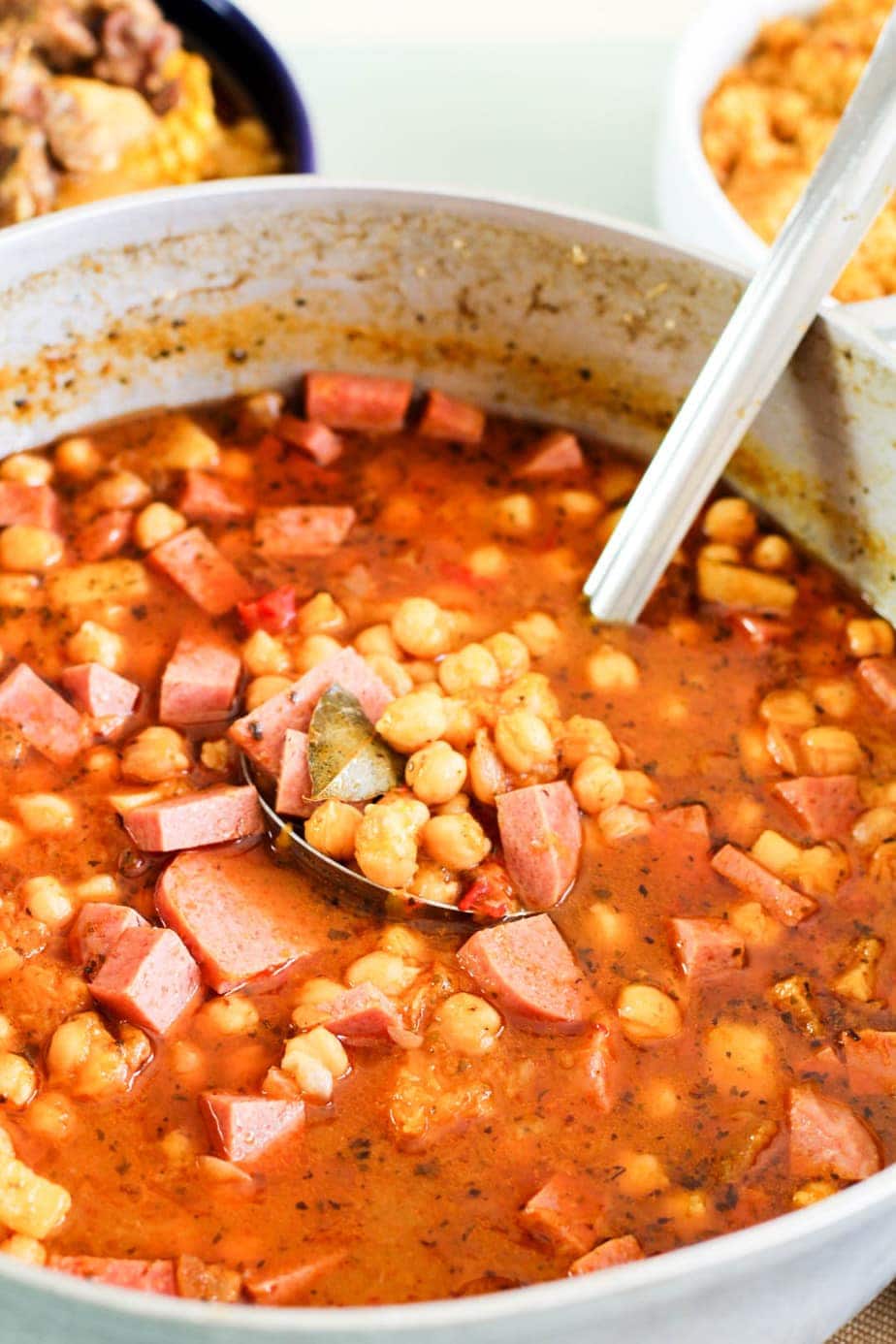 What are garbanzos beans?
Garbanazos are part of the legumes family. Garbanzos, also known as chickpeas is versatile. A cheap pantry staple, you can purchase chickpeas dry in a bag, or cooked in a can.
Chickpeas are tender, yet firm for the perfect chew! Grind it for a paste, buy it in flour form, or puree it to make a sauce or hummus!
Are you wondering what chickpeas taste like? Garbanzos taste like an earthy bean, similar to pinto, with a slightly firm, yet creamy texture.
Thankfully, garbanzos takes on the flavor profile of whatever your making, so it makes it the perfect hearty ingredient for stew!
My favorite way to cook chickpeas is to make garbanzos guisados, which is a chickpea stew.
What ingredients are in chickpea stew?
For this particular garbanzos beans recipe, I'm adding spam, but you can use salami or completely leave it out!
Ingredients for garbanzo guisados:
Dry Chickpeas
water
Baking Soda (helps soften the beans)
oil
tocino (salted pork fat) or bacon
onion
homemade sofrito (or chopped bell peppers and garlic if you don't have sofrito)
tomato sauce
bay leaf
chicken bullion or ham bullion
sazon or paprika, for color
vinegar
salt and pepper to taste
calabaza (pumpkin or squash)
potatoes
cilantro
How To Make Garbanzos Guisados
For this recipe, we're making stove top garbanzos guisados using dry garbanzos beans.
Unlike other beans, chickpeas are especially tough in raw form. I brine garbanzo beans in a salt water bath for about an hour before cooking.
To be honest, I've been learning so much about cooking beans, and what's fact or myth. Mi gente, we've got some changing to do that benefits us with time!
I'll be working on a post soon that goes into depth on the do's and dont's with cooking dry beans.
Brining beans helps keep the skin in tact while cooking. Once your beans have brined, rinse the beans before cooking.
What's brining? Brining is the process of tenderizing an ingredient with salt. You're probably familiar with brining meats (turkey in a tub of liquid and a crazy amount of salt).
To make garbanzos beans on the stove:
Add beans, water, and baking soda to a large pot and cook on medium high, covered for about one and a half hours. Check on beans periodically and give it a gently stir while you're at it. (About every 25-30 minutes.)
To make garbanzos beans in an Instant Pot:
Making beans in an Instant Pot is my favorite way to cook beans! Pour water, beans, and baking soda to the Instant Pot (or pressure cooker) and cook for 45 minutes. I then do a quick release before proceeding to the next step.
Will my garbanzo guisados taste like baking soda? No, you will not taste the baking soda. Baking soda cuts cooking time in half with softening garbanzo beans!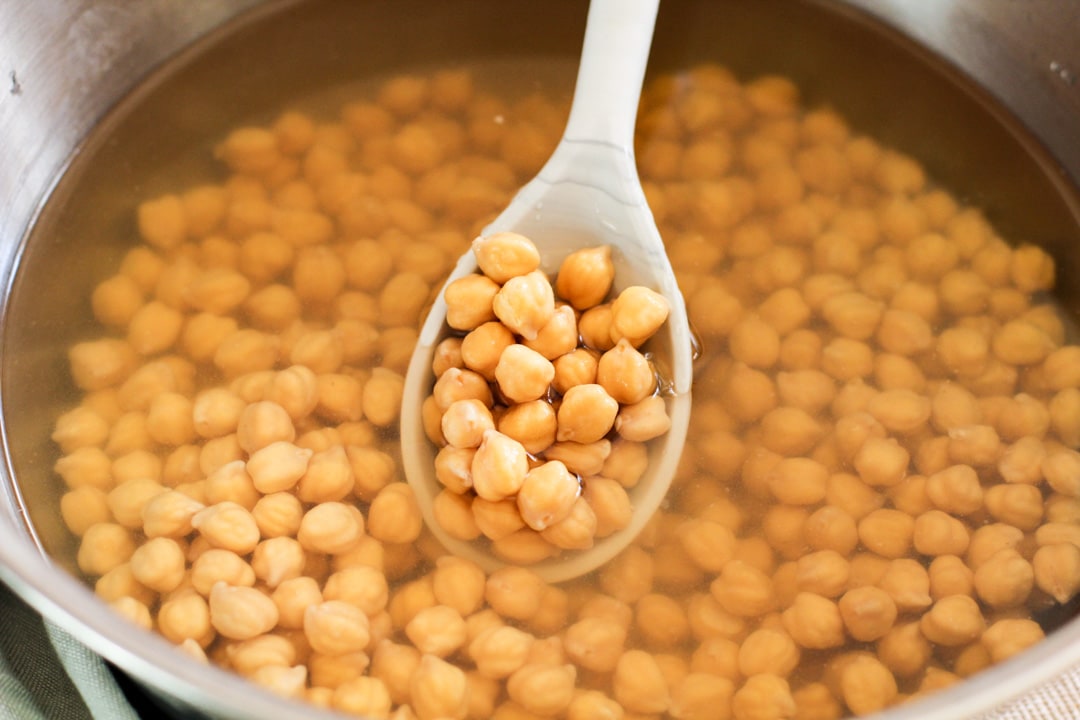 Once the beans have cooked to a tender level, I now make a delicious sofrito sauce to add to the beans.
This step is crucial and is what adds the depth of flavor I love with garbanzo beans.
If you're wondering why you can't just dump all of the ingredients into the pot with the beans, it's because sometimes you need to cook things separately to bring them together to create magic.
I find that recipes that work in steps, with layers of flavor within each step are the best! (Think of homemade cake, with a homemade filling, and a homemade buttercream frosting. Many steps for an outstanding baked good recipe!)
Quick tip: Drain excess water from Instant Pot or pot once garbanzo beans have cooked through! Remember that for garbanzos guisados you want the stew to have a little wet consistency. Think consistency between baked beans and bean soup.
How To Make Sofrito For Beans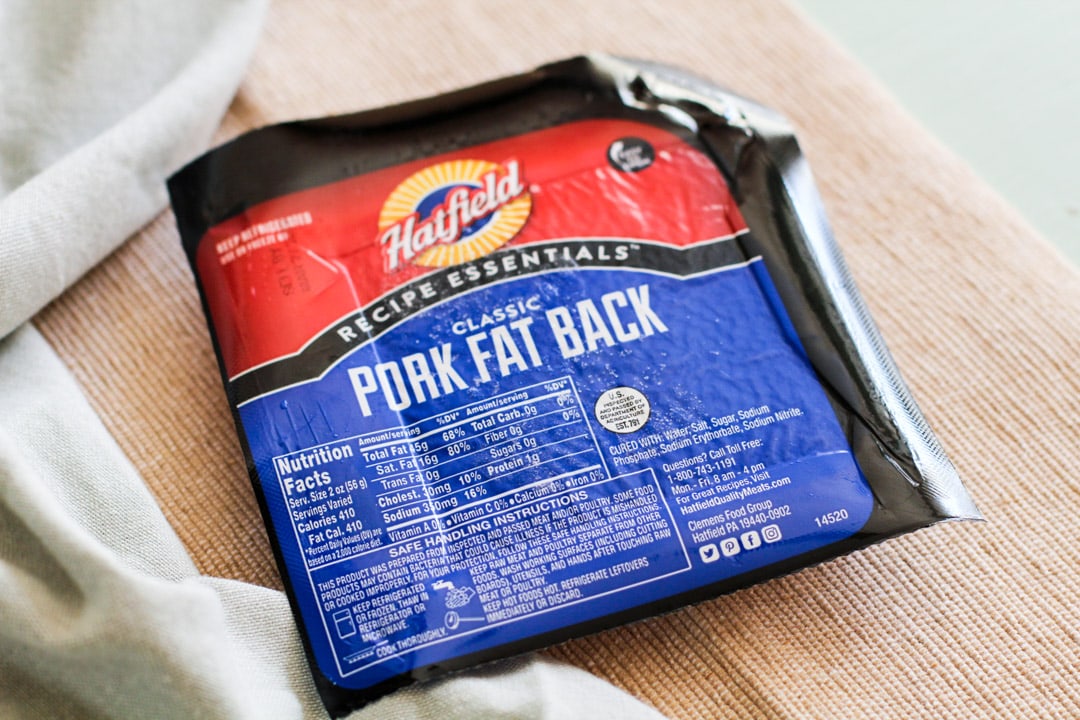 Making the base sauce, also known as sofrito, usually starts with cooking some kind of pork. Bacon, pork fat, or even ham are popular with Puerto Rican and Cuban recipes.
If you do not consume pork, you can skip this step, or use turkey bacon in it's place.
I use a quarter or half of the package of the salt pork fat (about 3 tablespoons chopped). Chop the pork into small pieces. Be sure to use a sharp knife!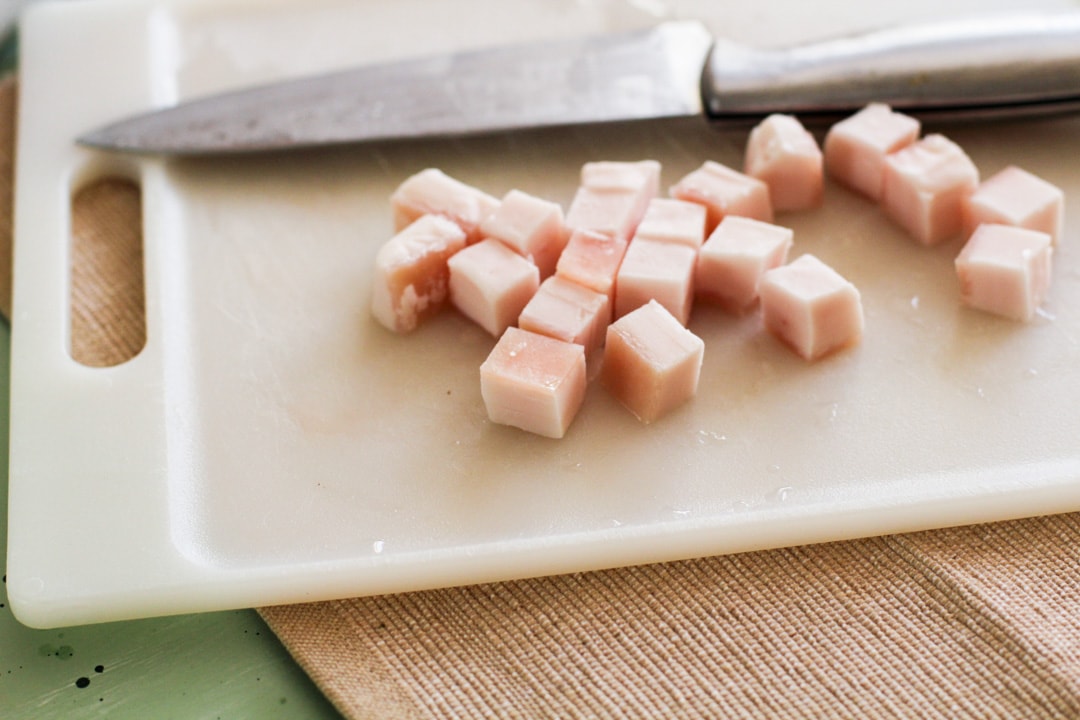 Warm oil over medium high in a small pan, and then add in the pork. Cook until fragrant and crispy, about 4-6 minutes.
If you're using bacon, just use 1-2 slices, and chop it before cooking. Cook just til crispy, about 1-2 minutes.
Next, add in sofrito, seasonings, and tomato sauce. It may seem like a lot of seasonings in a small amount, but this will give flavor to the whole pot of garbanzo beans.
Pour the sofrito mixture into the pot with beans, stir to combine.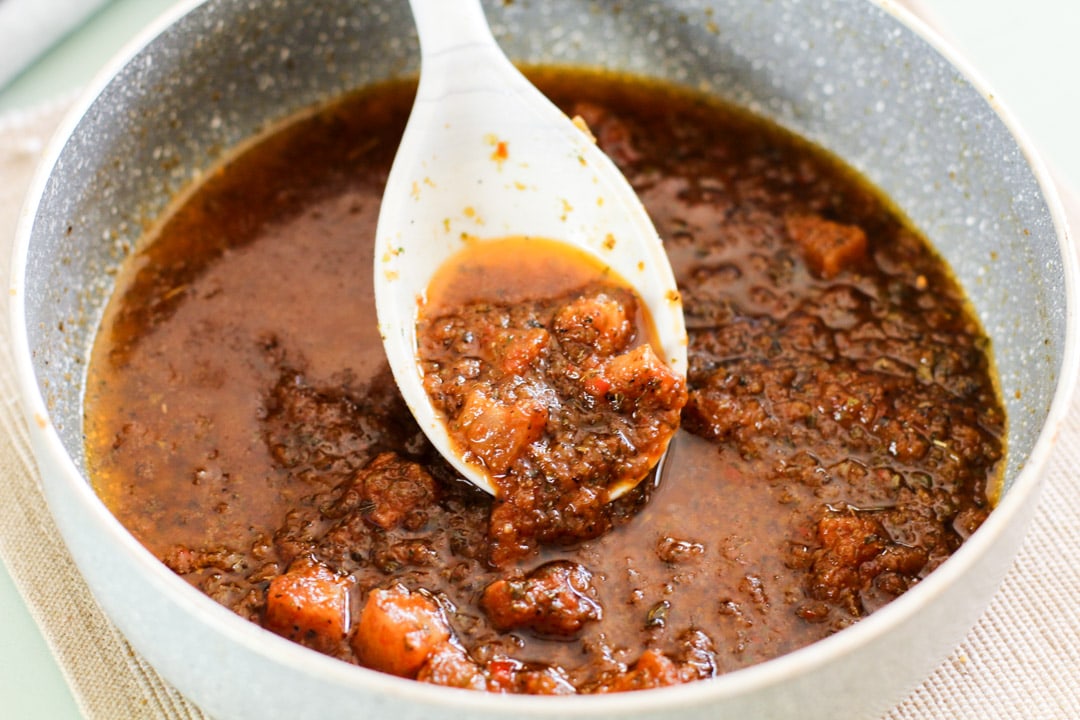 Chop peeled potatoes and calabaza (pumpkin) into one inch chunks. Pour it into the pot with garbanzo guisados.
Quick Tip: Chop and freeze any extra raw calabaza into portions and you can easily dump it into any bean recipes!
As I was cooking, I realized I had a container of Spam. Now, if you can choose between salchichon (salami) and Spam.... choose the salami! For some reason, I can not find stores that carry it near me!
Chop it into chunks and dump it into the pot too.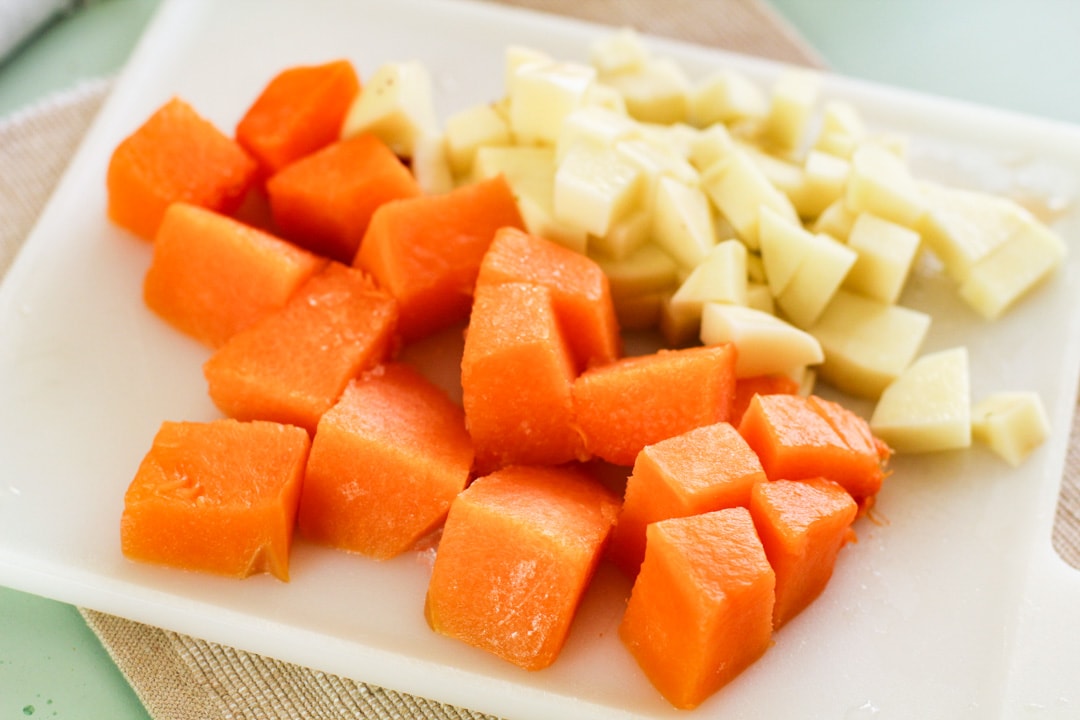 Now that all of the extras have been added, return the pot to a steady simmer and continue cooking for about 10 minutes, or until potatoes are fork tender.
If you're making garbanzo guisados in the Instant Pot, cover and seal pot and cook for only 2-3 minutes.
Once potatoes are cooked and beans are as tender as desired, taste and adjust with salt and pepper if necessary.
Serve over a fresh batch of white rice, with a side of pernil or Puerto Rican chicken, and some vegetables!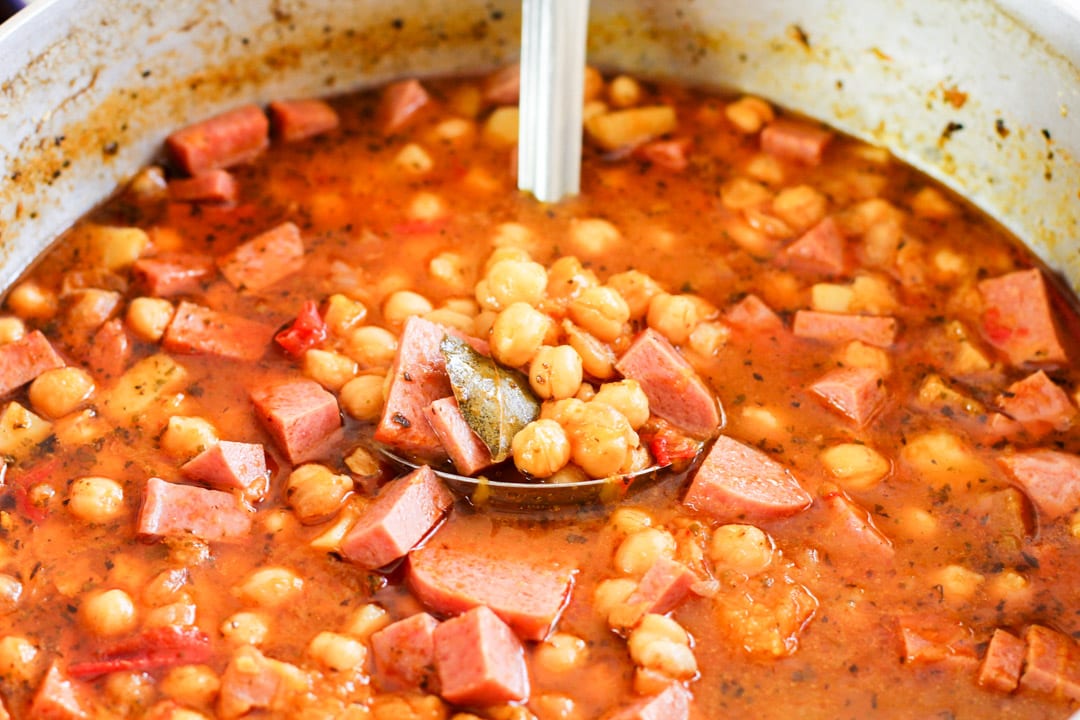 How do you thicken garbanzo guisados?
To thicken garbanzo guisados, take the back of a large cooking spoon and smash some of the cooked beans and potatoes into the side of the pot to create a "paste" out of the beans and potatoes. Repeat the process a few times and gently mix that paste into the stew to thicken the garbanzo guisados.
How long can I store garbanzo guisados?
Store cooked beans in an airtight container in the fridge for up to 3-5 days. To reheat, place in a pan with a tablespoon of water and heat over medium heat for 10-15 minutes, or until warmed through.
If you want to freeze any leftover garbanzo guisados, store in a freezer safe container or freezer Ziploc bag for up to 8 months. To reheat, place container or bag on the counter to defrost and then pour defrosted beans into a pot and reheat over medium heat for about 20 minutes, or until beans have warmed through.