Chorizo stuffing with plantains is a smokey, slightly spicy, sweet and savory Thanksgiving stuffing recipe that the family will love!
Staying true to our vision, we've taken the classic Thanksgiving stuffing recipe with sage, thyme, celery, and onions, and created the ultimate Latin American fusion recipe!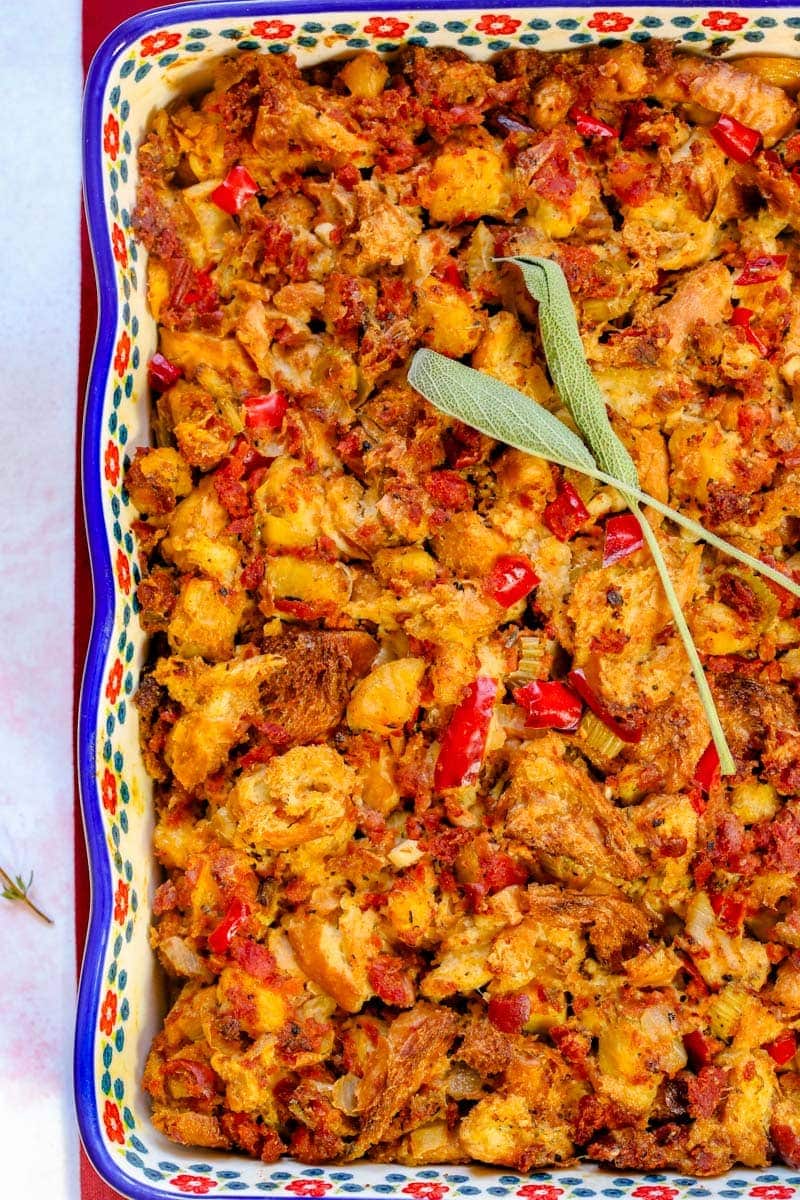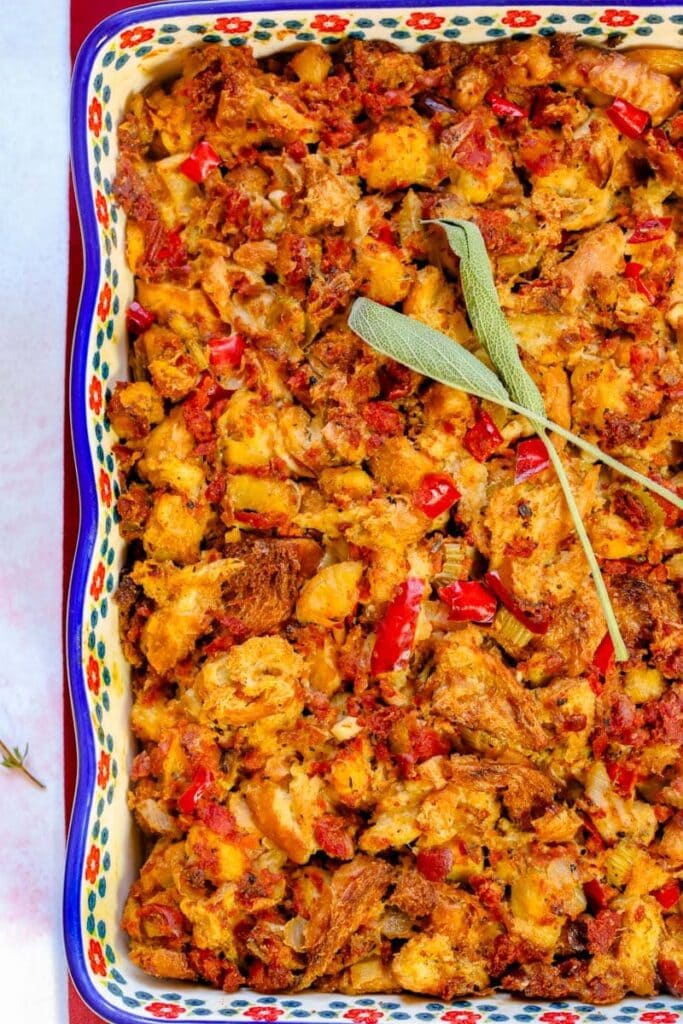 What does chorizo taste like?
There are two kinds of chorizo, both are made of pork.
There is Mexican chorizo, which is what is widely referred to in recipes you find online and in Mexican restaurants. Mexican chorizo is spicy on the heat index and very bold in taste. Mexican chorizo is usually not cooked and comes either ground or in casings. If you buy chorizo in casings, be sure to remove the skin before cooking.
Spanish chorizo (my favorite and go to) is smokey with a distinct paprika and spice profile that has a tiny kick, but it's not overwhelming and perfect for little ones. Also, Spanish chorizo is sold fully cooked (it is smoked). It usually comes in links, but you can also find it crumbled (fully cooked). When you look at Goya chorizo links, this is the Spanish version of chorizo.
Depending on who you're serving this chorizo stuffing recipe to will determine which kind of chorizo you will use. I say go big or go home and make smaller batches of both for serving at Thanksgiving.
Where do you buy chorizo?
Mexican chorizo is commonly found in the pork section of most major supermarkets. Spanish chorizo may be a little bit harder to find. Look for a Latin market or a supermarket with an International aisle that has a large selection of Goya products. Call ahead or go online and look for a store that sells it near you!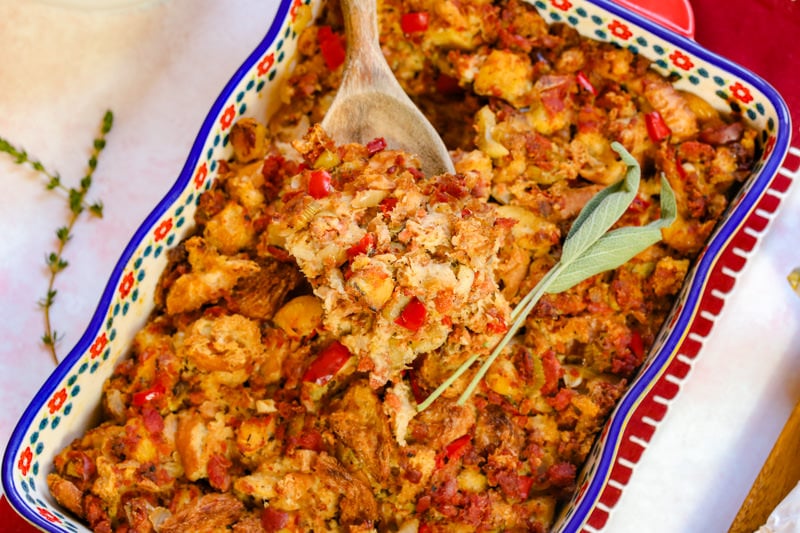 How To Make Stuffing with Chorizo
To make Thanksgiving stuffing you need to have bread that is a bit hard, to do this take a whole loaf of bread or baguette, cut it into large bite size chunks and toast the bread in the oven until it dries out. Set the dried out bread to the side until needed.
You can use sliced bread to make stuffing, but French or Italian bread loaves are best!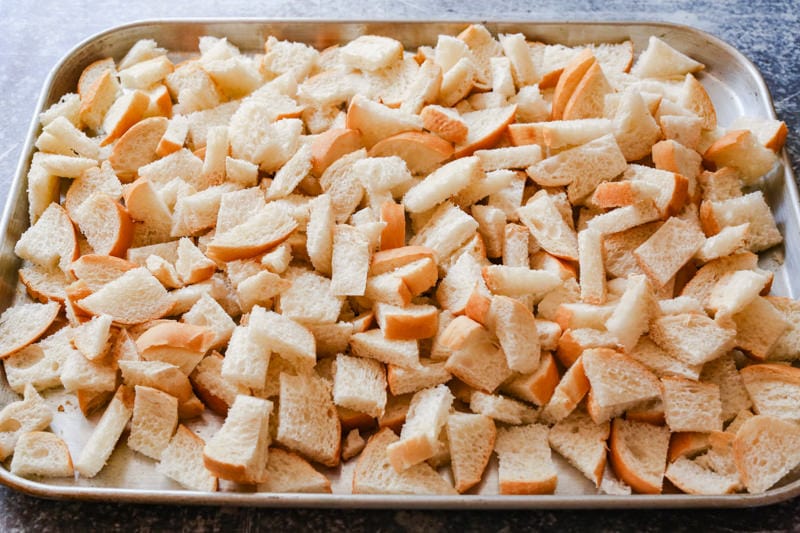 While the bread for stuffing is toasting, grab your plantains and peel and boil them. I cut off the ends, cut the plantain in half, and peel the skins before placing the ripe plantains into water to boil for 12 minutes.
Once the plantains are cooked, drain the plantains and once cooled a bit, cut into small bite sized cubes. (Smaller than the bread chunks.)
Be sure to use ripe plantains! Look for black spots on yellow plantains and that the plantain is soft!
Set the plantains to the side until needed. If you have leftover plantains, be sure to makes platano maduros which is a fried sweet plantain side dish we love!
Depending on if you're using Mexican chorizo or Spanish chorizo will just affect the time on this next step. In a large skillet, warm oil and either cook the Mexican chorizo until cooked through, or warm through the Spanish chorizo for one to two minutes to release the oils.
If you're using chorizo that is in a link, be sure that you remove the skin and cut the chorizo into crumbles if it's cooked, or break the links while cooking Mexican chorizo.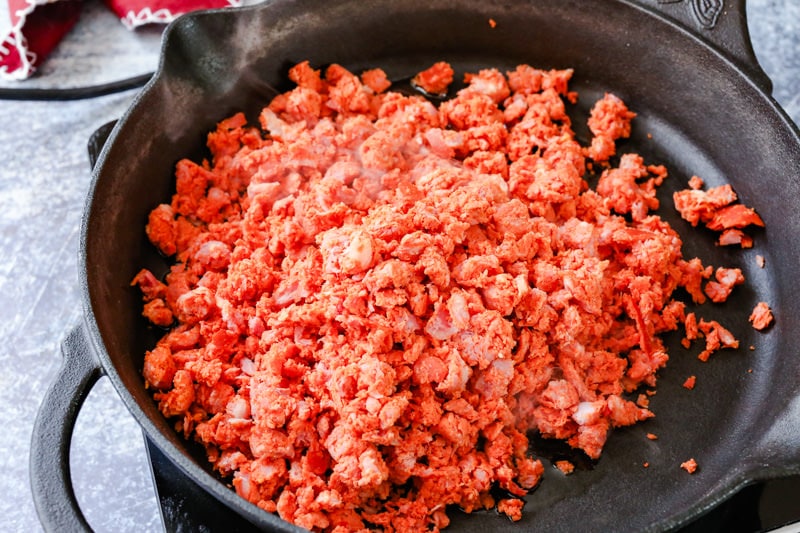 Once chorizo is cooked through (or oils released and warmed through), remove the chorizo and set to the side. Into the same pan with the chorizo drippings, add in your butter, onions, celery, and peppers. Also, add a teaspoon or two of olive oil if needed.
The temperature should be medium, enough for a sizzle, but you want the vegetables to cook through without burning the vegetables; this should take about 3-4 minutes.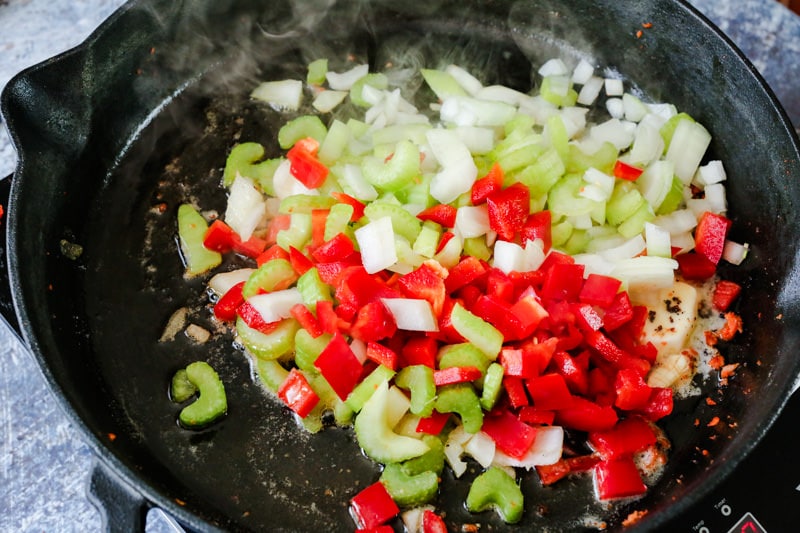 Once vegetables have softened, add in your garlic, seasonings and herbs.
Do you need fresh herbs for stuffing?
Fresh herbs is ideal for making stuffing, but you can use poultry seasoning, dry rubbed sage, dry or ground thyme, etc. Rub the seasonings between your fingers as you add it into your dish so the oils release for a fresher flavor.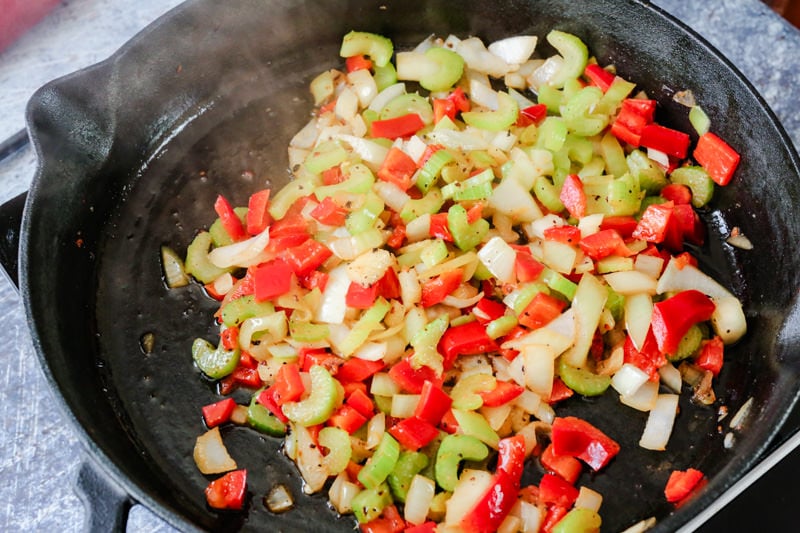 Add in the cooked and cubed plantains to your pan.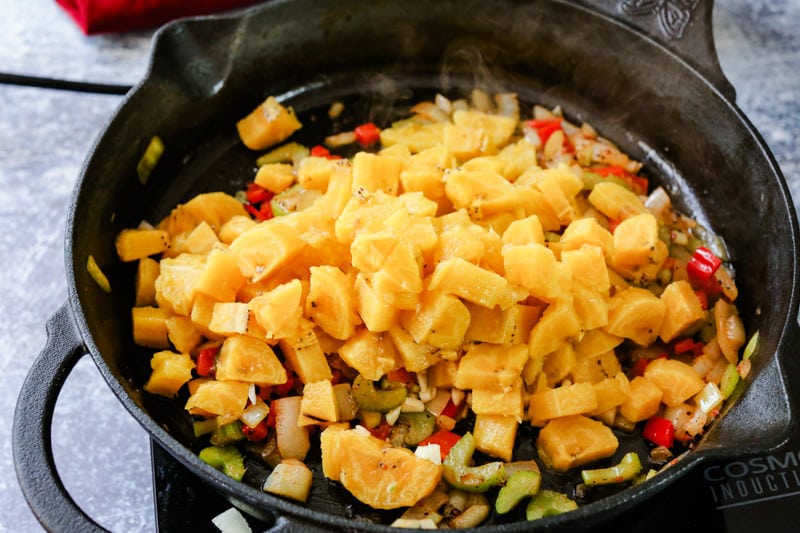 Along with the chorizo. Mix together and turn off the heat. At this point, I like to taste a spoonful of the chorizo and plantain mixture for seasonings. Adjust the salt and pepper, if needed.
(P.S make sure your oven is preheating at this point!)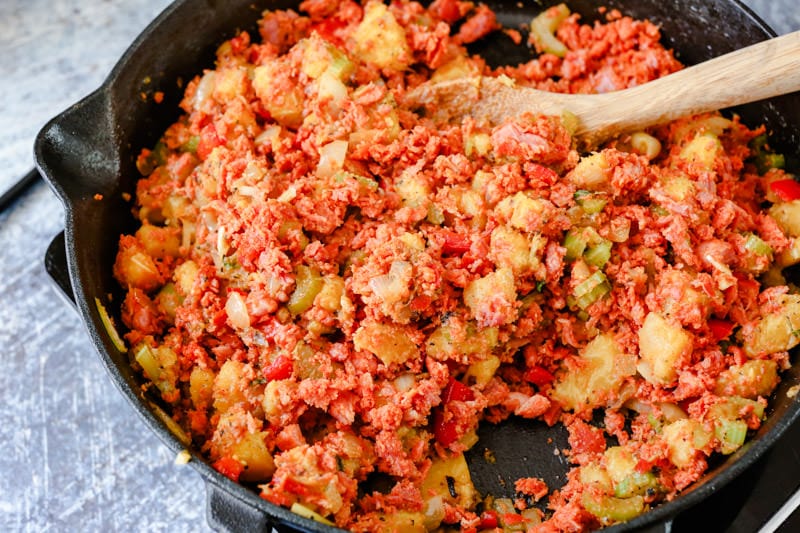 To assemble the chorizo stuffing with plantains, it's time to take a very large bowl and add in the toasted bread. The bread will be all the way to the top, and you may question how to add in the chorizo mixture.
The trick is to heat the chicken broth and pour it over the bread so it condenses before adding in the chorizo and plantain mixture.
Quick tip: I use water mixed with Better Than Bullion chicken flavor to make my chicken broth. Anytime you see a chicken broth recipe on my site, just assume I'm using Better Than Bullion!
Drop in your already beaten eggs and gently fold together all of the ingredients so it's covered together.
Your mixture will be wet! It will dry out a bit more while baking!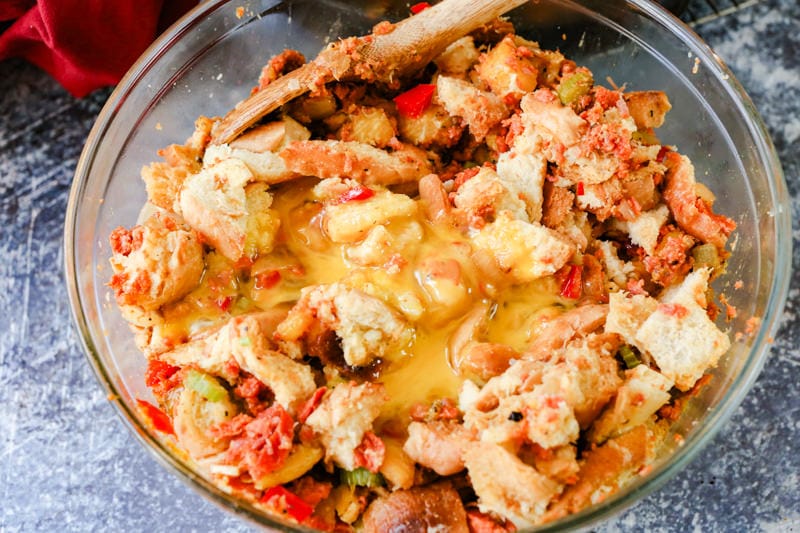 Take your pan and grease it well! I personally skip the spray and take a stick of butter to grease the casserole pan for this Thanksgiving stuffing recipe. A 9x13 is not necessary for this recipe, you can use a two quart pan.
Bake your chorizo stuffing on 350 for about 40-45 minutes or until the bread is firm(ish) and the tops is a beautiful golden brown in spots.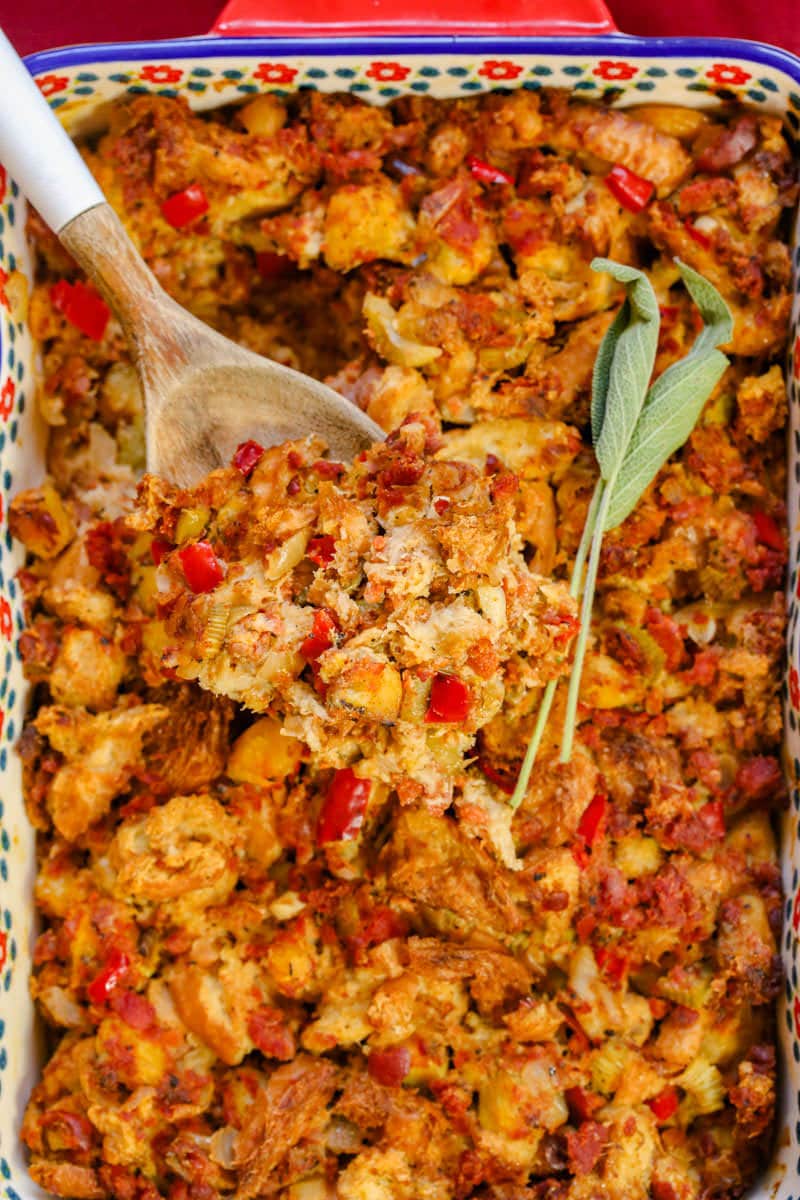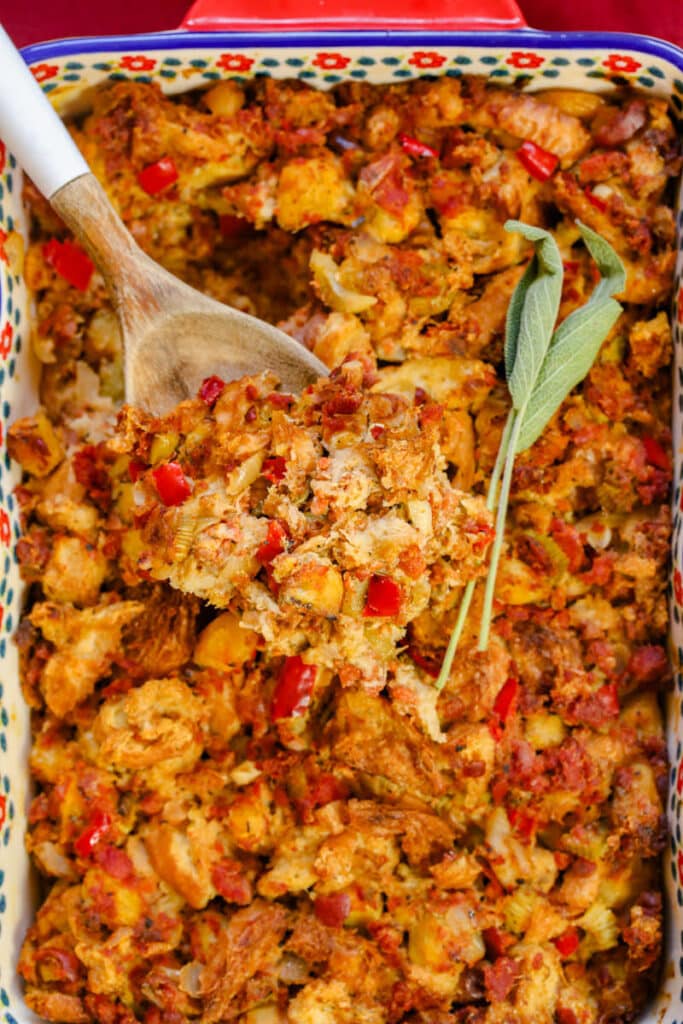 Want more Latin inspired Thanksgiving Recipes? Check out these:
📖 Recipe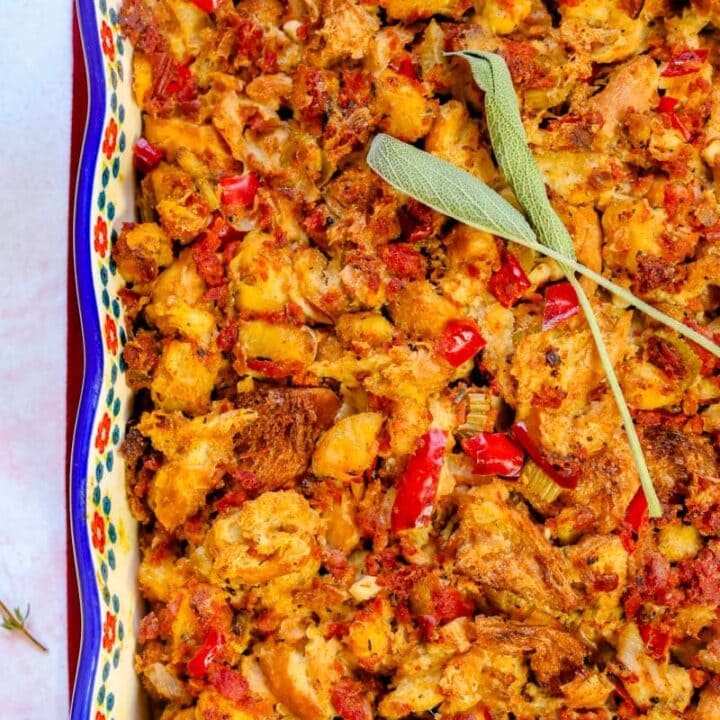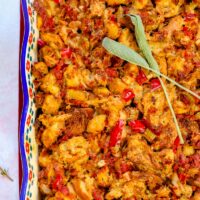 Chorizo Stuffing with Plantains
Smokey, spicy, sweet and savory, chorizo stuffing with plantains is the ultimate Latin American fusion Thanksgiving stuffing recipe the whole family will love!
Print
Pin
Rate
Ingredients
14

oz

French bread

cubed

2

ripe plantains

2

tablespoons

of olive oil

1

pound

of Spanish chorizo

or Mexican chorizo, ground or crumbled

2-3

tablespoons

of butter

1

cup

of chopped onions

3

stalks of celery

chopped

1

red bell pepper

chopped

2

garlic cloves

minced

1 ½

teaspoons

of savory seasoning

½

teaspoon

of black pepper

2

teaspoons

of salt

3-4

sage leaves

chopped (or 1 ½ teaspoons of ground sage)

2

thyme sprigs

leaves removed (or 1 teaspoon of ground thyme)

2 ½

cups

of chicken broth

2

eggs

lightly beaten
Instructions
Preheat oven to 350 degrees Fahrenheit.

Toast bread in oven for 10-15 minutes, or until it is dried through and slightly golden brown.

Peel plantains and chop each plantain in half. Place plantains into a pot of boiling water and boil for about 8-10 minutes or until fork tender. Remove plantain and place to the side.

Once plantain is cooled enough to safely touch, cut plantain into small bite size chunks and set to the side.

In a large pan, warm oil over medium high heat and if using Mexican chorizo, add chorizo and cook until browned. If using Spanish chorizo, warm chorizo through for 1-2 minutes. Remove cooked chorizo, but leave in the chorizo juice.

To the same pan melt butter and add in onions, celery, and red peppers. Cook for about 4-5 minutes (stirring occasionally), until vegetables have softened.

Once vegetables have softened, add in garlic, seasonings, and herbs. Cook for about 30 seconds before adding in chorizo and plantains; stir to combine. Turn off heat.

Into a very large bowl, add in bread cubes and chicken broth. Fold in chorizo mixture and beaten eggs.

Pour chorizo stuffing into a well-greased two quart casserole pan.

Bake chorizo stuffing for 40-45 minutes or until the stuffing is firm on top and slightly golden brown.

Remove from oven and serve.
Notes
If using chorizo links, remove the chorizo from casing.
If using Spanish chorizo, finely chop chorizo until it resembles a crumble of ground chorizo.