This is the easiest apple pie recipe ever, no seriously, this easy apple pie recipe is a must make for after school and Thanksgiving!
With the cooler weather and holidays quickly approaching it's time to add baking recipes to our site! We have some fall favorites, like our flan recipes, as well as rice pudding, and pastelitos de guayaba, but it's time to add in some more American inspired desserts!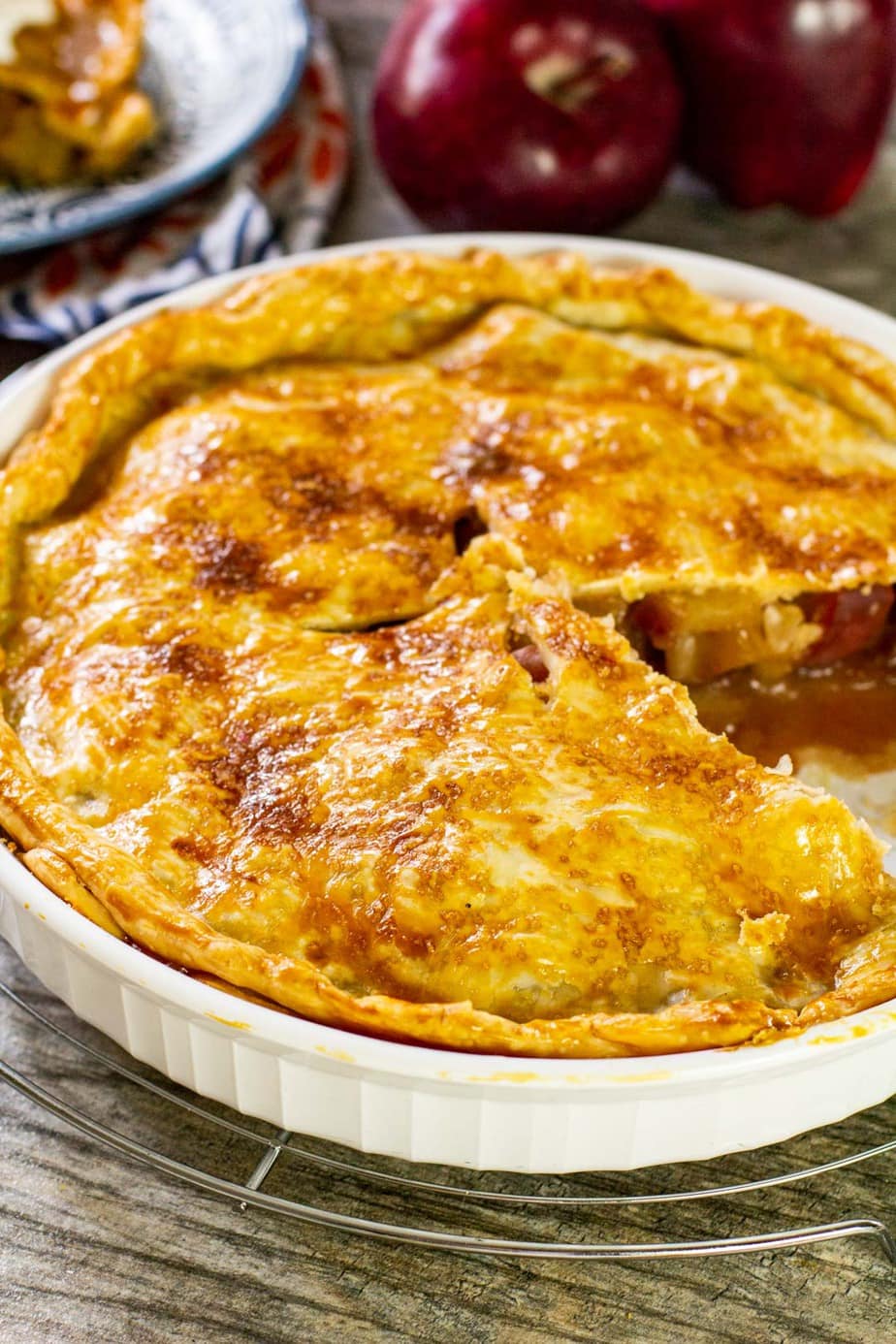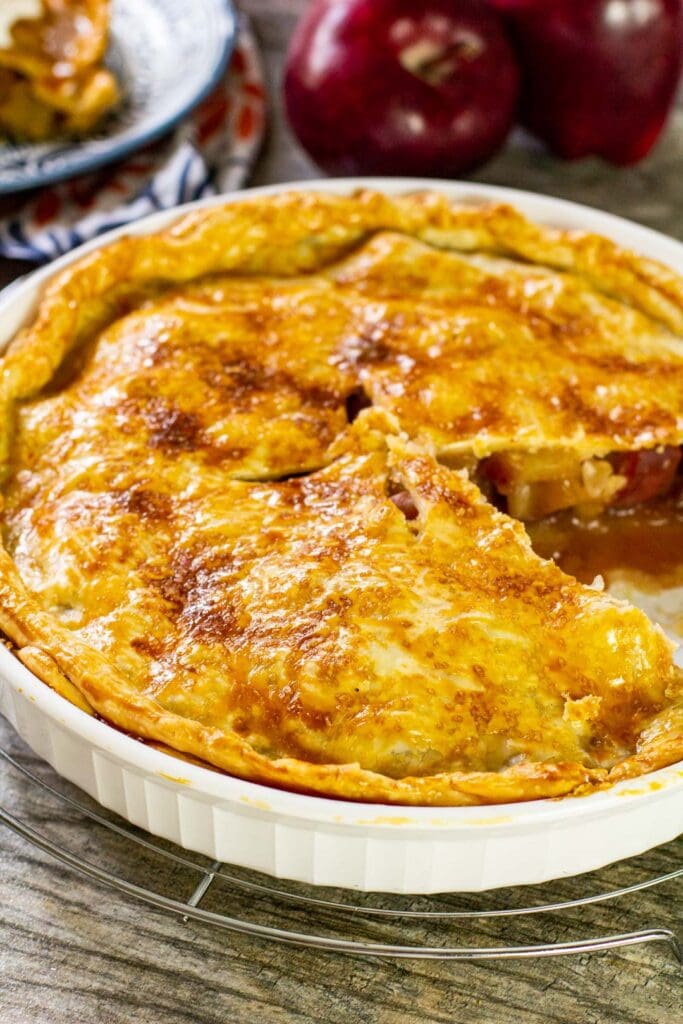 Postre de manzana means apple pie in Spanish. I vaguely remember my mother preparing an apple pie once or twice in my childhood. My parents would always buy the store made apple pies for Thanksgiving.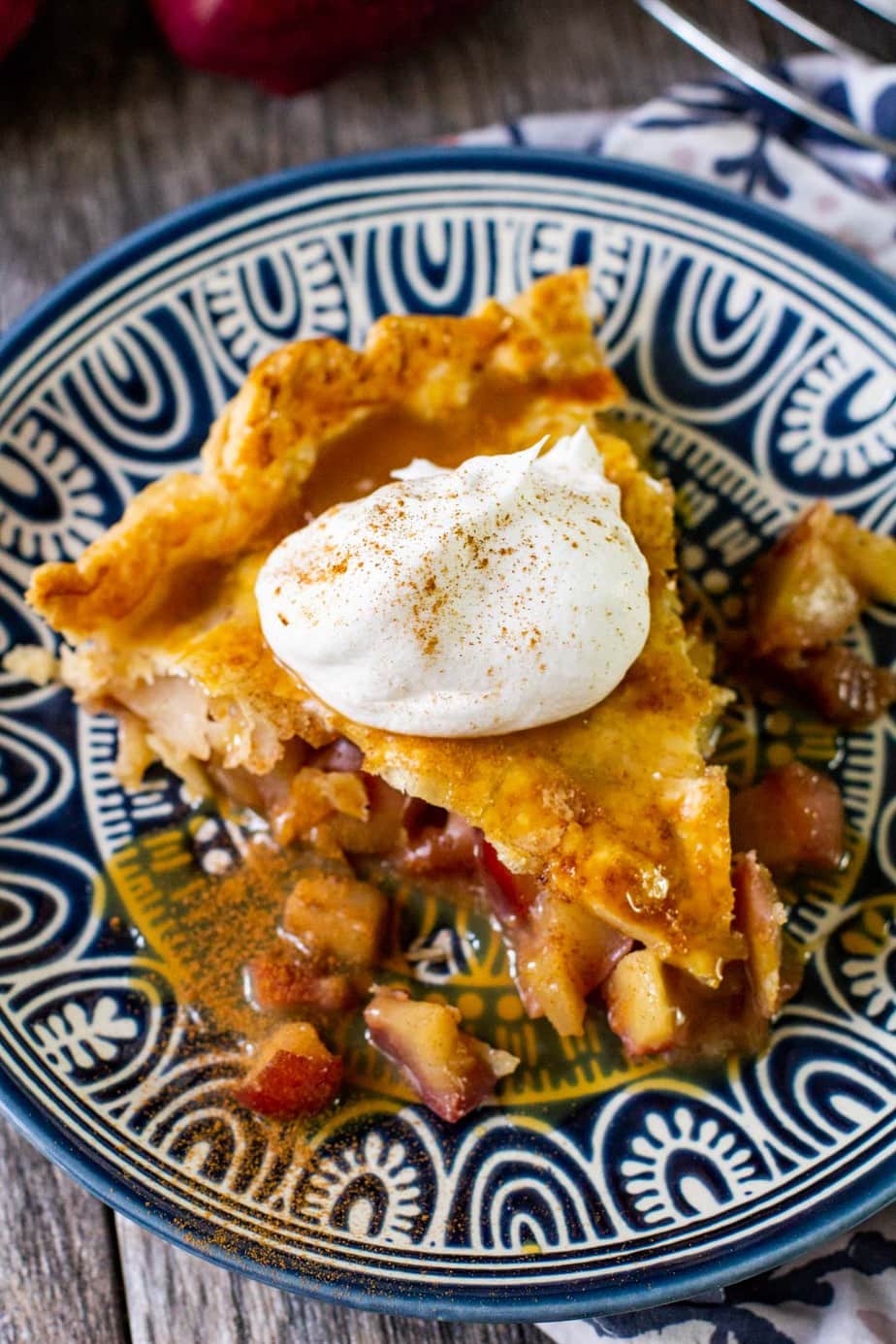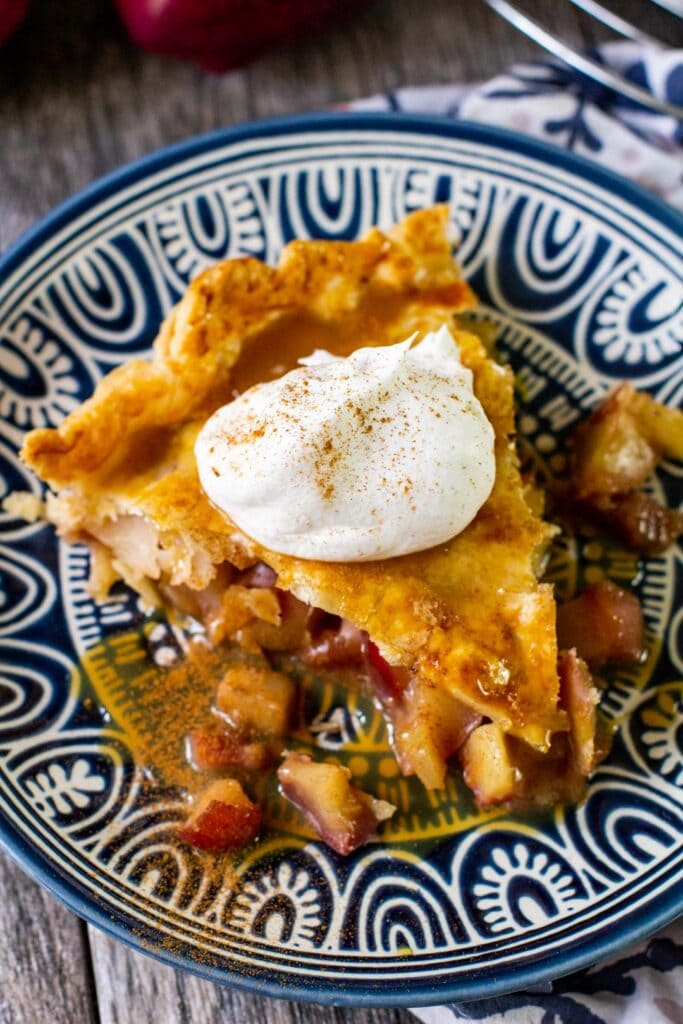 If you are looking for ways to cut corners with an easy apple pie recipe, than this recipe is for you!
Apple Pie Ingredients
Fresh apples, cinnamon, sugar, flour, spices, vanilla, an egg yolk, and Pillsbury pie dough are the apple pie ingredients.
How many apples for a pie?
For a nine inch cinnamon apple pie recipe, you need about 8 cups of roughly chopped apples -which is about 5-6 apples.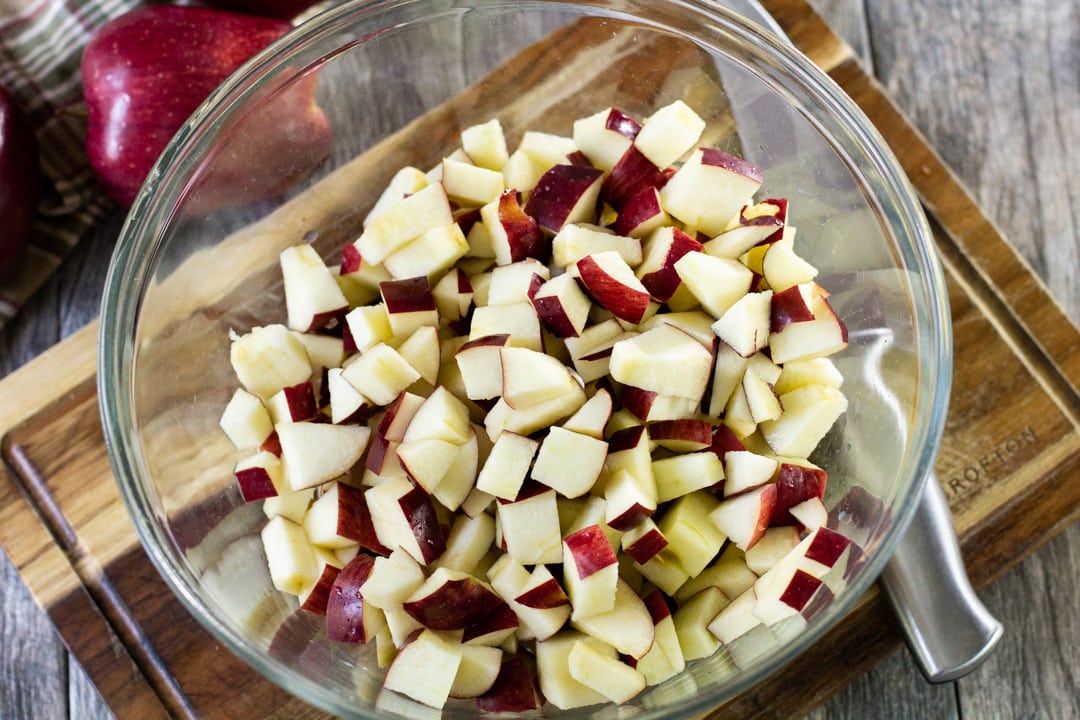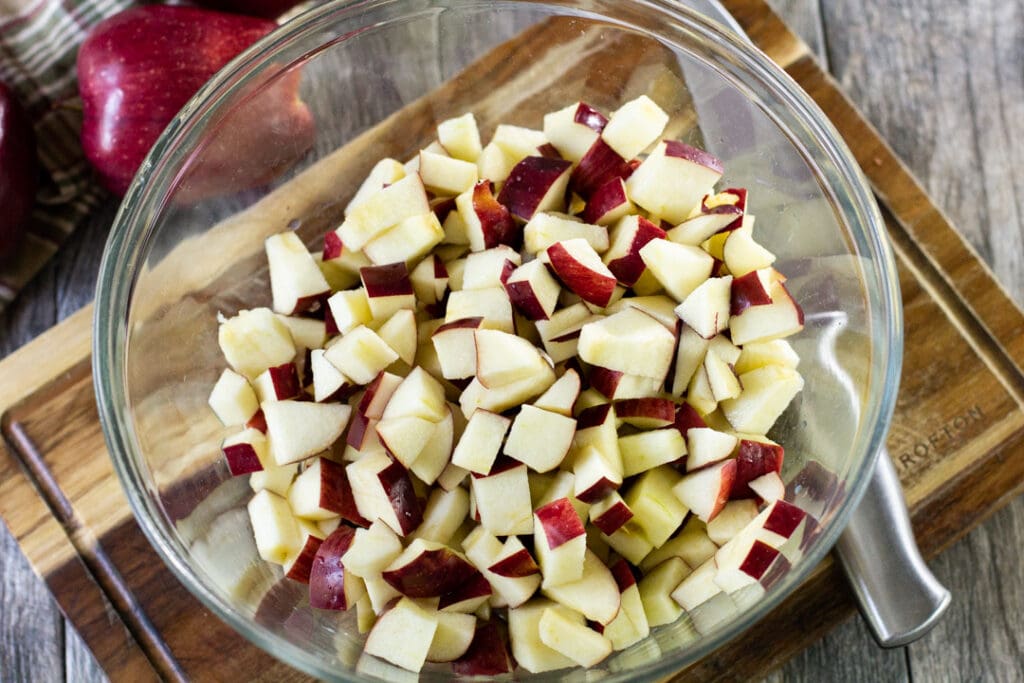 How To Make An Easy Apple Pie Fillng
Skip the canned apple pie filling this year, and choose to use fresh apples! All you need to do to make an easy homemade apple pie filling is add the apples, spices, sugar, vanilla extract, and flour together!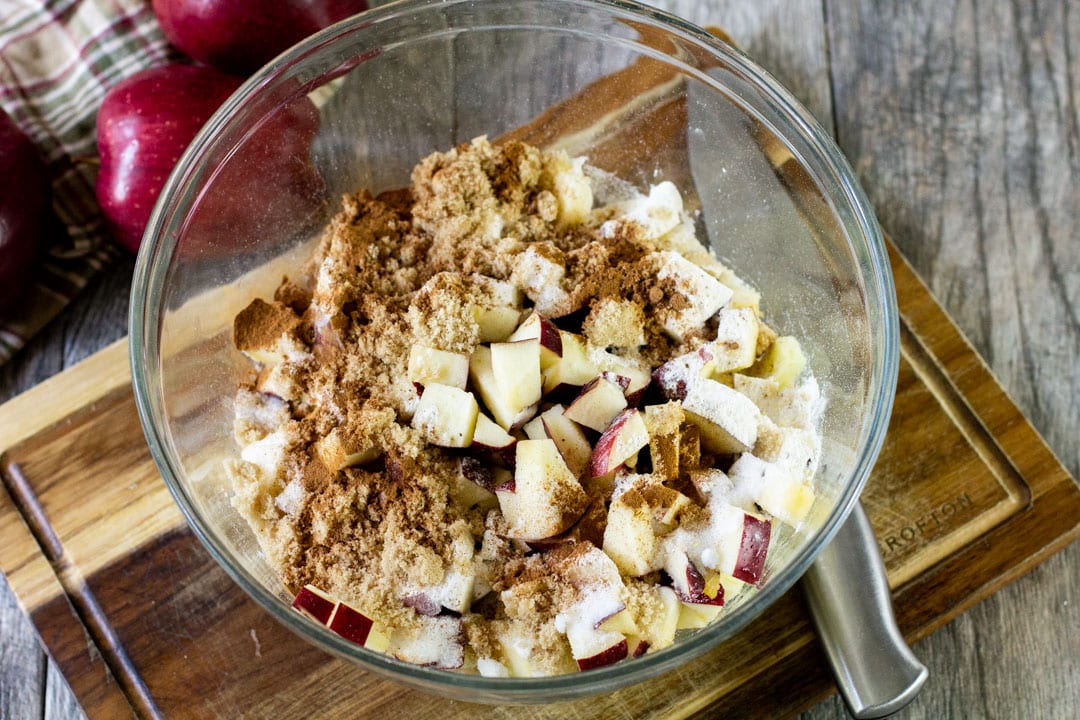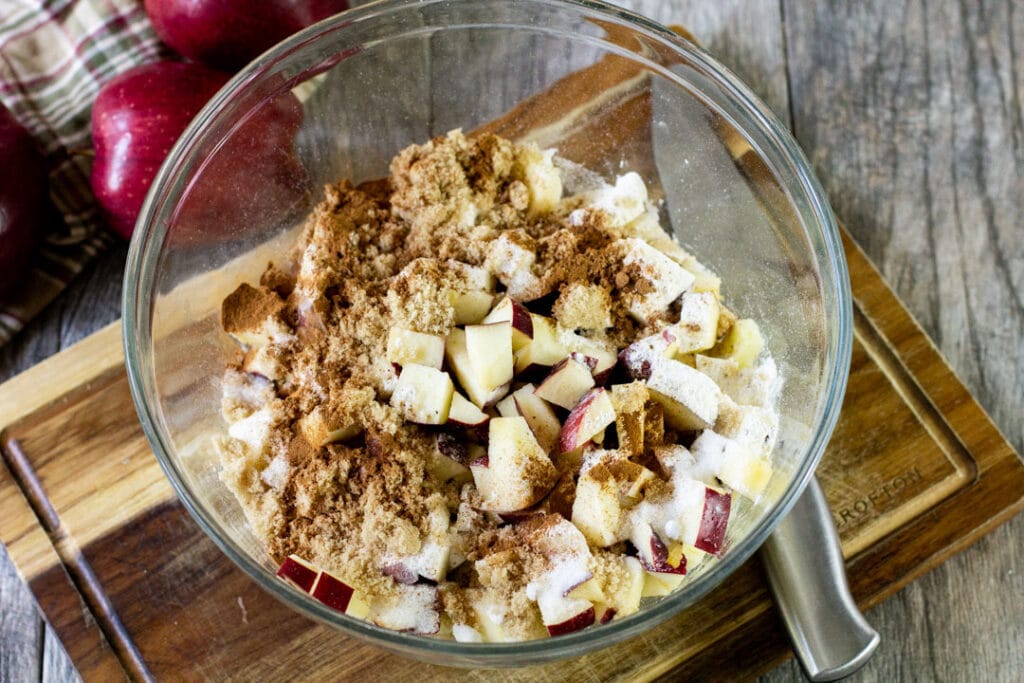 Next, dust a pie plate with flour to keep the dough from sticking and top with one sheet of pie crust.
Next, gently pour the mixed apple mixture evenly over the pie crust. Top with the other pie crust sheet and seal the edges. Cut 4 small lines that are about an inch long to allow the easy apple pie recipe to vent while baking.
Take your egg yolk and brush the top and edges for a beautiful golden crust. I topped mine with raw cane sugar crystals for a nice pop!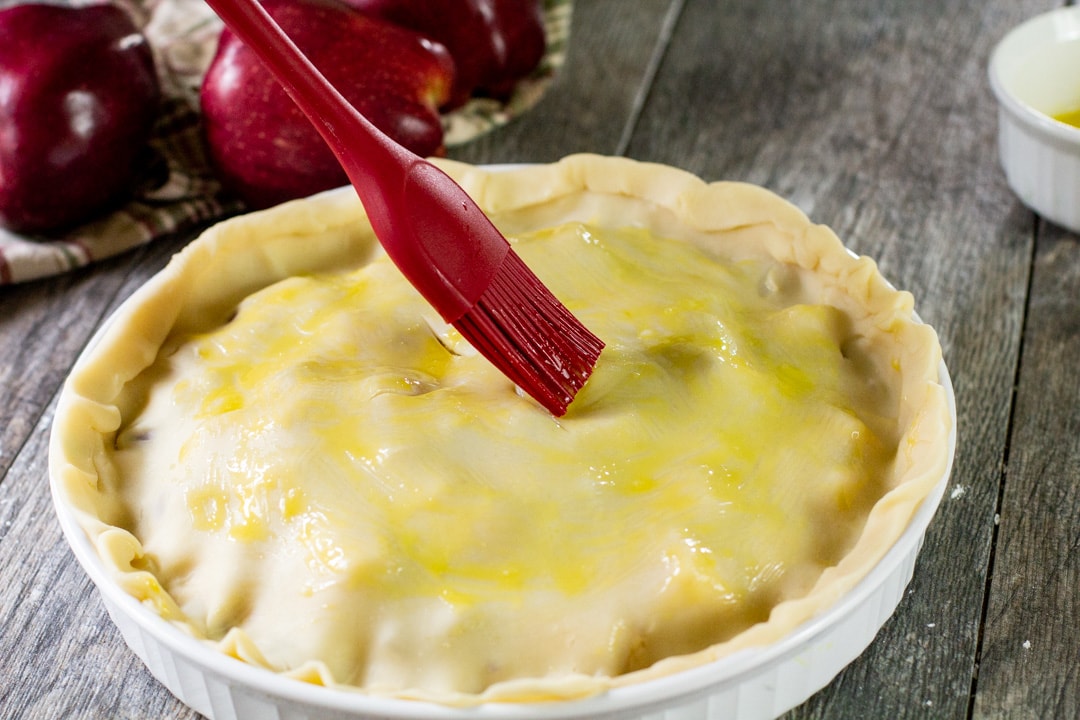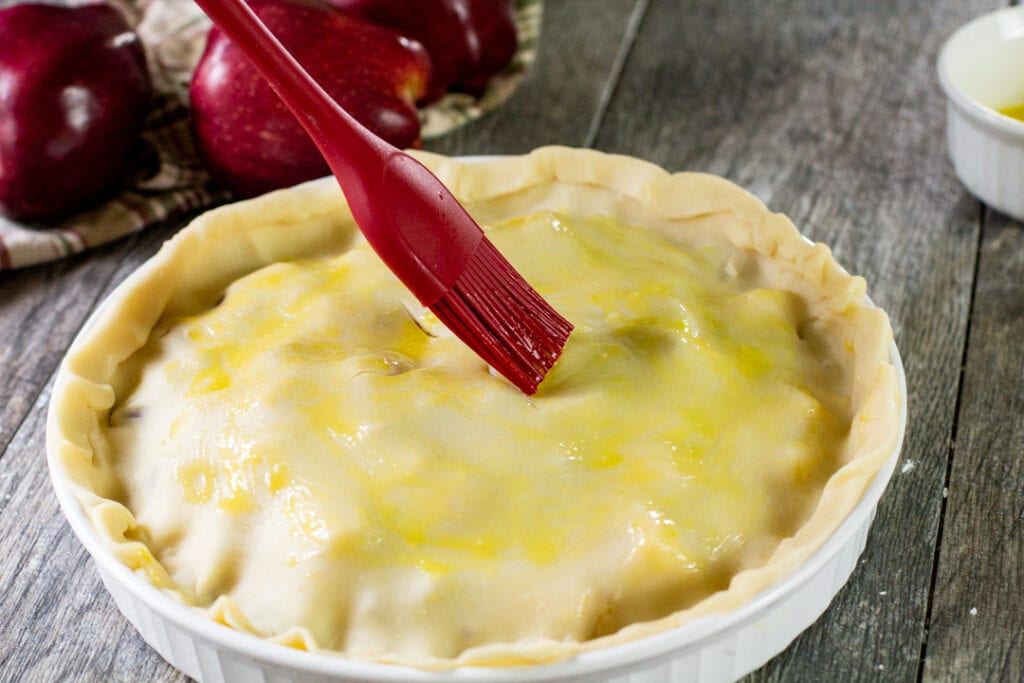 How long to cook apple pie?
I suggest baking homemade apple pie for 45-50 minutes. But check on your cinnamon apple pie at the 40 minute mark, to make sure it does not burn! The sugar crystals caramelized over the top, which is why there are darker areas.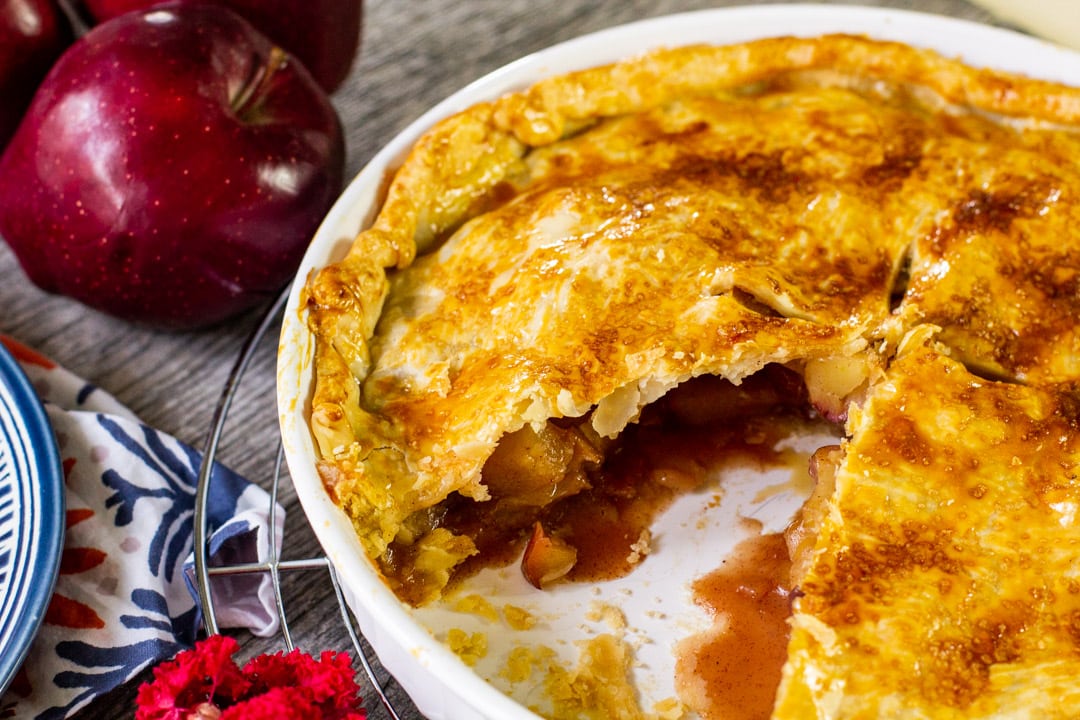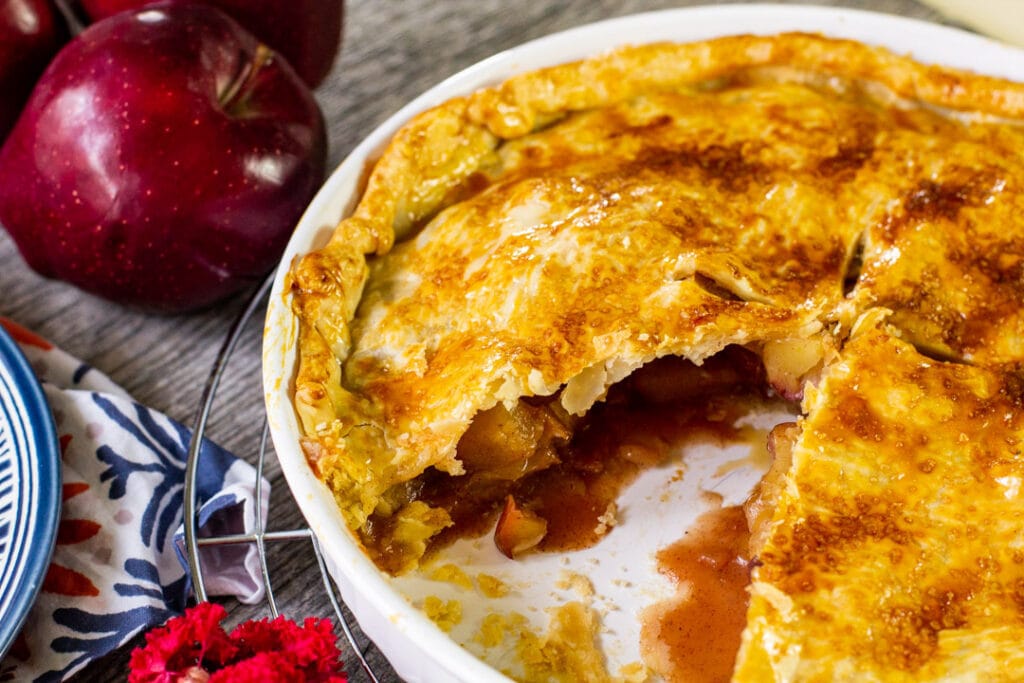 Best apples to use for apple pie
The best apples to use for apple pie happens to be a mixture of apples like gala, granny Smith, and fuji! The most used apples for apple pie is the granny Smith, which is green on the outside.
For this recipe, we are using red delicious; keep the apples chunky and it won't turn to mush!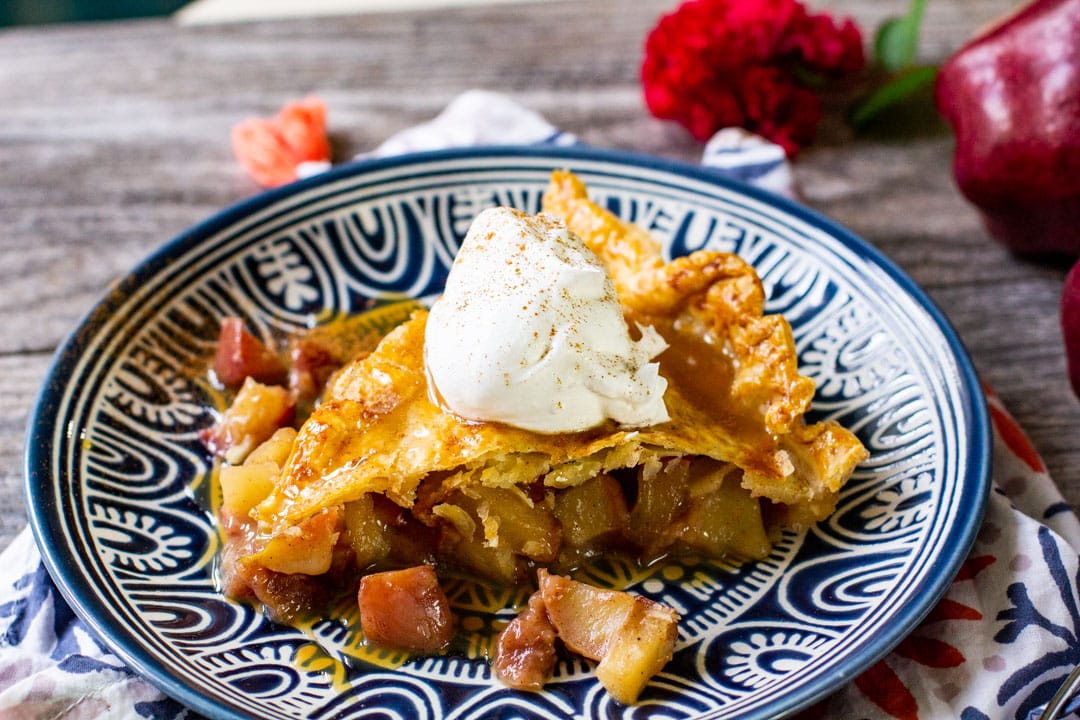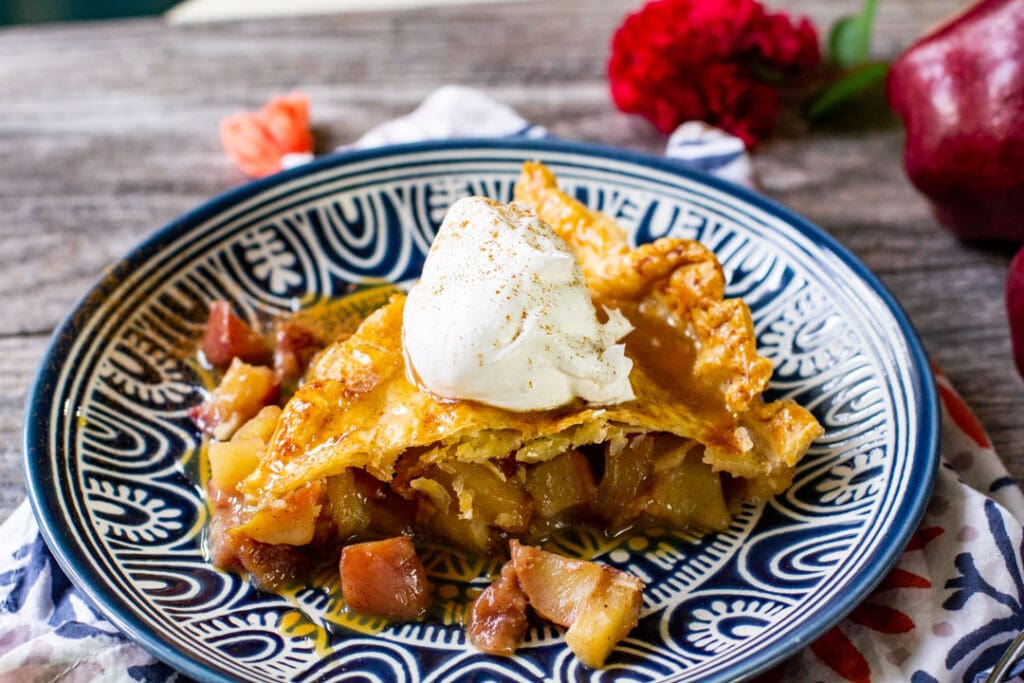 Should apple pie be served hot or cold?
Apple pie can be served hot or cold. I personally prefer warm apple pie with a scoop of vanilla bean ice cream and a drizzle of caramel. Actually, bourbon pecan ice cream! BEST.ICE.CREAM.EVER!
Should apple pie be refrigerated?
You should refrigerate any remaining apple pie to keep it fresh. Apple pie should be fine up to 4 hours on the counter.
More recipes you will love!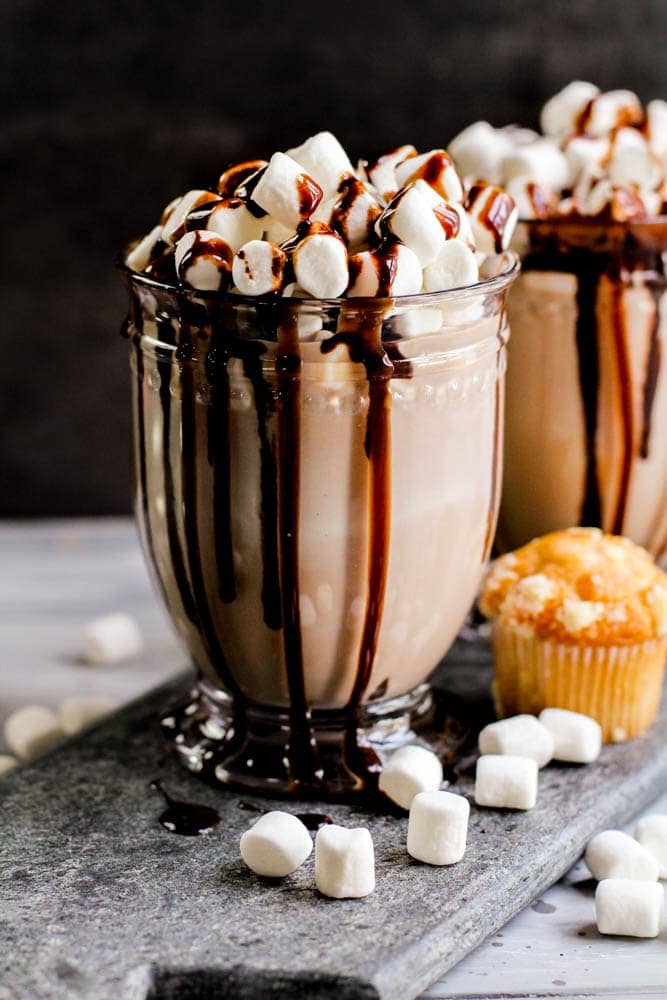 If you love this easy cinnamon apple pie recipe, you'll love to give these fall inspired recipes a try!
Leave a comment below with what your favorite dessert is, and if desired, send me a message on Facebook with the recipe to post here on Latina Mom Meals!
📖 Recipe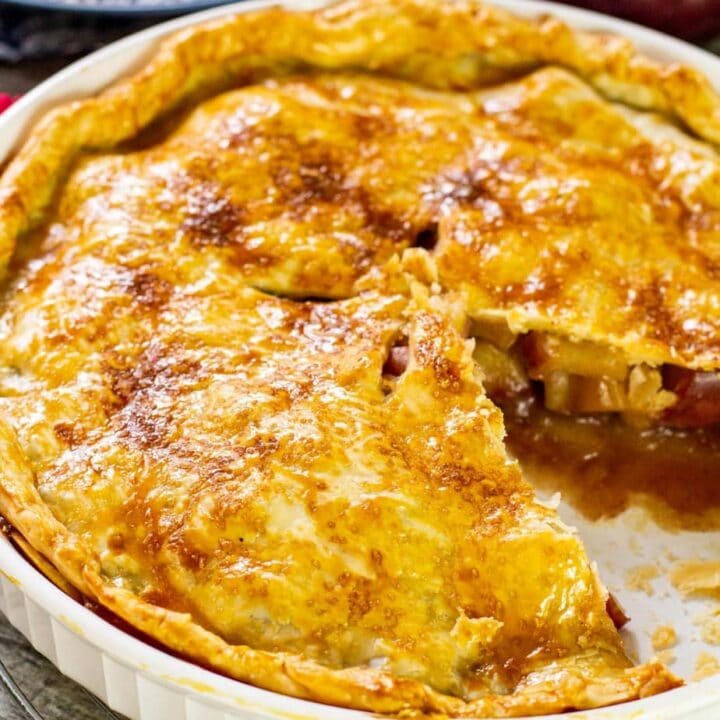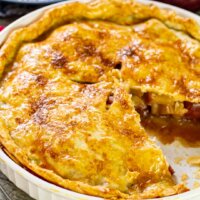 Easy Apple Pie | Postre de Manzana
Super easy apple pie recipe
Print
Pin
Rate
Ingredients
1

package Pillsbury pie crust

8

cups

of diced apples

2

tablespoon

fresh lemon juice

⅓

cup

brown sugar

3

tablespoon

white sugar

¼

cup

flour

1.5

teaspoon

cinnamon

½

teaspoon

nutmeg

1

egg yolk

whisked
Instructions
Preheat oven to 375

Add one pie crust to the bottom of a pie plate. Save the 2nd pie crust for the top.

In a mixing bowl combine the apples with the lemon juice. This prevents the apples from browning. Next add the brown sugar, white sugar, flour, cinnamon and nutmeg.

Place the apple mixture into the bottom pie shell. Top with the other pie crust. Make a few cuts in the top layer to let the steam out of the pie.

Brush with the egg wash.

Bake for 45 minutes.