Dulce de leche cortada means curdled milk dessert. Yes, you heard that right! Curled milk (spoiled milk) can be cooked down with sugar and lime to create a sweet treat known as dulce de leche cortada.
You may have noticed that the dessert section here, are not typical baked goods. We have creamy pumpkin flan, coffee flan, double chocolate chip ice cream sandwiches, and pastelitos de guayaba to name a few!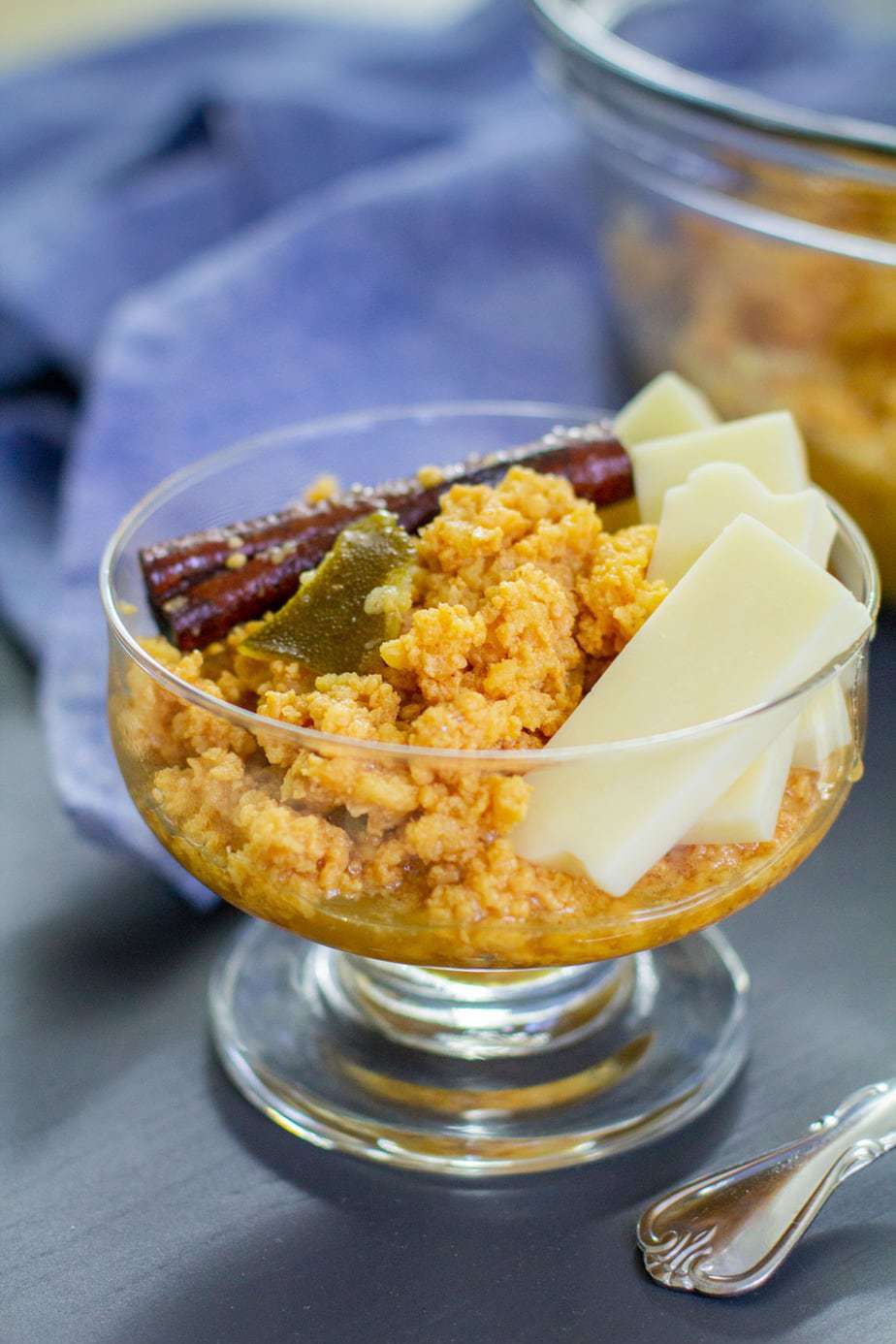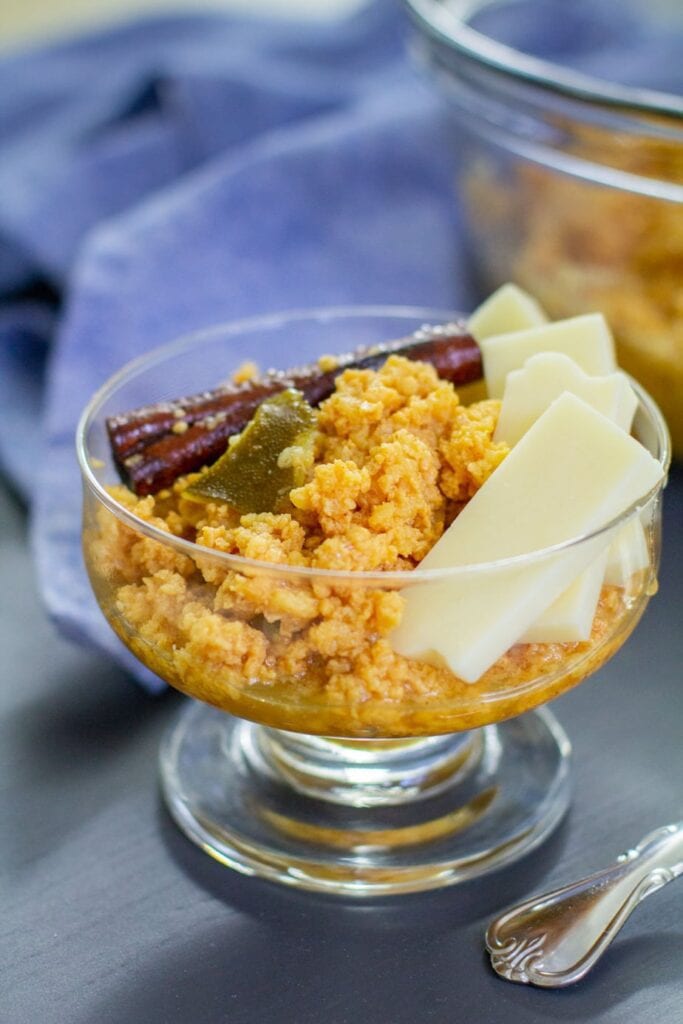 In places like Cuba, where resources are limited, using everything you have is crucial. Just like during the days of The Depression, some amazing dishes were created using minimal ingredients. When you have a small fridge or ice box and have to decide what stays or goes, meat is a higher priority over milk. But milk is still a commodity and should be used, even if curdled!
I first tried this dish about 5 years ago, when I passed by my mothers house and saw half a gallon of spoiled milk on the counter and had to ask, why is this still here?! A few hours later, my mother was serving me a small dish filled with dulce de leche cortada that I was definitely apprehensive to taste. Needless to say, I had to make it on my own and share this tasty recipe!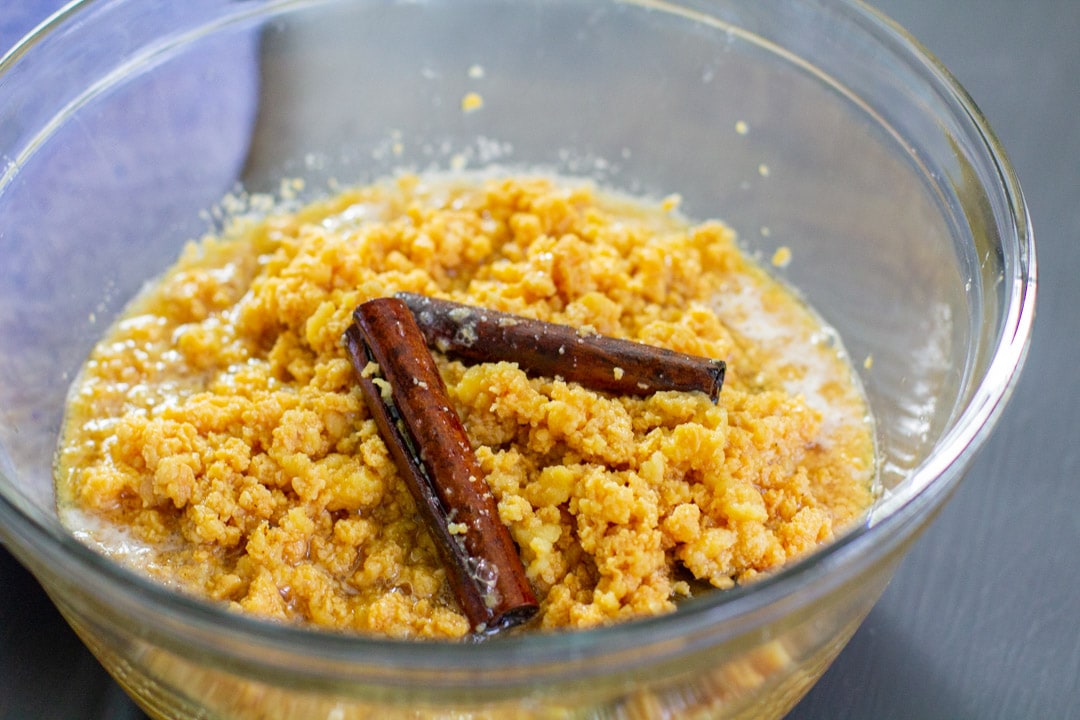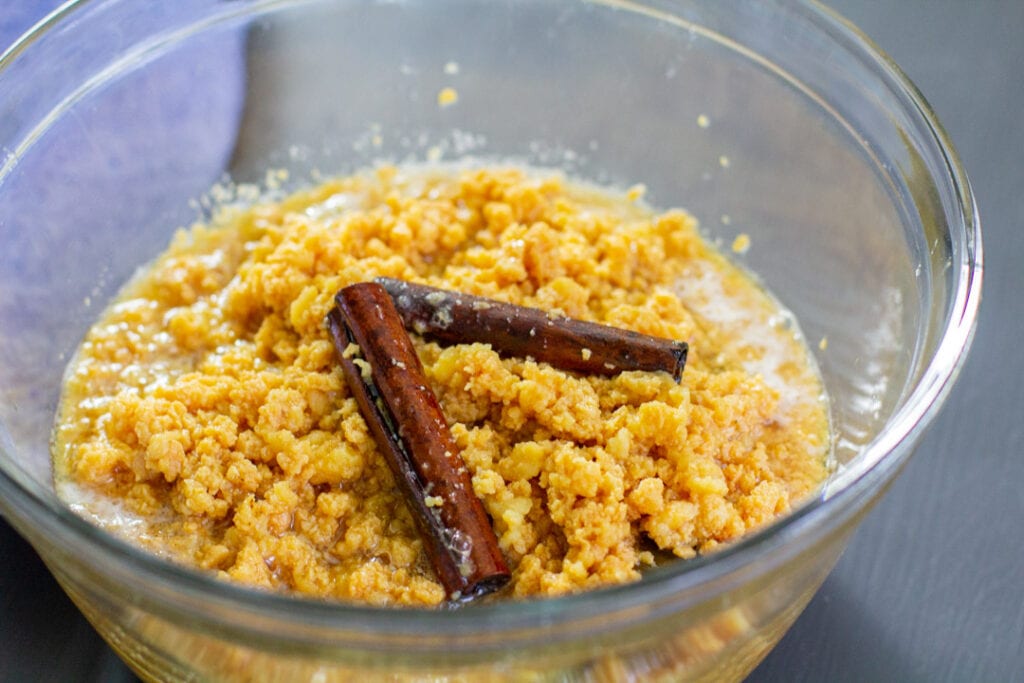 What does dulce de leche cortada taste like?
This dulce de leche cortada tastes like candied lime caramel milk fudge. Sweet, tangy, and creamy meets crunchy with this delightful dulce de leche cortada! It does not taste spoiled and it smells like cinnamon and lime.
How to make dulce de leche cortada
First, you need to have milk. You can use either fresh or curdled milk. To make dulce de leche cortada with fresh milk, you need to first curdle the fresh milk. I am using a gallon of milk. If you're using 2 liters, split the recipe in half.
How to curdle milk quickly
To curdle milk quickly, add white vinegar or lemon juice to the milk. For 2 liters, you'll use two tablespoons. For a gallon, you will use 3-4 tablespoons of white vinegar or lemon juice. Let it sit for about 10-15 minutes, without stirring it and you'll soon see it splits.
Now that you have the curdled milk, you're going to add your curdled milk, sugar, lime peels, and cinnamon sticks to a caldero or a wide deep pot. Mix it together and cook it over medium low heat.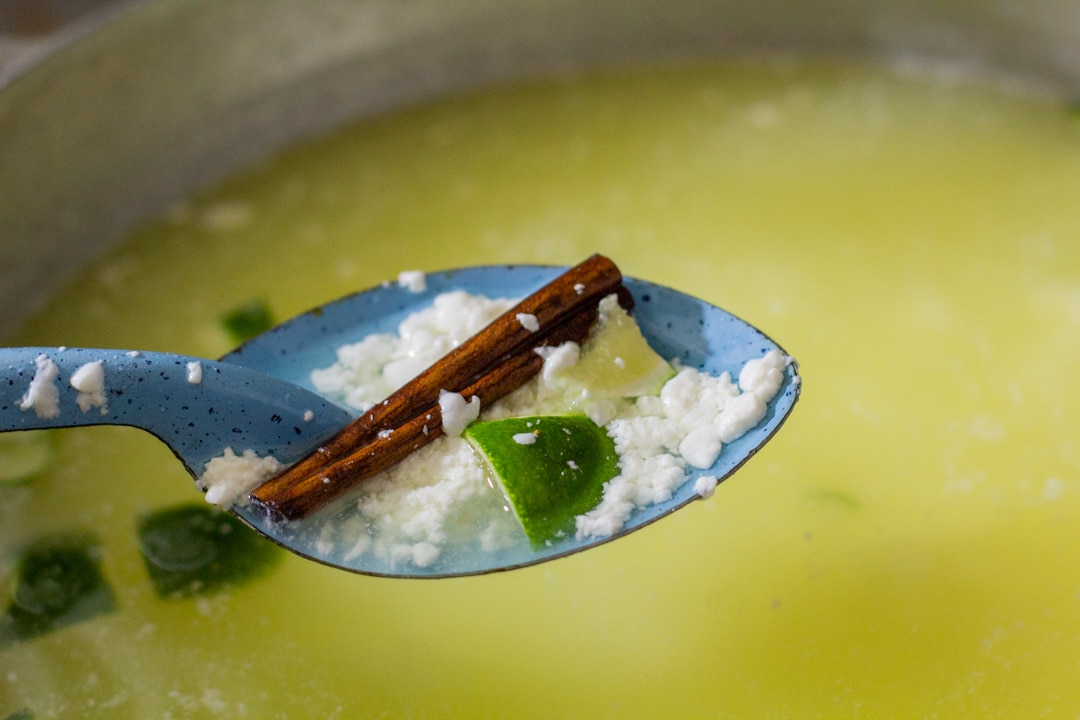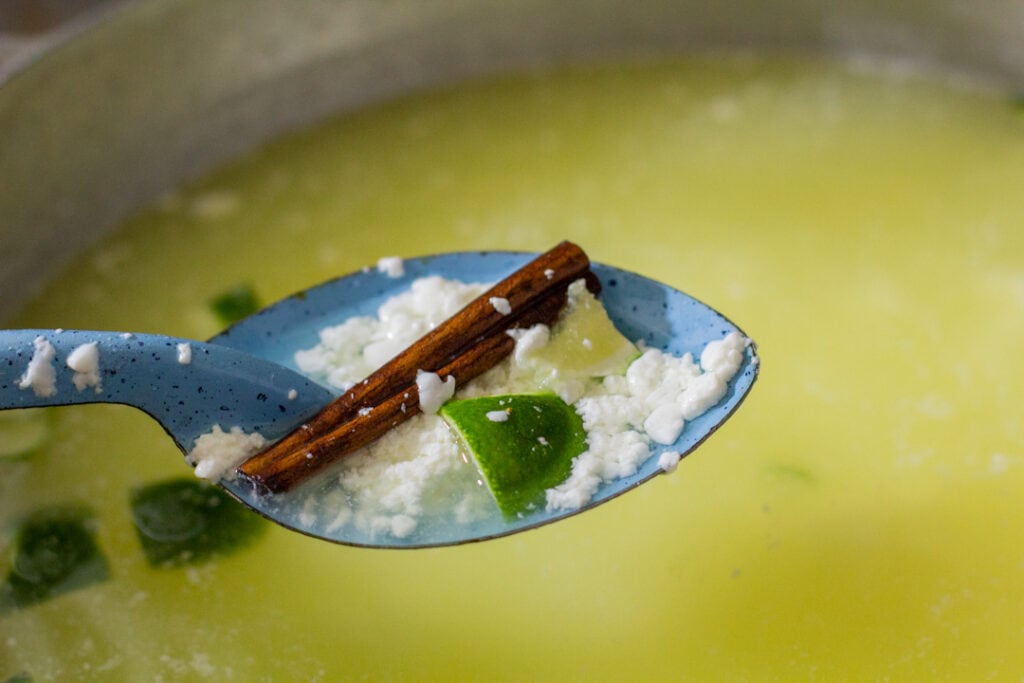 How much sugar do I need to add to make dulce de leche cortada?
For every liter of milk you're using for your dulce de leche cortada, you will add about a cups worth of white granulated sugar. For a gallon, we added about 3 ½ cups of sugar, and it was perfect. Remember, the sugar is what makes the caramel candy at the end.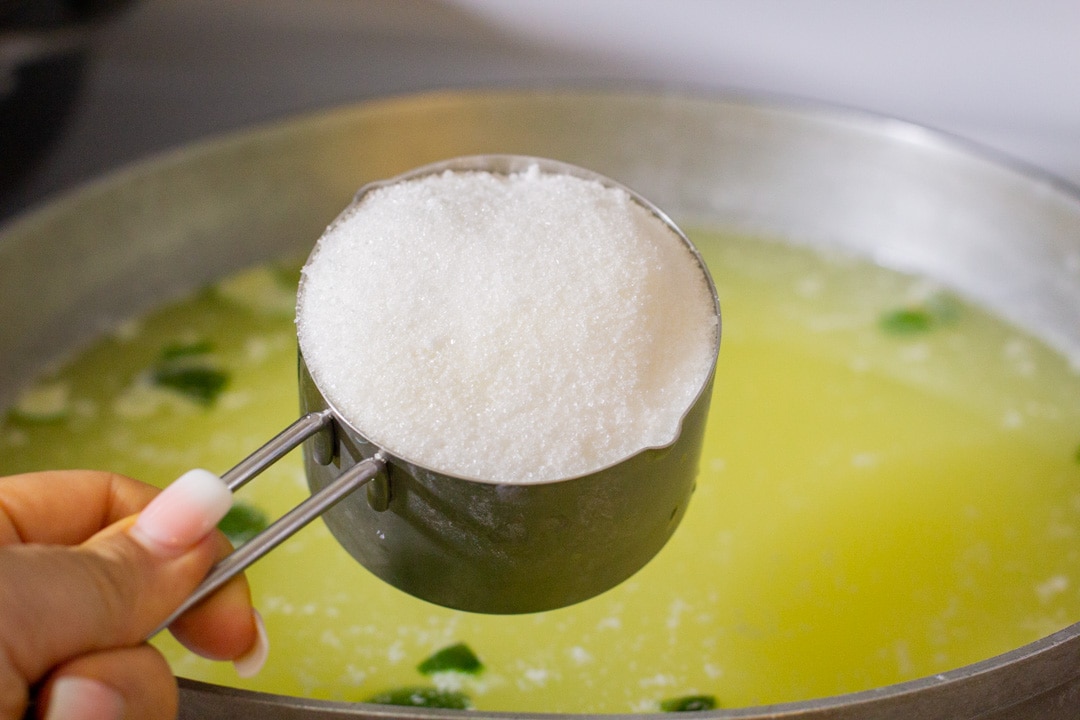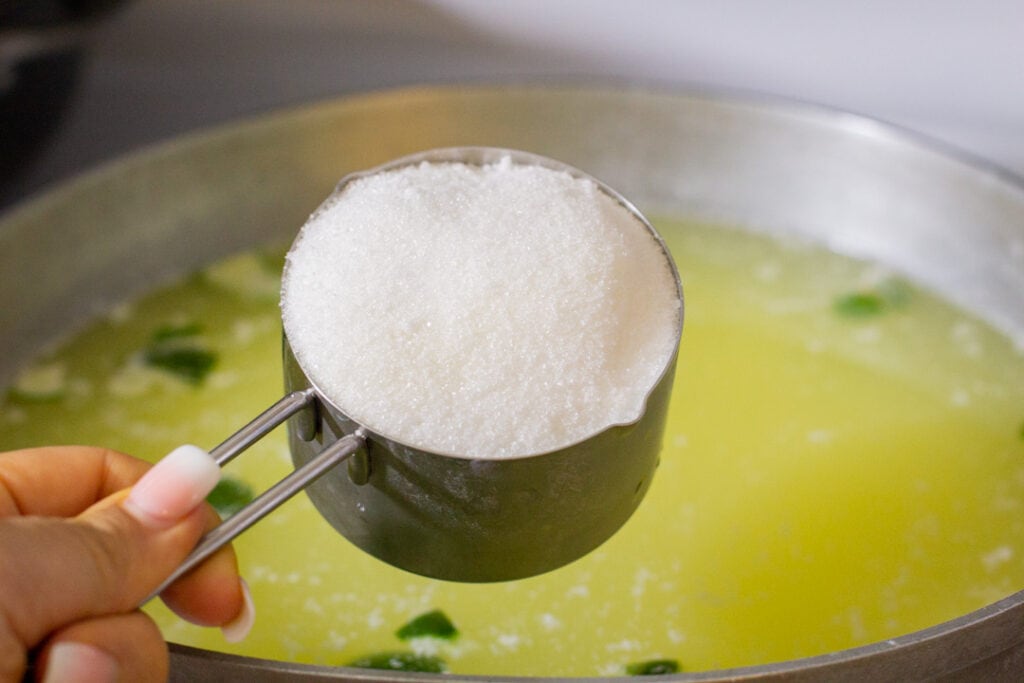 Pay attention to the liquid level of the pan as the cooking progresses. From what you see now, you're only seeing liquid.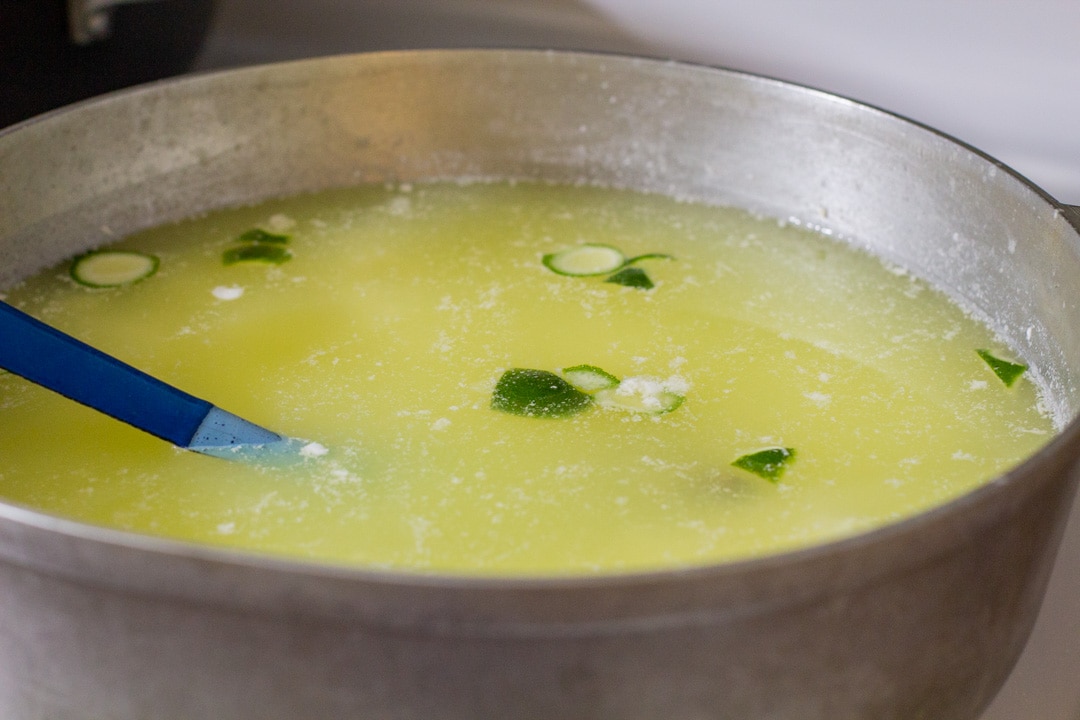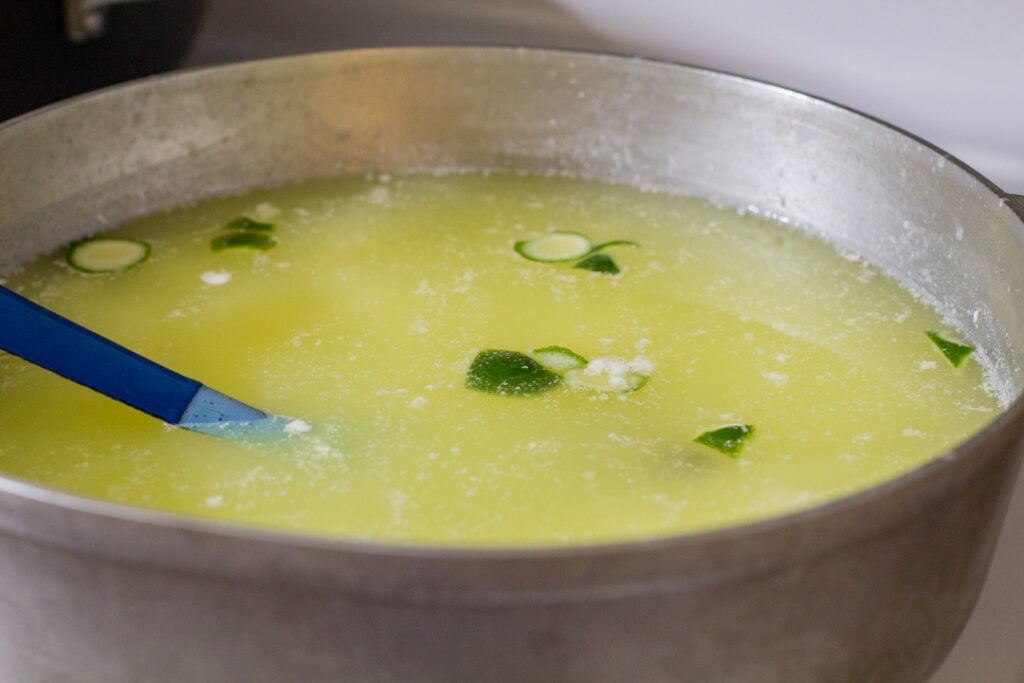 As the cooking begins, you'll see more curdling happen.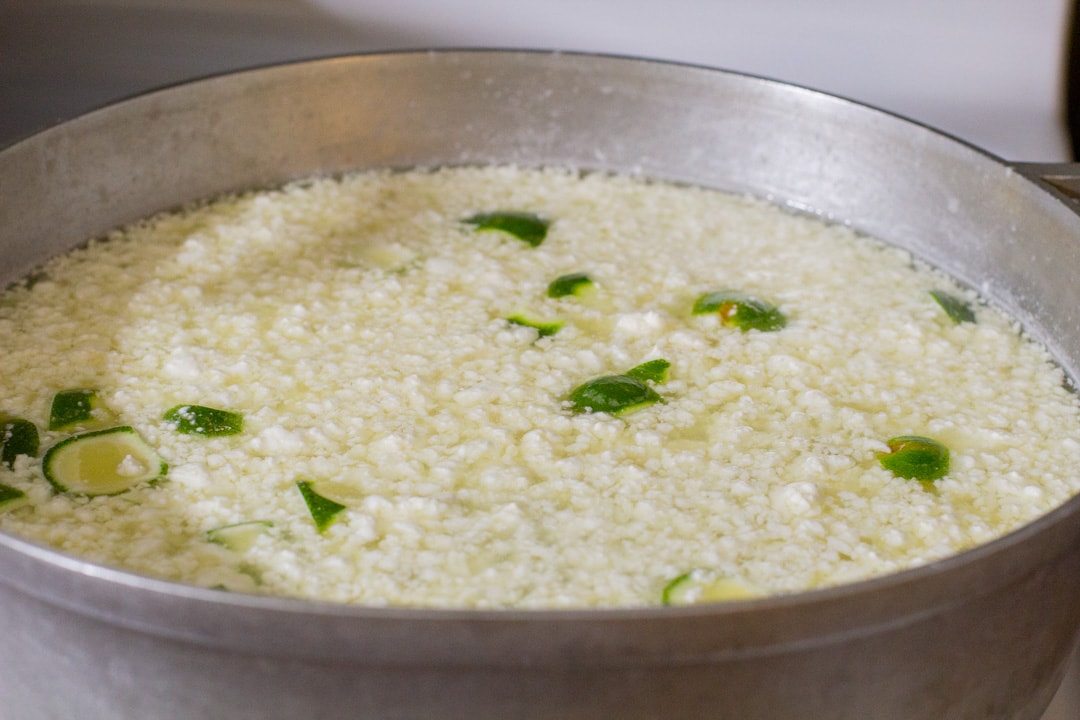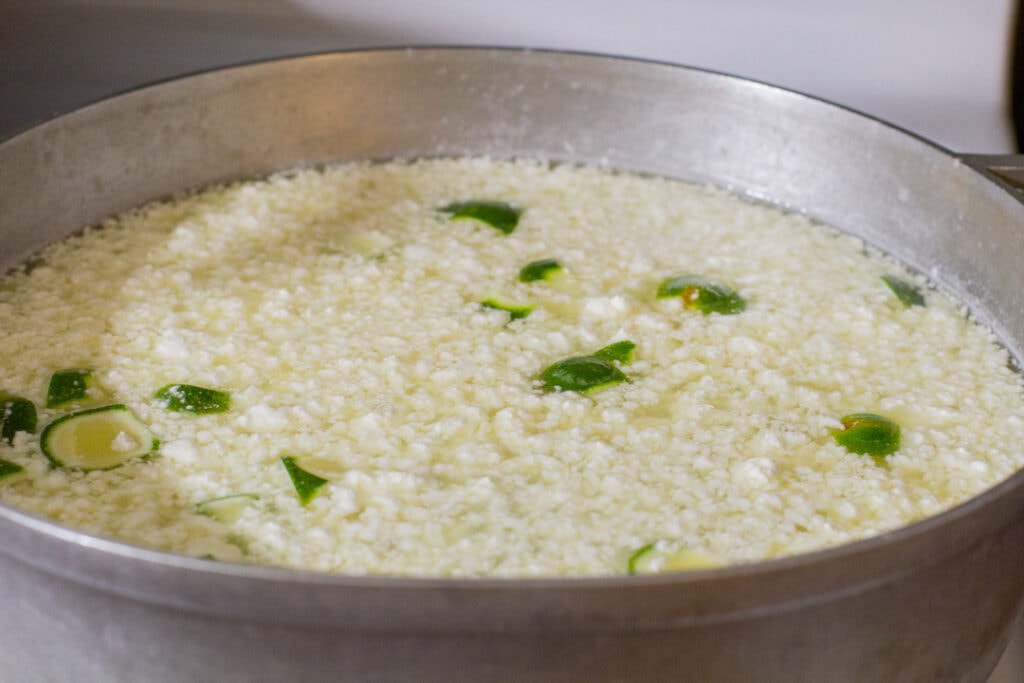 Do not stir it at this point (or anytime soon)!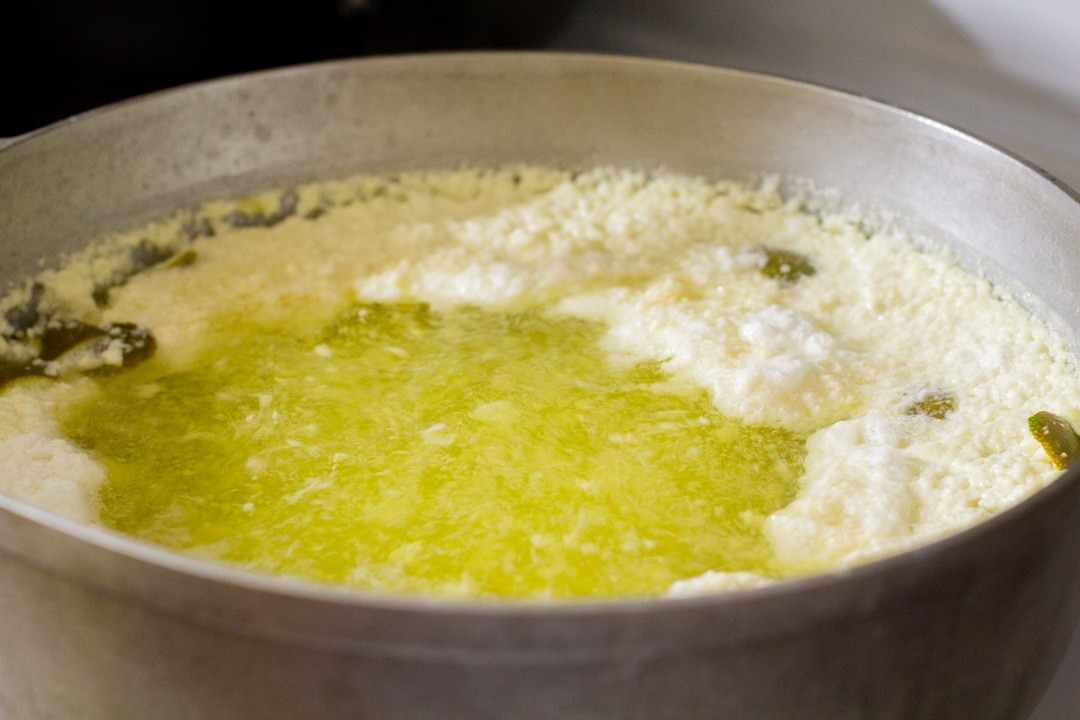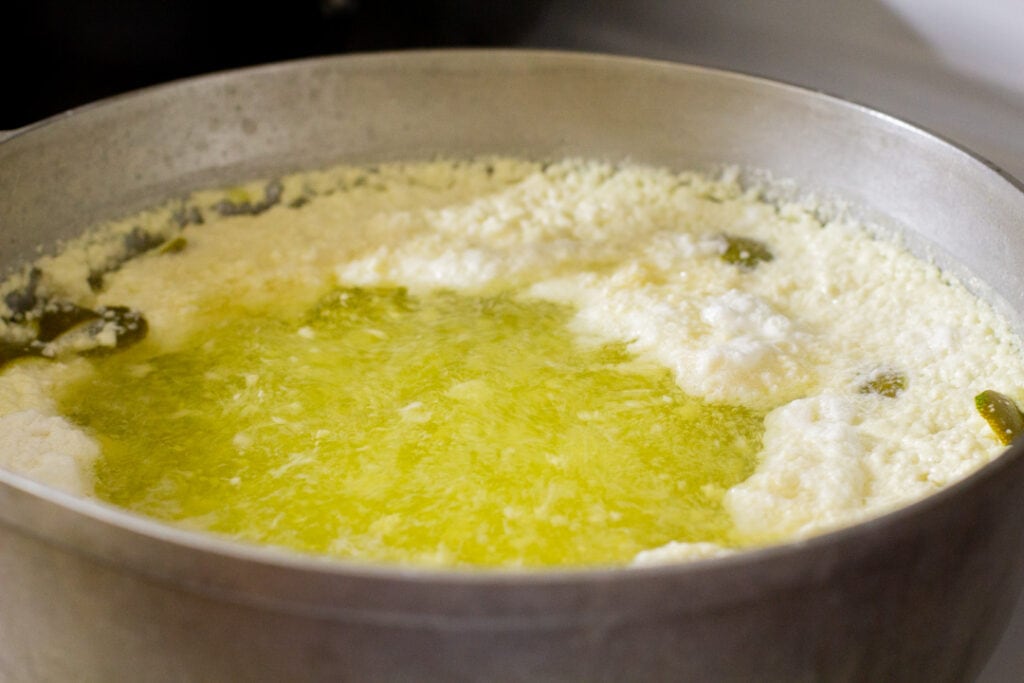 After about an hour, your dulce de leche cortada should be forming. Compare the liquid level from the beginning! At this point you can occasionally begin to stir the pot, just to keep the dulce from burning at the bottom.
Continue cooking until most of your liquid has evaporated or the milk is more fudge like. You want your dulce de leche cortada to be like a ragu or picadillo consistency. A little wet, but not soup like!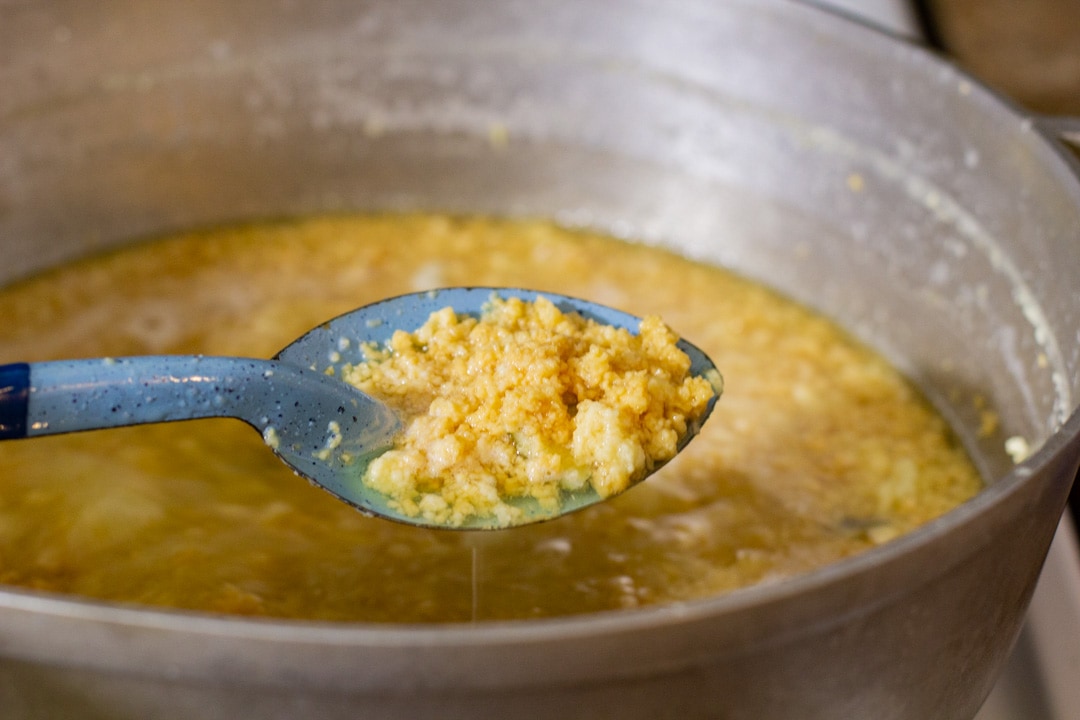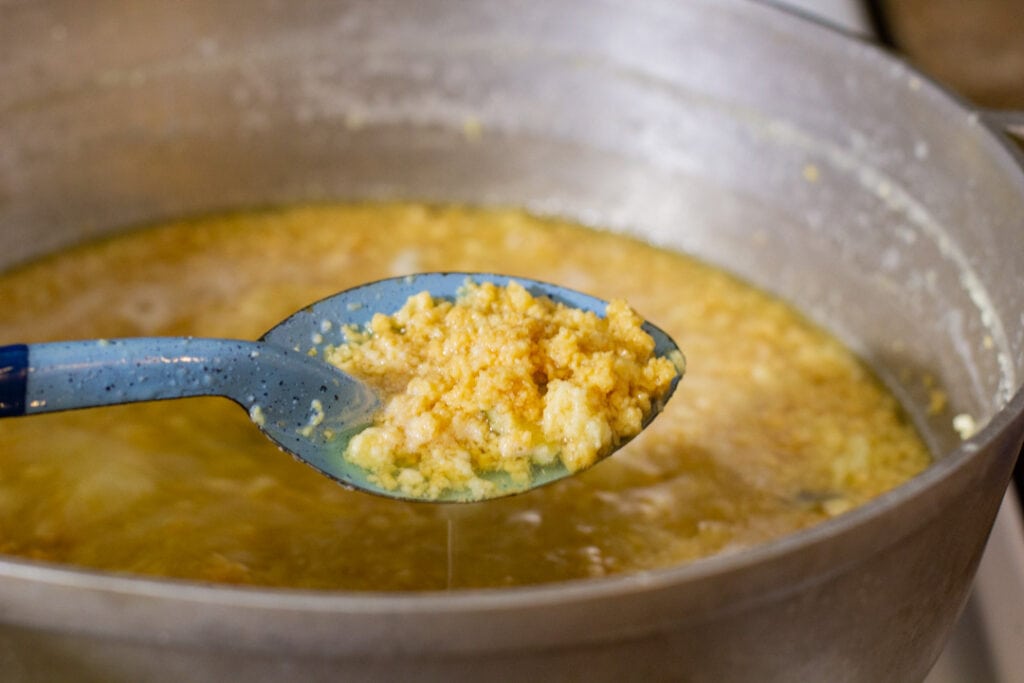 Transfer the curdled milk candy into a large bowl. You can serve this hot or cold. Refrigerate any leftovers.
What should I serve with dulce de leche cortada?
This sweet dish needs something that is not sweet! Crackers or cheese will compliment it well. Traditionally chunks of queso blanco (white cheese) is served with the dulce de leche cortada.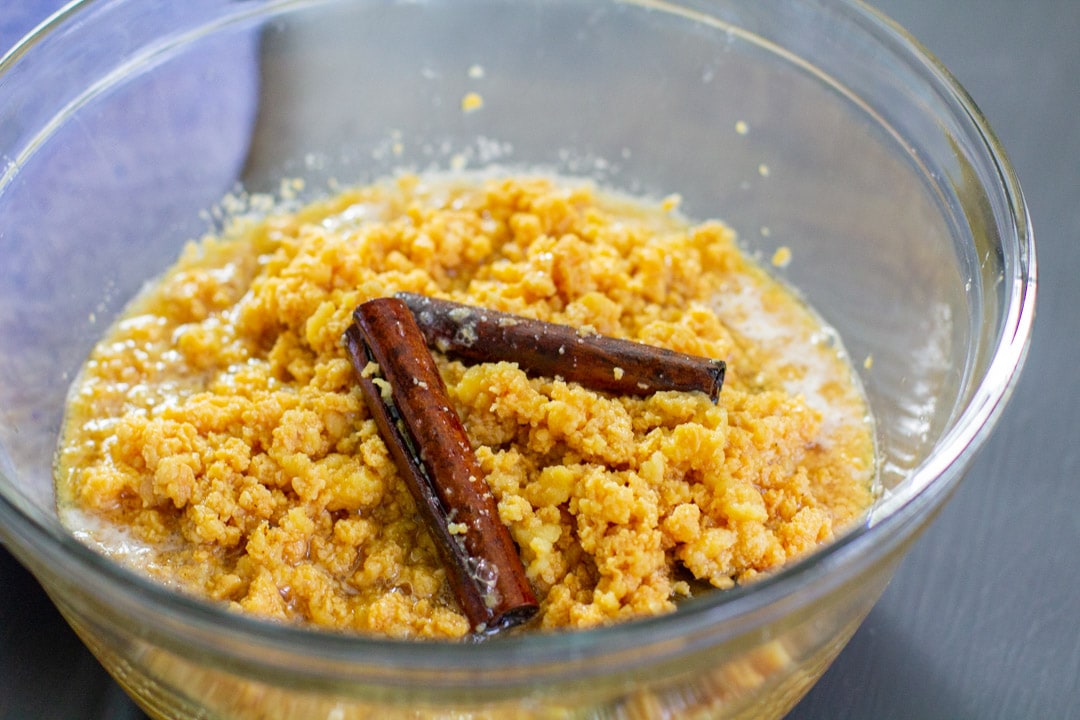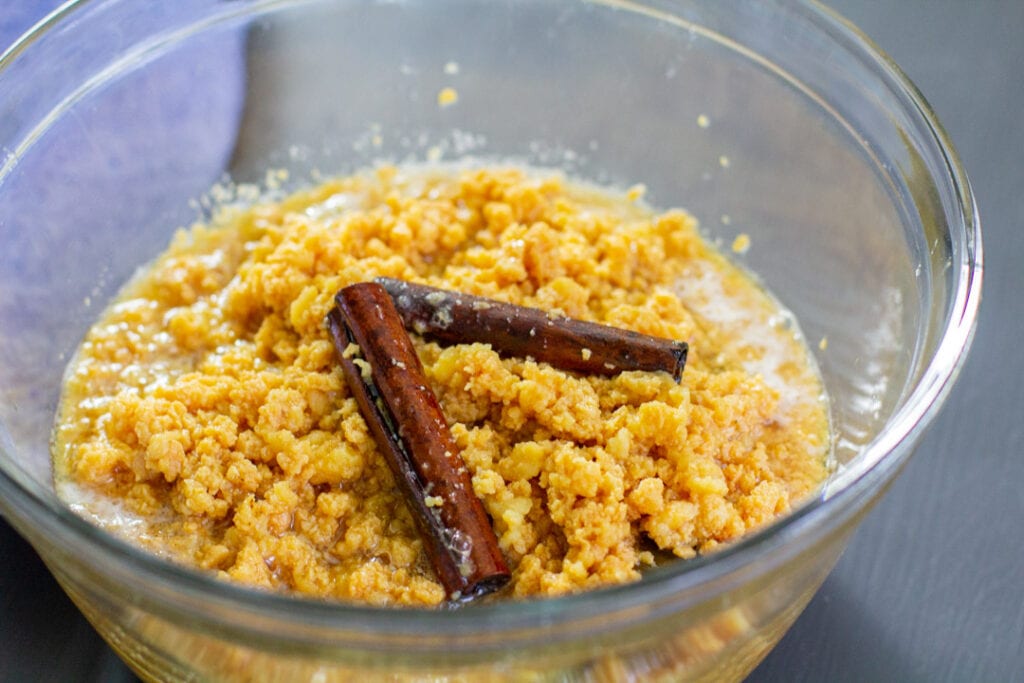 If you love a sweet and spicy dessert, serve it with pepper Jack cheese! Wondering how much is a serving? Since this dessert is really sweet, I would only serve about 2 tablespoons!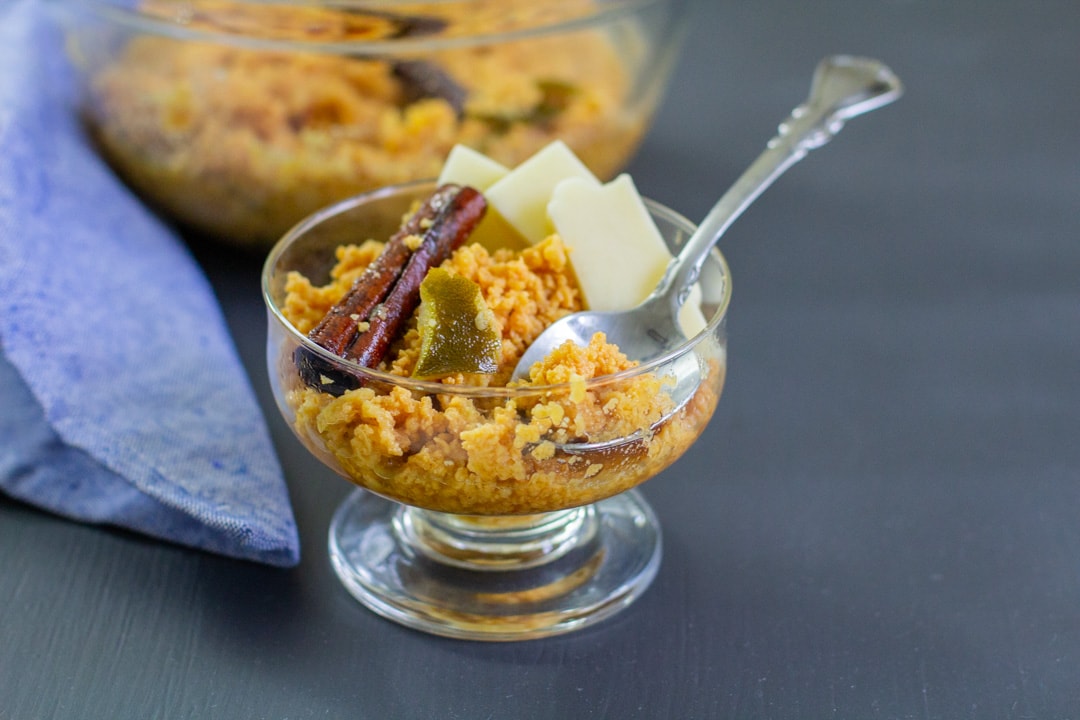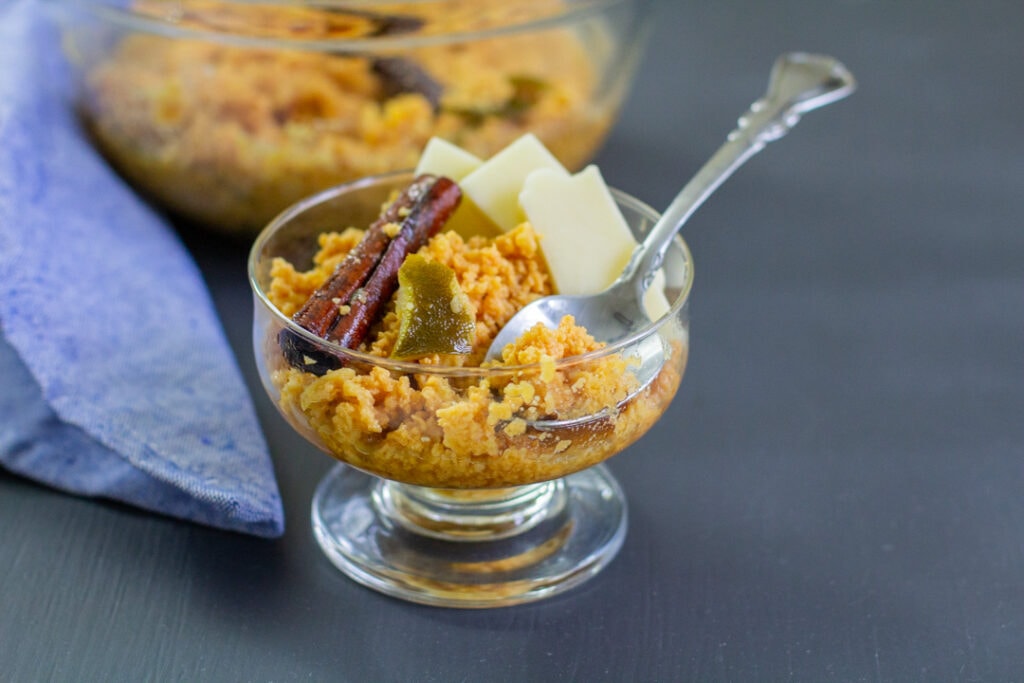 📖 Recipe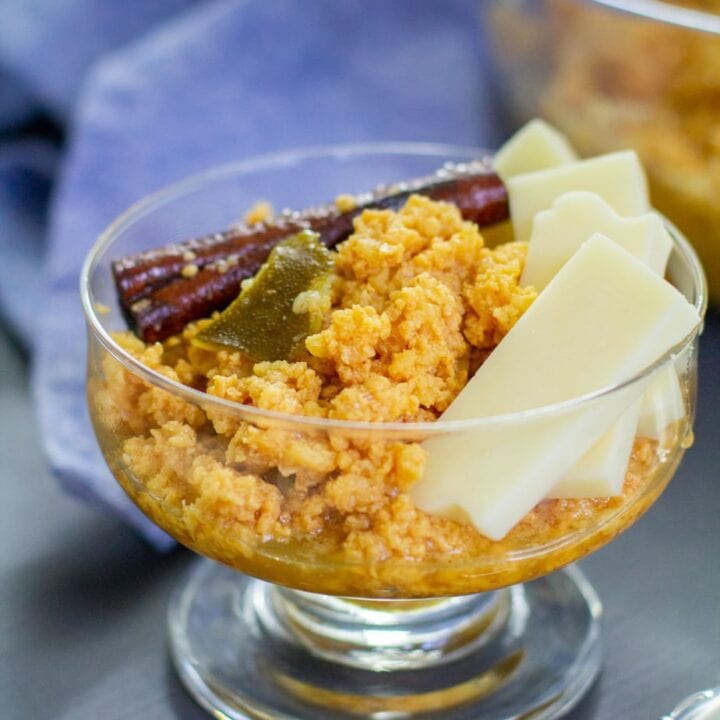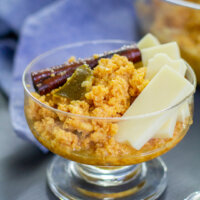 Ingredients
1

gallon

of curdled milk

3 ½

cups

of white sugar

2

cinnamon sticks

about 2 chunks of lime peel
Instructions
To a large deep and wide pot, preferably a caldero, add your milk and mix together the sugar, cinnamon, and lime peels. Put heat on medium low and let the milk mixture cook for about an hour, stirring only once or twice during that hours period.

After an hour, the milk should be a beautiful caramel color. If there is still a lot of liquid, continue cooking, stirring occasionally until the consistency is that of a ragu or picadillo, where there's still a little bit of liquid, but not much at all.

Transfer dulce de leche cortada into a large class container or bowl.

Serve hot or cold, refrigerate any leftovers.
Notes
If you're using fresh milk, add about 2 tablespoons of the juice of the lime or white vinegar, and let it sit about 10 minutes, or until the milk splits and becomes curdled.
For the lime peel, the amount to be used is about a ⅙ or ¼ of the limes peel for a gallon worth of milk.