This double chocolate chip cookie ice cream sandwich is the chocolate lovers dream come true! Large soft and chewy double chocolate chip cookies with a cookies and cream ice cream filling create the perfect balance in a giant chipwich that's begging to be made.
Just like a banana split, this summer dessert can be customized by adding chocolate sprinkles, crushed Oreo's or whatever else you want to rim the edges with to create a one of a kind giant ice cream cookie sandwich! Unlike our creamy pumpkin flan recipe or our guava and cheese pastry, this chipwich is screaming summer, carbs, and death by chocolate (more like a sugar coma we all appreciate after a day in the sun).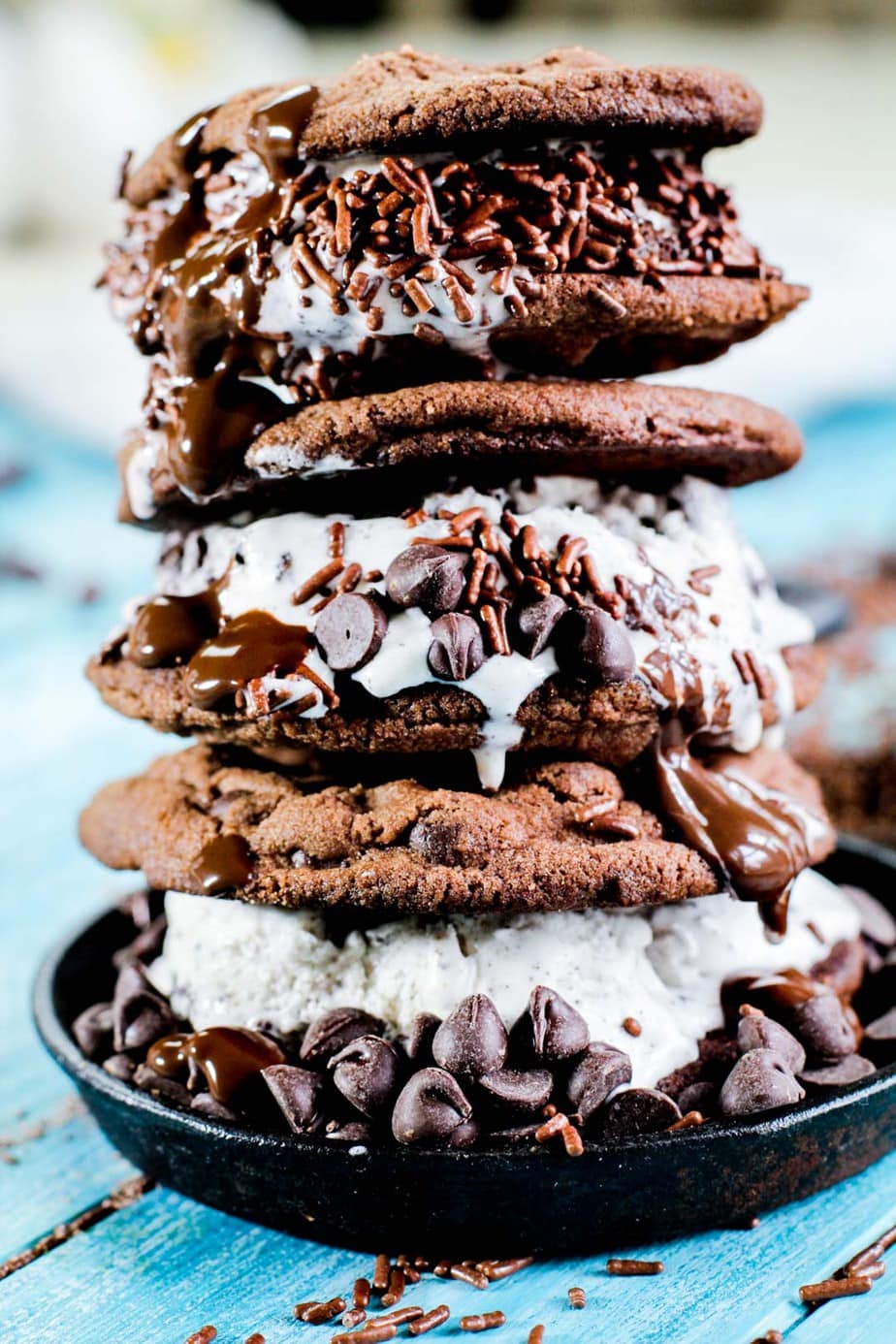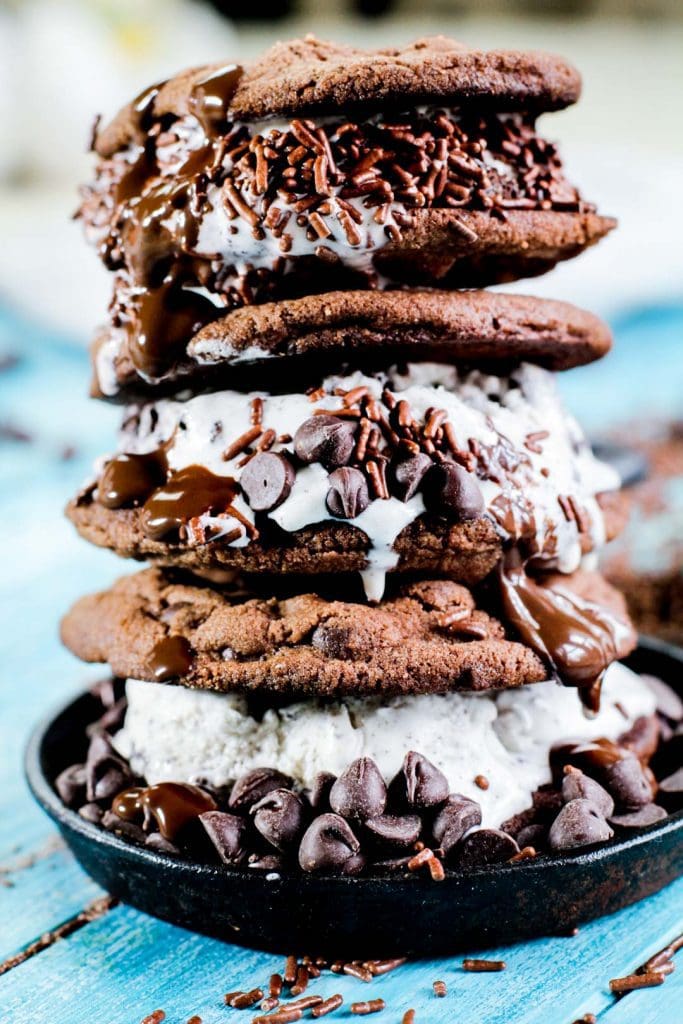 **This post contains affiliate links. Meaning if you buy something from my site, I get a portion of the purchase. **
Making this ice cream cookie sandwich is fairly easy, but time sensitive. Leave the ice cream in the freezer until it's time to assemble it. Here are some tools to have on hand to make making ice cream cookie sandwiches easier:
Tools For Making Ice Cream Sandwich Cookies


How To Make Ice Cream Sandwich Cookie
The cookie for this yummy ice cream cookie sandwich is the star of the show. We're going to start with adding sugar and softened salted butter to a bowl, where you will beat it with a hand mixer for about 4-5 minutes -or until it's light and creamy.
Tips for success with making ice cream sandwich cookies:
For an even softer cookie, use a 1:1 white sugar to brown sugar ratio. White sugar proved to be perfect, but this is always an option!
Use salted butter for a better tasting chipwich.
Use softened butter. Leave it on the counter an hour or two, or until your finger can leave an indent.
Sift your dry ingredients together.
Refrigerate your cookie dough for half an hour (optional).
Keep your ice cream in the freezer up until it's time to use.
Have enough space in freezer for ice cream sandwich cookies on a cookie tray.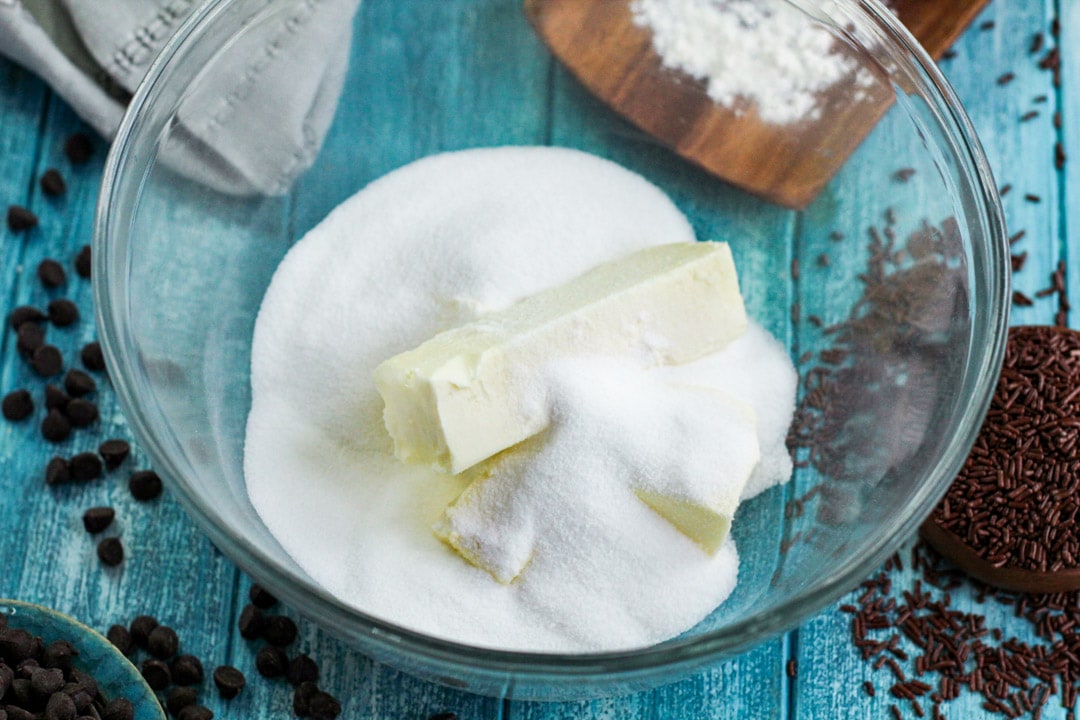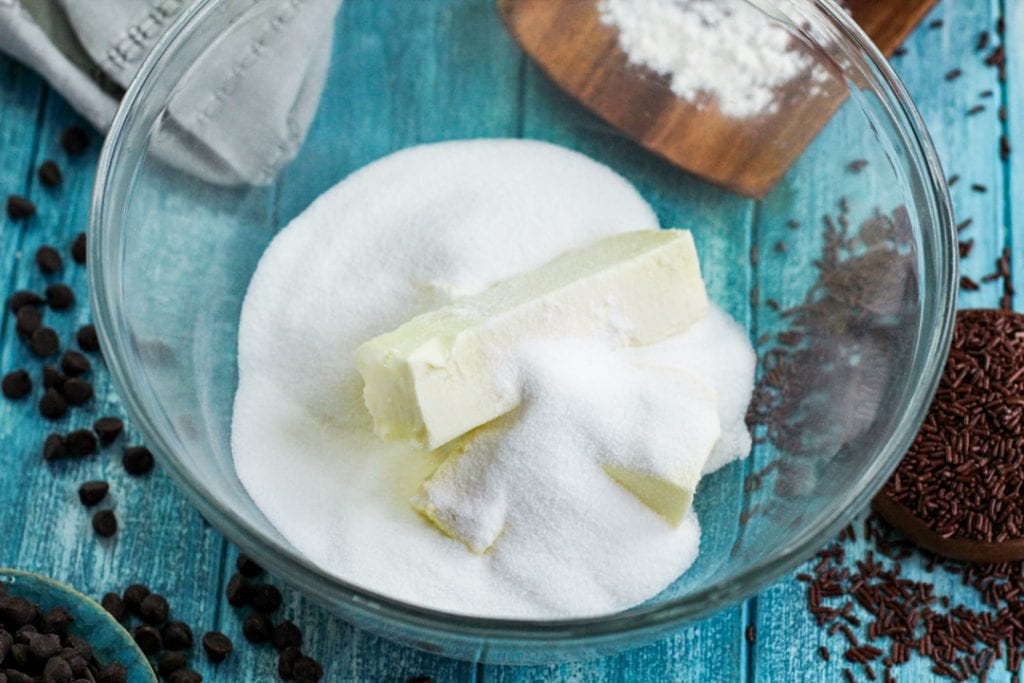 Once your butter and sugar have been creamed, it's time to add your eggs and vanilla. Be sure to use pure vanilla extract. Leave the imitation one alone.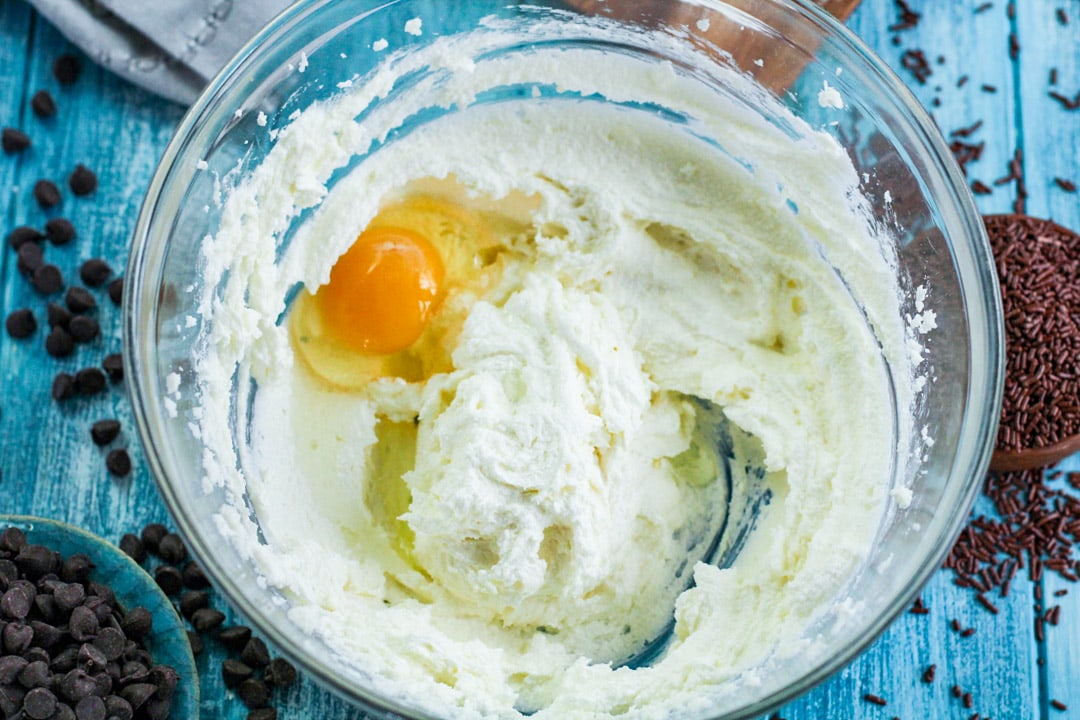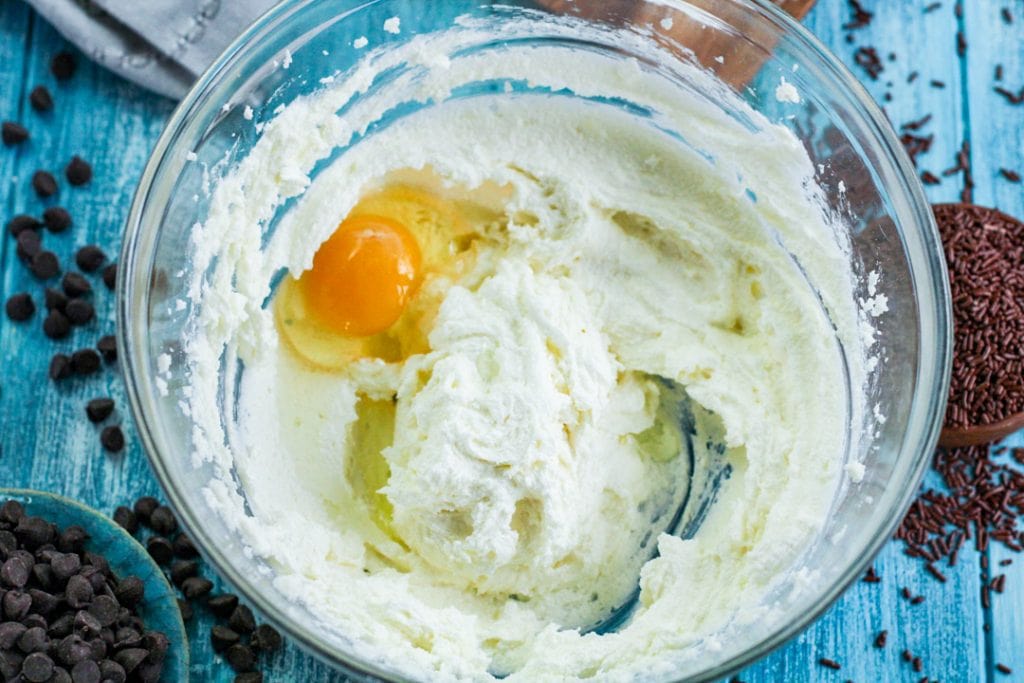 Add in your dry ingredients. It's easier to have them sifted beforehand. For the cocoa powder, I'm using Ghiradelli Dutch Process Cocoa Powder. I love the depth of flavor it holds.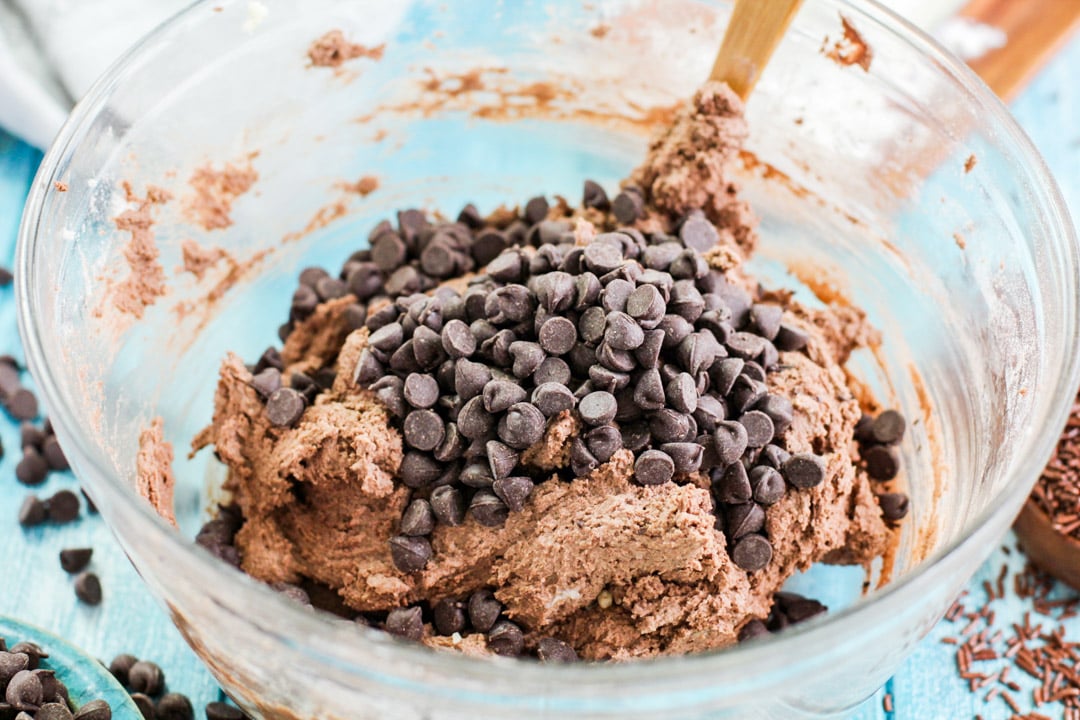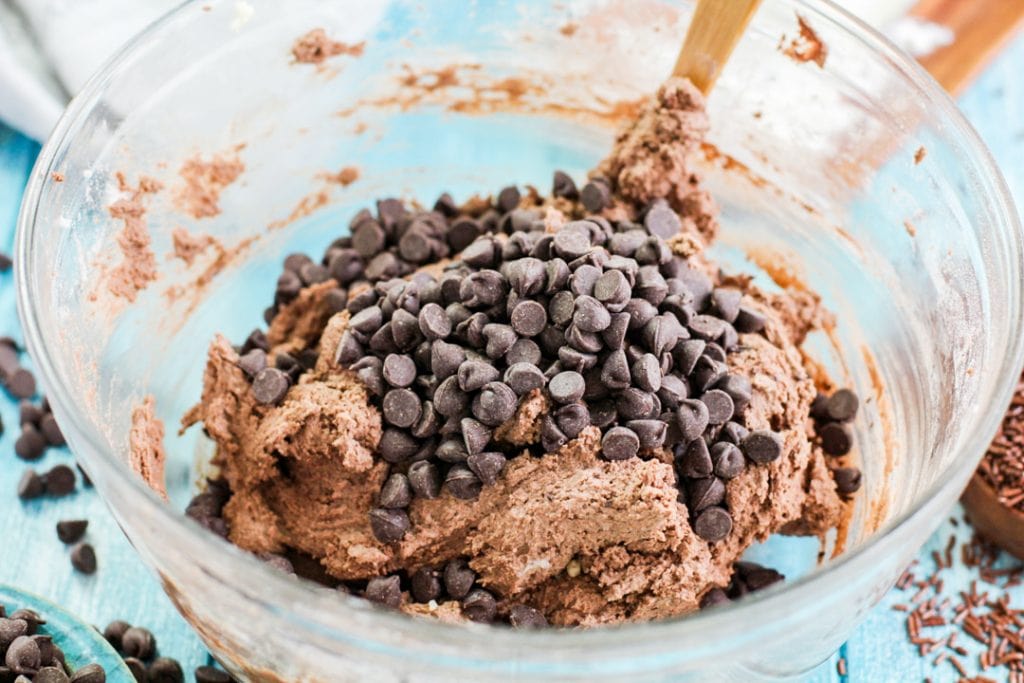 Next, add in your chocolate chips. At this point, you can refrigerate your cookie dough about half an hour if desired.
Use a large baking dish for making your giant ice cream sandwich cookies. I personally like to grease my pan to ensure the cookies do not stick. Roll out about 2 tablespoons worth of the double chocolate chip batter and bake for 12-15 minutes, or until cookies have set. Be sure to leave plenty of space between cookies so the cookies have space to spread. You will have to do this in batches.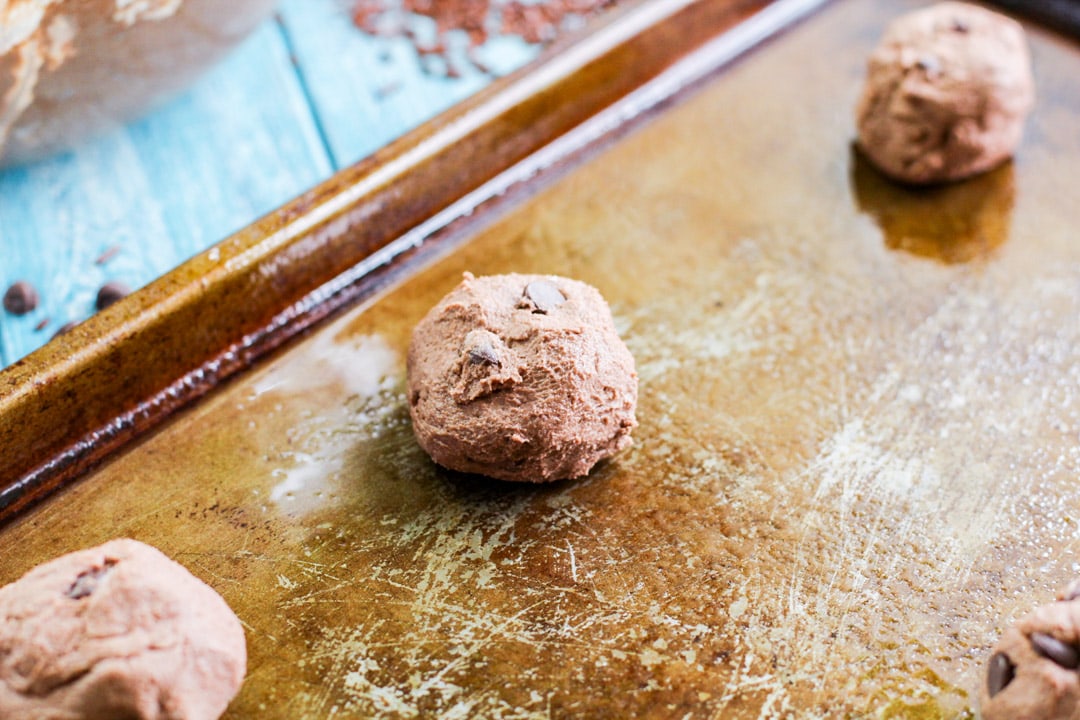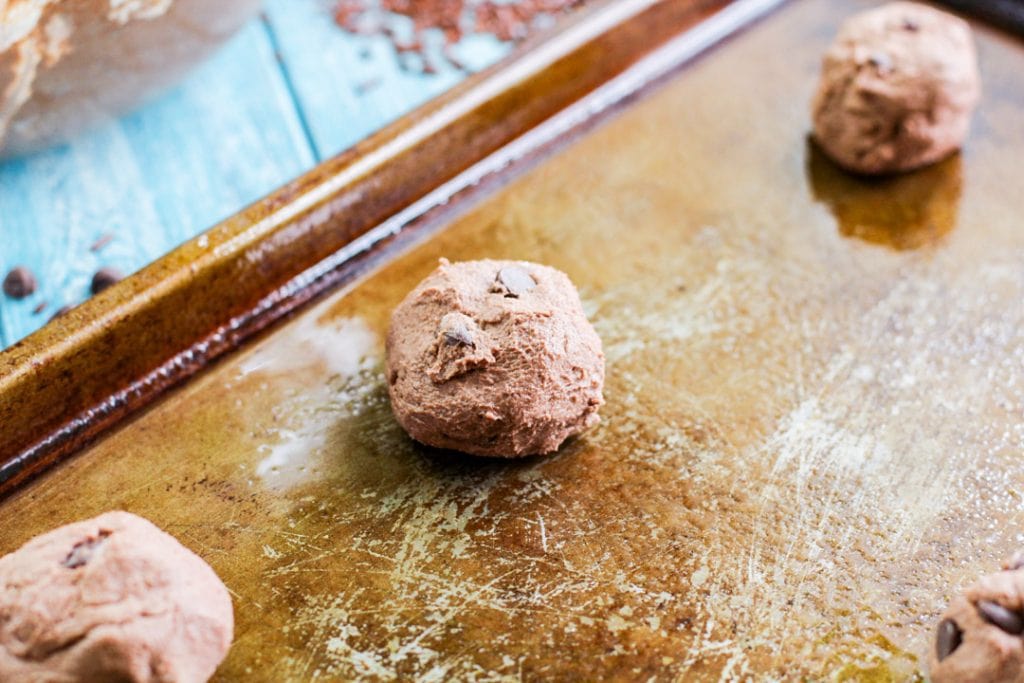 As soon as your double chocolate chip cookies bake, remove them from the oven and put them on a cooling rack. Want extra chocolate chips? While cookies are still warm, you can press a few extra chocolate chips into the tops of the cookies.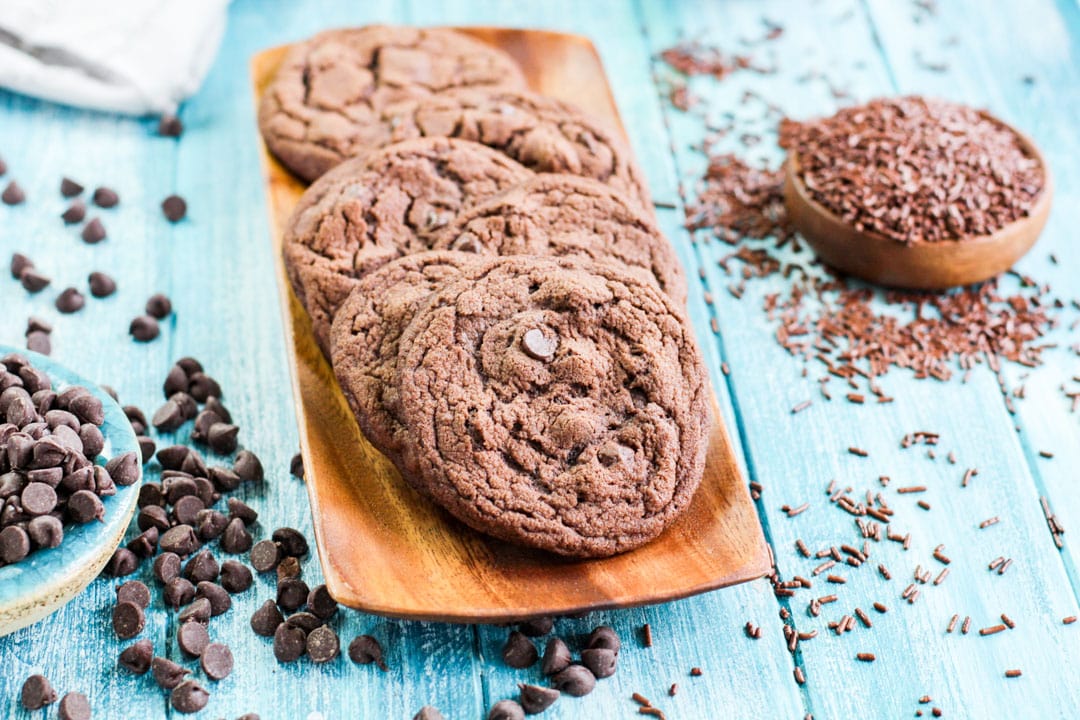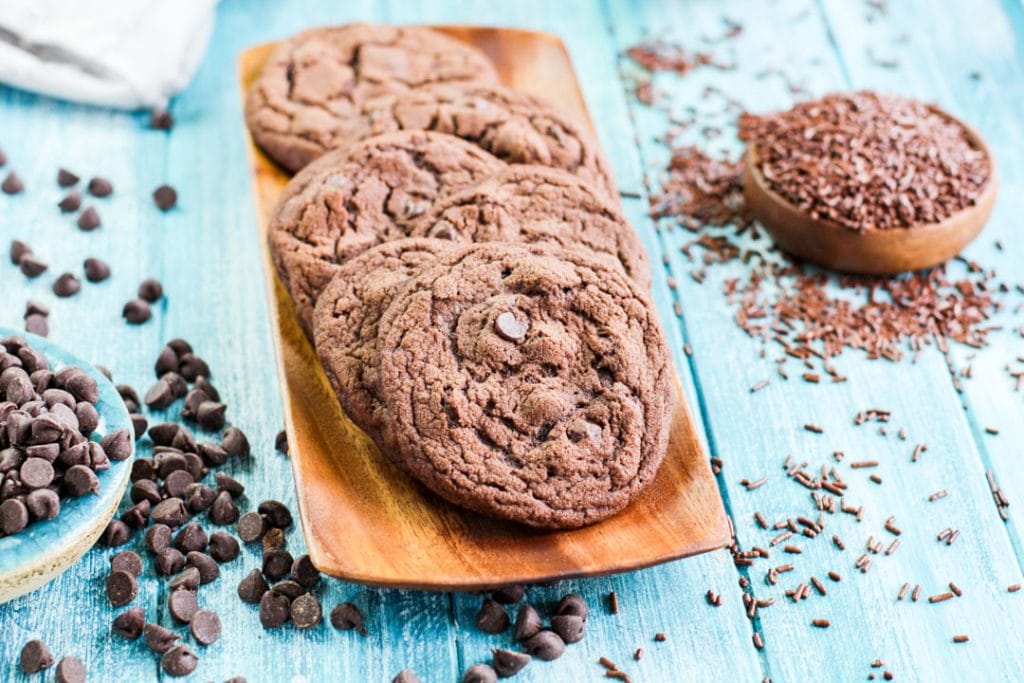 Once cookies have fully cooled, you can pack them like below with ice cream. Heed this warning, ONLY DO UP TO 3 SANDWICHES AT A TIME! The ice cream melts super quick! Have an extra tray (or plate) lined with wax paper at the ready. Do this is batches. Freeze as soon as possible to keep it from melting.
This is when round cookie cutters come in handy. You can "cut" the perfect round shape and just lay it like a hamburger over the cookie and close it.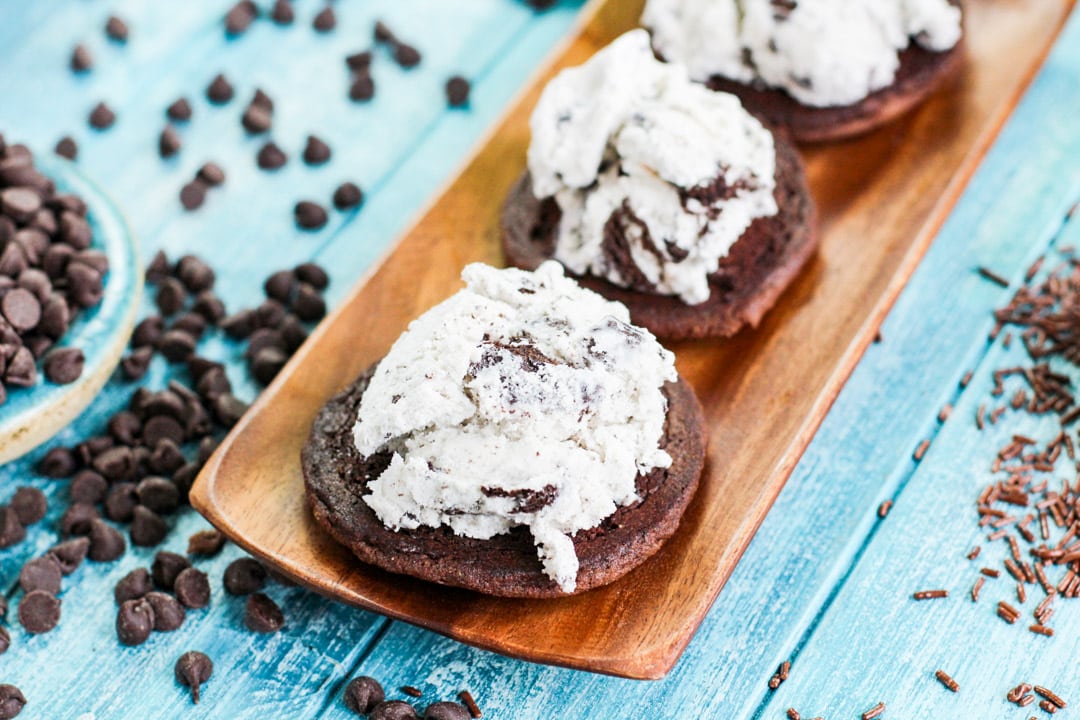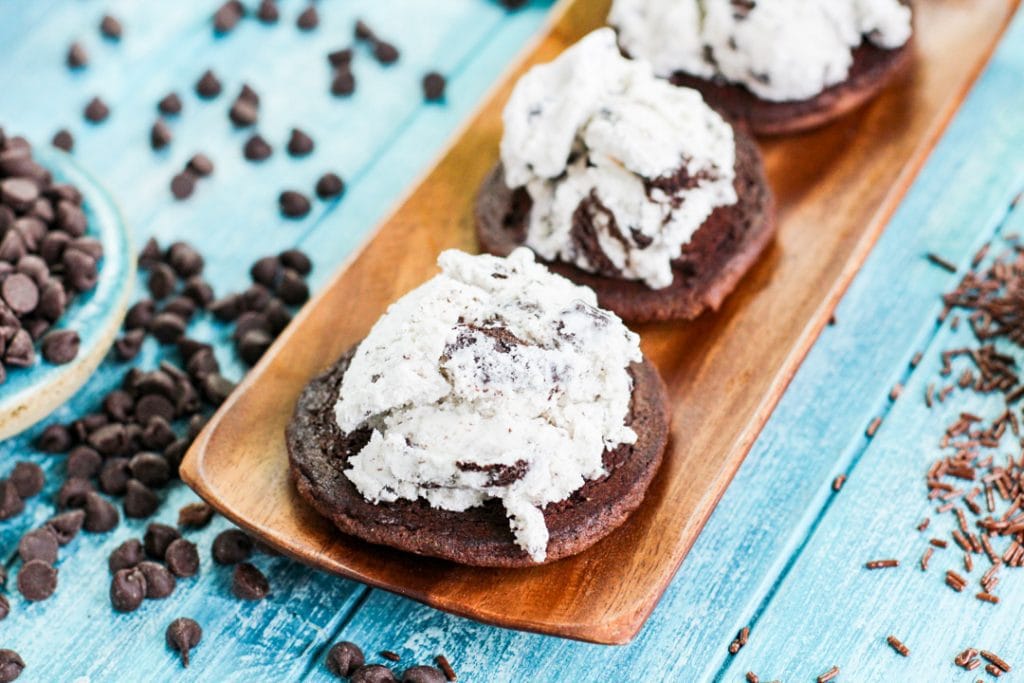 Close the sandwiches and freeze them a minimum of two hours, or if you have kids who are anxiously waiting, you can give it to them now. But for the best ice cream cookie sandwich, it's best to freeze so the ice cream re-solidifies.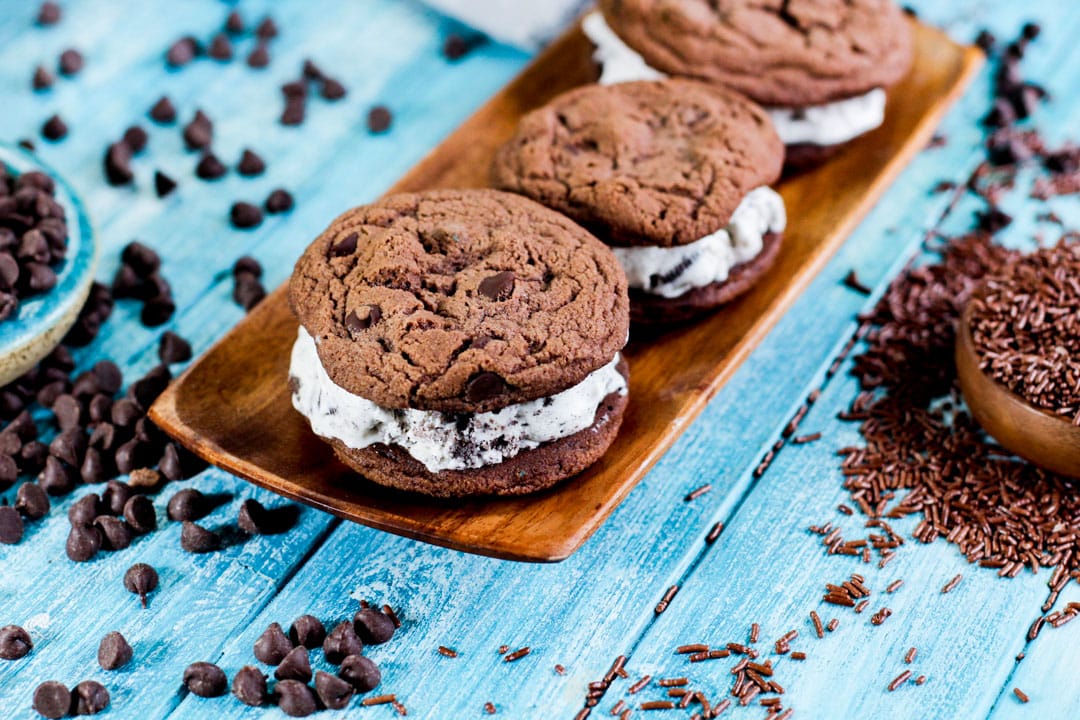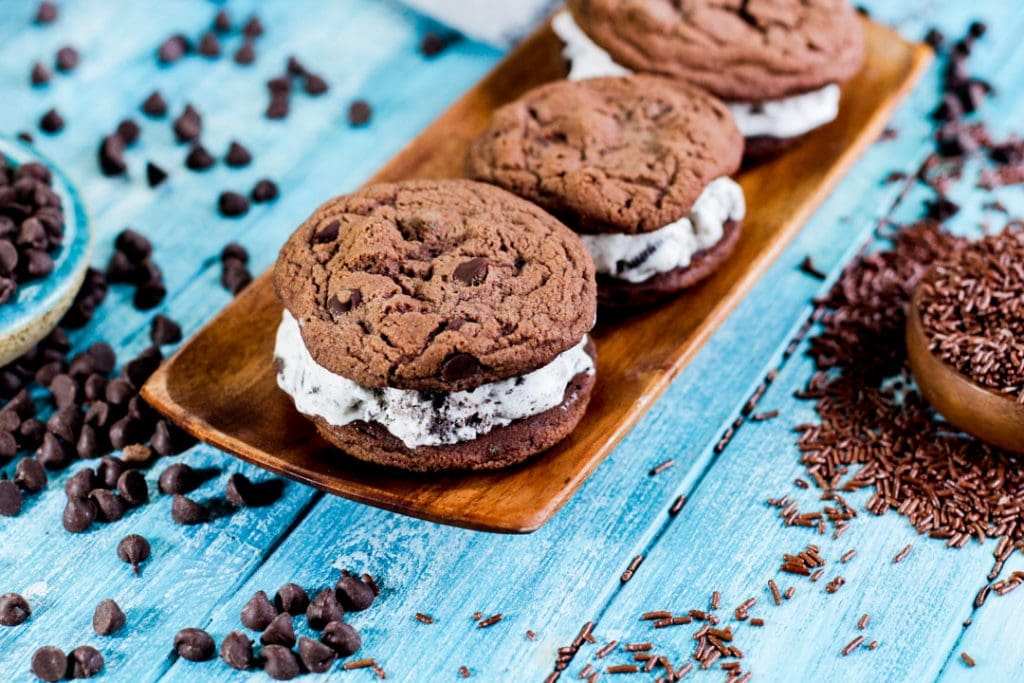 Once the ice cream sandwiches have frozen, you can remove and decorate with chocolate chips or whatever you feel by taking a shallow bowl or plate, adding sprinkles or crushed Oreo's and gently roll the ice cream cookie sandwiches over it to cover the sides with them. Serve right away.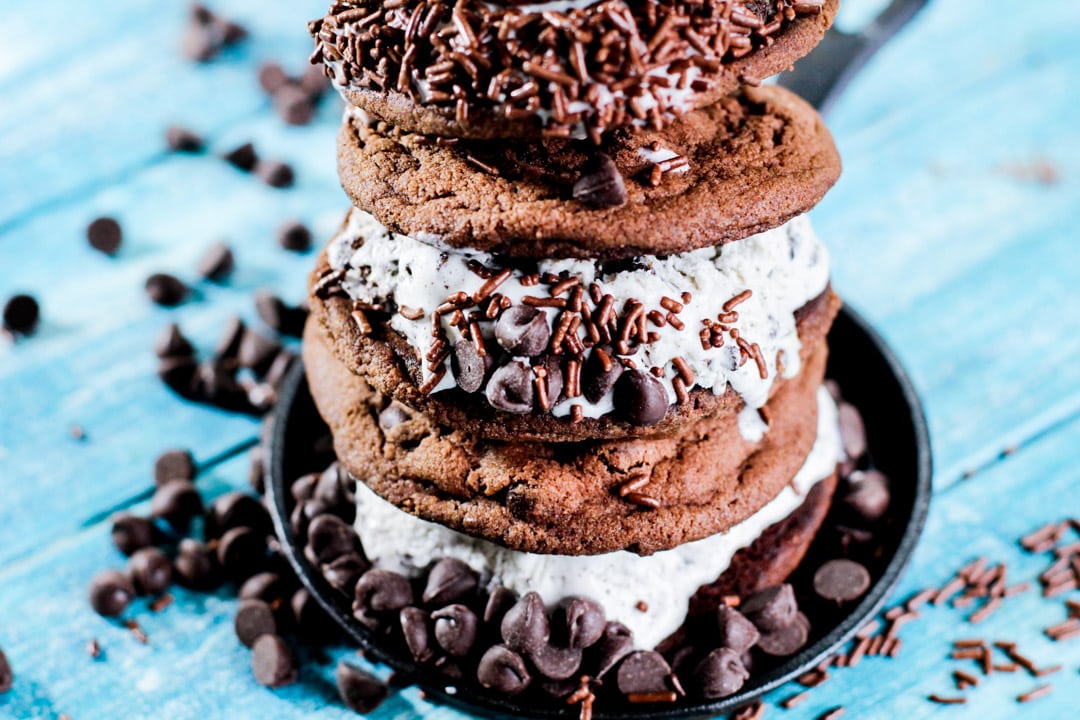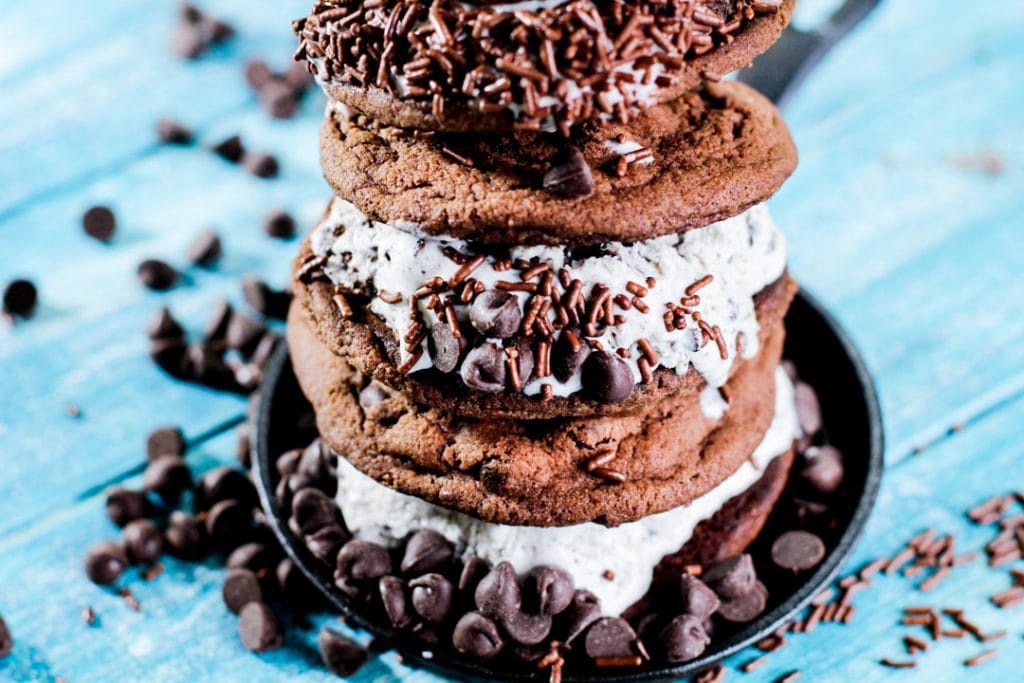 Want more desserts? Check out these amazing Latin inspired desserts:
📖 Recipe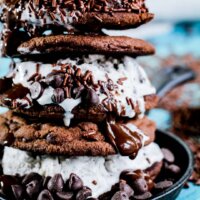 Double Chocolate Chip Ice Cream Cookie Sandwich
Soft, chewy, and completely indulgent, this double chocolate chip ice cream cookie sandwich is sure to please every chocolate lover!
Print
Pin
Rate
Ingredients
Wet ingredients
1

cup

of salted butter

room temperature

1 ½

cups

of granulated sugar

2

eggs

2

teaspoons

of pure vanilla extract
dry ingredients
⅔

cup

of Dutch processed cocoa powder

2

cups

of flour

¾

teaspon of baking soda

2

teaspoons

of cornstarch

¼

teaspoon

of salt

2

cups

of mini chocolate chips

3

cups

of cookies and cream ice cream

or your choice
Instructions
Preheat oven to 350 degrees Fahrenheit.

In a small bowl whisk flour, baking soda, baking powder, cornstarch, cocoa powder and salt. Set aside.

In a large bowl, cream butter and sugar, about 4 minutes using a hand mixer.

Add eggs and vanilla to butter mixture and mix together. Slowly add in flour mixture, reserving 2 tablespoons of flour mixture. Do not over mix.

Toss chocolate chips with the 2 tablespoons of flour.

To a well greased pan, add 2 tablespoons of cookie dough for jumbo cookies, or 1 ½ teaspoons for regular sized cookies.

Bake jumbo cookies for 13-15 minutes or until edges become slightly golden brown. Bake regular cookies for 8-10 minutes.

Once you remove cookies from the oven, allow them to cool before flipping cookies and adding about 2-3 tablespoons of ice cream (or as desireto the inside of one cookie. With a spoon, you can gently spread the ice cream a little and cover with another cookie to close it. Repeat 3 sets at a time and freeze for at least 2 hours. After two hours, remove 3 sets at a time and you can dip sideways onto more sprinkles if desired.
Notes
Note: Work QUICKLY. Only create 3 ice cream sandwiches at a time because they melt super quick! Freeze a minimum of 2 hours to have a firm ice cream sandwich.