This shop has been compensated by Collective Bias, Inc. and its advertiser. All opinions are mine alone. #BakeBetterCookies
​
#CollectiveBias #ChocolateChipCookies
Chewy Guava White Chocolate Chip Cookies is the perfect chewy cookie recipe that your family and friends will love to be gifted with this holiday season!
Cookies or any kind of fun baked good are probably one of my favorite gifts to give during the holidays. It is the perfect way to get kids involved in the process, and let's be honest, they love to get their hands on any bit of candy or sugar coated ingredient they can sneak attack into their mouth.
My kids LOVE to make bark candy, pumpkin spice cupcakes, and recently, using Karo® Corn Syrup, I created these Chewy Guava White Chocolate Chip Cookies! Karo® Corn Syrup is a must-have with holiday baking to ensure you have soft and chewy cookies and baked goods.
​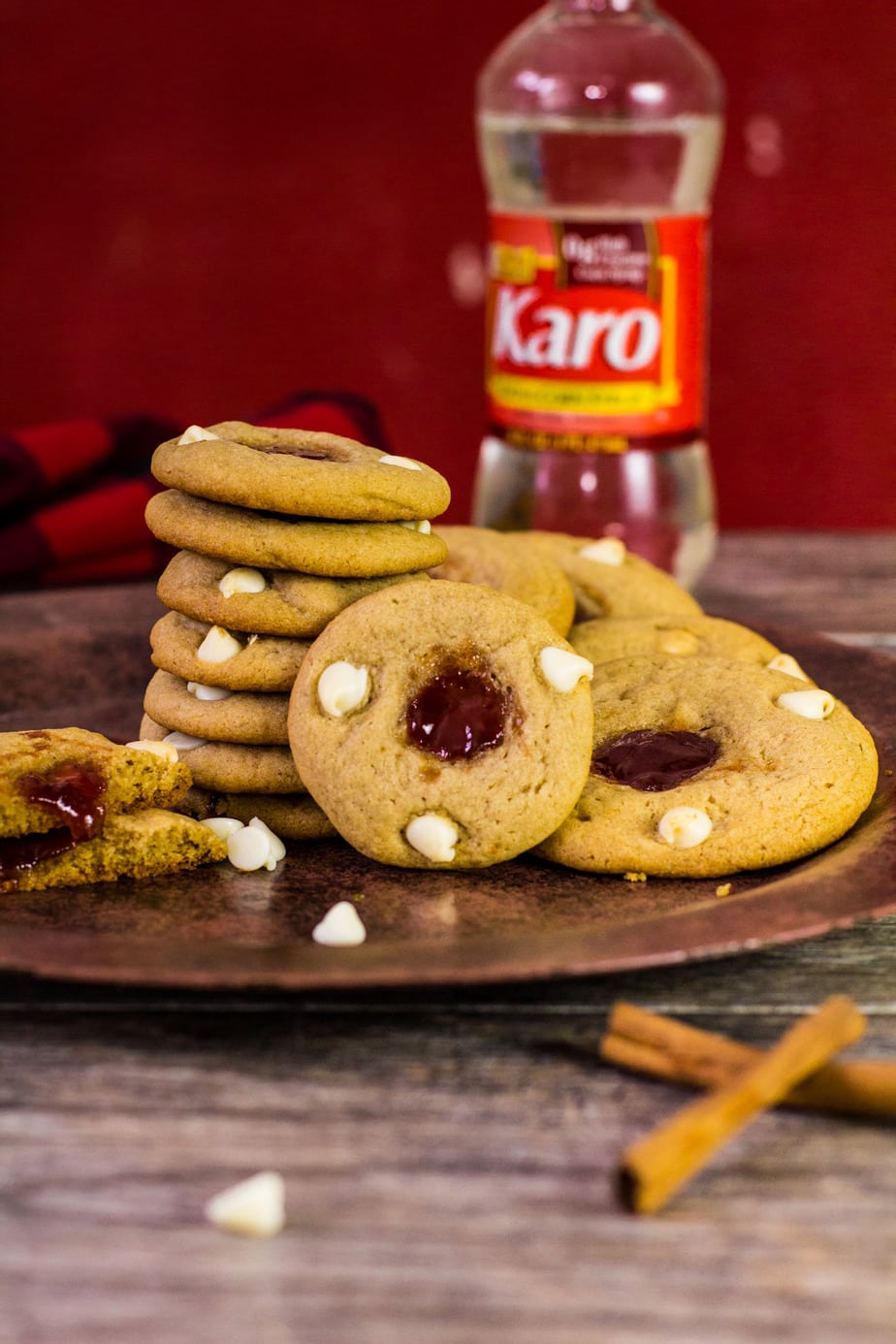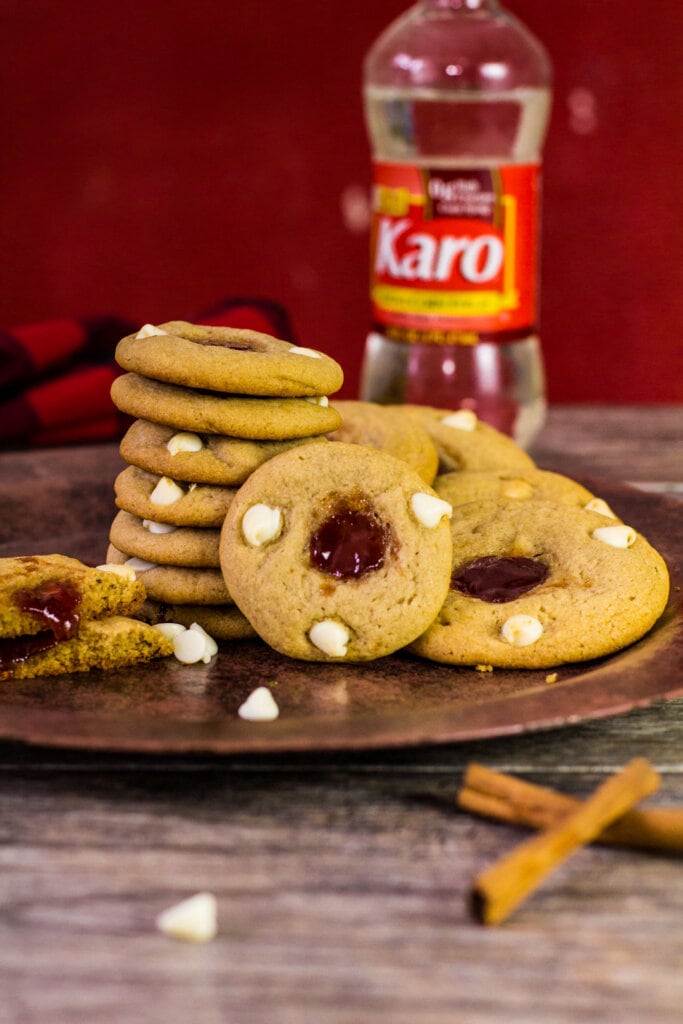 Guava is a staple in most Cuban households. I absolutely love having it at home, but honestly always find a way to pair it with only cream cheese. Just like in my guava and cheese pastelitos. I had a jar of guava jelly waiting to be used, and I thought to myself, what about a simple soft cookie with a center of guava jelly surrounded by chocolate chips?!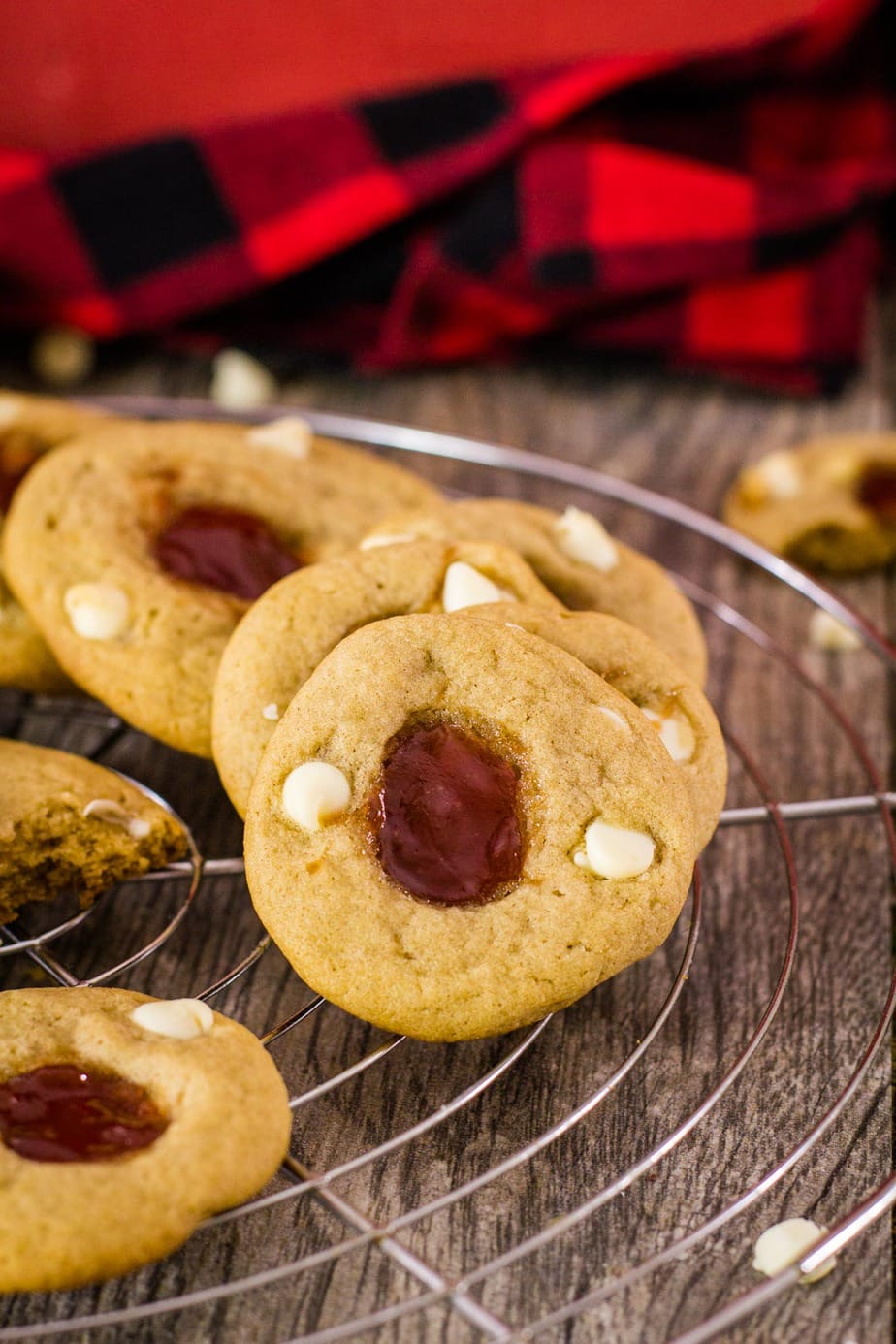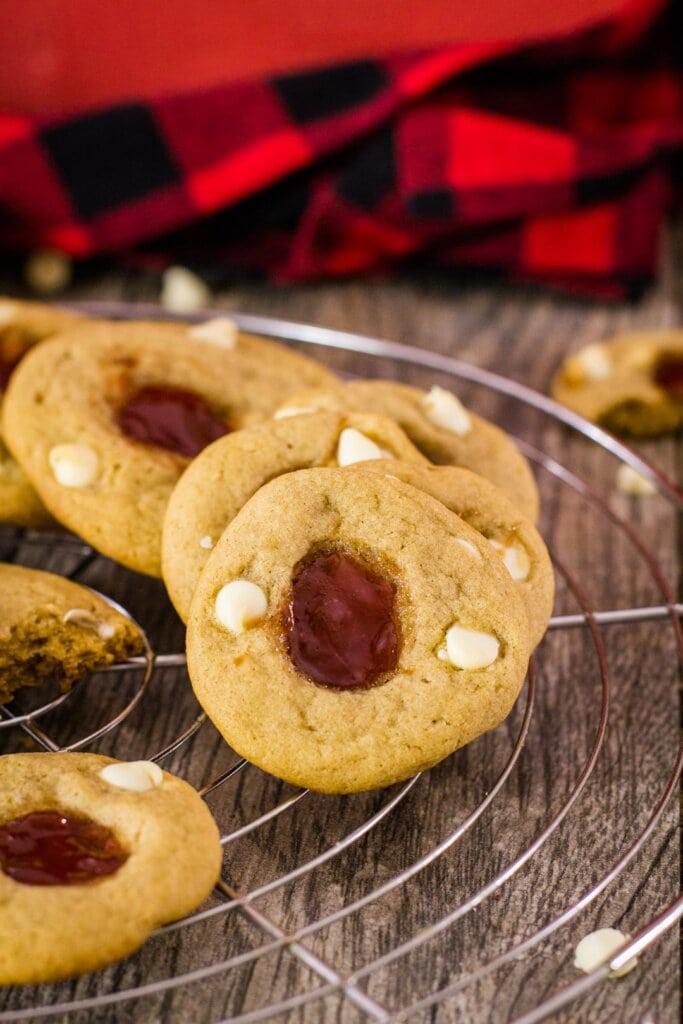 What ingredients are in chewy guava white chocolate chip cookies?
I've already mentioned that these chewy white chocolate chip cookies are made with guava jelly and white chocolate chips, but let me break it down further. Guava white chocolate chip cookie ingredients:
flour
baking powder
baking soda
ground cinnamon
vanilla extract
egg (room temperature)
Karo® Corn Syrup
salted butter (room temperature)
brown sugar
white sugar
guava jelly
white chocolate chips
It may seem like a lot of ingredients, but do not be intimidated. Measuring the ingredients is the hardest part of making these easy chewy white chocolate chip cookies with guava! I have to make mention that the secret to making these guava cookies chewy is Karo® Corn Syrup. Karo® Corn Syrup is a known product that has been trusted for over 100 years! Easily found in pecan pie recipes, and highly popular in the South, especially when using to top pancakes and making baked goods, Karo® Corn Syrup is a family favorite and a must use to make chewy on the outside and soft on the inside cookies!
How To Make White Chocolate Chip Chewy Guava Cookies
In a large bowl, add in softened butter. It has to be room temperature! Add butter with white and brown sugar to a bowl. With either a stand or hand mixer, beat the sugar and butter together for 5 minutes. Look at the clock when doing this. This helps take the butter and sugar from just being mixed, to actually be creamed together!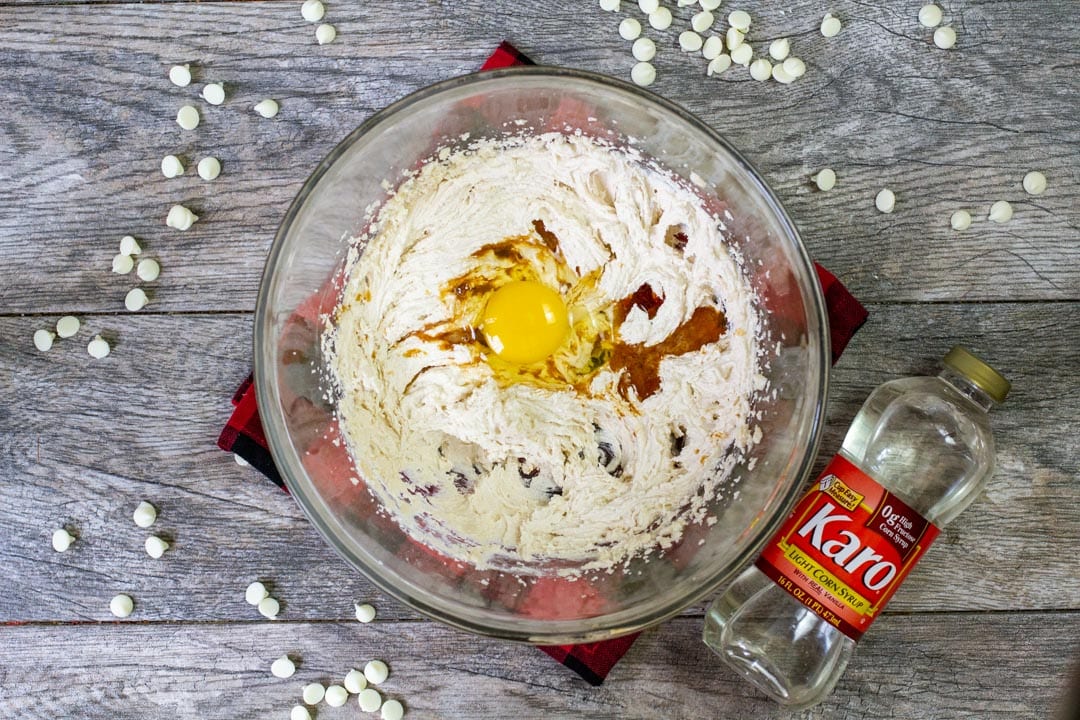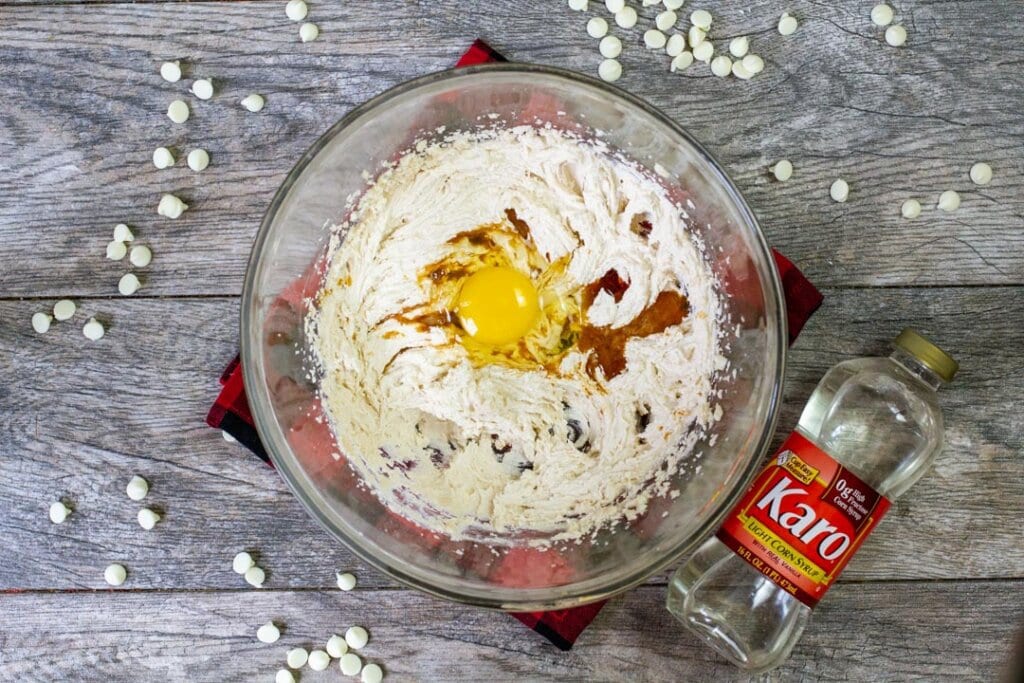 Next, add in your egg, extract, and Karo® Corn Syrup. Remember to include family members when baking together! Baking is an amazing family bonding experience that can create memories that last a lifetime. Beat the wet ingredients together and set it to the side. In a smaller bowl, add in your dry ingredients. Gently mix the dry ingredients into the wet ingredients. DO NOT OVER MIX. Over mixing creates a hard muffin, bread, or cookie when it's baking time. When the mixture is almost completely wet, fold in your white chocolate chips to your guava cookie mix.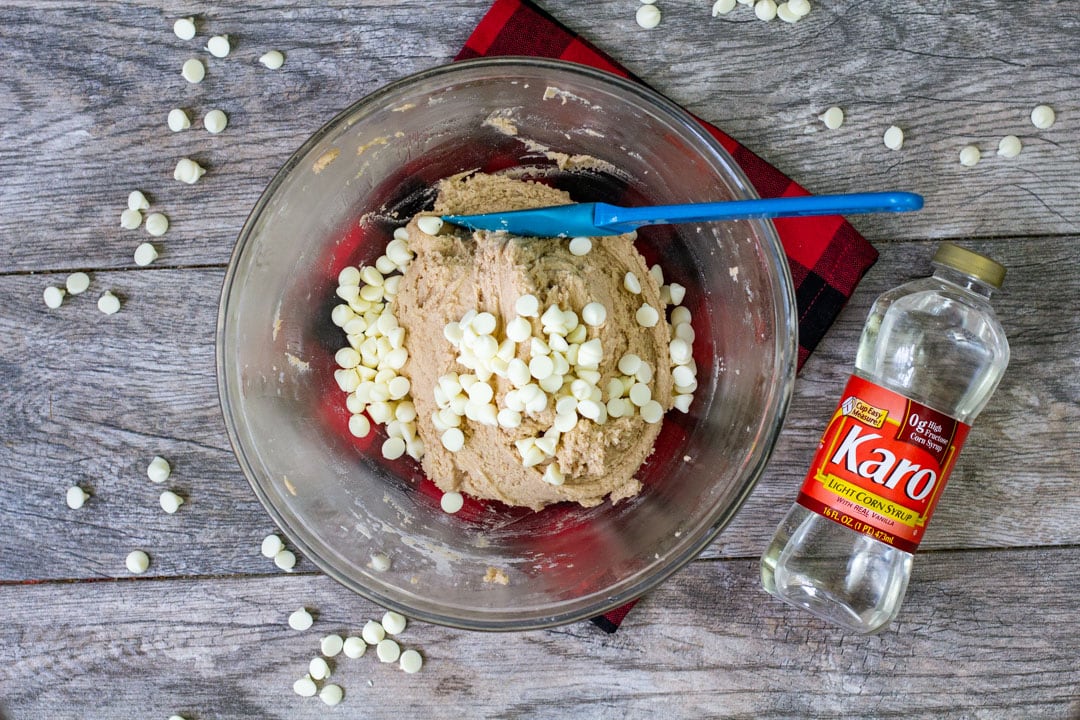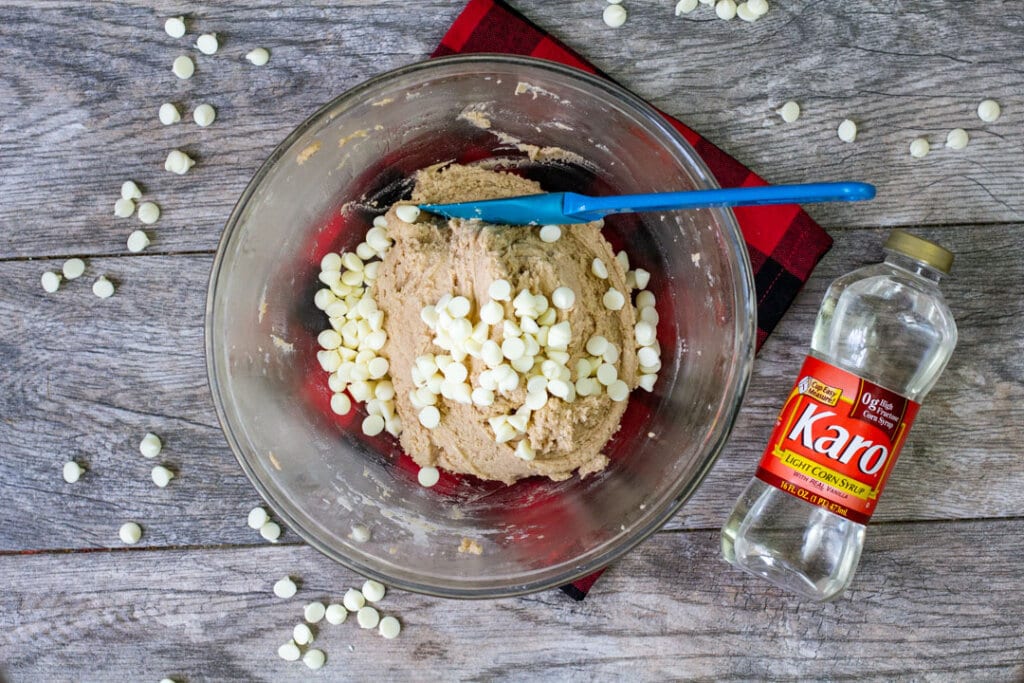 Like most cookie ingredients that include Karo® Corn Syrup, I find that chilling your cookie dough is best! I chilled these cookies for 30 minutes, and it was perfect!
Once your cookie dough has chilled, take 1-2 tablespoons of cookie mixture and roll it gently in your hands to form a ball. Place it on the baking sheet. Use 1 tablespoon for regular sized cookies or 2 tablespoons for jumbo cookies. Give at least 4 inches of space between cookie balls to allow them to expand without touching.
Once you have your cookie balls, you can either take the back of a measuring spoon to create a crevice in each cookie, or a clean finger to just lightly poke a "hole". Add about a quarter teaspoon of guava jelly that has been slightly warmed and stirred to make it softer and easier to add in.
For a pretty presentation, push in 2-3 white chocolate chips to the sides of the cookies.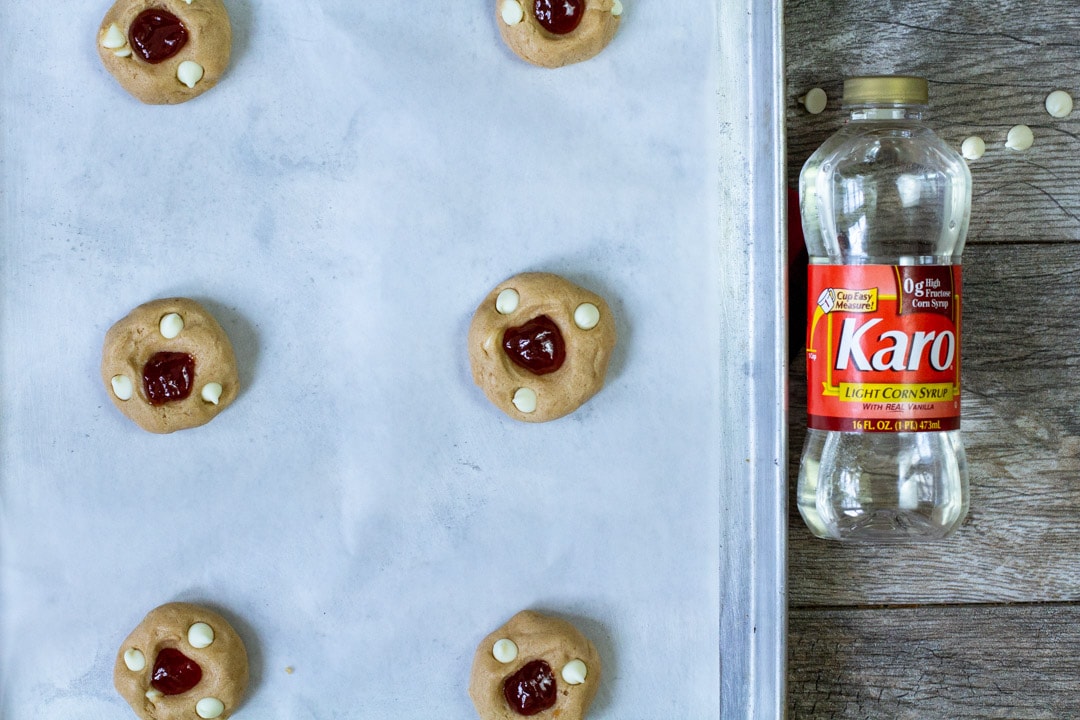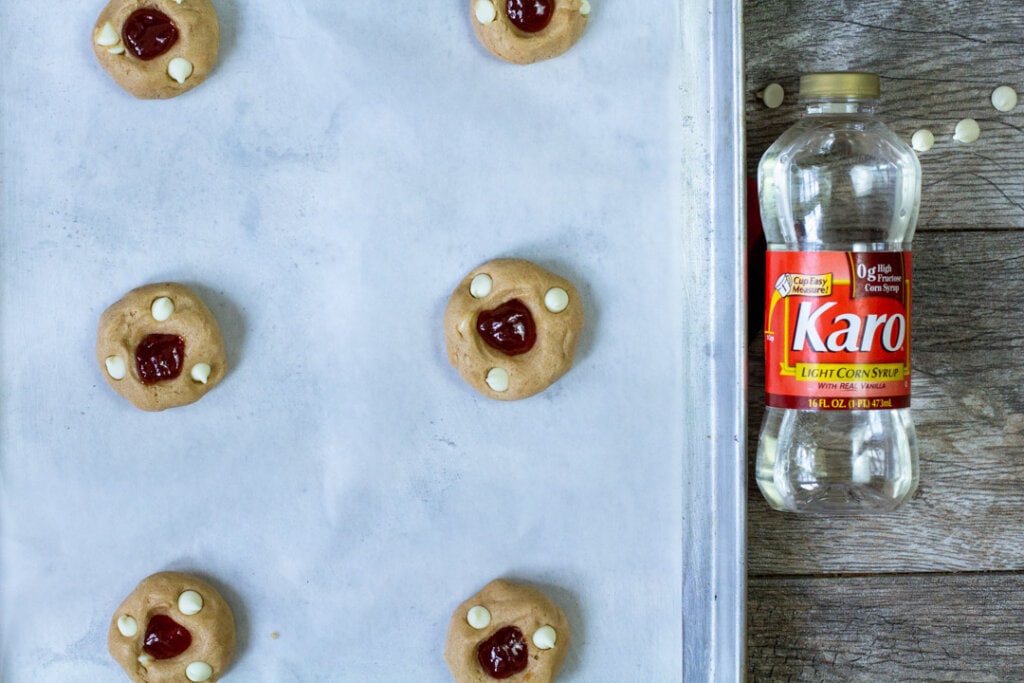 How long do I bake my cookies for?
Once your oven has been preheated to 375 degrees Fahrenheit, you can bake your guava cookies on a parchment paper lined baking sheet for 9-12 minutes, depending on the size of your cookies. For 1 tablespoon of cookie mix, give it about 9-11 minutes of baking. For jumbo cookies using about 2 tablespoons of mixture, bake for 12-14 minutes.
For the softest and chewiest cookies, AS SOON AS YOUR COOKIES START TO GET GOLDEN OR HINT AT BROWN ON THE EDGES, REMOVE THEM FROM THE OVEN. Keep the cookies on the pan over the stove for about 3 minutes to slightly cool and continue cooking before transferring to a wire rack.
TIP FOR SUCCESS: At around 8 minutes, turn on your oven light to check on the progress of your cookies. To have the softest cookies, you want to take them out when they're still slightly under cooked only in the center, and allow it to continue cooking from the heat of the pan on top of the stove for about 2-3 minutes.
How do you know when the perfect time is? Look at the edges! The edges will have the slightest golden hue. If you wait until you see pure brown, you'll have hard cookies. The trick is to get it right when it's golden.
For this specific cookie recipe, I also found that the white chocolate chips were beginning to hint at a golden hue right when it was ready to be removed as well.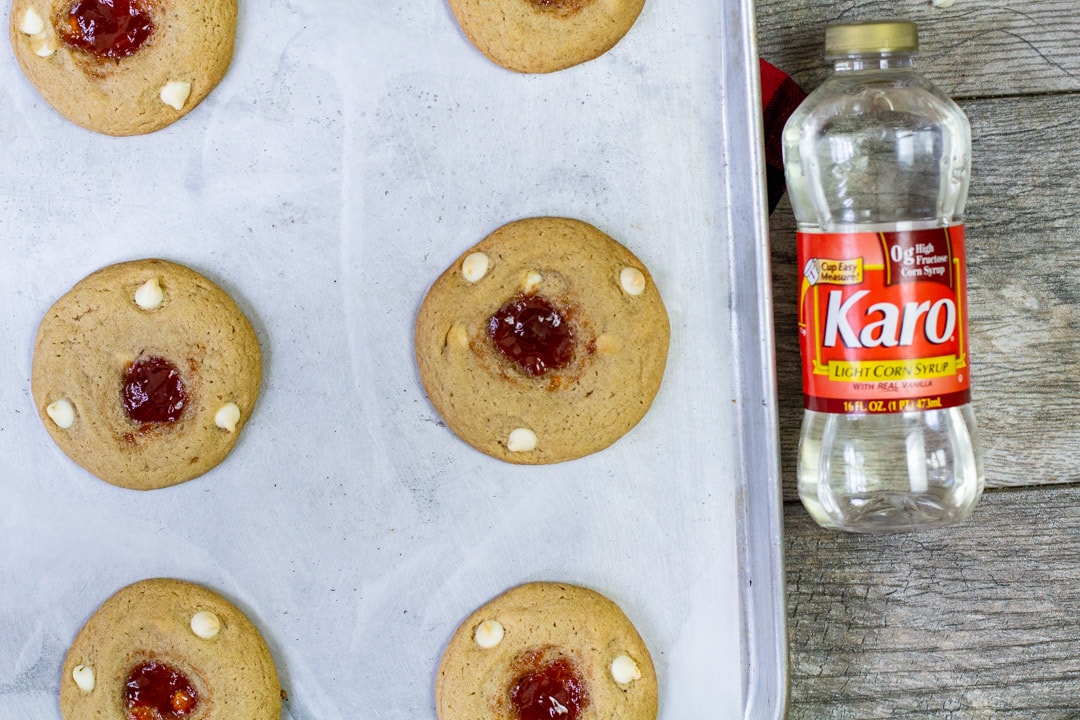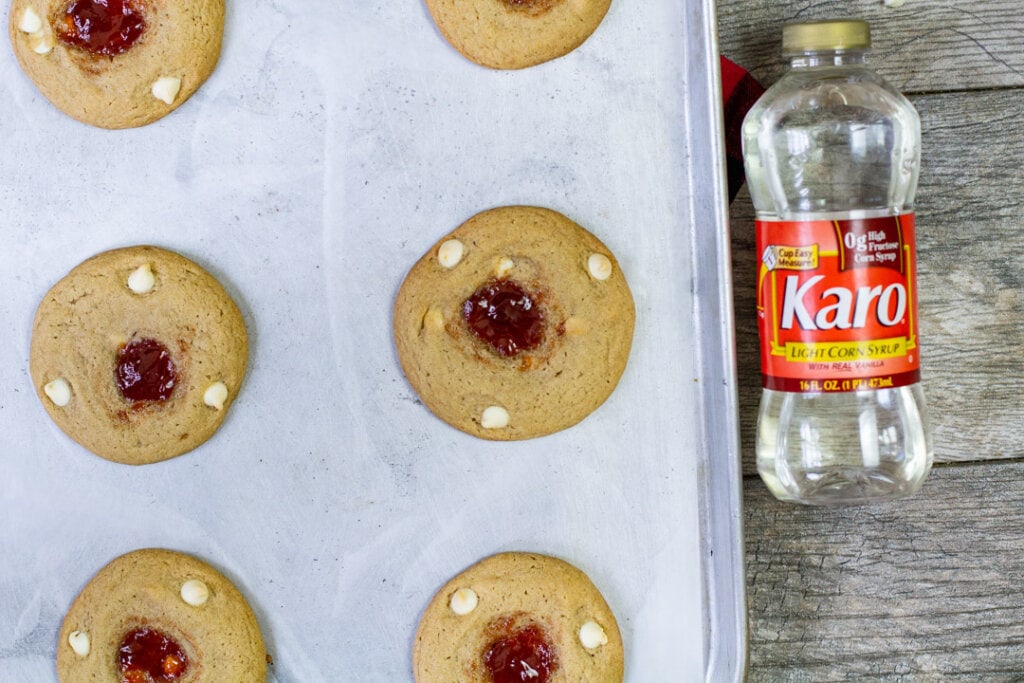 This holiday, remember to enjoy it with family and friends and bake up some new recipes that are soft and chewy using Karo® Corn Syrup as an ingredient! Remember to check out their site for some more amazing baked good recipes!

📖 Recipe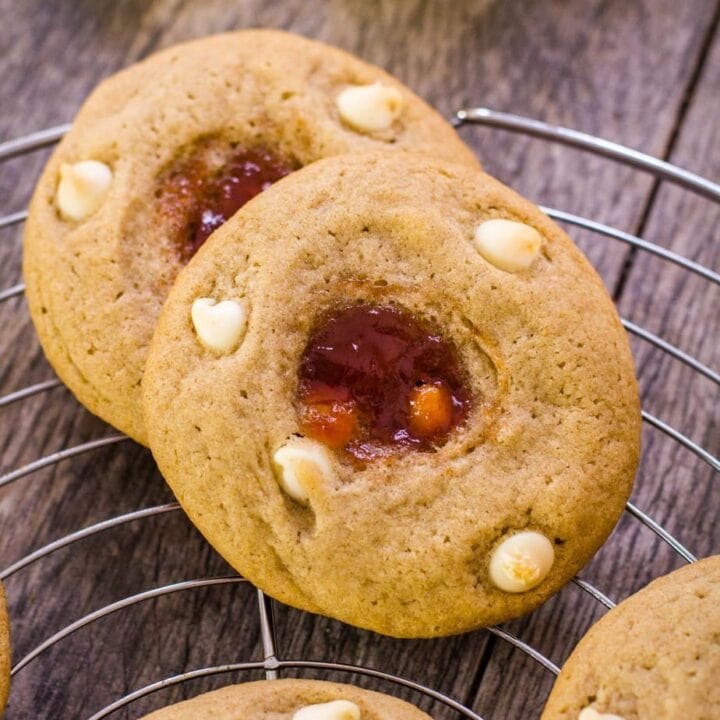 Chocolate Chip Guava Cookie Recipe
Soft and chewy with a sweet surprising center, these white chocolate chip guava cookies are the perfect cookie recipe for gift giving!
Print
Pin
Rate
Ingredients
wet ingredients
½

cup

of white sugar

½

cup

of brown sugar

¾

cup

of salted butter room temperature

2

teaspoons

of vanilla extract

1

egg room temperature

2

tablespoons

of

Karo® Corn Syrup
dry ingredients
1

teaspoon

of baking powder

1

teaspoon

of baking soda

2

cups

of all purpose flour

1 ½

teaspoons

of ground cinnamon
add in
¾

cup

of white chocolate chips
Instructions
INSTRUCTIONS

In a large bowl, cream together sugars and butter for five minutes.

Add in extract, Karo® Corn Syrup, and egg, beat together.

In a separate bowl, sift and whisk together dry ingredients.

Gently blend in dry ingredients into the wet ingredients bowl.

Fold in white chocolate chip cookies.

Cover bowl and refrigerate for 30 minutes.

Preheat oven to 350 degrees Fahrenheit.

Roll 1 tablespoon worth of dough into tall balls and place on a baking sheet lined with parchment paper or a silicone mat.

Create a small crevice in each cookie with a clean finger or the back of a small measuring spoon.

Add a ¼ teaspoon worth of guava jelly into each crevice.

Bake for 9-11 minutes, or until the edges become a golden color. Remove from oven and let sit on baking sheet for 3 minutes to continue cooking before you place cookies on a wire rack to cool.