Looking for a new twist to the classic dirt cup? These pumpkin spice dirt cupcakes are the perfect treat to bring to your child's next Halloween party. Be sure to get extra spooky with the Halloween toppings. Growing up I absolutely loved when a classmate's parent would drop off dirt cups for a mini birthday party, those were the days. Oh, and blue Hawaiin Punch, now that truly made a party. I love traditional recipes, but here and there it's time to take some things up a notch. Why not pair three favorite fall things together? Pumpkin+cupcakes+dirt cups= bragging rights! Seriously, let's do this, here's an easy recipe to make pumpkin spice dirt cupcakes.
How To Make Easy Pumpkin Spice Dirt Cupcakes For Your Party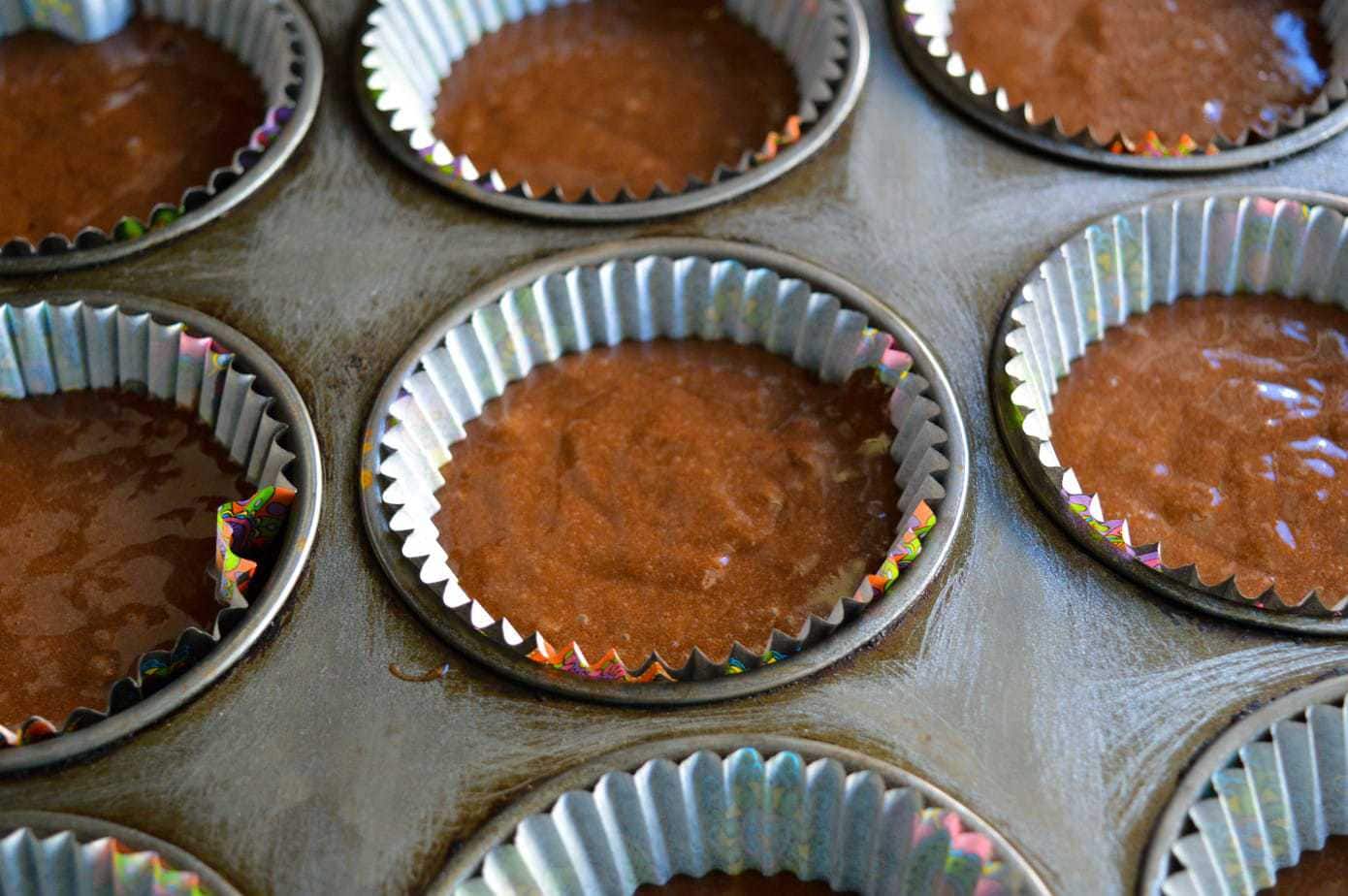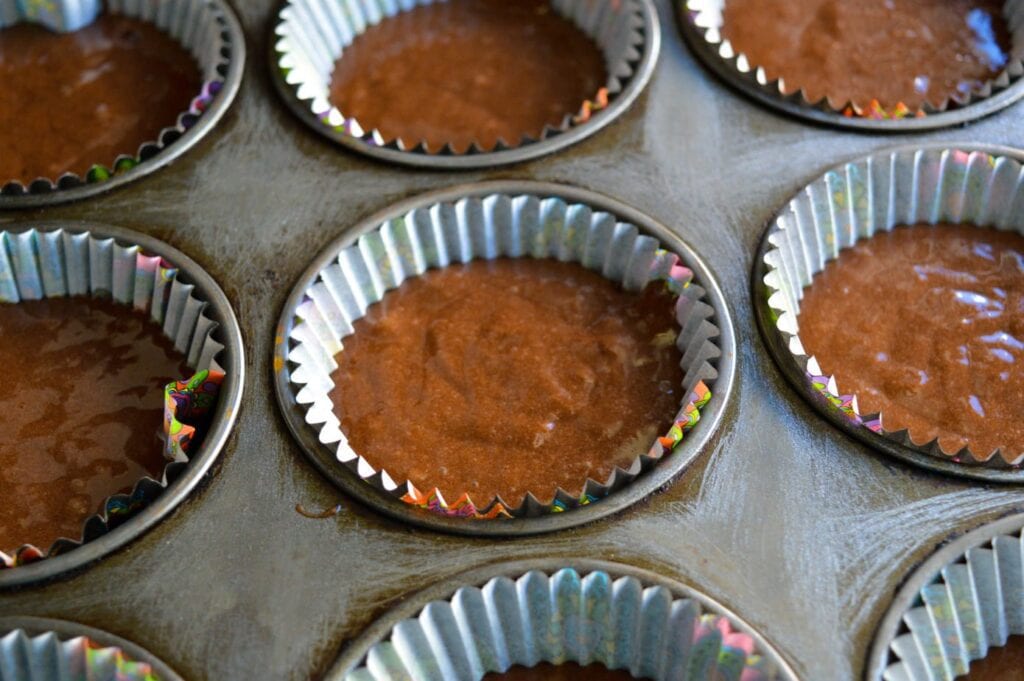 For the most part, I will be providing from scratch recipes, but this recipe is meant to be easy, and honestly when you're getting ready for a party -time is of the essence. Yes, I completely used a box mix for these cupcakes. I mean, if you have a kick butt from scratch cake recipe and the ingredients on hand and the time, go for it. But me? I had five kids running around, a limited budget (and missing ingredients), and a goal to just get it done. $1.25 sounded just right with me. Whichever way you go, add a pinch, well teaspoon of pumpkin spice to your batter.
While the cupcakes are cooking, make the chocolate pudding. If inclined, add a pinch of pumpkin spice to that. Once the pudding is made and sets, be sure to add it to a pastry bag or you can be like me and add it to a Ziploc bag and just snip the end of one side to create a funnel.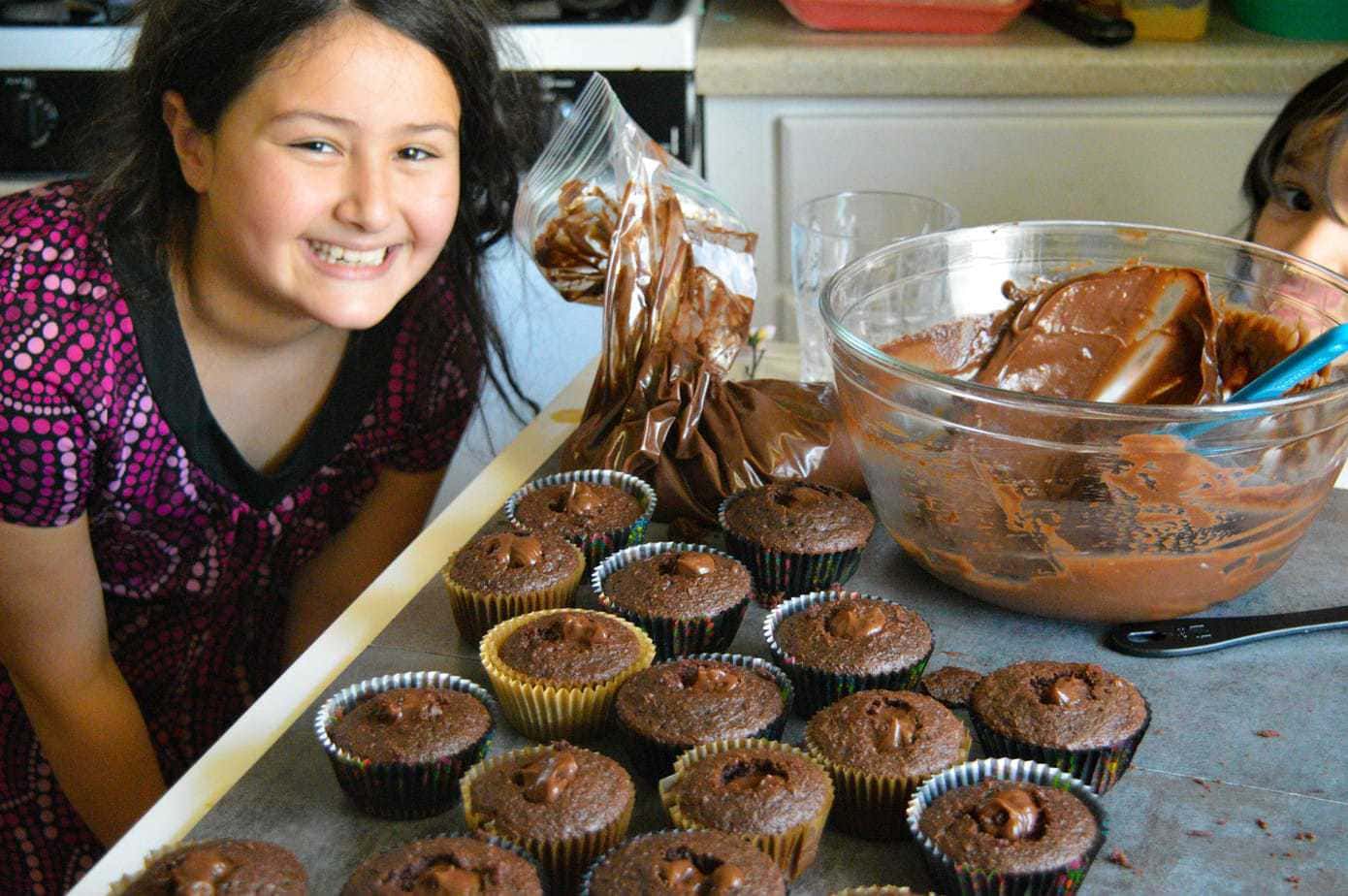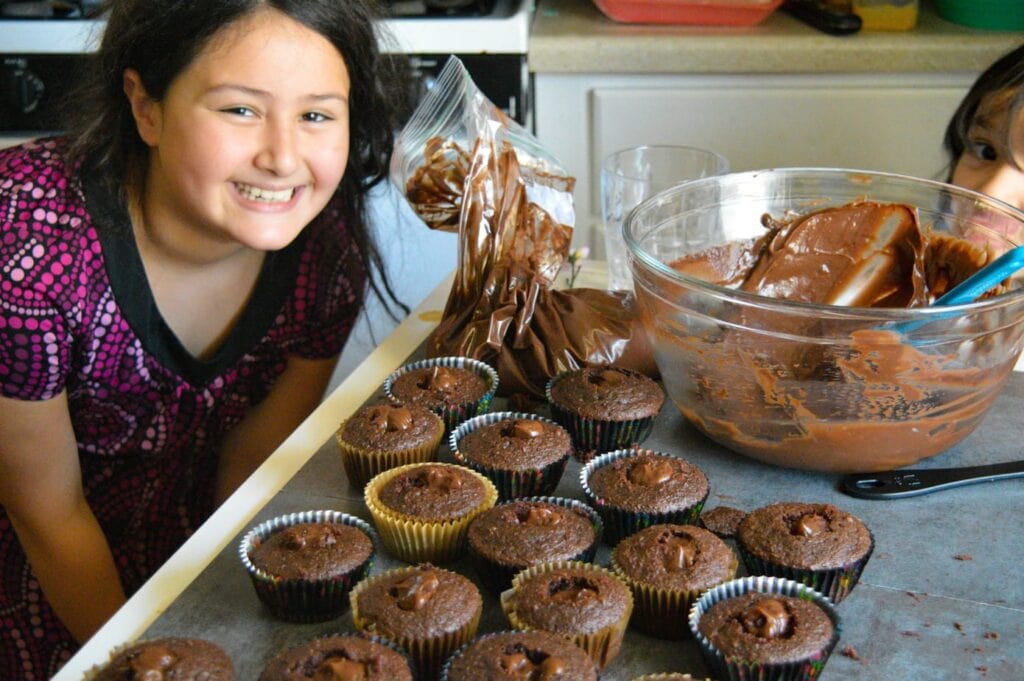 This is where the kids love to get involved. Once the cupcakes have cooled and the pudding has set, let them use a ¼ teaspoon measuring spoon to scoop out a hole into the cupcake, once they have don that to all of the cupcakes, let them fill the holes with pudding. Measurements won't be a science, there's no right amount. (My girls had a blast doing this, here is my Yaya and the left and banana on the right.)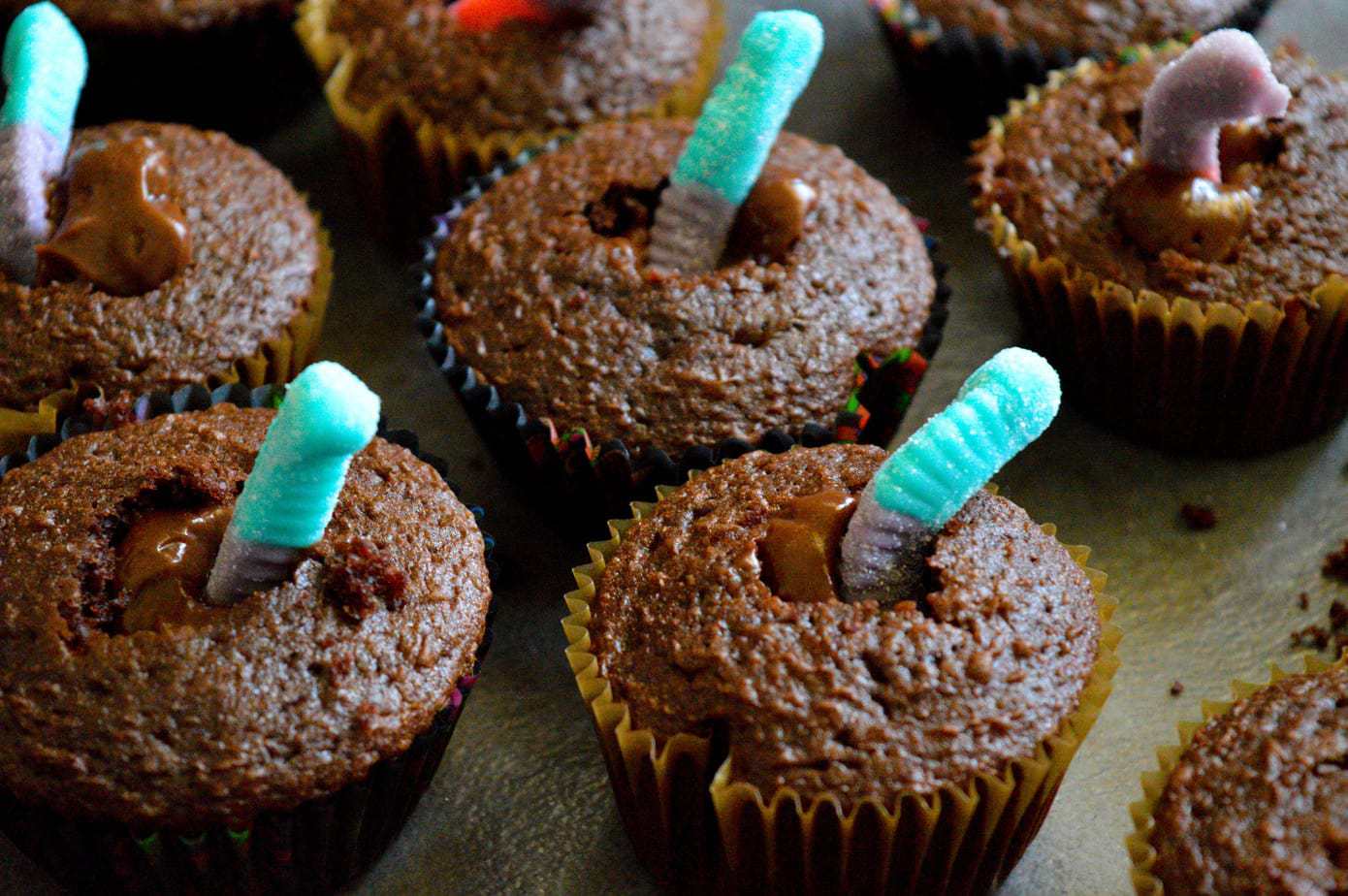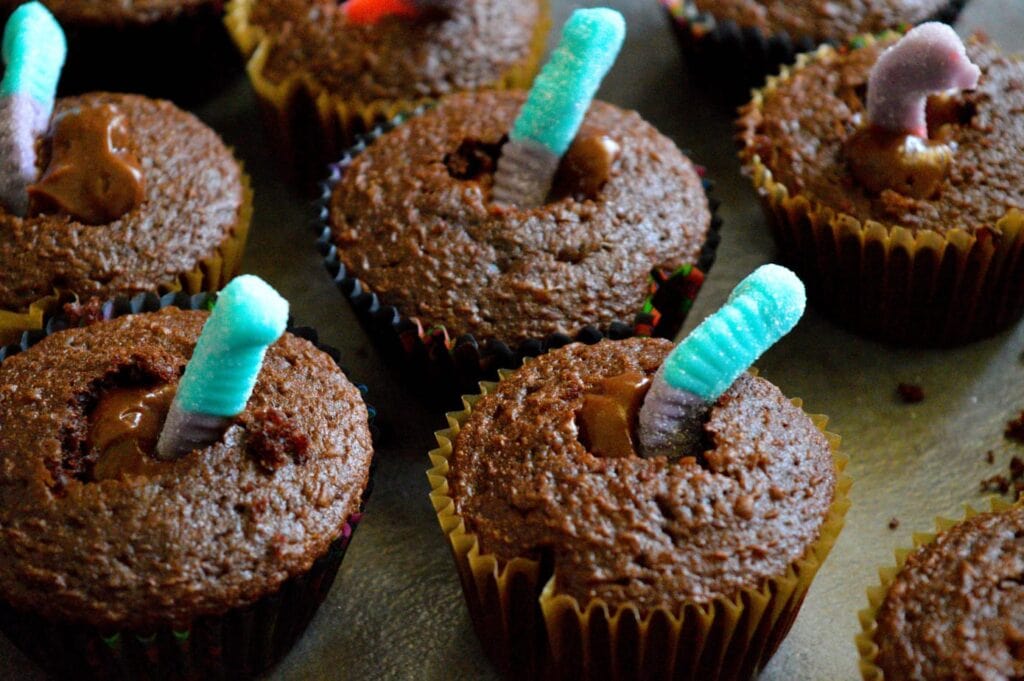 Next, you're going to insert a worm halfway into each hole. We used sour worms, yum. But feel free to change this up if you feel inclined. What else can you put in place or beside the worm?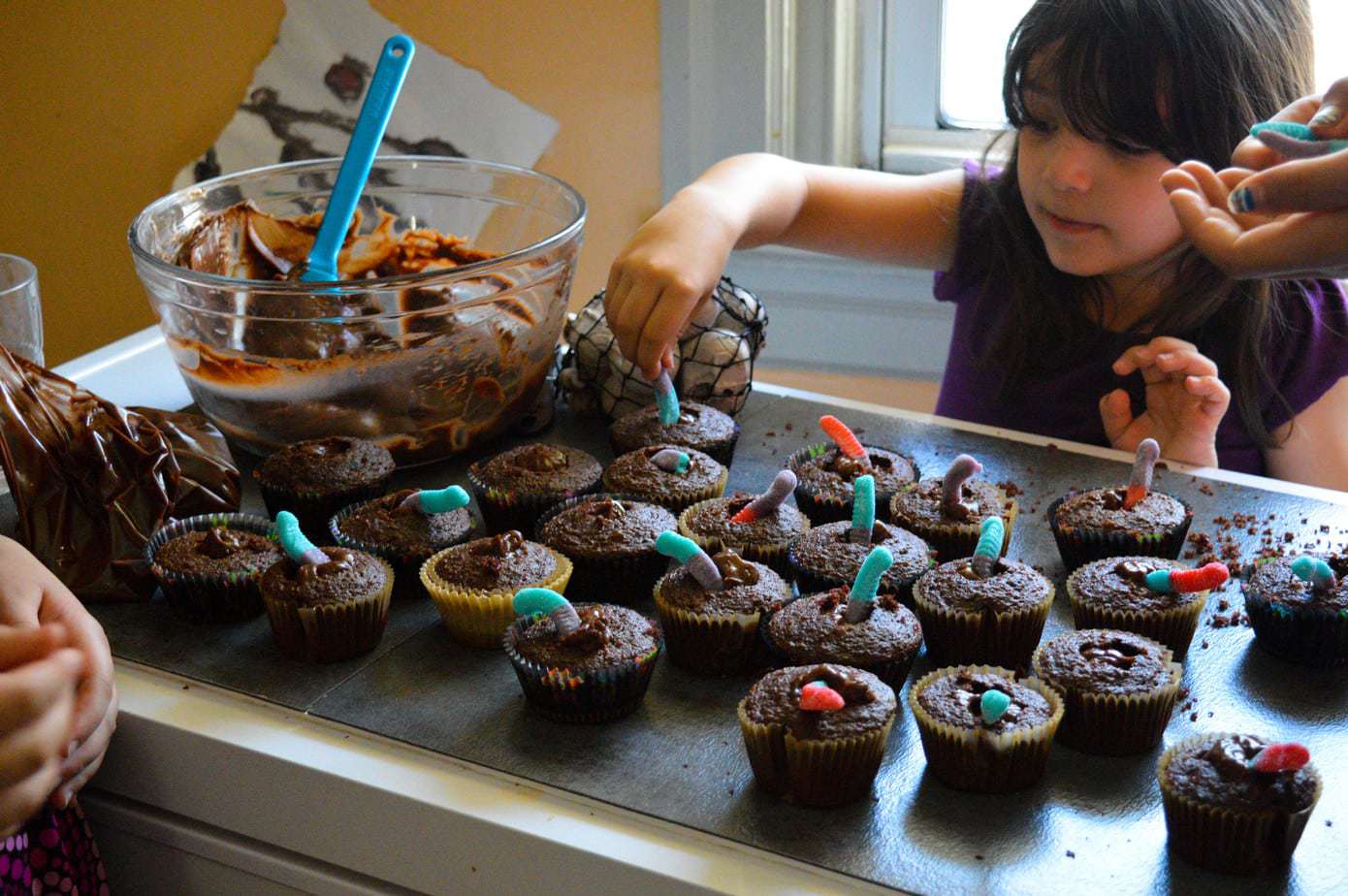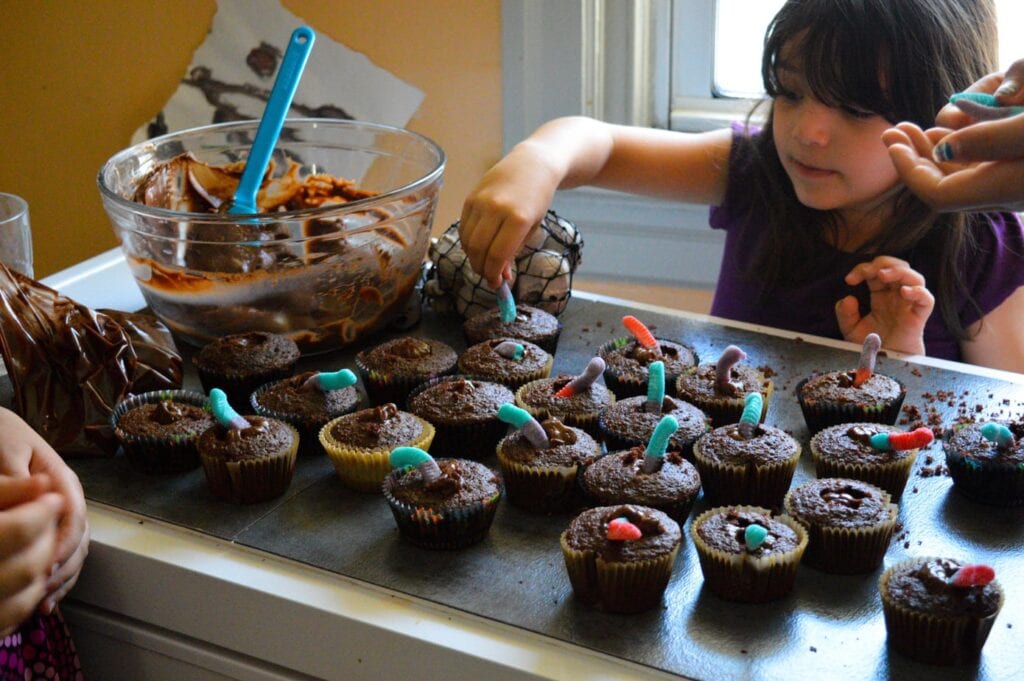 Making pumpkin spice dirt cupcakes is a family event! A messy Saturday morning event.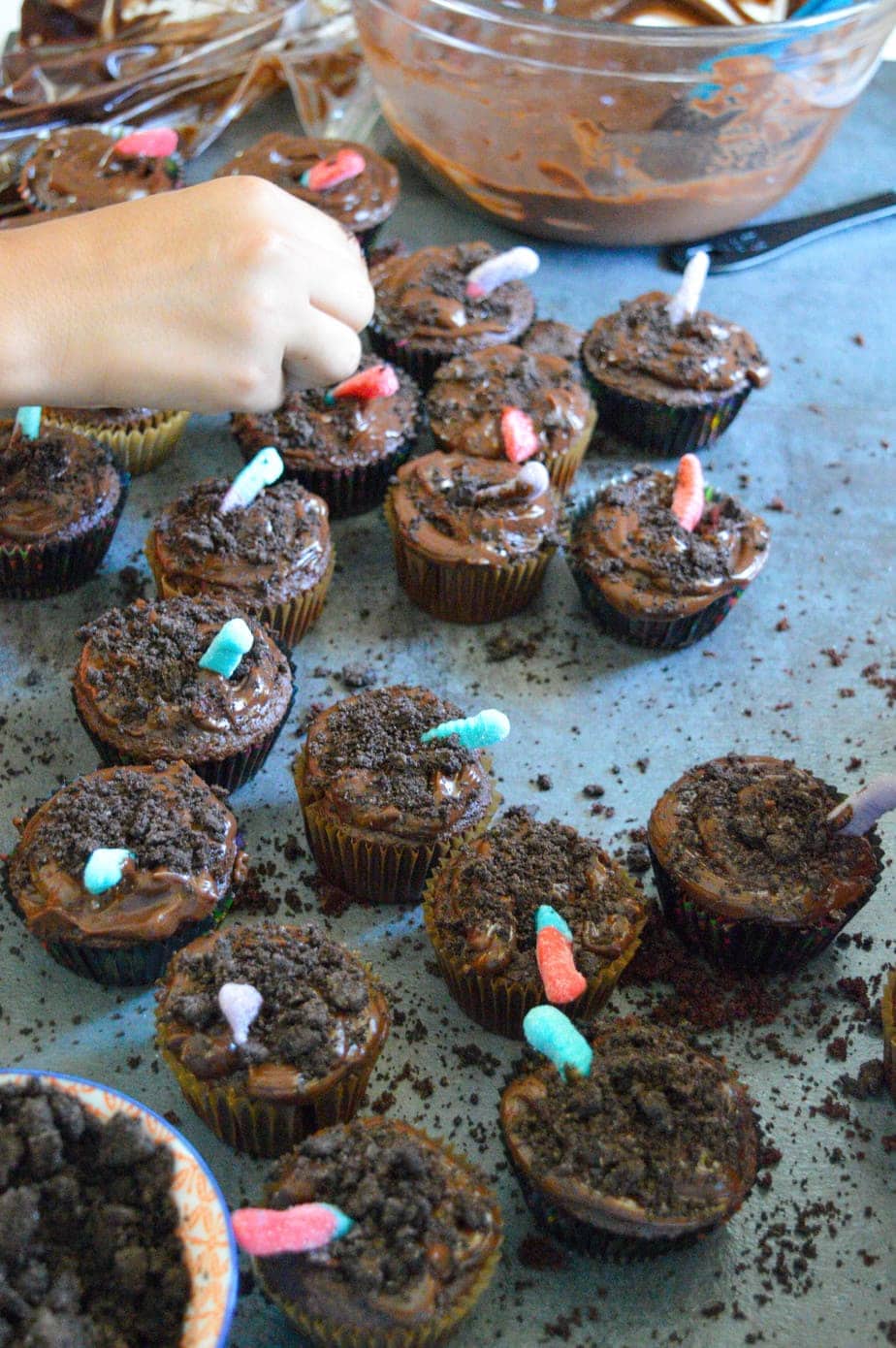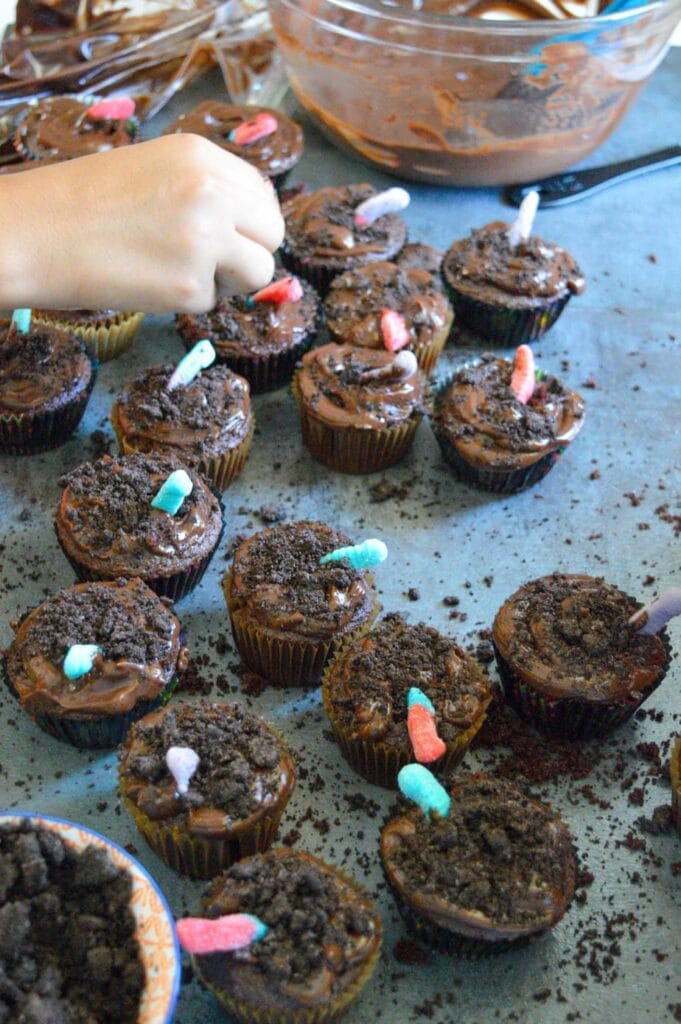 Next, you're going to add pudding to the top of the cupcake, being careful to not cover the tops of the worm in the process. Once you "frost" the cupcakes, sprinkle on as little or as much of the delicious crushed Oreo's. Quick tip, if you don't have a food processor, put cookies into a Ziploc bag and with a rolling pin, roll that sucker out. Make sure to leave some space in the bag to allow space for everything. (I suggest about 10 cookies in a gallon size bag.)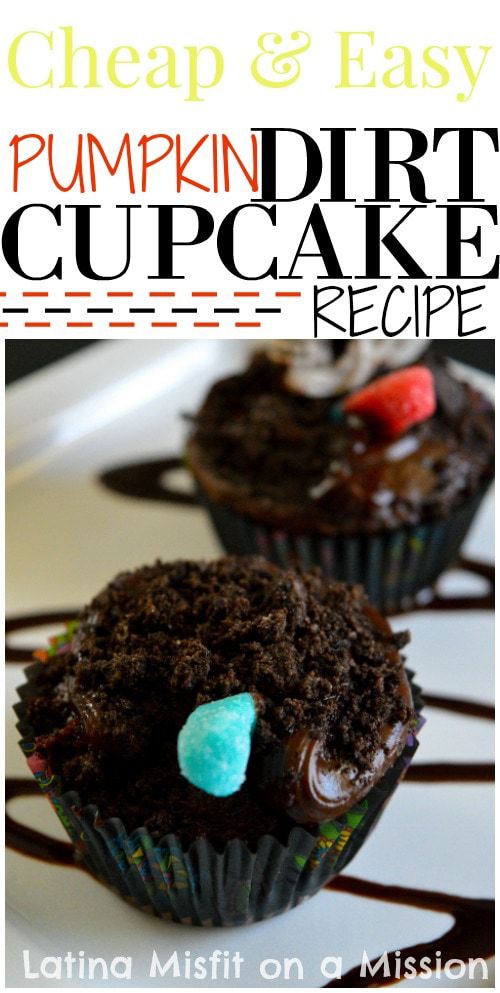 How fun was that? These pumpkin spice dirt cupcakes are sure to please any crowd. If you make these, be sure to tag me on Instagram or Facebook. Want to see more easy recipes? Leave a comment below and let me know what you'd like me to make. Be sure to sign up to become part of our tribe and receive periodic emails with some more yummy recipes and uplifting posts sent to your inbox!
📖 Recipe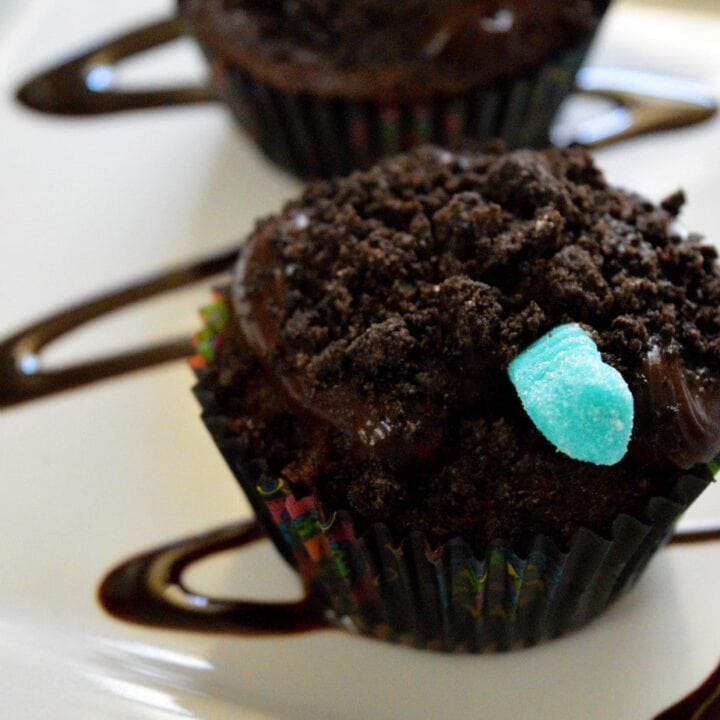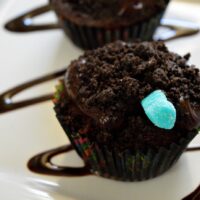 Pumpkin Spice Dirt Cupcakes
These Pumpkin Spice Dirt Cupcakes are the perfect Fall treat!
Print
Pin
Rate
Ingredients
1

package of chocolate cake mix

and ingredients needed to make it

3

teaspoons

of pumpkin spice

1 3.9

oz

box of chocolate instant pudding

2

cups

of cold milk

15

Oreo cookies

finely crushed

24

gummy worms

optional spooky toppings
Instructions
Make chocolate cake mix as directed on box, adding 2 teaspoons of pumpkin spice to cake batter before baking.

In a small bowl, whisk together pudding mix, milk and 1 teaspoon of pumpkin spice. Allow to set for five minutes. Once set, transfer pudding into a pastry bag or Ziploc bag with a corner snipped off.

Once cupcakes have cooled, take out a teaspoon full of cake from center of cupcake to create a small hole. (Discard cake or set aside, or eat.)

Gently fill each hole with pudding, about 1-2 teaspoons worth.

Add a worm to the center of each cupcake, half immersed into the pudding, half exposed.

Using care with the bag, pipe additional pudding to each cupcake, being careful not to cover the exposed worm. (Pipe it as if putting on frosting.)

Sprinkle on as much or as little crushed Oreo on top of each cupcake.

Feel free to add a spooky toy to each cupcake.
Nutrition
Serving:
0
g
|
Carbohydrates:
0
g
|
Protein:
0
g
|
Fat:
0
g
|
Saturated Fat:
0
g
|
Polyunsaturated Fat:
0
g
|
Monounsaturated Fat:
0
g
|
Trans Fat:
0
g
|
Cholesterol:
0
mg
|
Sodium:
0
mg
|
Potassium:
0
mg
|
Fiber:
0
g
|
Sugar:
0
g
|
Vitamin A:
0
IU
|
Vitamin C:
0
mg
|
Calcium:
0
mg
|
Iron:
0
mg