Saffron, kale, and orzo come together to make this Spanish albondigas soup the best meatball soup ever!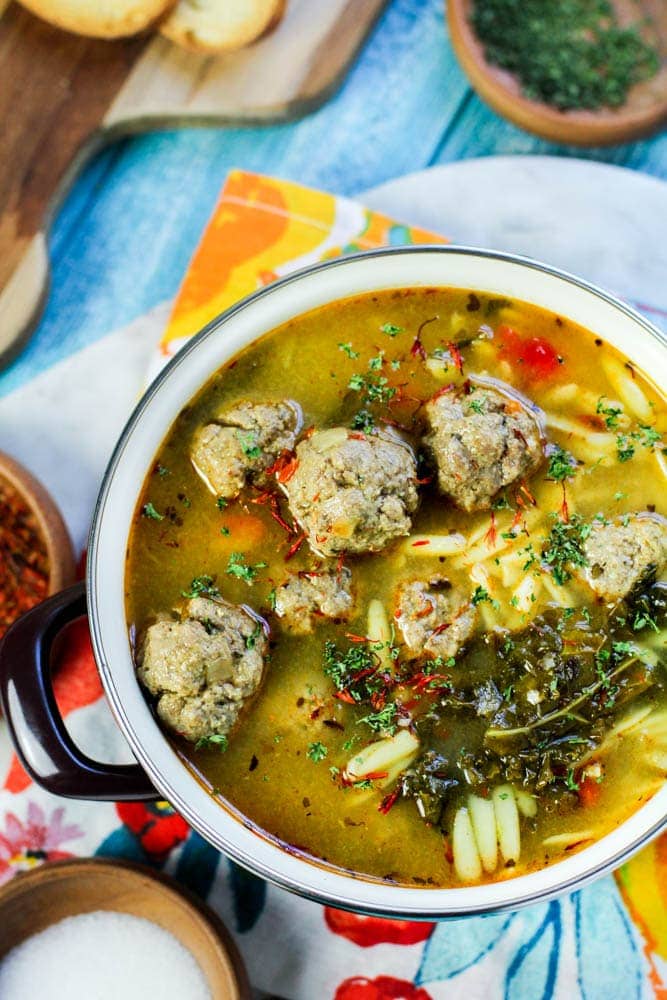 What is Saffron?
Simple, yet elegant, this healthy saffron albondigas soup is made with ingredients most people have on hand... with the exception of saffron.
Did you know saffron is the rarest spice on earth? Because of that, it's price is a little hefty -but worth it! The good thing about saffron is that a little goes a long way.
Saffron is "an autumn-flowering crocus with reddish-purple flowers, native to warmer regions of Eurasia. Enormous numbers of flowers are required to produce a small quantity of the large red stigmas used for the spice." -Dictionary
What does Saffron taste like?
"Saffron has a very subtle flavor and aroma — some say it's floral, some say it's like honey, and some would just say pungent. The flavor can be hard to nail down and described. If you're going for authenticity in dishes like paella and bouillabaisse, you've got to have saffron" - The Kitchn
Where can I buy Saffron for cheap?
Walmart sells small quantities of saffron for a reasonable price. But from my experience, a Latin or Asian market may be your best friend. I once bought about a cup of saffron for like $8 at a Dominican market near my parents in their hometown. I was in shock.... and I'm still making recipes from that batch!
Call around, and if you have a bigger city near you, don't be shy to call around before making a trip. If you're in the North East, I know Price Rite carries a good amount for an AMAZINGLY CHEAP price. Totally worth the drive.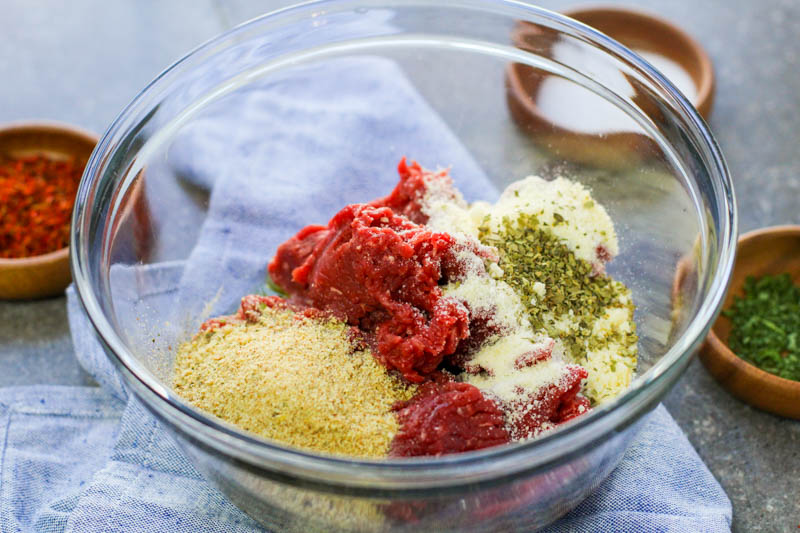 Back to the albondigas soup recipe.
What is albondigas?
Albondigas is essentially meatballs, just the Spanish word. Now, you have to know, when you see albondigas, be certain there will be bold Latin or Spanish flavors involved! Think oregano, cumin, cilantro, saffron... the ingredients may change, but the level of certainty that the dish is going to be amazing, does not!
How To Make Albondigas
For this saffron albondigas soup, for the meatballs, you're going to use lean ground beef, I am using 97% lean, with oregano, Italian breadcrumbs (for simplicity sake), Parmesan cheese, salt, pepper, olive oil, and milk. There are no eggs used in these albondigas. Mix the mixture together, form 1 inch balls and flash freeze for 10-30 minutes.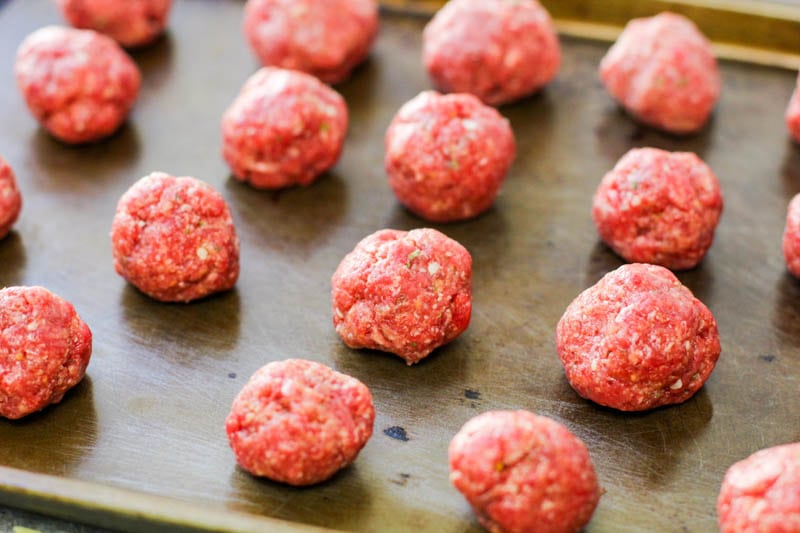 While the albondigas are flash-freezing, you can work on assembling the rest of the saffron albondigas soup.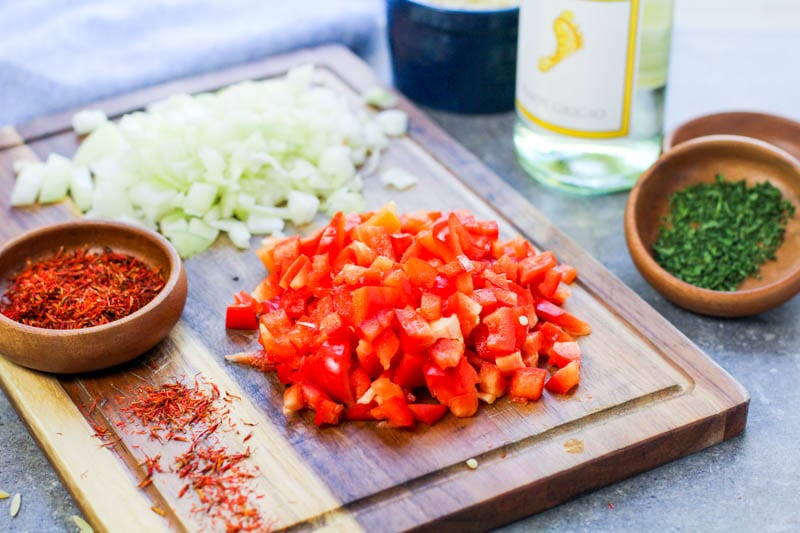 Ingredients In An Albondigas Soup
1 tablespoon of olive oil
1 medium onion, chopped
1 red bell pepper, chopped
3 cloves of garlic, minced
1 1⁄2 teapoons of smoke paprika
1 teaspoon of crumbled saffron
1 teaspoon of dried oregano
1 cup of good quality drinking white wine
8 cups of chicken broth
1 cup of uncooked orzo
2 cups of chopped fresh kale (stems removed)
salt and pepper to taste
parsley or cilantro, to garnish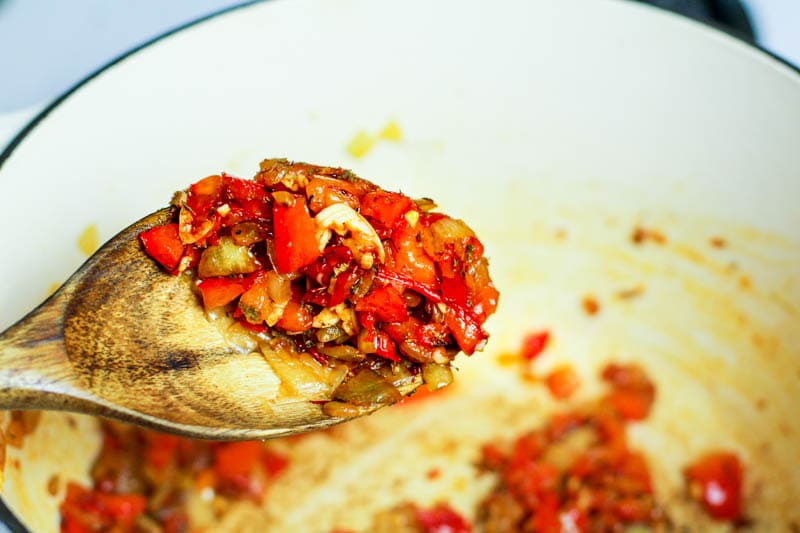 For the fun part!
Next, you're going to take a big heavy bottom pot and heat your olive oil over medium high heat and saute your onions and peppers for 5 whole minutes, stirring often. You WANT IT TO BROWN, not just become translucent. Get it a nice roasted, toasty, too good to be from the stove top charred look. Also, I like to season my layers, I also sprinkle it with a small amount of salt -completely optional.
After 5 minutes, add in garlic, cook for about 30 seconds, then add in your saffron, paprika, and oregano. Cook for 10-15 seconds, just enough to awaken the spices.
Add in good quality white wine to deglaze the pot. Scrape the bottom to ensure any stuck on pieces are lifted. Continue cooking for about two minutes.
Finally, add in your chicken broth. I personally LOVE to use Better Than Bullion. I take the amount of water I want to use, warm it in the microwave and add the amount of paste recommended by the manufacturer. Mix it all together to create an amazingly tasty chicken stock. Trust me, do not skip this step! I promise the flavors are incredible!
Bring the broth to a boil.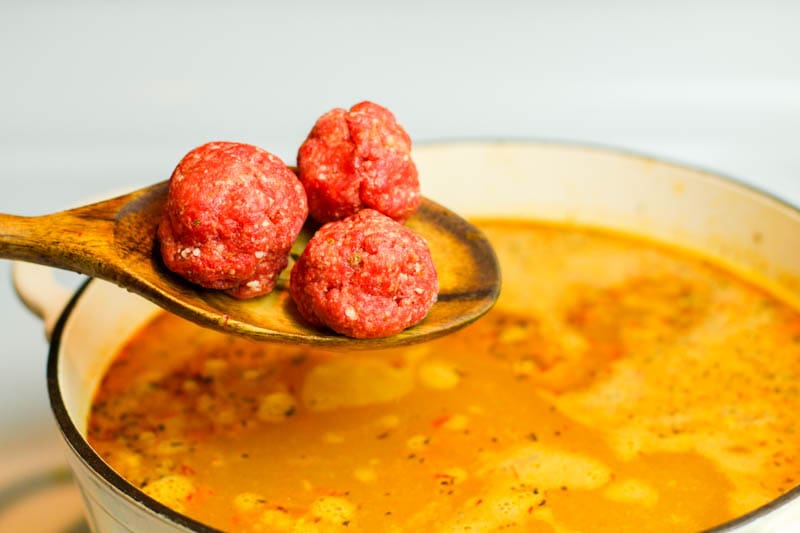 Once your soup has come to a boil, taste it, add more salt and pepper if desired.
Now we're going to gently add in the albondigas into the saffron soup. You want to take it straight from the freezer to the pot. The reason we put the albondigas into the freezer to flash freeze is so that they keep their awesome shape.
Bring the heat to a nice gentle simmer, and allow albondigas to cook for 20 minutes.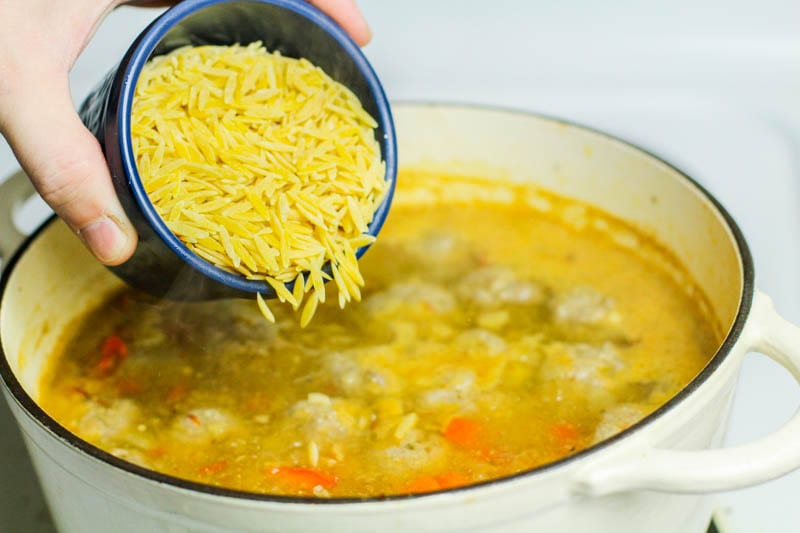 Next, you're going to add in the uncooked orzo and kale. Be mindful of the orzo, it expands considerably. Let it cook an additional 15 minutes in this saffron albondigas soup.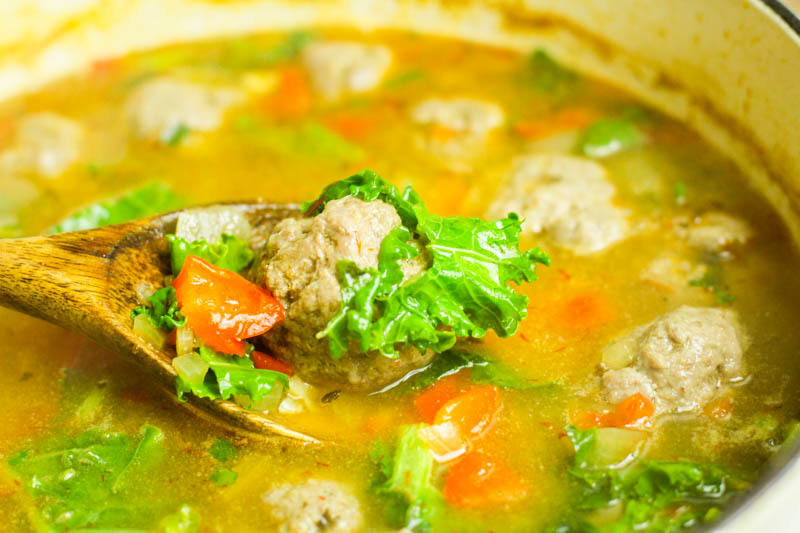 Cook until the orzo is al dente and the kale has softened to your liking.
This saffron albondigas soup is amazing with garlic bread, toast with butter, or even crackers. It is a very hearty dish, but the broth is screaming for something to be dipped into it.
I also love to add some fresh squeezed lemons into my servings when I'm ready to eat. I promise, another whole new level. Just don't squeeze too much to it.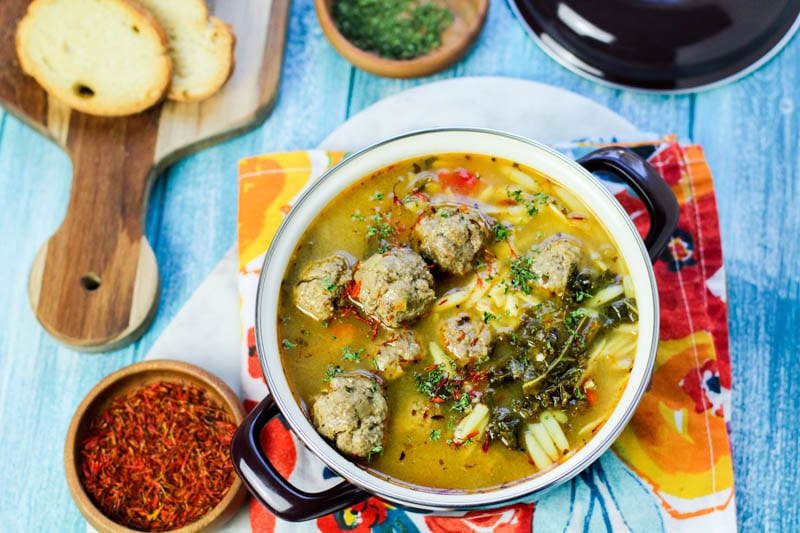 That's it mi gente! This Spanish saffron albondigas soup is one for the books. Seriously, it is flavorful and will have your guests talking!
Leave a comment below if you're making this! Anything you would add or change?
Want to see more recipes like this? Check out:
📖 Recipe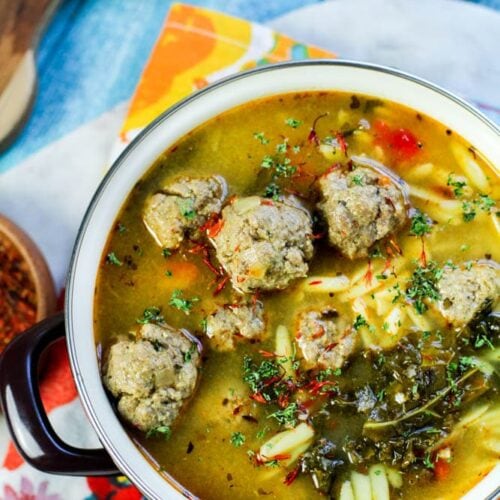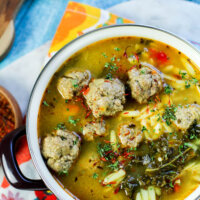 Spanish Albondigas Soup
Kale, albondigas, saffron, and orzo dance together to create a beautiful marriage of explosive flavors in this Spanish saffron albondigas soup!
Print
Pin
Rate
Ingredients
MEATBALLS
1

⁄2 cup of Italian breadcrumbs

⅓

cup

of half and half or milk

1

pound

of lean ground beef

97% lean 3% fat

1

⁄2 cup of grated Parmesan cheese

3

tablespoons

of olive oil

1

⁄2 teaspoon of salt

1

⁄2 teaspoon of ground black pepper

1

teaspoon

of dried oregano
SOUP
1

tablespoon

of olive oil

1

medium onion

chopped

1

red bell pepper

chopped

3

cloves

of garlic

minced

1 1

⁄2 teapoons of smoke paprika

1

teaspoon

of crumbled saffron

1

teaspoon

of dried oregano

1

cup

of good quality drinking white wine

8

cups

of chicken broth

1

cup

of uncooked orzo

2

cups

of chopped fresh kale

stems removed

salt and pepper to taste

parsley or cilantro

to garnish
Instructions
In a medium bowl, add together all of the meatball ingredients. Mix together with your hands and

form 2 teaspoon full balls, set the balls on a pan and refrigerate for half an hour or flash freeze for

10 minutes.

In a large dutch oven or heavy bottom and wide pot heat oil over medium high and add in onions

and red bell peppers. Saute for 5 minutes, or until peppers and onions have softened. Next add in

garlic, continue cooking for 30 seconds then add in paprika, saffron, and oregano. Cook for ten

seconds more and then add in white wine.

Once the white wine has been added cook for 2 minutes, being sure to srape the bottom of your

pot with a wooden spoon and mixing occassionally.

Add in chicken broth and bring to a boil. Next add in meatballs and lower heat to a steady simmer

(medium high heat). Cook for about 20 minutes, then add in orzo and kale and cook for an

additional 15 minutes or until orzo is al dente and kale has softened

Taste for seasoning and add in salt and pepper, if needed.

Serve and garnish with parsley.
Notes
Note* Saffron really makes this dish, please do not substitute it. Depending on the size of the meatballs, it can make anywhere between 12-16 meatballs. Use as lean of a meat as possible, either beef or turkey.
Nutrition
Serving:
0
g
|
Carbohydrates:
0
g
|
Protein:
0
g
|
Fat:
0
g
|
Saturated Fat:
0
g
|
Polyunsaturated Fat:
0
g
|
Monounsaturated Fat:
0
g
|
Trans Fat:
0
g
|
Cholesterol:
0
mg
|
Sodium:
0
mg
|
Potassium:
0
mg
|
Fiber:
0
g
|
Sugar:
0
g
|
Vitamin A:
0
IU
|
Vitamin C:
0
mg
|
Calcium:
0
mg
|
Iron:
0
mg