Roasted tomatillos, garlic, onions, cilantro, and spices come together to create this mild salsa verde recipe that is perfect in quesadillas, over tacos, and dipped with tortilla chips.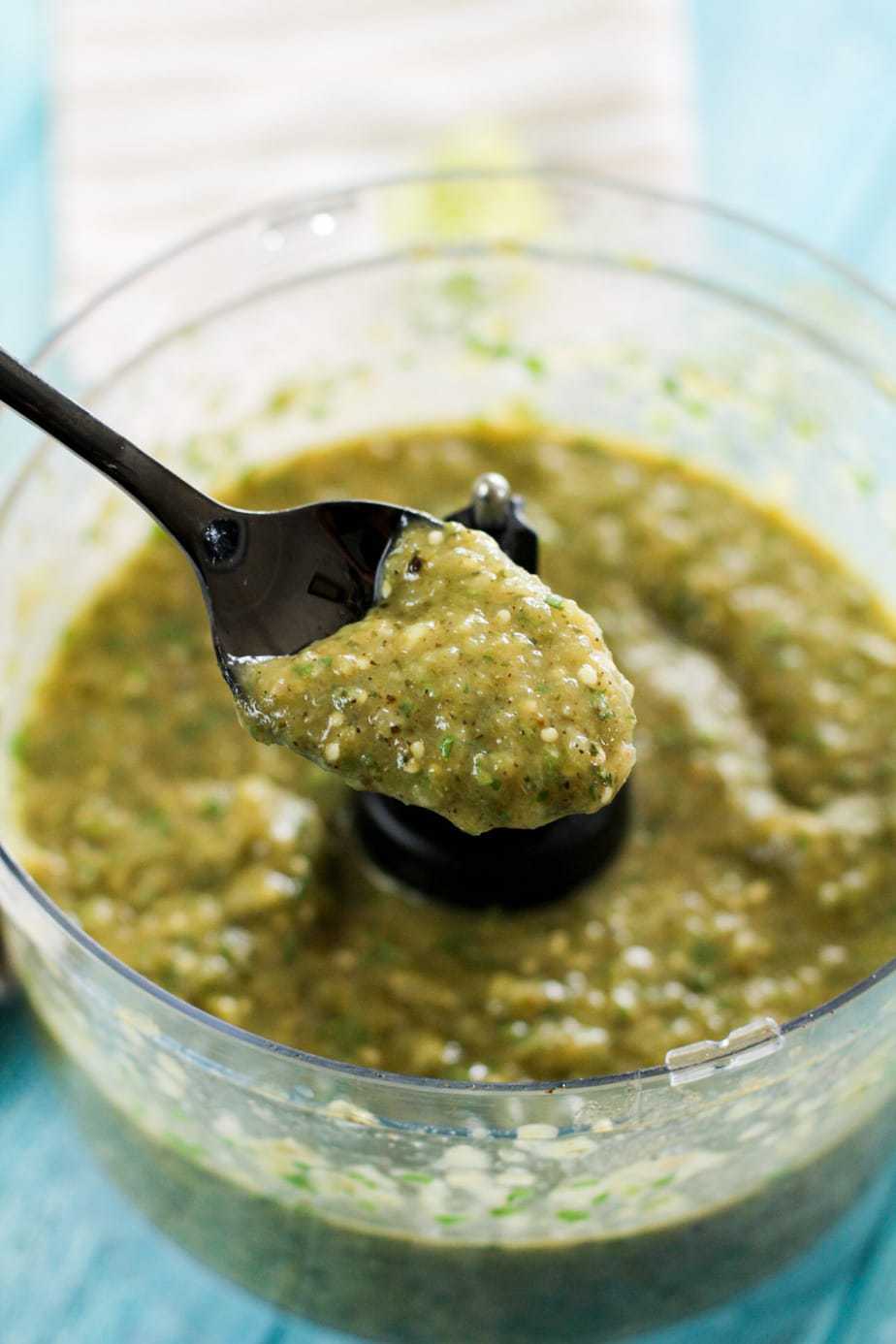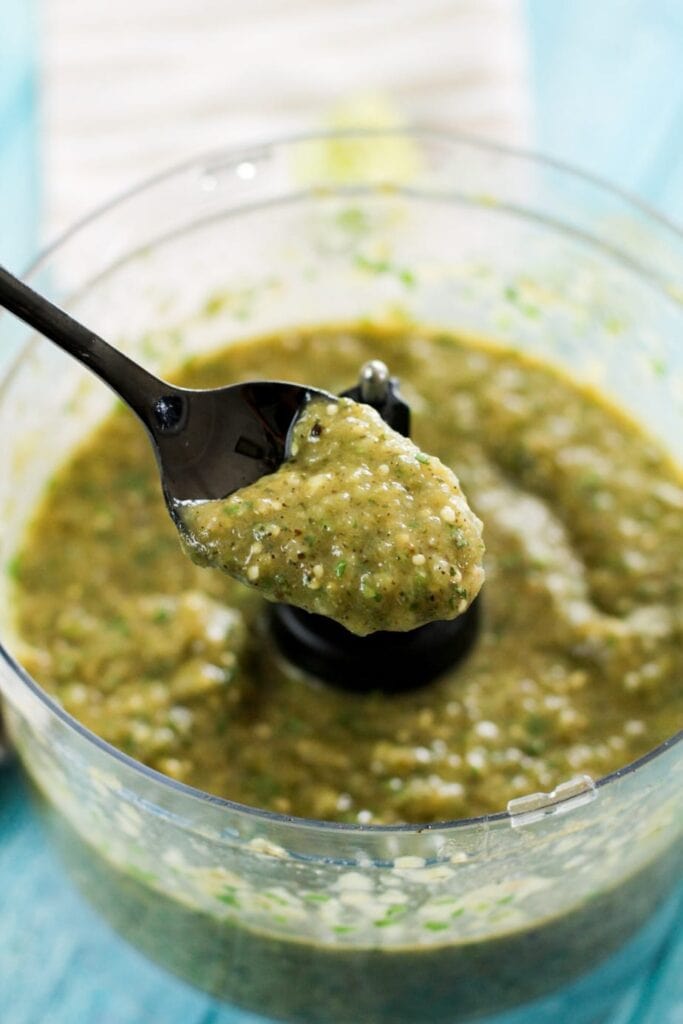 What is salsa verde?
Have you ever wondered what salsa verde is? You see it on tacos from authentic Mexican restaurants and you even find salsa verde in glass jars near the tortilla section. But is salsa verde spicy? Is salsa verde a sauce or a marinade? Can salsa verde be frozen?
Salsa verde is a sauce that is made with roasted tomatillos, onions, garlic, cilantro, and a mixture of spices. For a nice kick many people people choose to add jalapeno to their salsa verde.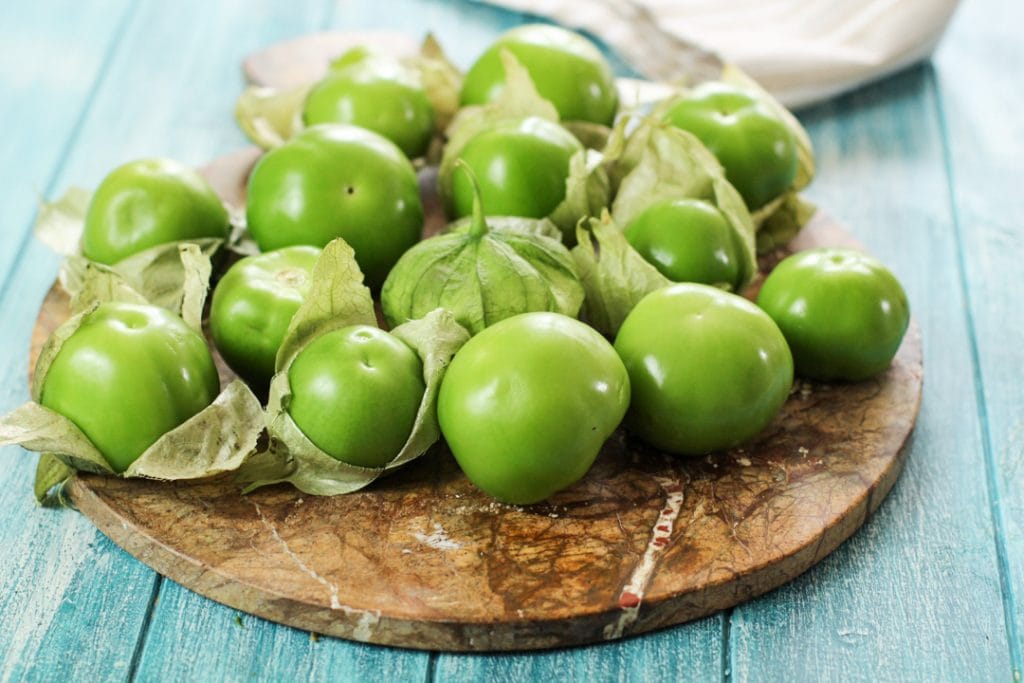 Did you know tomatillos are not green tomatoes? They're cousins of tomatoes! Tomatillos have a husk on them, which when you're ready to cook, just pull the husks back and rinse the tomatillos. They're a beautiful bright green color!
For salsa verde, you do not have to cut the tomatillos, keeping them whole is essential for preserving the juices. For a more smokey taste, you'll want to roast the tomatillos until they're pretty dark in patches. I personally put them under the broiler for a minute at the end of the roasting time, since I love the salsa verde recipe to have a little smokey taste.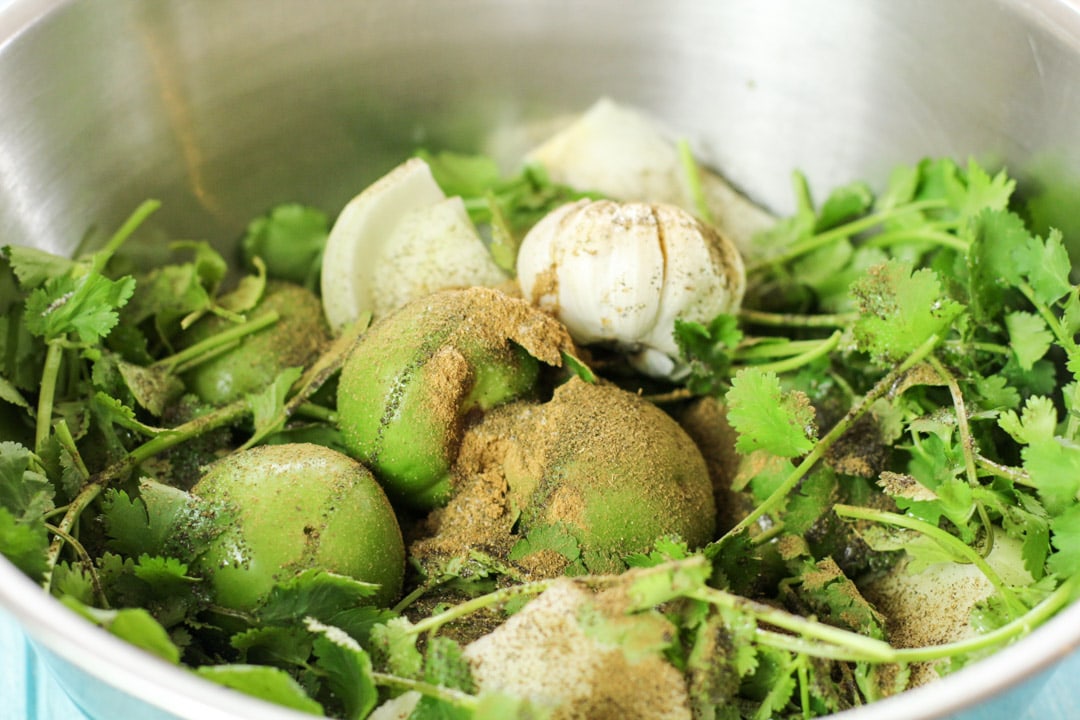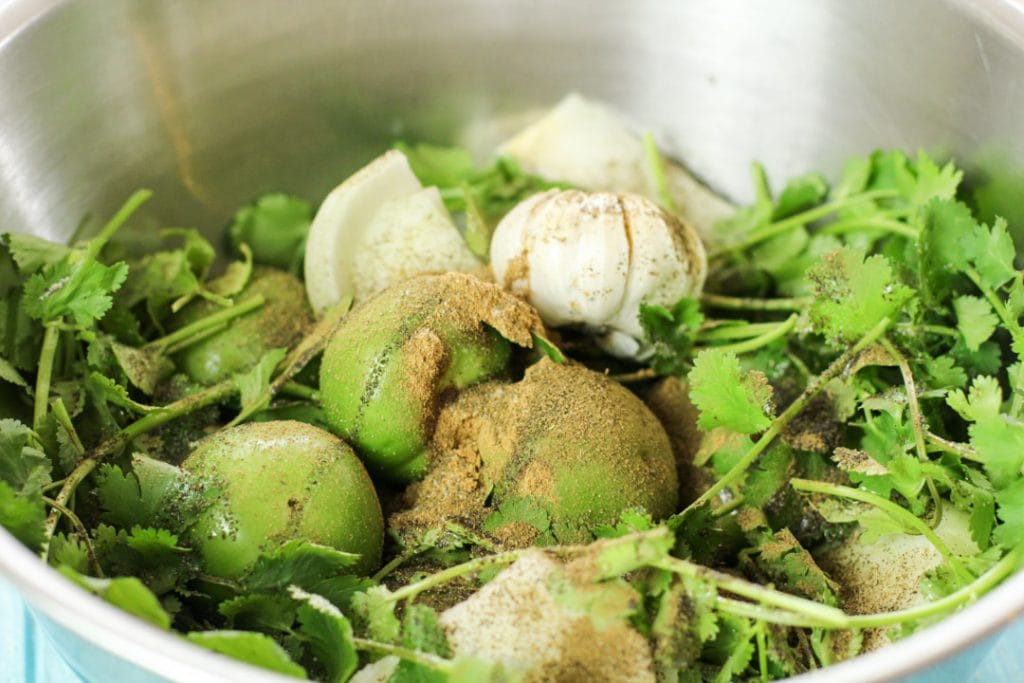 When making this homemade salsa verde recipe, remember to not peel the garlic before roasting. Roasting the garlic still whole keeps the garlic from burning. Plus, it's so much easier to pop out the garlic cloves after it have been roasted. Quick note, you're only roasting half of your cilantro. Try to keep the cilantro together and under some onions and cilantro to keep the leaves from burning. If it's excessively burnt, you can toss those leaves and keep the ones that are only slightly crisp. I swear, it adds to the depth of flavor. Plus, the fresh cilantro will balance the salsa verde sauce.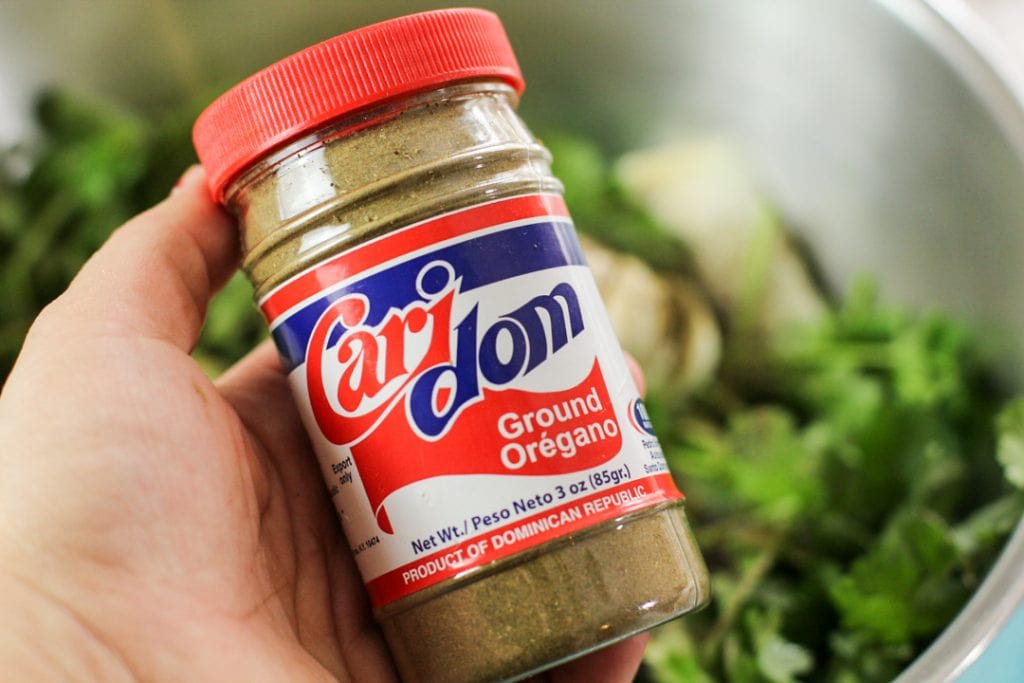 For this salsa verde recipe, I've chosen to use ground oregano since I couldn't find the dried oregano, and I am happy I did! Ground Dominican oregano is bolder in flavor profile than regular dried oregano flakes. Want to learn more about the differences in oregano? If so, I highly suggest you watch Chef Zee's video where she breaks down the differences in oregano!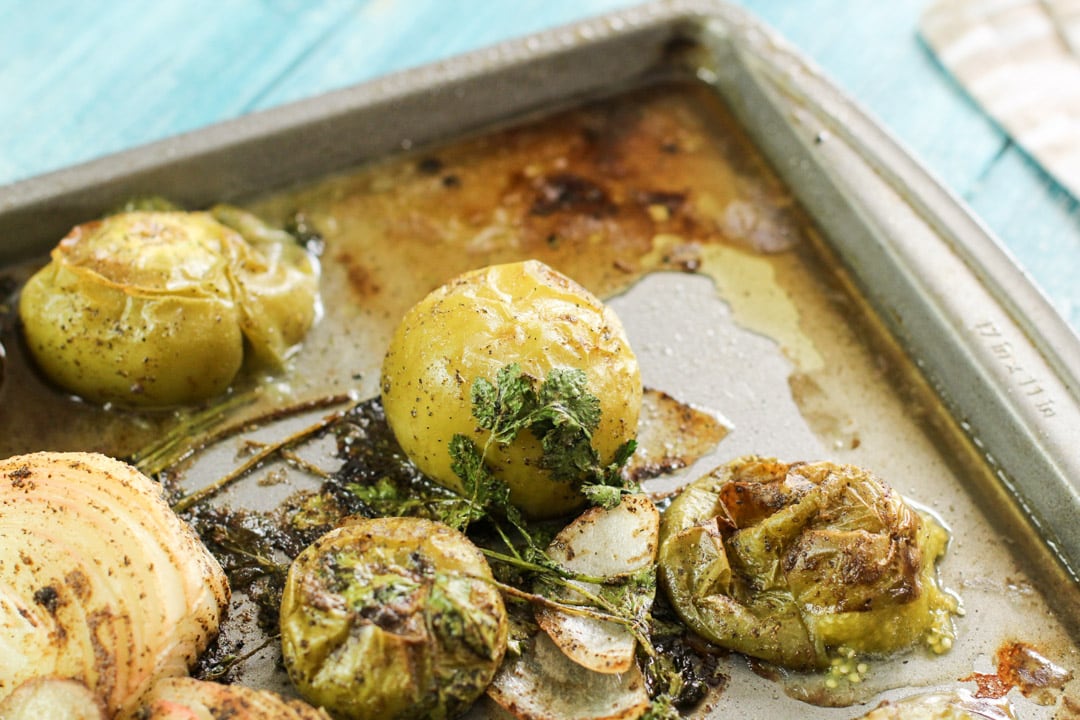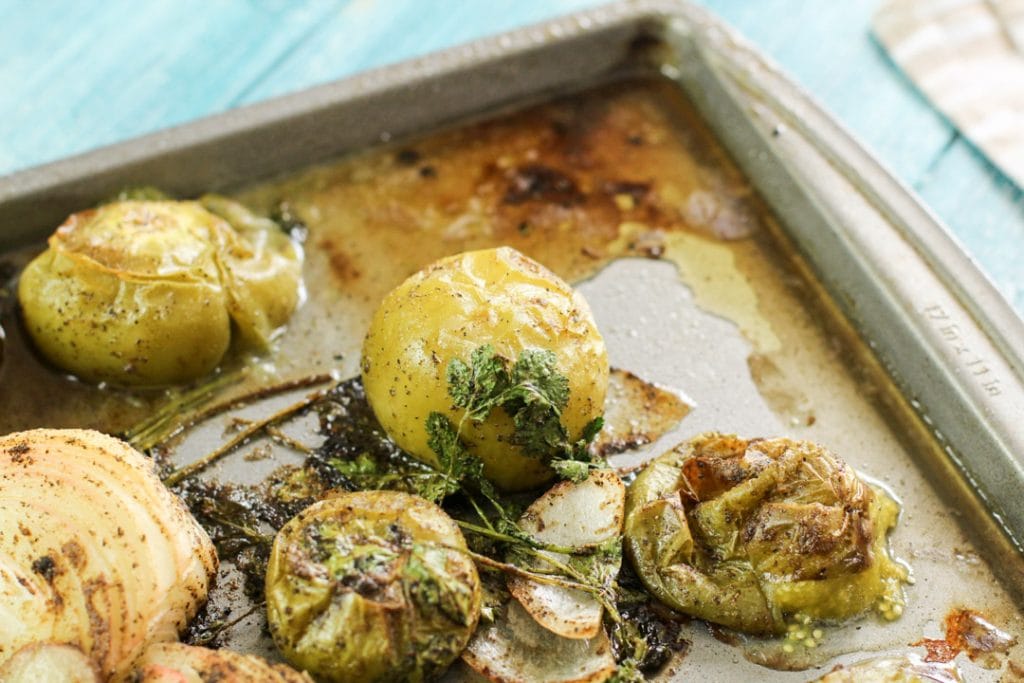 Remember, you want to make sure you're not chopping your vegetables, outside of your onion, where it's still going to be a large chunk. With roasting, your vegetables naturally shrink a little, and you want to have a great smokey flavor, not burnt!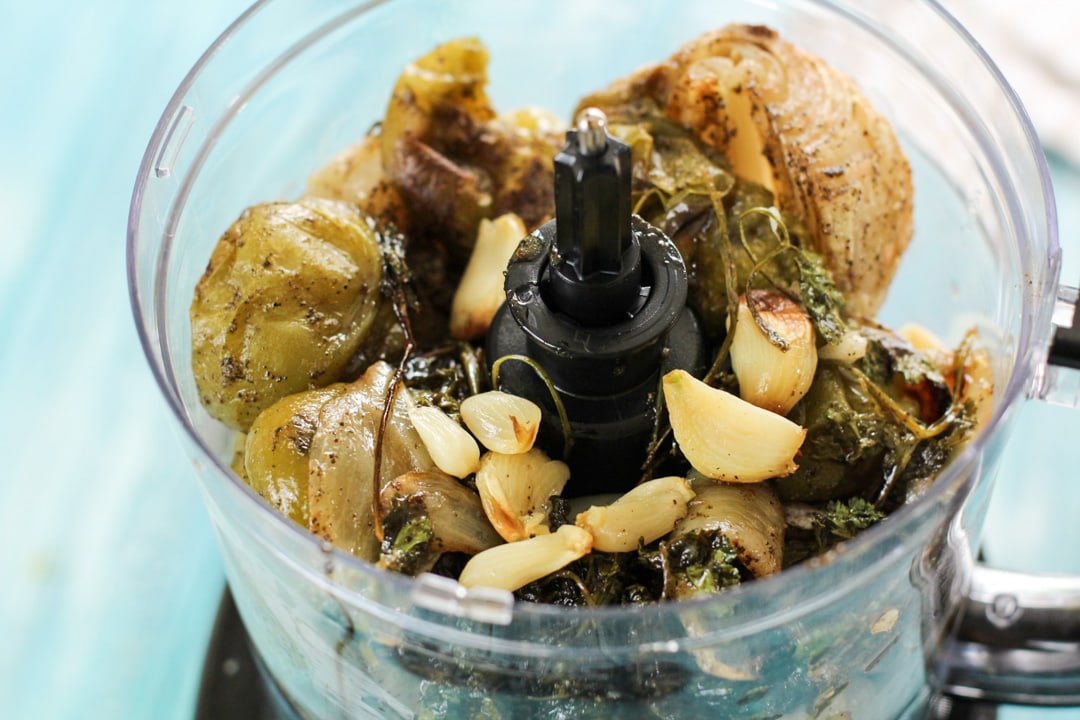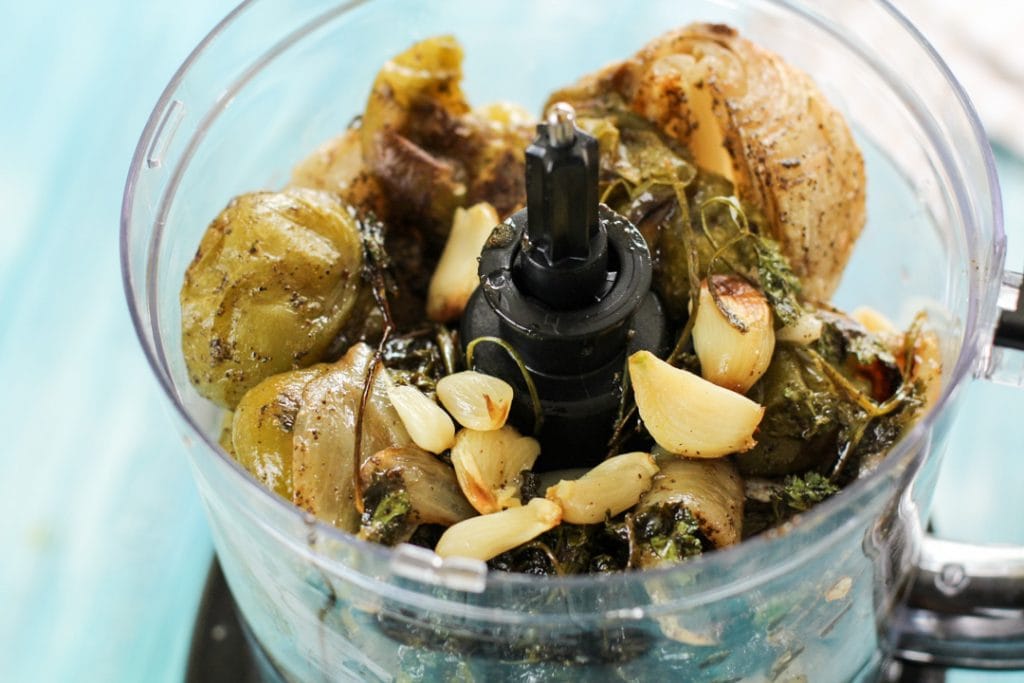 Using a food processor to make salsa verde is a must! Blenders are officially only good for shakes and coquito or flan. From now on, making salsa verde, sauces, and sofrito will only take place in a food processor. The speed and how fine everything gets pulsed can't be beat.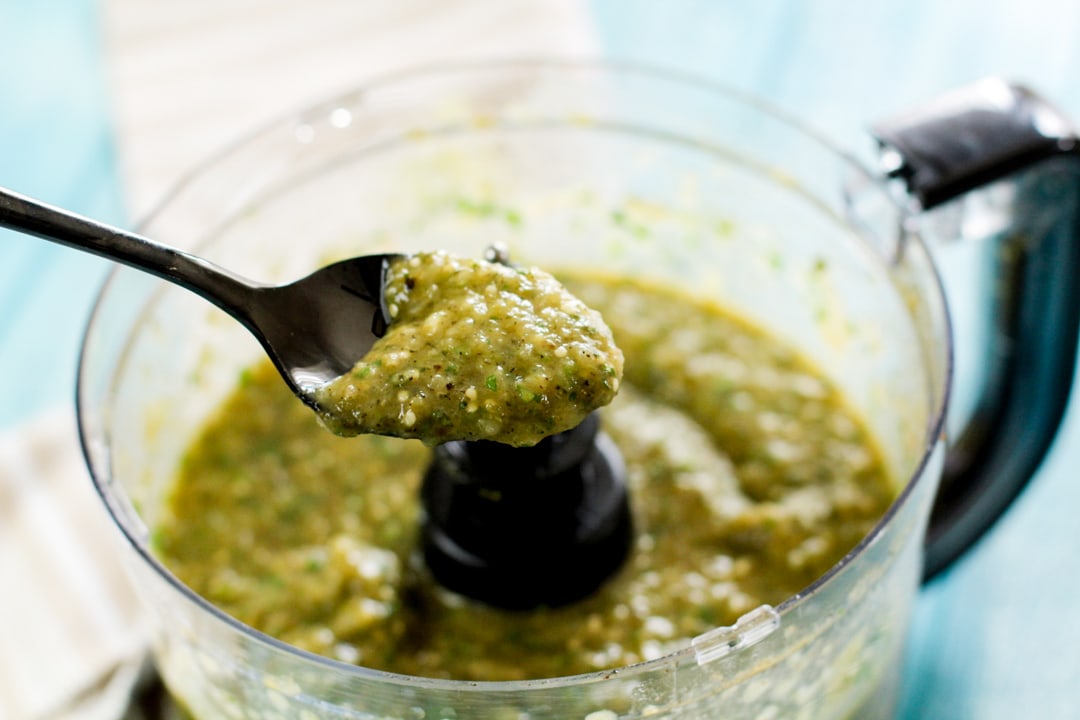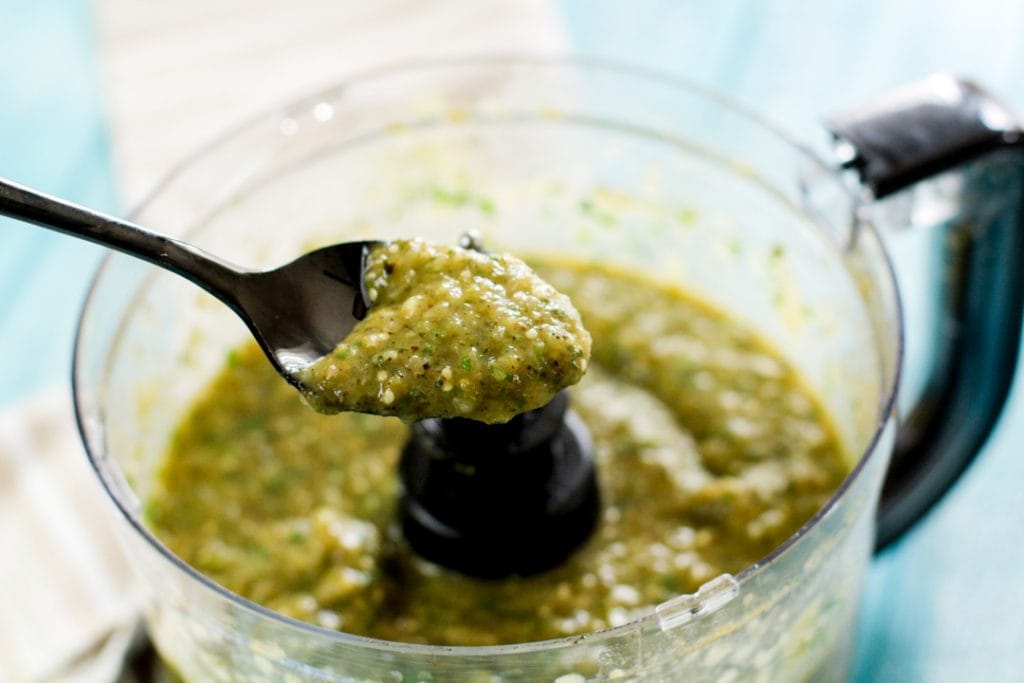 Common questions for making salsa verde
Can Salsa verde be frozen?
Yes, salsa verde can be frozen if properly stored in an airtight container or in a freezer Ziploc bag will all of the air removed. If you choose to freeze salsa verde, the thawing stage will create a thinner consistency which isn't great for dipping, but perfect for adding to quesadillas, 7 layer dips, or add some avocado to make the salsa verde thicker.
Can salsa verde be made in advance?
Salsa verde, if stored properly can be canned to last for months, can be refrigerated up to 6 days, and can be frozen up to a month. If you're making it for a party, I suggest making it the morning of to give it a few hours for the flavors to infuse together.
When to use salsa verde?
If you're wondering when to use salsa verde, the answer is now! Adding a dollop of salsa verde to scrambled eggs, over Spanish rice, or even dipping celery sticks into it are all great ways to use salsa verde for breakfast, lunch, dinner or even snack time.
📖 Recipe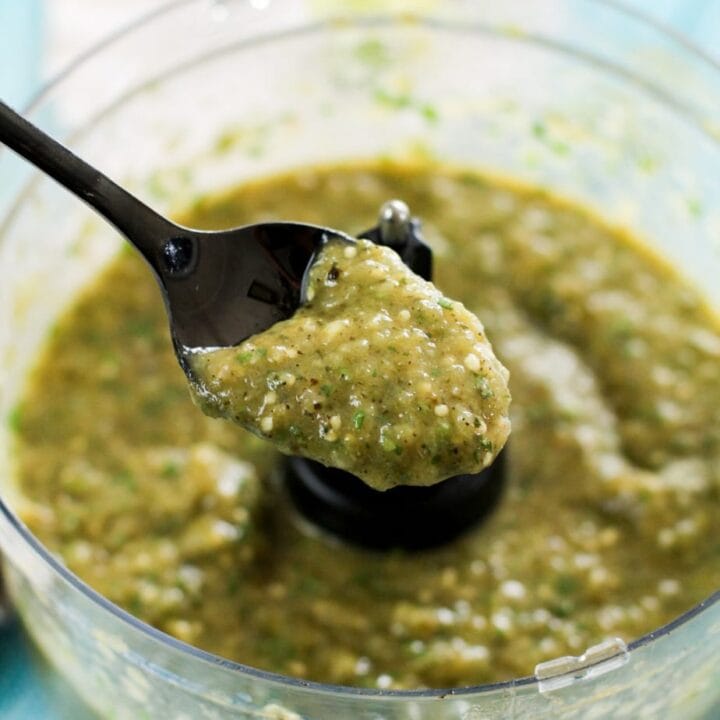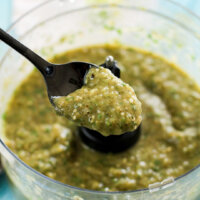 Mild Salsa Verde Recipe
Tasty and fresh, this salsa verde recipe is the perfect sauce dip for tacos and chips!
Print
Pin
Rate
Ingredients
12 to

matillos

husk removed

1

⁄2 Spanish onion

1

head of garlic

or 6 cloves

1

cup

of cilantro

3

tablespoons

of olive oil

1

teaspoon

of cumin

1

teaspoon

of ground Dominican oregano

salt and pepper to taste
Instructions
Preheat oven to 375 degrees Fahrenheit.

In a large bowl, toss all ingredients except for the lime juice and 1⁄2 cup of cilantro together.

Add tomatillo mixture to a baking dish and bake for 20-25 minutes, or until tomatillos have

roasted.

Remove from the oven, remove garlic from the skin, add all ingredients, plus the lime juice and

remaining cilantro into a food processor and pulse.

Place into a container and store in the refrigerator.