The perfect steak is marinated with loads of garlic and lime juice -just ask any Cuban! This Cuban garlic lime steak recipe is tender, juicy, and perfectly made in a matter of minutes!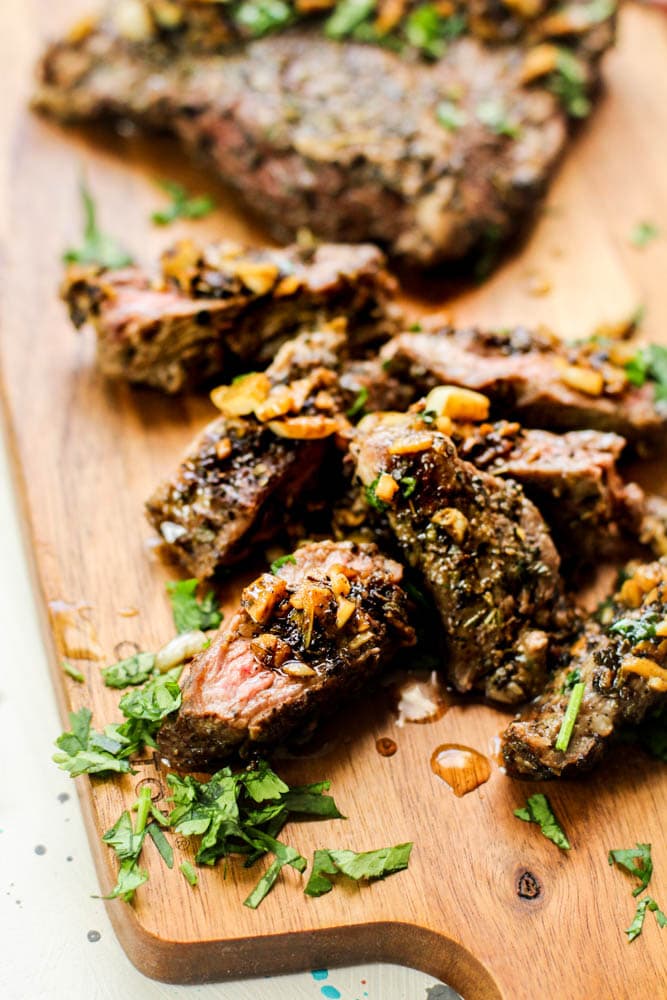 What kind of meat is used for Cuban garlic and lime steak recipes?
round tip
top round
skirt steak
tenderloin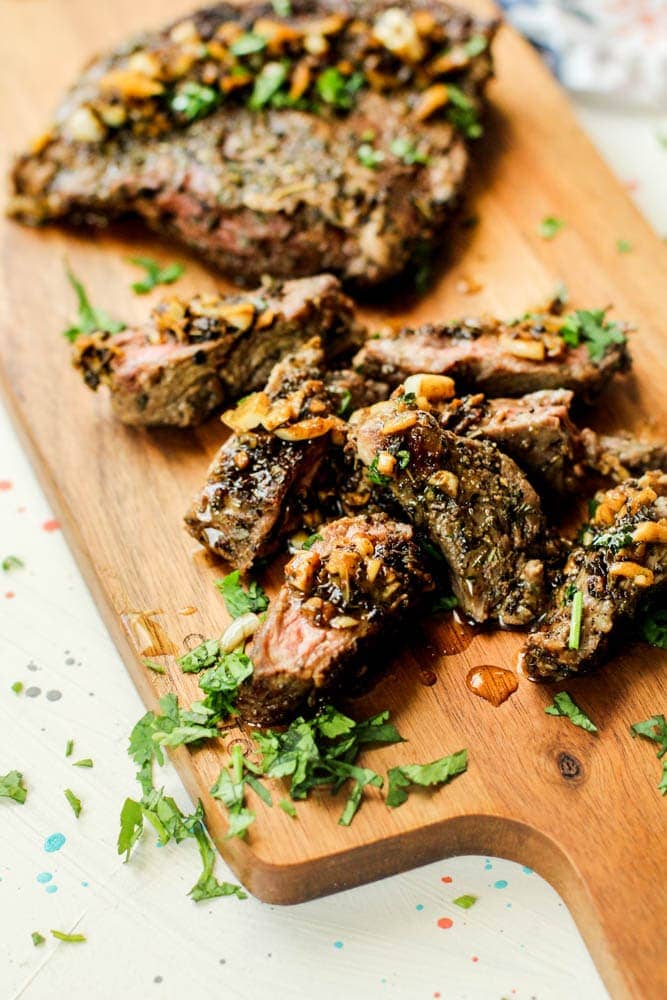 Growing up, I never had a fat juicy steak. Cubans traditionally cut their steak paper thin, and it is DELICIOUS. But sometimes, (like right now) a fat juicy steak calls my name.
If you want a more authentic (and faster cooking time) Cuban garlic and lime steak recipe, choose to have the butcher cut it into thin slices.
If you decide to go with the thin slices and if there is any leftovers, they're perfect to make steak sandwiches!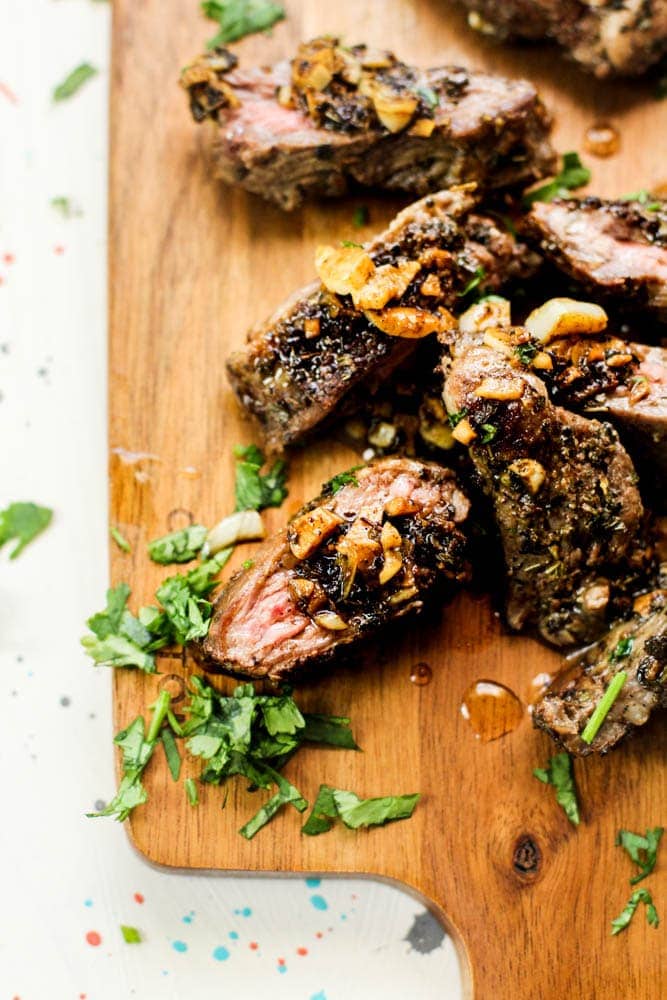 Now onto the easy recipe! For this recipe, all you have to do is throw almost everything into a bowl! I suggest squeezing more lime juice than called for -if you have it on hand, and it's not expensive. (They're like 3 for $2 here -yikes!)
If you have a pilon, I'd advise you to go ahead and make a paste with the garlic, a splash of olive oil, and the spices. I swear, I feel like I'm in my parents house right now! Take the paste and dress the steak. Go ahead and massage it all in.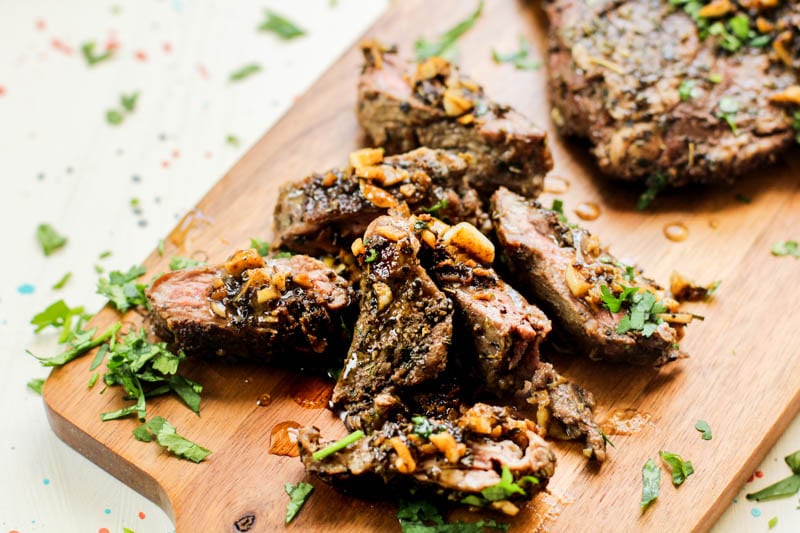 Similar recipes!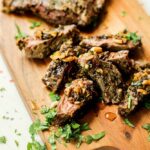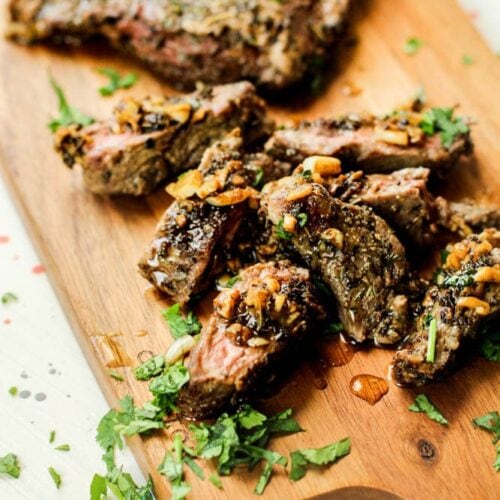 Authentic Cuban Garlic Lime Steak
Enjoy the authentic Cuban flavors in this juicy steak recipe!
Ingredients
3

pounds

of steak tenderloin

10

cloves

of garlic chopped

salt and pepper to taste

1 1/2

teaspoons

of cumin

2

teaspoon

of oregano

4

tablespoons

of butter

3

tablespoons

of olive oil

3

tablespoons

of cilantro

1/2

teaspoon

of paprika

2

lime
Instructions
Season steak with salt, pepper, cumin, bay leaf, oregano, paprika, lime juice, garlic and salt and pepper. Set to the side and let marinate for 10-15 minutes.

In a large cast iron pan, heat oil and butter over medium high heat. Add steak, cook 3-4 minutes per side (or until your level of done). Remove steak once cooked to rest.

Garnish with additional lime juice (if desired) and cilantro.
Recipe Notes
NOTE: If your steak is not tender, use a meat mallet to make it more tender.