Bistec encebollado for busy families.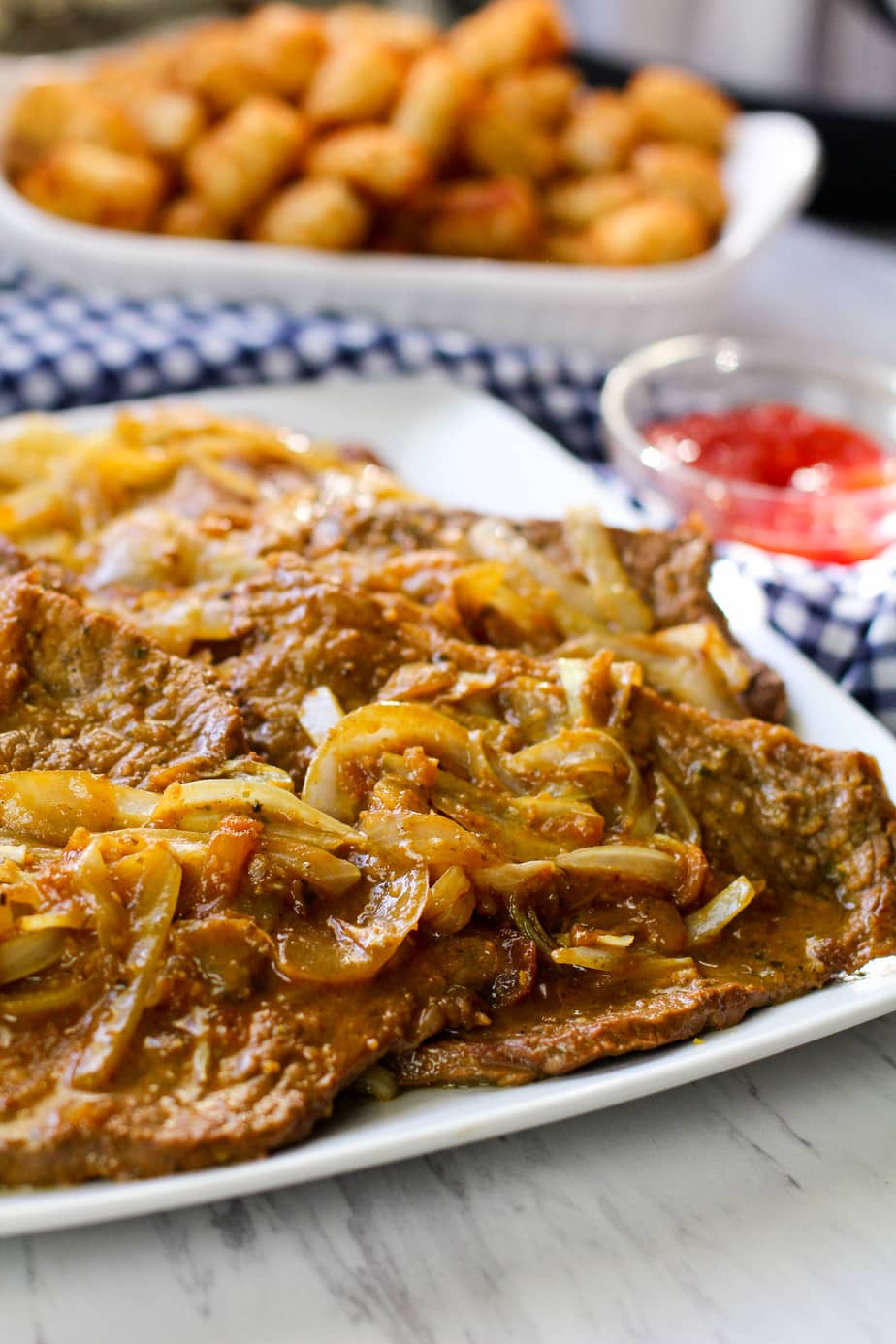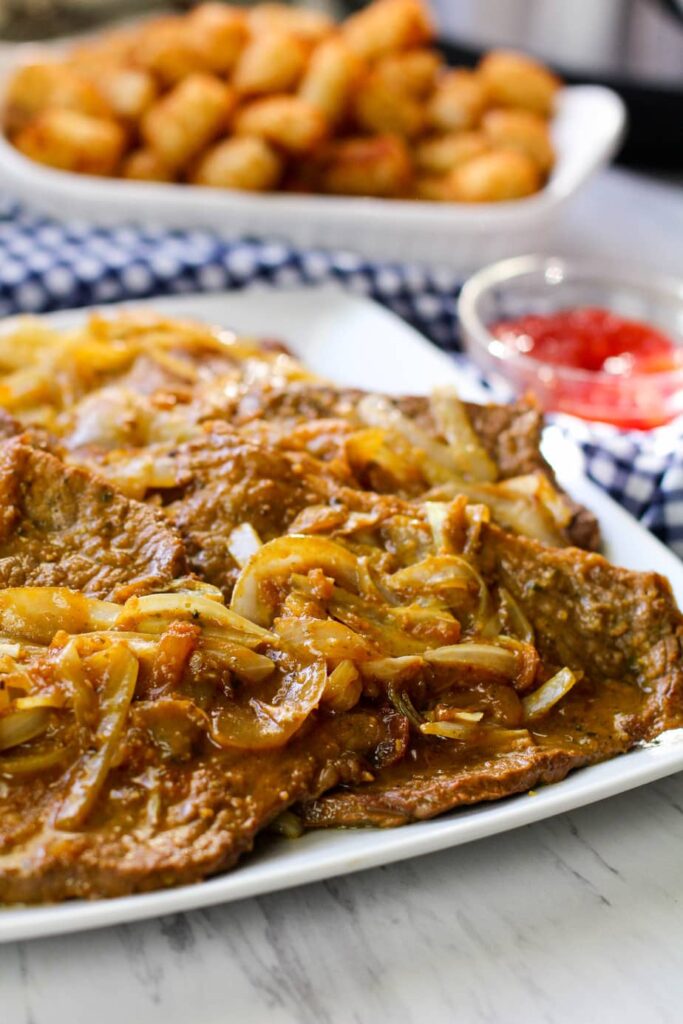 I admit, traditionally bistec encebollado is served with white rice and beans.... but mama was busy. (Check out my Instagram video below!) We're more of a tater tot's loving family, so when I ran to the store for a gallon of milk, mama grabbed a bag of taters and it was baking while this was all getting made.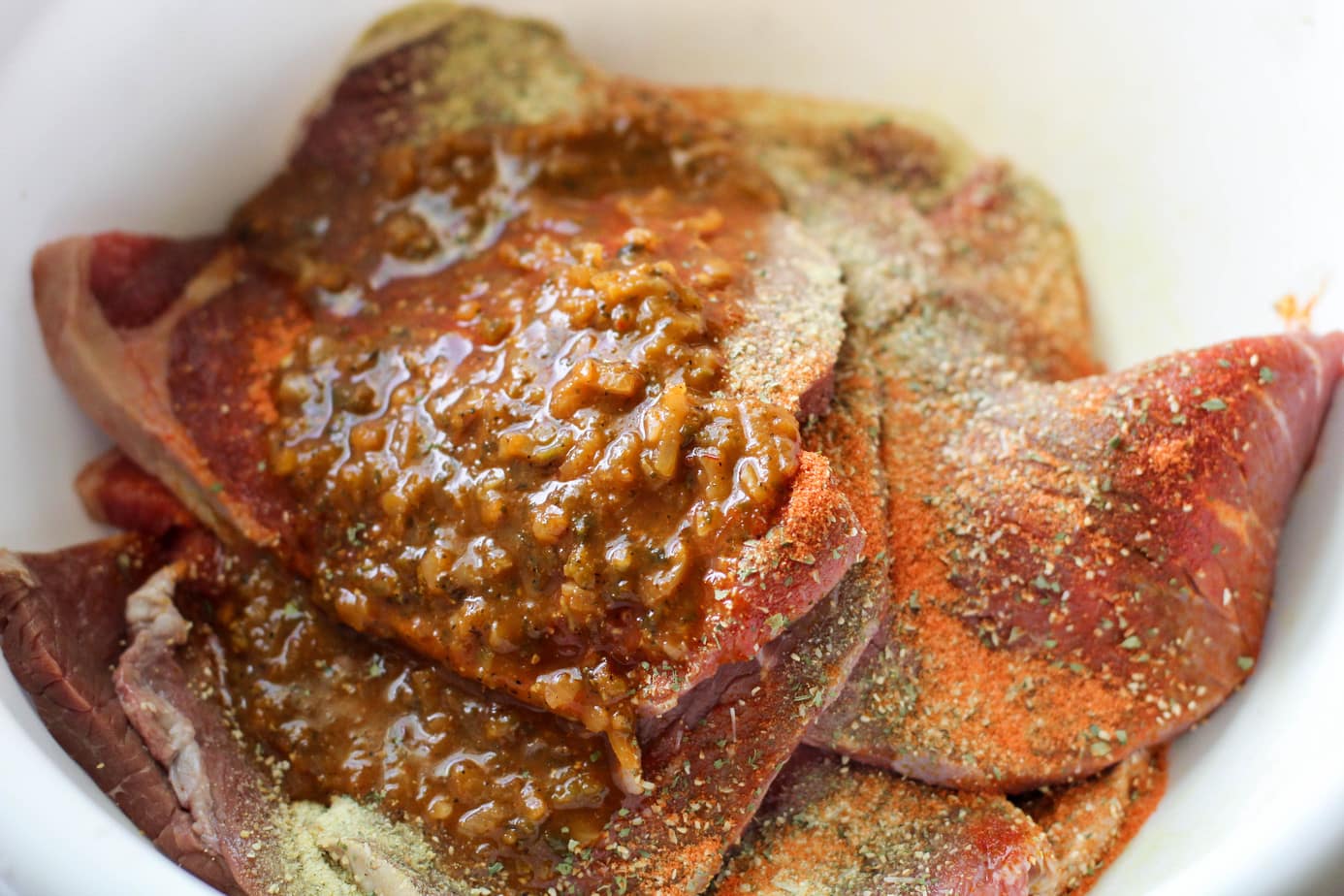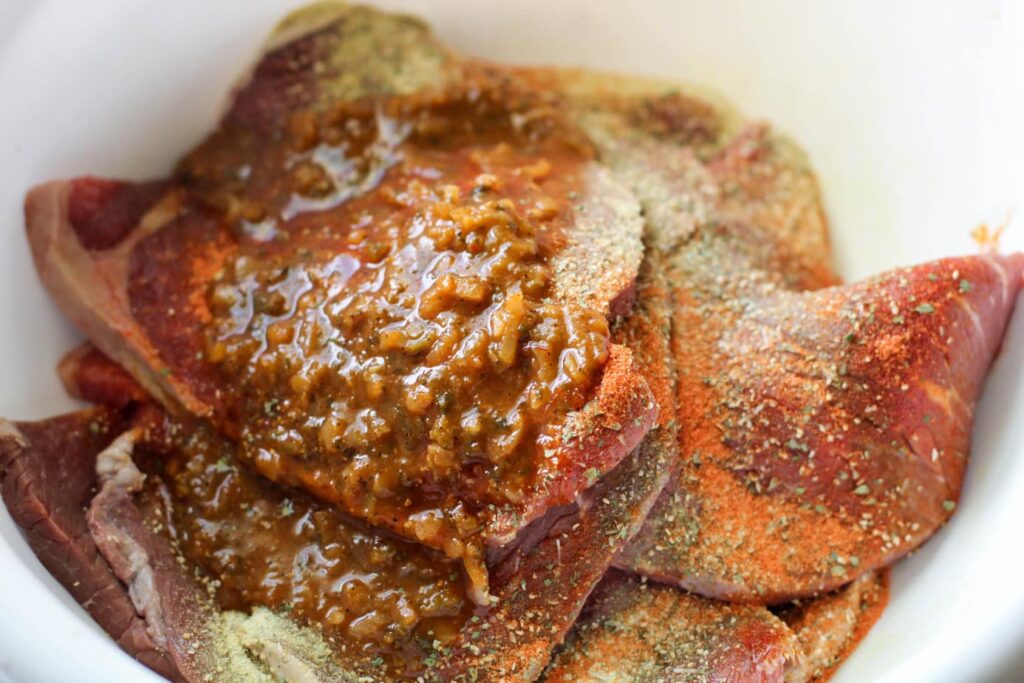 I used tip steak because I loved the sale my local store had going on. But you can use cubed steak, and really, almost any cut of thin sliced steak for bistec encebollado. Tip steak is more of a firm cut of meat. If you want it more tender, you can either pound it a little bit, or go for a different cut.
For the seasonings, I seriously went the easy route! I used sofrito (want homemade, click here), a packed of sazon (optional), adobo, mojo, and my new favorite obsession Sazon Complete by Goya. It's my favorite seasonings already mixed. Great for getting dinner on the table asap and not having to worry about pulling out 35 different seasonings. I didn't add salt or pepper, because it's flavored enough. Best thing, you can grab all of these ingredients in the same aisle where your Goya products are! Gracias Goya!
I recently came across a site of a fellow Cubana and I am in love with her recipes! I was browsing through her site A Sassy Spoon and saw that she actually has a recipe for her own Cuban Sazon Complete. 
Check her out!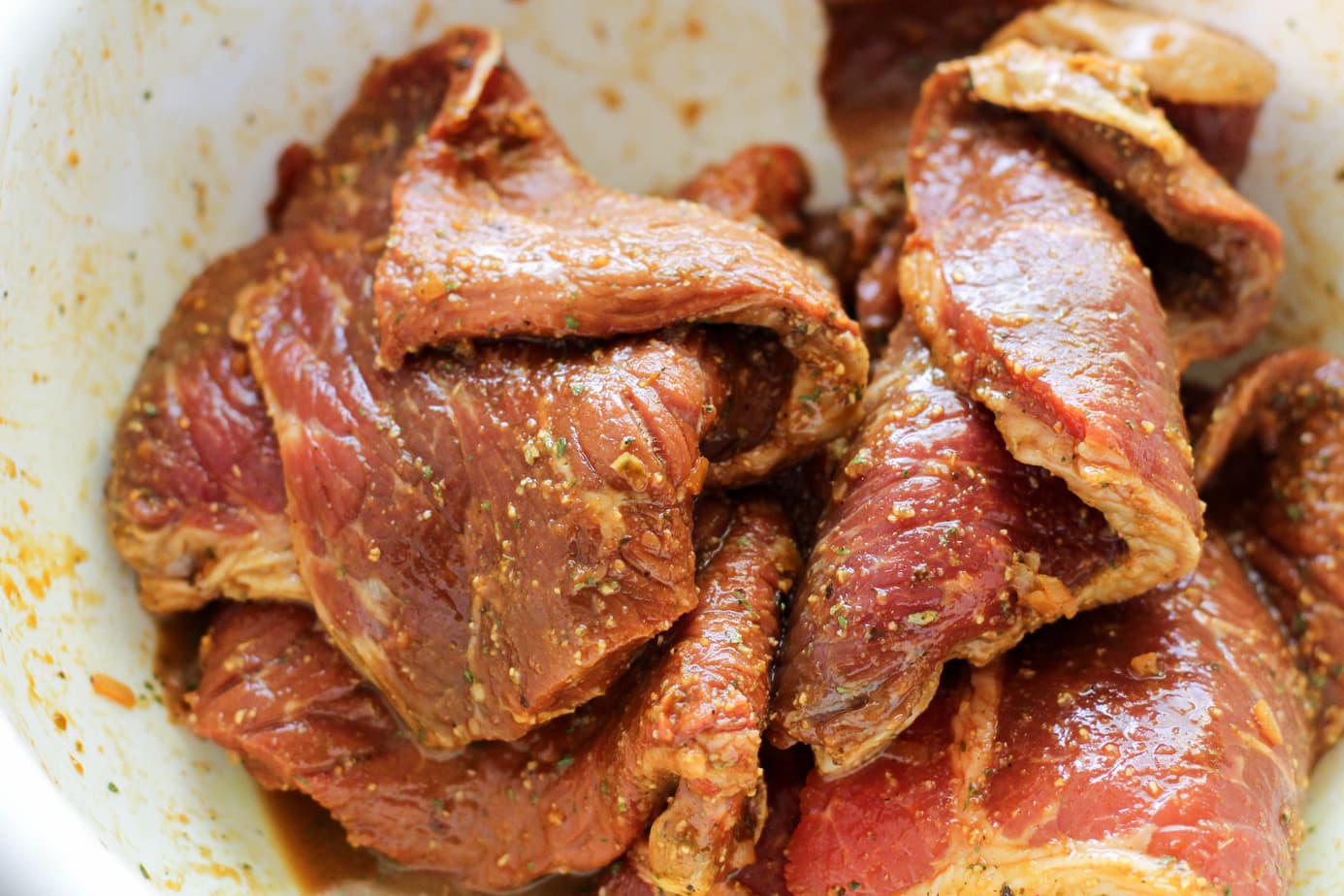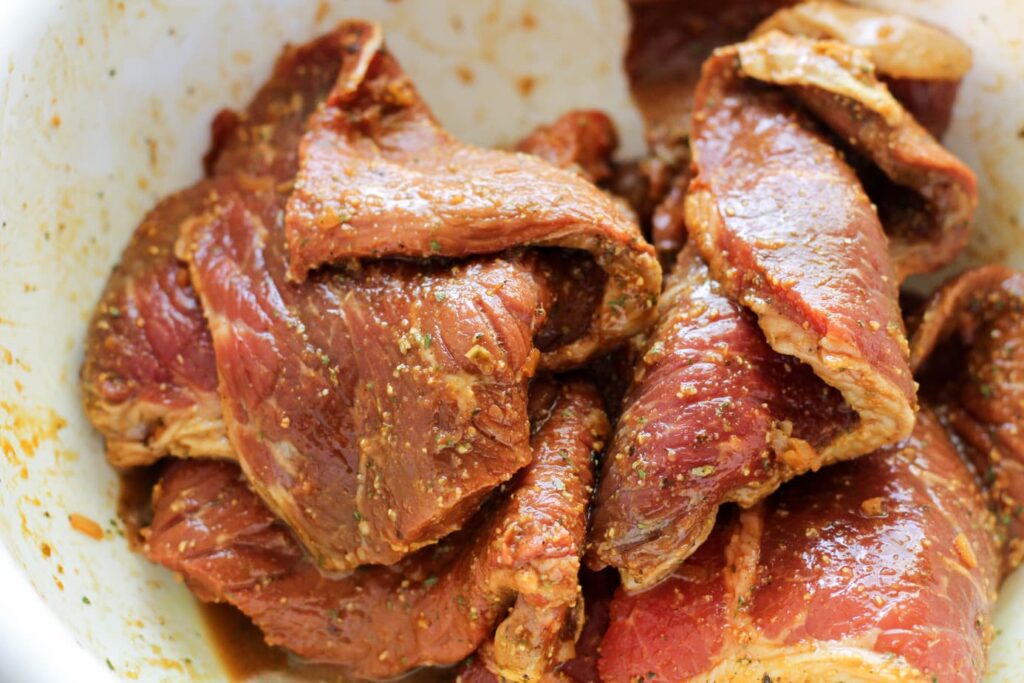 Season your steaks and add the mojo, go ahead again and massage it well. If you have time, cover it to marinate up to an hour, but if not, give it ten minutes. During that time, grab 2-3 yellow onions and slice them.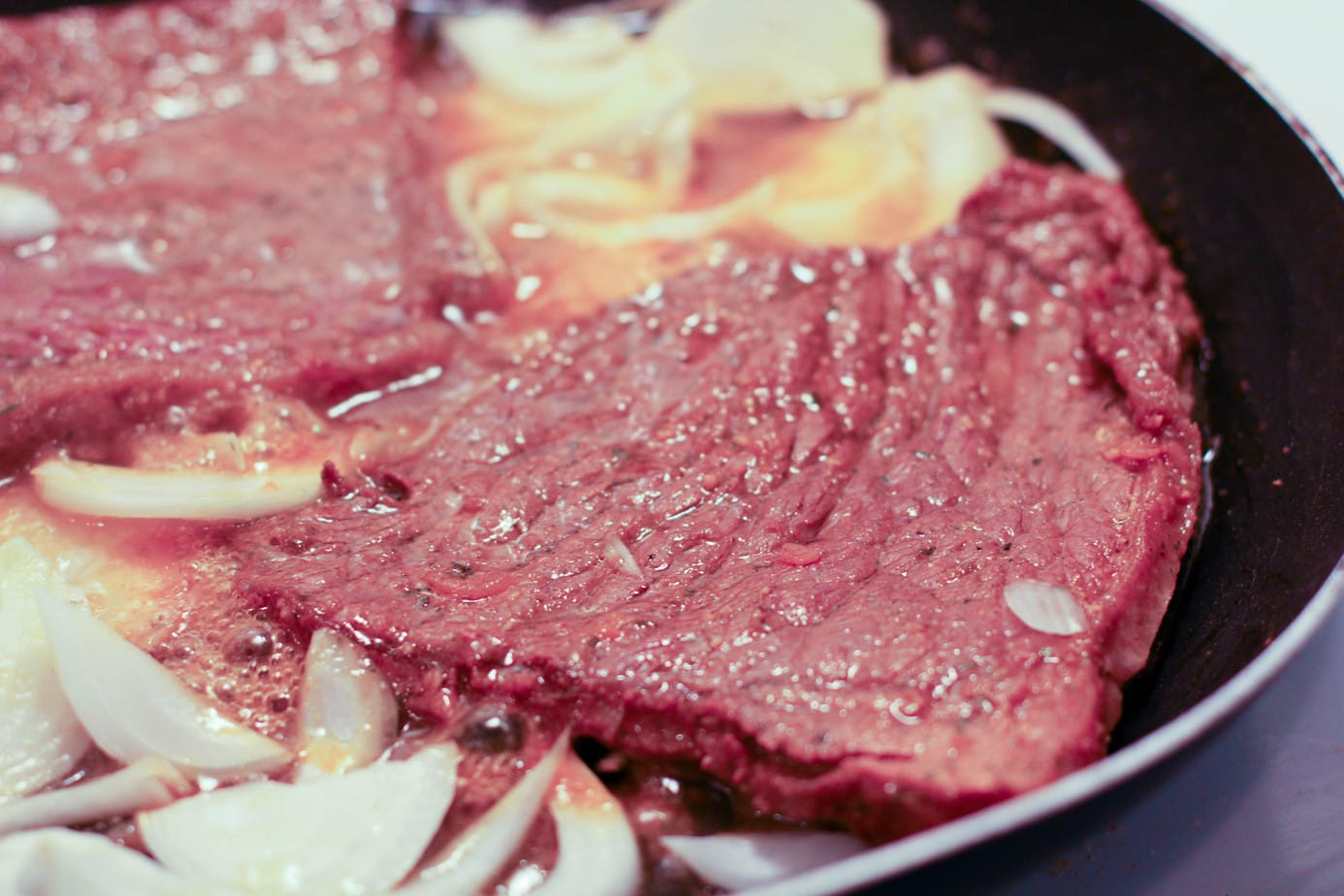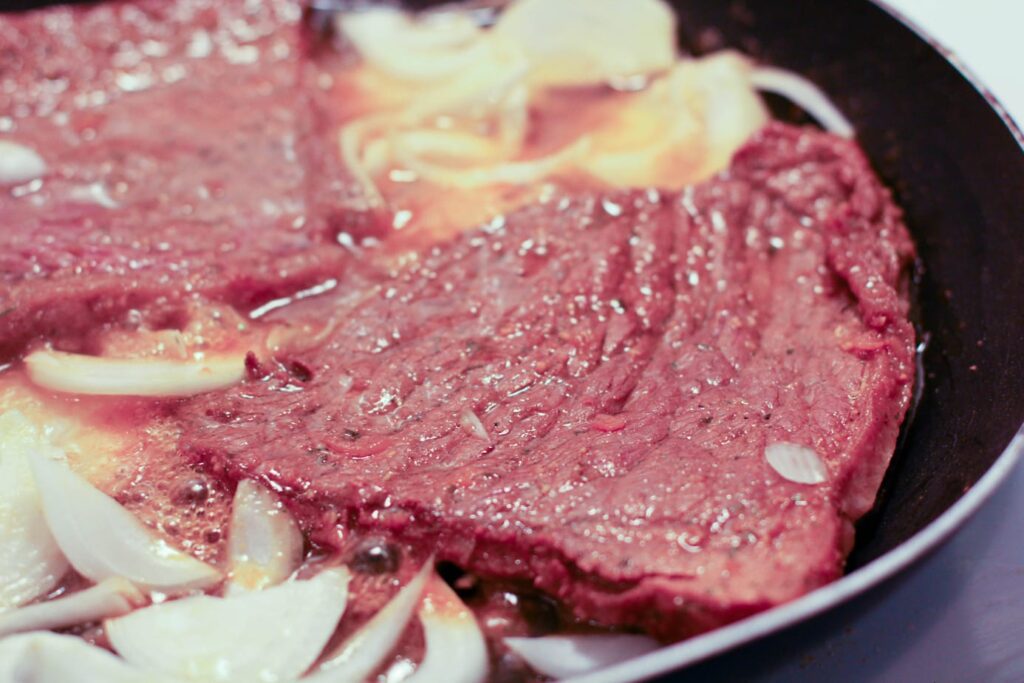 Next, we're going to add a little bit of oil (enough to coat the bottom of a large pan). Heat the oil over medium high and add in two steaks and some onions. I personally love to add a little bit of extra mojo to each batch of steak I'm cooking (like 2 tablespoons), for even more flavor and juicy steak.
I let the steak cook 3-4 per side, depending on how well you want it done. (We're a medium well loving family here.) Be sure to stir the onions often, you want them caramelized, not burnt. The timing with bistec encebollado is amazing, seriously, it cooks together perfectly. Now repeat this process until all your steak is made.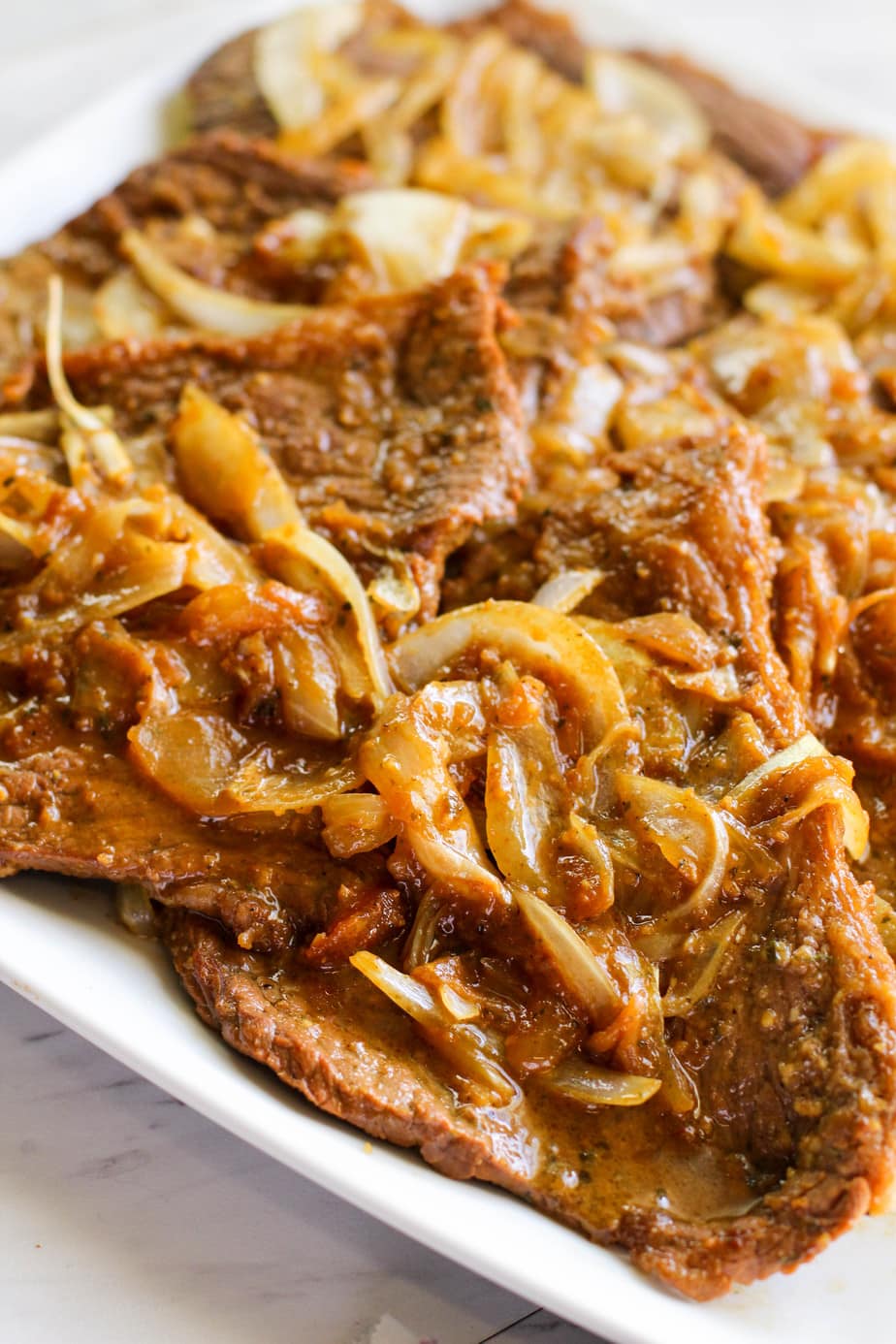 Look at the onions! It's perfection and seriously amazing. I remember mi padre would make steak sandwiches later on during the evening with any leftovers. I have to give him a call to ask if he added anything special to it. We're a large family, so you may want to half this recipe. But then again, your kids friends will want to stay over for dinner. 🙂
Here are some side ideas to go with your bistec encebollado recipe:
Spanish Rice
White Rice and Beans
Fries/Tater Tots
Create a sandwich
That's it mi gente! Be sure to share this post, subscribe, and watch the video (and follow) below!
📖 Recipe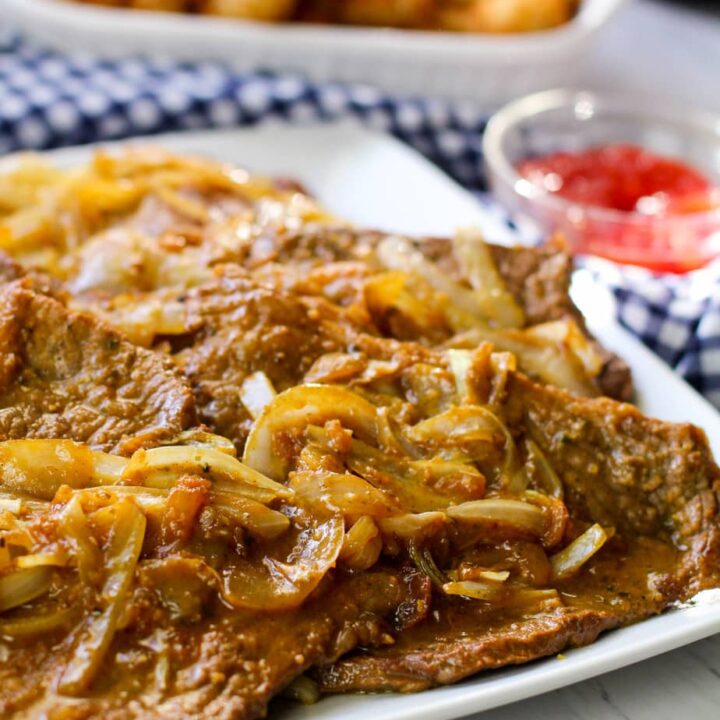 Quick and Easy Bistec Encebollado Recipe
Tender juicy steak covered with juicy cooked onions and Latin flavors.
Print
Pin
Rate
Ingredients
¼

cup

of vegetable oil

8 -

thin sliced tip steaks

1-2

tablespoons

of adobo

2

tablespoons

of Goya Sazon Complete

3

tablespoons

of Sofrito

¼

cup

of Goya mojo

2

yellow onions thinly sliced
Instructions
In a large bowl, mix together everything except for the oil.

In a large pan, heat oil over medium high heat. Add in two steaks and a quarter of the sliced onions. Cook steak 3-4 minutes per side. Adding in a tablespoon of extra mojo if dry. Stir onions as needed to caramelize them. Remove onions and steak from pan once steak arrives to desired level of done.

Repeat process with the remaining steak and onions.

Serve immediately.
Nutrition
Serving:
0
g
|
Calories:
0
kcal
|
Carbohydrates:
0
g
|
Protein:
0
g
|
Fat:
0
g
|
Saturated Fat:
0
g
|
Polyunsaturated Fat:
0
g
|
Monounsaturated Fat:
0
g
|
Trans Fat:
0
g
|
Cholesterol:
0
mg
|
Sodium:
0
mg
|
Potassium:
0
mg
|
Fiber:
0
g
|
Sugar:
0
g
|
Vitamin A:
0
IU
|
Vitamin C:
0
mg
|
Calcium:
0
mg
|
Iron:
0
mg