Need a healthy pastelillo recipe? If so, this Air Fryer pastelillo recipe is for you! Fresh picadillo with a cheesy layer air fried until a crispy perfection is created -using no oil, is the best way to make a pastelillo!
We love pastelillos, recently we shared our pizza pastelillo and ropa vieja pastelillo with you! This time, we wanted to make a healthier frying free pastelillo recipe.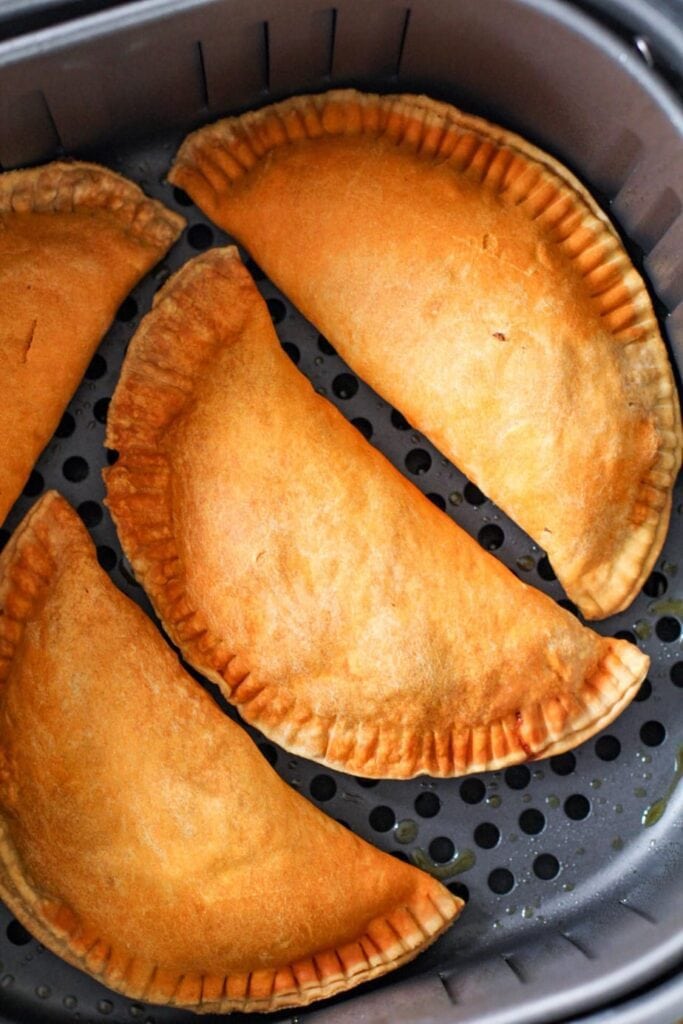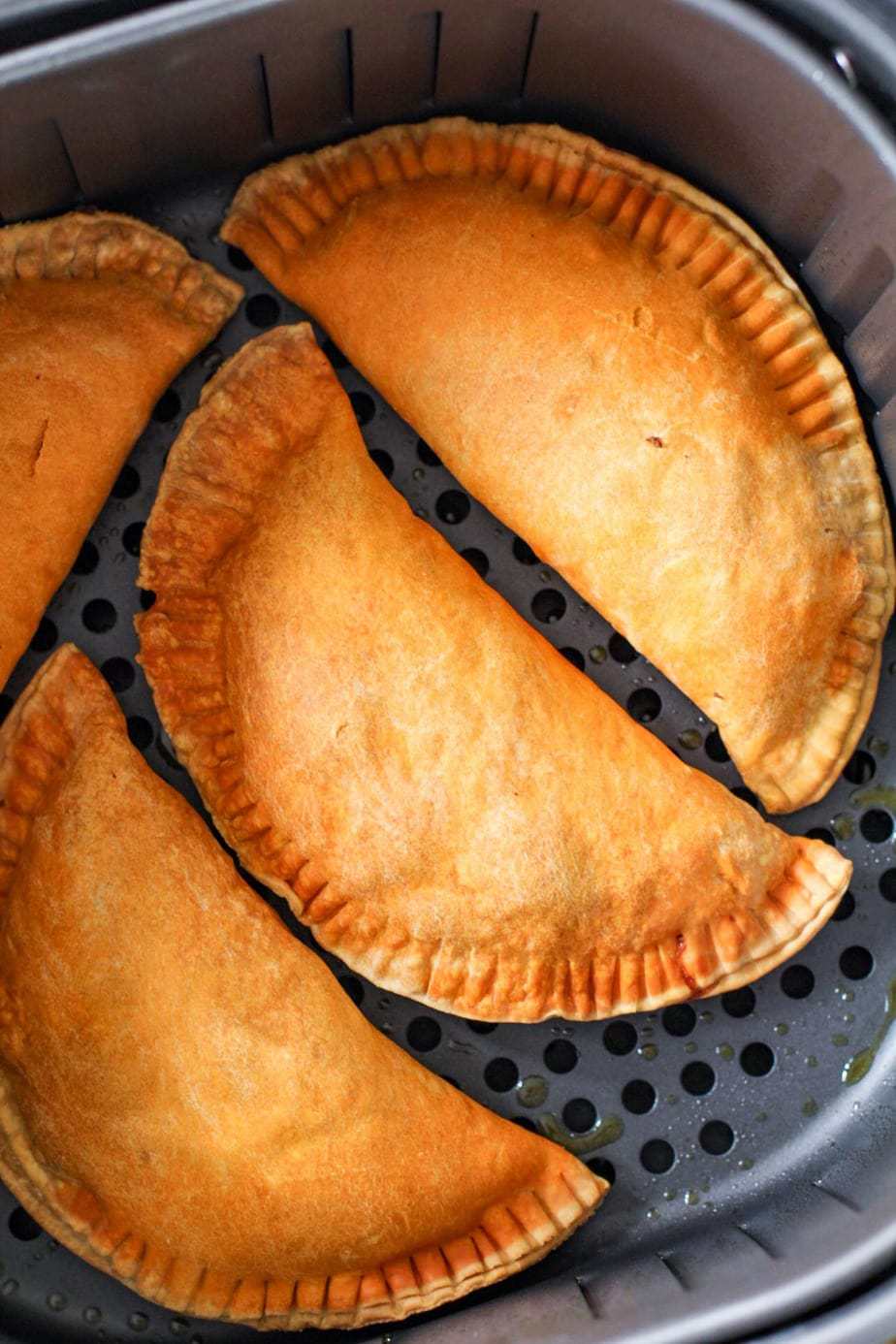 What is a pastelillo?
Up until recently (like a few weeks ago -yikes) pastelillos were empanadas, everything shaped like a turnover was an empanada to me. I was wrong! (I guess it depends on who you ask.)
A pastelillo is a turnover that is filled with a savory filling -think pizza, picadillo, turkey meat, ham and cheese etc, and traditionally fried. The edges are typically crimped with a fork too!
I've always considered a pastelillo to be a sweet treat, which I had confused with pastelitos. Like my Cuban guava and cheese pastelitos, pastelitos are sweet treats usually made with pastry dough that is crumbly to the touch -unlike pastelillo dough, which is sturdy to the touch.
Now for what an empanada is. In Puerto Rico, an empanada is actually a breaded fried meat! Talk about lost in translation. Even if you do a Google search on "empanada chicken, empanada fried chicken, empanada breaded chicken" - it all comes back to a pastelillo!
Empanadillos are a big sister to a pastelillo. It reminds me of a calzone. The dough is thicker, like that of pizza, it's super stuffed with savory fillings, and the edges are rolled -instead of crimped. Then the empanadilla is baked to perfection.
So many technical terms. I'll be updating my other posts to reflect the correct term!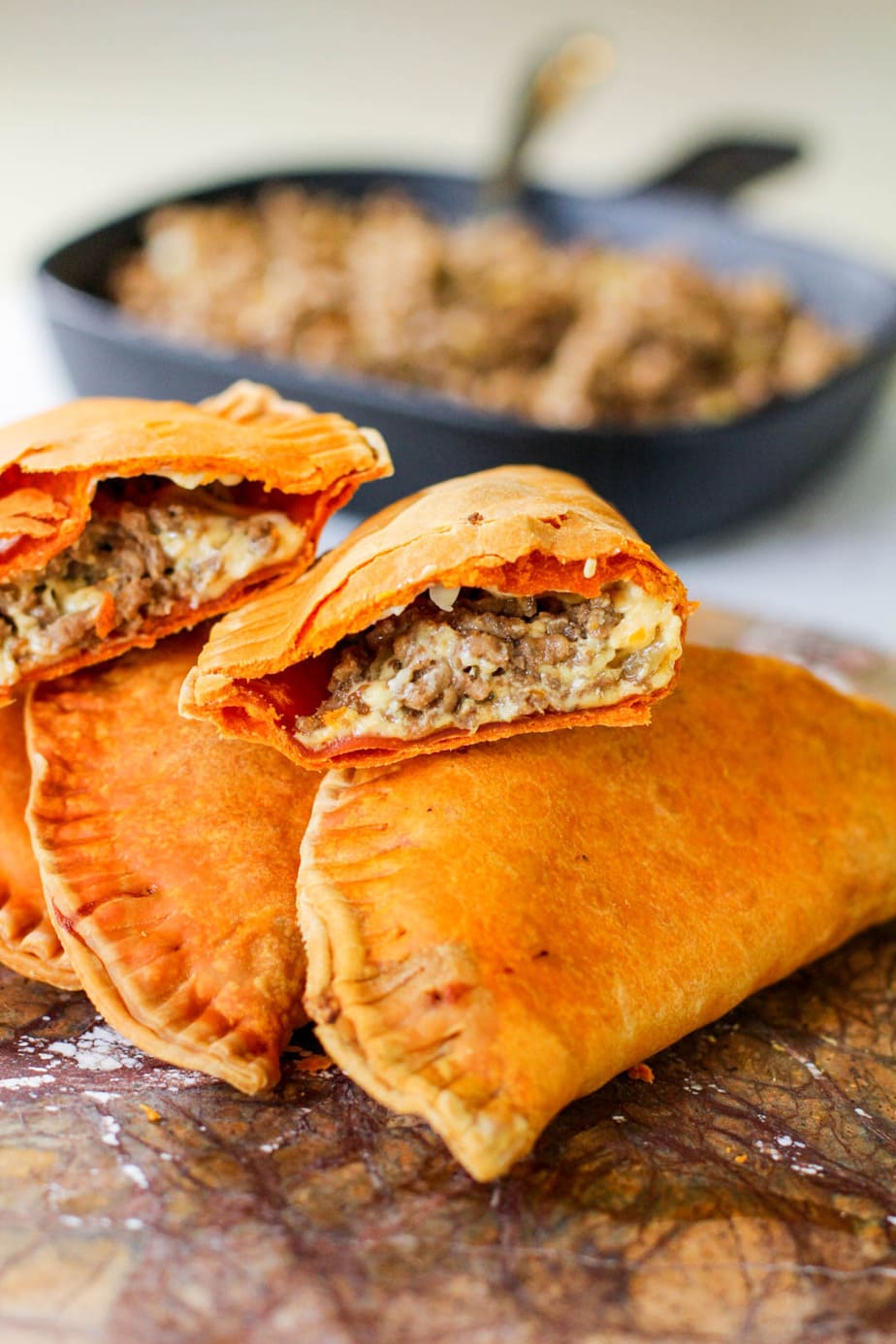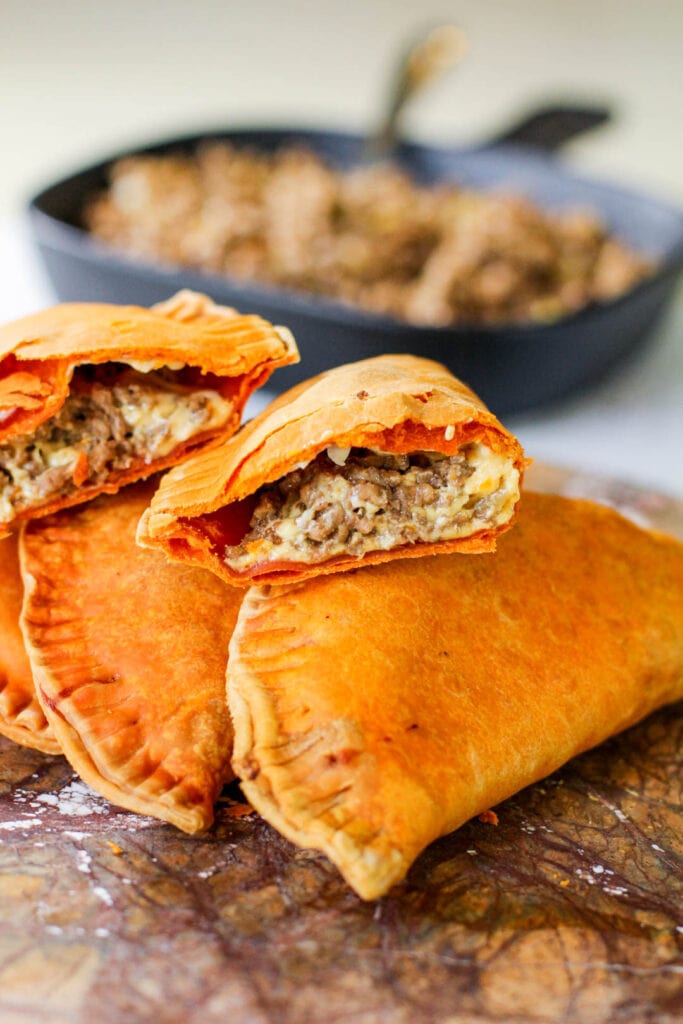 Are pastelillos healthy?
These Air Fryer pastelillos are healthy! The filling is made with lean ground beef, cheese, and stuffed into a pastry dough. Think Wonton quality dough, not pizza dough or puff pastry that rise or become crumbly. I use the orange Goya pastry discs you find in the frozen section where the International frozen items are.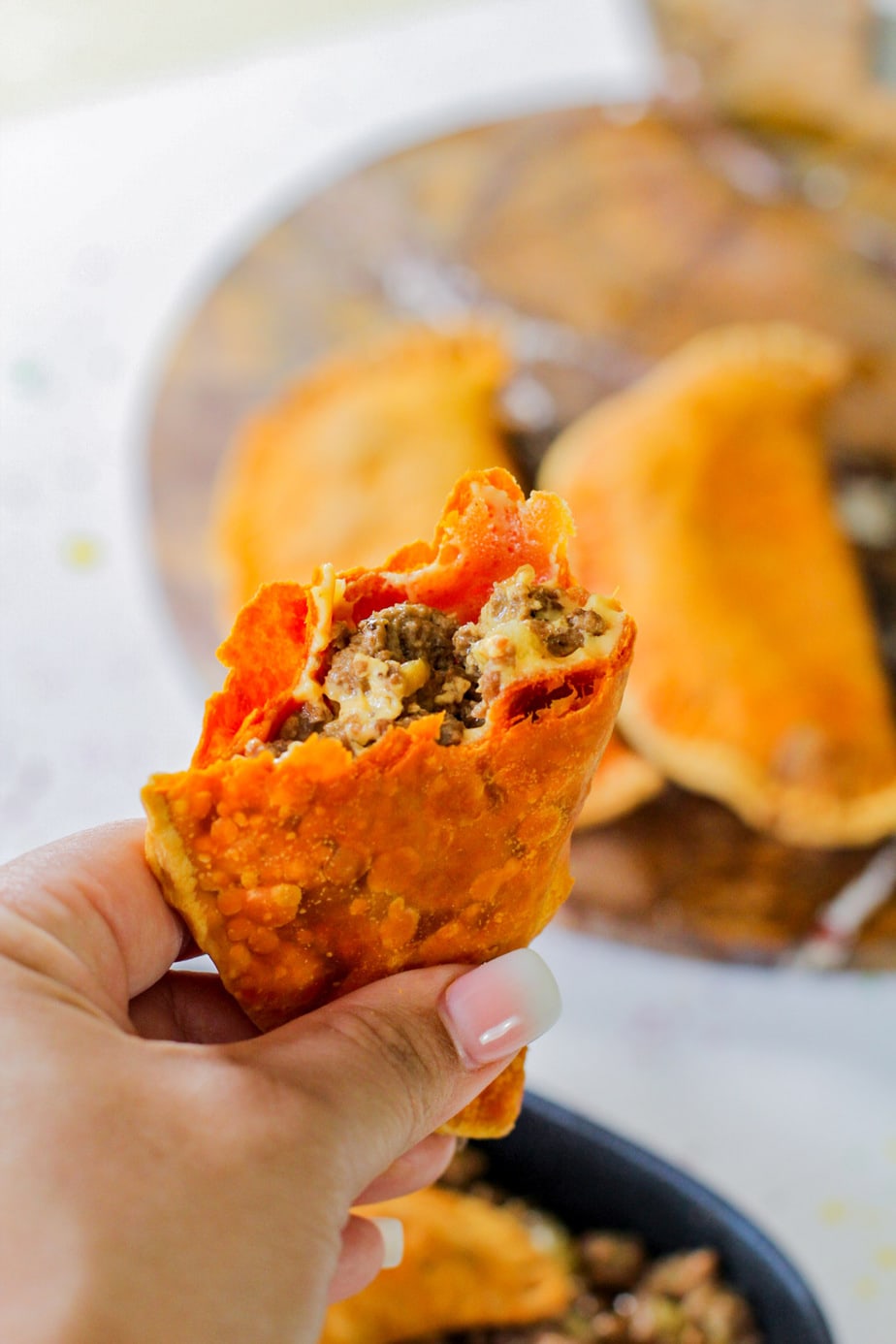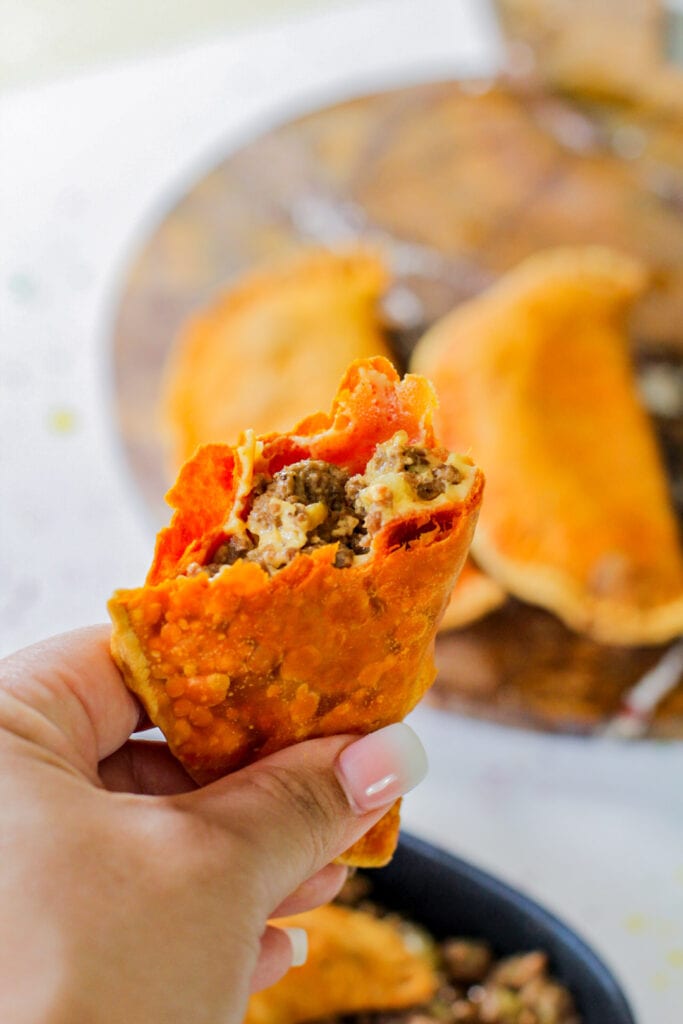 How to make pastelillos de carne (beef turnovers)?
To make pastelillos, you start off with the filling. For this recipe, we are making a simple Puerto Rican picadillo. You can use either ground beef or ground turkey for your picadillo meat.
You can substitute this simple picadillo recipe with our Cuban picadillo or even our sweet and savory turkey mango picadillo.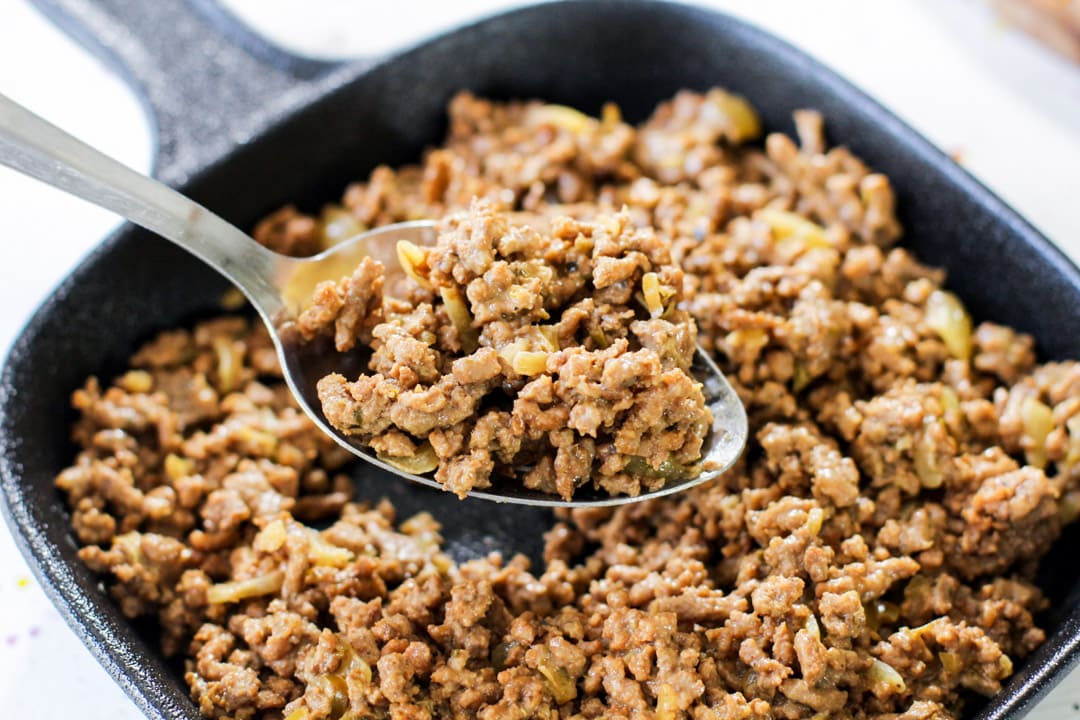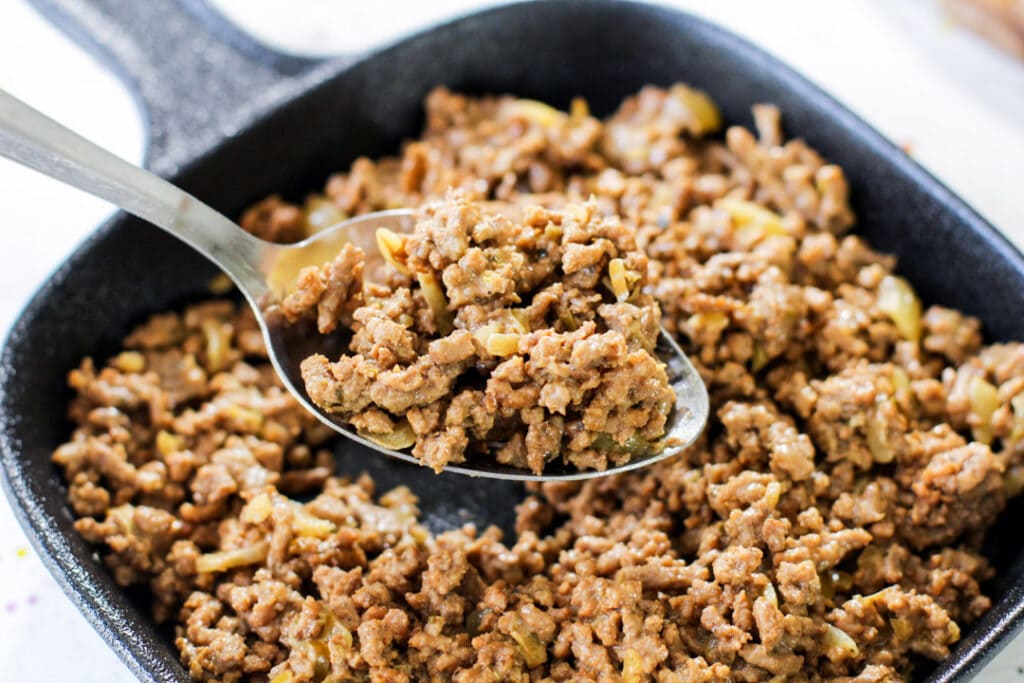 With olive oil, you will brown your meat and onions, I do this at the same time. I also like to season the meat with salt and pepper or Adobo seasoning. Seasoning raw ground meat helps lock in the flavors!
Once the meat is browned, you can drain any excess fat -if there is any. Add the remaining ingredients for your picadillo mixture. If you feel like your picadillo is drying out, you can add a tablespoon of water or tomato sauce to your picadillo. Remember, you don't want anything to leak out of your pastelillo, so it's better for your meat to be moist, not completely wet in a sauce.
Quick tip - for an extra cheesy beef pastelillo, I like to add either shredded or sliced cheese to my pan with the ground beef to melt together. I still add a slice to each dough disc too!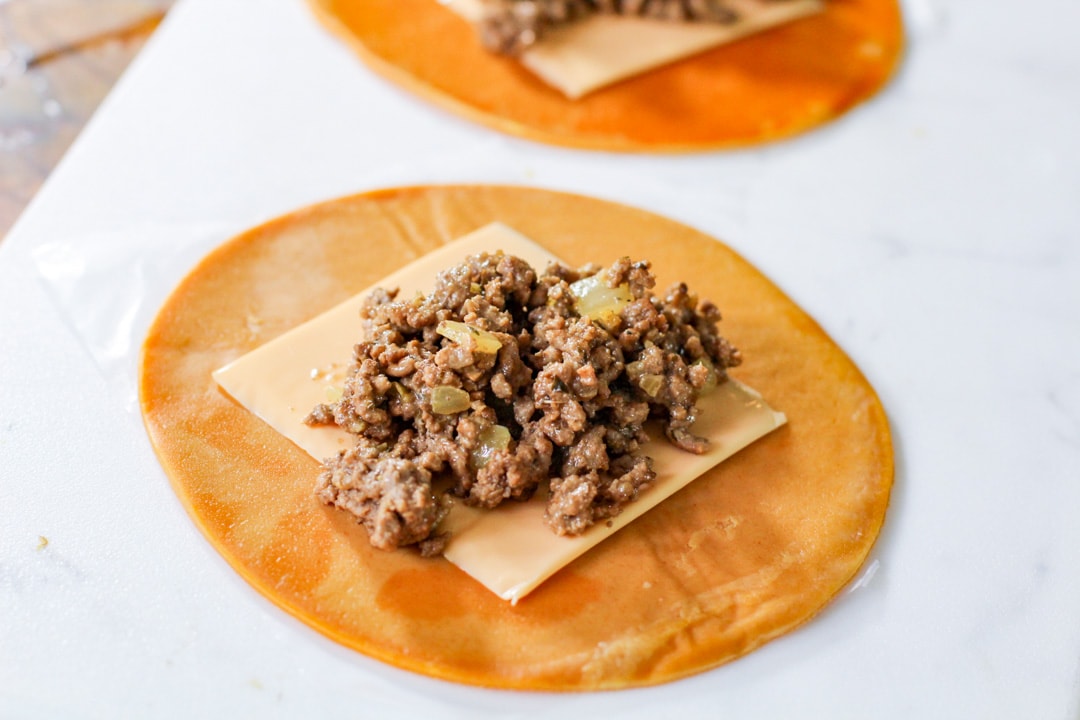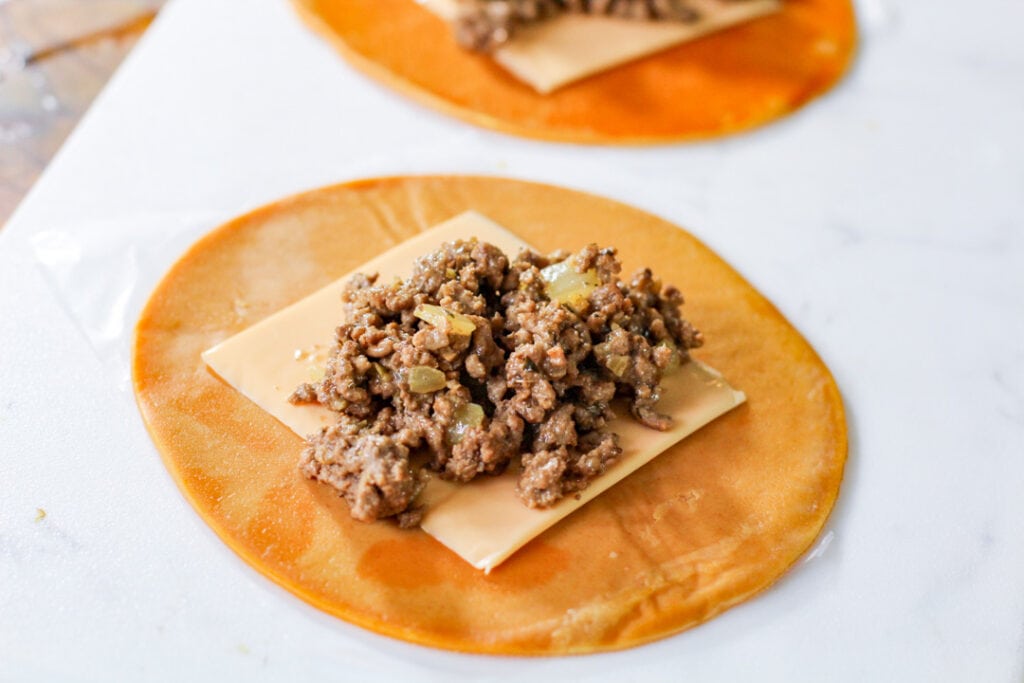 Once your picadillo is cooked, you can pull apart your Goya dough discs. Be warned, like with pie dough, this dough softens fairly quickly, so only pull it out of the fridge when you are ready to work with it.
Definitely take it out of the freezer and place it into the fridge the morning of or a few hours before using it, to get the dough to defrost.
I'm a little old school, and I add a slice of yellow cheese to the center of the Goya disc before layering the meat over it.
How much meat should I use for pastelillos?
When I made these Air Fryer pastelillos, I purposely tested out how much would properly fit.
The perfect number is 3-4 tablespoons of picadillo mixture. If you're just beginning, I would start with three tablespoons. If you have experience, go with four tablespoons to ensure the pastelillo is filled to capacity! Every single bite should have cheese and meat. Am I right or am I right?!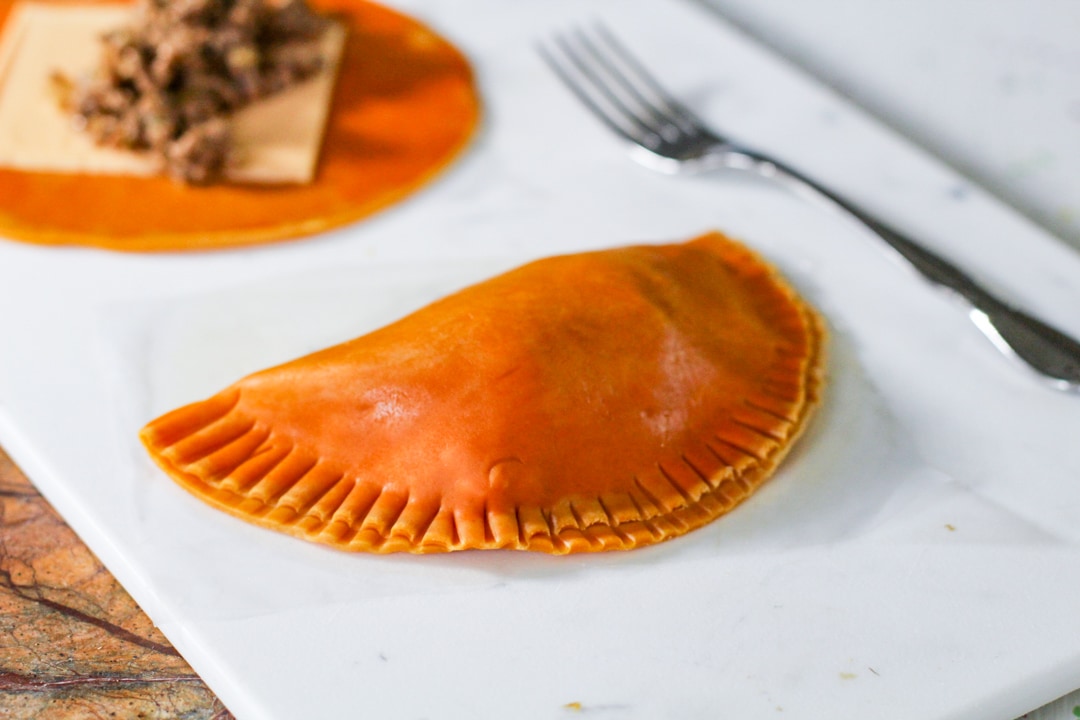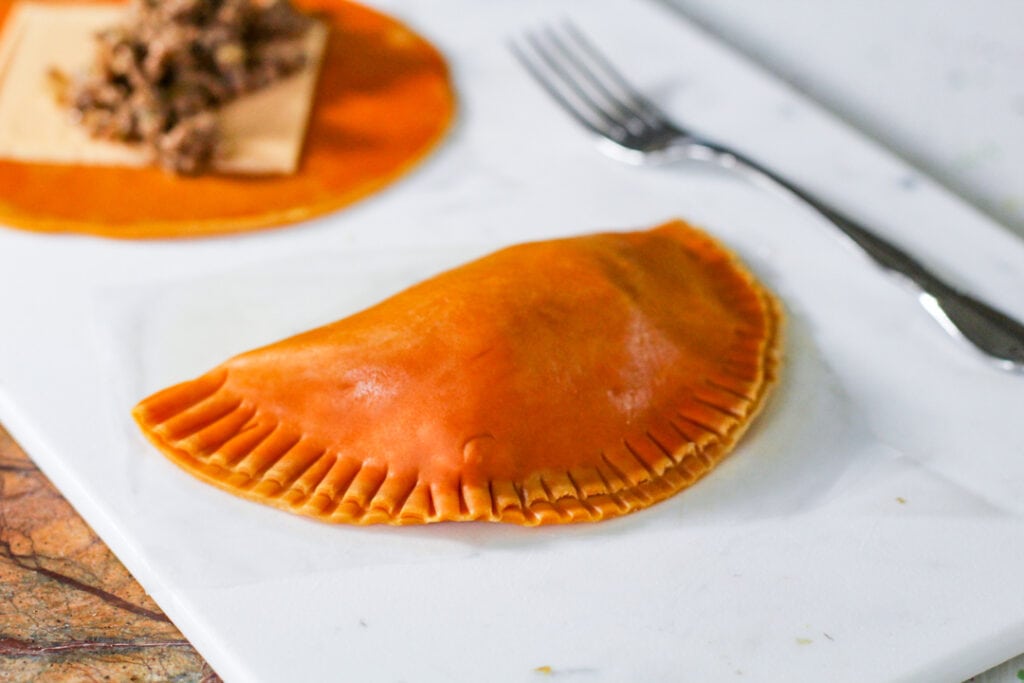 Fold over the disc and with the back of a fork, crimp the edges to seal the dough together. Some people like to use egg wash to seal the edges, but after 15 years of making these, I assure you -it is not necessary!
How to make pastelillos de carne (beef turnovers) in the Air Fryer
Once your pastelillos are assembled (or at least 3, since you will be working in batches), it is time to preheat your Air Fryer.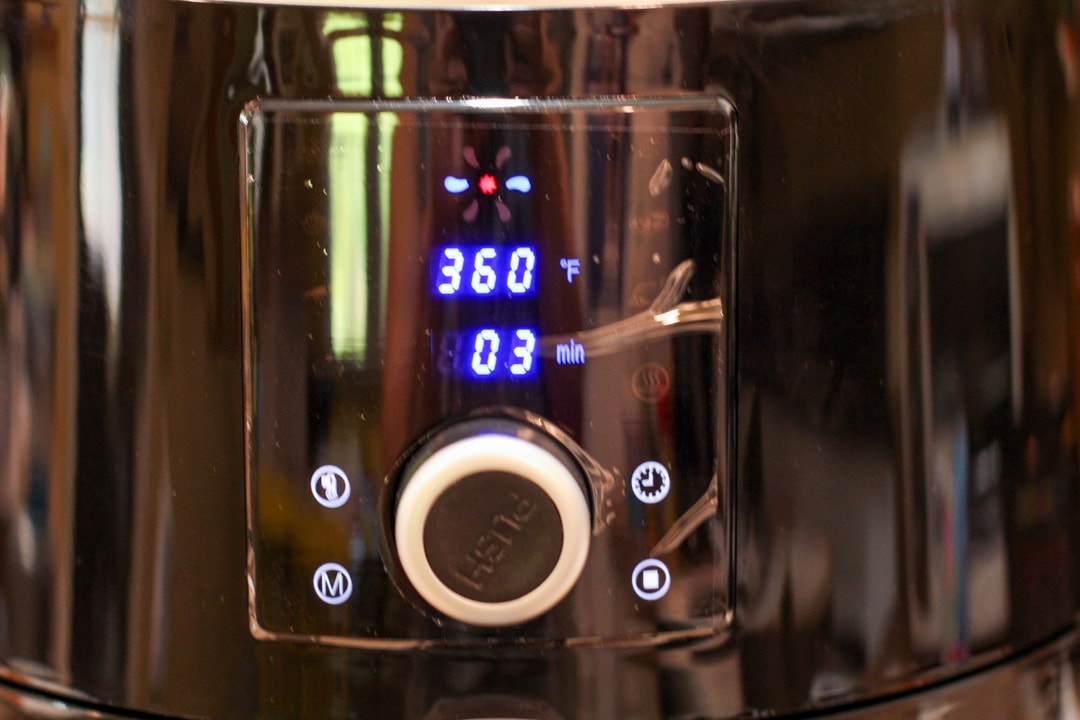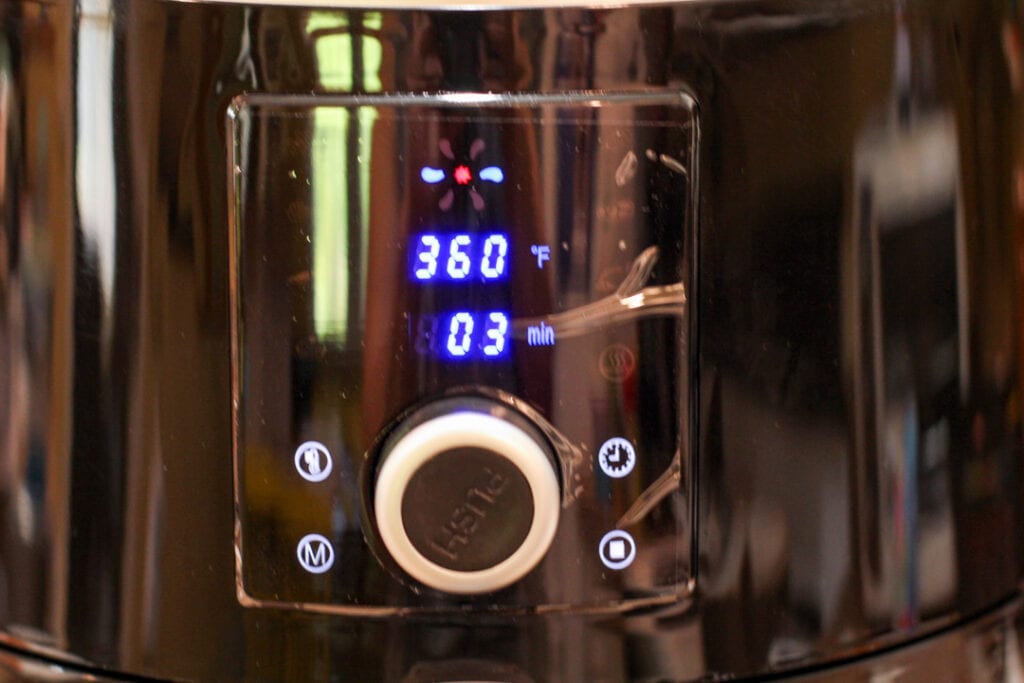 To preheat your Air Fryer, set the temp to 360 degrees and the timer to 3 minutes.
Once the timer is up and the air fryer has shut off, remove the pan, spray the basket with cooking spray and line 3-4 pastelillos into the basket. I have a larger Air Fryer and fit 4 snug. Remember, you want them in a single layer!
Do I have to flip over my pastelillos in the Air Fryer?
You do not have to flip over the pastelillos in the Air Fryer. You can, but it is not necessary.
How long do you cook pastelillos in the air fryer?
I tested out three different temperatures and times for these pastelillos and this is what I've come up with:
360 degrees takes about 9-11 minutes to reach desired level of crispiness.
370 degrees takes about 7-9 minutes to reach desired level of crispiness.
380-400 degrees takes 5-7 minutes to reach desired level of crispiness.
I loved cooking on the 370 degrees setting! It was cooked through and slightly crisp- but not tough!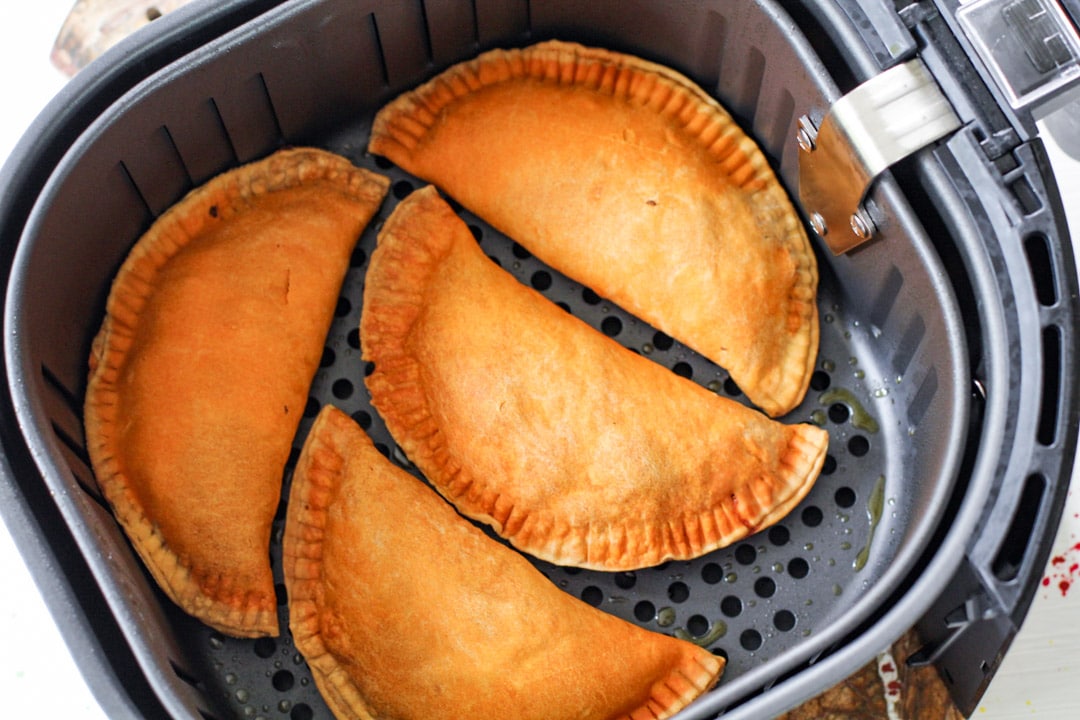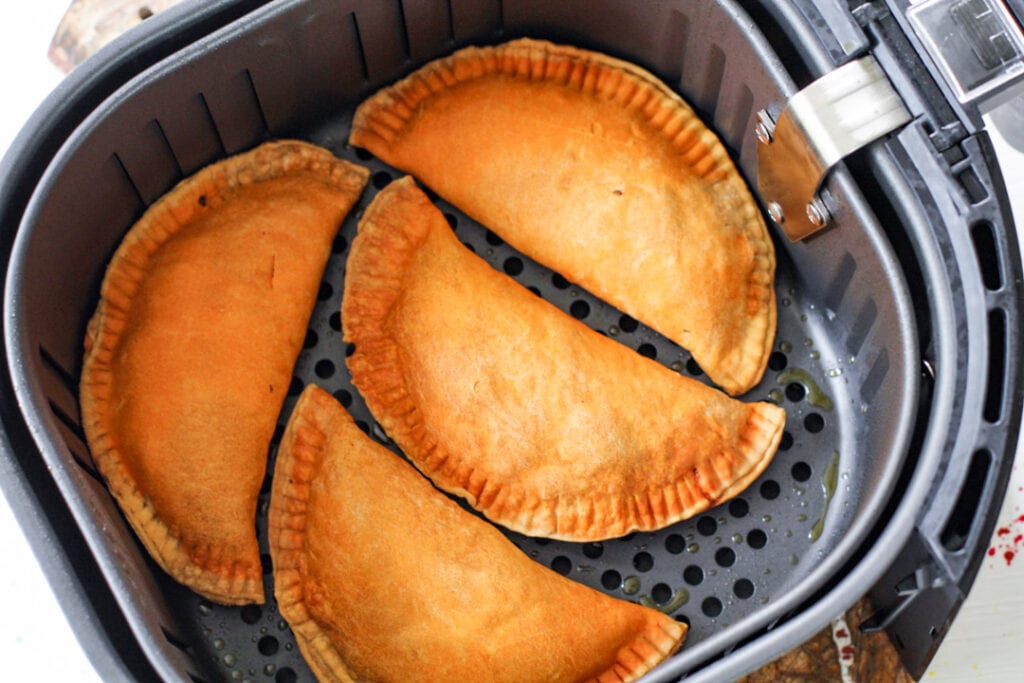 Will pastelillos cooked in the Air Fryer taste as good as the ones fried?
Want honesty? Air Fried pastelillos do not taste like fried pastelillos - but they are healthier for your body. So although your taste buds may miss the deep fried taste, your arteries will thank you!
📖 Recipe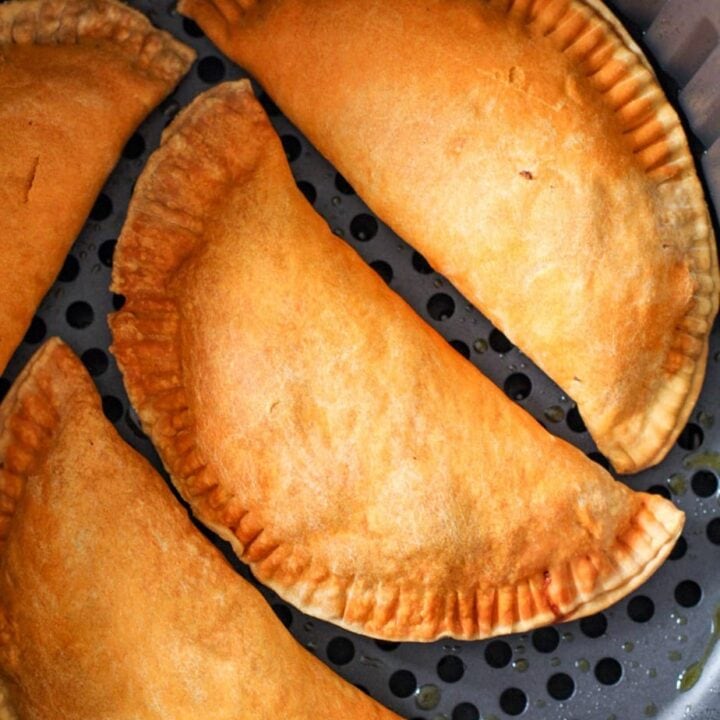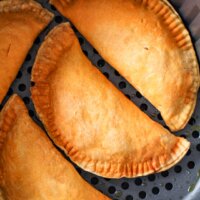 Picadillo de Carne | Beef Turnovers
Cheesy beef is enclosed in a pastry disc that is air fried to create a healthy turnover, also known as a picadillo or empanada!
Print
Pin
Rate
Ingredients
1-2

tablespoons

of olive oil

2

pounds

of lean ground beef

½

onion

chopped

2

cloves

garlic

minced

½

tablespoon

of Adobo seasoning

2

teaspoons

of dried oregano

1

packet of sazon

optional

2

tablespoons

of cilantro

chopped

¼

cup

of shredded cheese

15

dough discs

15

slices

of yellow cheese
Instructions
In a large pan over medium high heat, warm oil. Once oil is warmed, add beef, onions, and Adobo seasoning.

Brown beef, about 6-7 minutes.

Drain ground beef.

Add remaining seasonings and cilantro. Cook an additional minute. Add shredded cheese, if desired. Melt cheese.

To each dough disc, add a slice of cheese to the center, and add 3-4 tablespoons of meat mixture over the cheese slice.

Fold over the dough disc, and with a fork, crimple edges and set to the side.

Preheat Air Fryer at 370 degrees for three minutes.

Once three minutes are over, spray Air Fryer pan with cooking spray and add 3-4 pastelillos to the basket. Close basket, and set to 370 degrees and cook for 7 minutes. After 7 minutes, check on it. Cook up to an additional 3 minutes, or desired level of crispness, if desired.

Repeat until finished.
Notes
Picadillos that are not cooked, can be frozen and used for a later time.
Picadillos will last up to three days, cooked, in the fridge.