Do you love food carts? I love food carts. Philadelphia is filled with food carts. A few months ago I had an amazing quick bite to eat from a Mexican food cart. Oh my gosh. The platano maduros (plantains) were out of this world. The platanos had a savory meets sweet mixture, and you can taste that it wasn't deep fried. What really caught me off guard was the toppings. They had a sour cream like drizzle with a topping of fresh cheese crumbled over it. So good. But for $5 for literally one platano that costs me thirty cents at the supermarket, I knew I had to recreate it. Here's my rendition of the sweet orange honey plantains I had from a Mexican street cart.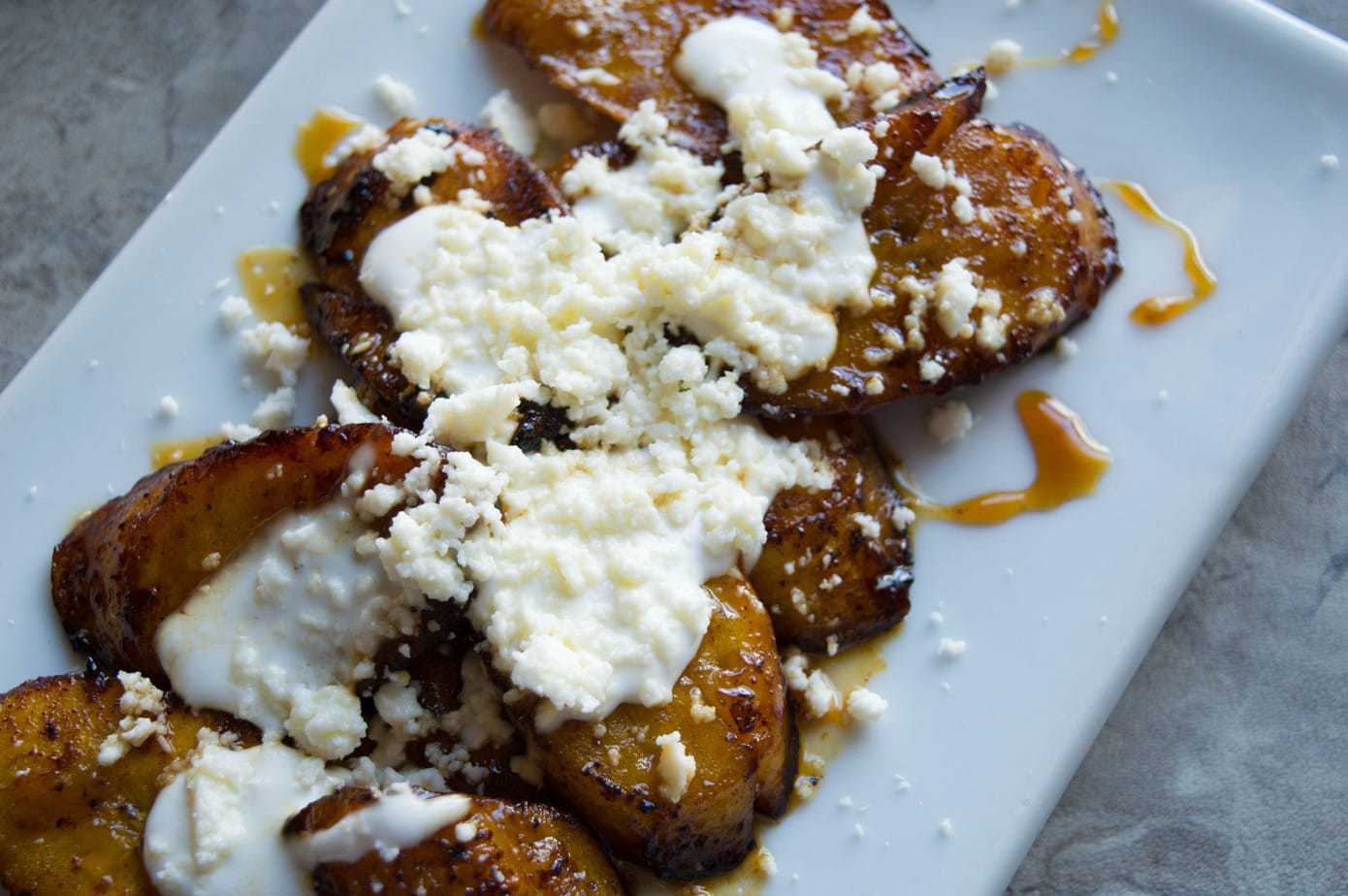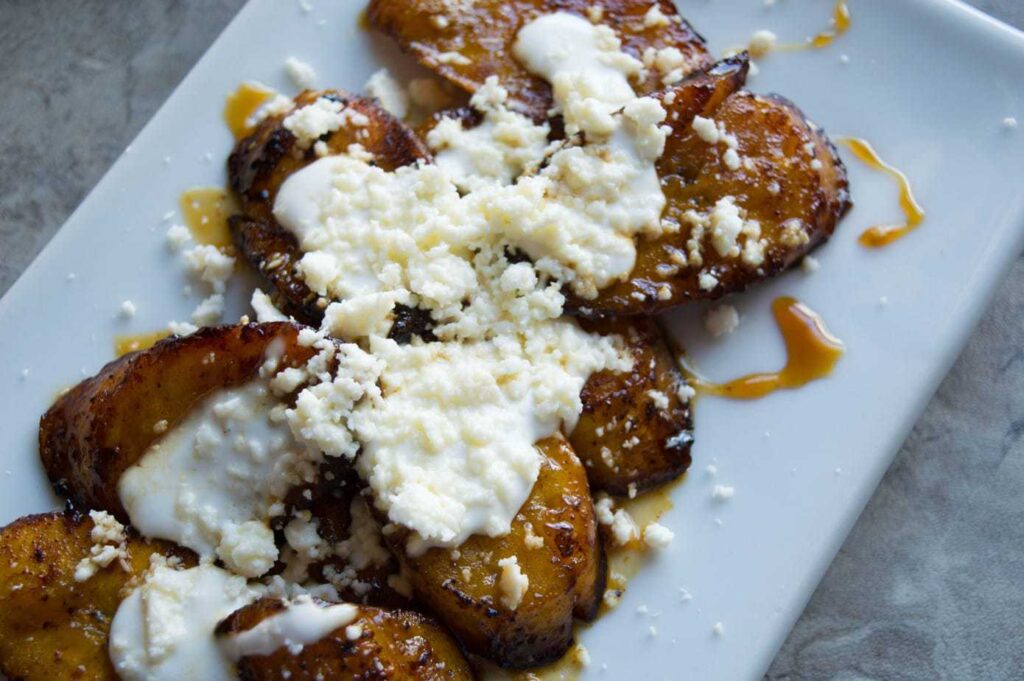 How To Make Street Cart Style Mexican Orange Honey Plantains With Cream
I originally learned how to peel and cut a platano from mi tia Esther when I lived in Florida. I always found it funny that she cut them diagonally, why not just cut it straight, is what I always thought to myself. You live and learn, cut it diagonally. The food cart cuts it lengthwise the whole way, but I prefer it cut diagonally, so much easier!
Remember to wait until the platano is ripe (skin starts turning black). When it's ripe, it's naturally sweetened. You do NOT want to make this with green platanos. Cut off the ends, then gently cut a small slit from one end to another, lengthwise. Then with your hands, you want to peel the platano skin from the side, not down like a banana. You may have to make additional slits, depending on how ripe the platano is and how large it is.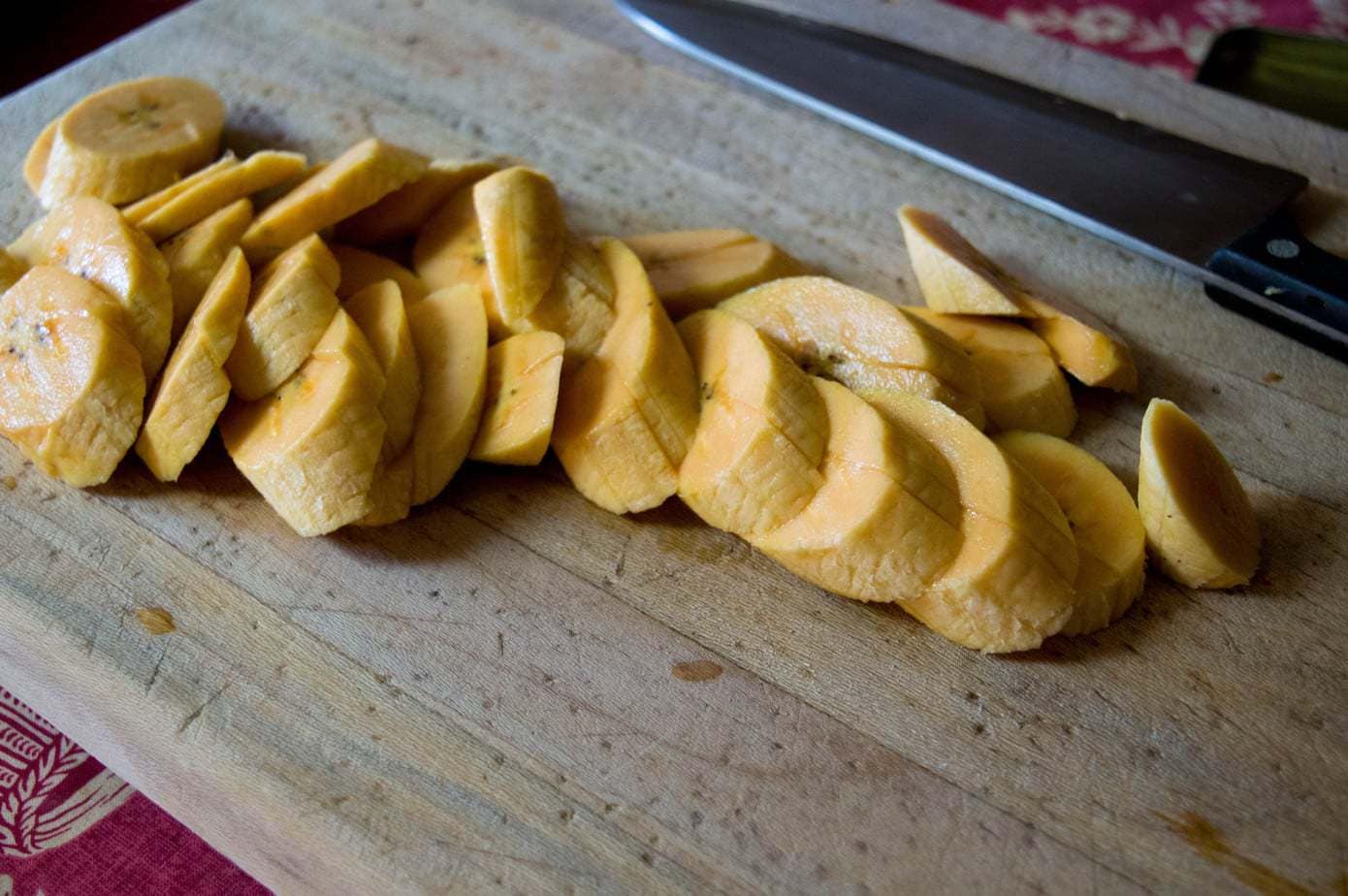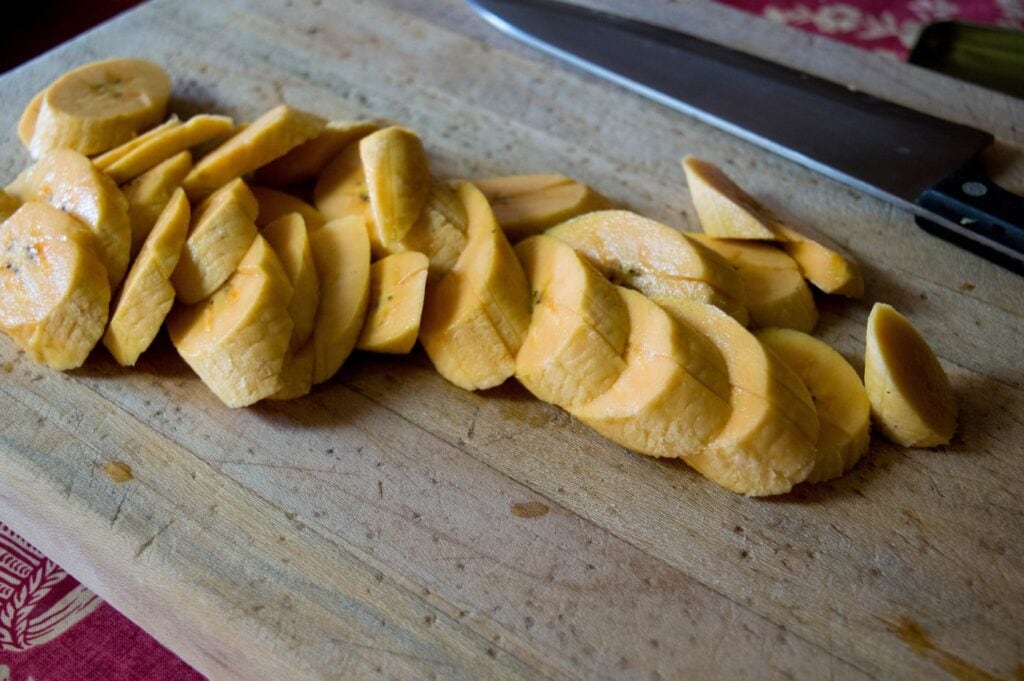 They say peanut butter and jelly go well together, I must say, honey and orange juice go amazing together. I made this simple marinade with orange juice, honey, brown sugar, cinnamon, and a tiny pinch of salt. I really feel that a great quality vanilla bean paste would elevate this appetizer to a whole new level. Next time mi gente, next time. But if you have some good quality vanilla bean paste, NOT vanilla extract, be sure to add a small amount.
Let the platanos marinade for 10-15 minutes.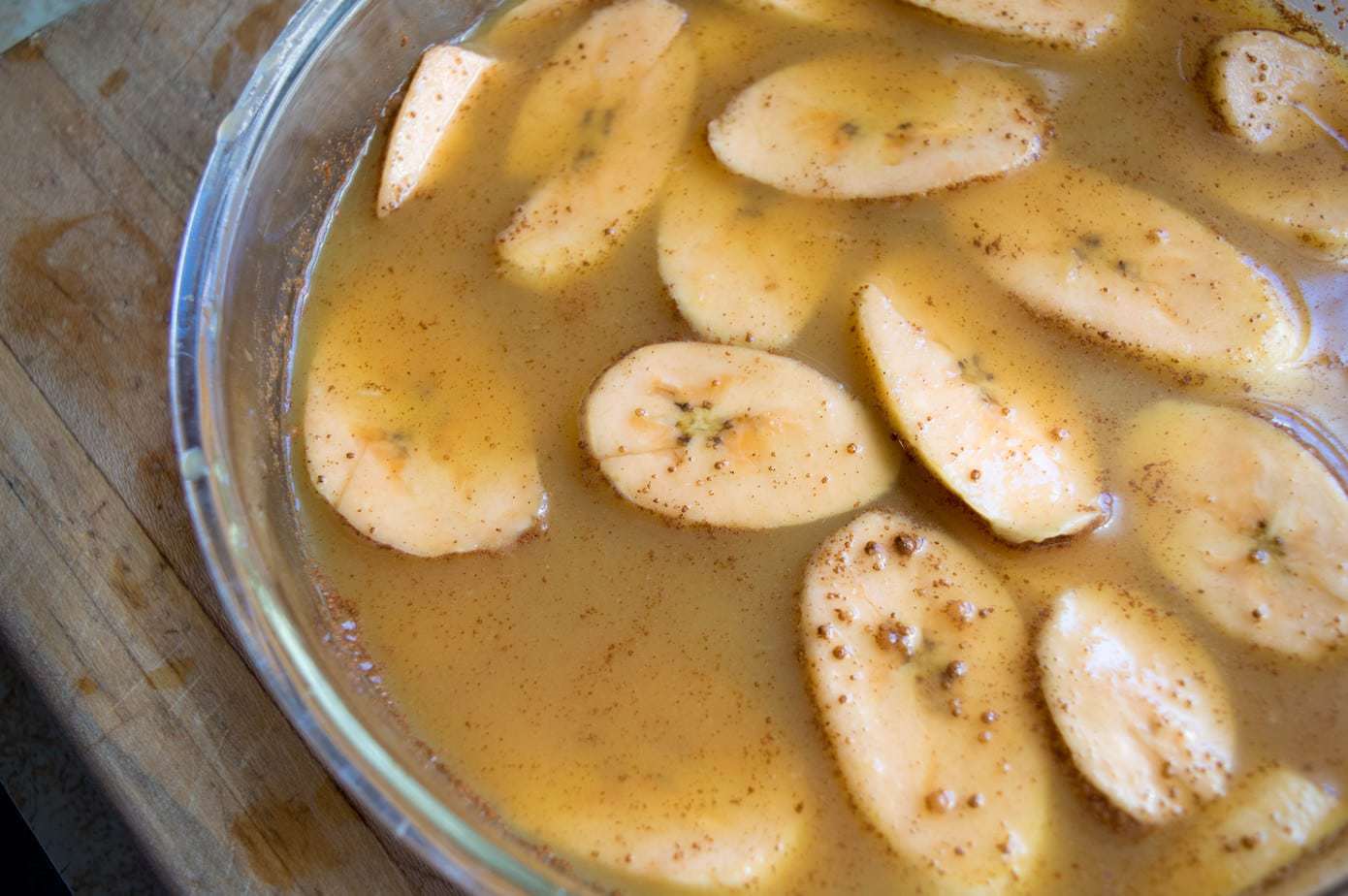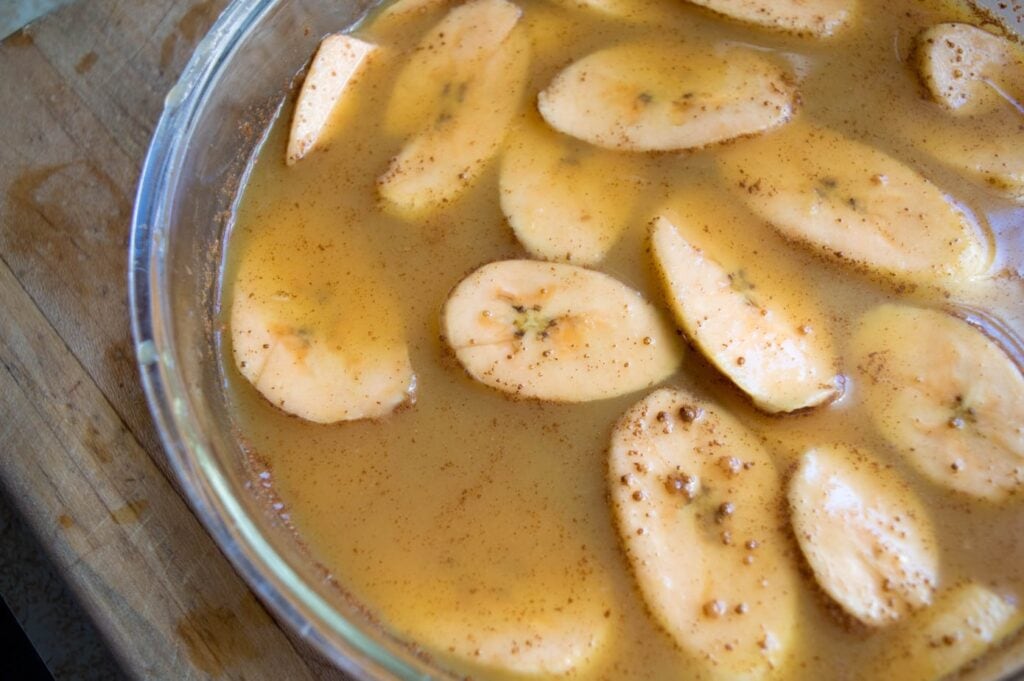 Next, in a small pan, add about 4 tablespoons of unsalted butter, and over medium heat melt it. Add in the platanos, to make a single layer. You don't want it overcrowded. I also added about a tablespoon of the marinade to the pan, but you don't have to.
Cook about 4 minutes on each side. You want them to be a golden brown color. I personally like the edges to get a little crisp, so I leave it an extra minute or two, but that's completely optional. Be mindful of the heat. If you feel like it's almost burning, lower the heat a little or add in more butter.
Once the platanos are cooked, serve them on a plate. I drizzled honey on top of them then I added a generous amount of Mexican crema (table sour cream) and crumbled queso fresco (fresh white cheese). I really wish I had some cilantro on hand to throw over it to make the photo pop, but this Latina was out of it, I know I know! I wouldn't advise adding the cilantro. Not sure why I even mentioned it haha jaja.
This recipe will pair well with my pernil recipe and pork taquitos recipe. Be sure to check them out!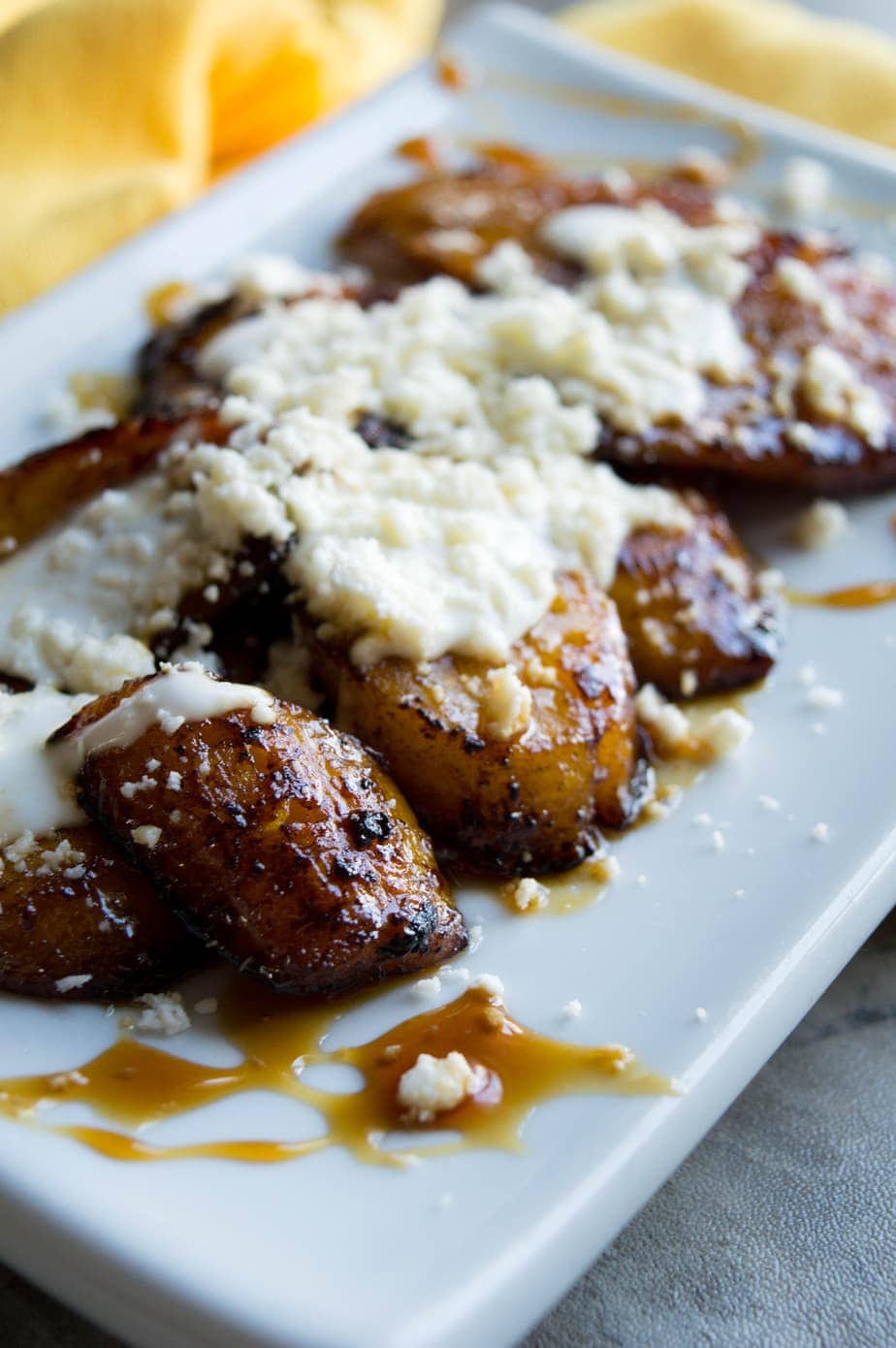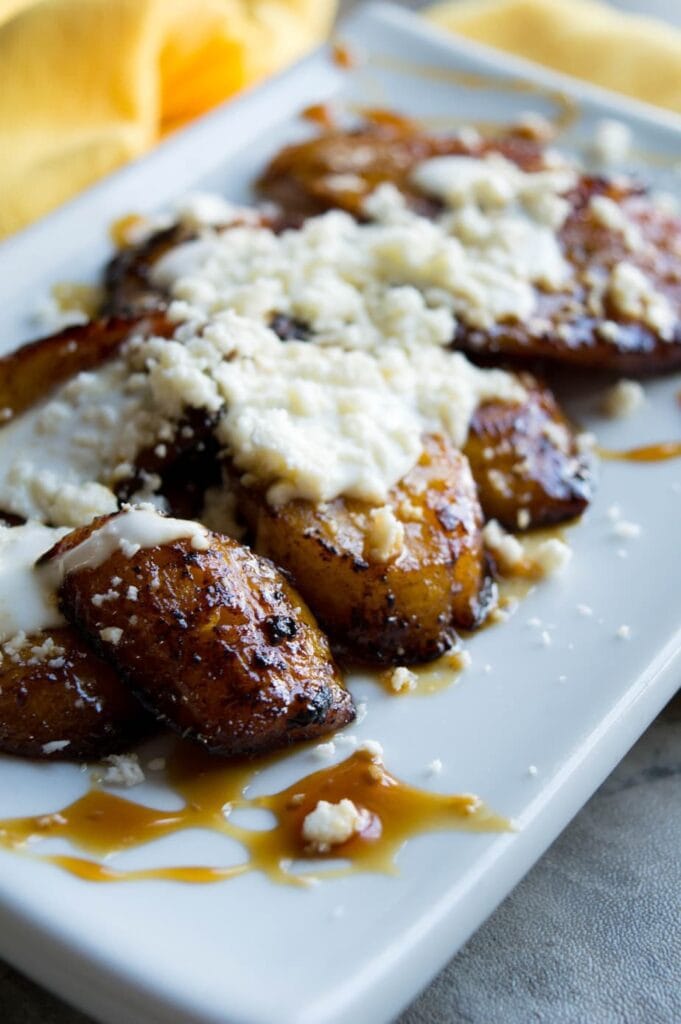 I hope you enjoy this recipe mi gente. If you'd like to see more recipes like this, let me know in the comments below and remember to subscribe to stay up to date and receive polls from me. Your voice matters mi gente. Thank you for visiting and as always, buen provecho mi gente!
📖 Recipe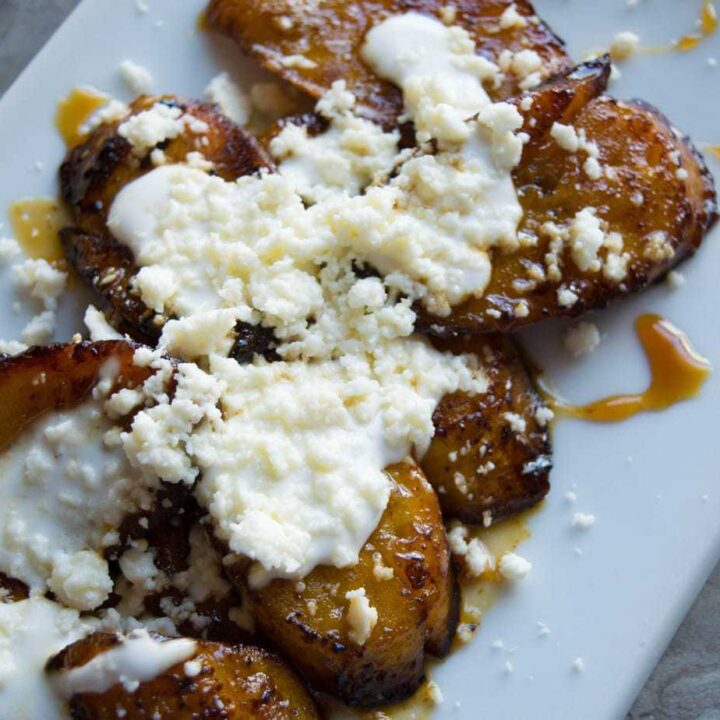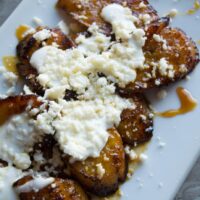 How To Make Street Style Orange Honey Plantains
Sweet and savory, these Mexican Inspired orange honey plantains are the perfect side on Taco Tuesday!
Print
Pin
Rate
Ingredients
2

ripe plantains

peeled and sliced diagonally into 1 inch sections

1

cup

of orange juice

1

tablespoon

of honey

more to drizzle

1

teaspoon

of cinnamon

2

tablespoons

of brown sugar

pinch

of salt

4

tablespoons

of unsalted butter

Mexican sour cream for topping

as desired

Queso Fresco

fresh white cheese for topping, as desired
Instructions
In a bowl add in orange juice, honey, cinnamon, brown sugar, and salt. Mix together to create a marinade.

Add plantains to the bowl of marinade, allow plantains to marinate for 10 minutes.

Once plantains have marinated, add butter to a pan over medium heat. Allow butter to melt. Add in a single layer of plantains, with space for them to cook.

Cook plantains about 4 minutes on each side or until golden brown.

Serve hot and add a dollop of sour cream and a generous amount of crumbled queso fresco.
Nutrition
Serving:
0
g
|
Carbohydrates:
0
g
|
Protein:
0
g
|
Fat:
0
g
|
Saturated Fat:
0
g
|
Polyunsaturated Fat:
0
g
|
Monounsaturated Fat:
0
g
|
Trans Fat:
0
g
|
Cholesterol:
0
mg
|
Sodium:
0
mg
|
Potassium:
0
mg
|
Fiber:
0
g
|
Sugar:
0
g
|
Vitamin A:
0
IU
|
Vitamin C:
0
mg
|
Calcium:
0
mg
|
Iron:
0
mg