Juicy, tender, and perfect for a weekend dinner, this BBQ pork ribs, also known as Puerto Rican costillas BBQ are begging to be grilled!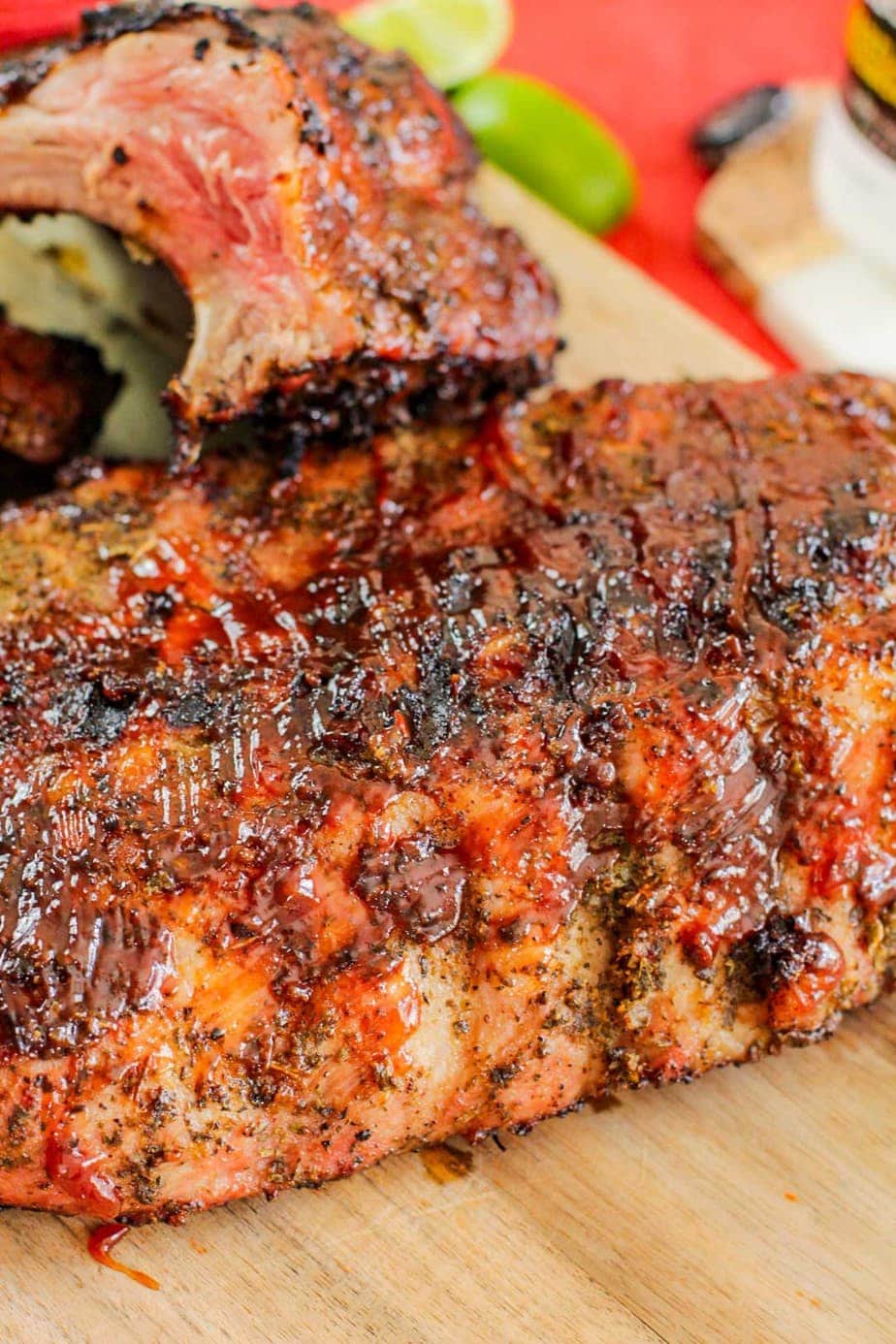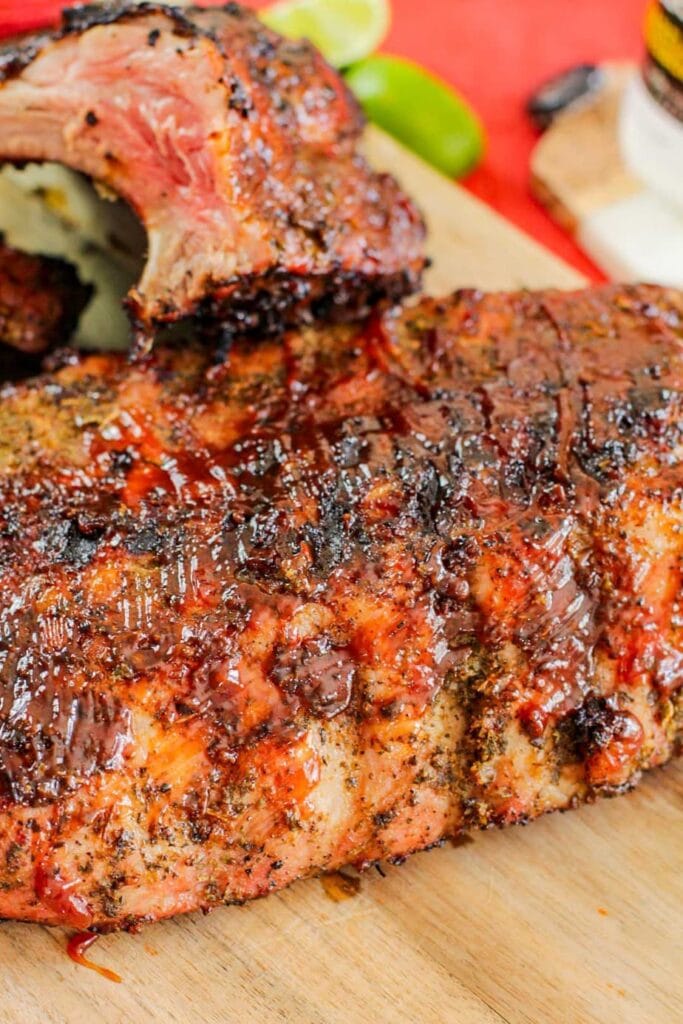 Growing up, my mom has made the best costillas ever. Her pork spare ribs are to die for. She bakes her spare ribs in the oven, but today, I am sharing a grilled ribs recipe.
Tips for making amazing ribs
To have amazing ribs, you want to make sure that they are flavorful and tender. The longer you let your costillas (spare ribs) marinate, the more flavorful they will become. Ideally, you should season your ribs the night before.
How To Make Ribs Tender
Choose a more tender rib cut. Baby back ribs naturally are more tender than spare ribs.
Pre-bake the ribs before grilling it. My friend from Taste's of Lizzy T shares her method for making amazing ribs here.
Use a tenderizer seasoning. I personally don't feel that ribs are that tough to warrant using a tenderizer seasoning. But this is an option.
Give the ribs time to slowly cook. Slow and low like my pernil recipe always makes the meat fall off the bones.
For EXTREMELY tender ribs, you'll want to skip the grill and use the Instant Pot. Seriously. Bone falling costillas, this is my favorite way of making amazing ribs when we have cold weather.
How To Season Ribs
Pork ribs need more seasonings than beef ribs. For this BBQ pork ribs, I am making it a Puerto Rican recipe by incorporating homemade sofrito, oregano, salt, pepper, and onion powder. Super easy amazing ribs ready to grill. Once the ribs are cooked, I then brush it with BBQ sauce and let it become sticky by cooking it a little bit more.
When you season ribs, you can use any kind of dry rub you desire, or adobo seasoning for a Latin taste. Be generous with seasoning your pork ribs. If you're using BBQ sauce for your pork ribs, be sure to grab your favorite one and be generous when it is time to add it.
What is sofrito?
For these costillas, I'm choosing to use sofrito, which is a sauce made up of cilantro, onions, peppers, and a few other ingredients. I'll post the video below on how to make sofrito. If you do not have all of the ingredients, just add ¼ cup of cilantro, 1 chopped red pepper, 6 cloves of garlic, ½ onion to a food processor to create a simple sofrito sauce.
Sofrito has a blend of vegetables and herbs that elevate dishes and gives it a distinct Puerto Rican flavor. Again, if you don't have it, that is fine. Add adobo seasoning and olive oil for a grilled adobo pork rib recipe.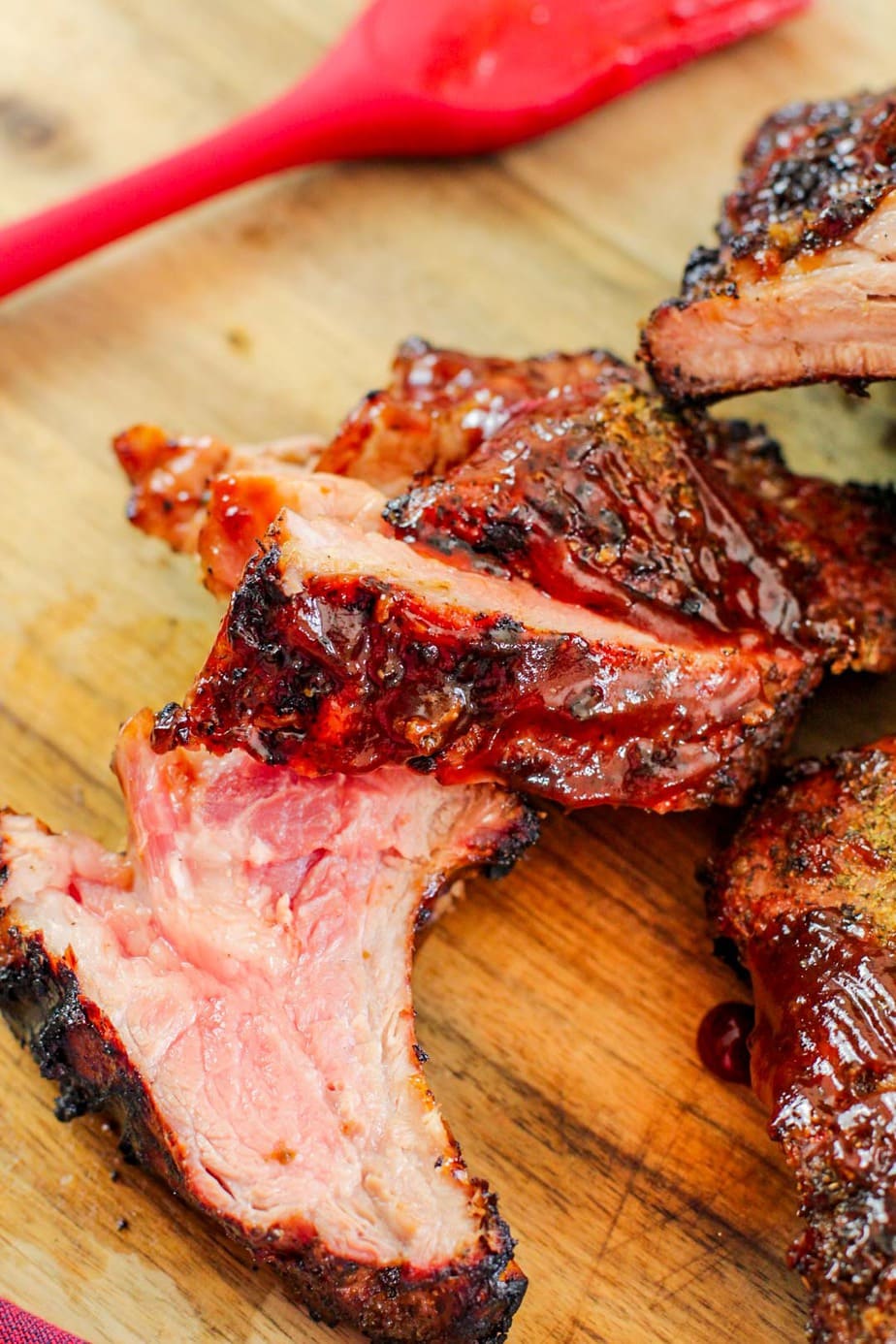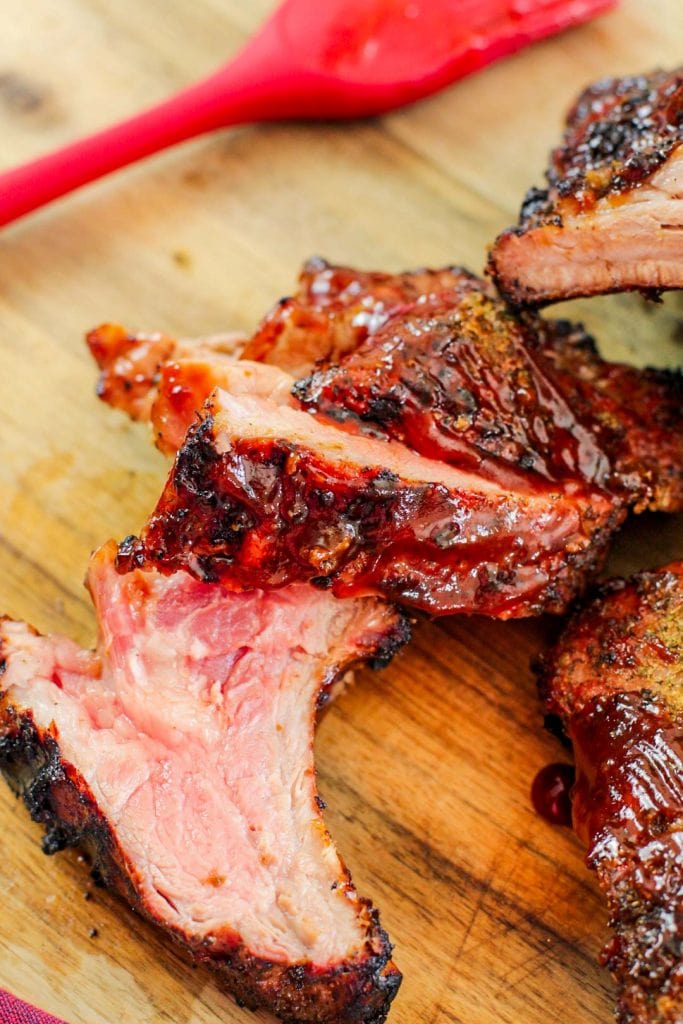 How To Cook Ribs On The Grill
Once your pork ribs have marinated for a few hours or overnight, it's time to grill them. Remember to really massage the sofrito and seasonings into the pork ribs. Cover the bowl too!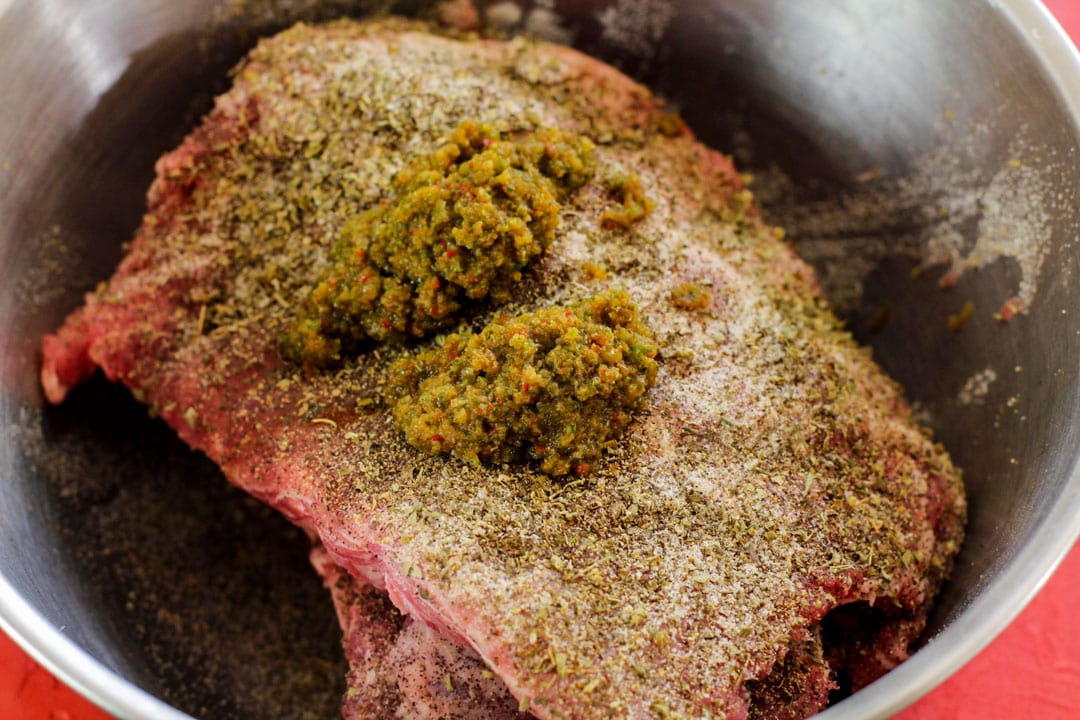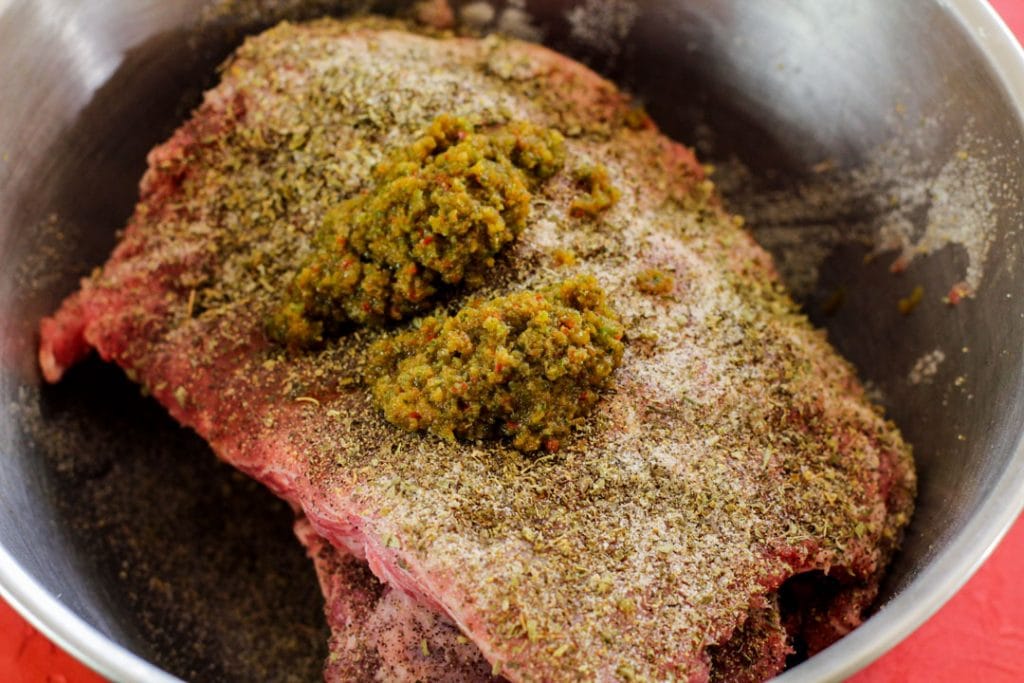 When cooking ribs on the grill, you need to oil the griddle and preheat the grill (for about 10 minutes). We want tender ribs so aim for medium, medium high heat. Then lift your ribs and allow all of the excess sofrito and drippings to come off. Add the ribs to the grill cover and set a timer for 8-10 minutes. After 8-10 minutes, you'll flip your ribs, and repeat until ribs are cooked.
This method is for using a gas grill. You don't want your spare ribs to burn. If you have a smoker, you could go much longer between flipping the pork ribs.
How Long Do I have to cook my pork ribs?
You need a digital meat thermometer. The USDA says pork is safe to eat once it reaches 145 degrees Fahrenheit. A lot of restaurants are beginning to offer more and more medium rare pork ribs. As long as it reaches 145 degrees, it is safe to eat.
Many people like ribs cooked until the temperature reaches 190-203 degrees Fahrenheit. For this BBQ pork ribs recipe, I wanted a medium rare pork, and cooked my pork until it reached 165 degrees Fahrenheit. You can definitely cook it longer if you don't want to see a trace of pink in your pork ribs.
Remember, the less you open your cover, the better the heat retention too. Also, the thickness with the spare ribs also needs to be taken into account with cooking your BBQ pork ribs.
Once your pork ribs reaches the ideal temperature, brush a generous amount of BBQ sauce over your pork ribs, grill a few minutes, flip and brush that side with BBQ sauce too.
Total time for grilling? It varies. Minimum time, I'd say 40 minutes. Maximum time? If you're choosing really low temps (like 275-300), an hour. Here's a good read on how long to grill ribs for.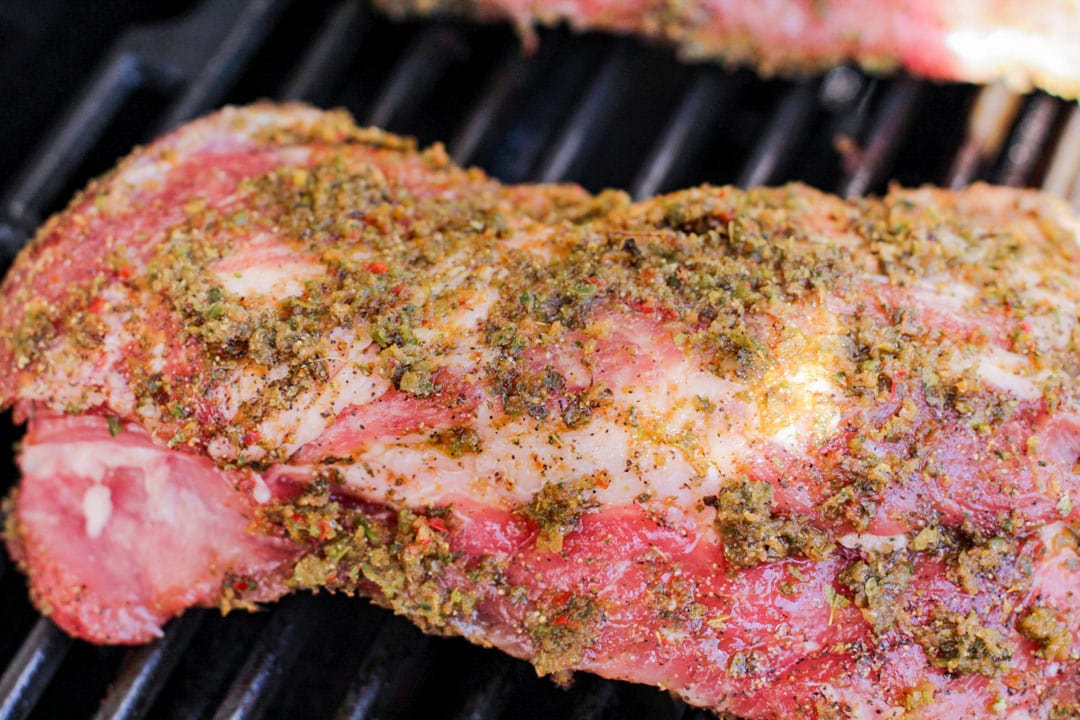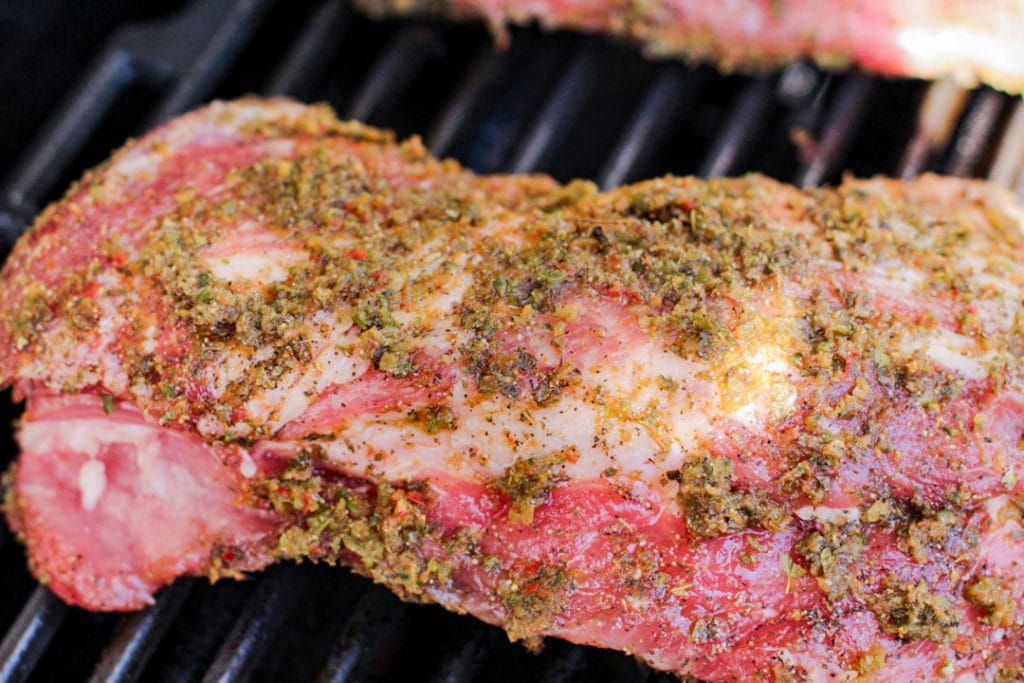 These Puerto Rican costillas are a favorite outside of my moms oven baked Puerto Rican pork ribs. (Coming soon!) I hope you enjoy this recipe, be sure to share with your friends, subscribe, and leave a comment. As always, buen provecho.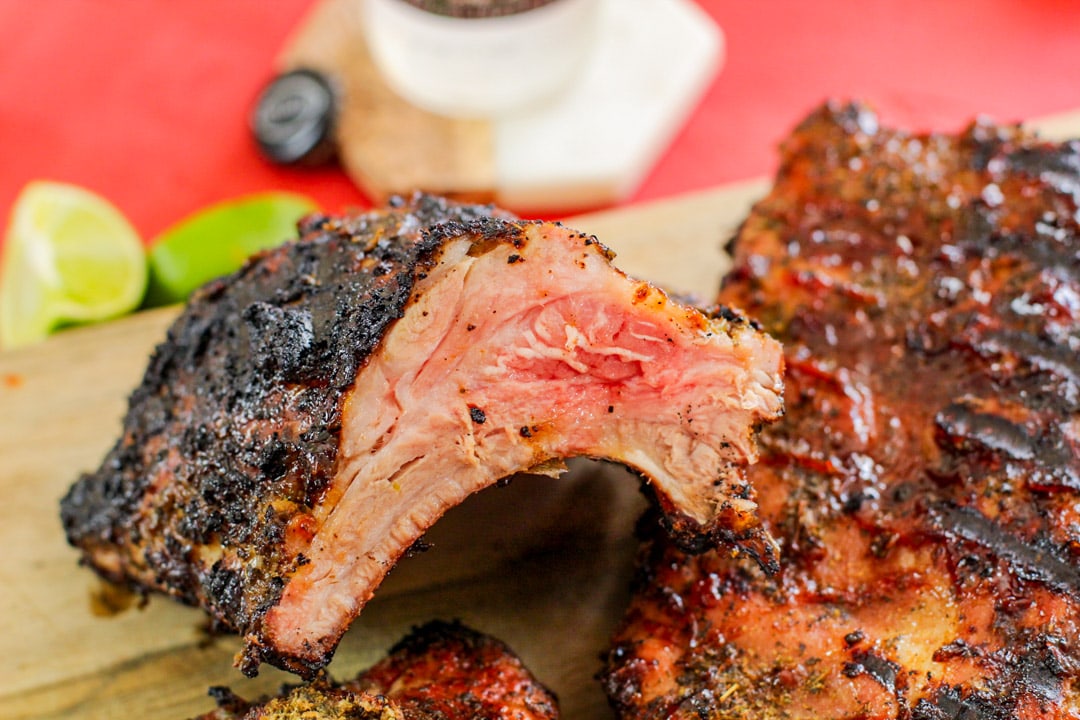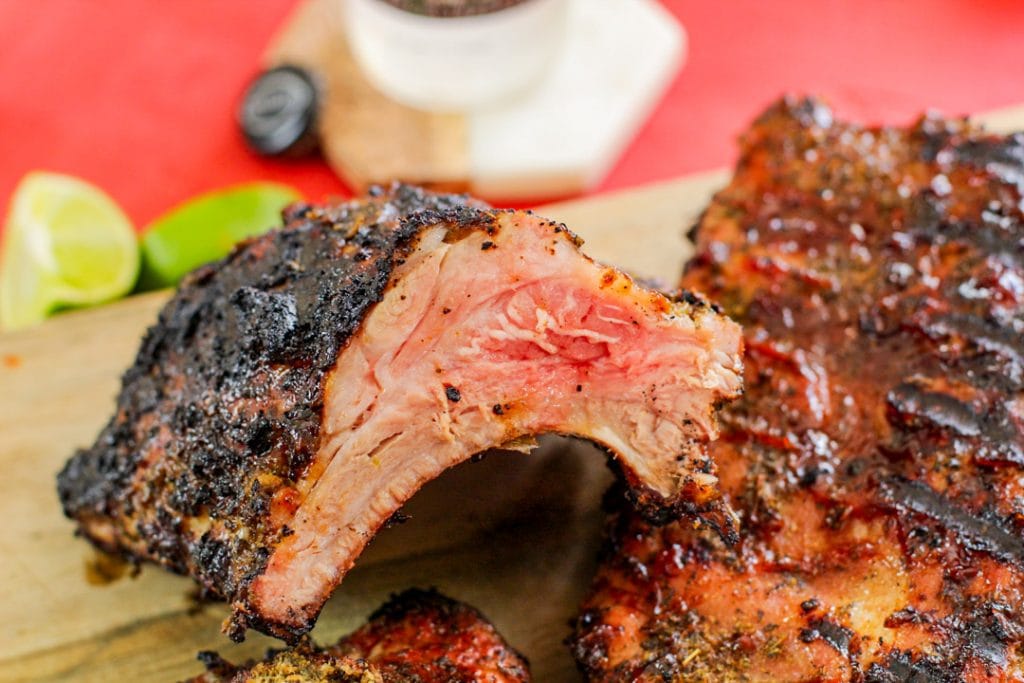 📖 Recipe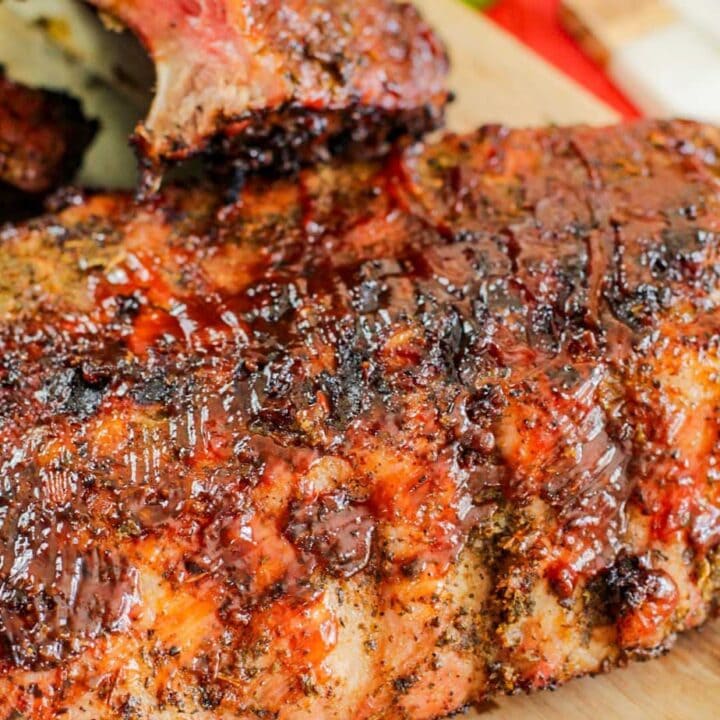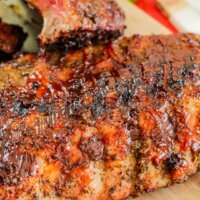 Puerto Rican BBQ Ribs
These grilled pork ribs are smothered in BBQ sauce and pure deliciousness!
Print
Pin
Rate
Instructions
Cut spareribs into two sections.

In a large bowl add seasonings and sofrito. Mix together to season, let marinate ½ hour to overnight.

When ready to grill, brush griddle with oil and preheat over medium high.

Add ribs to the grill and cook for an hour, turning over the ribs ever 10 ish minutes for a medium well pork ribs. For medium rare, cook for about 45 minutes, or until the internal temperature reaches at least 145 degrees Fahreneheit. But for a more tender pork ribs and what is normally served, go for 190-203 degrees Fahrenheit.

Once the ribs are cooked as desired, rub with a generous amount of BBQ sauce, cook for 3-5 minutes, flip and brush with additional BBQ sauce a few more minutes and then serve.