White bread filled with a creamy spam and cheese mixture creates a classic Puerto Rican party sandwich known as sandwich de mezcla.
Sandwich de mezcla is a classic Puerto Rican sandwich that is served at birthday parties. The sandwich is cut into triangles with the edges trimmed off to create the perfect appetizer that kids can grab and go.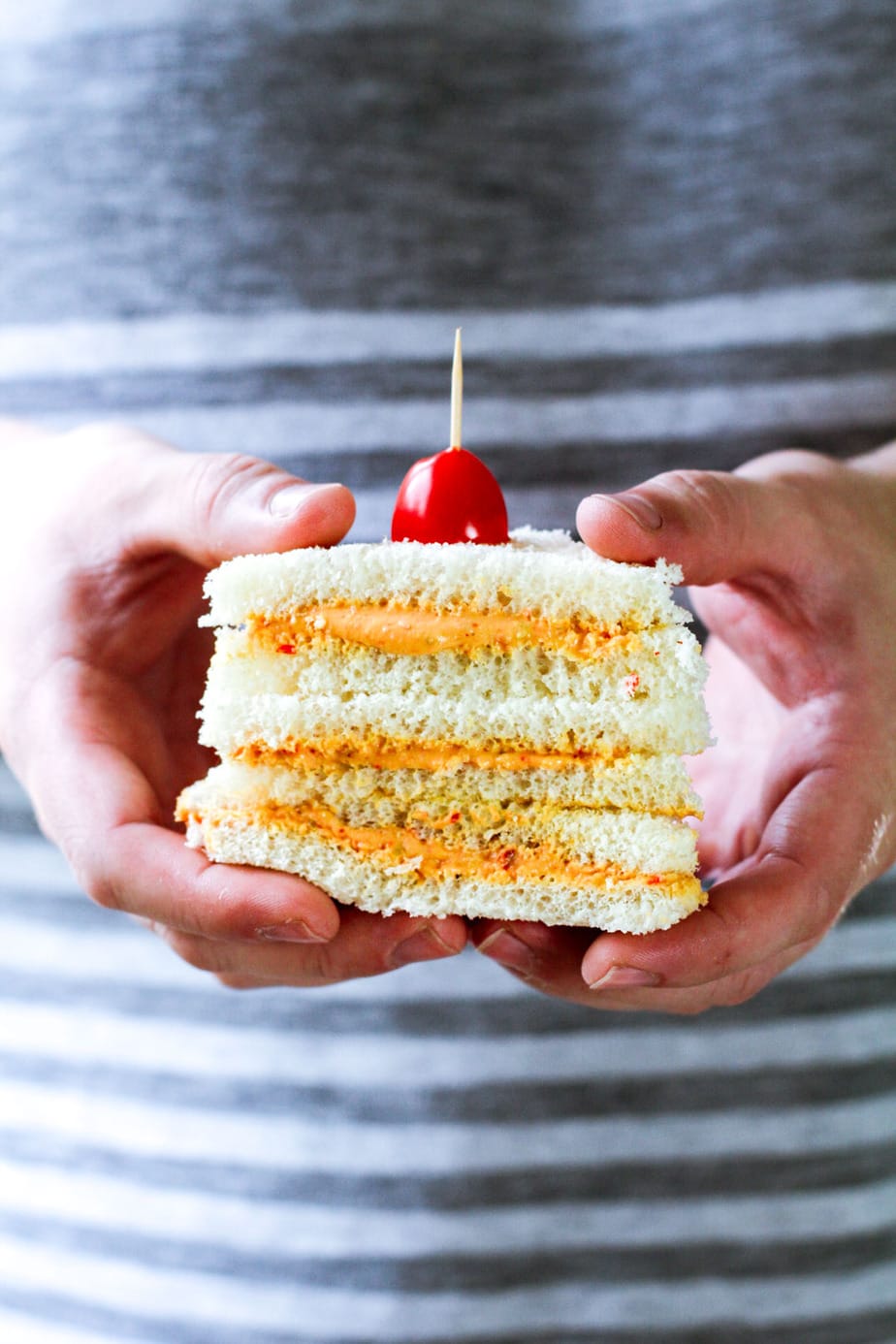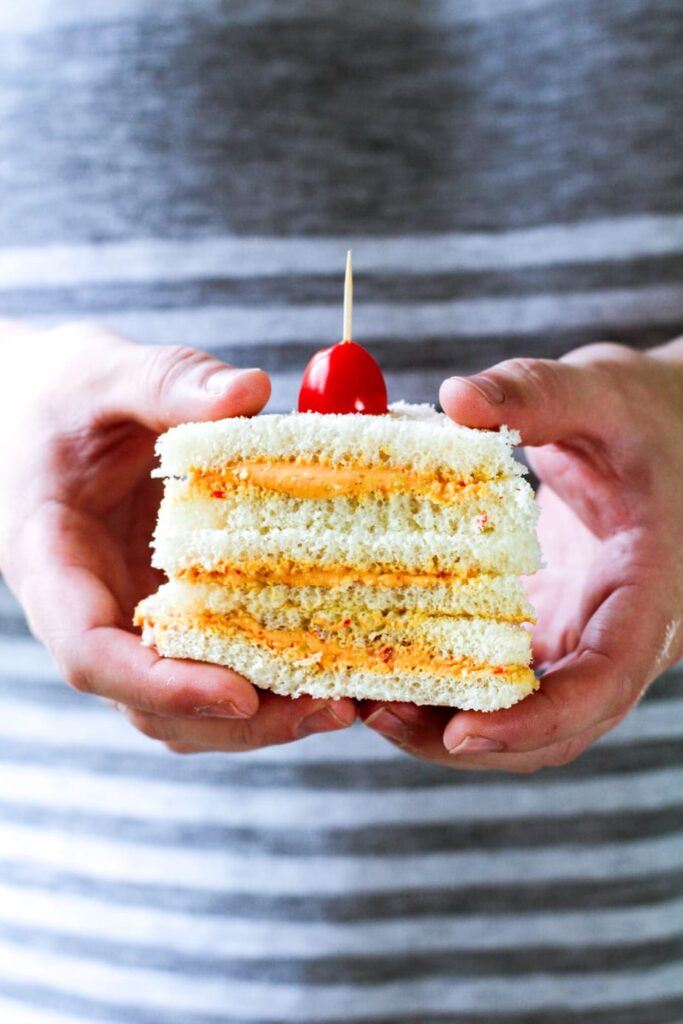 What is sandwich de mezcla?
Traditionally served at kids birthday parties, sandwich de mezcla -also known as sandwichitos de mezcla, is a Puerto Rican sandwich that has a creamy cheese and spam filling. I realize, it sounds disgusting, but it's pretty tasty, especially with this recipe!
Is sandwich de mezcla healthy?
On an Island where fresh fruit and vegetables are always available and a few feet away from your house, it is okay to serve processed foods at parties. Sandwich de mezcla is a processed recipe that uses canned meat, white bread, and cheese whiz (or sauce).
Sandwich de mezcla is also served in small portions, so this is where moderation is key! There is only about 1 tablespoon of the mezcla cheese mixture in a sandwich that is cut into two triangles, so this recipe is about as healthy as chips and dip is.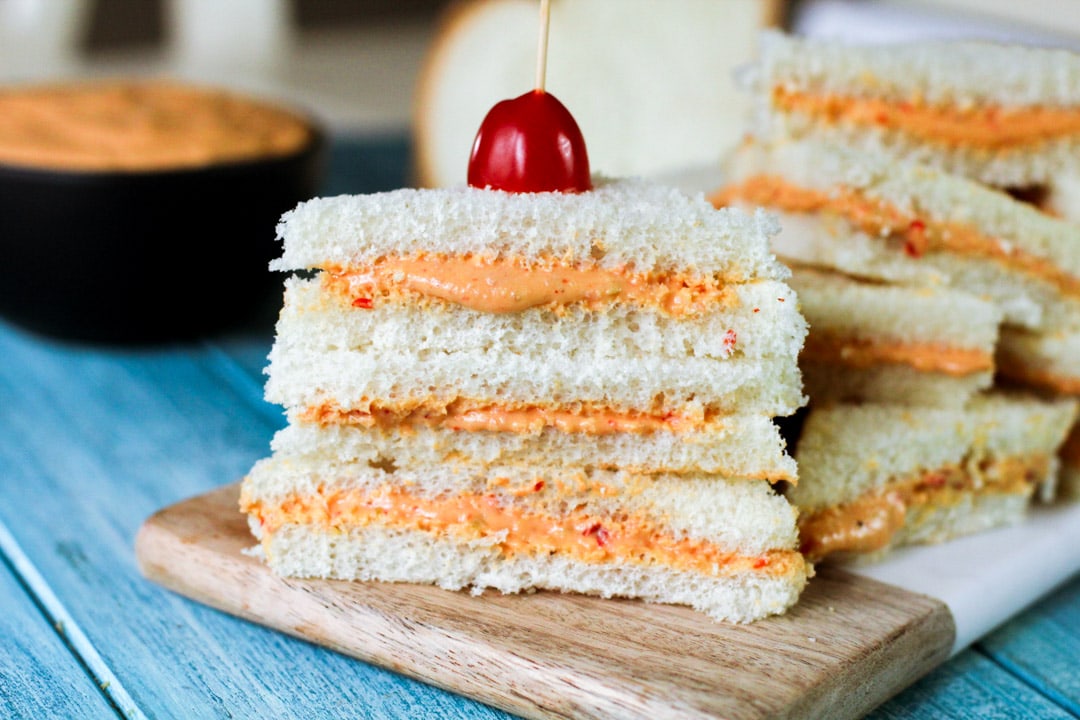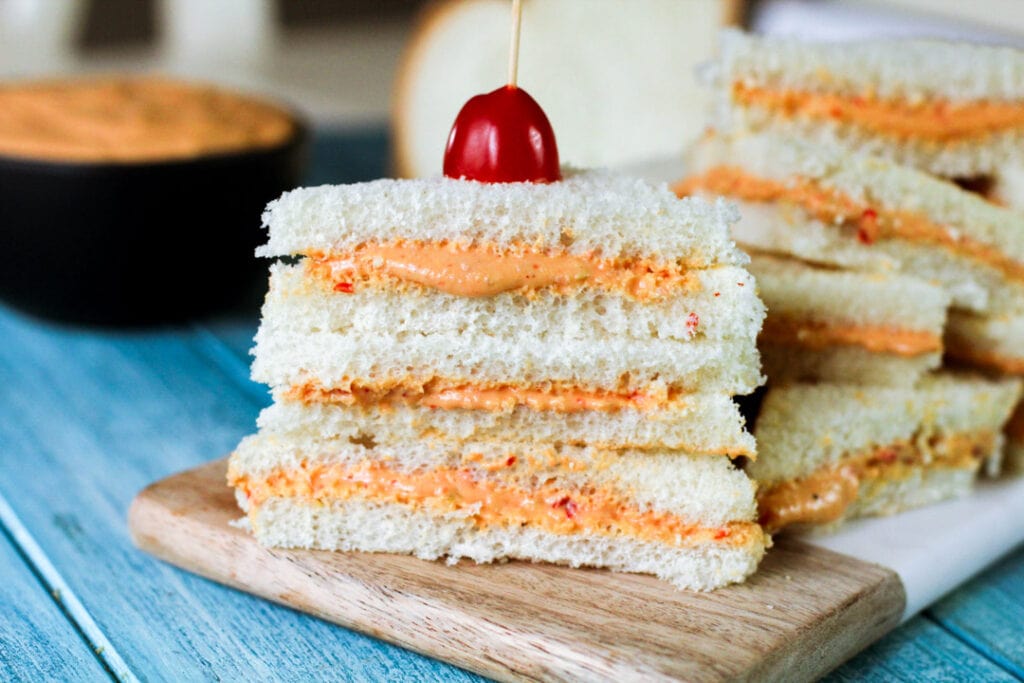 How do you make sandwichitos de mezcla?
These Puerto Rican sandwiches are made traditionally with white sliced bread, where all 4 edges are trimmed, then a generous spoon of the mezcla cheese is spread over the center and sandwiched between the bread, and then cut in half, to form two triangles. Think of tea party sandwiches!
How do you make creamy mezcla cheese?
The spam and cheese sandwich mixture gets pulsed in the food processor for a creamy consistency. This current recipe is actually updated, my previous one did not pulse the spam and ingredients, instead I had finely chopped the spam and mixed the rest of the ingredients for a more rustic sandwichitos de mezcla -which I assume was how it was served in the 50's when food processors weren't readily available (Or even created?).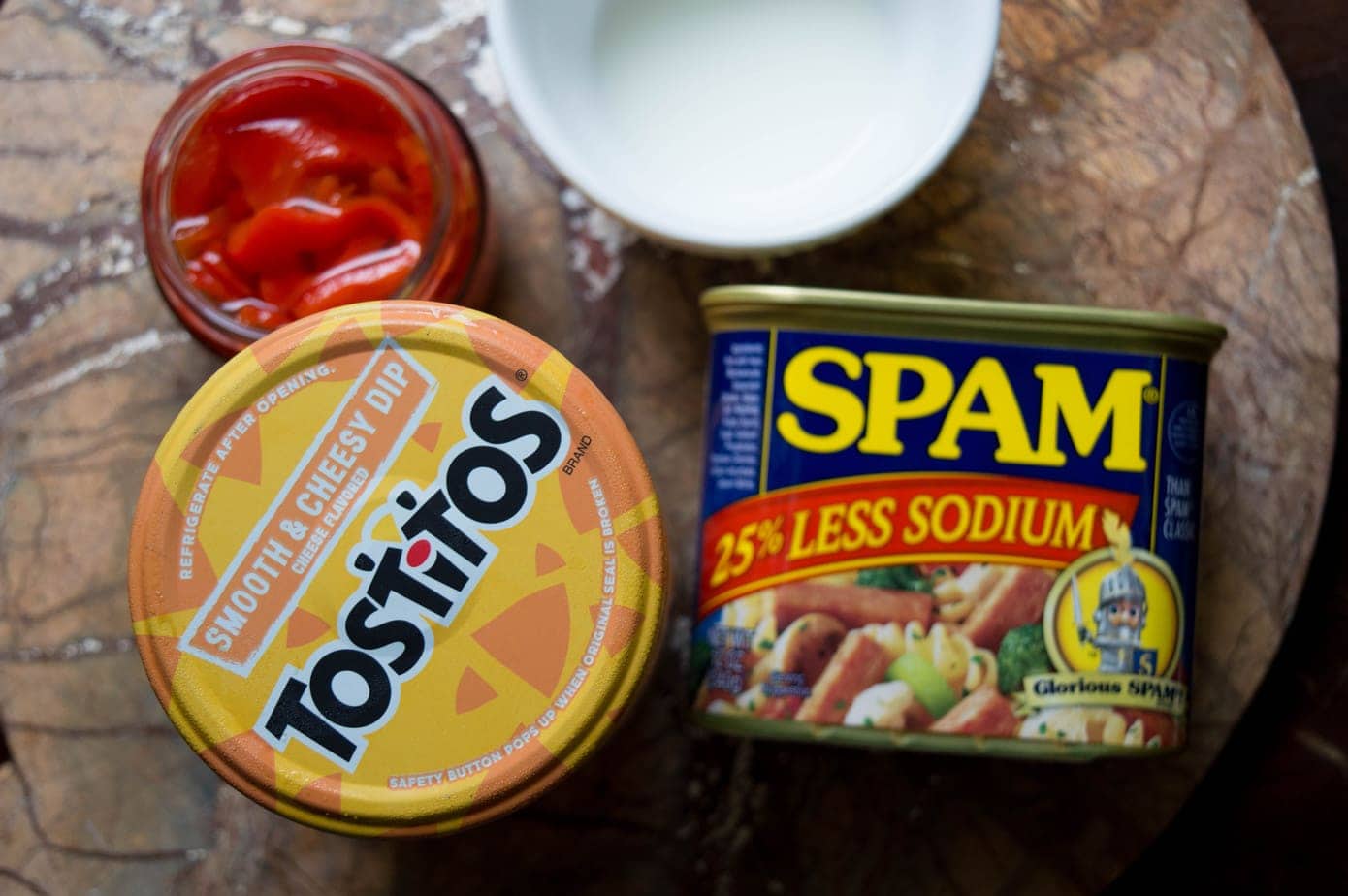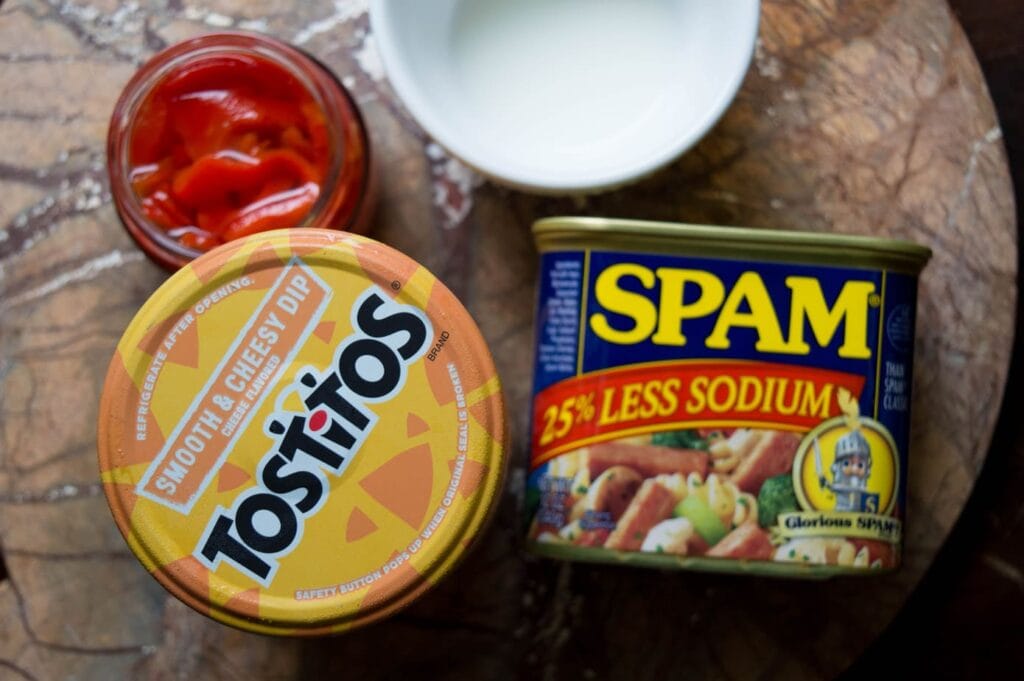 Do I have to use spam for sandwich de mezcla?
Traditionally, original Spam is used for sandwich de mezcla. You can use any brand of canned meat. I prefer to use lower sodium Spam, since the salt level in canned meat products tend to be high.
Did you know Spam carries a bunch of flavor options for canned meat?! There's a chorizo flavored one! If you see it on the shelf, grab that one, and let us know in the comments below how it tastes. Here's a link of the list of Spam varieties available.
Pork Free Sandwich de Mezcla
For a pork free sandwich de mezcla, Spam makes a turkey canned meat version!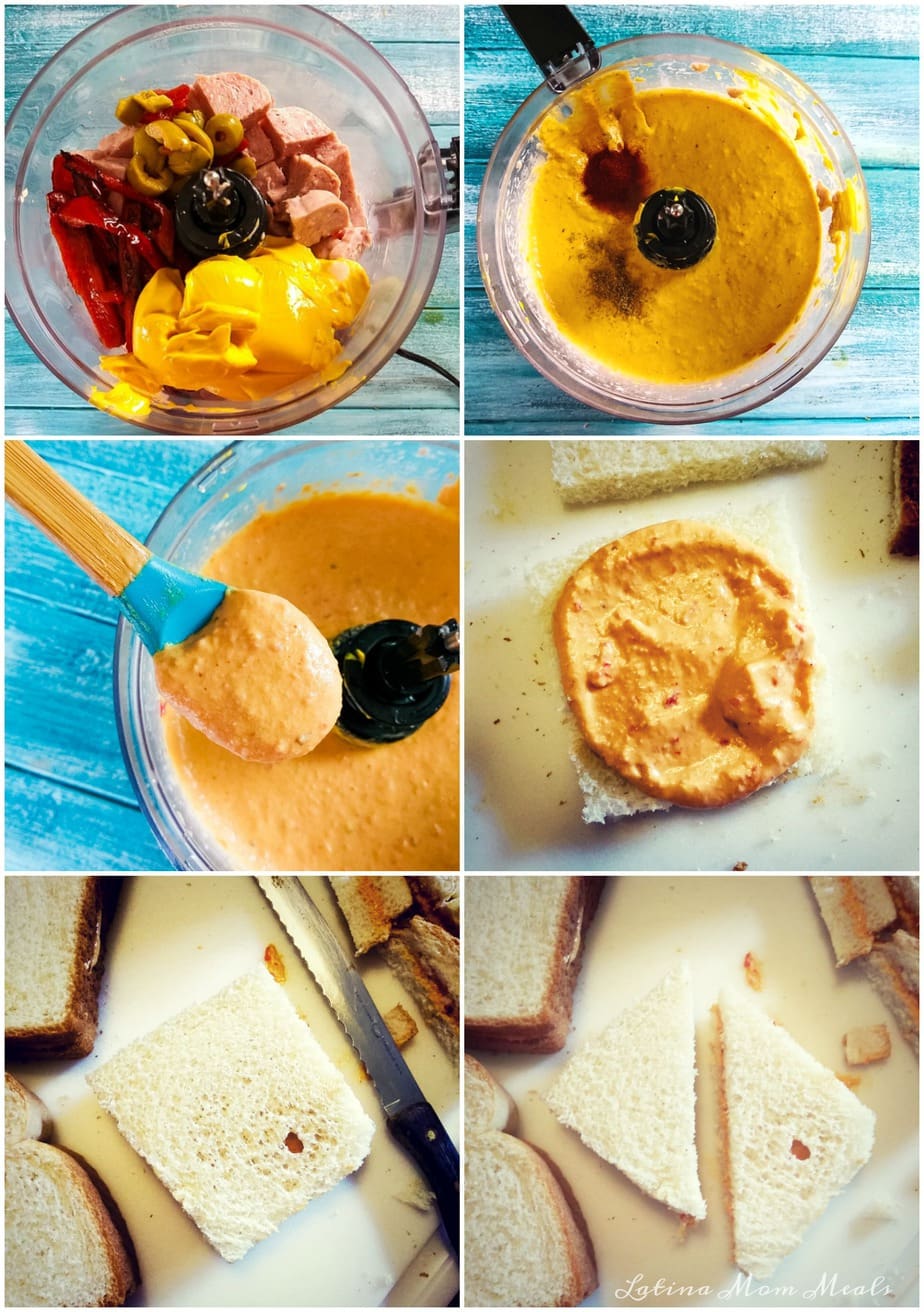 What kind of bread is used for sandwich de mezcla?
I've always seen these spam and cheese sandwiches made with white bread. For a healthier version you can make it with wheat, rye, or whole grain bread. If there is a gluten allergy, gluten free bread is also an option!
Now for a true spin, if you want to use it as a dip for crackers, or something else, go for it! I'll stick to the traditional and how my friend Yolanda who inspired me showed me how she makes hers.
Here's a tip for making this sandwich de mezcla: Take off the crust of the bread slices, I like to roll the bread gently to give it an even little stretch. Then put about one tablespoon on, top it with another slice of bread, and cut it to make two triangles. Trim the edges after rolling the bread, but before adding the mezcla cheese!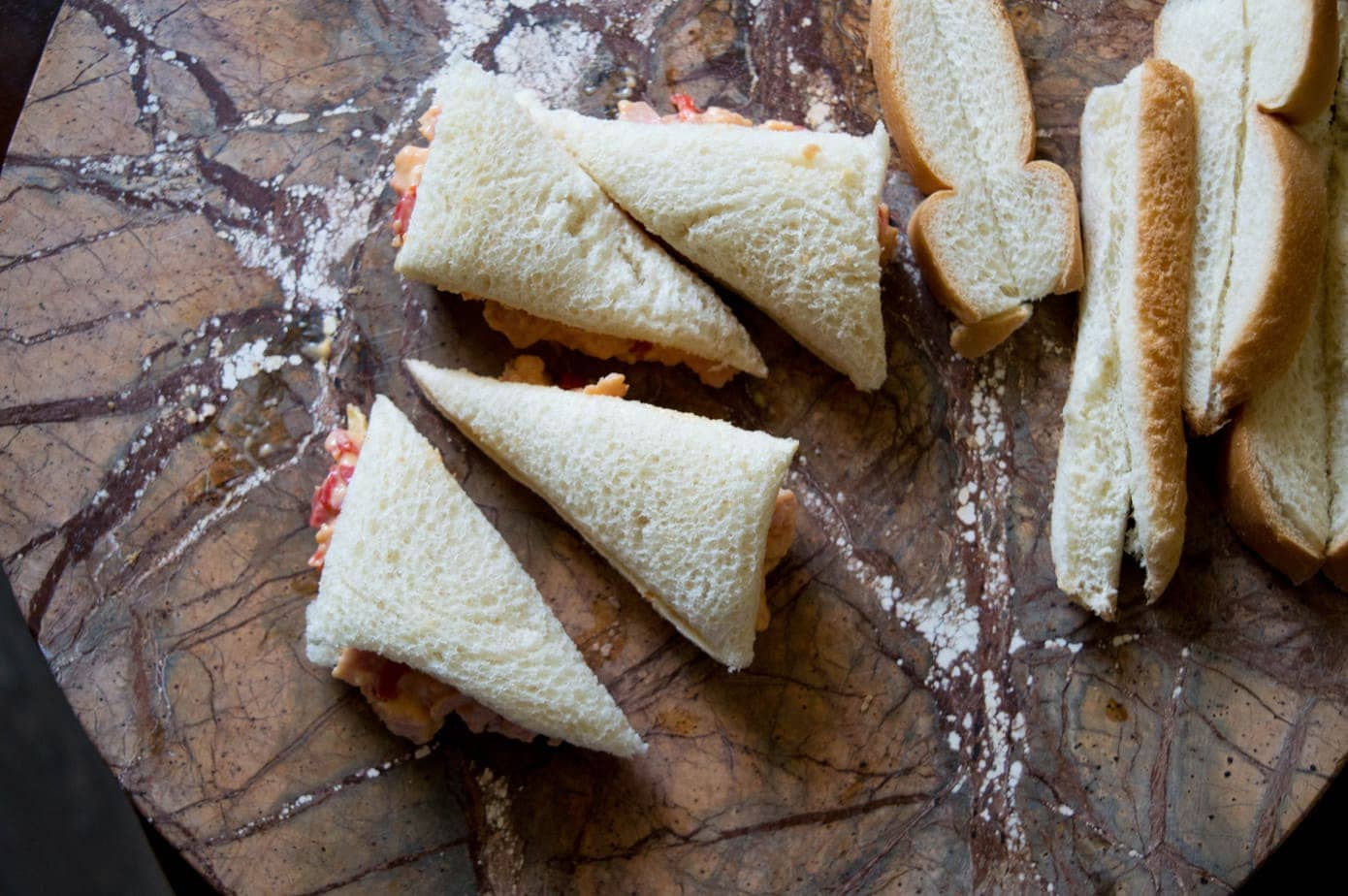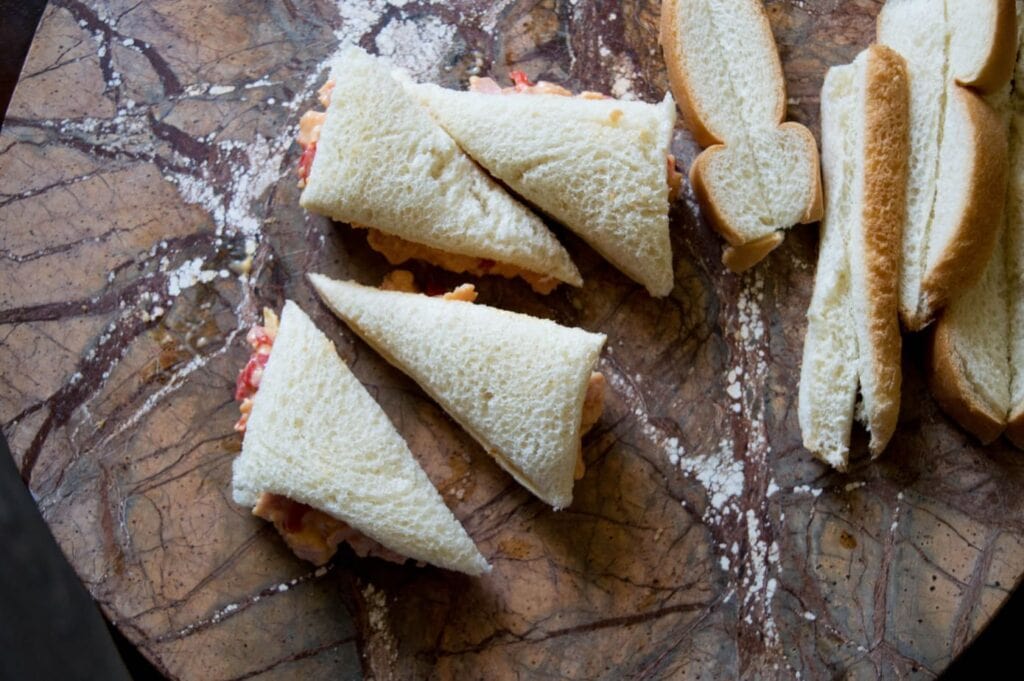 I tend to add a bit too much spread, but that's how I roll yo! This is a great recipe to keep the older kids busy while setting up for the fiesta.
Oh and if you're planning on making a full batch, go ahead and get three loaves of bread together for this. Have I mentioned that this sandwich de mezcla recipe is a cheap party food?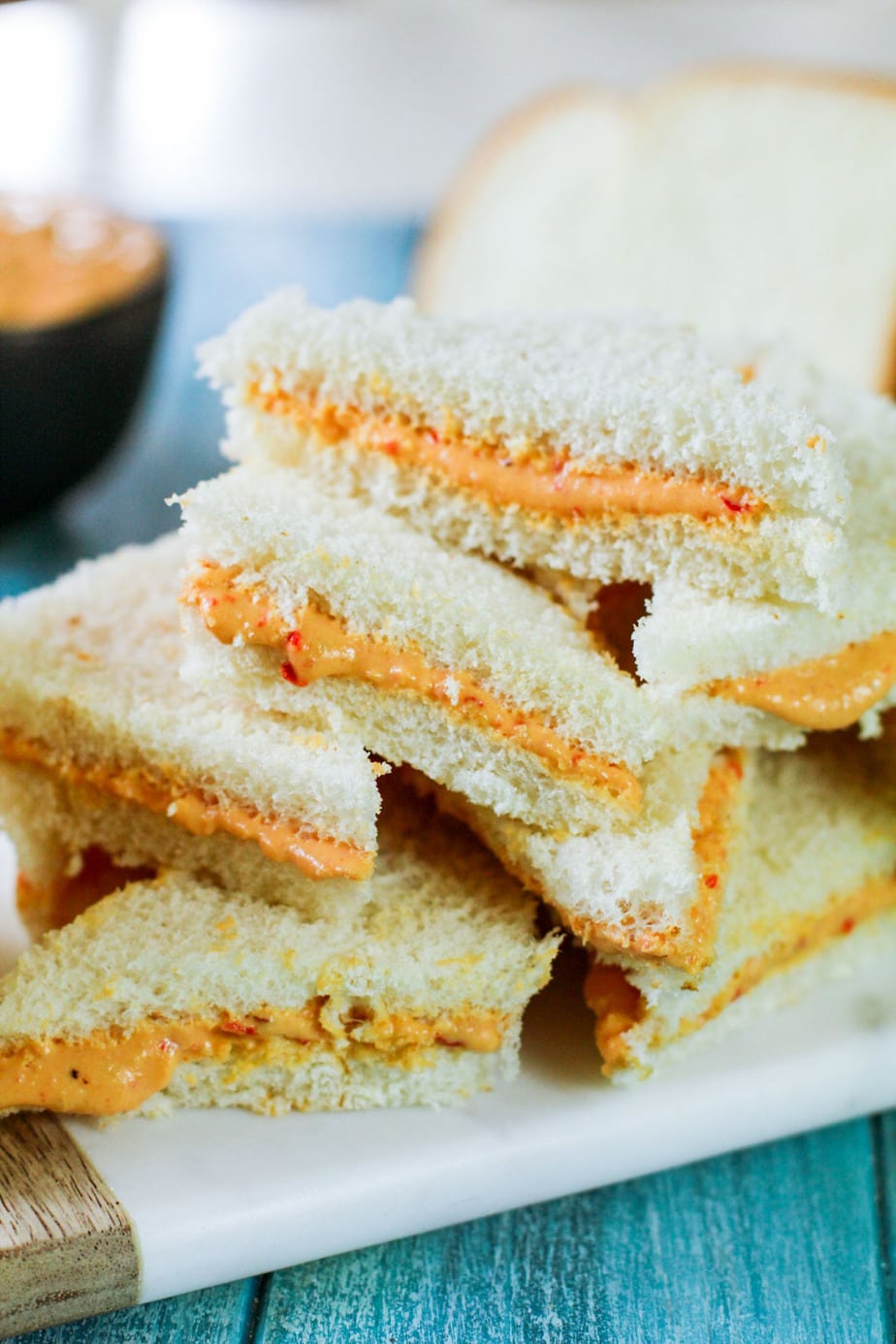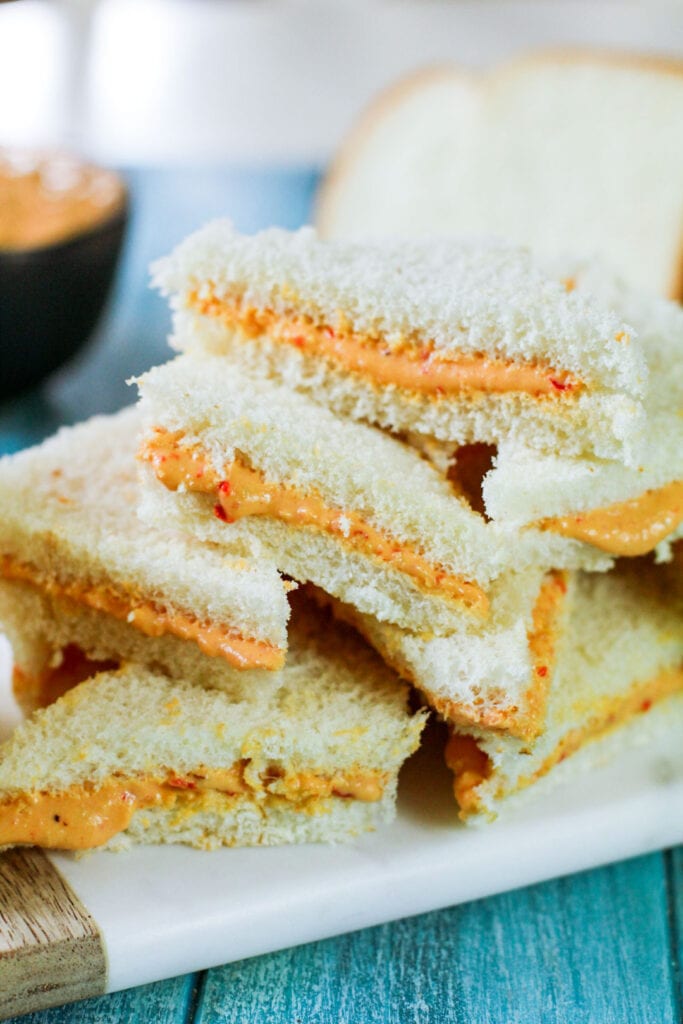 How long does the mezcla cheese last?
The Spam and cheese mixture used in the sandwich de mezcla can last up to one week if stored in an airtight container, in the fridge.
This recipe was originally published on 07/17/2017 and updated on 6/11/2019. The original recipe will be below the updated recipe card.
📖 Recipe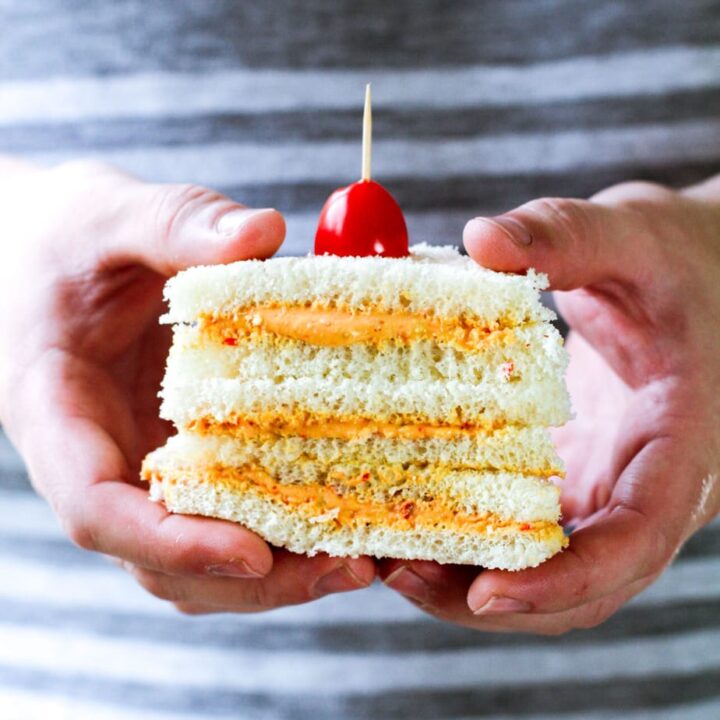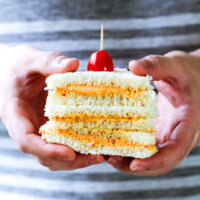 Puerto Rican Sandwich de Mezcla
Traditional Puerto Rican sandwich that is typically served at birthday parties, this sandwich de mezcla is a creamy cheese and Spam blend mixture that is spread onto bread to create little sandwiches!
Print
Pin
Rate
Ingredients
12

ounce

low sodium Spam

chopped

1

small red pepper

roasted or 4oz of roasted peppers

15

ounce

jar of cheese sauce

like cheese whiz

2

tablespoons

of sliced salad olives

drained

3-4

tablespoons

of evaporated milk

¼

teaspoon

of smoked paprika

⅛

teaspoon

of corriander

⅛

teaspoon

of black pepper

½

teaspoon

of lemon juice

3

loaves of bread
Instructions
Into a food processor add all of the ingredients, except for bread.

Pulse on high until ingredients are creamy.

Taste for seasoning, adjust with spices, if desired.

Take bread, gently cut off the ends to create squares.

Add 1-2 teaspoons of the cheese mixture to a slice of bread and spread to cover.

Top with another slice of bread, then cut the bread in half to create two triangles.

Repeat until Spam mixture is used.
Notes
The cheese sauce can be stored in an airtight container and can be refrigerated up to one week.
This process can get messy, it is best to have two knives. One to cut the edges, the other to cut it in half. Have a damp towel nearby to wipe the knife between sandwiches.
📖 Recipe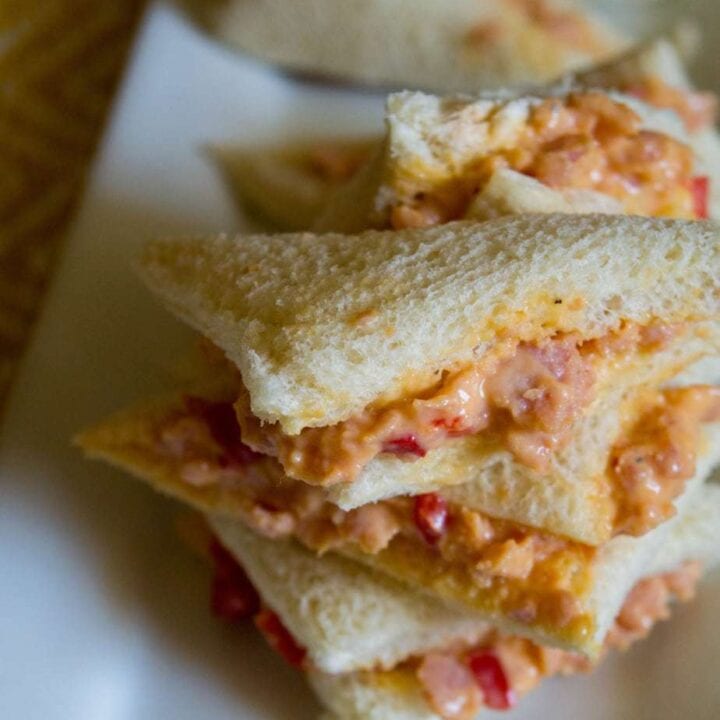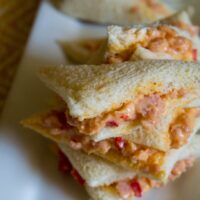 Rustic Sandwich de Mezcla
This simple and rustic sandwich de mezcla is a Spam and cheese mixture filled Puerto Rican sandwich that is served at parties.
Print
Pin
Rate
Ingredients
1

container of spam

finely chopped

8

ounces

of cheese sauce

I used Tostino's

4

ounces

of diced pimientos

drained

¼

teaspoon

of cumin

pepper to taste

sliced bread
Instructions
Add ingredients, except for the bread into a large bowl.

Mix ingredients together.

Gently roll slices of bread to flatten them.

Cut off edges of bread.

Take a slice of bread, spread a teaspoon of the Spam mixture. Top with another slice of bread.

Cut the sandwich in half to create two triangles.

Repeat with remaining Spam mixture.
Notes
This is the older 2017 version of our sandwich de mezcla recipe. There is an updated 6/11/2019 version in another recipe card on the same post.