Enjoy the flavors of Puerto Rico and the comfort of America with this easy, Puerto Rican slow cooker lasagna recipe.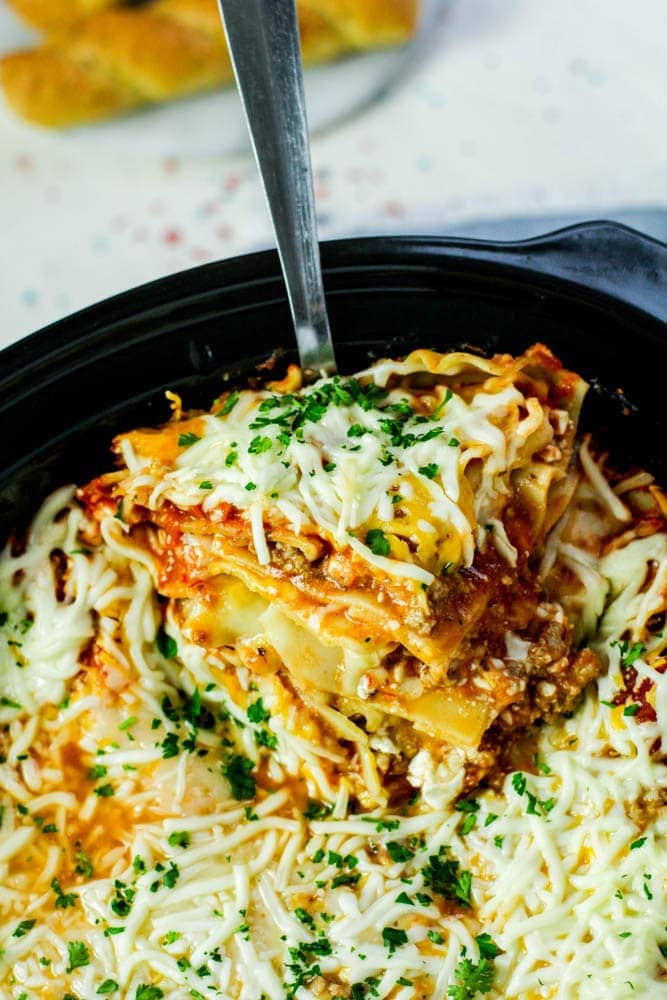 Growing up Puerto Rican lasagna was something I recall eating only a handful of times. My mother was a full-time work at home hairstylist (My father built a salon in the back of the house, pretty cool eh?), so for her making dinner had to be quick and easy and done by 11 am. Which meant a ton of rice and beans recipes!
As a work at home mother myself, I find that I too haven't made Puerto Rican lasagna as much as I probably ought too. Although, I do love stuffed shells! I think with the slow cooker's help, Puerto Rican lasagna will become a part of our meal planning rotation.
How To Make Puerto Rican Lasagna In The Slow Cooker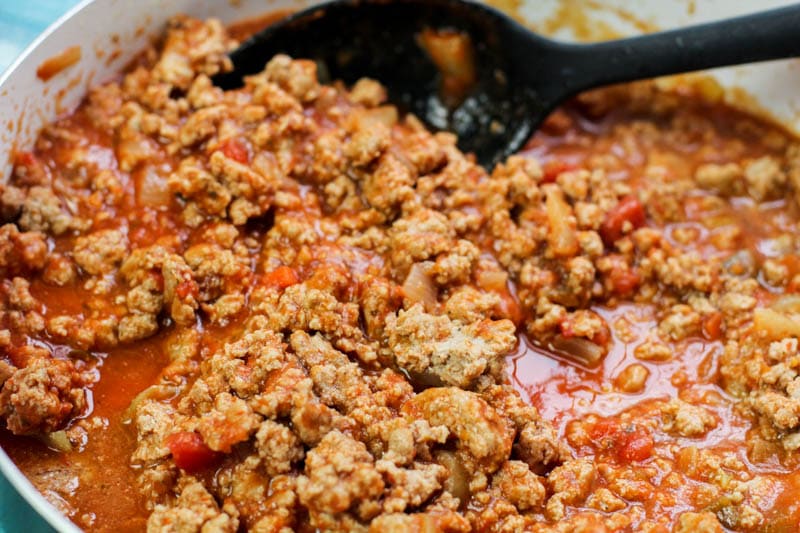 It starts with the meat, this and the noodles have to be pre-cooked, but they cook at the same time. I chose to use ground turkey instead of ground beef in my Puerto Rican lasagna recipe, but really, it's your preference. Brown the meat with onions, homemade sofrito, dried oregano, and salt and pepper. DRAIN out excess grease. Then add 1 and a half jars of your favorite spaghetti sauce. I personally LOVE Newman's Own Sockarooni sauce. Save the other half of the sauce for layering. 🙂
Once your meat is browned and your lasagna noodles are JUST UNDER al dente, drain the noodles and it's time to set up your Puerto Rican lasagna in the slow cooker.
On the bottom of the slow cooker, add spaghetti sauce (not the meat mixture) to coat the bottom, then you're going to add a row of 5-6 lasagna noodles (they will overlap halfway over each).
Then you're going to add in your ricotta (or cottage cheese could be used for a lower fat version) cheese mixture. Layer meat mixture over that and top with shredded cheese before beginning your new layer. Repeat until ingredients are used. There may be some lasagna noodles that can't be used. You can use them in lasagna rolls, if desired. Or butter and parsley for a cheap lunch. 😉
Once all of the ingredients have been added, cover with a lid and cook on high for 2-3 hours (I tried to wait until all of the cheese started melting, and would have waited a little bit longer until you could no longer see the cheese strands, but for photography purposes, I wanted you to still be able to distinguish the cheese strands.) Or on low for 4-5 hours.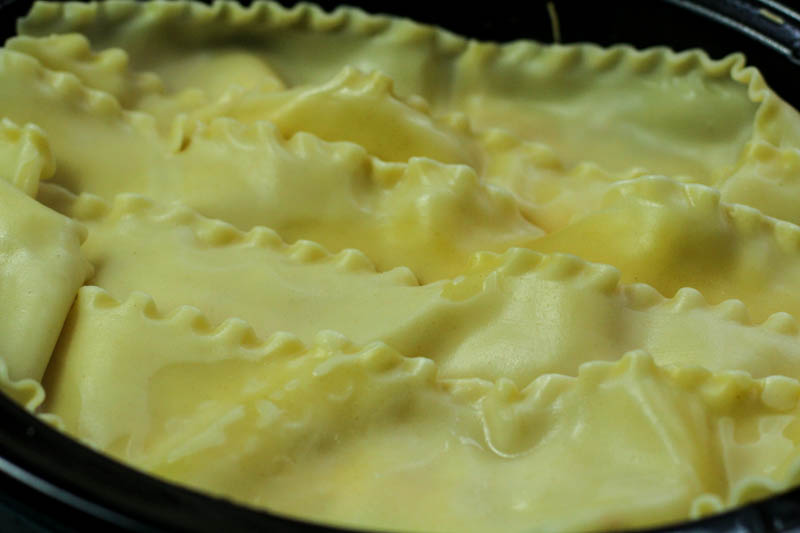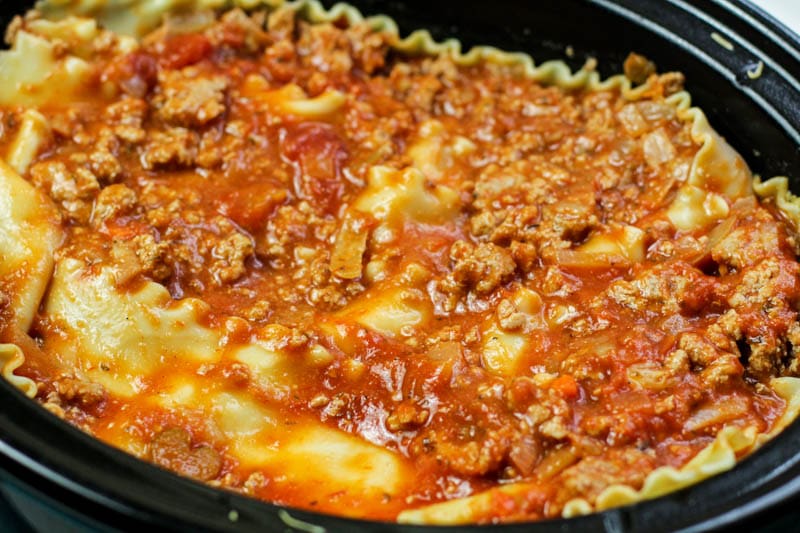 Tips For Making Puerto Rican Lasagna In The Slow Cooker
Cook sofrito with the meat, do not add the sofrito into the lasagna without having had cooked it for a few minutes.
Use ground turkey instead of ground beef to save money.
Add more shredded cheeses for variety. (I used colby, mozzarella, and shredded cheddar.)
Add chopped cilantro for more flavor to your ricotta (or cottage cheese) mixture.
Use cottage cheese to save money and calories.
Wait until all of the cheese melts on top before serving. This lasagna is big, and takes awhile for the whole thing to heat up thoroughly and melt.
Grease your slow cooker! Seriously, don't skip this tip.
Make sure all of the noodles have sauce on them. You don't want crunchy noodles, even if you have to spoon sauce onto specific areas.
Be generous with your sauce. It's a personal preference, but you want a nice saucy lasagna, I mean... don't kill it with sauce. But, just be generous.
Taste your meat sauce before adding it to the lasagna. The meat sauce is the star, make sure your seasonings and herbs are great, adjust before adding to the lasagna.
Dress up your cottage/ricotta cheese mixture. You can go with a simple dried oregano and chopped cilantro, or add in Italian seasonings for best of both worlds!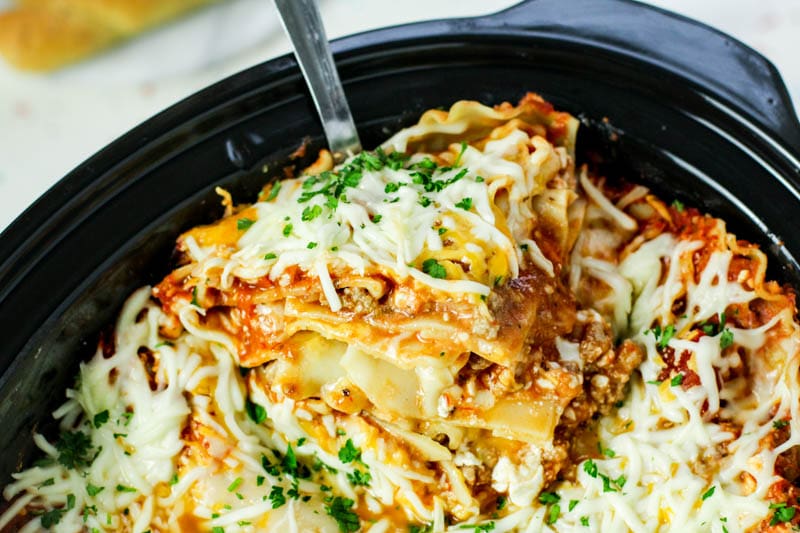 That's it mi gente, this is how to make Puerto Rican lasagna in the slow cooker. I hope you enjoy this recipe, and let me know in the comments below what your favorite pasta recipe is. As always, buen provecho!
More Puerto Rican Recipes To Make
📖 Recipe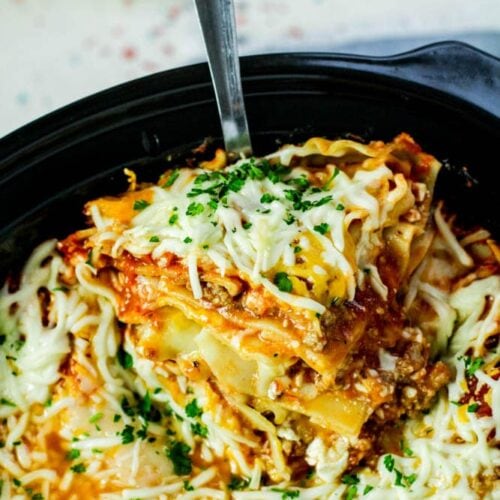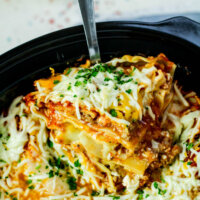 Puerto Rican Slow Cooker Lasagna Recipe
The flavors of Puerto Rico join the comfort of America in this slow cooker lasagna recipe the whole family will enjoy!
Print
Pin
Rate
Ingredients
1

tablespoon

of olive oil

2

pounds

of ground turkey

1

small onion

chopped

2

tablespoons

of homemade sofrito

¼

cup

of cilantro

chopped (optional)

2

teaspoons

of ground oregano

salt and pepper to taste

2

jars of spaghetti sauce

1

pound

of lasagna noodles

cooked

30

oz

of ricotta or cottage cheese

1

egg

⅓

cup

of grated Parmesan cheese

1

tablespoon

of Italian seasonings

½

cup

cup of sharp cheddar cheese

shredded

½

cup

of Colby cheese

shredded

1

cup

of mozzarella cheese

shredded

non stick spray
Instructions
Heat oil over medium high heat, add in ground turkey and onions, once turkey starts to brown add in sofrito, cilantro, oregano and salt and pepper. Keep stirring and cooking until turkey is browned through and cooked. Drain out excess grease. Add in 1 and a half jars of spaghetti sauce, reserving the rest to the side. Cook an additional minute so flavors can incorporate. Set to the side.

In a large bowl add in ricotta (or cottage) cheese, the egg, Parmesan cheese, and Italian seasonings, stir to combine.

Spray non-stick spray to grease the insert of a large slow cooker. Take a generous amount of the reserved spaghetti sauce and coat the bottom of the insert. Layer an amount of 5-6 lasagna noodles (they will overlap) to cover the bottom, next layer an even amount of ricotta cheese mixture to coat the noodles, add a layer of meat mixture to cover the ricotta cheese mixture, next layer on a mixture of shredded cheeses and repeat the process 3 more times or until all of the ingredients have been used. (There will be leftover noodles.)

Cook on low for 4-6 hours or high for 2-4 hours.