Inspired by the rich flavors of my Latina heritage this chorizo frittata recipe is a dish that embodies the essence of Latin cuisine: bold, spicy, and oh-so-delicious!
Chorizo frittata is a sizzling fusion of spicy chorizo, creamy eggs, and vibrant veggies packed together in the best way to make the perfect frittata recipe!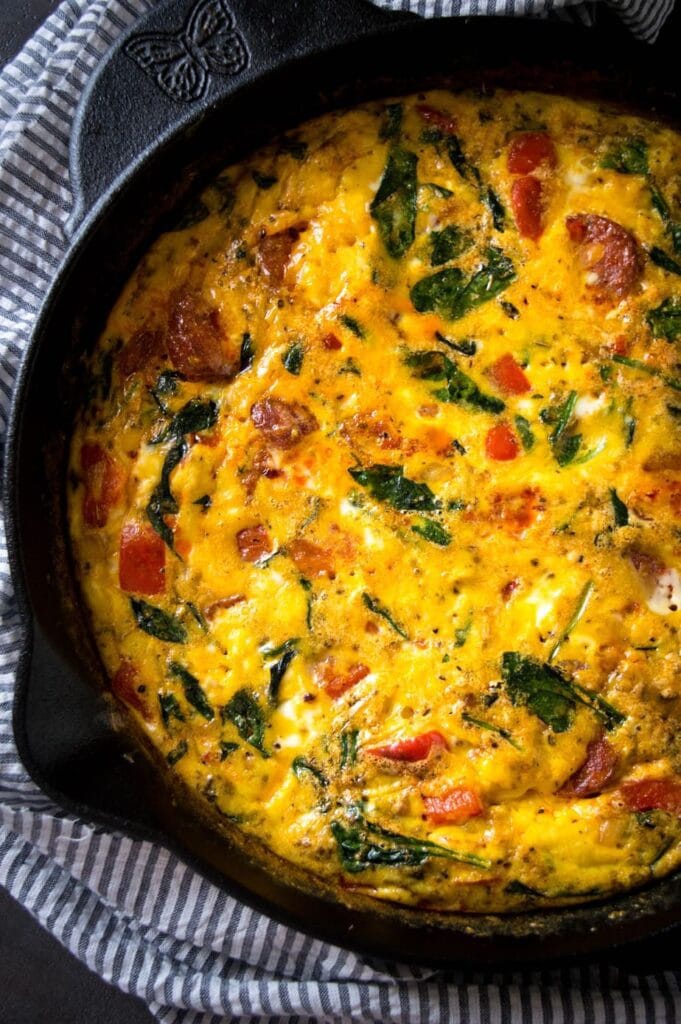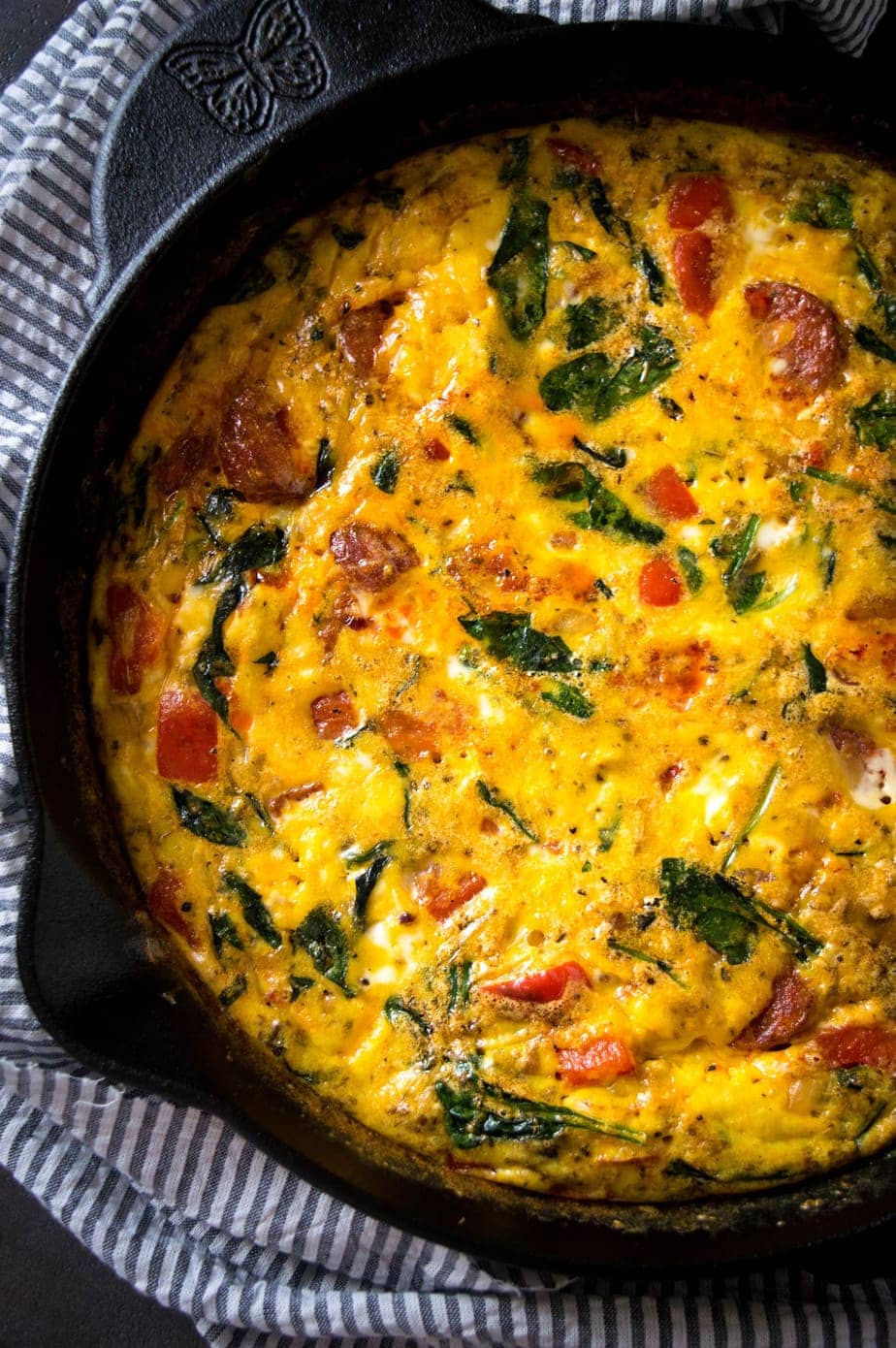 The Essence of Chorizo
You may be wondering, "what is chorizo"?
Chorizo is a sassy, spicy sausage that hails from the heart of Latin cuisine.
Imagine pork or beef seasoned with a blend of smoky paprika, garlic, and red pepper flakes. It's the secret ingredient that adds a fiery kick to your favorite dishes.
Mexican Chorizo vs Spanish Chorizo: What's the difference?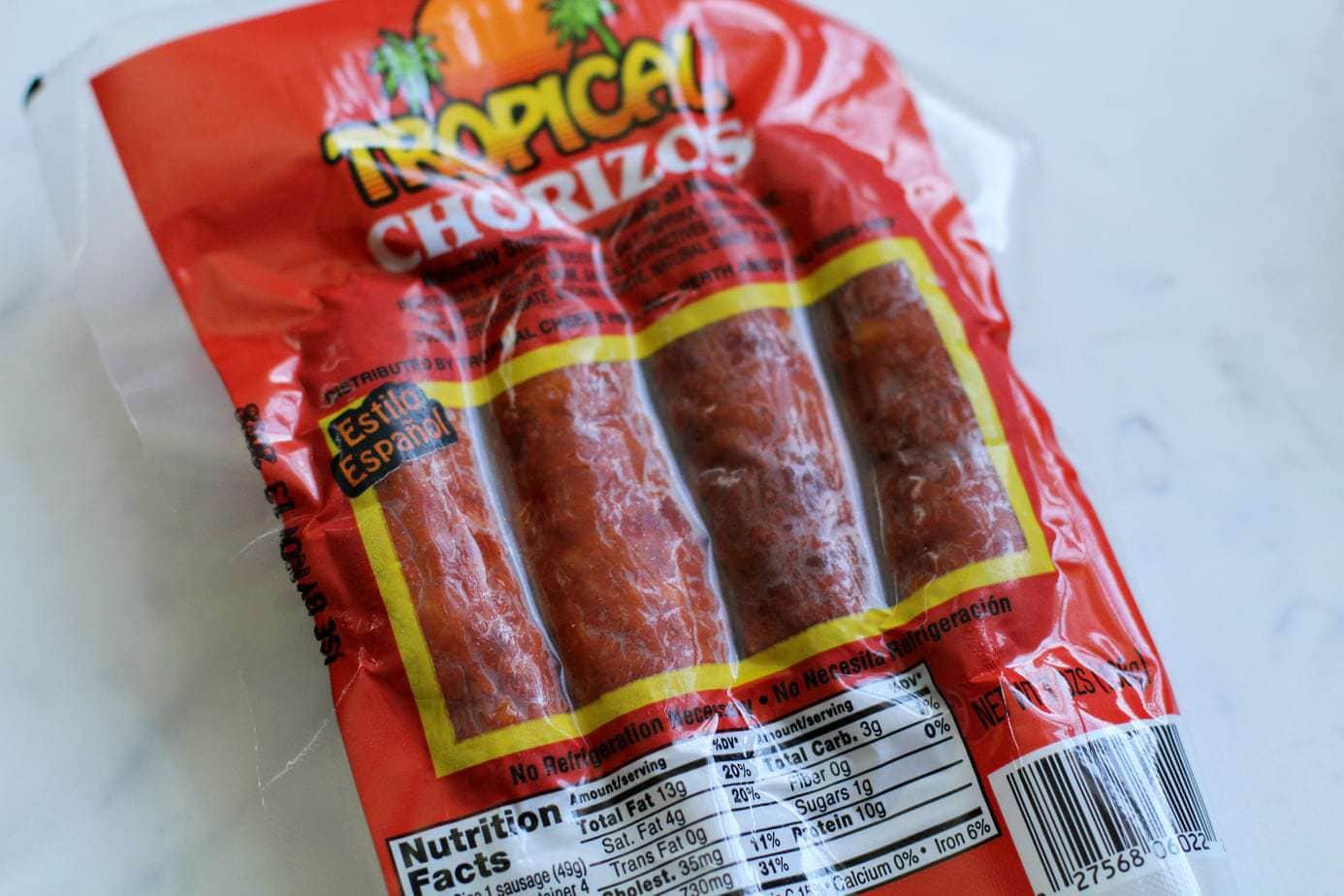 Buying chorizo can feel like buying deli meat or cheese at the deli stand in a farmers market. You can find all kinds of variations. Today, we'll focus on two main ones.
Mexican Chorizo is spicy and bold due to the vinegar, chili peppers, and various herbs added to the typically pork meat mixture. It is sold raw, so you must remove the casings, if it has any, and cook it first.
Pork fat is also usually added, so you'll find when you cook your Mexican chorizo, that there's a nice amount of fat.
If you choose to use Mexican chorizo, you'll find this extra fat perfect for sautéing your onions and peppers in! (Remove extra grease after, if there's too much.)
When you cook with Mexican chorizo, you'll find that it makes your food pretty red, too! That's because it uses more paprika than Spanish chorizo.
If you want a spicy frittata recipe, use the Mexican chorizo for this Latin breakfast recipe.
Related: Embark on a flavorful journey with our tempting chorizo risotto recipe!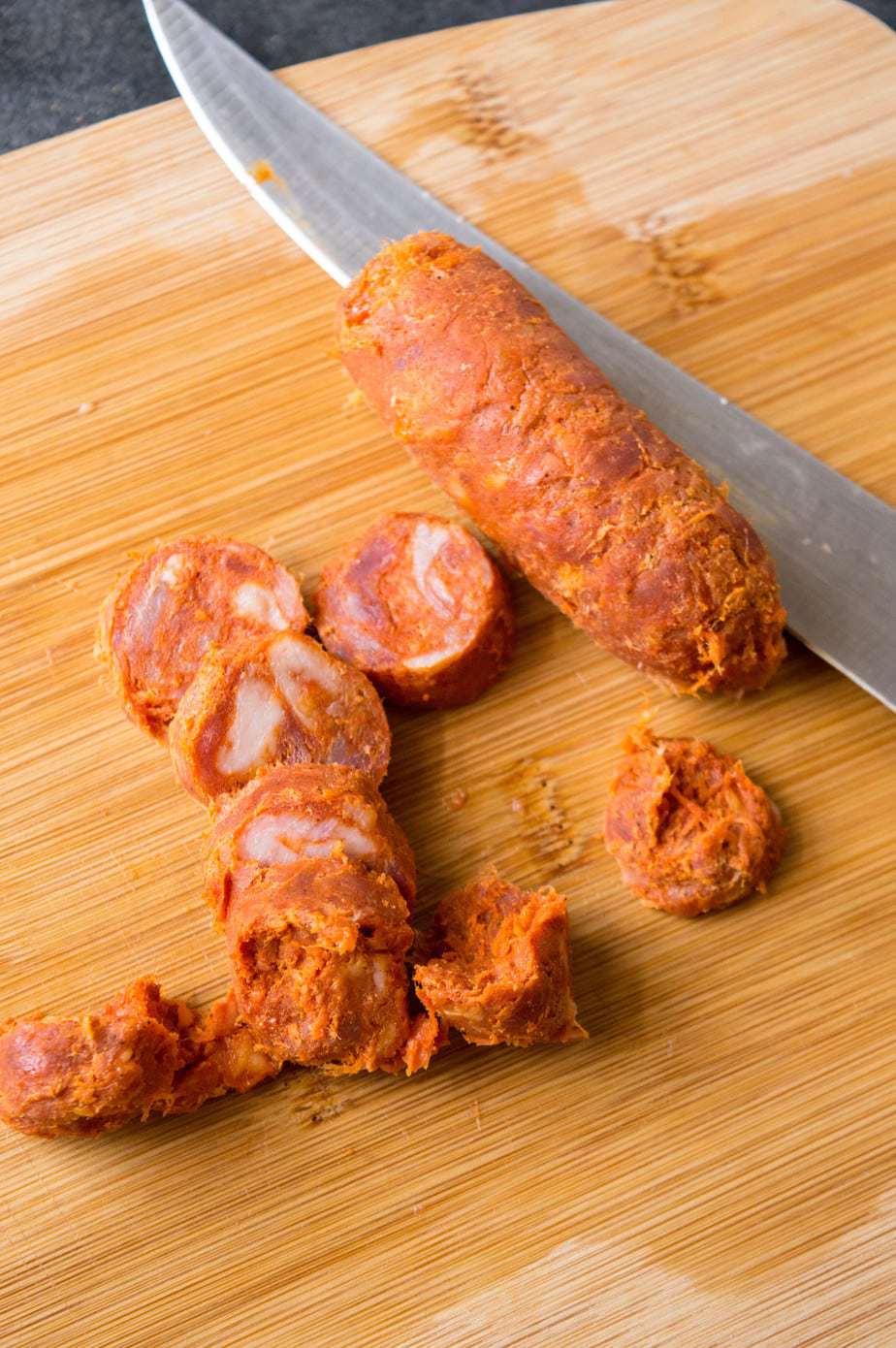 Spanish Chorizo is more delicate, yet still adds depth to any dish with it's complexity. Made from either pork or beef, Spanish chorizo has spices, herbs, and wine in it's meat mixture that is fermented and then slowly smoked.
After the smoking process is done, it then goes through an air-curing process for a few weeks. This means you don't have to cook Spanish chorizo.
Can I be honest? Most Puerto Rican recipes are not "spicy" when it comes to the heat index. This means that for me, I'm a baby when it comes to heat.
I always go with Spanish chorizo, and I love the complexity it offers to a dish, while still adding a garlic heavy punch for an oomph!
Choosing the Right Pan For Making Frittatas
When making a frittata, you can either use a cast iron skillet or a stainless steel pan for this chorizo and egg recipe.
Due to the cooking process (frittatas are started with frying over the stove, then it finishes by baking in the oven), you can not use a casserole dish, Pyrex dish, etc. You must use an oven safe frying pan.
Using a cast iron skillet is always your best bet when making frittatas. Cast iron distributes heat evenly, is safe to transfer from stovetop to oven, and if well-seasoned and greased it can be non-stick.
You can choose to use a stainless steel pan, if it's your only option -that's fine! Make sure it's non-stick and oven safe.
For either pan, be sure to preheat your oven for a few minutes with oil. Once the oil starts to simmer, you know the pan is preheated. Here's a great article that shows your how to keep food from sticking from cast iron.
Please remember to use oven mitts when handling the cast iron pan. The handle gets really hot, even on the stove!
Ingredients
Eggs: The necessary ingredient for any breakfast frittata!
Cream or Milk: For a moist and slightly creamy frittata, it's best to use cream or full fat milk. You can also use almond milk, etc. if that's your preference.
Garlic Powder: Completely optional, you can also use a clove or two of fresh garlic, finely minced or even grated in it's place.
Salt: Swap to your favorite kind of adjust level for your liking. Remember, you can always sprinkle salt on once it's finished. It's better to have too little, than too much.
Black Pepper: Adjust to your liking.
Dried Oregano: If you're using ground, divide it in half.
Olive Oil: We're going to drizzle it to coat the bottom when preheating. You can always add a little more while cooking, if you feel it needs it. Depending on the chorizo you use, it's up to your discretion.
Onion: You can choose to use yellow or red onion.
Red Bell Pepper:
Chorizo: I'm using a Spanish style chorizo for this frittata recipe.
Spinach: Fresh spinach is best.
Cheese: Optional. We used cheddar to sprinkle on top before baking. You can choose to use a different kind, or omit it all together.
5 Steps To Make Chorizo Frittata
Making this Spanish chorizo frittata recipe comes together in just 5 steps. I'll walk you through each step with detailed instructions to ensure you have the best egg and chorizo breakfast.
Step 1: Preheat your oven and make your egg mixture.
Whisk your eggs together with the milk, half the salt and pepper, garlic powder, and oregano.
Set your egg mixture to the side until it's time to pour it over your veggies.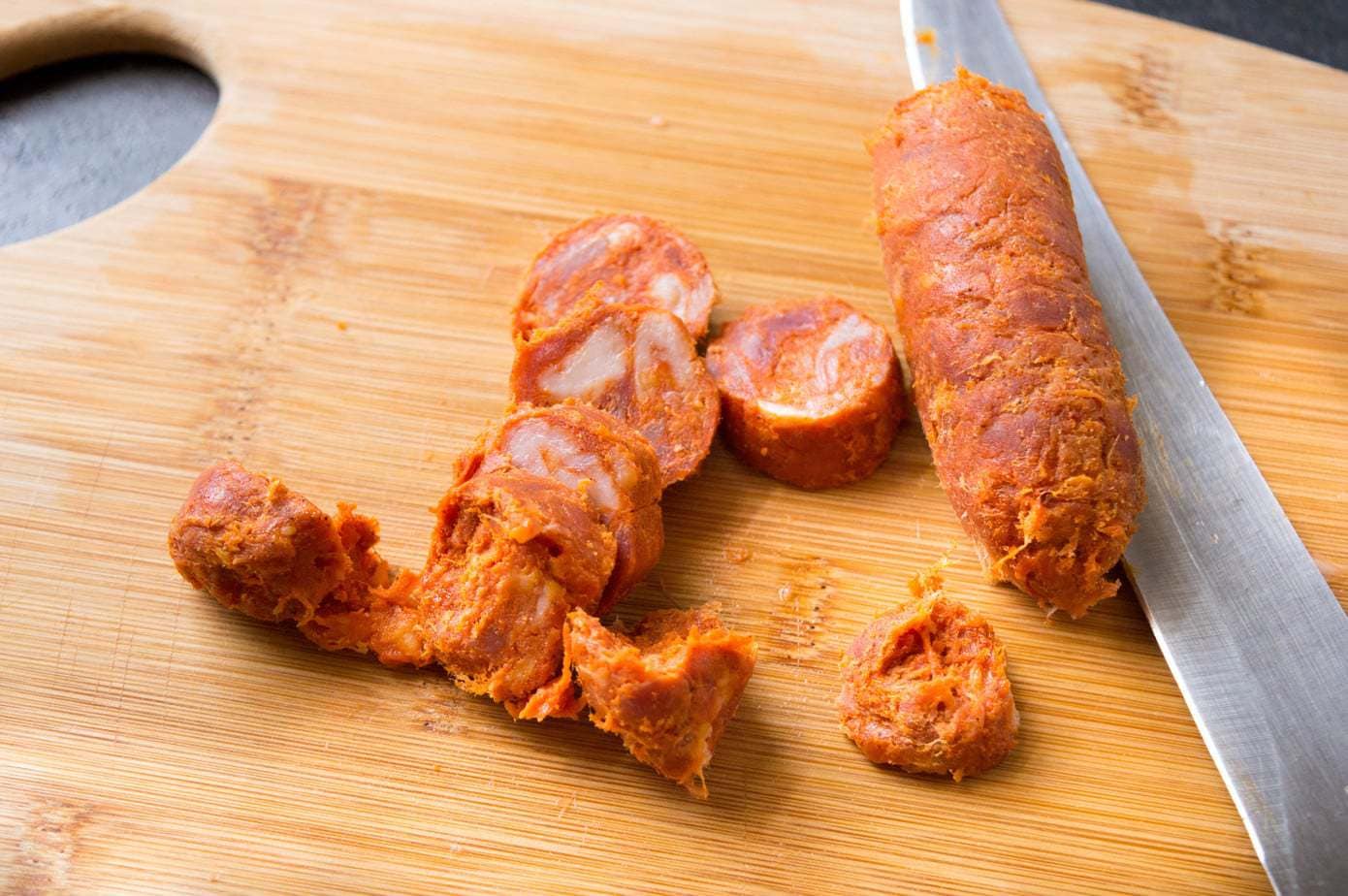 Step 2: Chop your chorizo and veggies.
Slice your chorizo into bite-sized chunks.
Dice your onions and peppers.
Roughly chop your spinach. (It will wilt when it cooks.)
(If you're using Mexican chorizo, look at the recipe card for specific notes.)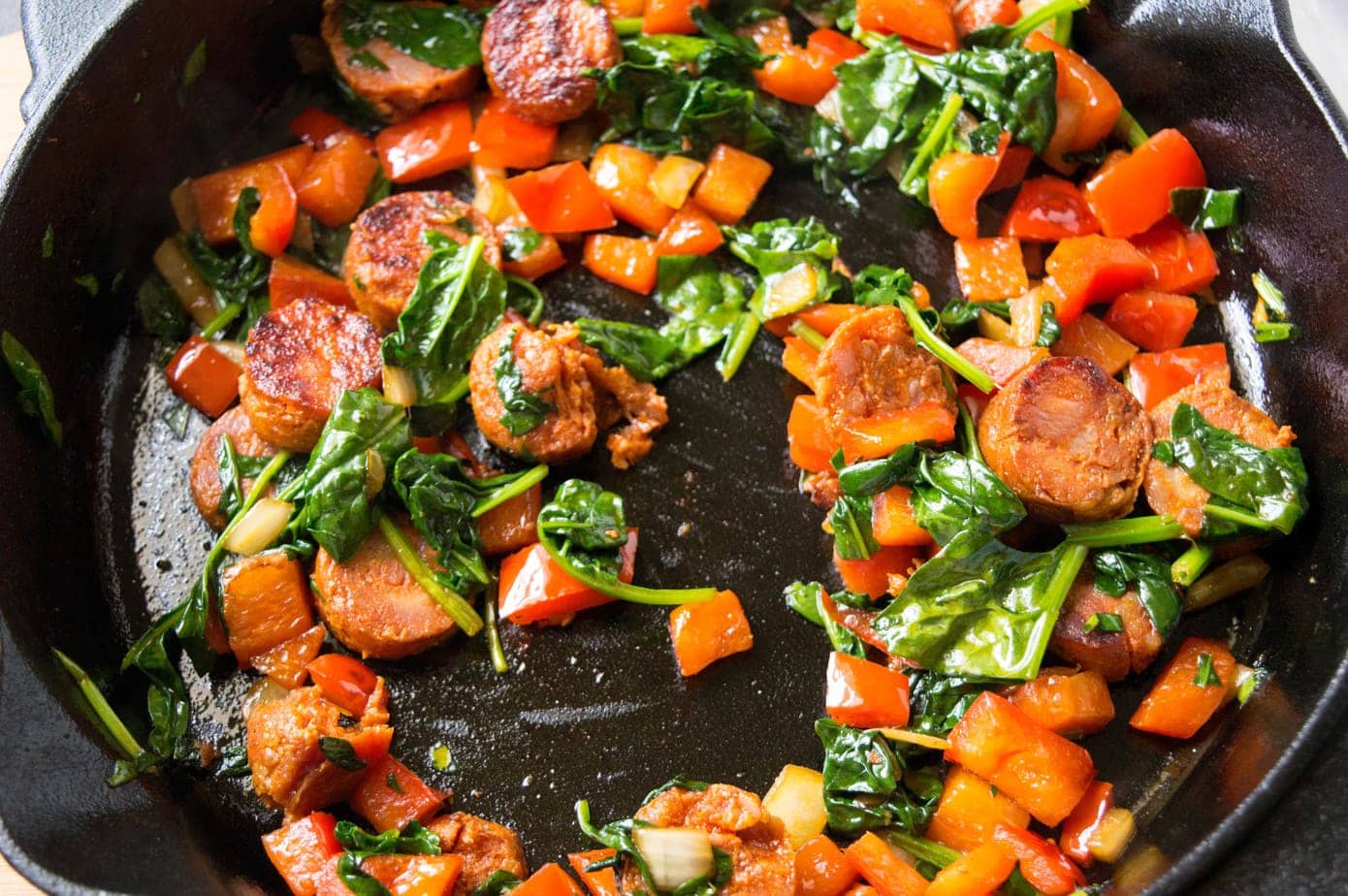 Step 3: Sautee veggies and chorizo over medium heat.
Drizzle oil over preheated pan and once it simmers, add in your peppers, onions and remaining salt and pepper.
Sauté your onions and peppers until softened.
Add in Spanish chorizo and cook for an additional 3-4 minutes to release the rendered fat and until the chorizo gets a bit of caramelization.
Mix in the spinach, and cook until spinach begins to wilt.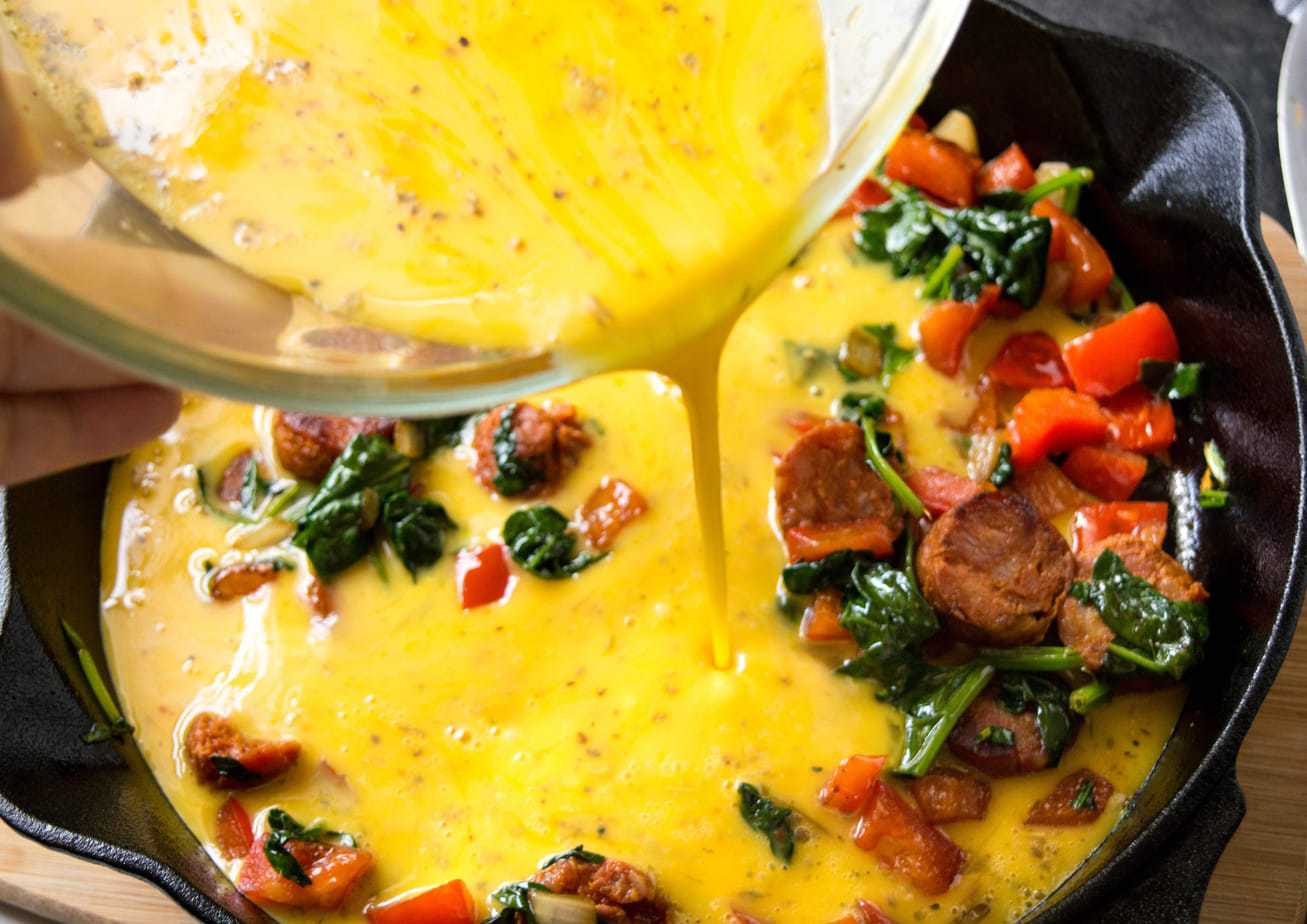 Step 4: Pour in the frittata egg mixture.
Once your sautéed vegetables are tender and flavorful, take a spatula or a wooden spoon and gently distribute them evenly across the skillet.
Before we pour in the egg mixture, be sure to go ahead and whisk it again, gently. (Settling occurs.)
Pour in the egg mixture so that it coats the vegetables evenly. Sprinkle the cheese right over the egg mixture. DO NOT MIX!
Continue cooking the chorizo frittata for about 3-4 minutes, or until edges are set.

You can use a rubber spatula to gently lift edges to let the eggs flow underneath during this time.
Step 5: Bake your chorizo frittata until cooked.
Place your frittata skillet in the preheated oven.
Allow it to bake for approximately 15-20 minutes, or until the eggs are fully set in the center.

You'll know it's ready when the edges turn a delicious golden brown.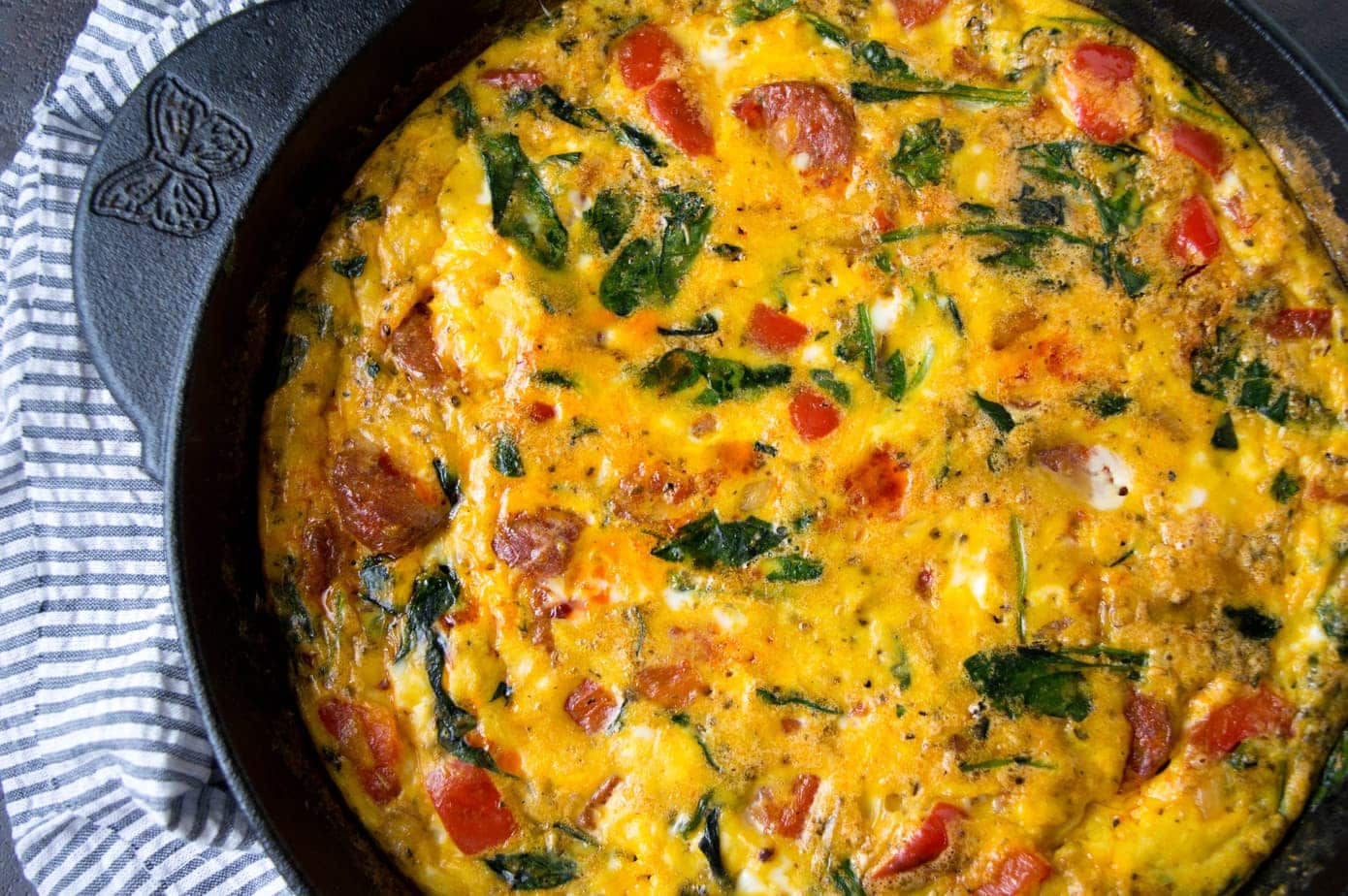 How do you make frittata not soggy?
Excess moisture is what makes frittata soggy. When you cook your veggies through and render all of the fat from the chorizo out before adding in your egg mixture, it helps remove the excess moisture that can make your frittata soggy.
Why is my frittata not fluffy?
There are many reasons why your frittata may not be fluffy. For a fluffy frittata make sure you beat your eggs until it's combined, don't skip out on the dairy, make sure there's no disruption in the cooking process, don't go crazy with adding in extra veggies, make sure you're not overcooking or undercooking your eggs, and follow the directions.

What is a frittata?
Frittata is one pan meal where eggs are the main ingredient. You can add in veggies, meats, cheese, etc.
What makes a frittata different than other egg baked dishes is the cooking process.
The cooking process starts off on the stove and ends in the oven. This process ensures that your egg and chorizo frittata is crispy on the bottom and that the center is still fluffy and creamy.
In closing, I hope this culinary journey through the vibrant flavors of Chorizo Frittata has left your taste buds dancing with delight. This dish, with its spicy chorizo, creamy eggs, and colorful veggies, is a testament to the richness of Latin cuisine.
As you savor each bite, may it not only satisfy your appetite but also bring a touch of warmth and togetherness to your table, just as it does in many Latin homes. Here's to the joy of cooking and sharing great food with loved ones. ¡Buen provecho, amigos!
📖 Recipe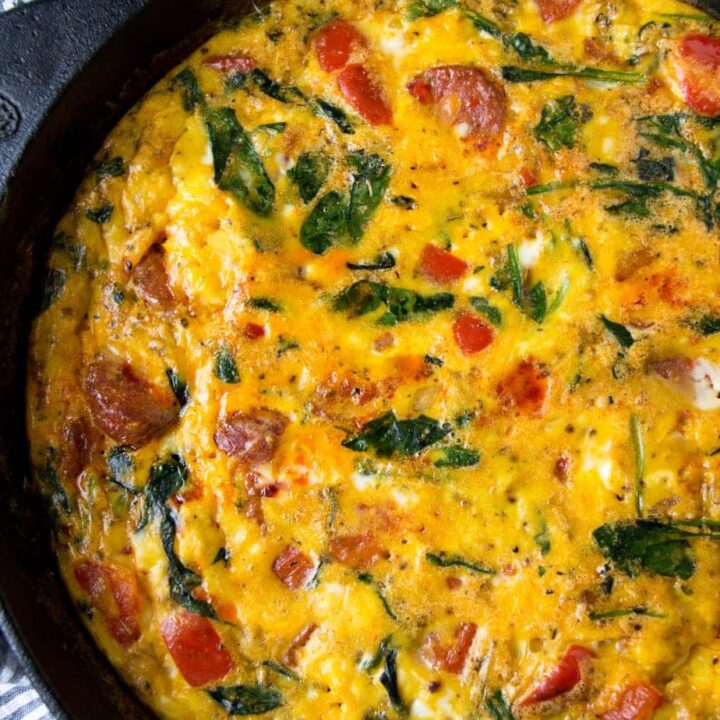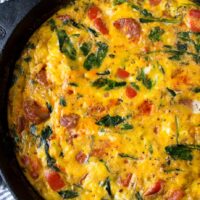 Chorizo Frittata Recipe
Chorizo adds a smoky flavor to this unique chorizo frittata recipe.
Print
Pin
Rate
Equipment
cast iron pan

you can use stainless steel pan in it's place
Ingredients
8

eggs

¼

cup

cream

or milk

1

teaspoon

garlic powder

optional

½

teaspoon

oregano

½

teaspoon

salt

divided

½

teaspoon

black pepper

divided

2

tablespoon

olive oil

for drizzling

1

red bell pepper

chopped

½

small

yellow onion

chopped

3.5

oz

Spanish chorizo

chopped

2

cups

spinach

roughly chopped

¼

cup

cheddar cheese

shredded and optional
Instructions
Preheat oven to 375 degrees Fahrenheit.

Whisk together eggs, cream, garlic powder, oregano, ¼ teaspoon salt, ¼ teaspoon of black pepper in a large bowl. Set aside.

Preheat the pan over medium heat and drizzle oil to coat the bottom. Once oil begins to sizzle, add in the onions and peppers. Sauté until vegetables have softened.

Add in the Spanish chorizo, and cook for 3-4 minutes or until the chorizo has caramelized. Stir in the spinach, and cook until it has wilted.

Spread your chorizo and veggies around the pan evenly. Gently whisk your egg mixture again, and pour it over the veggies. Sprinkle your cheese over the egg mixture. DO NOT MIX!

Continue cooking until the edges have set. Once the edges have set, bake for 10-15 minutes, or until the center of the frittata has cooked through and the edges are a beautiful golden color.

Remove from the oven and carefully slide the frittata onto a large plate or serving platter. Cut into 6-8 slices and serve immediately.
Notes
If using Mexican chorizo use these steps after mixing the egg mixture :
Remove the casing from the chorizo, and cut it into bite-sized chunks. 
Preheat your pan over medium to medium-high heat. Add in chorizo and cook for 4-5 minutes, stirring occasionally, until all of the fat has been rendered and the chorizo is just starting to caramelize.
Depending on how much grease has been released you may or may not have to add olive oil. If you need to add oil, add enough to keep the bottom of the pan slightly greased.
Lower heat to medium and continue with the steps on sautéing the vegetables.
Nutrition
Serving:
6
slices
|
Calories:
238
kcal
|
Carbohydrates:
4
g
|
Protein:
12
g
|
Fat:
19
g
|
Saturated Fat:
7
g
|
Polyunsaturated Fat:
2
g
|
Monounsaturated Fat:
7
g
|
Trans Fat:
0.02
g
|
Cholesterol:
244
mg
|
Sodium:
320
mg
|
Potassium:
211
mg
|
Fiber:
1
g
|
Sugar:
2
g
|
Vitamin A:
2131
IU
|
Vitamin C:
29
mg
|
Calcium:
89
mg
|
Iron:
2
mg