Ever feel like after rent, bills, and a car payment that there is no way to feed your family healthy meals for a whole month? Do you ever stop and stare at your budget in disbelief crying "how can I afford groceries for a whole month"? When you live paycheck to paycheck, affording groceries is a real struggle for most families. Meal planning on a tight budget is hard, but possible, with these tips.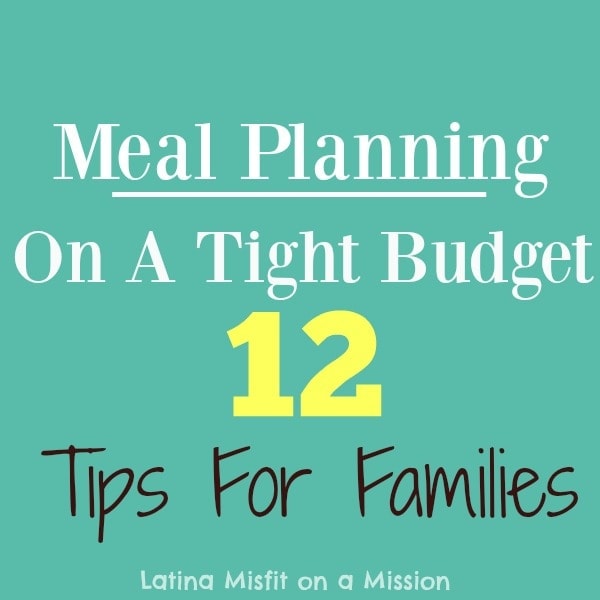 How do you afford to feed your family when you are living paycheck to paycheck?
Paycheck to paycheck living is a reality for millions of families across the United States. Once uncle sam, Mastercard, Sally Mae, Honda, and Aetna get a chunk of your paycheck you're left wondering how to provide groceries for your family with the change you're left with.
Meal planning on a tight budget can be a family event. Get the input of others in figuring out how to thin out selections and get everyone on board. Plus, I'm here to tell you that rice and beans can completely makeover your budget all while making everyone happy with the bold Hispanic flavors (recipes can be found here).
12 Meal Planning On a Tight Budget Tips For Families
Start with a set budget- When I go through my monthly budget after I take care of my four walls, I create a list of what is needed. I often feel that food is the only category I can be flexible with. Once I prioritize where the rest of the money NEEDS to go, I am left with a certain amount for food. Typically $500-$700, but I have found myself in places where I only had $250 to feed a family of seven for a month! (Remember to carry cash. Leave the card and checkbook behind!)
Create a pantry storage list- Go through your cabinets, fridge, freezer, and deep freezer. Write EVERY single item that you have. You'd be surprised at what crazy recipe you can create from certain ingredients. This also helps with wasting less and saving more. '
Use sale ads- My main focuses on sale ads are meat and produce. This is the bread and butter of your meal planning. When you find chicken on sale for $.19 a pound -you stock up! Well, at least you'll know what 90% of the meats will be. Or if you find an extremely good price for pork shoulders, you can plan on getting a big one to make pernil and use leftover meat for many meals.
Use seasonal items- This is where Pinterest and Google become your best meal planning tools. You can Google what's in season now, and Pinterest will give you some creative ideas. Be sure to follow me on Pinterest for some Hispanic creative recipes, including seasonal produce. You'd be shocked at the price difference a few weeks can make. (If you have access to a garden, be sure to can and/or freeze extra for off season months).
Create a theme- We've all heard of Taco Tuesdays, but perhaps every day of the week can have a certain theme.
Create a rotation system- Meal planning can be very time-consuming, create a list of certain tried and true meals that you can rotate weekly/monthly. (We do this for breakfast -cereal, eggs, oatmeal, pancakes.)
Plan for leftovers- I like to make one or two dinners a week that are big enough to have leftovers for lunch the next day. This not only helps the budget but with time. A pork shoulder for my family makes 3-4 days of leftovers here. We used the pernil recipe, and with leftovers had Cuban sliders. Don't forget, excess rice can be used for stir fry, and excess beans can be smashed and used for cheese and bean rollups.
Use a calculator- Sometimes, when meal planning on a tight budget, it is vital to say no to certain ingredients or brands. Stick to your guns, take a calculator and ask yourself, will this take away from what's really needed?
Shop alone- If you're a parent, you know this struggle. I don't think this needs further explanation. Go alone.
Scale back on portions- We are big foodies over here. When something awesome is being served, kids love seconds (and sometimes thirds). Offer less meat, but more in season fruits/veggies. You'll find it is cheaper (and healthier) to fill a plate with more veggies than it is with meat.
Cook from scratch- It is way cheaper to make a ton of burritos or even peanut butter and jelly sandwiches than to buy the prepackaged stuff. It just is. I mean, tortillas may be the only exception.
Ask for help- Sometimes my creative juices get the best of me, I need to ask family for input. Luckily kids are happy with macaroni and cheese with hot dogs for lunch, or tuna sandwiches. But sometimes, there is just not enough money to make it the whole month providing healthy meals for your family. Thankfully, there is help available. Look into your local WIC programs or churches for food banks. There is no shame is getting temporary help.
These twelve tips should help you with meal planning. Remember, a successful meal plan takes some time to create. My meal plan for this month took me almost 8 hours! (Seriously, that long.) But I managed to meal plan for a family of 7 for $250! You can do this. If you have questions or more tips, feel free to leave it in the comment section. Also, don't forget to subscribe to keep up with new posts and yummy recipes.