This shop has been compensated by Collective Bias, Inc. and The Coca-Cola Company. All opinions are mine alone. #GiftACoke #CollectiveBias
Looking for a unique holiday label printable for gift giving this year? If so, I want to share with you my Latina themed gift label printable that you can attach to your gifts or the neck of bottles!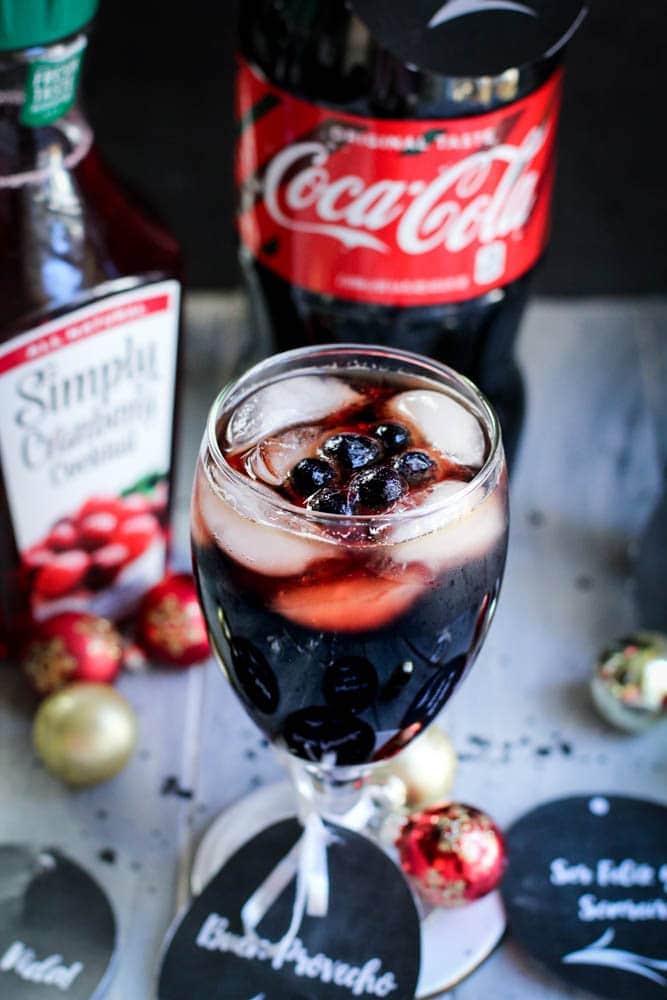 Are you hosting any gatherings this holiday season? If so, you are probably thinking about the seating arrangements and the side folding tables that hold appetizers, food, and drinks. Wait... did you know you should have a folding table specifically made for drinks? If you didn't, and you have a crowd of over 15 attending, I highly suggest you have a drinks table! I grab mine from Walmart, and I love it!
I went into Walmart for my supplies and the funny thing is, they had a table set up to complete the same recipe. Needless to say, the soda aisle was not stocked with Coca-Cola, because people were buying them in insane amounts! But if you look around, you'll be sure to see more at corner aisles and on stands like in the collage below.
Walmart is amazing at displaying their Coca-Cola products throughout the store! Be sure to check them out for some more incredible inspiration for the upcoming holidays!


Not hosting? This tutorial is still for you! The label goes perfect on the recipe that is amazing to take to the holiday party you're attending!
We just celebrated Thanksgiving, and I was thrilled to label all of our cups for drinks, but realized, I had no space to put drinks. There were Coca-Cola® bottles everywhere. I've decided I need more folding tables in the future. But the labeling of the glasses got me thinking about labels in general, especially in the holiday gift giving season.
How fun would it be to have customized labels, or labels that would resonate with a little Latina flare? I've added two printables, one that has fun Spanish sayings on it for the front that you can leave alone, or with the second page we're calling "back" that if you use double sided tape can individually label per person and attach front and back for the perfect label for bottles of Coca-Cola® to give away as gifts. Remember, you can grab all of the materials at Walmart! (Printer, paper, tape, ornaments etc. Seriously, best store ever!)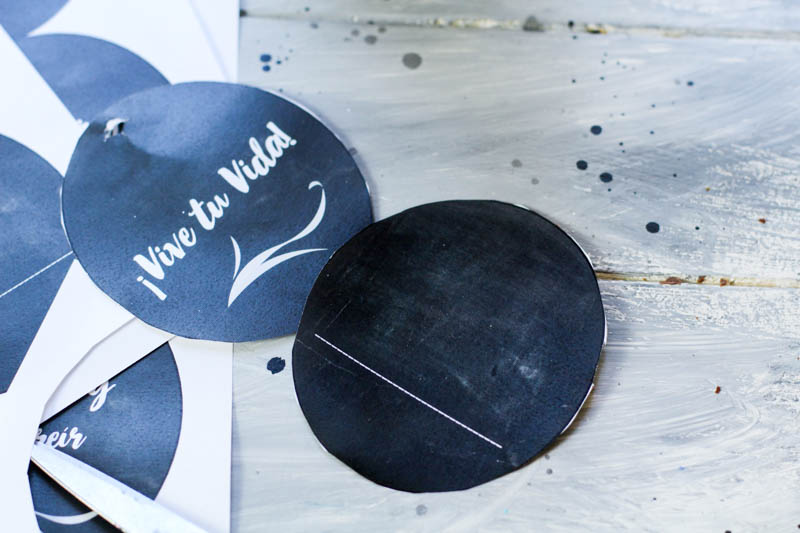 These printables are easy, print your paper on card stock for a heavy duty protection, or on regular printing paper if you're not concerned about it breaking. Once the labels are printed, go ahead and cut the outline to create circles. You can either tape labels directly onto the gift, or cut a small hole at the top with a hole puncher or the top of a scissor.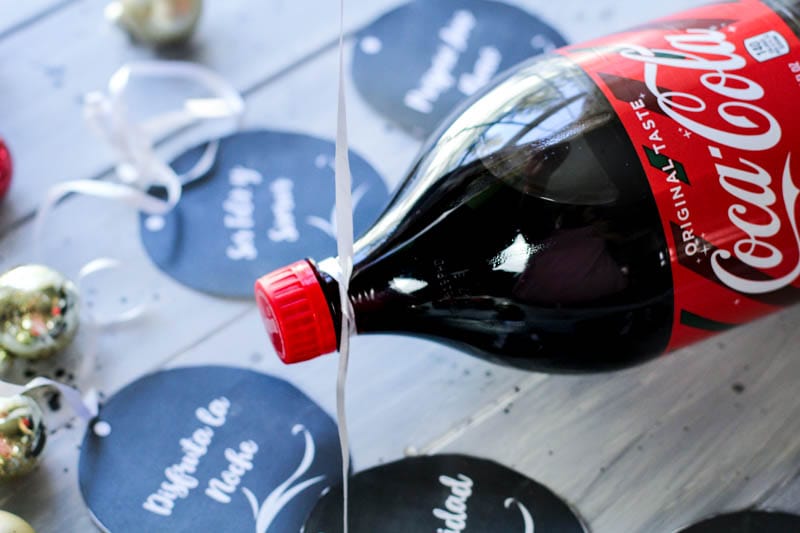 I think giving away an individual Coca-Cola® is a brilliant and cheap party favor for get a holiday get together. You can even go as far as bundling this recipe as a gift in a cute bag or basket. (Simply® Cranberry Cocktail + Coca-Cola® + Vanilla extract = the perfect festive drink and gift set). (Need more holiday inspiration? Check it out here!)
First, take some string, about 6 inches in length, tie a knot at the neck of the bottle once, then to take it up a notch, tie in a small ornament or two, make that into another knot. Next, add in your festive gift label and create a cute bow at the end.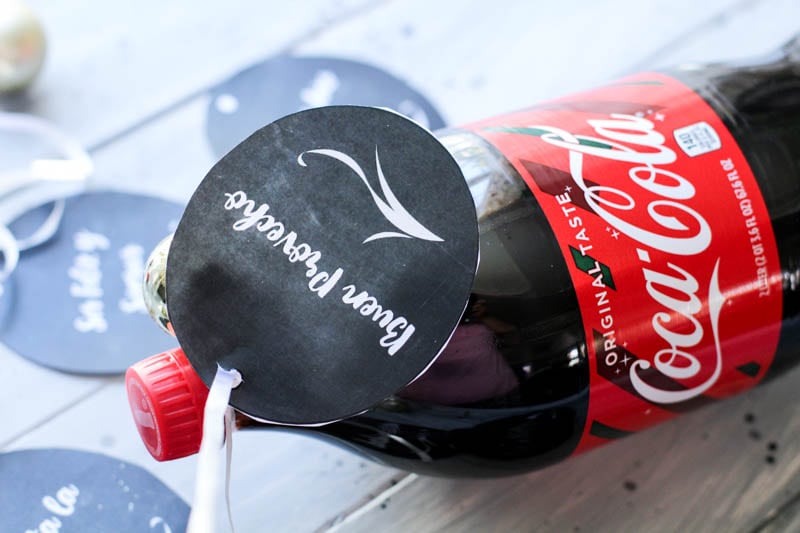 How's that for the perfect gift giving label?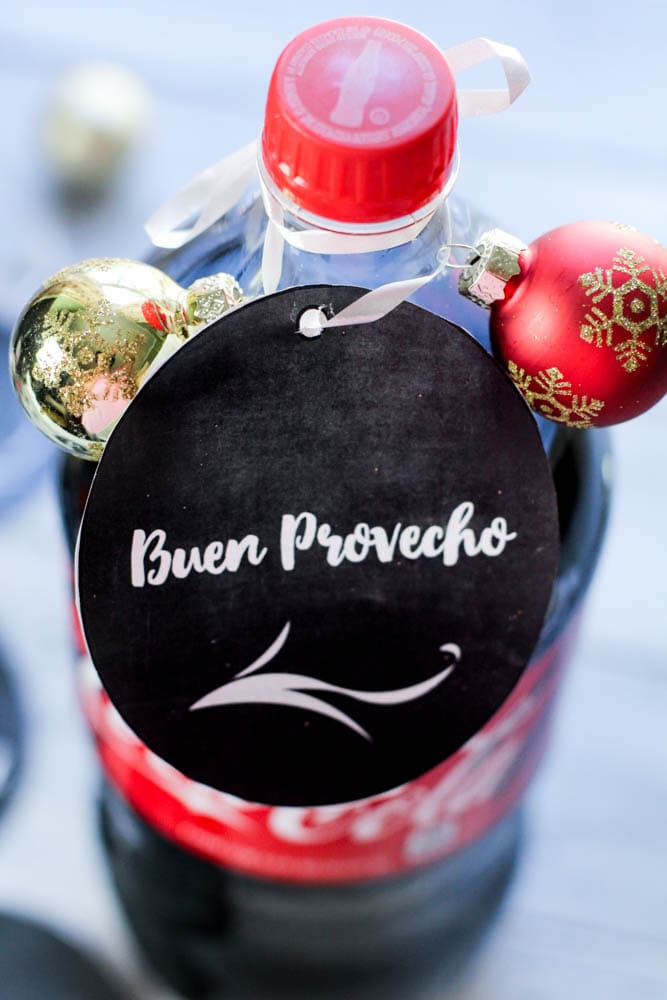 Wondering what the words mean? Here's a breakdown of what I've written on the labels:
Buen Provecho means "enjoy your meal"
Feliz Navidad means "Merry Christmas"
Disfruta la noche means "Enjoy the night", but it's usually taken as "party the night away"
Prospero ano nuevo means "have a prosperous New Year"
Ser feliz y sonreier means "be happy and smile"
Vive tu vida means "live your own life" I'd like to think of it as "live life to the fullest" I added this one just as a reminder of acceptance. Sometimes guests need to be reminded that they are amazing, just for being who they are!
It may not all be traditional, but that's the beauty of hosting. You create the environment, and always remember, love reigns!
These labels can also be tied and added the the bottoms of wine glasses for an extra flare at the table.
Now onto the recipe. (You know we had to have one!)
We all know I love Walmart and I love Coca-Cola products, and that I love shopping at Walmart for my Coca-Cola® products too! Did you know you can order on Walmart online and grab all of these ingredients through Walmart Pickup? Yup, you can.
Cranberry Vanilla Coke-tail Recipe:
Ingredients:

Coca-Cola® or Coca-Cola® Zero Sugar
Simply® Cranberry Cocktail
2 to 3 drops of Imitation Vanilla Flavoring

Directions: Fill a glass ¾ of the way with Coca-Cola® or Coca-Cola® Zero Sugar. Add 2 to 3 drops of imitation vanilla flavoring and top it off with cranberry juice. Give it a good stir, then serve.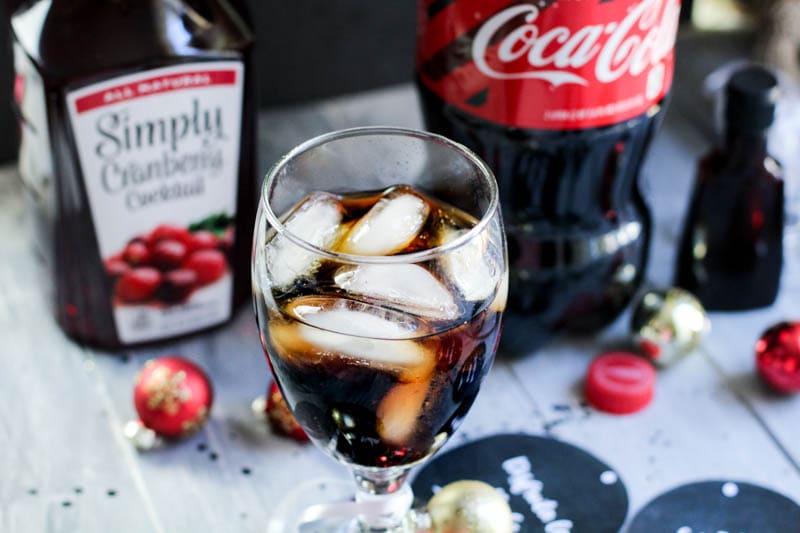 Grab your glass, add a generous amount of ice. Next, pour in Coca-Cola® and imitation vanilla flavoring.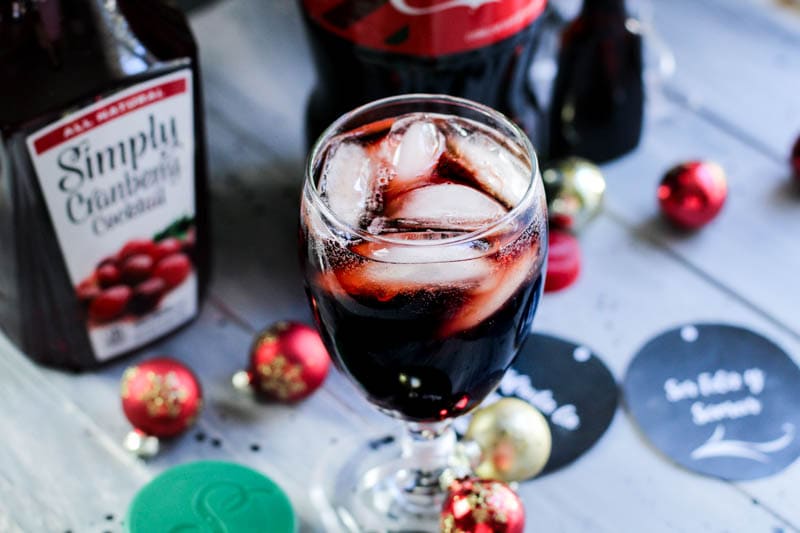 Top it off with some Simply® Cranberry Cocktail and give it a gently stir! I love garnishes and decided to top it off with frozen blueberries, but you can top it off with frozen cranberries if desired. This is the perfect family drink to celebrate the holidays with the whole family, share smiles and memories, and if you tag it with this festive label -it's the perfect gift too!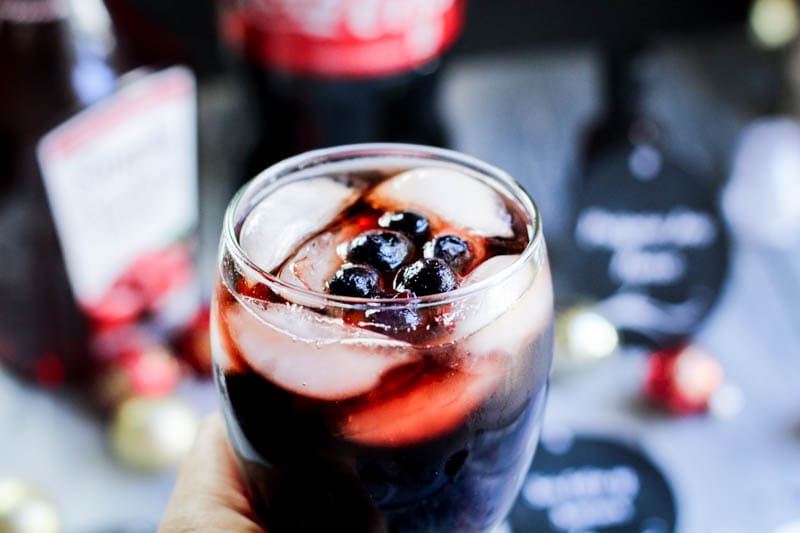 Feeling all festive?! Me too, me too! Need more inspiration? Jump over here for some amazing holiday inspiration. That's it mi gente, I hope you enjoy this recipe and as always, buen provecho!
Related Recipes: